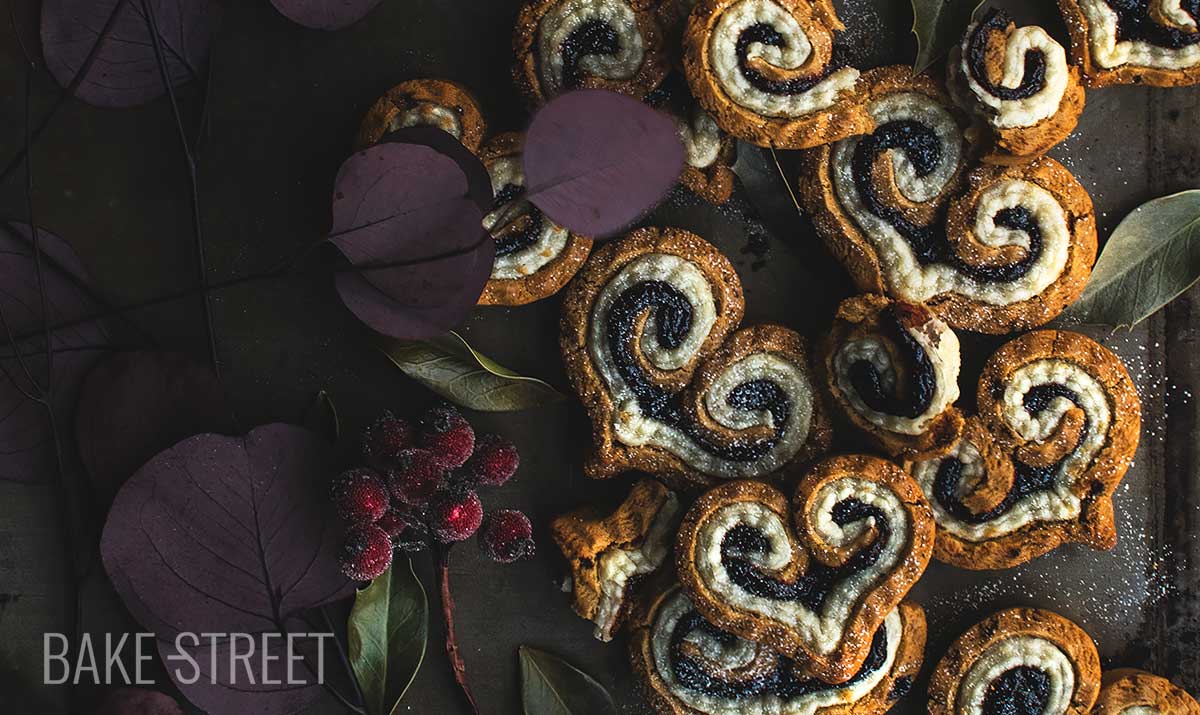 Gingerbread and spiced plum cookies
Este post también está disponible en Spanish
You know, whatever it is to celebrate, I love it. One of the things I like most about winter is Christmas. I love decorating my house, putting up the tree (which, by the way, I plan to do this weekend), preparing special things for my family, going to see the Three Kings Parade… Like a little girl! I enjoy very much all those little moments that allow us to escape from reality and live, for a few moments, in a dream. Today I am going to share with you some wonderful cookies. If Christmas had a flavor, without a doubt, it would be that of these Gingerbread and spiced plum cookies.
It is indescribable the flavor that they have, for me, are all the flavors of Christmas concentrated in a cookie. Which, moreover, looks a lot like a Christmas tree ornament! I'm not telling you that they would be precious adornments to hang from the tree on Christmas Day and that the family could take them and eat them.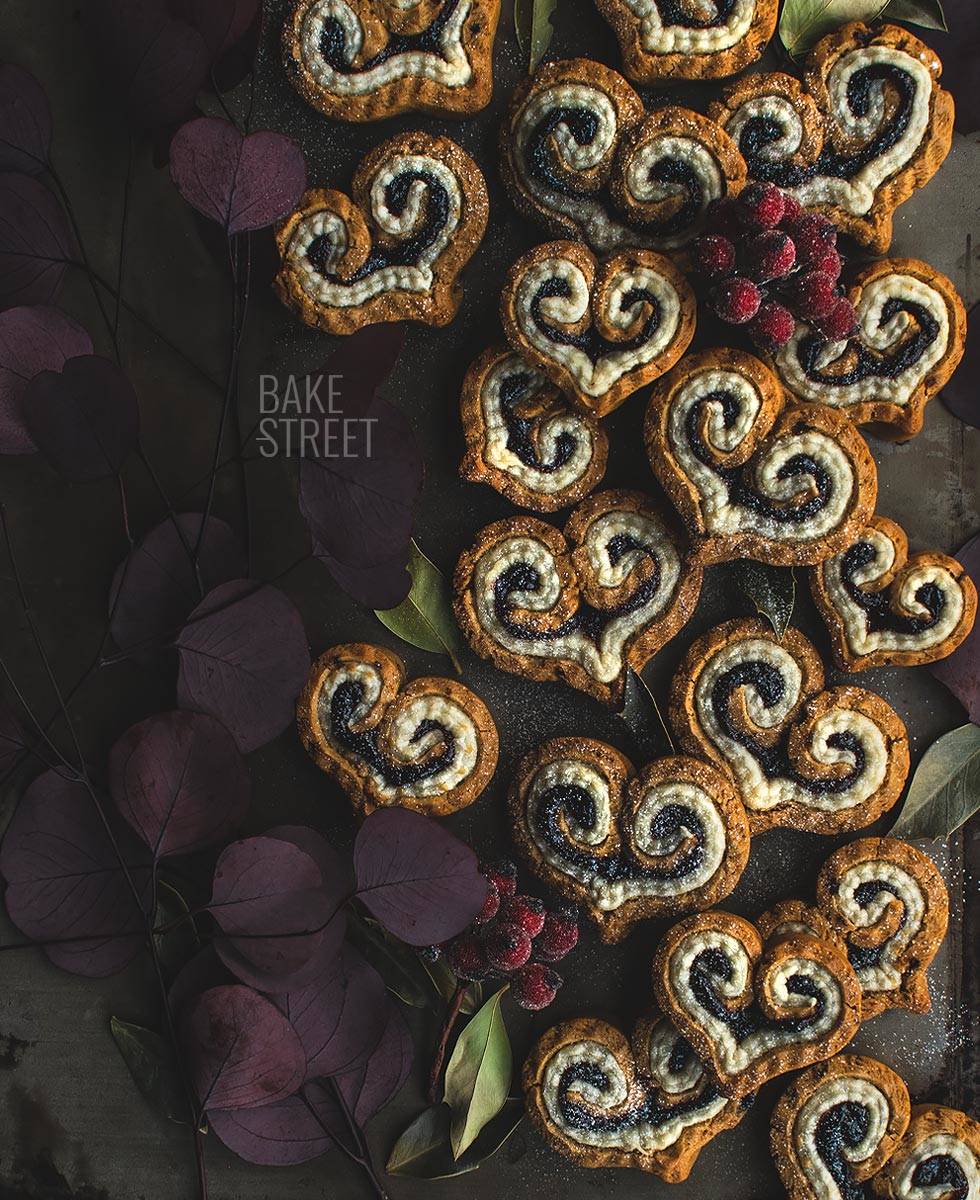 Before I continue I want to share with you where I saw this beautiful recipe. It was on Kinuskikissa's blog. I found the recipe by chance, as I have told you on many occasions, it happens to me quite often. I don't need to tell you that I almost died of love when I saw them, because they are beautiful! So I ran to her blog to see how she made them.
Two types of cookie.
She makes the cookies with a gingerbread dough, a puff pastry dough (which is the white dough) and a store-bought plum filling. I really, really liked the combination of gingerbread and plums. So I kept those 2 ideas, but decided to modify everything else.
To prepare these gingerbread and plum cookies, we'll have to prepare 2 types of dough. A ginger dough that is adapted from her recipe, another white cookie dough and a spiced plum paste that we will make homemade. The white cookie dough is the same that I used to prepare the Rugelach.
I remind you that this is a white dough made with flour, butter and cream cheese. That's all. It does not contain eggs or leavening agents. Its taste is spectacular. We will combine both doughs obtaining a very crunchy exterior and a softer interior.
Spiced plum paste.
Surely looking we can find some fruit filling that has the right texture to fill these cookies. But in my case I preferred to make it homemade, you know that this way we control the ingredients much better. Not to mention sugar… (although gingerbread cookies have a ton!)
To make this plum paste, we'll need black plums, dark muscovado sugar (very little quantity), cinnamon and star anise. What I told you above, Christmas at its best!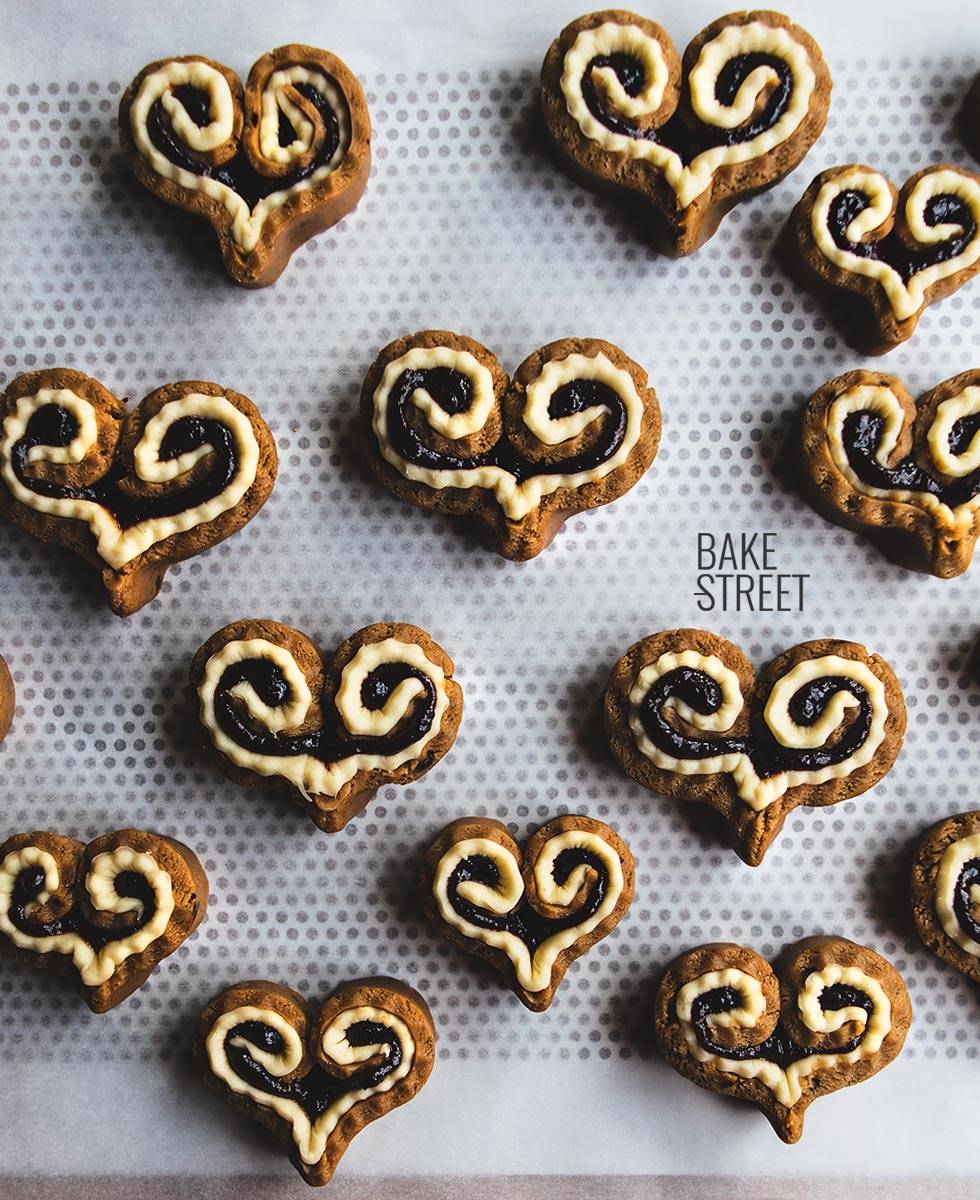 The elaboration process is very easy to carry out, but we will have to be patient. Due to the small amount of sugar it carries and the need for the water it contains to be greatly reduced, we must be patient for the fruit to concentrate and expel all the incredible aromas and flavors it has. With the amount that I leave you will obtain a jar of 320 g approximately. To make these cookies we need about half.
To keep in mind.
The entire process, in my case, took me three days. Wait, wait, I'll tell you why.
I prepared the plum paste on a Friday afternoon, which I was also preparing candied fruit for Christmas sweets and a sponge cake. I took advantage of it and since I was in the kitchen, I prepared it. If you keep it in the glass jar as soon as you cook it, cover it and turn it around, as it cools down it will it will expel the air. So it will hold you for many days until you make the cookies.
The next day I prepared the cookie dough and refrigerated it. They must rest one day in the fridge, especially the ginger dough to ripen the flavors.
And finally, on the third day we will form them and bake them. If you think so, it will take a while each day and the process becomes much more enjoyable and bearable. I tell you more than anything for those of you who work with complicated schedules and you can not be at home as much as you would like.
The result is fabulous, wonderful, exceptional and exquisite. Really, I swear that they are extraordinary. Do not fail to prepare them for Santa Claus this year!
Ingredients for 30-35 pieces
FOR THE GINGERBREAD DOUGH:
500 g pastry/cake flour
2 tsp baking powder
100 g unsalted butter at room temperature
145 g dark muscovado sugar
175 g honey
1 large egg
1 tsp cinnamon powder
1 tsp ginger powder
1/2 tsp cardamom powder
1 tsp natural orange extract
pinch of salt
FOR THE WHITE DOUGH:
190 g AP/plain flour
35 g pastry/cake flour
225 g cold unsalted butter
190 g cream cheese
pinch of salt
FOR THE SPICED PLUM PASTE:
650 g fresh black plums, pitted
80 g dark muscovado sugar
1/2 tsp cinnamon powder
1 star anise
Instructions
DAY 1
Prepare the spiced plum paste.
Wash the plums very well, cut them into pieces and remove the stone.
Place them in a medium saucepan and add the sugar together with the spices.
Cook over medium low heat for 3 1/2 or 4 hours, stirring from time to time.
As the paste is cooked, it will acquire a more mashed consistency.
When we have been cooking the plums for about 2 hours, we take a moment out of the heat. Remove the star anise and blend to obtain a paste.
Place again in the heat and continue cooking. We will have to watch it and remove it every less time because the texture will be denser and it can burn us.
We will know that it is ready when most of the water has evaporated and its texture becomes dense.
Remove from the heat, store in a previously sterilized glass jar, place the lid and let it cool upside down.
Prepare the gingerbread dough.
Sift the flour together with the baking powder and salt. Set aside.
In a saucepan add the honey together with the muscovado sugar. Place at medium low heat and, stirring from time to time, let both ingredients integrate completely.
Remove from heat and set aside.
In the KitchenAid bowl add the butter along with the molasses that we have prepared with the sugar and honey. Mix at speed 1 with the help of the flat beater until a homogeneous mixture is obtained.
Scrap down the remains of the bowl and incorporate the egg. Mix again until it is completely integrated. Add the orange extract together with the spices and mix again.
Begin to integrate the flour little by little. Mix until fully integrated and add more. Carry out this step until all the flour is added.
Dump the dough over a clean work surface and knead a little with your hands.
Divide the dough into 2 pieces, flatten lightly and wrap with film.
Refrigerate for 24 hours.
Prepare the white dough.
In the bowl of Kitchen Aid or a stand mixer, add the flour along with the butter cut into small cubes.
Mix with the flat beater at slow speed until get a grainy texture. It may remind us to a pâte sucrée.
Add the cream cheese along with the pinch of salt and mix again at low speed until get a homogeneous mixture. During the mixing process, we will stop the stand mixer several times to scrap down the sides of the bowl and facilitate the ingredients to be well integrated.
Transfer the dough to a work surface slightly sprinkled with flour and flatten.
Divide into two equal pieces and shape a disc with each one of them.
Cover with film and refrigerate until the next day.
DAY 2
Stretch the gingerbread dough.
Take the dough out of the cold, I recommend you to do it 30 minutes before stretching because it is very cold and the consistency is very hard.
Stretch one of the doughs between two sheets of Teflon. We will give it a thickness of 0,08 inches (2 mm) with the help of an adjustable rolling pin. We will try to give rectangular shape, do not worry about the measure, it is not important.
With the help of a pastry cutter, we cut strips of 0,6 inch (1.5 cm) wide.
Once we have cut them all, we carefully lift the Teflon sheet to remove them.
Repeat the same process with the other gingerbread dough.
Reserve at room temperature if it is not too hot. Otherwise, refrigerate until we need them.
Stretch the white cookie dough.
Remove the dough from the fridge, remove the film and divide into 2 pieces. Cover with film the one that we are not going to use at the moment to avoid that it dries out.
Sprinkle a work surface with flour and stretch with the adjustable rolling pin. Give it the same thickness as the gingerbread cookies.
Once it is stretched, place it on a tray lined with baking paper and refrigerate. This dough is very soft and loses the temperature immediately, the ideal thing is to work with it cold.
Repeat the same process with the other piece of dough.
Shape the cookies.
Take a strip of gingerbread dough and place it on top of the white dough. Using a pastry cutter, cut the white dough. This way we make sure that both strips have the same thickness and length.
Cut a little from the ends to adjust both doughs.
Place on a tray lined with baking paper or Teflon.
Repeat the same process with the rest of the strips.
Fill and shape like a heart.
Put the plum paste in a piping bag. Cut a little of the tip to dispose a fine thread of this one on the biscuits. In the video you will be able to appreciate the thickness better.
Put a plum paste thread on the white side of the cookie.
Roll the ends towards the center, forming some shells, until they join in the middle.
Pinch the lower central part to form the peak of the heart.
Place on a tray lined with baking paper.
Repeat the same process with the rest of the cookies.
Once we have all shaped, refrigerate for 3 hours.
Bake.
Preheat oven to 355ºF (180ºC).
Bake directly from the fridge. Place at medium height and cook for 17-18 minutes, we must watch that they do not brown.
Remove and allow to cool completely on a rack.
Notes
The white dough is slightly sticky, to work with it and to be able to form a disc, we will have to sprinkle with flour on both sides before placing it in the film.
We must work the white dough always taken directly from the cold. It is a very soft dough and if we let it temper, it will stick to the work surface.
The white cookie dough can be replaced by another cookie dough that you like or used to make at home.

Honey and muscovado sugar can be replaced by molasses if you wish.
The plum paste can be replaced by another fruit paste that you like. The jam will not work well because it has a more liquid texture, we need it to be a little denser to work with it.
If you don't find fresh plums, you can make the stuffing with prunes following this recipe.
Plums can be replaced by other fruit such as apple, quince, pear... You only have to cook it in the same way as plums to get a paste.
We must refrigerate cookies after they are shaped for a long time to ensure that they do not lose their shape during baking.
We can store cookies in an airtight container or a cookie can for several days.
These gingerbread and plum cookies are those ones that should be enjoyed in front of a large fireplace in a wooden cabin, with a hot chocolate (ok, ok, imagine this gingerbread hot chocolate!), a wool blanket plenty of colors, a huge window full of snow, tranquility and relaxation that floods the room accompanied by good background music ...
Yes, it's wonderful, and someday I'll enjoy it that way! Even if for the moment I do it in my house, without a fireplace or snow, but with everything else ;)
I wish you an incredible weekend, see you on Monday.
Big hugs
Eva
Archivado en