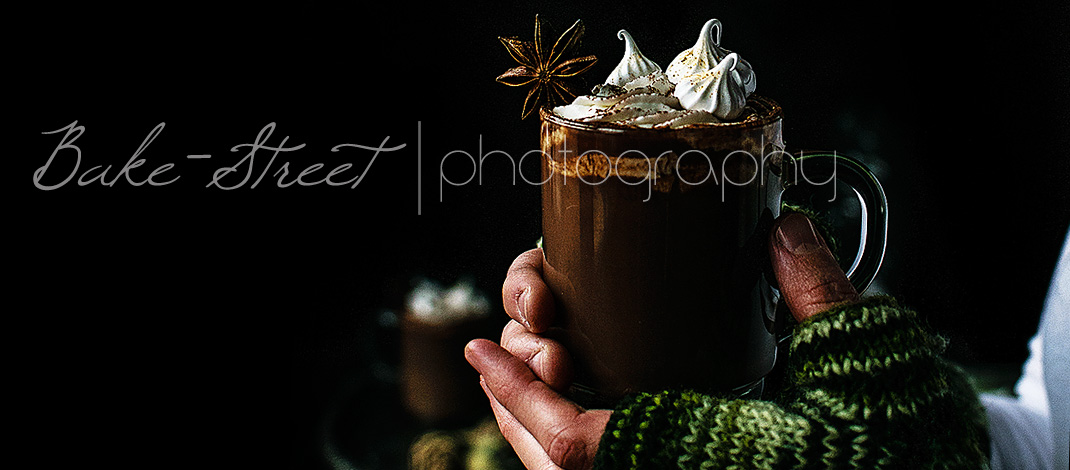 Gingerbread Hot Chocolate
Este post también está disponible en Spanish
Winter without hot chocolate is like a garden without flowers… Imposible, from every angle. Worst is that I had never posted a recipe from it. Ok, I know it hasn´t got any mystery, simple to make: heat, mix and serve. But spices, different chocolates… can make it better. So, I bring you an awesome gingerbread hot chocolate.
May be you are thinking… another recipe with gingerbread? (pain d´épices) Yes! I love these aromas and it is wonderful in hot chocolate.
When we make hot chocolate with prepared mixture, we can found ingredients like flours, cornflour… and things like these. Today we are going to make a hot chocolate without this prepared mix, only milk, chocolate, spices and moscabado sugar (I love how it tastes!).
Today I share a song from Mendetz y Nawja Nimri – "Phantotheque". First time I listened it I didn´t like it too much (I don´t know why!) but nowadays I love it!. (If you haven´t got Spotify, you can listen it in this Youtube link)
To decorate is most definitely needed whipped cream (if you are vegan, below I tell you some options). I have always hated when whipped cream melts as the time passes. Vegetable cream is better to make it whipped because is thicker, you can store it at room temperature without melted and its preservation is easier. If you can find it in markets, shops… great, but if you don´t, this tip will be nice.
Add a little amount of powder gelatin, previously hydrated, and it helps to make it solid. I took photos and when I finished, whipped cream was still perfect. I think that I had to make more… two spoons and it disappeared!
Usually I use marshmallows, a big handful, love when they melt into chocolate… But I hadn´t got, instead I used dried meringues dust with edible gold powder. They look perfect for Christmas 😉
GINGERBREAD HOT CHOCOLATE:
4 serves
FOR THE CHOCOLATE:
3 cups, 24.7 oz (700 g) whole milk or vegetable milk (almond, coconut…)
5.3 oz (150 g) black chocolate – 70% cocoa solids
3.5 oz (100 g) milk chocolate
2 Tbsp cocoa powder
1 Tbsp dark moscabado sugar
 ginger powder, 1 tsp
cinnamon powder, 1 tsp
1/2 tsp allspice
1/8 tsp nutmeg
a pinch of salt
FOR THE WHIPPED CREAM:
7 oz (200 g) heavy cream
1/2 cup + 1 Tbsp, 2.65 oz (75 g) sugar
1/2 tsp gelatin powder + 2 tsp water
FOR DECORATE:
cocoa powder
dried meringues*
star anise
* Here you can see how to make dried meringues.
INSTRUCTIONS:
Make whipped cream.
Before make whipped cream we must know:
Cream must be cold 24 hours before used it.
The bowl in which we are going to make whipped cream must be cold. I recommend to use one aluminium bowl and freeze 20 minutes before beat it.
Add gelatin powder with water in a glass, mix and let hydrate 5 minutes.
Put into the microwave on high temperature for 15 seconds. Remove and let cool (it must reduce to 91-95ºF) while we beat the heavy cream.
Pour heavy cream into freeze bowl and beat with an electric mixer into slow speed.
Once cream is becoming to form stiff peaks, add sugar little by little stirring the whole time. Increase speed gradually but without reaches high one. Ideally use medium speed.
Before finish to beat the cream, pour gelatin mixture and beat until get a perfect whipping cream. Be sure not to over-beat, otherwise cream will become lumpy and butter-like.
Cover with plastic wrap and chill until used it.
Make gingerbread chocolate.
Chop finely both types of chocolate, set aside.
In a medium pot pour milk over medium heat until becomes to simmer.
Add chopped chocolate, cacao powder, spices, moscabado sugar and salt.
Stir and cook for 10 minutes over medium heat stirring whole time.
Mixture will thicken slightly but not the same as common chocolate make with a special mixture.
Serve chocolate.
Pour gingerbread chocolate into 4 cups.
Decorate with whipped cream, dust with cocoa powder, some dried meringues and one star anise, if you desire.
And, now, you know what to do… enjoy it! 😉
TIPS:
I am vegan and don´t use animal origin products. It is not a problem, you can use coconut, almond, hazelnut, cashew milk… These vegetable milks are great to make chocolate too, and gives an special flavor. Especially hazelnuts one 😉 Here you can see how to make vegetable milk at home.
And, whipped cream? You can make coconut cream. In this post I use coconut cream to decorate a chocolate sweet potato tart, you will read instructions to make it.
And, chocolate? Omit milk chocolate or use one suitable for vegans.
The little gelatin amount in the whipped cream, helps to make it thicker and let be solid without melted over hot chocolate.
We can use cinnamon powder instead cocoa powder.
If you love marshmallows, use them! I used dried meringues because mine finished…
This gingerbread hot chocolate is perfect for cold days, and these last one have been a lot! I can omit whipped cream… but, of course, you can change it at your choice. Enjoy with some homemade cookies or sponge cake.
Happy weekend, see you on Monday!
Eva