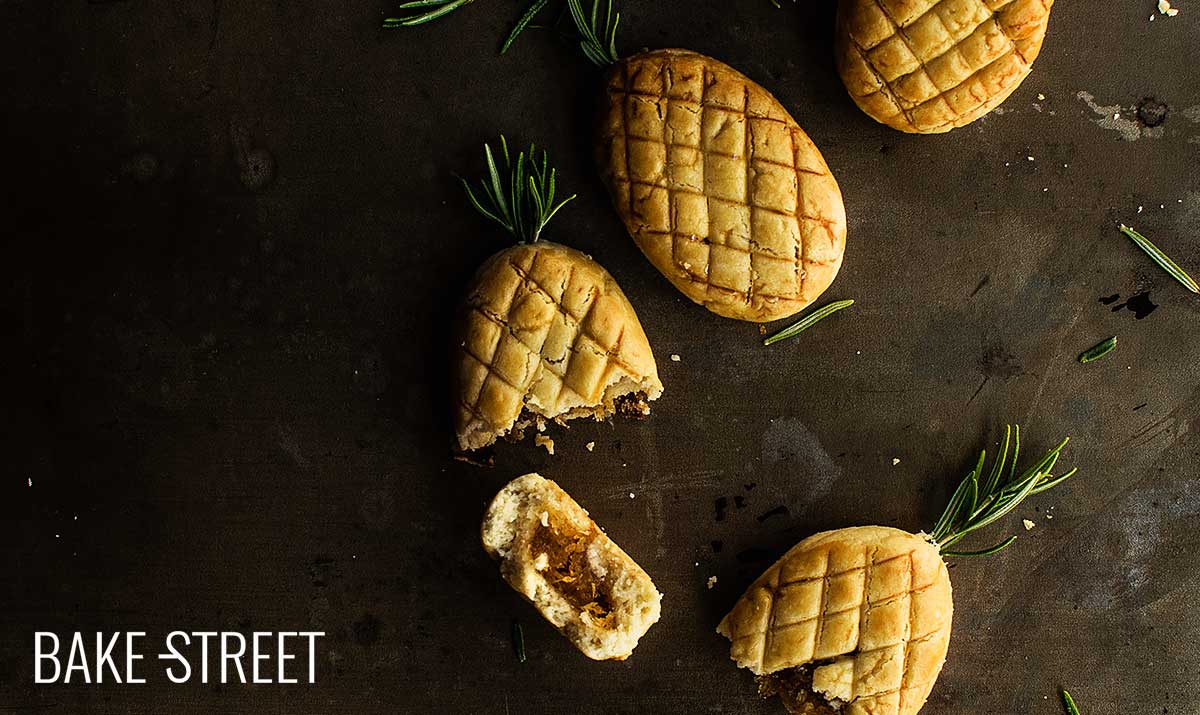 Kue Nastar – Indonesian pineapple cookies
Este post también está disponible en Spanish
This weekend has been the final push to start a new work year. The other day I read that for many people begins the year in September instead of January. And, depending on how you look at it, it can be that way. For my part, I will share with you today's recipe, Kue Nastar or Indonesian pineapple cookies.
You'll get an idea of the first thing that seduced me… Its appearance. I can't stop falling in love with recipes of this type, in which just seeing them transmits love and dedication. When we see them we know, for sure, that what we are going to make is going to be a real delight.
Kue Nastar origin.
These pineapple cookies called Kue Nenas or Kue Nastar in Indonesian, is one of the most popular traditional sweets to celebrate the Chinese New Year. The reason they are made and consumed during this time is because in the Hokkien language "ong lain" means "golden pear" and symbolizes prosperity, fortune and luck.
The golden color and sweet taste of the pineapple represent abundance. So the more filling the biscuit contains, the more richness and well-being will be obtained.
The name of these cookies "Nastar" comes from the word "Naastart" which means "pineapple cake". The Sudanese often call them "Jeung malignant tarigu" which means "pineapple and wheat".
In Indonesia these sweets are very popular during Lebaran (celebration of Eid) and Christmas.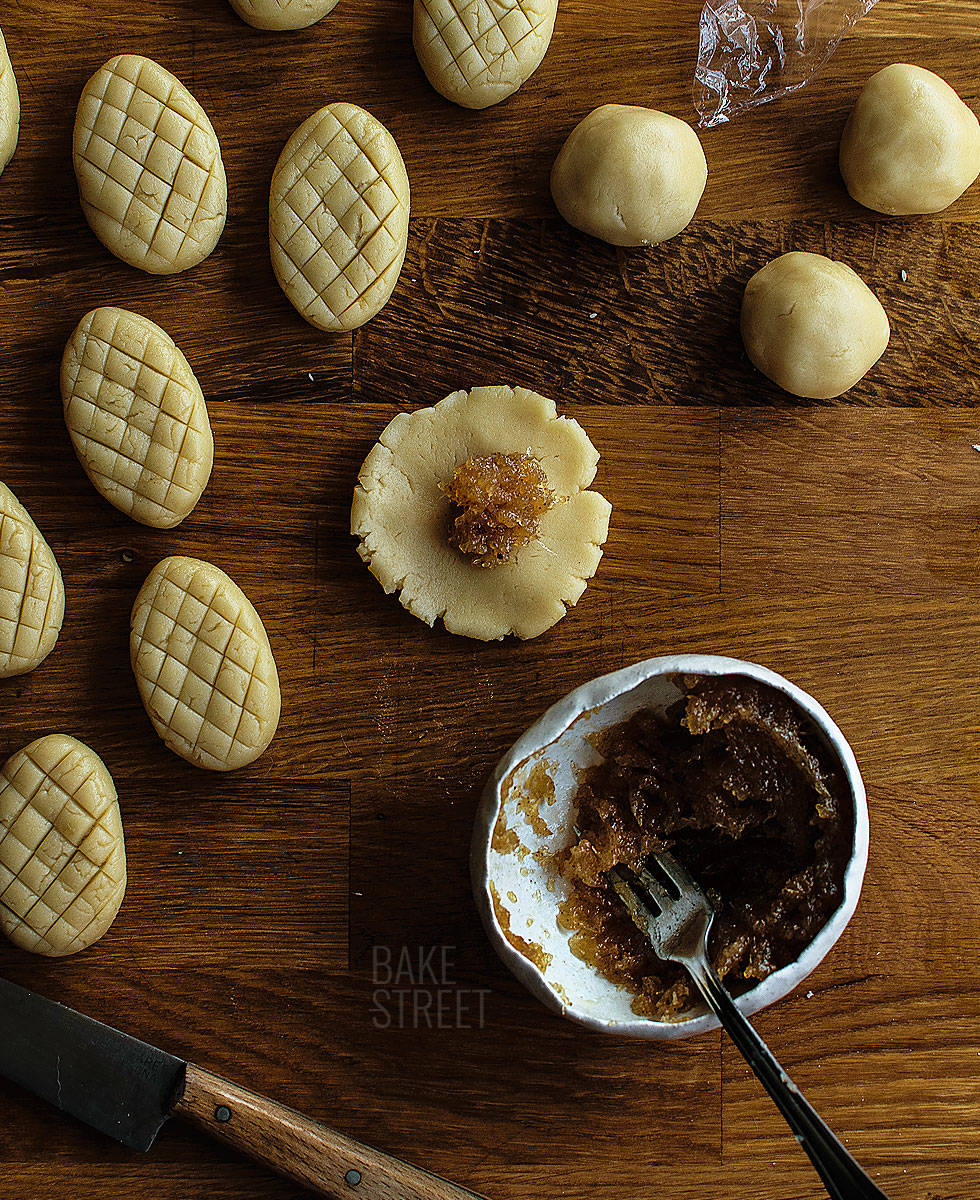 These small cookiess have a melting texture in the mouth. We could compare it to a butter. It is not a crunchy cookie or a firm texture, quite the opposite.
Its elaboration process is quite simple. First we must prepare a pineapple jam, but with a very low amount of sugar. We will have to be patient in this step because we must reduce the amount of water to obtain a dense paste.
Then we will elaborate the dough of the cookies, that as you will be able to see next does not have any type of complication. And finally, we will form and fill the cookies to bake them.
Its taste is very traditional and classic, but it falls in love and a lot. Very probably thanks to the interior of pineapple and spices.
Shaping the cookies.
Traditionally these cookies are formed by creating small rounded or elongated pieces. Then they are brushed with egg, a clove is punctured in the upper part and they are baked.
I saw the shape I left you on the blog of Chef in Disguisse and I liked it a lot. It combines the appearance of a pineapple with what the cookie symbolizes, so I thought it was simply wonderful and I wanted to follow in his footsteps. Thank you very much 🙂
Nowadays, the tradition of making these small sweets in houses is being lost and, on the contrary, they are usually bought through bakeries.
It is always good to retake habits and traditions that allow recipes to pass from generation to generation. In addition to spending time with our family doing something that will always stay and last in the memory. Good moments linked to aromas, nothing can be remembered better than this. That's why I encourage you to try them at home 😉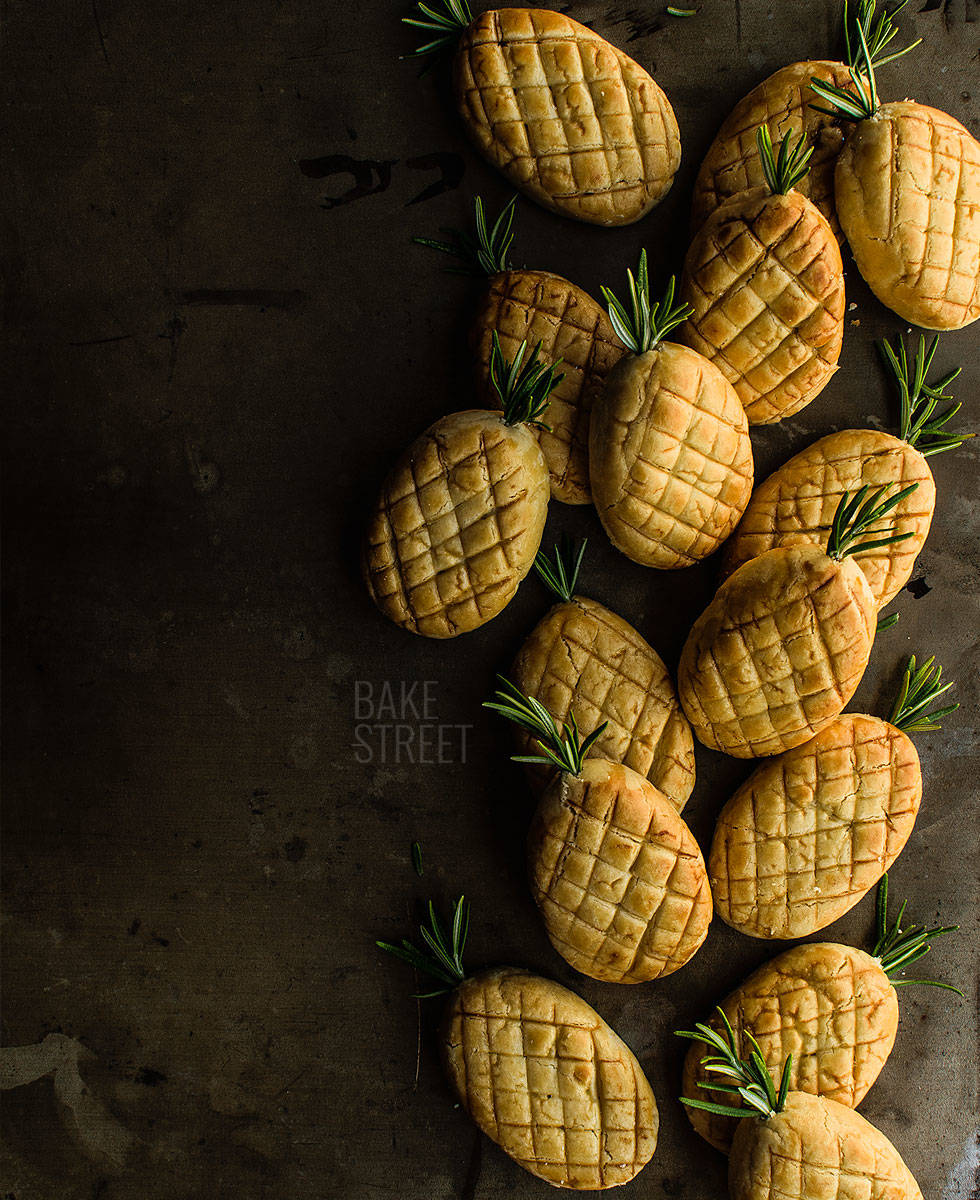 Ingredients for 15 pieces
FOR THE DOUGH:
230 g cake flour
135 g unsalted butter at room temperature
2 large egg yolks
18 g cornstarch
40 g icing sugar
2 g salt
FOR THE FILLING:
500 g fresh pineapple, peeled
100 g sugar
5 cloves, smashed
1/2 tsp cinnamon powder
1 Tbsp fresh lemon juice
FOR BRUSH:
1 large egg yolk
1 tsp honey
1 tsp water
rosemary leaves for decoration
Instructions
Make the filling.
In a food processor add the pineapple, previously removed the skin and the central part, and process until obtaining a purée.
Pour into a medium saucepan and add the cloves along with freshly squeezed lemon juice.
Place at medium-low heat and cook until the juices are reduced. You will notice that the pineapple will begin to caramelize taking a darker color.
Add the sugar together with the powdered cinnamon, mix well so that they integrate and cook until a dense paste is obtained. The whole process will take about 55-60 minutes.
Remove from heat and let cool completely.
Once cooled, store in an airtight container and refrigerate until the time of use.
Prepare the dough.
Sift the flour together with the cornstarch and salt. Mix.
In the bowl of the kneader incorporate the butter together with the icing sugar and mix with the help of the flat beater at speed 1 until a creamy, aerated texture is obtained.
Add the yolks and mix again until they are fully integrated.
Begin adding the dry ingredient mixture at the same time as we mix. Do it in batches. If necessary we will stop the kneader to remove the dough of the sides.
Once we have a compact dough, pour it over a clean work surface and knead it until it is completely amalgamated. We must obtain a soft dough to the touch and modelable.
Make a ball, place in a bowl and cover with film. Let it rest for 30 minutes.
Shape the cookies.
Divide the dough into 15 pieces, they will weigh about 28g/each.

Shape balls and cover with film to prevent the surface from drying.
Take one of the pieces and flatten lightly with your fingers trying to give oval shape. Fill with pineapple filling and fold the ends towards the centre to seal it.

Finish shaping and mark the surface with a knife to simulate the texture of a pineapple.
Place on a tray lined with baking paper and repeat with the rest of the pieces.
Once we have all the cookies formed, refrigerate for 15 minutes. This step will help us to keep the shape better during baking.
Bake.
Preheat the oven to 355ºF (180ºC).
Meanwhile, in a bowl, mix the yolk with honey and water. Set aside.
Brush the cookies with the yolk mixture and bake at medium height for 16-18 minutes. They should acquire a light golden color.
Remove and allow to cool completely on a rack.
Decorate.
This step is totally optional, but the truth is that they are very cute.
With the help of a toothpick pierce the upper part, carefully because the cookies crumble easily, to create a hole.
Put fresh rosemary leaves to simulate the stem of the pineapple.
Serve.
Notes
The pineapple filling can be made with fresh fruit or, if you wish, canned pineapple. In the latter case I recommend that you buy the one that comes packaged in its juice and without added sugar.
You'll have some leftovers filling, not too much. You can even use it to spread on toasted bread with butter. It's absolutely spectacular.

The dough cracks easily when it is shaped, handle it with care.
These cookies are not crunchy, in fact the texture is reminiscent of butter cookies. The pineapple filling gives it a wonderful sweet and fresh touch.
We can keep them for 1 month stored in an airtight container. In this case I recommend you to remove the rosemary or to place it only when you are going to serve them.
Try them, you must be encouraged to make and enjoy these incredible Kue Nastar or Indonesian pineapple cookies. I give you my word that you will not be disappointed.
It is true that they are not consumed at this time of year... But we should not be closed to enjoy and learn about the wonders of other cultures because it is not the right date. Besides, who among us has not made or eaten a Roscón de Reyes out of date?
Big hugs!
Eva
Sources: What to Cook Today, Cook Bake Eat Love
Archivado en