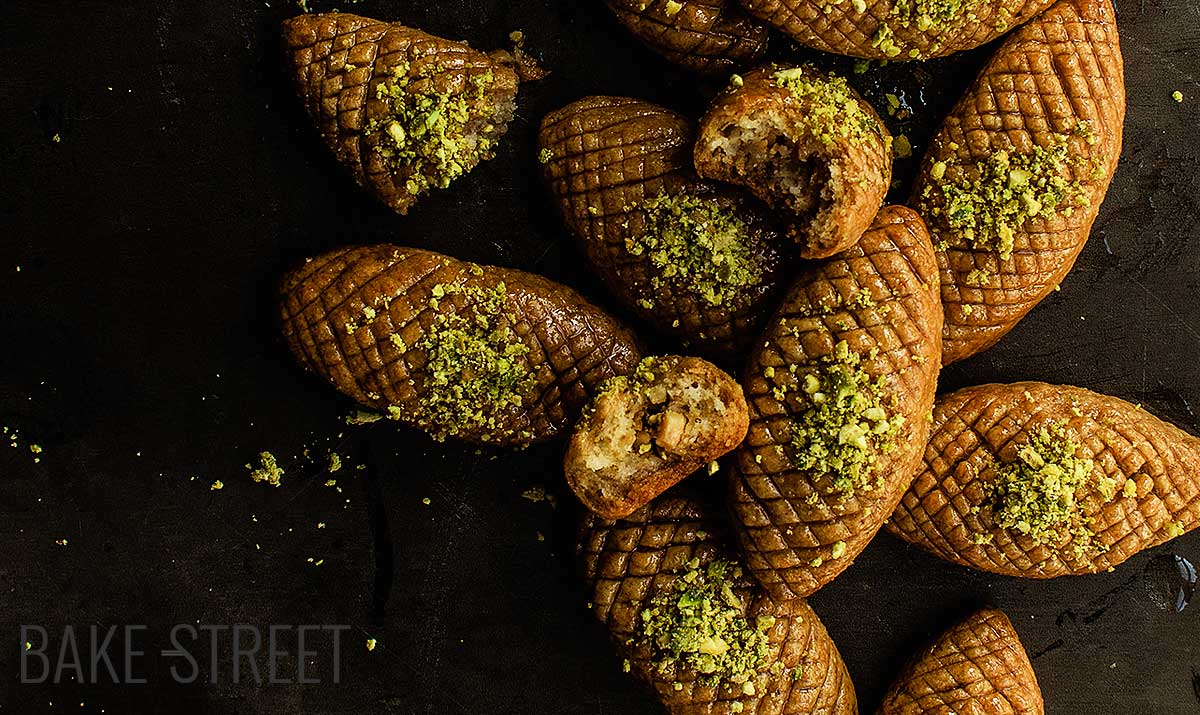 Kalburabasti, Turkish nut cake
Este post también está disponible en Spanish
It's not the first time it's happened to me and I love it every time it happens. Many times, I am looking for new recipes, inspiration, different preparations…. And I find things I've never seen before. This is something that has happened to me with many recipes from the blog and, in fact, I have commented on it in the post itself. It's happened again. I came across this marvel of Turkish gastronomy, Kalburabasti. A variety of cake/cookie filled with chopped walnuts and topped with syrup and pistachios.
It's something that fascinates me. Maybe I'm looking for a filling for a salty recipe and looking, I get to websites or social network feeds that show wonders like the ones I bring you today. In the end I put aside what I had in mind for another time and get right down to what I found. I was totally in love with them.
Kalburabasti origin.
The Kalburabasti or Kalbura-Basti, also known as Hurma, are small Turkish cakes filled with ground walnuts, with a textured appearance and soaked in syrup. It is one of the favorite specialities prepared for the "Feast of the Breaking of the Fast" "Şeker Bayram or Eid Ul-Fitr" which follows the holy month of Ramadan.
Its origin is Ottoman although there is a very similar variation called "Hurmašice" or "Hurme" that can be found in Serbia, Bosnia and Herzegovina. This is because the Turks invaded, controlled and were very influential in those regions.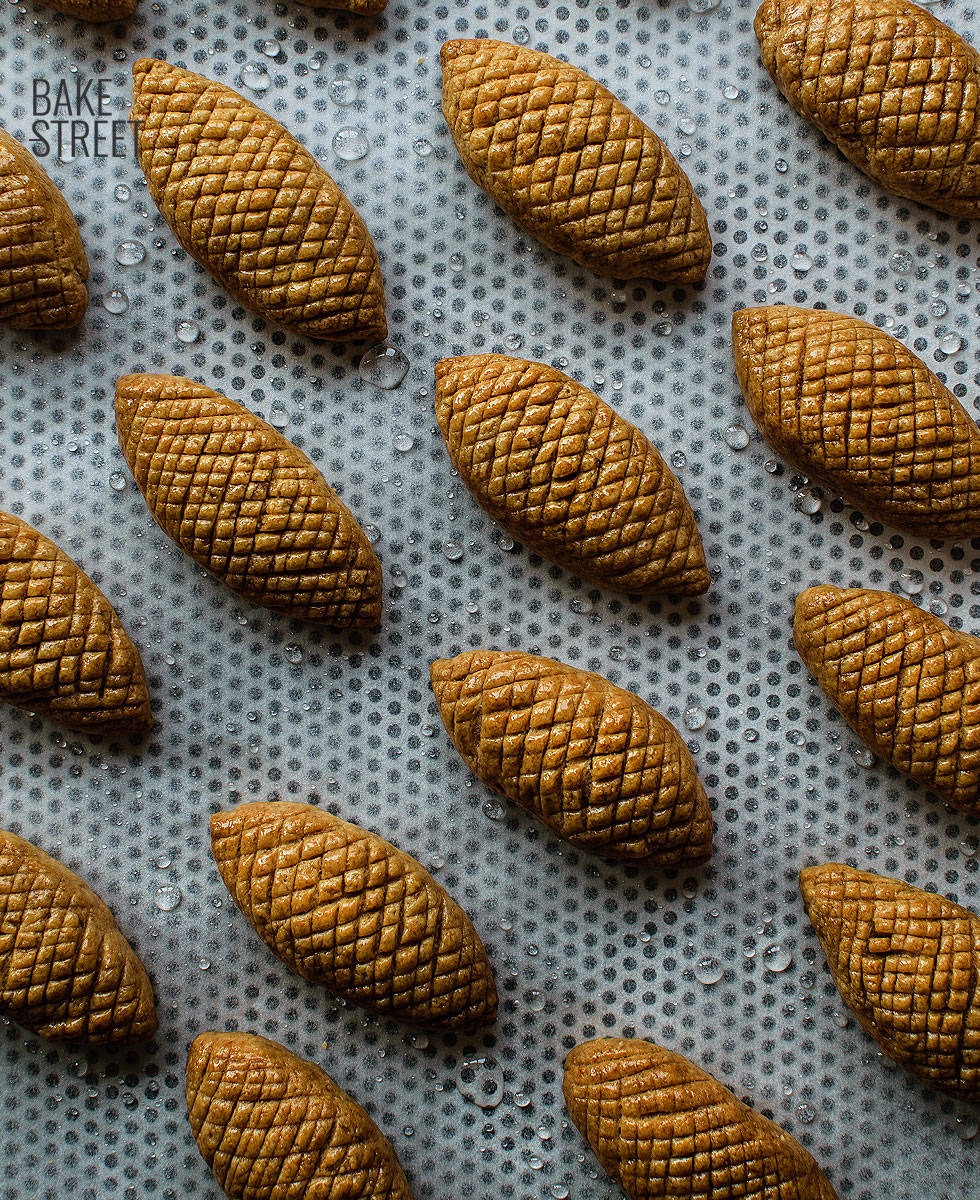 Buyer perforated tray from Claudia & Julia
Making the cakes.
The way these cookies or cakes are made is a bit peculiar. To achieve the external texture a colander, sieve or grater is usually used to give the final finish. In fact "kalbur" means "colander". In my case you will see that I have used another method to give them the exterior finish.
My first intention was good. I took several colanders that I had at home and tried to texture the dough with them all…. The drawing was very small and subtle. For my taste it was too light, so I decided to draw the lines with a knife. I know it breaks all the magic, but I wanted them to look more striking 😉
Apparently, this type of sweet pastry is quite difficult to find in bakeries, pastry shops or restaurants in Turkey. It is customary to make this sweet at home and enjoy it with the family.
Traditionally, they are filled with chopped walnuts, but they can also be filled with walnuts and grated coconut or even with nothing.
I have adapted the recipe by Yemek.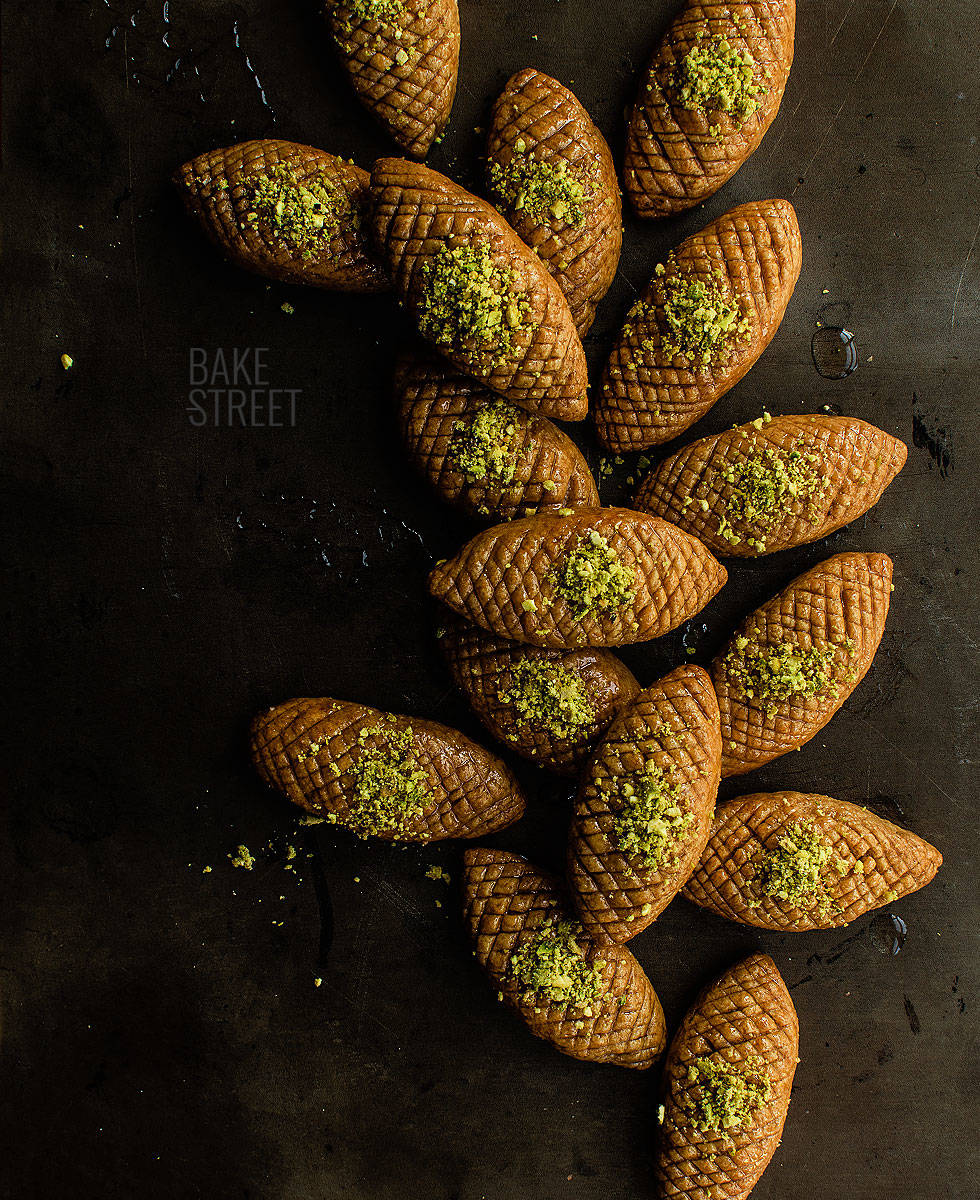 Ingredients for 20 pieces
FOR THE DOUGH:
235 g pastry/cake flour
35 g semolina
60 g whole milk
100 g unsalted butter
1 Tbsp olive oil
1/2 Tbsp sugar
8 g baking powder
1/4 tsp salt
40 g walnuts crashed
FOR THE SYRUP:
425 g water
365 g sugar
2 lemon slices
FOR GARNISH:
Instructions
Make the dough.
In a saucepan add the butter and place on medium heat. Let it melt completely.
Remove from heat and add the oil together with the milk. Mix.
In a bowl, sift the flour and add the semolina, sugar, salt and baking powder. Mix again.
Pour the butter mixture over the flour and integrate with a spatula.
Once we have a compact dough, dump on a clean work surface and knead until completely homogenized. We must obtain a soft dough to the tact and modelable.
Make a ball, place in a bowl and cover with film. Leave to stand until the dough has completely lost its heat.
Make the syrup.
In a saucepan pour the water together with the sugar.
Place at medium heat and let it boil. Then reduce the heat and leave for 20-25 minutes. We'll get a syrup that's not too dense.
Add the lemon slices and leave to stand until completely cool.
Shape the pastries.
Divide the dough into 20 equal pieces, about 23 g/each. Make balls.

Take one of the pieces and flatten it gently, trying to give it an oval shape.
Fill with ground walnuts and join the folds at the ends to seal them. Model slightly to give it an oval shape.

With the help of a knife, draw a grid pattern on the surface.
Place on a tray lined with baking paper.
Repeat the process with the rest of the pieces.
Bake.
Preheat oven to 345ºF (175ºC).
Bake at medium height for 23-25 minutes. They will take a light golden color.
Remove from the oven and place the tray on a rack.
Brush each piece with the syrup and leave it to cool for 30 minutes.

Place the Kalburabasti in a baking dish and pour the syrup over them. Let stand in the syrup for 2-3 hours.
Serve.
Remove the pastries from the syrup and drain lightly.
Place on a serving dish or plate and sprinkle with ground pistachios.
Serve.
Notes
The dough of the biscuits should not be kneaded for a long time, enough for the ingredients to amalgamate and obtain a smooth texture.
To texture the surface you can use the tool of your choice.
The original and traditional filling is made with nuts or, in some cases, nuts and grated coconut. But if you want to vary the nut, do it without problems.

I recommend you not to omit the resting time of the pastries in the syrup. They absorb large amounts and the result is incredible.
They can be kept in an airtight container for several days.
I know this hot weather doesn't invite you to do anything in the oven... But if we do it first thing in the morning, in return, we can enjoy this wonderful Turkish sweet, Kalburabasti.
Its texture will surprise you, it is a biscuit or cake soaked in syrup that still maintains its shape, but with a spectacular juiciness. If there's a perfect sweet treat to go with coffee, it's definitely this one.
Have a wonderful day!
Big hugs,
Eva
Source: Rosas yummy Yums
Archivado en