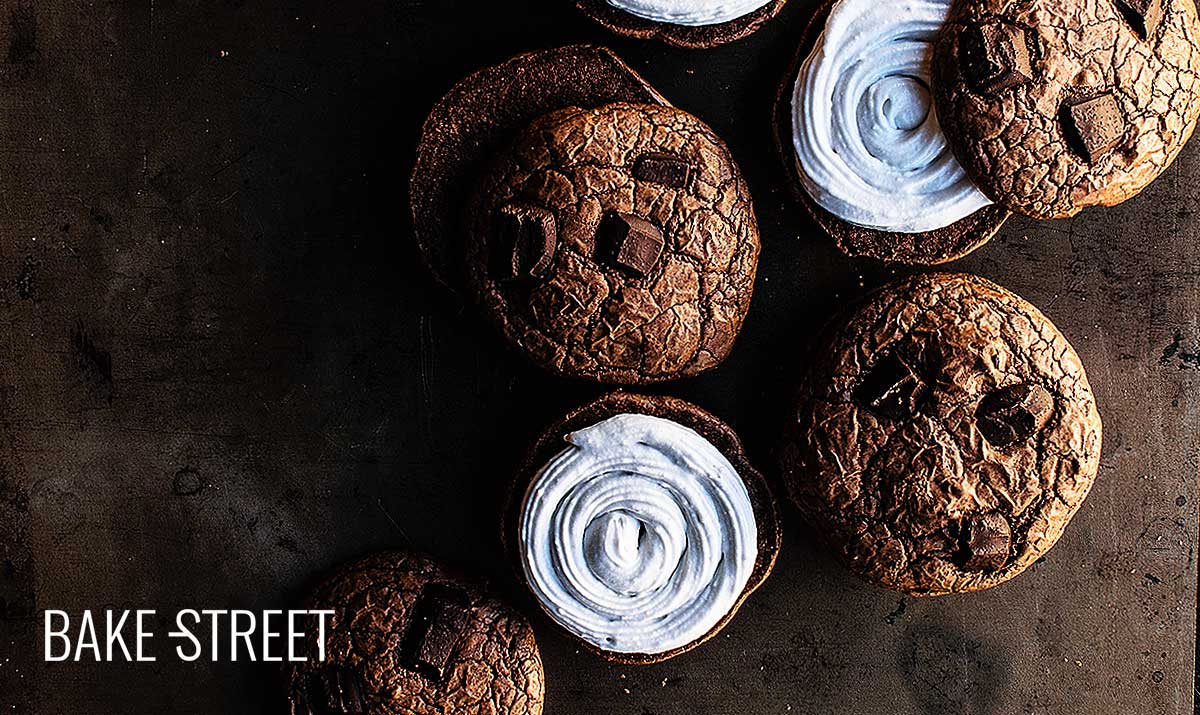 Mexican Hot Chocolate cookies with coconut cream
Este post también está disponible en Spanish
Imagine that one afternoon you get a huge craving for chocolate. What's more, not only do you want chocolate, but what you really want are gooey, tender, fudgy and delicious chocolate cookies. You know these things happen… Well, this has a very easy solution. If I told you that you could enjoy these amazing Mexican hot chocolate cookies in 30 minutes, what do you think? Yeah, I know, speechless.
They will be made and baked at that time. You can be giving the first bite to this marvelous in 35th minute. The hardest thing you'll do is melt the chocolate with the butter in a water-bath. We won't even need to stretch or cut dough… a simple spoon will be our helper to put them on the tray.
In fact, they should be called "the easiest and most satisfying cookies in the world". But in their place they have this particular name, which also attracts powerful attention.
What are these spicy Mexican cookies like?
First of all to say that its texture is tender, fudgy… not at all crunchy. It reminds me very much of the texture of the brownie, just something denser and with chocolate chips everywhere. Exquisite.
Its flavor, in my humble opinion, is unbelievable. It has just the right point of sweetness with a very intense chocolate flavor accompanied by that spicy kick accompanied by cinnamon that makes them fascinating. Remember what I say, you will never forget its texture and taste. It's one of those things that stays on the palate for life.
I saw the recipe on the blog Life Made Simple and I fell in love from the very first minute. I made some minor modifications, especially in spices, but the main base is the one left to us by Natalie.
Enjoying an outstanding filling.
These cookies don't need anything to make us enjoy ourselves, but if we fill them with a whipped coconut cream on top of each other, they will touch the absolute perfection. However, if you decide to make this cream you should like the coconut flavor because it is the basis of this filling along with a little sugar.
This coconut cream, which looks very much like whipped cream or even cheese cream, is a great option if you are vegan. It can be used in the same way that we use whipped cream to decorate and with a very similar texture. Of course, the taste is very different, but very mild in both cases.
To prepare this coconut cream you must buy canned coconut cream not coconut milk. We must also refrigerate it overnight, in the same way that we would do with the cream to whip it later. Then we just have to put it in a pipping bag and place it on the cookies.
It's not the first time I've used this coconut cream, I did it long ago to decorate a pie, but for some strange reason I haven't done it again since then… it won't happen again 😉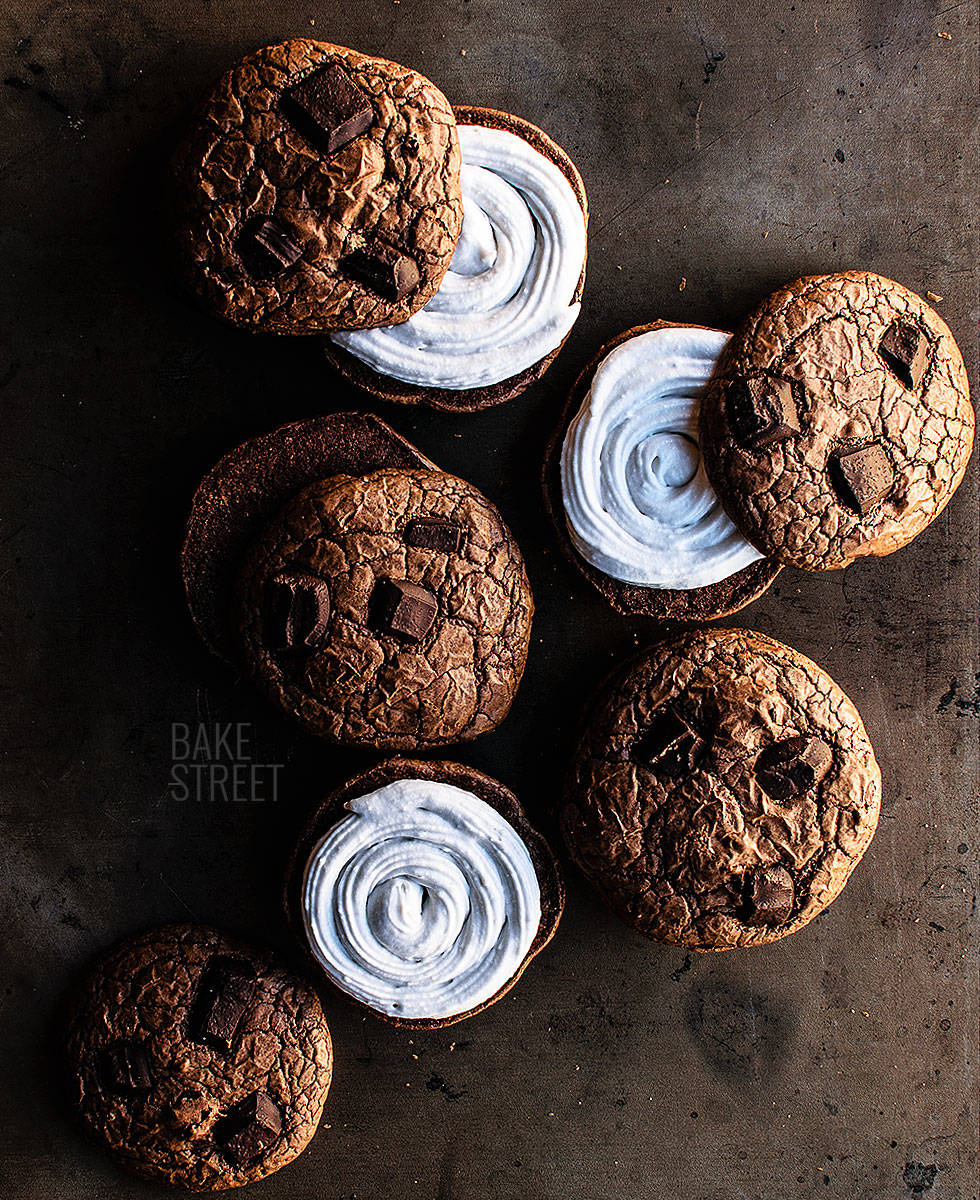 Ingredients para 12 pieces (6 stuffed pieces)
FOR THE COOKIES:
4,25 oz (120 g) 70% black chocolate
1 0z (30 g) unsalted butter at room temperature
3 oz (85 g) light muscovado sugar
2 oz (55 g) all purpose flour
1 large egg
1/2 tsp baking powder
1 tsp cinnamon powder
2 chiles from Cobán (If not, we can use 1/2 teaspoon cayenne + 1/2 teaspoon chili flakes)
1/2 tsp salt
1 tsp vanilla paste
3,2 oz (90 g) black chocolate* chunks or chips
* I used 70% chocolate with caramel and salt
FOR THE FILLING:
3,5 oz (100 g) canned coconut cream, refrigerated overnight
25 g icing sugar
Instructions
Melt chocolate.
In a heat-resistant bowl add the 120 g of chocolate, lightly chopped, together with the butter.
Place in a water-bath and leave until completely melted. We will stir from time to time to help the integration of both ingredients.
Remove from the heat and let it stand for 10 minutes so that it tempers slightly.
Make the cookies.
Preheat oven to 355ºF.
In the bowl of the KA or a stand mixer, beat the egg together with the sugar and vanilla. We will gradually increase the speed, beat until it looks fluffy and increases slightly in volume. It will take about 2-3 minutes.
Meanwhile, in a medium bowl add the flour together with the baking powder, salt, mashed chili and cinnamon. Mix with a spatula and set aside.
Pour the chocolate little by little into the beaten egg and mix until a homogeneous mixture is obtained.
Add the flour mixture and mix only until it is completely integrated without leaving lumps.
Finally, add the chopped chocolate (only 60 g, set aside the rest) and mix with a spatula to distribute evenly.
Let the mixture stand for about 5-7 minutes to take more consistency.
Prepare a tray with a sheet of teflon or baking paper. Using a standard size scoop, place balls of dough.
Decorate the surface with the remaining chocolate chunks.
Bake for 12-14 minutes. They will look cracked and very shiny.
Remove from oven and let stand on the tray for 15 minutes. Then place them on a rack and let it cool completely.
Whip the coconut cream.
Take the coconut cream out of the fridge, remember that it must have been in the cold all night.
Use the densest part by discarding the water. Don't throw it away, you can reuse it to make a bread or make a cream or soup.
Beat coconut solids starting at the lowest speed and gradually increasing to the highest speed. We'll do it for 1-2 minutes, you will notice that it begins to take an aerated texture.
Gradually add icing sugar little and beat it at the same time during 3-4 more minutes.
Assemble the cookies.
Put the whipped coconut cream on a piping bag, we can make use of a decorating tip if desired.
Fill the surface of one cookie with coconut cream, cover with another cookie.
Repeat the process with the rest of the cookies.

Serve.
If they are not consumed immediately, they should be refrigerated so that the coconut cream retains its firmness.
Notes
I have used chocolate 70% to make the cookies, in case you don't like this variety (because it is not very sweet) I recommend you to use one with a percentage of cocoa not less than 60%.
Light muscovado sugar can be substituted by the darker variety, panela or white sugar if you wish. remember that the first varieties will also bring a particular and very aromatic taste.
Chili is not essential, in fact it can be omitted if you wish, but I recommend not to do so. The spicy flavor is very subtle and is highly pleasant together with chocolate. I've used Cobán chili, but you can use any variety of chili you want or even cayenne instead.

I recommend that you let the cookie mixture rest for a few minutes before placing it on the tray. The reason is that it will become a little thicker and won't expand on the tray.
To decorate the cookies by the surface I have used a variety of chocolate70% with caramel and salt. The combination is great, but if you don't find it, you can use another type of chocolate without any problems.
The cookies can be filled with the coconut cream that I suggest or you can vary it for a chocolate ganache, dulce de leche, milk chocolate and caramel ganache... The options are endless and always your choice.

If you have leftover coconut cream, we can store it in an airtight container and refrigerate it for up to 5 days. It is a substitute for the wonderful traditional whipped cream with a delicate coconut flavor.
If we let the filled cookies rest in the fridge, the filling will be firmer and will not overflow when biting them.
Preservation: We can store cookies filled with coconut cream, refrigerated in an airtight container, for 5 days. If we decide not to fill the cookies, we can store them in an airtight container at room temperature or refrigerated (at our choice) for several days.
I'm sure that many of you already knew about these Mexican hot chocolate cookies, I had my eye on them a long time ago, but I hadn't made them yet.  Time doesn't give for everything we want.
You have to try them as soon as possible. It's one of those super easy recipes to make, which hardly messes up the kitchen, we don't need to pay too much attention because they are even more beautiful if the shape is not perfect... Come on, that can be done at any moment, for example this afternoon, hahaha. Have a fantastic day!
Big hugs,
Eva
Archivado en