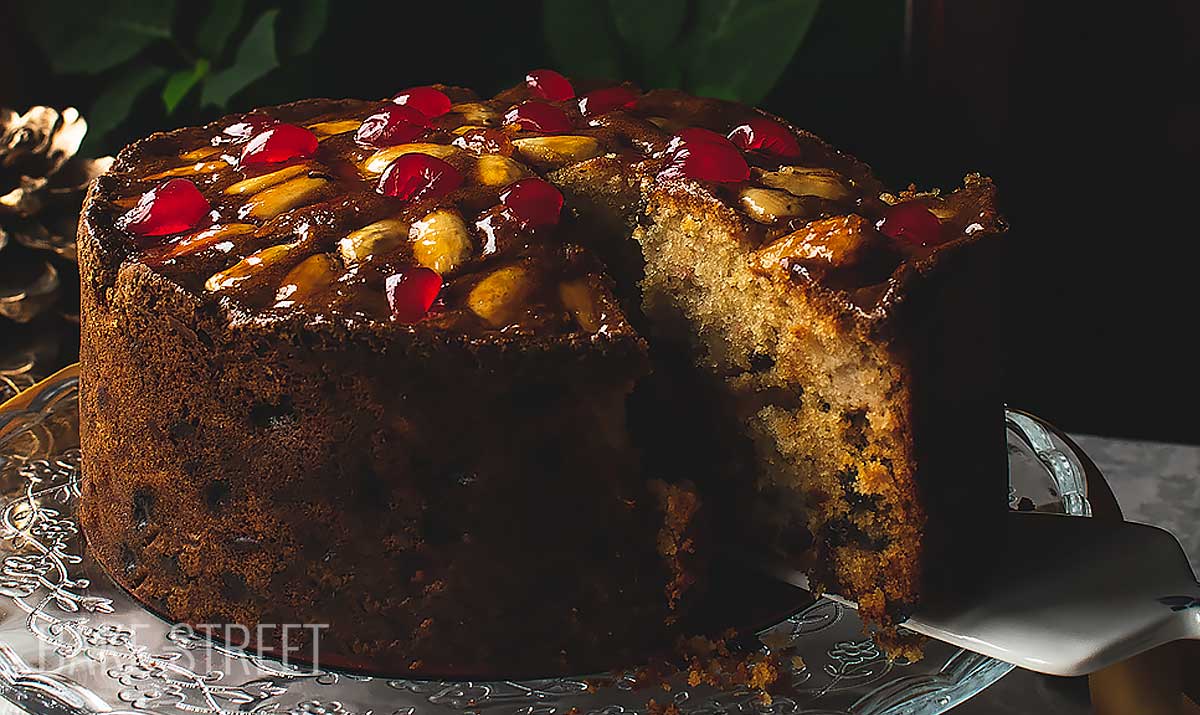 Mary Berry's Victorian Christmas Cake – Genoa Cake
Este post también está disponible en Spanish
We are approaching days in which our kitchen will be at full capacity and, it is one of those moments, in which knowing some simple recipe that solves a Christmas dessert or breakfast is received with open arms. Personally I love to make desserts and sweets that require time and dedication, but I'm also aware that there comes a time when we can't give more than ourselves. So today I'm going to leave you a fantastic option that requires very little time to prepare. Mary Berry's Victorian Christmas Cake or Genoa Cake.
As soon as I see it, I know what you're going to think, but what an old-fashioned! Yes, actually. It's an "old-fashioned dessert", very classic, traditional and full of flavour. There are certain sweets with a very classic appearance that attract my attention. They take me back to a romantic, magical time and I think that's exactly why they make me fall in love so much.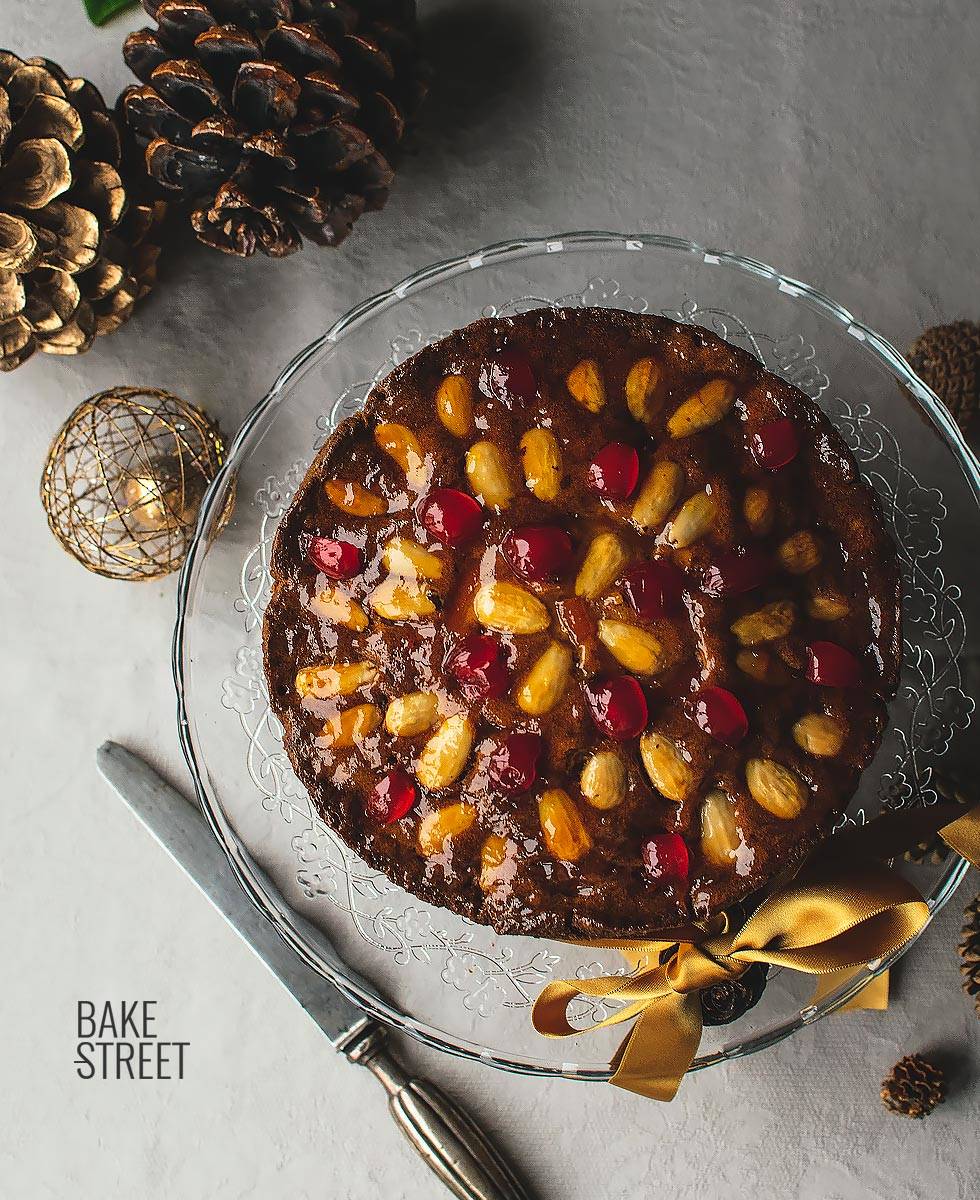 The thing is, as soon as I saw it, I knew I'd have to prepare it. It is a sweet that can remind us a lot of the classic Cake aux Fruits, but its ingredients and finish differ a little from this. Although it is true that they keep a certain similarity.
Origin of Mary Berry's Victorian Christmas Cake or Genoa Cake.
Genoa Cake as it is mainly called in the United Kingdom, is a variant of the Pandolce that originated in the 16th century in Genoa as a Christmas cake. There are many recipes to make this cake since the nineteenth century, such as the version I share with you today Mary Berry's Victorian Christmas Cake.
The difference between the Genoa Cake and Pandolce lies in some of its ingredients such as pine nuts, in addition to the fact that the second is a dough and not a sponge cake, which is the version we will make today. The simplest version made with baking powder is also known as Pandolce Basso.
This cake is named after its author.
Mary Berry, Mary-Rosa Alleyne Berry, gastronomic writer and television presenter who, currently and for the last 10 years, is a jury member of the program "The Great British Bake Off". She has written over 70 cookbooks and was appointed commander of the Order of the British Empire in 2012.
This sponge cake is an explosion of flavor and texture, combining sweet, citrus, fresh and delicate flavors. The sponge is very juicy and combined with nuts is really a delicacy. Without a doubt this fruit cake is one of those desserts that surprise and very pleasantly. But classics never fail, do they?
To make it, all we have to do is chop the fruits, mix them, prepare the cake dough, integrate it with the fruits and bake it. The preparation process will take no more than 15 minutes and while it's baking, which takes a little longer because it's done with love and affection, we'll be able to move many things forward.
You don't have to do it the same day you are going to consume it. You can do it 1-2 days in advance and keep it wrapped in film in the fridge. The day you are going to serve it, take it out 3 hours before the cold so that it tempers. Then brush with the jam, decorate and serve.
One important thing I don't want to leave unmentioned is that a good pan always helps a successful preparation. To make the cake I have used this Push-Pan with a diameter of 8 inch/20 cm. It is non-stick, comfortable, very easy to unmould and very easy to clean. You know that when we have a lot of work, all help is little, and in this case utensils of this type are almost essential.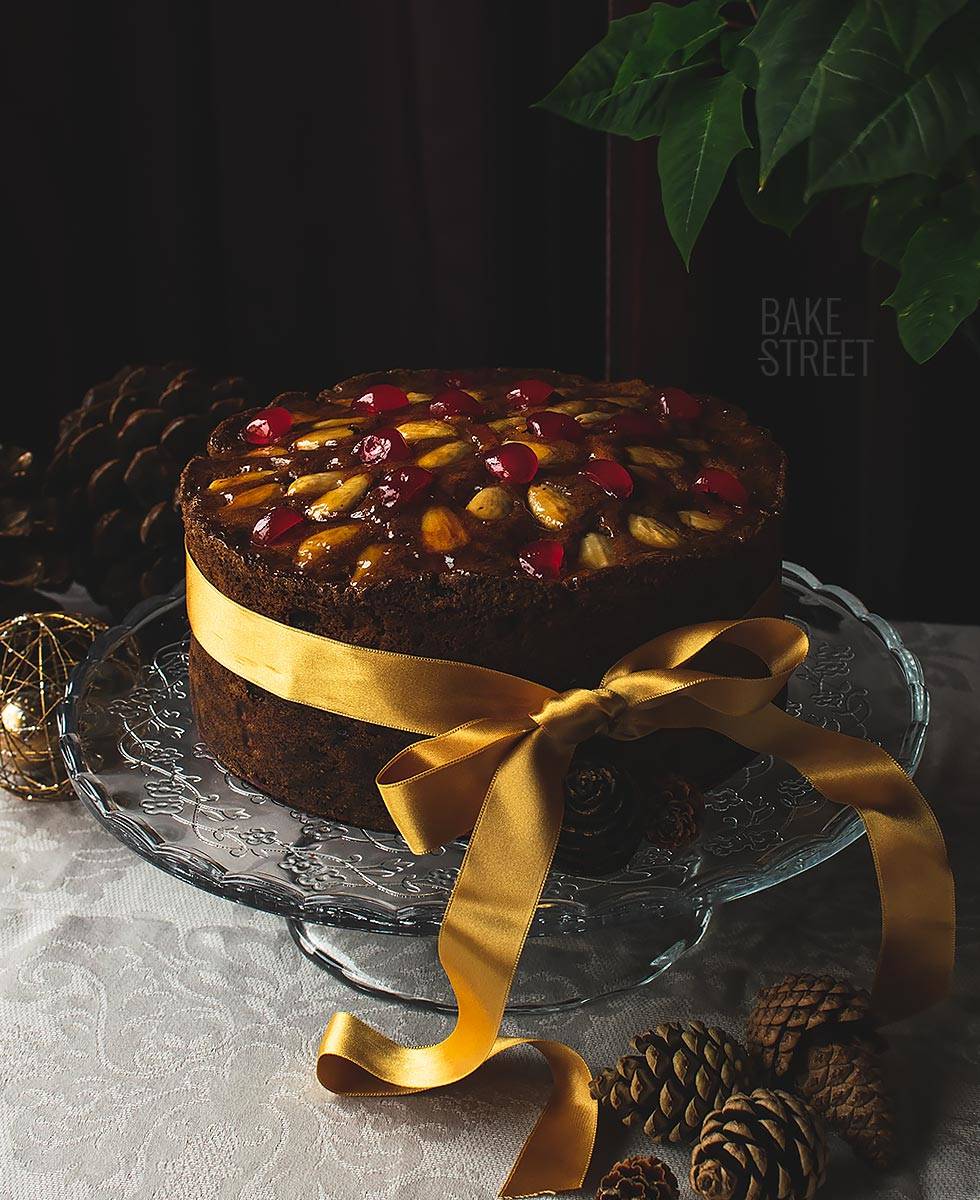 Ingredients
FOR THE SPONGE CAKE:
250 g pastry/cake flour
75 g ground almonds
5 large eggs
250 g unsalted butter at room temperature
250 g sugar
8 g baking powder
220 g red glacé cherries
225 g canned pineapple in its juice, without sugar
250 g sultanas
50 g dried apricots
50 g raw almonds
2 lemons, finely grated zest only
pinch of salt
FOR DECORATE:
raw almonds
red glacé cherries
candied orange
2 tsp apricot jam
Elaboración
Soak sultanas.
Add the sultanas in a heat-resistant bowl and pour 250 g of boiling water over them.
Leave to soak for 30 minutes.
After this time, drain and set aside.
Make the batter.
Preheat oven to 320ºF/160ºC.
Grease the Push-Pan with butter, sprinkle with flour and remove the excess by turning it over. Set aside.
Sift the flour together with the ground almond, the baking powder and the salt. Set aside.
In a large bowl mix the chopped pineapple together with the chopped apricots, the cherries cut into quarters, the slightly chopped almonds, the drained raisins and the grated lemon rind. Mix to distribute the mixture and set aside.

In the KitchenAid bowl add the butter together with the sugar and beat with the flat-beater.
Gradually increase the speed to level 3. Beat until creamy, airy and whitish.
Begin to add the eggs. We will do it one by one and waiting for it to be completely integrated before adding the next one.
We begin to add the mixture of dry ingredients. Do it little by little and mixing at the same time.
We must not over beat the mixture, this is very important to obtain a spongy result, we mix only until the ingredients are integrated.
Mix the chopped fruits with flour removing the excess. This step will help to distribute the fruits all over the cake, without falling to down.
Finally, add the fruit mixture and integrate it into the batter with the help of a spatula. It is better that you do it manually to guarantee that they are distributed homogeneously, besides not mixing in excess.
Bake.
Pour the mixture into the pan and smooth the surface with a spatula.
Decorate the top with almonds, cherries cut in half and some candied orange.

Place in the oven at medium height and bake for 2 hours and 15 minutes. Halfway through cooking, cover the cake with aluminium foil to prevent it from browning excessively.
Before taking it out of the oven we will check that it is well baked by pricking it with a toothpick, it must come out clean.
Take it out and let it rest on a rack for 60 minutes.
After that time, unmould and let it cool completely over a rack.
Decorate.
Heat the apricot jam for a few seconds in the microwave.
Brush the surface of the cake with it.
In case some of the cherries are too submerged in the cake, we can decorate the surface with cherries in quarters.
Serve.
Notes
If you wish, you can macerate the raisins in some liqueur that you like. In that case I recommend you to leave them at least 24 hours.
If you don't like any of the nuts, you can replace them with the one you like the most.
The pan is excellently unmoulded, but even so, I recommend greasing it with butter and sprinkle with flour to make sure nothing adheres.
It is preserved in perfect condition inside a glass bell for 7 days.
The cake can be frozen for 2 months wrapped very well in film. To defrost it, leave it at room temperature for 12 hours.
Le Creuset Teapot from Claudia&Julia
During this Christmas be sure to try Mary Berry's Victorian Christmas Cake or Genoa Cake. Any time will be perfect to enjoy it. Either at the end of a lunch or dinner with a little champagne, at mid-afternoon with a coffee or for breakfast accompanied by a good hot chocolate.
And, of course, if you encourage with it, don't stop telling me how it went.
For my part, I'll say goodbye to you until next year. It sounds like a thousand years, but it's only a few days... hahaha
Family dates are approaching, to spend time with loved ones, friends and share many things with them. But don't worry, in less than you expect, I'll be here again.
I wish you happy holidays, wonderful Christmas and all my best wishes to you. Thank you for being one more year by my side and helping me to fulfill my dream.
Love and big hugs,
Eva
This post contains affiliated links
Archivado en