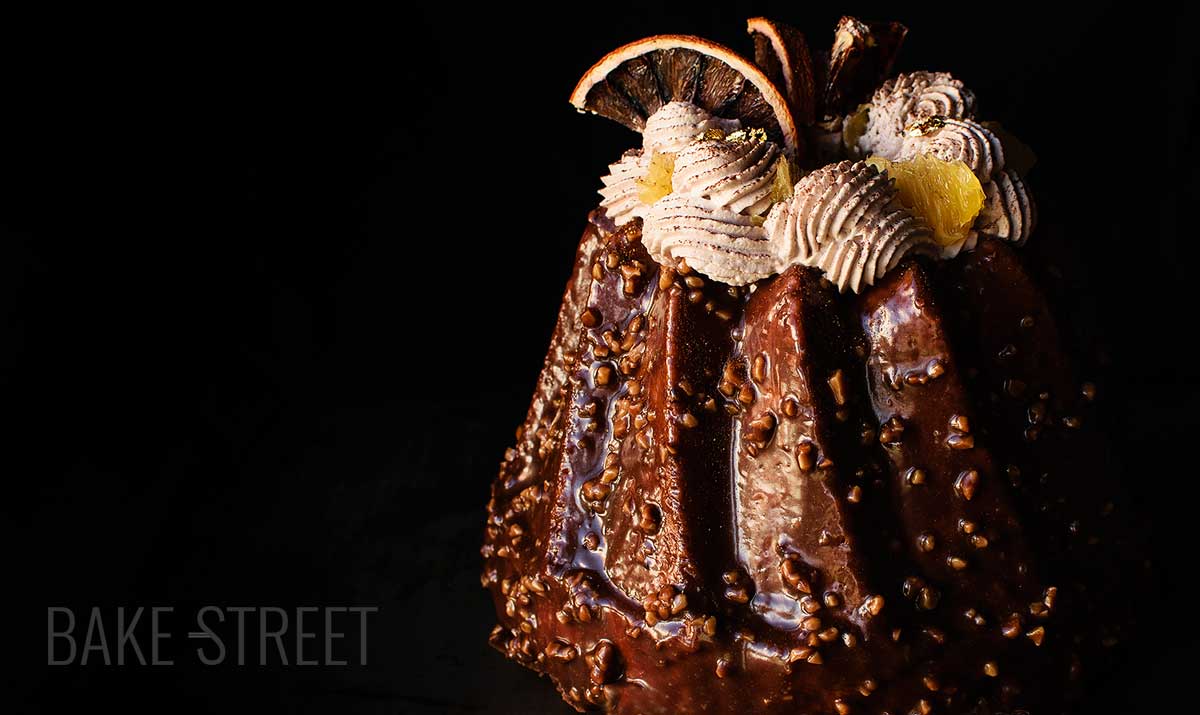 Orange, Bourbon and Chocolate Tea Cake
Este post también está disponible en Spanish
For some time I had wanted to prepare a Bundt Cake covered with chocolate, something similar to other sponge cakes I've left you on other occasions on the blog. I really like the format of these moulds, allows us to present a very simple preparation with a very elegant air. So a few days ago I made this Orange, Bourbon and Chocolate Tea Cake.
What a fantastic combination Bourbon and orange, because we already know that with chocolate are guaranteed success. I had never used a liqueur before in a sponge cake, whether in yeast doughs or other types of recipes, but not as an addition. Ok, I don't mean to impregnate it later, I've done that many times like in this Cake aux Fruits.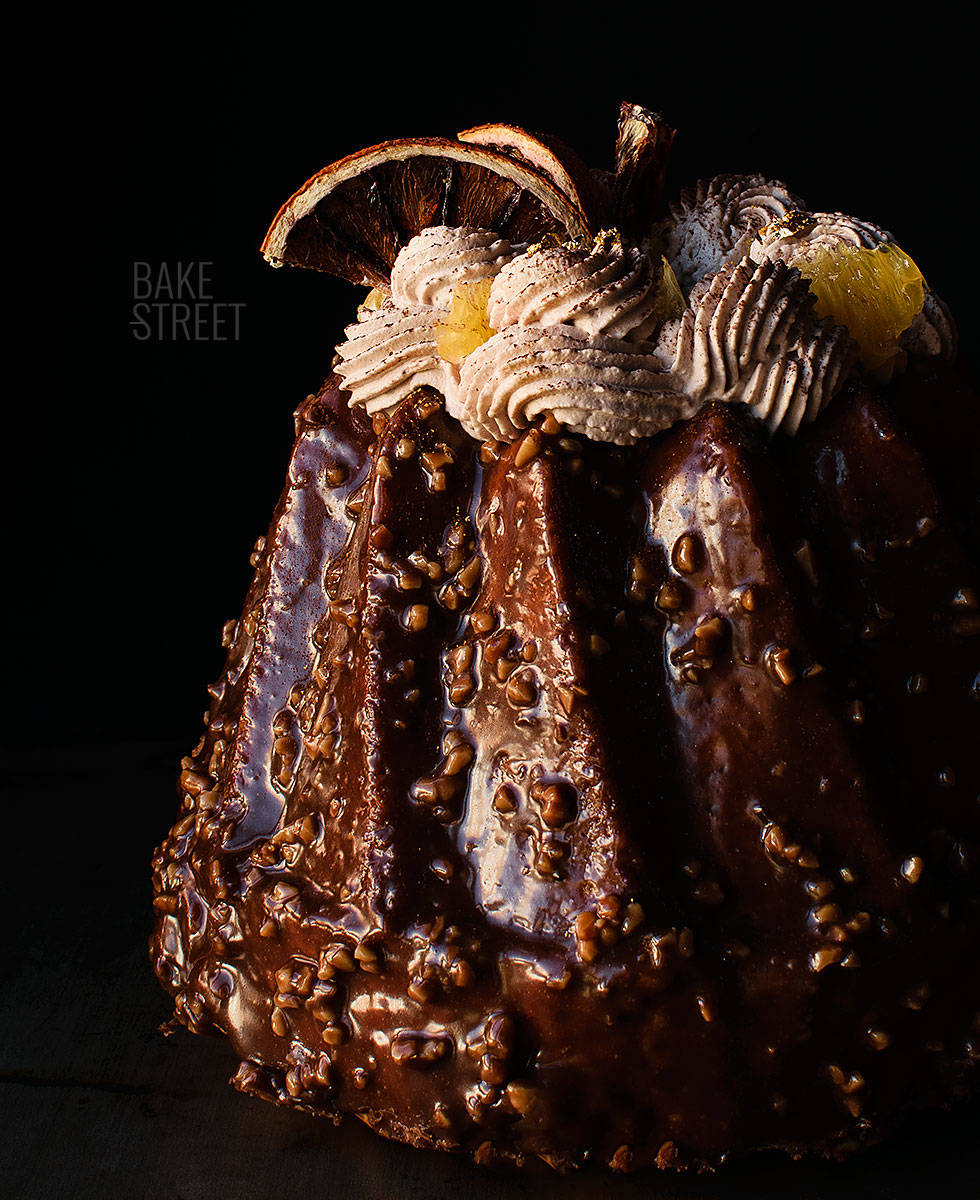 Honestly, the recipe wasn't very clear for me until I went to the kitchen to prepare it. A lot of the ingredients came up on the fly, like Bourbon, and I'm glad it did.
The cake texture, when finished before baking, will be very creamy (and absolutely delicious even raw!). You will be able to scrape the bowl and the flat beater with absolute happiness. The cake will rise quite a bit, don't worry if the dough doesn't reach the right size it's supposed to have when we fill it. In my case I have used this Nordic Ware mold, but of course use the one you have at home or more you like. By the way, the smell of the oven will be fantastic…
Divide the process in 2 days.
In my case, many elaborations, I usually divide them in two days so as not to go fast and running. In addition, this way I can make the process of the photos with tranquility (and more now that we have this "glorious" winter schedule that makes that at 17:30 pm is already getting dark). With this step we also favor that many flavors mature and improve. But in case you want to do the process all at once, there is no problem 😉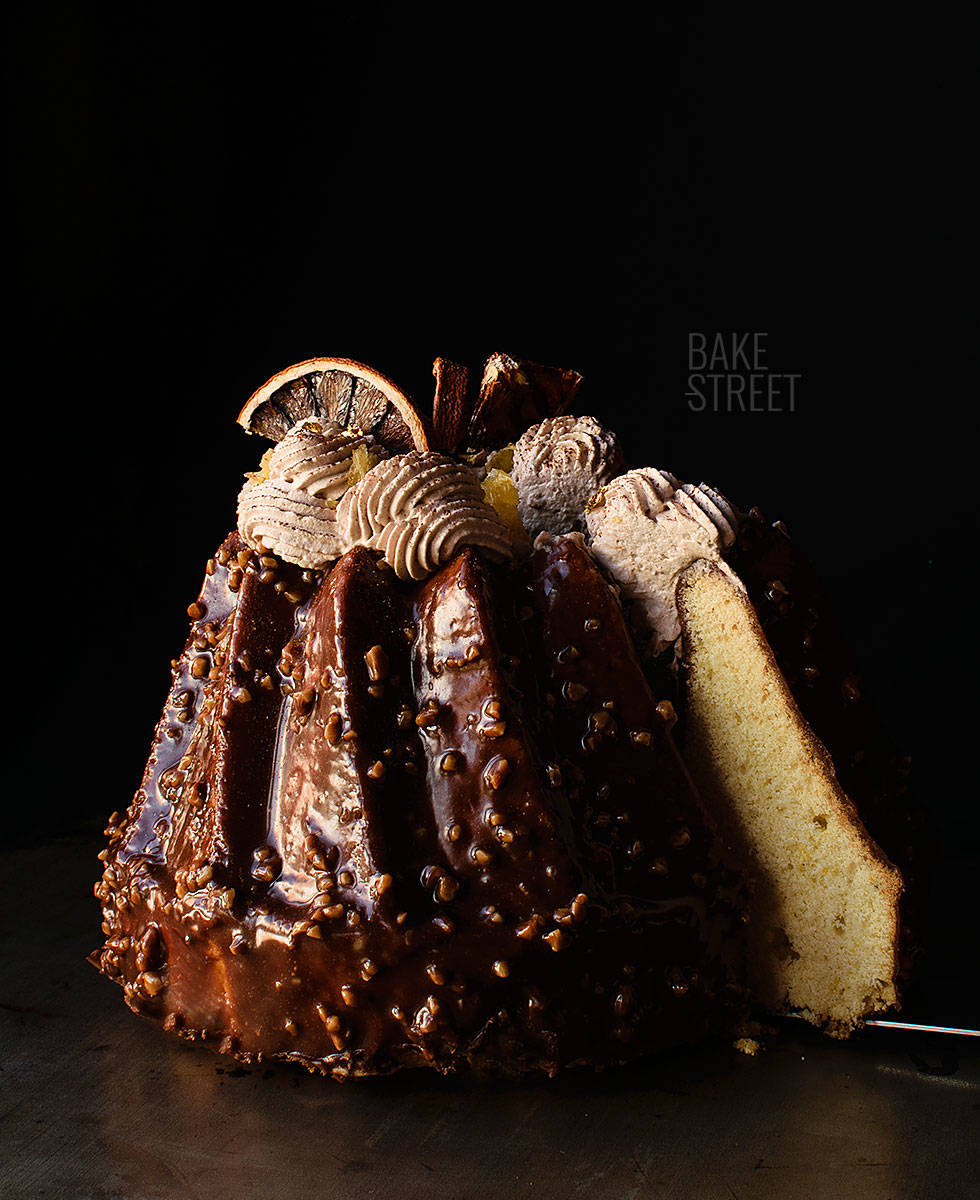 We can cover with the variety of chocolate that we like the most, without covering it completely, with nuts, without them … As you like. Of course, I recommend you to do it the way I show you if you can. The chocolate layer is perfect to accompany the cake. And the taste of toasted almonds… no words.
The decoration is a little flashy, I know! Am I becoming tacky? XD
I really wanted to do something like that, so here it is! This step can always be adapted to your personal tastes or needs, as if you want to serve the cocoa Chantilly next to it instead of decorating on the surface. In any case, I hope you enjoy it a lot!
Ingredients for a 10-12 cups mould
FOR THE CAKE:
360 g pastry/cake flour
250 g unsalted butter at room temperature
225 g sugar
4 large eggs
7,5 g baking powder
30 g orange juice freshly squeeze
one orange zest
35 g Bourbon
1 tsp vanilla extract
FOR MILK CHOCOLATE COVERTURE:
300 g milk chocolate
200 g heavy cream
90 g toasted almonds
FOR COCOA CHANTILLY:
100 g heavy cream, very cold
1 Tbsp icing sugar
1 y 1/2 tsp cocoa powder
1 tsp vanilla extract
FOR DECORATE:
orange wedges
edible gold paper
cocoa powder
edible gold dust
dehydrated blood orange slices (optional)
Instructions
Make Tea Cake.
Grease the mould with butter, making sure that we reach all the hollows, and sprinkle with flour removing the excess. Set aside.
Preheat oven to 355ºF (180º C).
In a medium bowl, sift the flour together with the baking powder. Add the orange zest and set aside.
Mix the orange juice with the Bourbon and vanilla.
In the bowl of Kitchen Aid incorporate the butter, mix at medium speed with the help of the flat beater until you get a mixture aired, creamy and whitish.
Add the sugar, little by little, as we continue to mix. We will do it until we incorporate all the quantity.
Begin to add the eggs, we will do it one by one and mixing well after each addition until they are completely integrated.
Incorporate the dry ingredients alternating with the liquid ingredients, we will do it in 3 batches starting with the dry ones and ending with these too.
We must not over beat the mixture, this is very important to obtain a spongy result, mix only until the ingredients are integrated.
Pour the batter into the Bundt mould and tap gently on a work surface (with a kitchen towel underneath so as not to damage the worktop) in this way we avoid bubbles/gap inside and help the batter to settle.
Place in the oven in the second position starting at the bottom for 40-45 minutes. If the surface of the cake becomes very coloured during baking, we can cover it with aluminium foil. Before taking it out of the oven we will check that it is well cooked by pricking it with a toothpick, it must come out clean.
Remove from the oven and let it rest for 2-3 minutes in the mould. Then, unmould and let it cool completely on a rack.
Once it has cooled, wrap very well with plastic film and let it rest until the next day.
Make the chocolate and almond coating.
Chop the chocolate, set aside.
Pour the cream into a heat-resistant bowl and place in a water bath. Leave until it acquires temperature but without reaching boiling point. Remove from the heat.
Add the chocolate and mix with a whisk until completely homogenized.
Incorporate the toasted almonds, mix and transfer the chocolate to a jar.
Cover the Tea Cake.
Place the cake on a rack and, underneath it, place a tray to collect the excess chocolate.
Pour the chocolate over the sponge cake trying to cover the whole surface. Don't get overwhelmed or worry if the first batch isn't covered, that' s all right.
Collect the excess of chocolate from the tray, place again in a water bath so that it acquires a more fluid consistency and bathe the sponge cake again. In this step it is important not to entertain ourselves with other things to avoid that the first layer that we have made, begins to solidify and later different layers are appreciated.
Once we have bathed our sponge cake, put it in the fridge for 15-20 minutes to harden the coating.
Make cocoa Chantilly.
Pour heavy cream into freeze bowl and beat with an electric mixer into slow speed.
Once cream is becoming to form stiff peaks, add sugar little by little stirring the whole time. Increase speed gradually but without reaches high one. Ideally use medium speed.
Add the sifted cocoa powder and continue beating.
Before finish to beat the cream, add vanilla extract and beat until get a perfect whipping cream. Be sure not to over-beat, otherwise cream will become lumpy and butter-like.
Cover with plastic wrap and place in the fridge until used it.
Decorate the Tea Cake.
Put the chocolate Chantilly in a pipping bag with a Wilton 6B tip.
Decorate the way I show you in the video or using another technique you like better.
Place some orange wedges between the Chantilly and decorate again with the cream.
Put some slices of dehydrated blood orange (this is totally optional), edible gold paper and sprinkle with cocoa powder and edible gold dust.
Serve.
Notes
Bourbon provides a spectacular taste and aroma. If you don't have it at home, you can replace it with Cointreau, whiskey or a similar liqueur.
If you don't want to use liquor, you can just omit it and add more orange juice instead.
Ideally, the chocolate layer should be thin, but this will not be difficult for you.
The best way to coat the cake would be to completely immerse the cake in the chocolate. Since we do it at home, we can't make that amount of chocolate and we'll have to make it the way I tell you.
Almond is usually sold raw. You can toast it in a frying pan or in the oven, as you prefer.
Remember that to whip the Chantilly, cream and bowl must be previously cold.
If you don't like cocoa powder you can make a coffee Chantilly by adding this powdered ingredient (very finely ground) instead or some melted chocolate.
Ideally, Tea Cake should be consumed at room temperature. When the cake is cooled, the inside hardens. I therefore recommend that you decorate it just before serving.
Preservation: We can keep it refrigerated in an airtight container for 7 days without the Chantilly. Before serving, it is ideal to temper it so that it acquires the appropriate texture.
This Orange, Bourbon and Chocolate Tea Cake is perfect to take on a weekend with family and friends, a daily day to start the morning, at mid-afternoon to get energy and finish the day well or even to serve it at Christmas.
They are very typical flavors of this time of year and the exterior decoration seems to invite you to enjoy those festivities of the year. So I also present it to you as an option to prepare on those dates.
I wish you a wonderful beginning of the week.
Big hugs,
Eva
Archivado en