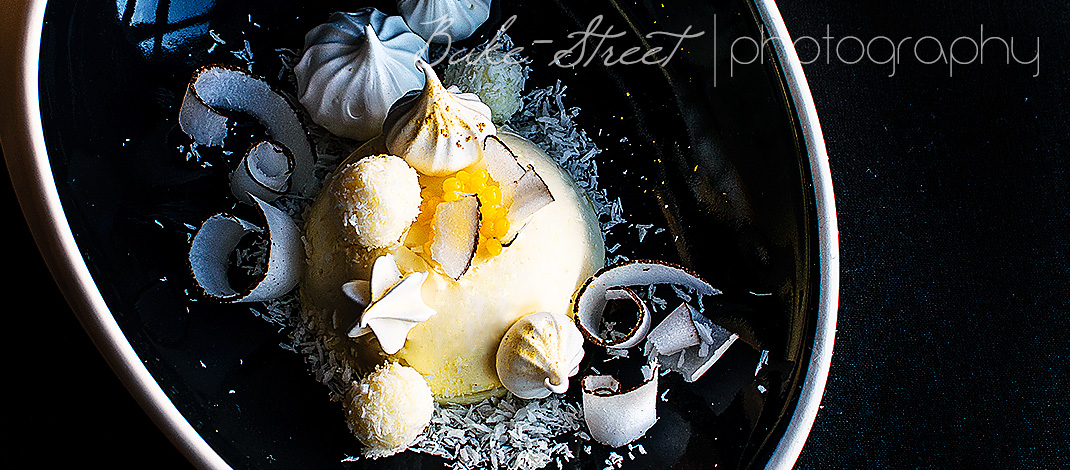 Mascarpone mousse, coconut bonbon and yuzu pearls
Este post también está disponible en Spanish
Christmas is close and I am sure you are already preparing everything for family or friends gathering. Without doubts eating is a real pleasure, but first we have to share time with people we love. For this reason, we must to make easy recipes to get more time to enjoy with them. This mascarpone mousse with coconut bonbon and yuzu pearls is perfect.
We can make it only in 30 minutes, without chilling time, and let your guests speechless! But, you have to make in advance dried meringues, this way you only have to assemble the dessert and serve.
This recipe is really easy, very creamy and not too sweet. In fact, sweetness will be from the rest of elaborations. I made Roberto recipe from Postres con estilo, he makes a fantastic work with very good results. The best part to make mousse is that you can make it 3-4 or more days in advance because you have to freeze it. To serve its texture must be creamy, you will have to remove from the freeze and place in the fridge for 3-4 hours in advance.
When we unfreeze the mousse, it is hard, but after a few hours it turns tender. So this will difficult to manipulate them without break them, by this reason we will make a firm base. We make a chocolate sheet and cut  with a round cutter and place the mousse over it. Let unfreeze in the fridge and after will be easy to transfer with a pastry slicer.
Coconut bonbons are really easy to make, we only have to mix ingredients, mould and chill. Coconut flavor along with white chocolate is perfect to combine with mascarpone mousse. To decorate I used dried meringues brushing with edible gold dust, to create a Christmas spirit.
Yuzu flavor pearls, I have to recognize, they were a whim. I went out to do the shopping, saw them and thought… they will be perfect to join with mascarpone mousse. The combination is really fantastic and fresh. If you don´t find them it doesn´t matter, you can grate some orange peel or chop finely candied orange.
It is a really light dessert and perfect to enjoy after a festive meal.
If you haven´t got this mold, don´t worry. You can assemble it:
Inside little glass: If you make it this way, it isn´t necessary to freeze them.
Use other kind of silicone mold that you have at home, similar to this.
Don´t give up to make them if you haven´t got this mold. There are always more options 😉
¡Merry Christmas! (or Youtube)
MASCARPONE MOUSSE, COCONUT BONBON AND YUZU PEARLS:
8 serves
FOR MASCARPONE MOUSSE:
4.4 oz (125 g) mascarpone cheese at room temperature
5.3 oz (150 g) heavy cream cold
2 y 1/2 Tbsp (37 g) sugar
1 y 1/2 tsp (10 g) water
1 large egg yolk, 0.8 oz (roughly 22 g)
2 gelatin sheets
7 – 8.8 oz (200-250 g) white chocolate
FOR COCONUT BONBONS:
Makes 24 pieces, like a blueberry
1.8 oz (50 g) white chocolate
0.9 oz (25 g) crème fraîche at room temperature
1.8 oz (50 g) ground coconut + more to garnish
FOR DECORATE:
finely slices of coconut
ground coconut
dried meringues* brushing with edible gold dust
yuzu flavor pearls
* In the link you can read how to make them (in Spanish by the moment)
INSTRUCTIONS:
Make mascarpone mousse.
Before make whipped cream we must know:
Cream must be cold 24 hours before used it.
The bowl in which we are going to make whipped cream must be cold. I recommend to use one aluminium bowl and freeze 20 minutes before beat it.
Hydrate gelatin sheets in cold water for 20 minutes.
In a small pan pour water along with sugar over medium low heat and cook until reaches 248ºF. We have to make a syrup.
While, beat egg yolk with the spokes of the whisk to low speed.
Once syrup is ready, remove from the heat and pour over the egg yolk little by little and stirring at a time. Bet for 1 minute, egg yolk  will get volume.
Add gelatin sheets, well drained, to egg yolk mixture and stir until combined*.
Combine mascarpone with egg yolk mixture and stir until get an homogeneous mix. Set aside.
Pour heavy cream into freeze bowl and beat with an electric mixer into slow speed.
Once cream is becoming to form stiff peaks, stop.
Finally, add whipped heavy cream. First add a little amount and mix until smooth, then the remaining whipped cream and mix with soft and enveloped movements.
Fill the mold hollows with the mixture and freeze overnight.
*  If the egg yolk mixture has cooled, gelatin won´t merge. We will have to put over low heat until reaches 113º-122ºF, no more, to dissolve it.
Assemble the mousse.
Melt white chocolate, set aside.
Line a baking sheet with parchment and pour melted white chocolate on it. Spread and chill for 30 minutes.
Once white chocolate is hard, cut with a round cutter with the same size as the circle mold.
Put them over a tray with parchment, you can use the same that before.
Remove the mold from the freeze, unmold and place each one over one chocolate disc.
Put in the fridge for up 3-4 hours, so they can unfreeze slowly.
Make coconut bonbons.
Melt white chocolate.
Add crème fraîche and stir until smooth.
Combine with ground coconut and mix. Make balls like a blueberry and garnish with more ground coconut.
Chill until you will need it.
Serve.
Garnish dishes with ground coconut.
Place a mascarpone mousse, be careful it will be tender, and decorate with dried meringues brushing with edible gold dust.
Put some yuzu pearls over the mousse and three coconut bonbons.
Close you eyes and enjoy it! 😉
This mascarpone mousse with coconut bonbon and yuzu pearls can be the star dessert from your Christmas. It´s light and attractive but, besides, too easy to make.
But one way or another your Christmas menu, I wish you with all my heart a very happy days. Please, rest, disconnect, enjoy and see you back. Big hugs and have a fantastic Christmas Eve.
For the next two weeks, because of holidays and family commitments, I will reduce post to one for week and I will continue with the normal post on 9th January. This way we charge batteries and come back with new ideas 😉
See you!
Eva