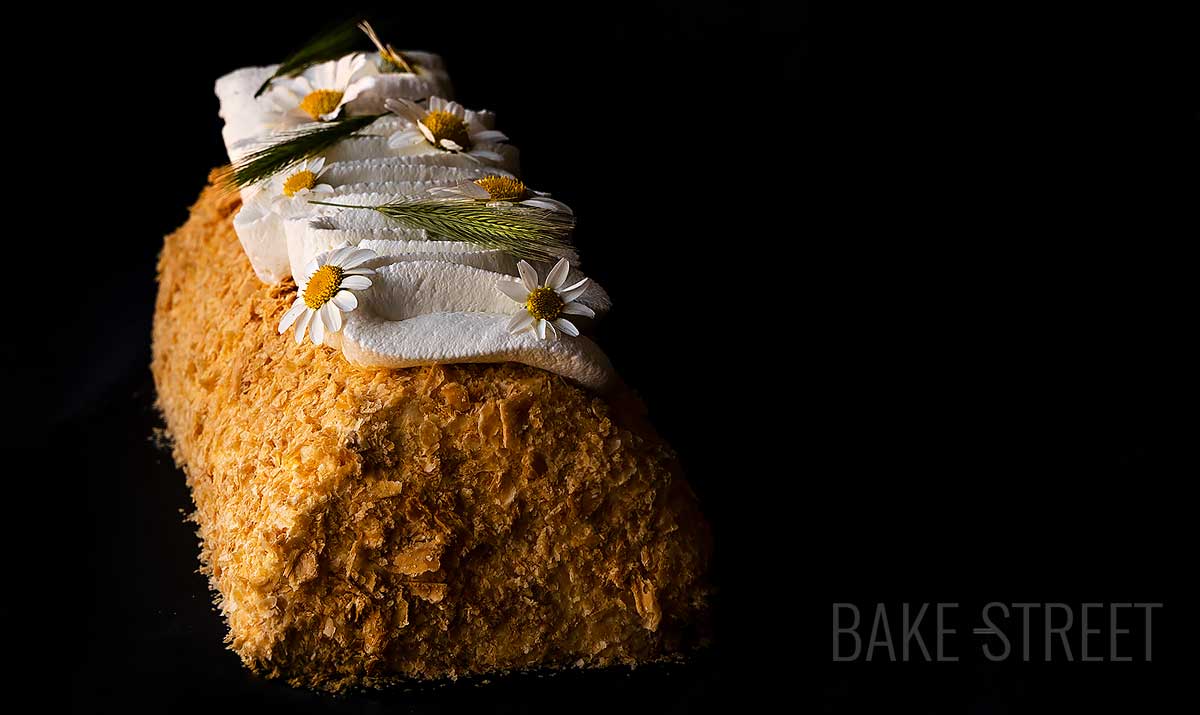 Russian Napoleon Cake – Puff pastry log
Este post también está disponible en Spanish
I have a confession to make… I've been obsessed with Russian culture and gastronomy for a while now. And, the funniest thing of all, is that it has come into my life unexpectedly. Like this RussianNapoleon Cake – Puff pastry log (Торт "Наполеон" из слоеного теста) that has come to my house to stay forever. Forever and ever.
A few days ago two different readers wrote to me asking me if I could make some recipes for the blog, and two of them were Russian. I'm going to leave them with you without a doubt because they are both incredibly fabulous. The thing is that as a result of these recipes, looking for information about them and seeing how to make them, I started to find out more and more about their gastronomy. Wow, I fell in love! Like this recipe that I saw in this blog. And I have already prepared some Russian recipes such as Tort Medovik, Russian brined apples, Vatrushka… But I still have a lot to learn, discover and share with you. So I looked for more about it and decided to adapt the filling cream to what most recipes used.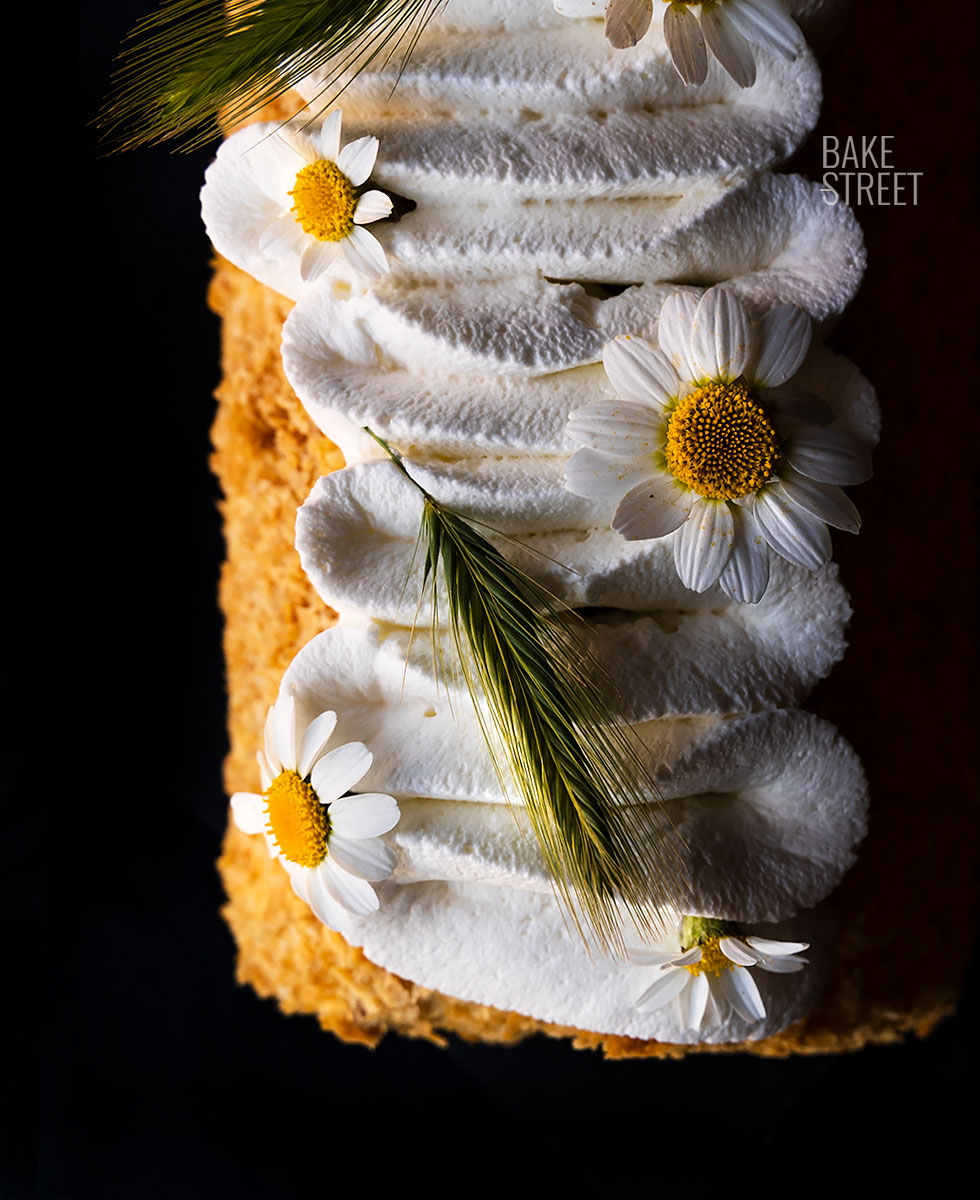 Another curious fact, this past week we started watching a Spanish comedy series that has a lot to do with Russia. I don't know if you know it, it's called "Nasdrovia" (it means "health" in Russian). If you haven't seen it, you have to watch it. It's super funny. I didn't know what the series was about and my husband put it on. We watched it in two days, hahaha.
Well, this was another reason to open my curiosity about their culture. There are many things there that I want to do and try. I hope to be able to find time with everything else I have to try them out and leave them for you here.
Russian Napoleon Cake Origin.
Napoleon cake is a very typical Russian New Year's Eve cake. Until 1928, the Russian people were not allowed to celebrate Christmas, so New Year's Eve became the most celebrated holiday until 1991, when the Bolshevik regime stopped excluding it. However, there is another aspect of the holiday that should not be overlooked; the baking and consuming of Napoleon cake.
It may share its fame with the French cake, but not in size. It is usually made tall, at least eight layers (and sometimes more than 20) of alternating layers of puff pastry and custard. Inspired by the French mille-feuille, it has become a Russian national dish.
In 1912, the first version of the cake was made to commemorate the centenary of the country's victory over Napoleon and his troops (1812). It seems that on the anniversary of this date, it was said that a new cake would be created to celebrate the victory, and so the Napoleon cake was born. The celebrations that take place every year for New Year's Eve, which include classic traditions such as Christmas tree trimming, it is customary to taste a large slice of this cake representing the fall of Napoleon's reign.
These cakes also had a purpose when they were first created (it used to be an individual format cake filled with cream) and were made to symbolise the shape of Napoleon's hat (triangular bicorn) after the defeat.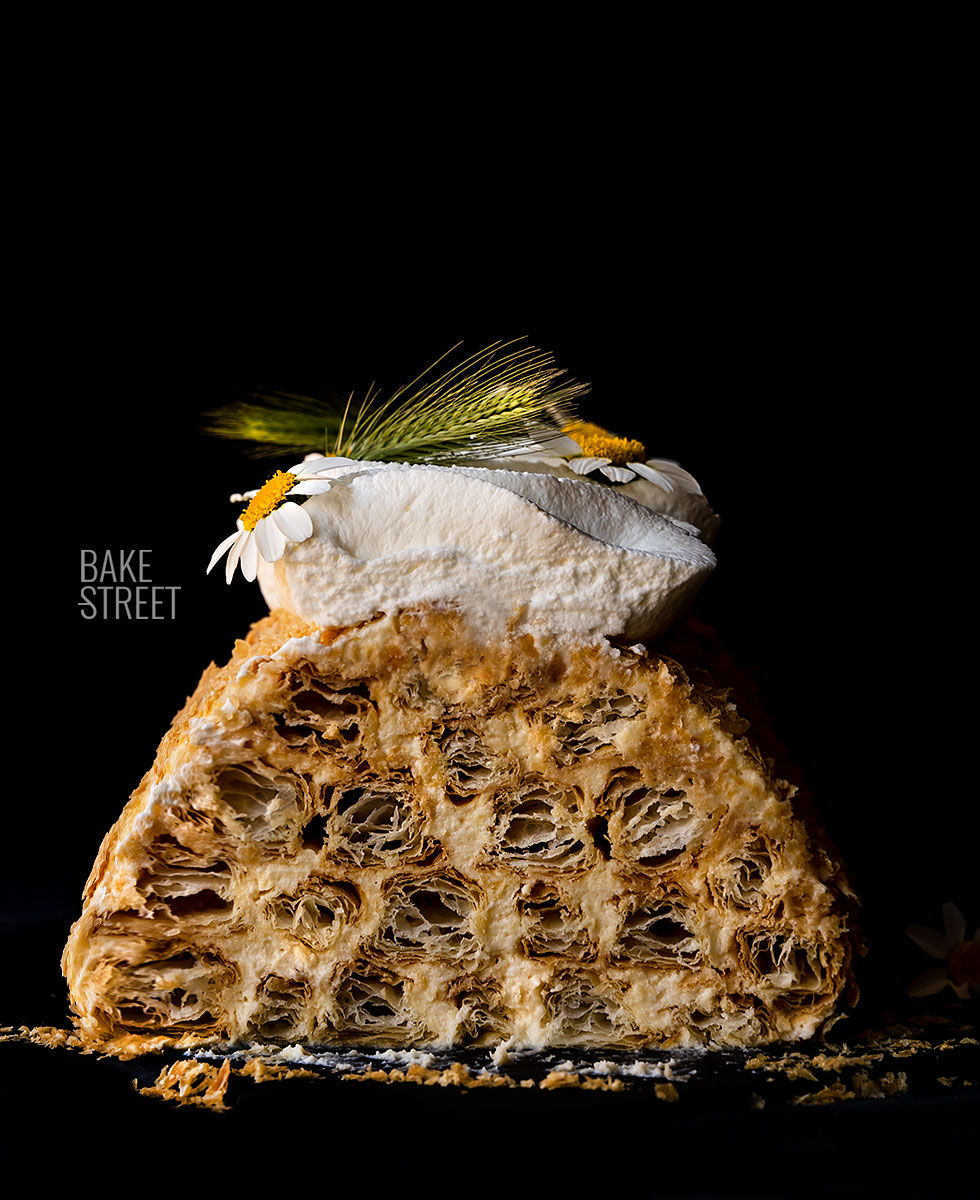 The evolution from the French cake to the Russian version.
The transformation arose from the need to make them more affordable and accessible to everyone, as the Soviet Union, which emerged after the Russian Revolution of 1917, considered these cakes too "bourgeois". So the ingredients of the recipe had to be adjusted and some of them had to be replaced by cheaper products. Chefs were no longer allowed to use butter (margarine was used instead) or eggs (these were omitted), as these ingredients put them beyond the reach of the average home cook. For this reason, it was decided to adapt the recipe, as the Soviets said it was "a symbol of Soviet luxury that should be available to everyone", according to CCCP cookbook co-author Pavel Syutkin.
Over the years, the product evolved into what we know today, as well as being made with higher quality products. A huge multi-tiered pastry of puff pastry and muslin cream, topped with crumbled puff pastry.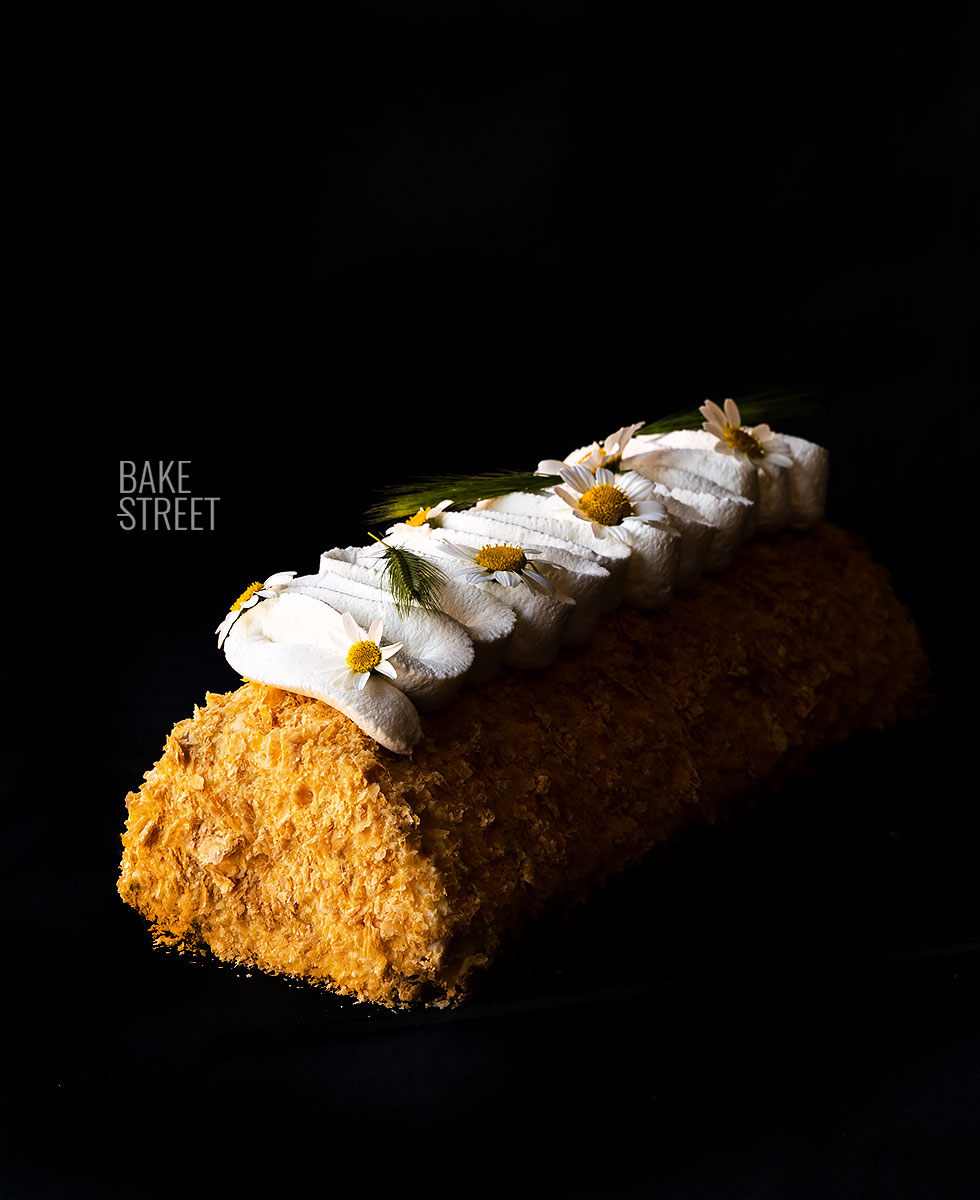 The top decoration is said to symbolise the snow that supposedly helped the Russians defeat Napoleon.
To this day, it is still customary to eat this cake to celebrate New Year's Eve, as the New Year's holiday and the defeat of Napoleon still seem to go hand in hand. It is a testament to the history of Russia and how much its people still adore this cake and all that it represents, so much so that it remains so today.
It is very easy to make and can be prepared with very simple ingredients: butter, sugar, milk, eggs, corn starch, salt, wheat flour and ice water. However, the essential requirement for a good result, apart from love, is to leave the assembled cake to stand overnight in the fridge. In this way, the puff pastry acquires a softer texture thanks to the humidity of the cream. A dessert you will never tire of.
Recipe Russian Napoleon Cake
Ingredients for one cake
500 g puff pastry, homemade or store-bought. If you want to make blitz puff pastry you can follow this recipe or if you prefer to make a traditional puff pastry you can follow this recipe.
MOUSSELINE CREAM:
500 g whole milk
60 g sugar
40 g corn starch
20 g pastry/cake flour
4 large egg yolks
150 g unsalted butter, at room temperature
120 g condensed milk
2 Tbsp Brandy
DECORATING:
200 g heavy cream, very cold
2 Tbsp icing sugar
flowers (optional)
MATERIAL WE WILL NEED:
rolling pin
knife
perforated trays
cooling racks
pastry spatula
piping bag + Saint Honoré de 18 mm tip
Instructions
FIRST DAY
Prepare puff pastry.
If you opt for a simple puff pastry, it is called blitz puff pastry. You can see how to make it in the video recipe for Carbayones from Oviedo. If you want to make a traditional puff pastry, you can see how to do it in the video recipe for Chocolate Palmiers.
Once we have made the last fold, we can keep the puff pastry refrigerated until the next day or leave it to rest in the fridge for 45 minutes before proceeding to make the Napoleon cake.
If you are making the Napoleon pastry with storebought puff pastry, this step will be omitted.
Prepare pastry cream.
Here you can see how to prepare the pastry cream. You only have to take into account when you read the recipe the quantities and ingredients that I leave you in the list of this recipe.
Once you have it ready, reserve it at room temperature until it has cooled.
Bake puff pastry.
Preheat the oven to 375ºF/190ºC with heat up and down or 355F/º180ºC convection (the latter option will allow us to bake two trays at the same time and save on baking time).
If you are using store-bought puff pastry, keep the dimensions of the rectangle of dough. If using homemade puff pastry, roll out the dough into two 35 x 30 cm rectangles with a thickness of 0.3 mm.
Cut strips 2-3 cm wide, the thicker they are, the more attractive the final format will be. In my case I cut one sheet 2 cm wide and the other 3 cm wide, so I could alternate different thicknesses.
Place the puff pastry on two perforated trays lined with baking paper and bake for 16 minutes, they should turn a light golden colour.
Remove and leave to cool completely on wire racks.
Beat the butter for the mousseline.
In the bowl of the KitchenAid, add the butter and beat on medium speed with the whisk. The texture should be very airy, creamy and whitish in colour.
Make mousseline (cream pastry + butter).
With the help of a whisk, beat the pastry cream to smooth it. Set aside.
Once we have the butter ready, add half of condensed milk and mix beat. Add the remaining condensed milk and beat again until both elaborations are completely integrated.
Gradually add the custard and mix until it is completely integrated.
Continue adding pastry cream as it integrates with the butter and mix until completely homogenized. We will do it until all the cream is integrated.
Assemble Russian Napoleon Cake.
Prepare a fairly wide base with cling film.
Spread some mousseline cream, enough so that we can place the first layer of puff pastry sticks.
Place 7-8 sticks of puff pastry on the cream base.
Spread some cream on them with the help of a pastry spatula.
Put another layer of puff pastry sticks, this time we will place one less to create a triangular appearance.
Spread another layer of cream on top of the puff pastry.
Repeat this step twice more.
We must reserve about 4-5 puff pastry sticks for the top decoration (we will pulverise them) and about 4-5 spoonfuls of cream.
Spread a little cream on the outside of the cake, remembering to keep some for the final decoration.
Once the cake is assembled, take the ends of the film and cover. Try to give a semi-sphere finish by exerting a little pressure, but do not overdo it. Remember that puff pastry is delicate and can break.
Seal the ends very well, if you wish you can use tweezers, and refrigerate until the following day. In my case I left it for 18 hours.
The cream that we have set aside, keep in a tupper or airtight container and refrigerate.
SECOND DAY
Prepare whipped cream.
Cream must be cold 24 hours before used it.
The bowl in which we are going to make whipped cream must be cold. I recommend to use one aluminium bowl and freeze 20 minutes before beat it.
Pour heavy cream into freeze bowl and beat with an electric mixer into low speed.
Once cream is becoming to form stiff peaks, add sugar little by little stirring the whole time. Increase speed gradually but without reaches high one. Ideally use medium speed.
Be sure not to over-beat, otherwise cream will become lumpy and butter-like.
Cover with plastic wrap and chill until used it.
Finish decorating the Napoleon cake.
Remove the cake and the cream from the fridge.
Unwrap the cake and carefully transfer it to a serving dish or plate.
To avoid staining the serving dish, place strips of greaseproof paper around the sides.
Spread the reserved cream over the entire surface of the cake and smooth it out. It does not have to be perfect.
Cut up/pulverise the puff pastry sticks that we had set aside the day before.
Decorate the entire surface of the cake with the powdered puff pastry. Gently press down to fix the flakes of puff pastry.
Once decorated, refrigerate for 20 minutes.
Final touch.
Put the whipped cream into a piping bag with an 18 mm Saint Honoré tip.
Decorate the surface of the cake as shown in the video or with another decoration of your choice.
Finally, place fresh flowers, sprinkles, nuts or whatever you prefer.
Serve.
Notes
To make the puff pastry, work with cold ingredients and respect the resting times.
Butter adds a lot of flavour, I recommend using a good quality butter.
When handling the pieces, be careful not to press them, otherwise you may damage the layers that will form the future puff pastry.
When making the pastry cream, it is very important to temper the egg yolks to prevent lumps from forming, as well as to carry out the cooking process at a medium-low temperature. It is preferable to do a slow and safe process, rather than cooking the cream at a higher temperature and causing lumps to form or even burning the cream.
Mousseline cream will gain in flavour if good quality butter, eggs and vanilla are used.
Most Russian recipes use condensed milk in the custard. If we want to omit it, we can do so and use more sugar in the custard instead.
The outer decoration can be done with flaked almonds if desired. To add more flavour, I recommend toasting them beforehand.
It is not essential to decorate the cake with whipped cream, in fact I decided to do this step as I wish. You can omit it or use another type of decoration.
We can keep it refrigerated for 2-3 days.
This Russian Napoleon Cake will undoubtedly make you fall in love with it. I know because I have lived it and I think it will be impossible for it not to have that effect on any of you. Puff pastry, mousseline cream... Good, pure and true love.
I really want to continue researching, getting to know and trying out recipes from their gastronomy. Of course, if you have any suggestions that the rest of the world can't miss, I'll be delighted to read them. I will welcome it with open arms ;)
I wish you a wonderful weekend!
Big hugs,
Eva
Sources:Atlas Obscura, The Travel
Archivado en