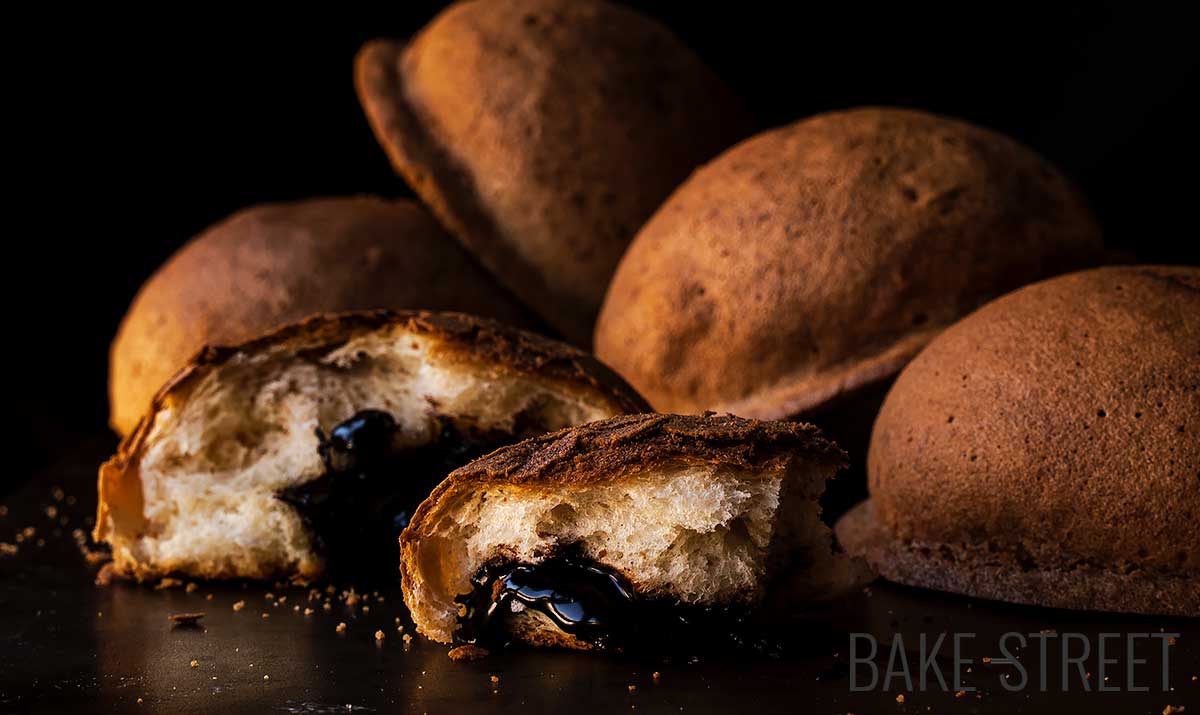 Rotiboy – Coffee Bun – Kopi Roti
Este post también está disponible en Spanish
It is possible that when you see today's recipe, Rotiboy – Coffee Bun – Kopi Roti, you may not find them particularly appealing to the eye. And, yes, they do. These sweet buns cannot boast of being eye-catching, but do not be fooled…. When it comes to tasting them, they are outstanding, not only for their softness, but also for the combination of flavors, aromas and textures. They are absolutely formidable.
I had read a lot about them and, it is true, that their appearance has slowed me down a little more in making them. But I shouldn't have, because I've been missing out on a marvel for a very long time. And as much as I love coffee…. I don't understand how I let so much time go by without giving them a chance.
Coffee bun, is a very, very tender, slightly sweet roll, with a very thin and crunchy coffee topping, accompanied by a meltingly soft, salted butter filling. This filling is the most traditional and, as simple as it may seem, I assure you that it is ideal. I have also left you another chocolate filling, although they can really be filled with whatever you prefer. You can even leave them without filling and fill them later.
Rotiboy – Coffee Bun – Kopi Roti origin.
Originally, these coffee rolls were traditional in Singapore and Malaysia, but thanks to their popularity, they have spread throughout Asia. And even far beyond.
We are facing one of the elaborations in which it is difficult to know with certainty where it comes from or how it originated. But, given its appearance and the process of making it, it is very possible that it arose thanks to a fusion of cultures. These coffee buns, also known as Rotiby, Kopi Roti, Papparoti, Mexican Coffee Bun… Dispute their roots between Mexico, Malaysia and Singapore.
The word Roti, also known as chapatti, is a Hindi word meaning bread. On the other hand, Kopi is a type of traditional local coffee from Singapore and Malaysia. It is a variety of black coffee served with milk and sugar.
The term "Kopi Roti" is technically a type of coffee, a concept that originated in Singapore when kopi tiams (Malay word for coffee shop) started catering to a very demanding clientele. This coffee bun, so popular today, is a far cry from the famous Indian roti. These sweet breads have neither Indian nor Mexican origins, but originated in a bakery in Bukit Mertajam, Penang, "Rotiboy Malasya".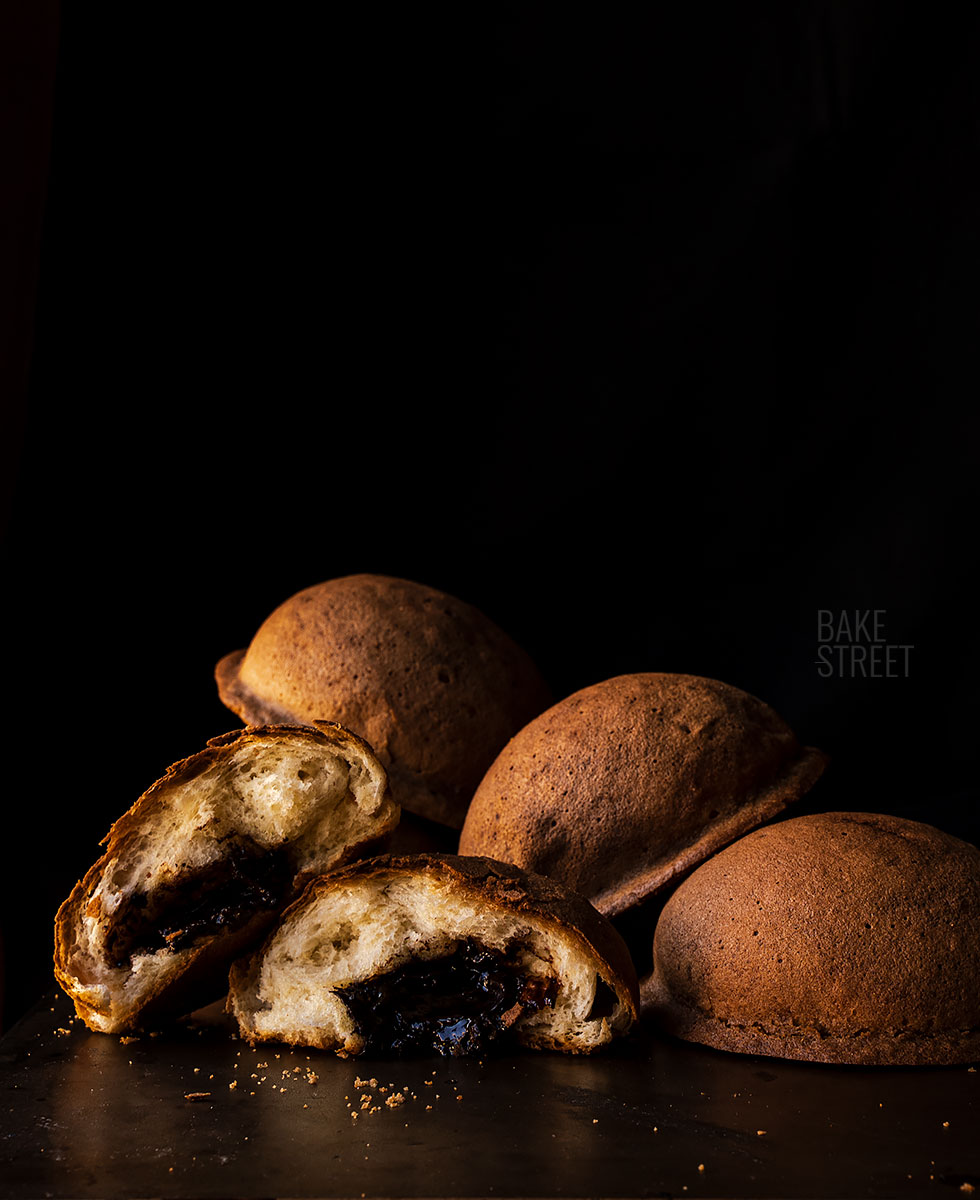 An evolution of the famous Roti.
Roti is a flat bread made without yeast, very traditional in Indian gastronomy. It is a staple food in Southeast Asia and is part of their daily diet, just as bread is for us.
It is said that in the year 2000, a mother with a passion for baking found herself in her kitchen in Malaysia with her hands eager to challenge the shape and texture of the traditional roti. Her goal was to create a totally new version: a roti bun.
In 2002, she gives her son a round bun that looks similar in appearance to the roti. She observed his reaction. After biting into the bun, he found a warm, melting center, a buttery heart, accompanied by a sweet, crunchy, coffee-scented topping. This new creation changed their lives. That's when PappaRoti was born.
In 2003, the first PappaRoti store opened in Malaysia, selling freshly baked roti buns with their distinctive coffee topping and salted butter inside. In addition, these rolls could be enjoyed with a wide assortment of teas and coffees. PappaRoti quickly became very popular and its name spread throughout the country.
In fourteen years, more than 400 PappaRoti coffee shops and cafés have been opened in Asia, the Middle East, Australia, England and North America.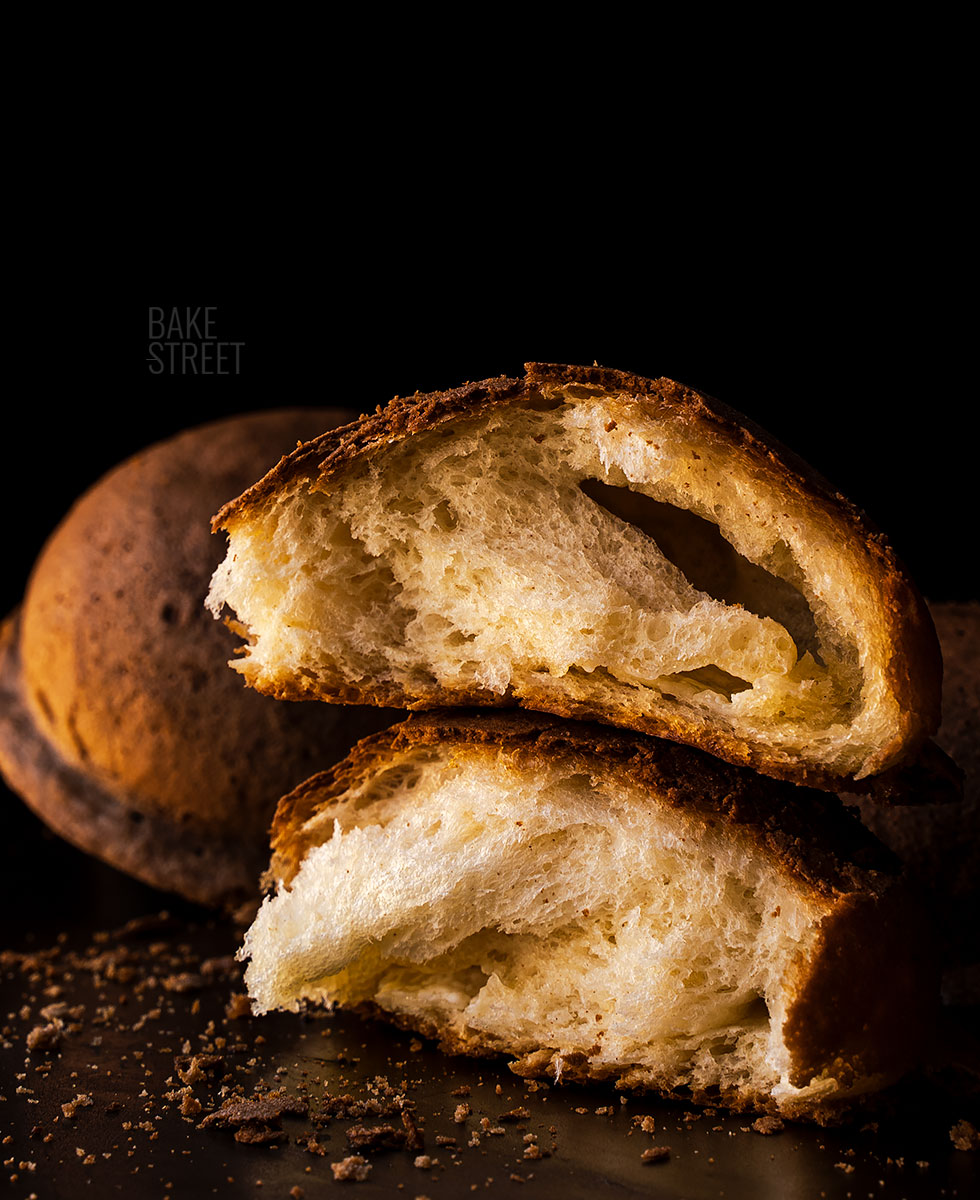 Making the recipe.
When I set out to formulate the recipe, I looked at a lot of recipes. A lot of them. And they certainly all followed the same list of ingredients, just varying the amounts. I wanted to achieve a very tender bun, so I decided to create my own formula, following the traditional elements that make up this coffee bun.
I chose to incorporate tangzhong in the preparation and thus achieve greater fluffiness and shelf life in our breads. In this post I tell you what tangzhong isand what benefits it brings to our dough.
Once I created the formula, I had to adjust and modify the hydration as I went along until I achieved the dough consistency I had in mind. The result is… Extraordinary. At home we have all fallen in love with these little sweet breads. Unattractive, but incredibly delicious.
Recipe Rotiboy - Coffee Bun - Kopi Roti
Ingredients for 6 pieces
DOUGH:
200 g high protein flour (like Manitoba or similar)
70 g tangzhong (recipe below)
1 large egg (about 50 g)
30 g powdered skim milk
45 g water
40 g sugar
30 g unsalted butter, room temperature
7,5 g fresh yeast or 2,5 g dried yeast
3,5 g salt
TANGZHONG:
15 g bread flour
75 g water
COFFEE TOPPING:
70 g bread flour
2 tsp unsweetened cocoa powder (optional)
1 large egg
45 g water
60 g sugar
60 g unsalted butter, room temperature
40 g freshly brewed coffee
pinch of salt
3 drops of coffee aroma(optional)
FILLING:
each piece is filled with 10 g of salted butter, very cold
Guanaja chocolate fondant coeur, Valrhona
MATERIAL WE WILL NEED:
scraper
digital scale
bowls
perforated tray
Teflon or silpat
pastry bag
silicone spatula
whisk
digital cooking thermometer (optional)
Instructions
Prepare tangzhong.
In a small saucepan add the water together with the flour, place over low heat and stir with the help of a whisk.
Cook, stirring constantly, until it thickens slightly.
If we have a digital thermometer we can use it to know when it is ready. When the tangzhong reaches approximately 149ºF/65ºC, remove it.
Transfer to an airtight container, cover and let it cool completely.
If we wish, we can prepare it the night before. Once it has cooled, refrigerate.
Prepare the dough.
In a bowl, add the flour together with powdered milk, the egg, tangzhong, water, yeast and half of the sugar. Begin to knead until the dough is more or less amalgamated. In case of using a stand mixer, knead with the hook at speed 1 until we get a developed dough. It will take us quite a while, that is why it is better to use a mixer if you have one.
Add the salt and continue kneading. It is a very laborious dough to work by hand, be patient. Otherwise, I advise you to knead in the mixer.
Once we have the gluten half developed, begin to incorporate the butter. We will do it in batches and we will not add the next one until the first one has been completely absorbed.
The total kneading time will be about 1 hour with resting times.
Make bulk fermentation.
Round the dough and put it in a lightly greased bowl. Cover with cling film or a lid and let it rise until it grows a little more than 1/3 of its volume. In my case it took 2 hours and 30 minutes to 73,4-75,2ºF/23º-24ºC.
Store in the refrigerator and leave overnight. In my case it was 12 and 1/2 hours to 39,2ºF/4ºC.
Shaping coffee buns.
Remove the dough from the cold and temper for 2 hours.
Turn the dough out onto a clean work surface and carefully degas.
Divide into 6 pieces of 64,5 g approximately.
To fill each piece, proceed as follows (I learned this tip from ButterMilk Pantry, thank you so much!). Cut approximately 1/3 of the total dough. Flatten gently. Place the piece of butter, very cold, or the chocolate coeur in the center and wrap the dough around it. Seal all the folds well. Flatten the other piece of dough (the remaining 2/3) and place this piece in the center of the newly flattened dough. We will make sure that the sealed part is placed upside down so that the new sealed part is on the opposite side. This ensures that no butter or chocolate leaks out.
Wrap with the dough and seal the piece very well. Roll gently, without exerting tension.
Arrange on a tray lined with baking paper, Teflon or silpat, leaving space between them to grow, cover with film and let rise until they triple in size. In my case it took 4 hours and 45 minutes to 72,5ºF/22,5ºC.
Prepare the coffee topping when there is little time left to finish the fermentation.
In a bowl add the butter, smooth with the help of a spatula.
Add the sugar and mix until homogenized.
Incorporate the egg and mix again until a uniform mixture is obtained.
Add part of the coffee, the pinch of salt and mix.
Begin to incorporate the flour alternating it with the rest of coffee, we will do it in batches.
Finally, add cocoa powder and mix until homogenized.
Pour into a piping bag and set aside.
NOTE: The mixture should not be whipped, just mix until homogenized. If we beat the eggs too much, we will obtain a spongy cover.
Bake.
Preheat the oven to 338ºF/170ºC with heat up and down.
Pipe the coffee topping over the buns, we will create a spiral. It will be enough to cover 2/3 of the total. If we overdo it, we will have excess topping on the base (as in my buns...)
Bake at medium height for 20 minutes or until the inside temperature is 185º-194ºF/85º-90ºC.
Remove, place on a wire rack and let them warm or cool completely. I advise you to enjoy them warm.... They are a delicacy!
Notes
These buns can be made with bread flour, W=200 or 300. In this case, you will have to adjust the final hydration of the dough. I like to use this type of flour (high protein flour, Manitoba) for these breads because they tolerate long fermentations very well and we get great results if we work the dough well. In addition to an incredible aroma and final flavor.
Remember that 1 g of dry baker's yeast is equivalent to 3 g of fresh yeast.
It is very important to knead well, handle the dough with care and carry out the fermentations in a correct way to achieve a tender and spongy result in our breads.
It is not necessary to delay the dough in the refrigerator, if you wish, you can do the whole process immediately. This step, besides making it easier to carry out in 2 days, allows us to degrade the gluten in flours of great strength (as the one I have used) being able to obtain a greater flavor and aroma, in addition to a very tender final result since we manage to degrade the gluten.
Using the process I show you in the recipe to shape and fill the buns is perfect because it avoids possible leaks of butter or chocolate, due to an incorrect sealing of the piece. In this way we guarantee that the filling cannot leak out. Thank you very much, Sara (Buttermilk Pantry) for the tip!
Let the dough reach the volume that I detail for high-strength flours.
The consistency of coffee topping should not be too thick because it will not melt well and the spiral will be visible. On the other hand, it should not be too runny because it will melt too much.
The topping remains crunchy for the first 12 hours after baking. After that time, it begins to soften.
It is not necessary to use coffee aroma, but it does help to enhance the aroma and flavor.
If coffee aroma/extract is not used, we can substitute part of the coffee with coffee liqueur to obtain a more intense flavor and aroma in the topping.
I recommend using salted butter for the filling, it gives it a formidable point and enhances the flavors. If we do not have salted butter, we can sprinkle a little salt on the butter or roll the portions on a little salt.
Traditionally, these buns are filled with salted butter, but I have left you the option of melted chocolate hearts (mine are from Valrhona). If you wish, you can substitute these hearts with a homemade chocolate ganache. They are also usually filled with anko, a sweet red bean paste, here you can see the recipe to make it.
We can keep them in a zip bag, they will keep in perfect condition for 3-4 days.
If you feel like baking with the drop in temperature, I advise you to try this recipe for Coffee Bun - Kopi Roti - Rotiboy. Wonderful, but really wonderful.
I can tell you little more than what I have told you above. I hope I have convinced you to try them at home. I think they are an ideal accompaniment to our breakfast coffee or snack. In fact, it is perfect to enjoy at any time of the day.
I'm looking forward to hearing what you think of them.
Lots of love,
Eva
Sources: Amiable Foods, Papparoti
Archivado en