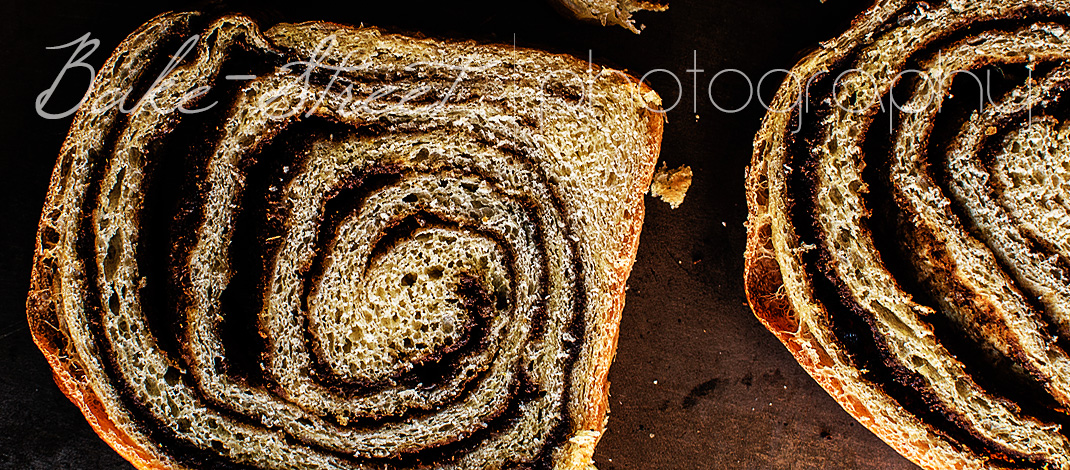 Tangerine cinnamon bread
Este post también está disponible en Spanish
A few weeks ago I started working with this tangerine cinnamon bread, I was obsessed with it and since then I have done it a total of 4 times. The reason was that I was not gotten with the result that I looked for in taste and texture, especially the last.
I wanted to get a crumb very fluffy, like a cloud, with soft citrus aromas joined to cinnamon cream layers and, finally, in the last attempt I found what I was looking for. Everything was when I saw this bread from FOOD52, recipe by Maida Heatter from her book "Best dessert book ever". The shape stole my heart…
The dough recipe and the filling are not the same from Maida's recipe, but I really liked the type of shape that she makes and the idea of cinnamon filling appealed to me a lot. Who does not like a cinnamon roll? A bread with a similar format should look great too.
So I got a try with different dough recipes, I do not want to add eggs or milk, instead I thought of the idea of a sweet citrus like tangerine accompanied by water and Greek yogurt.
Why honey instead of sugar?
When adding sugars to our doughs we should not only take into account the flavor they can give us, whether honey, muscavado sugar, panela … but the benefits that these can provide us. This type of sugar has the ability to increase the dough´s fermentation because the yeasts digest glucose and fructose rather than sucrose.
Source: Francisco Tejero
Is it imperative to use tangzhong?
Not at all. But I highly recommend it.
Of the four tests I made, the last two were without doubt the most spongy, I made them with tangzhong. This method not only helps to increase the capacity absorption of the dough but also leaves a slight sweetness along with a silky, soft and elastic crumb.
In case of omit it, take into account the amount of water and flour that it takes to add it in the final dough.
The croissant dough (cuts) can be omitted without problems, it is a difficult element to have at home if you do not normally make puff pastry. In my case I decided to use it as an "old dough" that would also add flavor and aroma.
Bread shaping…
It is very particular, in fact that was just what prompted me to elaborate it (along with the cinnamon filling, I will not deny it …). I had never made a tin loaf that way. When we see the inside, we appreciate that it is not a dough rolled on itself, it must be folded in some way to achieve that spiral. This beautiful spiral!
I really liked it and had to try it. The result, here you have it, a bread that you will love to enjoy at all times because it is delicious 😉
TANGERINE CINNAMON BREAD
FOR THE DOUGH:
14.8 oz (420 g) bread flour (it will be perfect an special flour to make puff pastry like T-45)
2.8 oz (80 g) tritordeum flour
6.3 oz (180 g) tangzhong (recipe below)
2.8 oz (80 g) fresh tangerine juice (about 2 tangerines)
2 tangerine zest
3.5 oz (100 g) water
1.3 oz (38 g) unsweetened Greek yoghurt
1 oz (30 g) honey
0.1 oz (3 g) dry instant yeast
2.4 oz (6,7 g) salt
1.8 oz (50 g) croissants dough, cuts (optional)
FOR TANGZHONG:
1.2 oz (35 g) bread flour
6.2 oz (175 g) water
FOR THE FILLING:
3.5 oz (100 g) butter at room temperature
3.5 oz (100 g) dark muscovado sugar
0.4 oz (12 g) cinnamon powder
few drops of vanilla extract
FOR BRUSH:
beaten egg + a pinch of salt
INSTRUCTIONS:
Make tangzhong.
In a small saucepan add water along with flour, place over low heat and stir constantly with a whisk. Cook, stirring constantly, until slightly thickened. It must reaches 150ºF, you can use a digital thermometer.
Remove from the heat and pour into an airtight container. Cover and let cool completely.
Once tangzhong is cool, make the dough.
Make the dough for tangerine bread.
In a large bowl add two types of flour along with water, tangerine juice and zest, tangzhong and Greek yoghurt, mix with a flexible scrapper.
Add dry instant yeast, mix, add salt and mix again until combined.
Pour the honey along with croissant dough (previously cut) and mix again until get an homogenous dough.
Knead the dough, we must work well the dough to favor that the ingredients are combined. It is important not to be abrupt when kneading because we will compact the dough and the final result will not be so spongy. Transfer the dough to a work surface and begin to work by French kneading.
Knead 4 minutes and let stand 5-7 minutes, always covering the dough to prevent it from drying out.
When the dough is well developed, make bulk fermentation.
Make bulk fermentation.
Grease a bowl and place inside de dough, cover with film and let rise until it doubles in sized. Depending on the temperature, it can take 2 to 4 hours without problems.
Make cinnamon filling.
In a bowl add all the ingredients and mix until completely homogenized.
Cover with film and set aside at room temperature until needed.
Shape the bread.
IMPORTANT NOTE: We must not preshape the dough because it will take tension and it will be very difficult to stretch it to the dimensions we need.
Grease a 12 x 4 x 3 inches pan or cover with baking paper. Set aside.
Dust lightly with flour a work surface and transfer the dough. Degas with care using your finger tips and stretch the dough to make a 14 x 18 inches rectangle.

Spread the cinnamon filling over the dough surface, a little more than half of the filling. Be careful to keep a little less than half from cinnamon mixture.

Fold the dough, we will do carrying the long end to the middle and then the other end in the same way. The union of both sides will remain in the center of the dough. Similar as if we were closing a cupboard.

Spread the remaining cinnamon filling on the "white part" of the dough covering it completely.

Roll the dough on itself and seal the final union.

Transfer the dough into the mold, with the sealed side down, cover with film and let rise until it grows a little more than twice its size.
Bake the tangerine bread.
Preheat the oven at 360ºF.
Brush the surface with beaten egg and a pinch of salt and bake for 40-45 minutes.
Before 25-30 minutes, take a look at your bread. If it is golden brown, cover with aluminum foil + paper baking and end baking.
Remove from the oven, unmold and let cool over a rack.
PRESERVATION: This bread can be wrapped in film or in a sealed bag closed with a zipper. It is kept in perfect condition for 6-7 days.
NOTES:
The final hydration will always depend on the flour you use. I recommend adding it little by little to not exceed it and to obtain a difficult dough to manipulate.
The dough be sticky at first, do not despair. As we work it will improve its texture.
If you do not have or want to use tangerine juice, naturally of course, you can change it for orange juice.
Tangzhong helps to obtain a more tender and fluffy bread that will prolong its useful life, but also provides a lot of hydration, taking it into account when working the dough.
The tritordeum flour is made with barley and durum wheat, if you do not have it you can substitute it with another flour that you like or omit it and use 100% bread flour.
The croissant dough is not essential, can be treated as an "old dough" that brings flavor and aroma. I decided to add it to achieve just that (and because I have indigent amounts of cuts from puff pastry that I make at home!)
If you look at the ends of this loaf it can be seen that they protrude unlike the upper loaf. It happened to me in two of them, when shaping the proportions were not maintained as well. But it also has its charm 😉
The other side…
This tangerine cinnamon bread is pure lust, an impressive flavor, texture and aroma. The crumb almost melts in the mouth, combined with the flavor of muscavado sugar with cinnamon … I do not know what to say.
I think I'll go through another slice to see if I can find the words that can describe it, while I leave you with the elaboration so that you can be encouraged with it.
Big hugs,
Eva