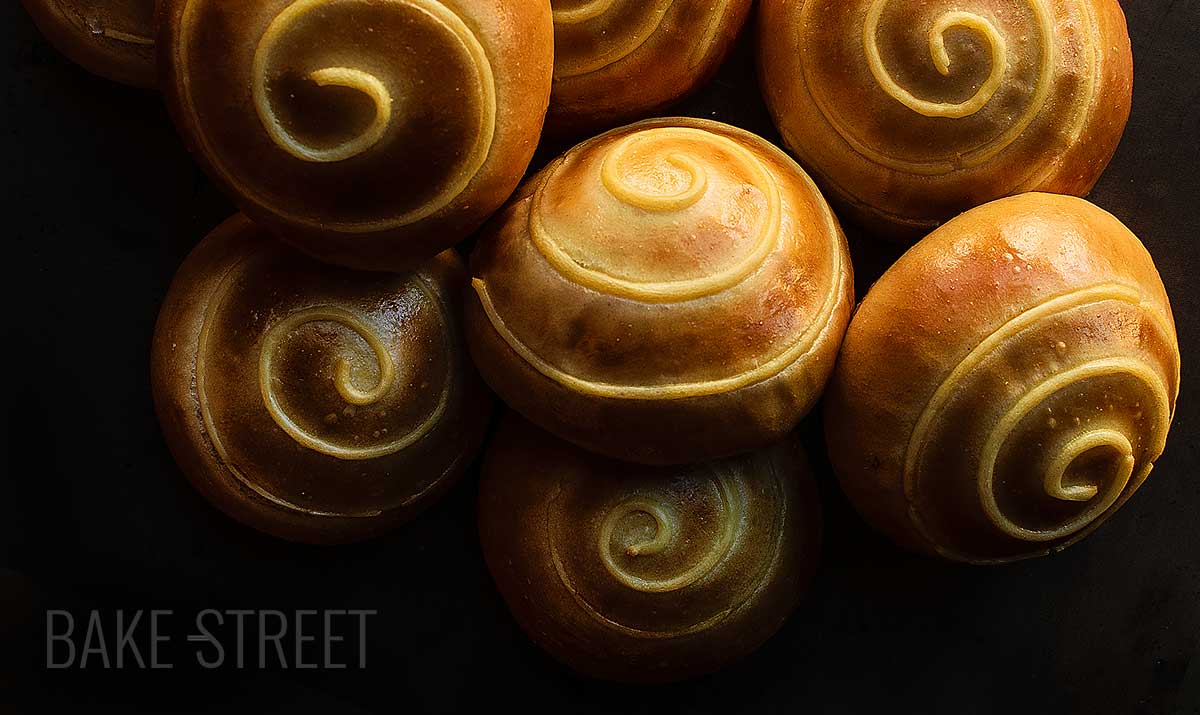 Milk Pudding Buns
Este post también está disponible en Spanish
Today's recipe is one of those unexpected discoveries that come when, in reality, you were looking for something else. I love having these things happen to me. You're looking Google or Pinterest and suddenly a photo comes out that captures your attention, not only because of the look so appealing if not because you also think… – Holy Mother, what is this wonderful? -. That's what happened to me with these Milk Pudding Buns.
Of course, as you can imagine, I immediately clicked on the photo to see what I had been missing for years and be able to remedy it as soon as possible.
Looking for the recipe.
The first recipe that I found was one of this blog Ytower, I found some buns with an impressive look. After looking at their process and ingredients, I decided to look for more about them to see if the recipe would hold or find variants.
I did indeed find other recipes that differed from each other, basically keeping the same ingredients in different proportions, in addition to shaping and decoration. Although the second recipe I found, by Sarah from HungryMooMooCow, did not decorate the buns with pastry cream but used a very similar mixture with we decorate hot cross buns.
After looking at many recipes, I made my own version based on all the recipes I had seen and called my attention. I adjusted the amounts of the ingredients and maintained the use of powdered milk as they do in many of the preparations I looked for.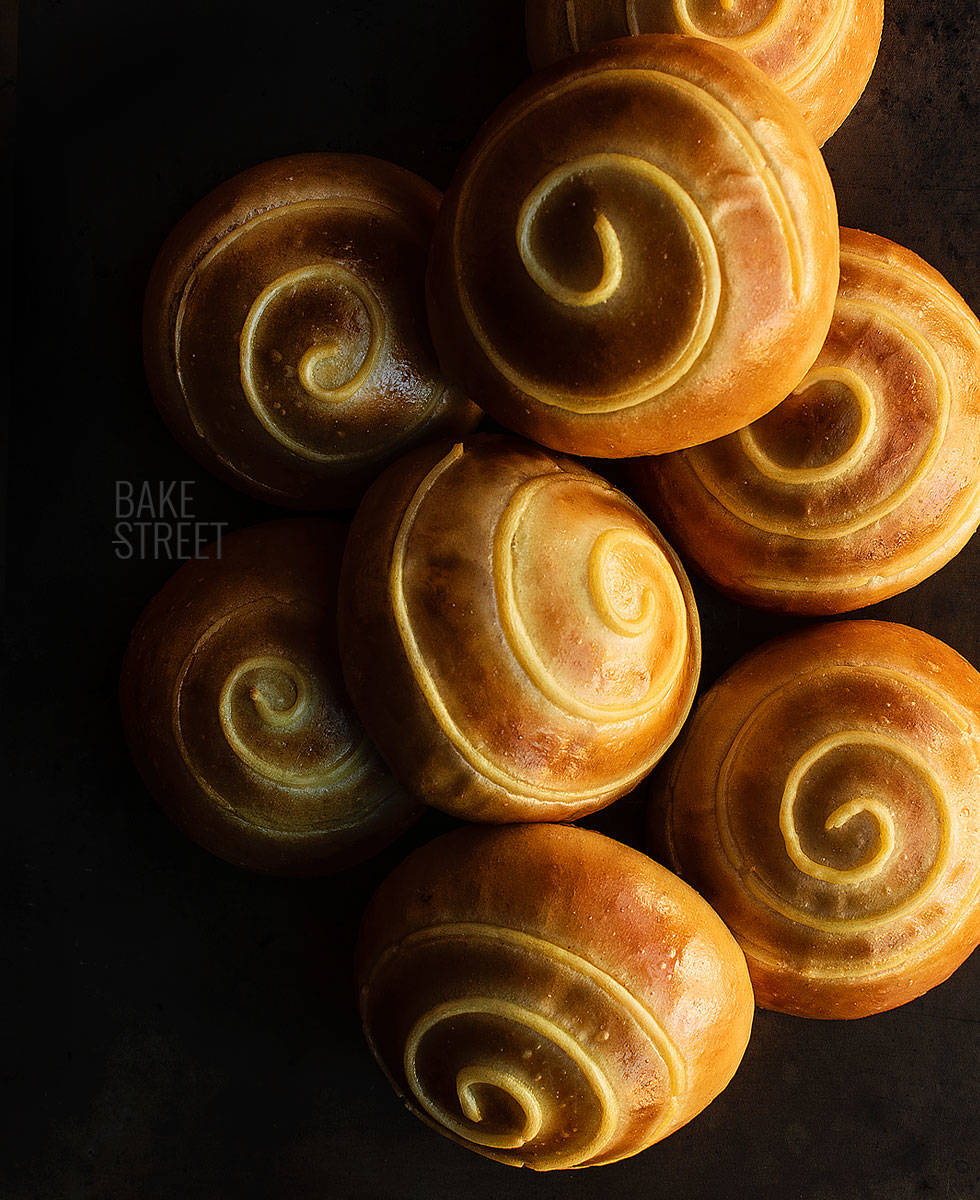 Different ways of carrying it out.
Some of them were also made with tangzhong, although it was not the most common. You already know that this ingredient is a flour blanching that is added later to the dough. With it, we increase the flour's absorption capacity and, consequently, increase its useful life and tenderness.
In the blog you can find this recipe carried out with this method by clicking here. Of course, it can be used and added to any dough you want. You will only have to take into account the amount of water and flour that we will add to the dough to be integrated, to subtract it from the final dough. Above all we must bear in mind that it provides a considerable amount of water (5 parts water x 1 part flour).
At the time of finishing them, I preferred to leave them as they come out of the oven. There are recipes that brush the buns freshly baked, just after leaving the oven, with syrup or melted honey. In my humble opinion, I think, that it is not necessary because they are absolutely fantastic as I show them to you.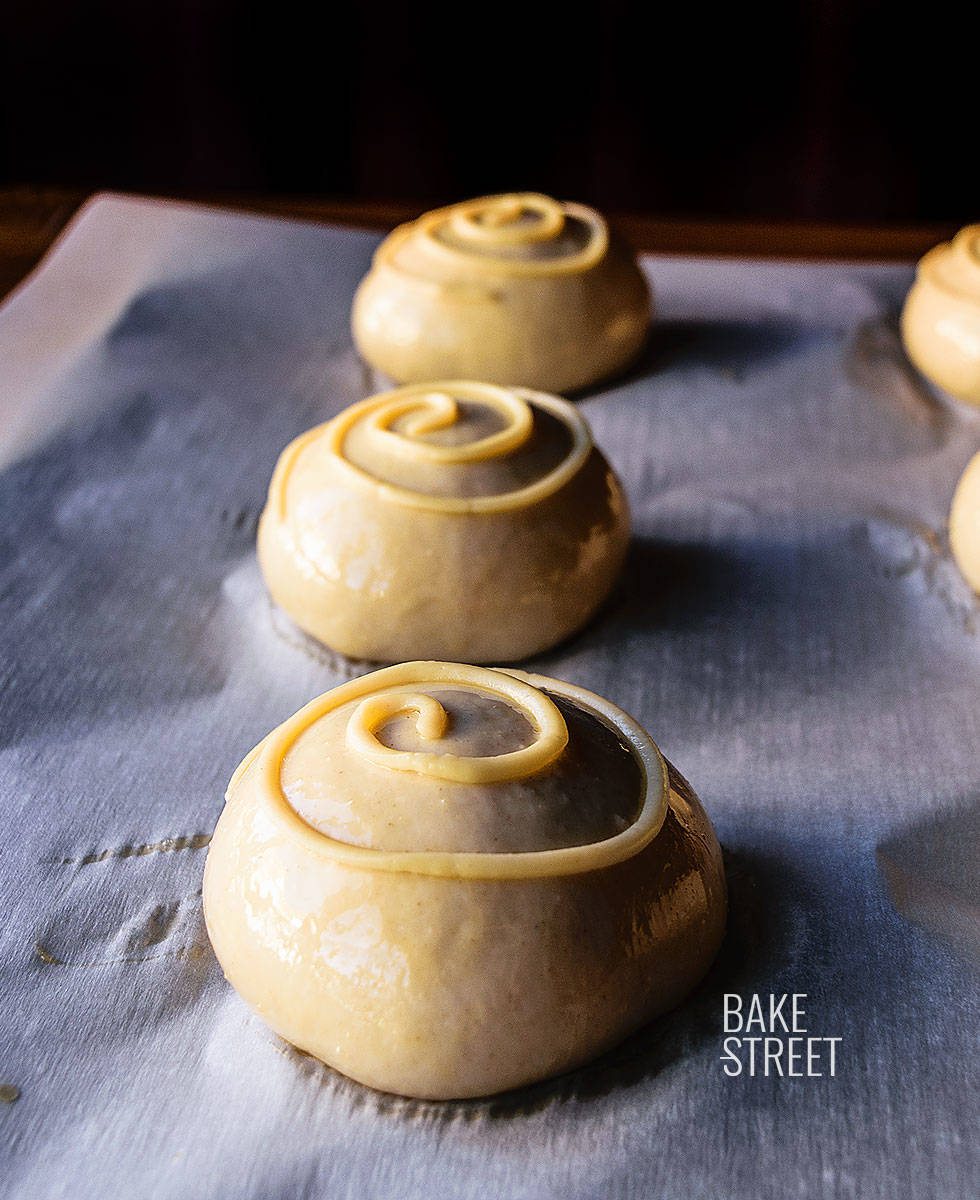 Milk Pudding Buns origin.
You know that I always like to share with you the origin of each recipe that I leave with you and the history behind it. In this case, it has been impossible for me to know even what its real origin is. In some sources mention that they are buns of Chinese origin and in others of Japanese origin…
Tangzhong is of Japanese origin, but it is also true that it was not an ingredient that was present in all the preparations.  So if any of you know more about this little delight, say that I will receive it with open arms!
I know it's Wednesday and I don't usually make videos… but the good thing about doing unexpected things is that they brighten the days 😉
Ingredients para 11 pieces
FOR THE DOUGH:
14,1 oz (400 g) T45 flour
2,45 oz (70 g) sugar
6,17 oz (175 g) water
0,44 oz (12,5 g) milk powder
2,11 oz (60 g) unsalted butter at room temperature
2,11 oz (60 g) egg (1 large egg)
0,11 oz (3,3 g) dry yeast + 0,17 oz (5 g) water
0,14 oz (4 g) salt
1 beaten egg + pinch of salt for brush
FOR PASTRY CREAM:
8,8 oz (250 g) whole milk
1 tsp vanilla extract or a vanilla pod open lengthwise
2 large egg yolks
2,1 oz (60 g) sugar
1 y 1/2 Tbsp wheat flour
1 y 1/2 Tbsp corn flour
Instructions
Make pastry cream.
Here you can see how to prepare the pastry cream.
Once you have it ready, reserve it at room temperature until the moment of its use if you make the buns on the same day.
If you do it one day in advance, once it has cooled down completely, keep in the refrigerator until the next day.
Make the dough.
In a bowl add the flour together with water, sugar, egg and powdered milk.
We begin to integrate the ingredients in the bowl itself until we obtain a homogeneous dough.
Add the salt and knead until it is completely integrated.
Dissolve the yeast in the water and pour it into the bowl, knead again until you have a homogeneous and smooth dough.
Transfer to a work surface and start kneading. We will have to obtain a smooth, silky and developed dough.
Once we have a medium-developed gluten, add the butter. The ideal is to do it little by little, waiting for the dough to absorb it and facilitate the kneading process.
Knead for about 15-20 minutes to develop the gluten well and obtain an elastic, soft and very well developed dough. The dough, always after a rest, must pass the membrane test. Here's how to do it.
If we do rest we must always cover the dough to prevent it from drying.
Make bulk fermentation.
Make a ball with the dough, grease a bowl/tupper lightly with oil and introduce the dough inside.
Cover with film and let it rise until it grows 1/3 of its volume. In my case it took 68ºF (20ºC).
At that time place in the fridge until the next day.
Divide and preshape.
Warm the dough before working with it. In my case I took it out of the cold and left it at room temperature for 2 and 1/4 hours before pre-shaping the buns.
Degass the dough gently and divide it into 11 equal pieces, they will weigh about 2,3 oz (65 g) / piece. Remember that if there are any pieces of dough leftovers, we will always place them in the center of the dough before preshaping.
Preshape, make a ball and cover with film. Let stand for 20 minutes.
Shape the buns.
Push the pastry cream into a piping bag. Reserve 2,65 oz (75 g) of pastry cream to decorate the buns on the surface.
Gently press one of the pieces and, with the help of a roller, flatten slightly to form a disc.
Put some pastry cream in the middle of the dough and close it the way I show you in the video.
Seal well to avoid that the cream can go outside and make a ball (again) gently, not exerting a tension like madness ;)
Place the piece on a tray lined with baking paper and repeat with the rest.
Cover with film and let rise until they double its volume. In my case it took 4 hours and 20 minutes at 70ºF (21ºC).
Bake.
Preheat oven to 355ºF (180ºC).
Brush the buns with egg beaten.
Create a spiral on each bun with the pastry cream we had reserved.
Bake for 16-17 minutes, they will take a light golden color.
Remove from the oven and allow to cool completely on a rack.
Notes
If you prefer, you can do the process in the same day, rather than retard in cold overnight. You will just have to wait for it to double in size and continue developing the recipe.
Why do you retard the dough in cold? When we are going through a cold season, doughs rise more slowly. Retarding it helps us divide the process into two days, a step that helps to make it more practical and bearable, as well as not having to bake at night. You will be able to consume them freshly made in addition to enhance and improve its flavor and texture.
Let the dough rises until doubling its size in final proof. Otherwise the dough will open where we have created the upper cream thread. In addition to obtaining a more compact result and with less volume.
When you form the spiral on the bun you must exert constant pressurewhile creating it. In this way the thread will be continuous and will not be cut while you make it. Be sure of yourself.
To know if our bread has finished the cooking time, remember that with a digital thermometer and checking its temperature we will know. It must be around185-195ºF.
Preservation: This bread can be kept in an airtight bag for 4 days. If you prefer, you can freeze them.
Don't regret making these Milk Pudding Buns, they are super tender, soft, with a lot of flavor and a very subtle sweetness. All this accompanied by pastry cream is... heaven!
Maybe some of you see me a little exaggerated... but I have Andalusian blood running through my veins! Hahaha, my wonderful mother's inheritance. And leaving this aside, I give you my word and that what I say to you is true ;)
Enjoy yourselves a lot in this midd-week.
Big hugs,
Eva
Archivado en