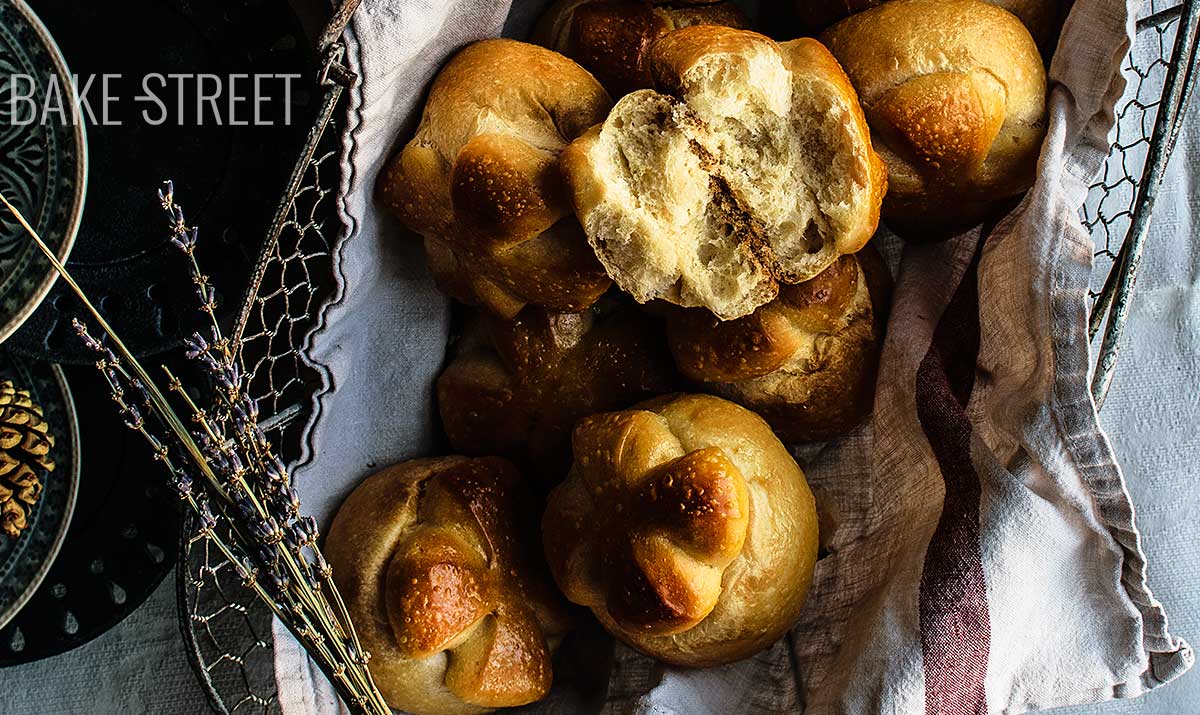 Marañuelas from Avilés, anise and lemon sweet bread
Este post también está disponible en Spanish
Today I want to share with you an elaboration of one of my favorite places in the Iberian Peninsula, Asturias. I knew this recipe thanks to a bread group mate and blog reader, thank you very much Jacqueline Iglesias, and I have to admit that until now they were totally unknown to me. Good thing I was able to fix it because they're a delight. Sweet and very tender buns flavored with anise and lemon, Marañuelas from Avilés.
There are several types of Marañuelas in Asturias, we can find those of Candás, Luanco and Avilés. The difference between the first two and the ones I share with you today is their texture and consistency. Despite sharing a name, they have nothing to do with it. Marañuelas from Candás and Luanco are more similar to a biscuit made with lard (we called them "galletas mantecadas"), traditionally shaped with a ribbon aspect, although more varieties can also be found.
Marañuela from Avilés.
However, Marañuelas from Avilés are more like brioche or sweet bread. They have a very tender and spongy texture, which is accompanied by a wonderful flavor thanks to butter, anise and lemon zest. How could I have been in Asturias so many times and not have known this wonder?
Traditionally they are usually eaten during Easter, but as I found them to be wonderfully extraordinary and somewhat laborious, I thought that these dates would be the ideal time to share them. Yes, we are more busy with the family, lunches, dinners… But we also have more free time thanks to holidays.
How much laborious are they to carry out?
For all those of you who are used to working with hydrated doughs, it won't be a great job. Very similar to making a brioche or enriched dough.
For those of you who are your first or first time, be patient. It is important to integrate the ingredients how I specify you in the process, not all at once because it will be difficult for the dough to start developing gluten and get an optimal final result. In this type of dough, given its long kneading process, it is advisable to use a dough mixer. If we have one, should we put it to good use? Besides, it helps to speed up a lot of work.
I love to do the whole process by hand, but when time is not enough to do everything, we should not rule out good helpers.
Proof.
Rising times are very long, I read it to Jacqueline and later corroborated it in many recipes. But I never thought it would be this long. You will see that in the process I specify that I had the dough in bulk fermentation for 40 hours at room temperature, and this is not a typographical error, there were many.
In spring or summer this time will be reduced considerably, but in winter and taking into account that many times the temperature drops to 66º F, is prolonged to infinity… Don't do anything foolish like placing the dough inside the oven at 104ºF or similar. I detail it in the notes on how to proceed to speed up the process a little, but just in case, I'll tell you about it here too.
Many elaborations make a previous preferment which are then incorporated into the dough. In my case I decided to do the process with a direct method, but of course, you can make a preferment if you wish.
Final result.
Sweet, aromatic and incredibly tender buns. Especially the first day we bake them. I was surprised that they endured over time, better than expected. Once they were completely cold, I place them in a large bag with a zipper clip and kept them for 7 days perfect.
With this we can learn:
If we do not abuse an excessive amount of yeast
Respecting the kneading process until a good gluten development is achieved
And the rising time
We can obtain homemade sweets that are preserved in good condition for a long time without adding preservatives.
The recipe I've followed is adapted from the blog "Entre alacenas y fogones", which is the recipe I've found and most of the blogs where I've looked for how to prepare them.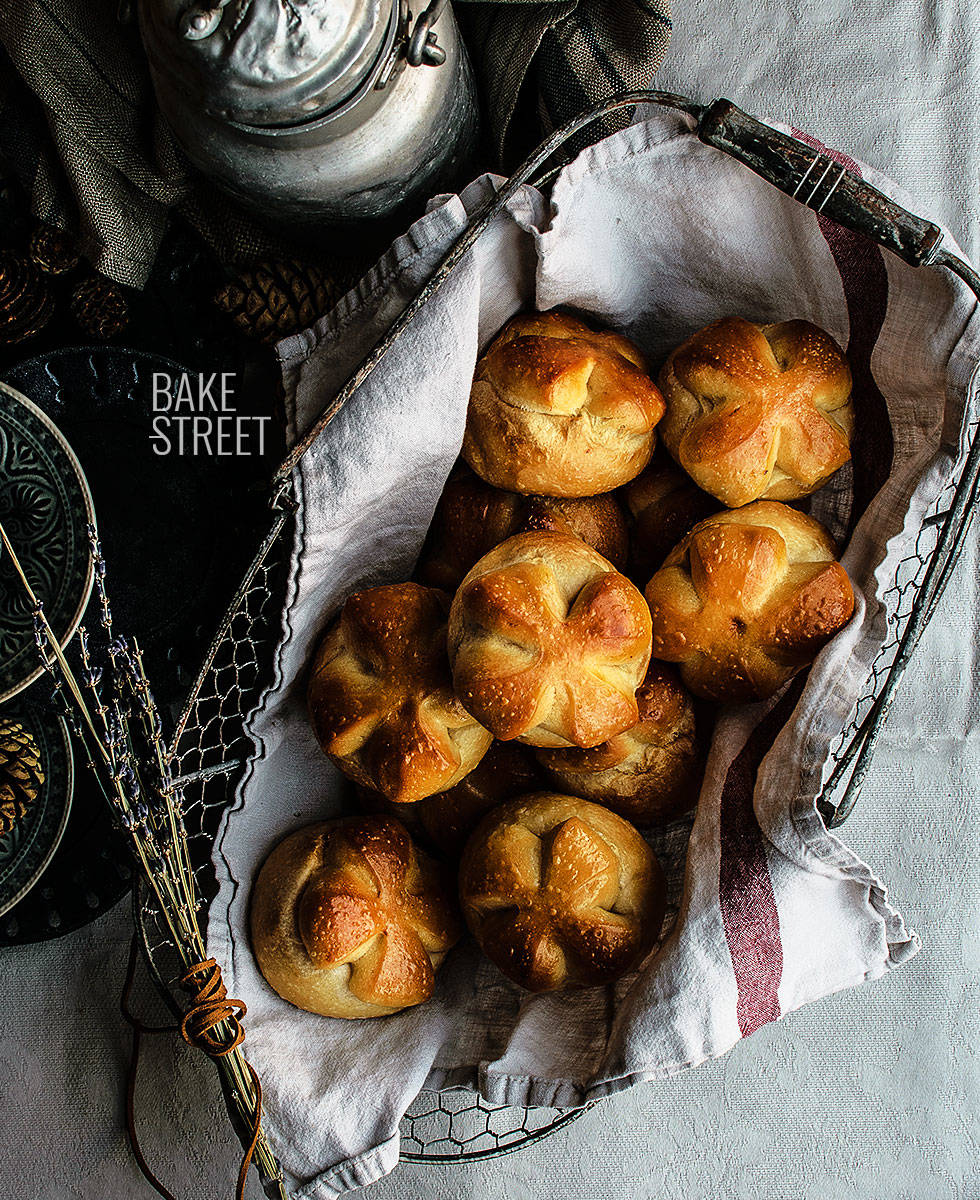 Ingredients for 14 pieces
17,6 oz (500 g) bread flour
4,6 oz (130 g) whole milk
4,6 oz (130 g) unsalted butter at room temperature
2 large eggs
5,45 oz (155 g) sugar
1,95 oz (55 g) aniseed liqueur
lemon zest from one lemon
0,26 oz (7,5 g) osmotolerant dry yeast
0,24 oz (6,8 g) salt
Instructions
FIRST DAY
Make the dough.
In a small bowl mix the sugar together with the lemon zest, cover with film and let it stand for 1 hour to flavor.
Keep 2 tablespoons of milk.
In a bowl add the flour together with the eggs, milk, salt and half of flavoured sugar. Mix with your hands to amalgamate the ingredients.
Start to integrate the butter into the mixture and work to start mixing it. We will alternate the addition of butter with part of the reserved sugar, kneading after each addition so that the ingredients begin to amalgamate.
Add aniseed liqueur and knead again.
Dissolve the yeast in the milk we had reserved and pour it to the dough. Knead again until it is completely integrated.
Once we have added all the butter, knead until you get a good gluten development. The dough must be elastic and not cracked. It will take us a long time to reach this point, we must make an intensive kneading. About 60 minutes.
Make bulk fermentation.
Once we have a perfect gluten development, make a ball with the dough.
Grease a tupper or hermetic container, introduce the dough inside and let it rise until their size increases three times their volume.
Depending on the temperature it can take 6-8 hours. In my case it was 8 hours at 77ºF.This dough takes a long, long time to rise. Especially now in winter. In my case it was 40 hours at room temperature, the temperature fluctuated (depending on the time of day) between 66º-77ºF. Since my dough was ready on the first day at 18:30 pm, I was able to shape them on the third day at 10:30 am.
SECOND OR THIRD DAY
Shaping marañuelas.
Dump the dough on a clean surface and divide it into fourteen equal pieces, about 2,45 oz/piece.
Each piece will be divided into two pieces, one of 1,6 oz and 0,9 oz.


Preshape, remember to place the dough pieces always in the center of each piece before preshaping, and let it rest for 20 minutes covered with a plastic film.
Slightly flatten the largest piece with the palm of your hand.

Repeat the same process with the smaller part. With the help of a metal scraper or a sharp knife,  make cuts in the small piece simulating a cross.

Place the small piece over the large one and press gently to join them together.
Repeat the same process with the rest of the pieces.

Place the marañuelas on a tray lined with baking paper, leaving space between them since they will grow during the rising and baking. In my case, I've divided them into two trays.
Cover with film and let rise until the volume is doubled. In my case it was 9 1/2 hours at 75ºF.
Bake.
Preheat oven to 375ºF.
Brush with beaten egg with a pinch of salt and place in the oven.

Bake for 14-16 minutes, they must get a beautiful light and golden color. Remember that the temperature inside must reach 190-195ºF for cooking to be complete.
Remove from the oven and let them cool completely over a rack.
Repeat the process with the rest of pieces.
Notes
Must the yeast be obligatorily osmotolerant? what is that kind of yeast? Yes, we must use that variety of yeast that is specific to enriched doughs. This yeast can best support proof in doughs with very high amounts of fat and sugar.
Can I use dry baker's yeast? Yes, but their ability to make the dough rise may be greatly reduced.
One of the ingredients is aniseed liqueur, in my case I used a variety of aniseed with lemon. I couldn't say exactly the difference between using one or the other, but at home we liked it very much.

The rising time of this dough is very high, be patient. At another time of the year our dough is likely to be tripled in 12 hours, but in winter it is more complicated.
Can I speed up the rising process in any way? I have never been in favour of introducing dough into the oven at low temperatures, for example 86ºF. This will always tend to be higher and we run the risk of spoiling the taste of our dough. If you want to help the dough in a very cold season, you can place the dough inside the oven only with the light on, nothing else. In my case I manage to reach 75-79ºF.
I'm sure that many of you already knew the Marañuelas from Avilés, but for those of you who don't, I hope that I have informed you of an elaboration that will become part of your recipe book. I have no doubt you'll love them.
It's a kind of sweet with classic flavors, the old-fashioned, traditional from Spain. I dare to say that's where much of its charm resides. Not to mention its appearance, which I think is absolutely beautiful. I hope you will make them very soon and tell me about your experience.
Big hugs,
Eva
Archivado en