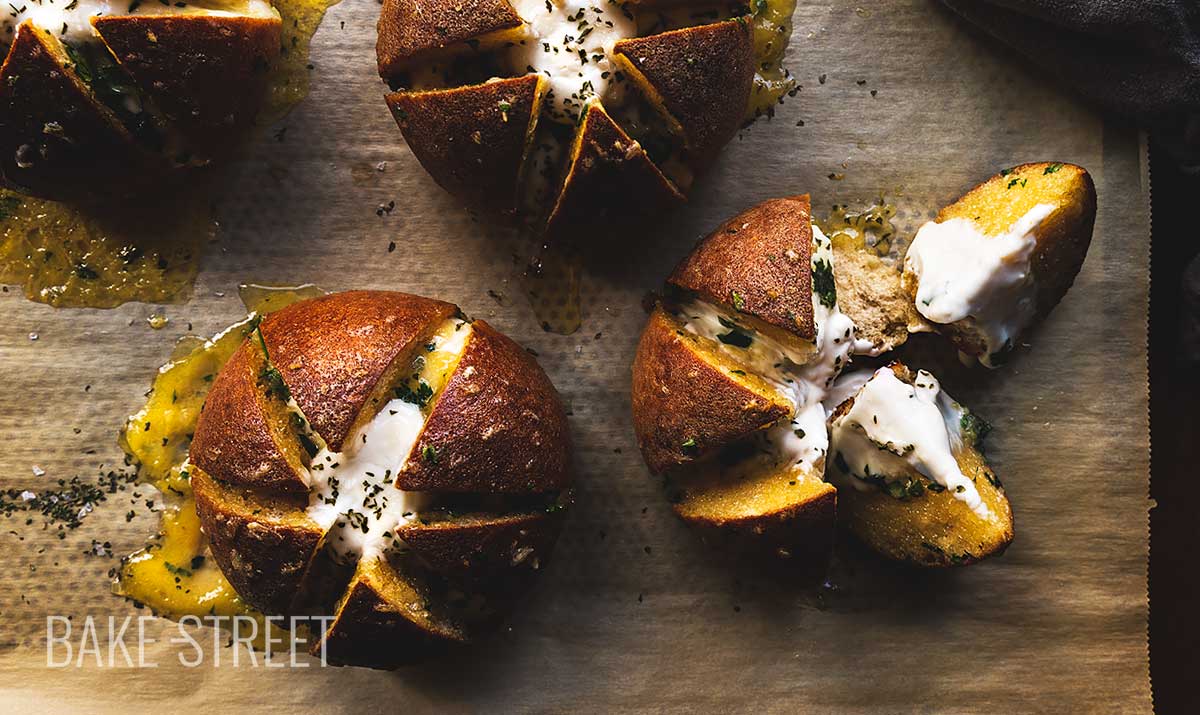 Korean cream cheese garlic bread
Este post también está disponible en Spanish
A few weeks ago I was watching videos from Youtube and when I finished watching one of the videos, a suggested video of Korean street food came out. As you can imagine, I didn't have time to watch it, of course! I love all these things and you can always learn new things. You never know everything, especially in the world of gastronomy. I can only tell you one thing, how glad I am to have seen it. The video suggested several elaborations, like Castella, but when it came to the Korean Cream Chesse Garlic Bread (육쪽마늘빵) I was fascinated.
Maybe when you read it you will think that it is a very common recipe, I will understand it perfectly. As soon as I saw it, I thought it was a bun with sweet cream filling. And it was not wrong, only that the elaboration ended up being salty in spite of having a sweet filling. Yes, I know it may seem strange and even unattractive. But don't be fooled in the least. The result of these breads is absolutely spectacular.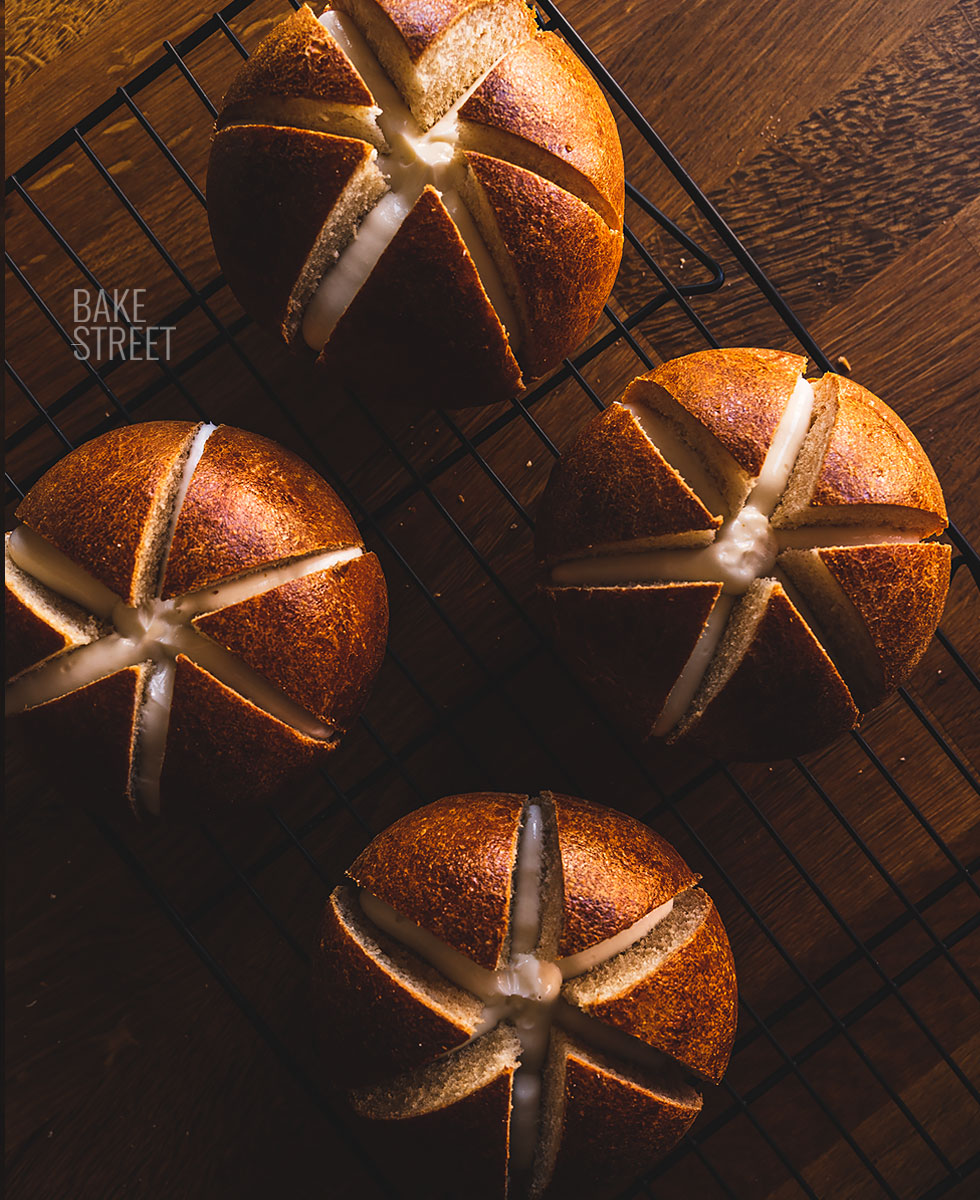 Different from the one we already know?
You are probably thinking that the recipe itself has nothing new or special because garlic bread is something very popular and widespread. And, yes, it is true. But like any other preparation that resembles others, it always has changes, adaptations or modifications according to its culture that make it different and genuine.
This cheese and garlic bread is made in a much smaller format, instead of the traditional large bread in which it is usually prepared. The cheese that fills the bread is made with cream cheese and sugar. Now you think, a sweet cream in a salty elaboration? Yes, that's right. And the best thing about it is that the combination is absolutely amazing. Trust me.
The breads are cut into segments, without reaching the base, filled with cream cheese and finally dipped in a mixture of butter, egg and garlic. The bread is impregnated with aromas and absorbs the butter mixture, which will leave an extremely juicy and tasty result. Once we have dipped it, drained it and placed it on a baking tray, we bake it again to achieve a crunchy outside with a soft inside. Serve it right away. It is one of the good ones, but one of those that you cannot let go without doing for a long time.
Korean cream cheese garlic bread origin.
This famous bread is said to have originated in Gangneung City in Gangwon Province and was originally eaten as street food.
The Pain Famille bakery makes six-sided garlic bread, also known as "six-sided garlic". Other people prefer to make eight slices instead of six, in order to enjoy more cream cheese in the filling. Others cut the breads transversely, using long loaves. But the most popular today is the round bread cut in the shape of a star.
From the city of Gangneung, the bread with cream cheese and garlic was taken to the culinary center of Gangnam, a famous and fashionable district in Seoul. It was there that it began to be in great demand among Koreans and became part of the menu of many cafes.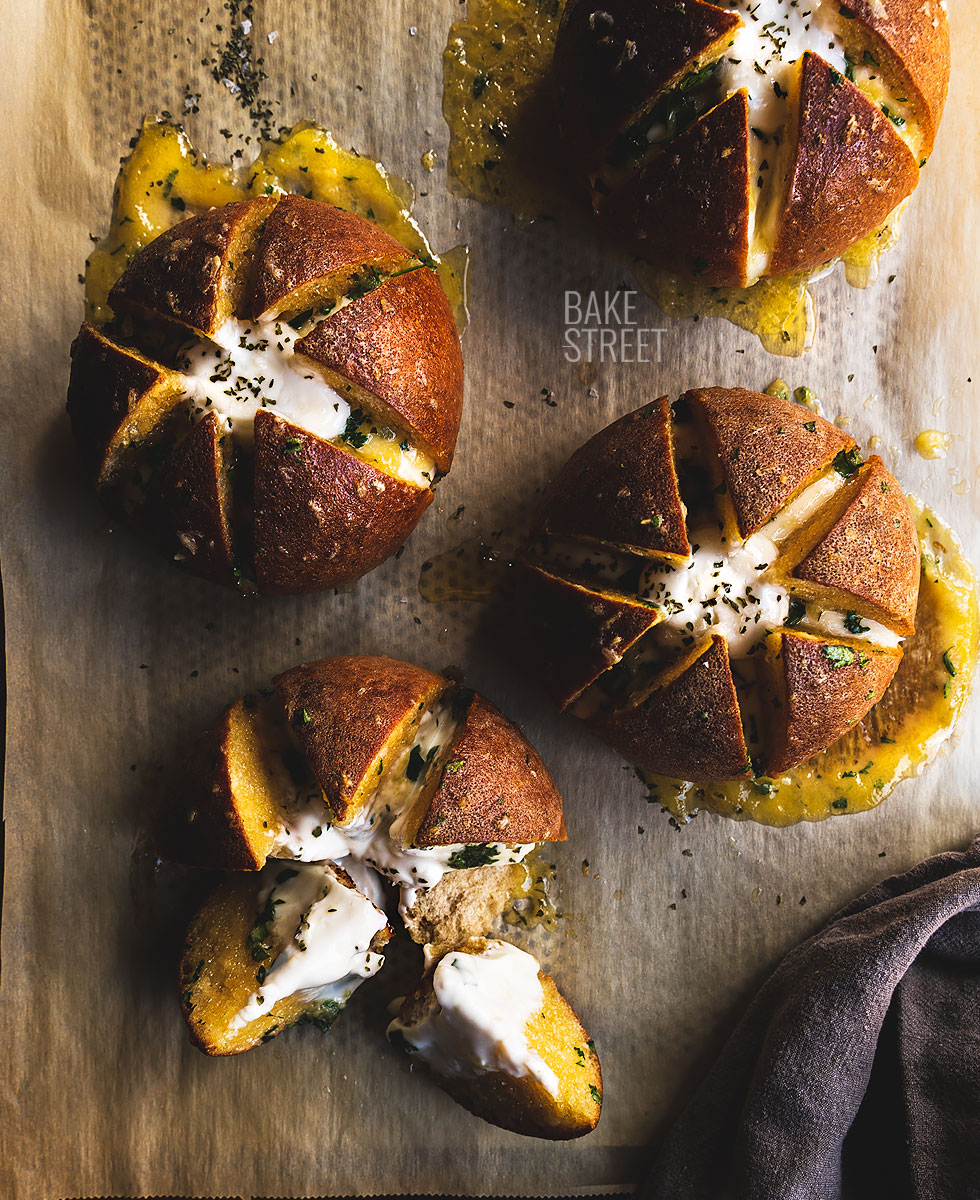 What is the main difference between regular garlic and cheese bread and Korean cream cheese garlic bread?
The main difference between both is the butter and garlic mixture that is made to dip the breads. This, as it contains egg, acquires a more creamy consistency and the final result is custardy. Not to mention the addition of sugar and honey, both in the cream cheese and in the butter and garlic mixture. It is one of these things that can seem very strange to us until we try them… At that moment it becomes an addiction, hahaha.
It's a very easy elaboration, even making the rolls at home. You know that, for my part, I am in favor of doing everything possible at home. Including the breads. In fact, to make the process easier for you, I show you how to do the process divided in two days. But, for those of you who don't feel like getting into the dough, you can always use store-bought buns. Although the result will not be the same, but surely quite acceptable.
The filling is super easy to do, as simple as mixing. And the same happens with the butter coating, mix, dip the filled rolls and that's it. This can be a fantastic option for a weekend snack dinner.
Recipe Korean cream cheese garlic bread
Ingredients for 8 pieces
Recipe adapted Poke the Dough
FOR THE DOUGH:
500 g bread flour
250 g whole milk, at room temperature
2 large eggs (115 g)
50 g unsalted butter at room temperature
3,5 g dry yeast
60 g sugar
6 g salt
FOR CREAM CHEESE FILLING:
450 g cream cheese at room temperature
60 g sugar
FOR BUTTER GARLIC MIXTURE:
260 g unsalted butter
20 garlic cloves, smashed (paste)
60 g condensed milk
2 large eggs
40 g honey
6 g parsley
Instructions
Make the dough.
Add the flour along with the milk, eggs, yeast and sugar. Mix with the hook at speed 1 until a developed dough is obtained. It will take us a while, that's why it's better to use a dough mixer if you have one.
Once we have the gluten developed, incorporate the butter. We will do it in two batches and we will not add the next one until the first one has been completely absorbed.
The total time of kneading will be around 1 hour with rest times.
Make bulk fermentation.
Make a ball with the dough and put it in a slightly greased container. Cover and let it rise until it doubles in size. In my case it was 4 hours and 50 minutes at 73,4º-75ºF/23º-24ºC.
Fold the dough, inside the container or on a clean work surface, to gently degas it.
Put it back in the container and leave it for 45 minutes at room temperature (76ºF/24.5ºC).
Store in the fridge overnight. In my case it was 13 hours at 39ºF/4ºC.
Shape breads.
Remove the dough from the fridge and temper it for 2 hours.
Turn the dough over on a clean work surface and carefully degas it.
Divide it into 8 pieces of 120 g and preshape them very gently. Cover with film and leave to rest for 20 minutes.
Shape the rolls in the same way as you would preshape them, but with the right amount of tension. We must not overdo it or tighten the dough.
Place them on a tray lined with baking paper leaving a gap between them so that they grow (we will need 2 trays), brush them with olive oil, cover them with film and let them rise until they double in size. In my case it was 3 3/4 hours at 75ºF/24.2ºC.
Bake.
Preheat the oven to 350ºF/175ºC.
Brush the rolls with beaten egg and place them at medium height. Bake for 20 minutes or until the inside temperature is 185º-194ºF/85-90ºC.
Remove from the oven, place them on a rack and let them cool down completely.
Prepare cream cheese.
In a bowl, add the cream cheese and soften it with the help of a spatula.
Add the sugar and mix.
Put the cream into a piping bag and set aside.
Prepare garlic butter sauce.
Melt the butter and let it rest for a few minutes so that it can be tempered.
Add the garlic paste together with the eggs, the condensed milk and the honey.
Mix until completely homogenized.
Set aside.
Fill breads.
Cut each bun into a star shape without cutting the base. We will create a six-pointed star.
Open slightly and fill each side, between the cuts, with cream cheese.
Dip the bread in the garlic butter mixture, drain slightly and place on a tray lined with baking paper.
Pipe more cream cheese in the center of each piece and bake again at 330ºF/165ºC for 10-15 minutes.
Remove from the oven, place on a rack, sprinkle with salt flakes and serve.
Notes
Whenever possible, I advise you to make the rolls at home. We can divide the process in two days to make it more bearable.
Remember that 1 g of dry yeast is equivalent to 3 g of fresh yeast.
It is very important to knead well, handle the dough with care and carry out the fermentations correctly to achieve a tender and spongy result in our breads.
The filling is made with Philadelphia type cream cheese. If you are wondering if you can use it light, I will tell you that it does not make much sense. Not only because the consistency, texture and creaminess of the cream will not be the same... but also because we are going to dip our breads in a mixture of butter.

We can add garlic very chopped or made into a paste, this will always be to our taste. If we prefer to find small pieces or try to hide it in the mixture, but obtaining all the flavor.
We can use fresh chopped or dry parsley.
If you have and like panko, we can sprinkle a little bit on the breads, once they are submerged in the butter mixture, and just before giving them the second batch.
These cheese and garlic breads, once filled and baked, can be reheated again before eating. Give them a heat stroke in the oven for 5-6 minutes.
If you are lovers of bread, cheese and garlic, then it won't take much to convince you to try them at home. This Korean cream cheese garlic bread is very different from what we are used to and, of course, it is worthwhile to try them.
At home, as it often happens to me, they found it a rather strange combination. In fact, they didn't think they would like it since there are ingredients (like honey) that can only be eaten in very specific things. But to my surprise, and theirs, they loved it.
Now that the temperatures have fallen a bit, it is the ideal moment to prepare these comforting and nutritious recipes. We must prepare for the cold frosts that await us, hahaha.
I wish you a wonderful weekend!
Big hugs,
Eva
Sources: Two Plaid Aprons, My Home diary in Turkey
Archivado en