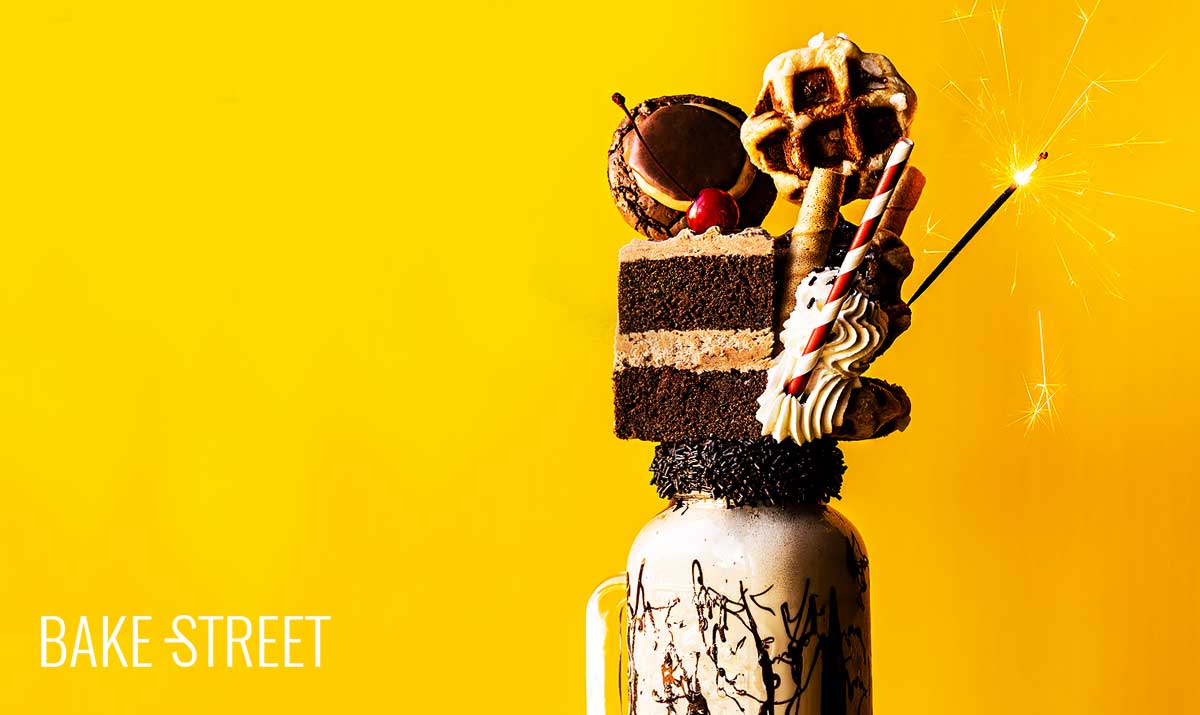 Freakshake, vanilla and coffee
Este post también está disponible en Spanish
I know that FreakShake became fashionable in 2016… It's been a few years now, well, a lot of years. But there are some things that will never cease to capture our attention, whether it be for their originality, their excess, their combination of elements or ingredients… Like these shakes. They are incredibly extravagant, tempting, provocative and impossible not to look at them and want to enjoy them. Even if we get a sugar rush just looking at them.
And that's what happened to me a few weeks ago when I saw them again on Pinterest. I said to myself – How come I haven't made one of these before? -. I know I'm a bit out of time, but when it comes to eating, I think that everything, or almost everything, is valid at whatever point in life we are in. Not to mention that if there's one thing that comes and goes, it's fashions.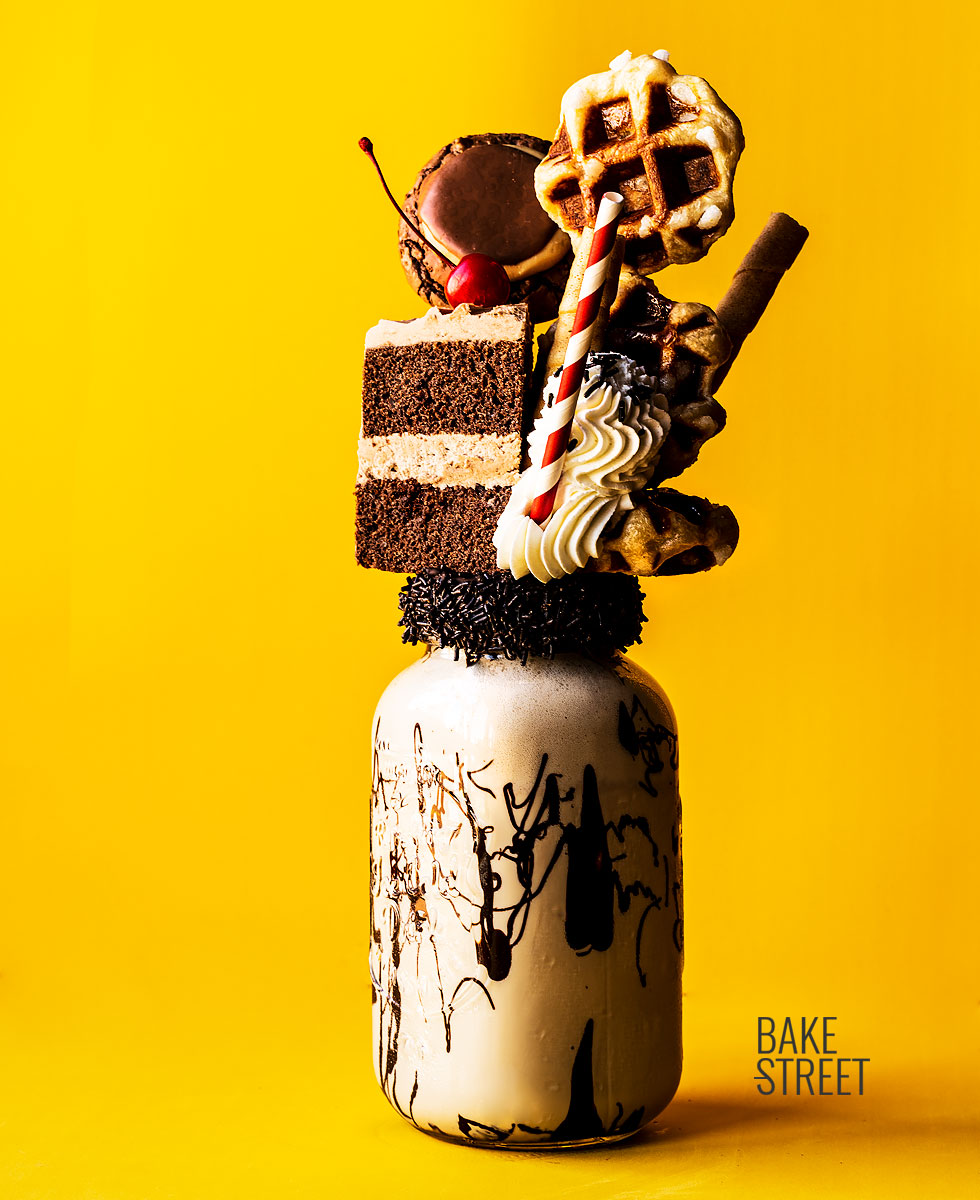 Freakshake origin.
As I mentioned above, these sjakes were very popular in 2016. They say that this time coincides with their creation, although on their social networks there are photos of these milkshakes from 2015. They originated in a small café in Canberra, Australia, called Pâtissez.
Apparently, this little place went from selling 20 milkshakes a week to 200 the next day, according to sales manager Lewis Williams.
Freakshakes were created by the owner of the shop, Anna Petridis, and became a worldwide trend. Apparently she was working to innovate and create some new and different shakes. She came up with the idea of combining several concoctions into one, resulting in these ice-cream milkshakes.
After making them, Anna posted a photo on social media of the 4 milkshakes she had just made. It was from that moment on that everyone had a crush on them and the desire to consume them arose.
Some media and social media profiles such as BuzzFeed, MTV America, Good Morning America and the Today Show, spread the word about Anna's creation. After her milkshakes went viral, they were not prepared for all the people who filled the small café, but they still tried to give the best possible service and meet the needs of their customers.
Given the speed with which the milkshake became popular and seeing that many other coffee shops were adopting similar concepts, they decided to buy the rights to the word "Freakshake" to prevent others from doing so and to acquire its popularity.
Due to their success and popularity, they opened two more shops in Singapore and Malaysia. And, it seems, another one was opened in Bangkok.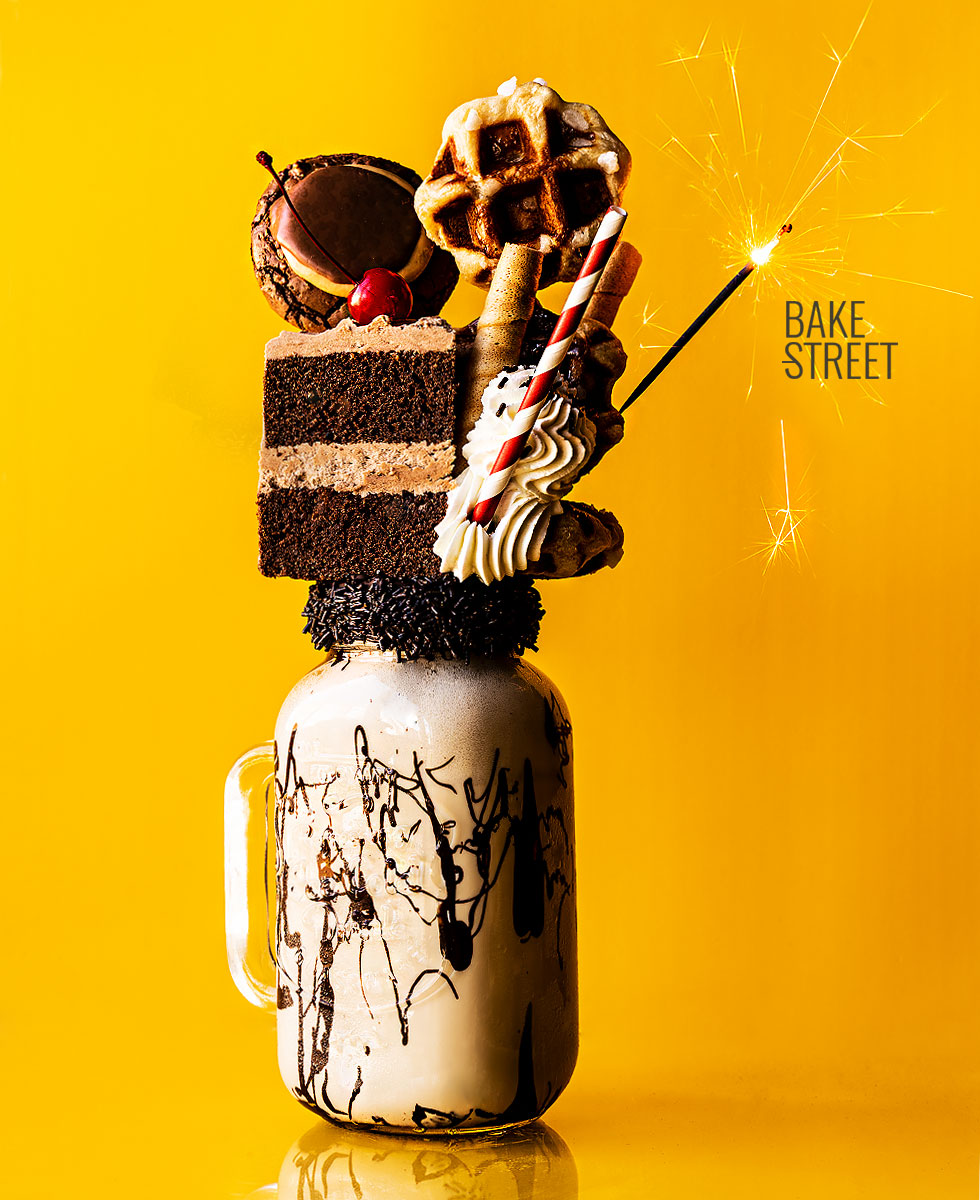 Carrying out the Freakshake at home.
The process of making the milkshake itself will take no more than 5 minutes, 3 of which will be spent thinking about the combination of ice cream flavours we want to use. The greatest complexity or time invested will be taken by all the preparations that accompany the milkshake. In my case vanilla and coffee, the first ice cream milkshake had to be one of my favourite ice creams….
The good thing is that it is incredibly versatile and we can decorate the milkshake with whatever we like; be it sweet preparations or even jelly beans or chocolates. As I like to complicate as much as I can and more, I decided to make 3 main preparations, plus small details to decorate.
The coffee and vanilla freakshake is accompanied by:
A slice of incredible "Hot milk chocolate tart". This is an incredibly juicy tart that is made with warm milk in which we add the butter to melt it. The filling is a chocolate buttercream and we will crown the slice with a Maraschino cherry. (The recipe by The Gardening Foodie)
Belgian waffles in mini format. This recipe I've already left on the blog some time ago to accompany this coffee and cardamom ice cream, but it's a recipe that gives very good results, both in flavour, aroma and texture. So I always make this recipe at home, I wouldn't change it for anything!
A "Buckeye brownie cookie", one of the most delicious and incredible cookies I have tasted in a long time. It is a biscuit that is crispy on the outside and tender, very tender and gooey in the middle. On top is a piece of sweetened peanut butter and topped with melted milk chocolate…. Truly, take my word for it, it is a delicacy of the gods! I'm just telling you that there were 12 cookies and I ate 10 of them, hahaha. I shared a little with my family, lol (The recipe byOMG Chocolate Desserts, highly recommended).
To finish, decorate with whipped cream, chocolate sprinkles, wafers and a good drizzle of chocolate syrup.
Recipe Freakshake, vanilla and coffee
BUCKEYE BROWNIE COOKIES (12 pieces):
Recipe by OMG Chocolate Desserts.
115 g black chocolate 70%
30 g unsalted butter at room temperature
1 large egg
65 g sugar
35 g pastry/cake flour
1 g baking powder
1/2 tsp vanilla extract
140 g natural peanut butter, unsweetened + 60 g icing sugar
50 g milk chocolate
BELGIAN WAFFLES (10 big/20 small):
250 g bread flour
60 g whole milk
40 g water
1 large egg
120 g unsalted butter, cold
3 g osmotolerant yeast
1/2 tsp vanilla extract
1 Tbsp honey
25 g sugar
5 g salt
100-120 g pearl sugar
HOT MILK CHOCOLATE TART (12 cm mold x 2):
Recipe bye The Gardening Foodie.
Sponge cake:
120 g pastry/cake flour
125 g whole milk
62 g unsalted butter
2 large eggs
115 g sugar
15 g unsweetened cocoa powder
6,5 g baking powder
piznch of salt
Buttercream:
115 g unsalted butter at room temperature
190 g icing sugar
4 g unsweetened cocoa powder
30 g fat cream
1 tsp vanilla extract
FOR THE VANILLA AND COFFEE ICE CREAM SHAKE:
2 scoops coffee ice cream
3 scoops vanilla ice cream
300 g whole milk (this quantity should be adjusted to your taste, if you prefer it thicker or thinner)
TO DECORATE:
whipped cream
Maraschino cherries
chocolate sprinkles
Russian cigarettes or ice cream wafers (recipe at this link)
chocolate syrup
for the glass: melted dark chocolate (30 g) + chocolate sprinkles
MATERIAL WE WILL NEED:
perforated tray + silpat or teflon
12 cm sponge cake mould, two units
KitchenAid or electric hand mixer
blender
cake stand (optional)
baker's spatula
digital kitchen scale
cake cutter
waffle iron
milkshake jugs 
straws
Instructions
FIRST DAY
Make Belgian waffles dough.
In KitchenAid bowl, or in a large bowl if you want to mix it by hand, add the milk, water, egg, vanilla, honey, sugar, yeast and salt.
Mix with the help of a whisk to homogenise the ingredients.
Add the flour and knead with the aid of the dough hook on speed 1 until a uniform dough with a developed gluten is obtained. If you do it by hand, work the dough little by little, using the French kneading method, until you obtain a homogeneous dough.
We will begin to integrate the butter little by little, we will not add more until the first part has been completely absorbed. As we add the butter, we will increase the speed progressively, from 1 to 3.
Once all the butter has been added, knead until the dough is soft, smooth and perfectly developed.
Grease a bowl or container, make a ball with the dough and place it in it. Cover and leave to rise until it almost doubles in volume. It will take about 2-3 hours, depending on the outside temperature. In my case it was 2 and 1/2 hours at 70ºF/21ºC.
Refrigerate the dough until the next day.
Prepare Buckeye brownie cookies.
Add the peanut butter in a bowl along with the icing sugar. Mix with an electric hand mixer until homogeneous.
Make 12 balls of about 15 g each. Set aside.
Preheat the oven to 350ºF/175ºC with heat up and down.
In a heat-resistant bowl, add the 70% chocolate and the butter. Place in a bain-marie and melt, stirring to achieve a uniform and homogeneous consistency. Set aside.
In a separate bowl, add the egg, vanilla and sugar. Whisk until homogenised.
In a separate bowl, mix the flour with baking powder and salt.
Pour the melted chocolate into the egg mixture, stir with the help of a whisk until all the elements are perfectly combined.
Gradually start to add the dry ingredients mixture while stirring to integrate them.
It is quite possible that the mixture will have a somewhat fluid consistency, in which case keep the bowl in the freezer for 15 minutes. During this time, the dough will become harder and will allow us to handle it better.
Divide the biscuit dough into 12 equal portions, about 25 g each. We can help ourselves with spoons or even handle them with our hands if the consistency allows us to do so.
Place on a perforated tray lined with a silpat.
Bake for 11-12 minutes.
Remove from the oven and then place a ball of peanut butter on top of each one. Flatten slightly.
Leave to stand for 5 minutes on the tray, then remove and leave to cool completely on a wire rack.
Once they have cooled completely, decorate the surface of the cookiess (only the peanut butter part) with the melted milk chocolate.
Leave to harden at room temperature.
Once they have cooled completely, we can store them in an airtight container. If possible, do not overlap one on top of the other.
Prepare  hot milk chocolate cake.
Line 2 moulds of 12 cm in diameter, set aside.
Add the milk and butter to a saucepan. Place over medium heat and leave alone until the butter melts.
Remove from the heat and add the vanilla extract. Set aside.
Sieve the flour together with the cocoa powder, baking powder and salt. Set aside.
In a bowl, add the eggs along with sugar. Whisk until they get volume.
With the help of a spatula, begin to gradually integrate dry ingredients into the egg mixture. We will do it with smooth and enveloping movements, not beating or stirring.
Finally, add the milk mixture and gently fold in.
Divide the mixture between the two moulds. Tap gently to help the mixture settle.
Bake for 35 minutes. Before taking it out, check that it is done by inserting a toothpick in the centre, which should come out clean.
Remove and place the moulds on a wire rack, leave to stand for 5 minutes.
Remove from the moulds and leave to cool completely on a wire rack.
Once they have cooled, wrap in plastic film and refrigerate until the next day.
SECON DAY
Make buttercream.
In the KitchenAid bowl add the butter. Wwhisk on medium-high speed, until it starts to whiten and has a creamy, airy consistency.
Add the icing sugar, in my case I do it in 2-3 batches and beat on medium speed until it is completely integrated.
Add the cocoa powder together with the vanilla and the cream. Beat again, using the whisk, at medium-high speed until it is completely integrated and the mixture has a very airy and creamy consistency.
Set aside.
Assemble chocolate cake.
With the help of a cake cutter, cut off the convex part of each of the sponge cakes.
Place one of them on a rotating stand and place a generous layer of buttercream. Smooth it out, making sure it is even.
Place the other sponge cake on top of the buttercream with the cut side facing down.
Place a layer of buttercream on the surface and, lightly, on the sides. With the help of a smoother, remove the excess from the sides while giving a smooth finish. My intention was to leave a look like the Naked Cakes.
On the top I made a spiral finish. You can see this step better in the video.
Refrigerate until serving time.
Make Belgian waffles.
Heat the waffle iron. In my case, I find that they work well on power setting 4, but you will have to adjust this to your waffle iron.
Divide the waffle dough. For the shake I made 4 waffles of 30 g each. The rest of the waffles are 60 g. Feel free to give them the size you prefer and always taking into account the capacity of your waffle iron. But, in general, waffles of 100-120 g usually tolerate well.
Roll the waffles in the pearl sugar, making sure that they also remain on the inside of the waffle. To do this, we can "knead" each piece slightly to encourage some of the sugar to remain inside the waffle. Be careful not to handle the waffle batter too much because, as they lose temperature, the batter will become stickier and more difficult to handle.
Place the waffles, slightly flattened, in the waffle iron and cook them. We will do it according to the instructions of our waffle maker, in my case they are ready in 4-5 minutes.
Remove with the help of skewers/forks and place on a wire rack to cool slightly.
Decorate the jug for the shake.
Melt the chocolate in a bowl.
Turn the mouth of the jug upside down and dip into the melted chocolate. Make sure the entire mouth of it is well covered.
Sprinkle with chocolate sprinkles.
If desired, add a little chocolate, chocolate syrup or liquid caramel inside.
Refrigerate until needed.
Make the shake.
In a glass mixer or with our blender, add the ice cream together with the milk.
Blend very well so that both elements are integrated and acquire the right texture.
Pour the ice cream shake into the jug.
Decorate with a small piece of chocolate cake, 3-4 waffles on a skewer and a Buckeye chocolate brownie cookie.
Finish decorating with some whipped cream, chocolate sprinkle, wafers, chocolate syrup and a straw.
Serve immediately and enjoy. Better in company!
Notes
The peanut butter we use must be natural, not sweetened. If we want, we can make it homemade. It will be enough to process natural roasted peanuts, not fried, until a very creamy consistency is achieved.
To handle the cookie dough well, it is advisable to refrigerate it or keep it in the freezer for 15 minutes. This will make it much easier to shape and divide the pieces.
Do not overbake the cookies, otherwise they will be dry. The consistency should be crispy on the outside, but very tender andgooey in the middle.
They will keep in perfect condition if stored in an airtight or biscuit-safe container for several days. I don't think they will last long, though, because they are so good.
The waffle dough can be kept refrigerated for 24-36 hours maximum. After that, it is advisable to freeze it, already divided into portions, and tightly wrapped in plastic wrap.
To cook the frozen waffles, we only need to take them out of the freezer 1-2 hours beforehand (depending on the outside temperature) so that they acquire the right consistency.
Pearl sugar should be added just as the waffles are cooking, if you do it before, it will dissolve and integrate into the dough.
If we cook all the waffles beforehand, we can warm them before eating them. However, given the short cooking time they require, I advise you to cook them at the moment of eatingn.
The cake can be filled with any filling you like.
The amount of milk in the milkshake will be according to the desired consistency. In my case, I adjusted it as I went along so that I could observe it.
In my case I have mixed coffee and vanilla ice cream, which fascinates me, but you can use chocolate, vanilla, caramel ice cream... For this combination of sweets that accompany it. If we make other sweets, you can use the ice cream that you like or prefer and that combines well with the rest.
If you don't have a 12 cm diameter cake mold, you can bake the cake in a larger tin and, once baked, cut it with a biscuit cutter to make individual portions. In fact, you can even make them into attractive shapes!
Other cookies that go well with this milkshake: Banana caramel cookie, Milano cookie, Mexican hot chocolate cookie and chocolate spiral cookie.
The inside of the glass can be decorated with chocolate and/or caramel syrup.
Do not hesitate to add other elements that you like and are in accordance with the smoothie you have made.
If there's a good way to start the week, it's definitely with a Freakshake, Vanilla and Coffee. It gives you energy and joy for the whole week, I guarantee it.
I can also tell you that it is quite difficult, if not almost impossible, to finish the whole thing. At home we shared it between the three of us, because it was impossible for one person to drink and eat it all... I thought I could, but I couldn't, hahaha. I filled my eye before I filled my belly.
I really liked the experience, I find it a very attractive dessert or refreshment and, without a doubt, I will make more smoothies of this type. If you have any flavour combinations that you like or would like me to make, don't hesitate to share them with me!
I wish you a wonderful start to the week!
Big hugs,
Eva
Sources: Upstart
Archivado en