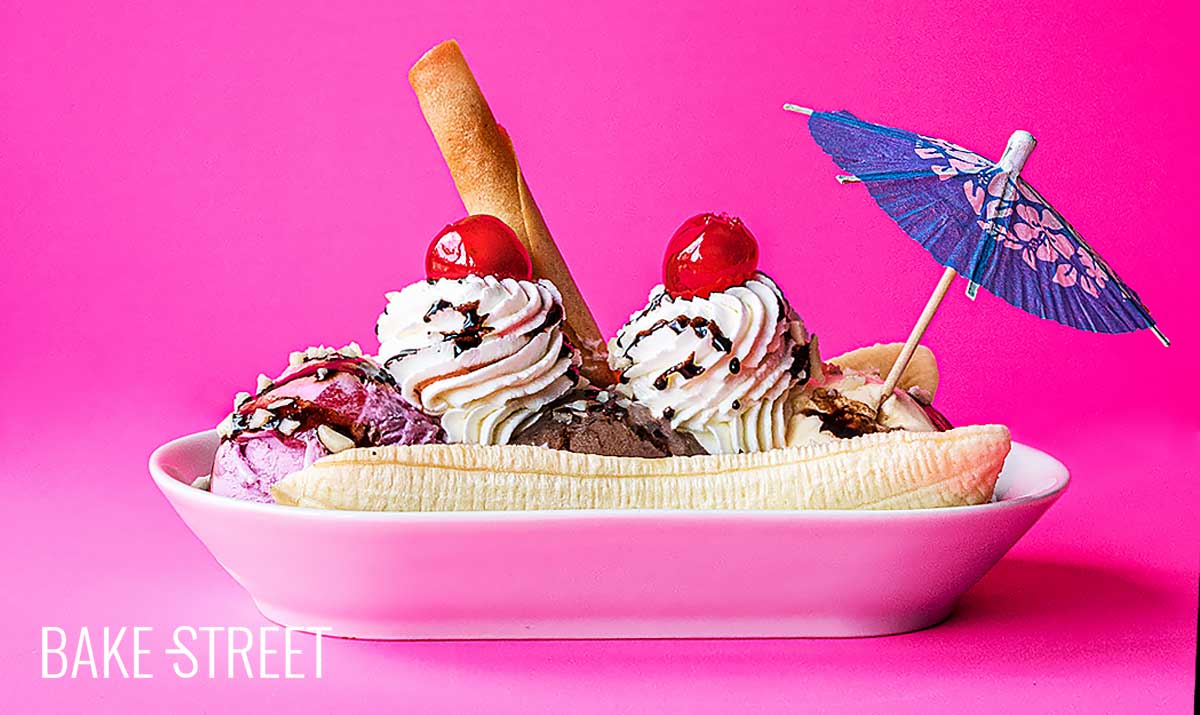 Banana Split and Russian cigarettes
Este post también está disponible en Spanish
Today's recipe comes to inaugurate a new section in the blog that, quite some time ago, I wanted to start. A little recipe book in which I will share with you "old-fashioned desserts", vintage or those that are supposed to be out of fashion. But I love them. My first recipe had to be my favourite dessert from when I was little, the famous Banana Split.
This ice cream was, without a doubt, my favorite in the world, worldwide. There wasn't an ice cream parlor where I went with my family and didn't order this ice cream. It drove me crazy. And, at that time, it was very easy to find it anywhere… I really don't know if it would be as easy right now. But if it's not, don't worry, we'll see how to make it.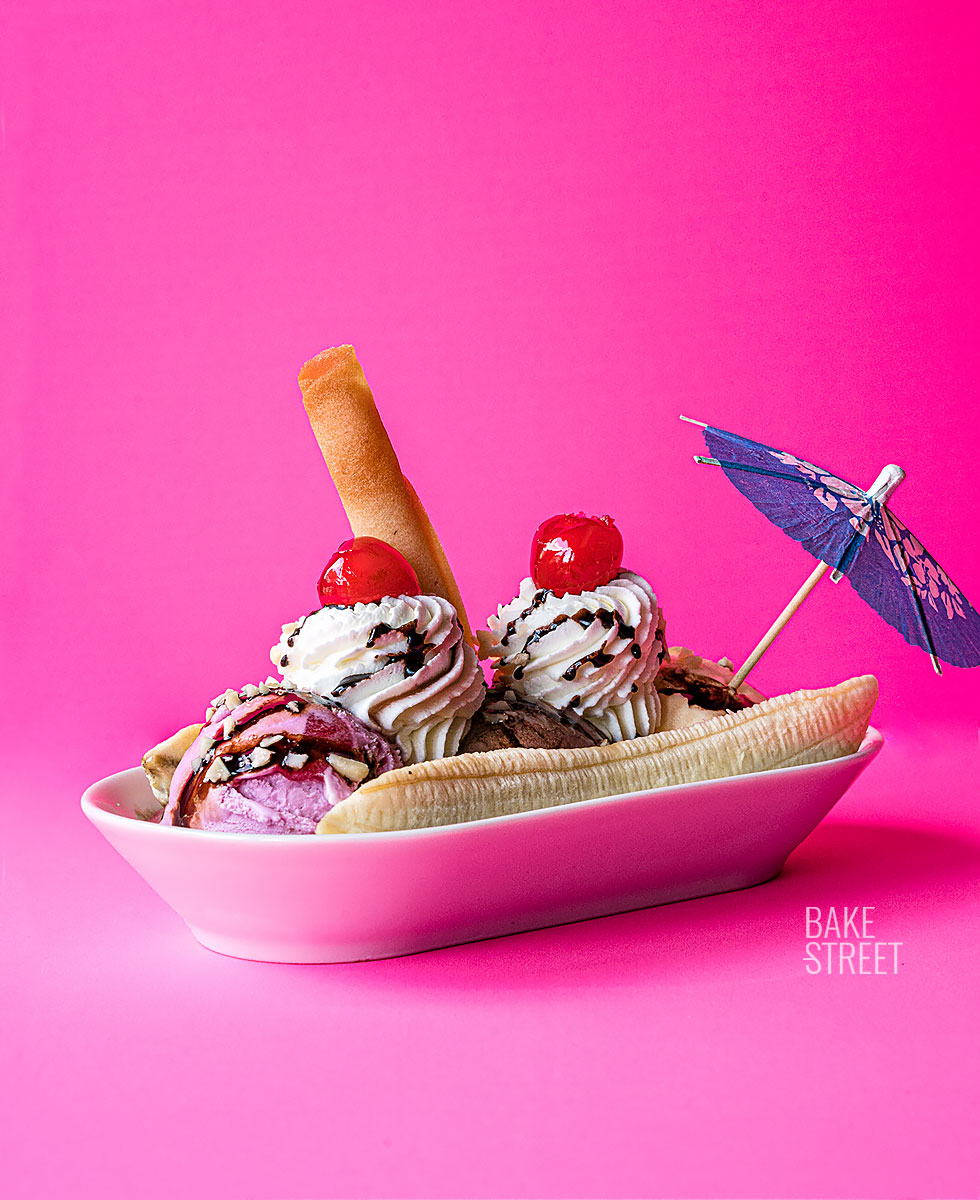 Origin of the homemade wafers or Russian cigarettes.
But this recipe doesn't come alone. In fact, it is a really simple dessert to make because it has no more complication than having some ice cream, banana and whipped cream. But, all this will change when we serve it with homemade wafers. How wonderful… There is nothing easier to make and more rewarding to prepare than wafers or Russian cigarrettes.
Their incredibly crunchy texture, with vanilla and even caramel flavor… The ideal companion for our ice creams, smoothies and desserts. Or to eat them as they are. Because I can assure you they eat themselves.
These wafers have their origins in early Christianity and were used as sacred bread. The wafers were made in monasteries where they were eaten before being sold to the faithful. It is very probable that their evolution to a gastronomic sweet that we consume normally, is due to the refinement of this recipe.
In the Middle Ages they were widespread and were part of the tables of kings in addition to being available through street vendors.
At that time, wafers were made by bakers until the figure of the specialist wafer maker emerged who made the batter and shaped the wafer to be sold later in the streets.
I never really thought about doing them at home.
But, besides, I didn't think they were that easy to do.
To make them we just have to prepare the batter, as easy as mixing ingredients, pipe small piles of batter on a silpat or Teflon. Spread well to get a very thin thickness and bake for 5-6 minutes.
Take it out of the oven, roll it up and it's ready. Easy, isn't it?
And how are we going to enjoy these wafers? With a wonderful Banana Split.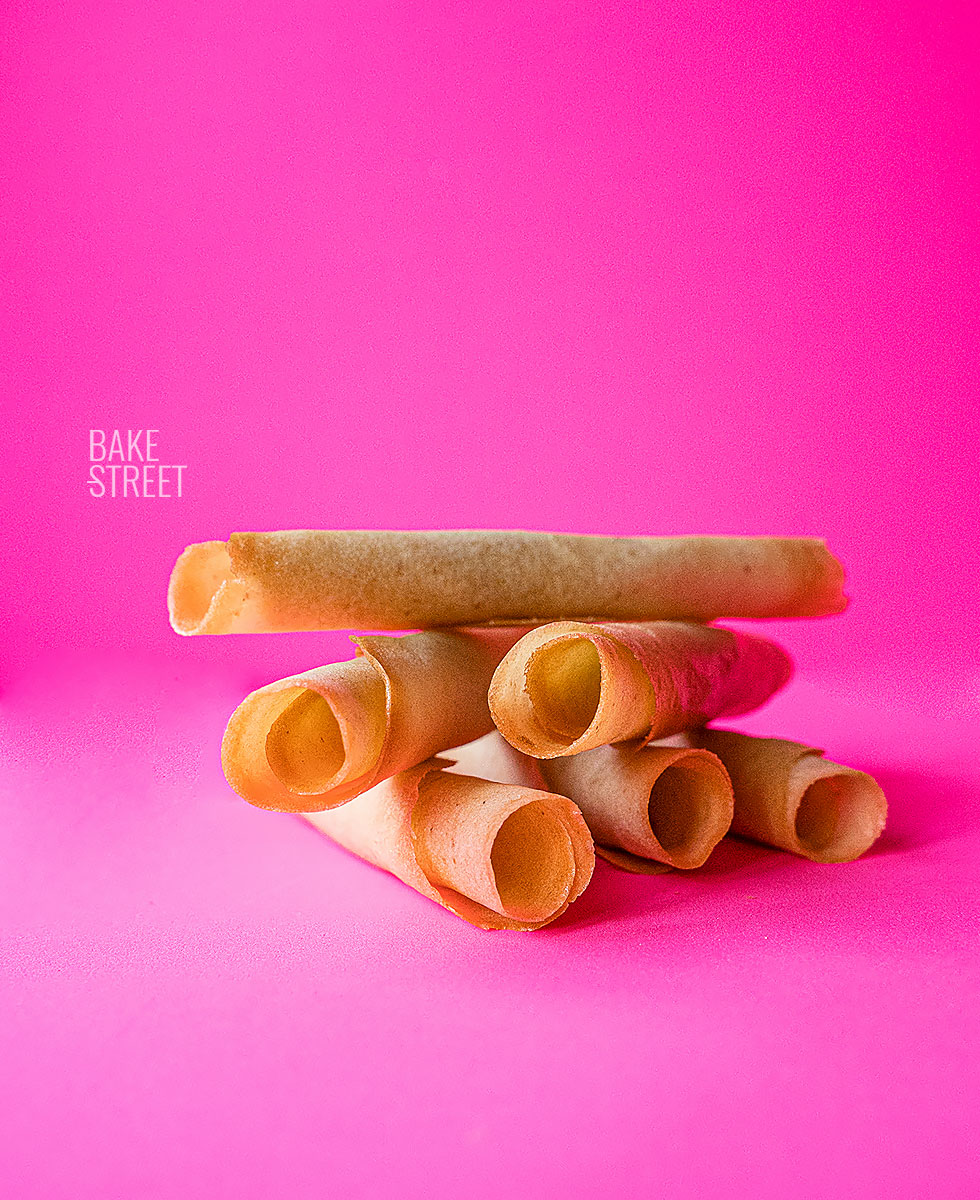 Banana Split origin.
This popular ice cream is a patented dessert, but there are also two American cities that have been fighting over its origin for years. It is one of the most popular desserts in the United States and there are two versions of how it was created.
On the one hand, it is said to have been invented in 1904 by David Evans Strickler, a 23-year-old student from Latrobe, Pennsylvania. At the time, David worked at his family's bar. He used to accompany his banana with three scoops of strawberry-chocolate vanilla ice cream, marshmallows, chocolate, nuts, whipped cream and a cherry.
His creation cost 10 cents, much more than the other ice cream cups served on the menu. But this was not a problem for the students at News Saint Vincent College who loved it from the start.  However, legend has it that this creation was not his doing. It is said that David was inspired by an ice cream maker in Boston who would offer the famous banana in question accompanied by ice cream, but presenting it with the skin.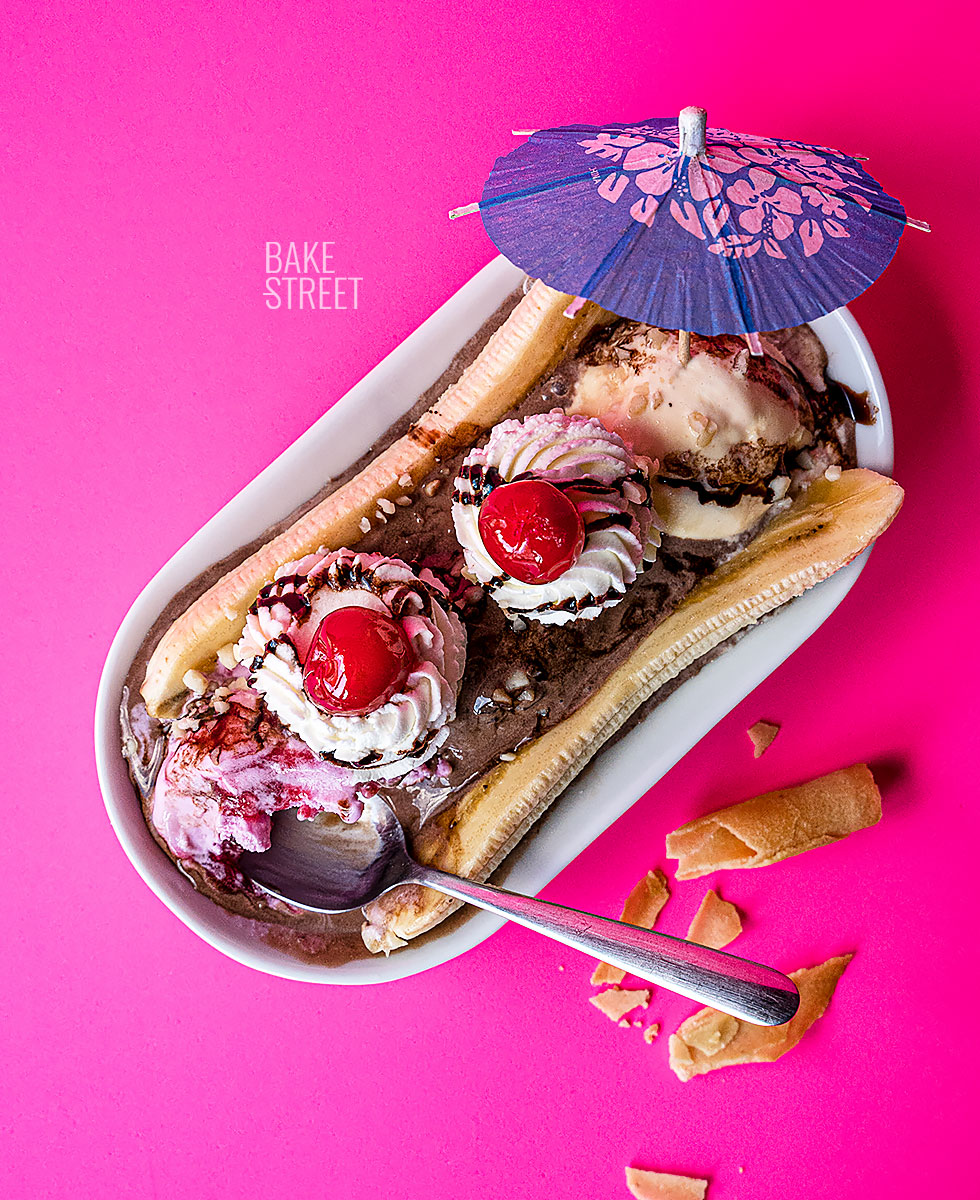 There is another version that defends that the inventor of the Banana Split was Ernest Hazard, owner of a restaurant in Wilmington (Ohio) in the year 1907. It seems that Ernest was fed up with his staff not being able to create any desserts for his menu. So he decided to cut a banana in half and stuff it with ice cream.
Since then, the cities of Latrobe and Wilmington have been the site of celebrations. In 2004, Latrobe celebrated the 100th anniversary of the birth of the famous Banana Split, while Wilmington sponsors an annual festival based on the Banana Split.
The Walgreens restaurant group was key to the expansion of the Banana Split to the rest of the United States. Its owner, Charles Walgreen, decided to include it in the menu making it his star dessert. From there to its expansion to the rest of the world, most likely, it has arrived thanks to movies and television. Like the famous Coca-Cola soda with a vanilla ice cream 😉
Recipe Banana Split and homemade wafers
FOR BANANA SPLIT (1 serve):
1 banana
1 scoop of vanilla ice cream
1 scoop of strawberry ice cream
1 scoop of chocolate ice cream (link recipe)
whipped cream
chocolate fudge or chocolate syrup, caramel or strawberry syrup
chopped almonds
2 candied cherries
FOR WHIPPED CREAM:
100 g heavy cream
1 Tbsp icing sugar
FOR HOMEMADE WAFERS OR RUSSIAN CIGARETTES (about 14 pieces):
60 g pastry flour, sifted
50 g icing sugar
90 g egg whites at room temperature (2 large egg whites)
50 g unsalted butter, melted and cooled
1 tsp vanilla extract
Instructions
Prepare the homemade wafers or Russian cigarettes.
Preheat oven to 355ºF/180ºC.
In a medium sized bowl add the flour together with the icing sugar and the egg whites. Mix with until a homogeneous mixture is obtained.
Add the melted butter and mix again until completely integrated. The mixture should have a silky texture.
Finally, add the vanilla and mix again until completely integrated.
Place in a piping bag. Set aside.
Shape Russian cigarrettes.
Prepare two trays, in my case I have used two perforated trays, cover with silpat or teflon.
Pipe two piles of mixture on the Teflon. To keep the filling inside the pastry bag without it coming out, I recommend keeping it inside a glass with the "mouthpiece" facing upwards. Otherwise the mixture will come out of the pastry bag because it is liquid.
With the help of a spoon, spread the mixture forming 2 very thin circles. It is important that they are not thick because otherwise, after baking, they will be very hard.
Bake.
Put in the oven at medium height and bake for 5-6 minutes. The edges will turn golden together with some parts of the surface.
Remove and then shape the wafers.
Using a spatula, lift the disk of dough a little and then roll it up. To do this, use a chopstick or a similar tool.
Place the stick at one end and roll it up while the dough is still warm. This is very important because as it cools, it hardens.
You must be careful when you roll up the dough because it burns a lot. I recommend you do it by touching only the edges.
Once it is rolled up, keep the final fold down so that it hardens this way.
Remove the chopstick and repeat the same process with the rest of the batter.
See the NOTES section for more tips on how to make them.
Prepare the whipped cream for the Banana Split.
Before we get ready to whip the cream we must make sure of two things
Cream must be cold 24 hours before used it.
The bowl in which we are going to make whipped cream must be cold. I recommend to use one aluminium bowl and freeze 20 minutes before beat it.
Pour heavy cream into freeze bowl and beat with an electric mixer into low speed.
Once cream is becoming to form stiff peaks, add sugar little by little stirring the whole time. Increase speed gradually but without reaches high one. Ideally use medium speed.
Before finish to beat the cream, add vanilla extract along  and beat until get a perfect whipping cream. Be sure not to over-beat, otherwise cream will become lumpy and butter-like.
Cover with plastic wrap and chill until used it.
Assemble Banana Split.
In the dish or recipient where we are going to present it, place three ice cream scoops; vanilla, chocolate and strawberry.
To serve the ice cream, I recommend watching this video where they show you how to make perfect ice cream scoops.
Cut a banana in half, lengthwise, and place it on each side of the ice cream balls.
Decorate the surface with whipped cream, some chocolate syrup (caramel or strawberry syrup, as you like), chopped almonds and two candied cherries.
Finally, we put 1-2 homemade wafers.
Serve and enjoy.
Notes
It is recommended to have two trays to bake the wafers, so that we can prepare the next ones while baking the ones we have just made. In addition, the tray comes out very hot from the oven and it would be very difficult to pipe and smooth the next batter without burning ourselves.
The ideal is to use Teflon or silpat to make them, the baking paper can be wrinkled.
I don't recommend doing more than two per batch, especially if you're doing it alone. The reason is that they get cold very quickly and you won't have time to roll them up.
The size of the wafers can be to your liking, but it is important that they are very thin to obtain good results. The mixture, once spread on the silpat or Teflon, must be transparent. If the dough is too thick, the wafer will be very hard.
The number of wafers will depend on the size of these, in my case 14 units came out.
The ice creams for the Banana Split can be homemade or store-bough. They are more delicious in the first case, but if you don't have an ice cream maker or you want to make so many flavors, you can use them store-bough.
I have to share with you the strawberry ice cream recipe.
The decoration can be adapted to your tastes; we can use sprinkles, laminated almonds, syrups of the flavour we prefer...
This Banana Split with homemade Russian cigarettes is the kind of frozen dessert that will always bring a smile to your face. Besides bringing back great memories. For me, it's a direct link to my childhood and summer vacation.
What's more, it's the kind of thing that if you feel like it (having ice cream at home) you can prepare in a jiffy. The wafers we can make right away and the rest... Cut and serve. I can't think of a better snack to finish this Sunday.
I wish you a wonderful start to the week!
Big hugs,
Eva
Sources: Innaturale
Archivado en