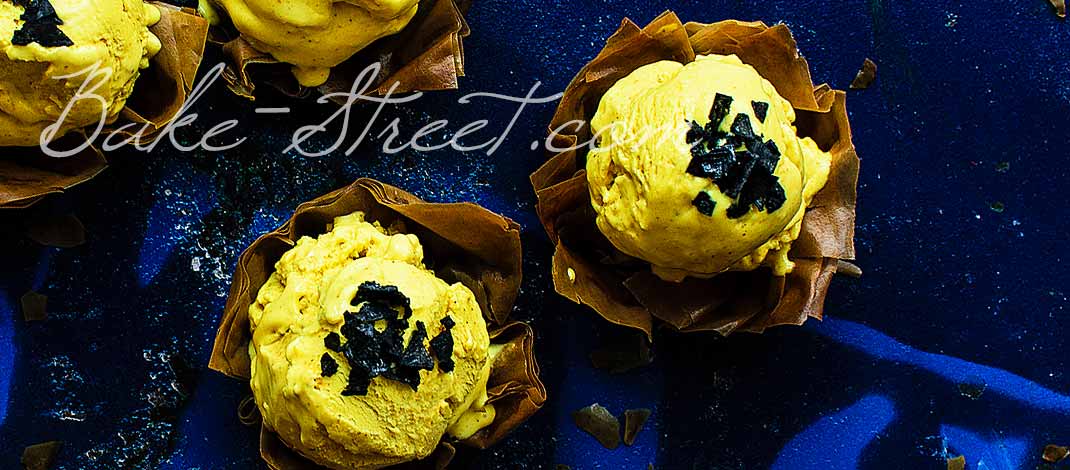 Golden Milk ice cream with crispy phyllo
Este post también está disponible en Spanish
We set the ice cream season from here for a few months, the heat we are having these days is not like of previous years at the same dates … So I'm making lots of ice cream at home these days, I make them pretty much every day. Among so many classics that ask me at home, I occasionally do "oddities" like this Golden Milk ice cream with crispy phyllo.
Surely many of you have already heard of golden milk. It is an Ayurvedic drink made with milk and spices, among which the turmeric is the main one.
What does "ayurvedic drink" mean?
Ayurveda is the name that receives the traditional medicine of India. Its treatment includes diet and herbalism, besides making special mention in the use of the mind, body and spirit to prevent and treat diseases. It is a type of medicine that could be defined as mind-body whose purpose is to find the natural balance of our system to have the ability to heal itself.
Originally golden milk was made with unpasteurized cow's milk but it has been adapted to a vegan version finding many recipes elaborated with vegetal milk predominating coconut milk. I imagine for its unique creamy texture and flavor.
Benefits of Golden Milk.
But to be able to benefit from it we must take into account some points. Turmeric has curcumin, hence its color, but for our intestine to absorb more, we must keep in mind:
Black pepper, has piperine that favors the absorption of curcumin by 2000%.
Use some type of fat to facilitate its absorption.
Curcumin is sensitive to heat, we should not expose it to very high temperatures for an extended period of time.
But … we can not only drink this golden milk but also, we can enjoy it in ice cream. What do you think? 😉
I saw the idea was on Minimalist Baker's blog and I loved it, but I ended up modifying several ingredients … At first I thought about making a recipe very similar to Dana's, totally vegan. But on the way I thought of adding other elements and in the end was something transformed … For those who want to make 100% vegan ice cream, do not miss your post.
I thought that an added fat would bring more creaminess, for that reason you will find ingredients such as yolks or the crème fraîche (which you can substitute for cream). To serve it I made small bowls with phyllo dough brushed with ghee and active charcoal (gift from a good friend).
Is it necessary to use active charcoal?
Not at all, you can omit it. It gives a slight dark color to the phyllo dough, a greyish finish. My idea was that the result was more black, but this was only my idea…
To decorate the ice cream I used black salt, also known as Hawaiian black salt or Black Pearl. Although there is also the possibility of omit it if you so decide. The ice cream itself has a lot of flavor and does not need much "props" around it 🙂
GOLDEN MILK ICE CREAM WITH CRISPY PHYLLO
FOR GOLDEN MILK ICE CREAM:
14,1 oz (400 g) canned coconut milk, high fat content
7 oz (200 g) crème fraîche
3 large egg yolks
2 tsp turmeric powder
1 tsp ginger powder
1/2 tsp cinnamon powder
black pepper to taste
1 tsp vanilla extract
pinch of salt
1,8 oz (50 g) sugar
1 oz (30 g) inverted sugar*
* Recipe, only available in Spanish
FOR THE CRISPY PHYLLO:
6 pieces
4 phyllo sheets
1,4 oz (40 g) ghee or melted and cooled butter
pinch of charcoal
* Recipe, only available in Spanish
FOR GARNISH:
INSTRUCTIONS:
Make Golden Milk ice cream.
In a large pot add the coconut milk along with the crème fraîche, half of sugar, inverted sugar and spices. Place in medium heat and cook until it begins to smoke without getting to boil.
Meanwhile, in a medium bowl whisk the yolks together with the remaining sugar, salt and vanilla. Mix to homogenize the mixture.
Once the cream mixture has taken temperature, remove from the heat. Ladle a small amount onto the bowl of the yolks and whisk quickly. This process is called tempering and serves to transmit the heat gently, and gradually, to the yolks and prevent them from clotting.
Gradually add the remaining cream mixture, always beating at the same time, until it is completely incorporated into the yolks.
Pour into the pot, place over medium heat and, while stirring constantly, cook until it reaches 176º-185º F. We will notice that the mixture thickens slightly and when introducing a wooden spoon we will observe that the mixture creates a layer on the spoon called nappe.
Remove from the heat, pour into an airtight container and let cool completely at room temperature.
Once cooled, cover with film or with its own lid and place in the refrigerator overnight.
Make the ice cream.
Pour the mixture into an ice cream maker and churn for 15-20 minutes, the ice cream base must be firm.
Once the ice cream is ready, pour it in an airtight container or a loaf pan cover with film and freeze a minimum of 6 hours or until the following day.
Make crispy phyllo.
Melt the butter and let it cool. If we prefer we can use ghee, instead of butter, to brush.
Add the active charcoal and mix until completely dissolved.
Each crispy piece will consist of 4 layers of phyllo dough with a surface of 4×4 inches (10×10 cm).
Brush the surface of the dough with ghee, place another sheet and brush again with each sheet.
Place in muffins pan and shape it similar to a bowl.
Repite with the remaining pieces.
Bake crispy phyllo.
Preheat oven to 350ºF.
Bake for 20 minutes, they should take a nice golden color.
Remove and let cool completely inside the muffin pan.
Serve the ice cream.
Serve 1-2 scoops of Golden Milk ice cream over the crispy phyllo bowls.
Sprinkle with black flaky salt and serve.
NOTES AND TIPS:
The crispy phyllo can keep in an airtight container for 2-3 days.
Set out for 10 minutes before serving to soften.
The texture of the ice cream is creamy but not directly from the freezer.
You can add an extra creaminess if you opt for the vegan option using coconut oil.
This Golden Milk ice cream with crispy phyllo will be perfect for you if you like different and spicy flavors. It is very different from other types of ice cream that we have tried and certainly a combination of flavors that we must try at least once.
The roasted taste of crispy phyllo is awesome, besides enjoying a bowl that we can eat … And we will have it ready quickly! This weekend may be a good time to try this ice cream 😉
Have a nice weekend, see you on Monday!
Big hugs,
Eva
Sources: Cocina Sapiens, Wellness Mama