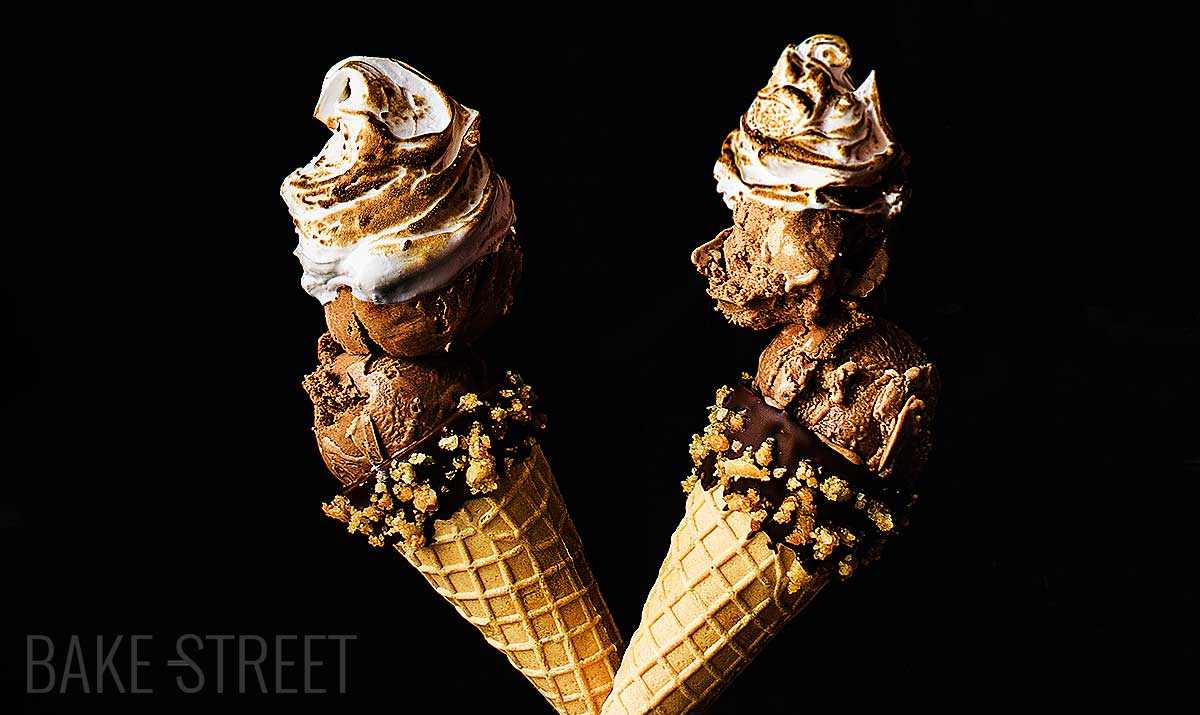 S´more Ice Cream
Este post también está disponible en Spanish
What I like most about summer is that it is a time of the year when you can enjoy it to the fullest, in all its aspects. And if it's with ice cream, much better. Lately I only feel like eating fresh and light dishes. May they help us to fight the hot weather, but also make our day. Like for example this S´more Ice Cream that I assure you will love.
Imagine. A creamy chocolate ice cream served on a cookie cone, covered with chocolate and crushed cookies, decorated with toasted meringue. What do you say? I know, it's wonderful. And you will see that it is very easy to prepare too.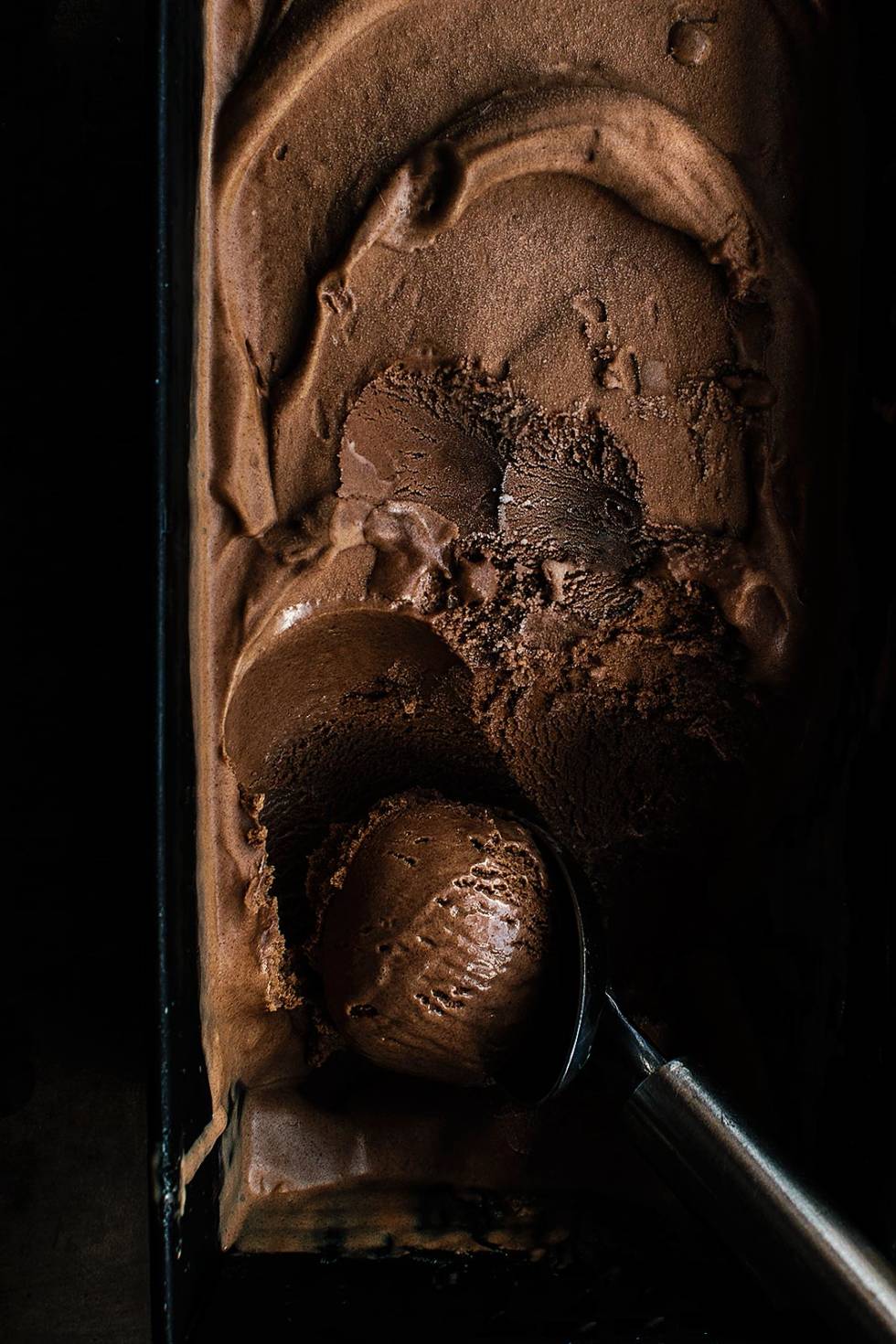 Surely the word S´more means a lot to you. And connect it to Girl Scouts or American movies.
S´more origin.
It is not known at what time and in what way this sweet emerged. For those of you who don't know what s´mores is, it's a dessert or sweet treat typical from USA and Canada, that is usually enjoyed in a night campfire. They are toasted marshmallows covered with a layer of chocolate between two Graham crackers. Sounds good, doesn't it?
The first recorded version of this recipe can be found in the publication "Tramping and Trailing with the Girl Scouts" in 1927. The recipe is attributed to Loretta Scott Crew, who apparently made it at a campfire for the Scouts.
We'll version this typical summer bonfire and horror story candy to transform it into a truly spectacular ice cream. The kind that won't let you say a word until we've had our last bite.
A very creamy ice cream.
I have to admit one thing and that is that I have never, ever, ever liked chocolate ice cream. I've tasted a lot of them, but I couldn't get over them. When I thought about making this ice cream, the only thing I was backing out of was the taste of ice cream. Wow, the most important thing!
But as I often do, I gave it another chance. I wanted it to be very creamy, which is why I tried to use ingredients that would make it so smooth. That when we eat it, almost looks like we're getting a spoonful of chocolate cream. And I have to say that the result is exceptional. Very creamy, even when we take it out of the freezer.
Of course, we can eat the ice cream as it is. What is more, I dare say, directly from the freezer is amazing. But if you want to make it a little more "enjoyable", don't hesitate to prepare it in the way I suggest.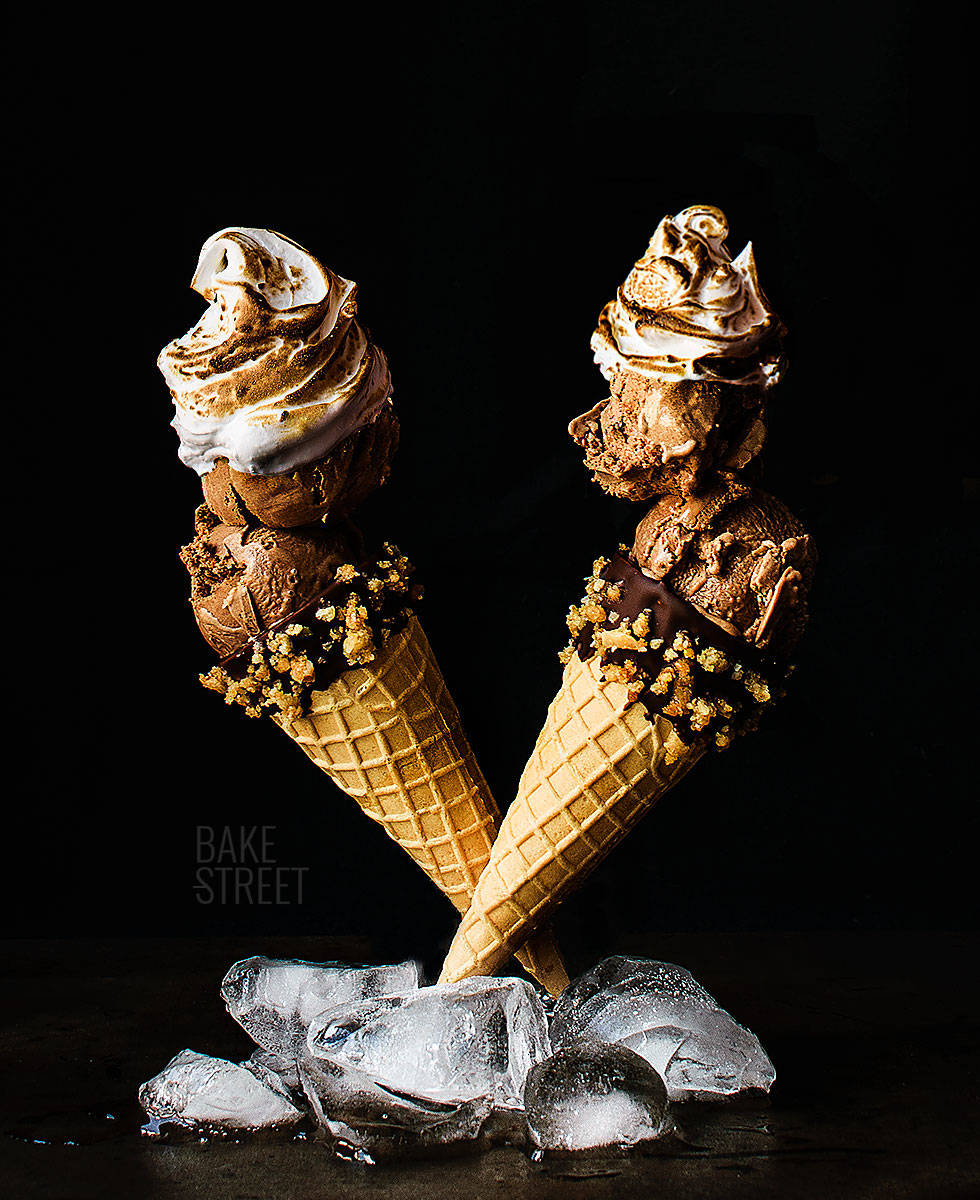 Ingredients
FOR CHOCOLATE ICE CREAM:
390 g whole milk
315 g crème fraîche
75 g mascarpone cheese
125 g egg yolks, about 6 large eggs
175 g sugar
30 g inverted sugar
150 g melted 70% chocolate
pinch of salt
FOR MERINGUE:
2 egg whites
150 g sugar
36 g water
FOR SERVE:
ice cream cones
melted 70% chocolate
crushed cookies
Instructions
Make chocolate ice cream.
In a large pot add the milk along with the crème fraîche, half of sugar and inverted sugar. Place in medium heat and cook until it begins to smoke without getting to boil.
Meanwhile, in a medium bowl whisk the yolks together with the remaining sugar and salt. Mix to homogenize the mixture.
Once the cream mixture has taken temperature, remove from the heat. Ladle a small amount onto the bowl of the yolks and whisk quickly. This process is called tempering and serves to transmit the heat gently, and gradually, to the yolks and prevent them from clotting.
Gradually add the remaining cream mixture, always beating at the same time, until it is completely incorporated into the yolks.
Pour into the pot, place over medium heat and, while stirring constantly, cook until it reaches 176º-185º F. We will notice that the mixture thickens slightly and when introducing a wooden spoon we will observe that the mixture creates a layer on the spoon called nappe.
Remove from the heat.
Add mascarpone cheese and mix until fully integrated. Pour melted chocolate and mix again until combined.
Pour into an airtight container and let cool completely at room temperature.
Once cooled, cover with film or with its own lid and place in the refrigerator overnight.
Make the ice cream.
Pour the mixture into an ice cream maker and churn for 15-20 minutes, the ice cream base must be firm.
Once the ice cream is ready, pour it in an airtight container or a loaf pan cover with film and freeze a minimum of 6 hours or until the following day.

KA ice cream maker from Claudia & Julia (affiliated)
Make ice cream cones.
Melt chocolate 70%. We can do it in a water-bath or in small batches in the microwave.
Dip the top of the ice cream cone to cover it with chocolate. Drain the excess.
Sprinkle with crushed cookies and let it harden for a few minutes. We can speed up the process if we refrigerate them.
Make the meringue.
In a saucepan pour the water together with the sugar to make the syrup. Place over medium heat.
Cook until a syrup begins to form and the temperature reaches 244ºF (118ºC). It would be useful to use a digital thermometer to guide us.
While doing this step, whisk egg whites until get soft peaks.
 Remove the syrup from the heat and pour over the meringue in a fine and continuous thread while we continue beating. We will obtain a very firm and brilliant meringue.
Set aside.
Serve the ice cream.
Before serving the ice cream, leave it for 5 minutes at room temperature.
Serve one or two scoops of ice cream on the cones with an ice cream spoon.
Decorate with meringue on the surface and burn with a torch. We must work quickly to prevent the ice cream from melting.
Serve with chocolate sauce if desired.

Kitchen Craft torch from Claudia & Julia  (affiliated)
Notes
If you do not want to prepare invert sugar, you can replace it with honey, which is also a type of invert sugar. But you must keep in mind that this ingredient will bring flavor.
If we don't have a digital thermometer, we can make the syrup until we get a strand. How will we know when the syrup is at this point? Moisten your fingers in cold water,  take a small amount of syrup with two fingers and, when separating them, a thin strand should be obtained. This is the exact point for our syrup.
Crème fraîche can be replaced with cream. Remember that it is important that it is high in fat.
Ice cream can be served in cones, bowls or even between cookies.
If you are thinking of making some ice cream this weekend, I'll tell you that this S´more Ice Cream is a great choice. Whether you're chocolate lovers or not. I assure you is amazing.
You can serve it in cones as I suggest, with ice cream cookies, in a bowl, with waffles.... As far as your imagination will take you. Everything's going to be all right with it ;)
I hope you have a wonderful weekend. See you on Monday!
Big hugs,
Eva
Archivado en