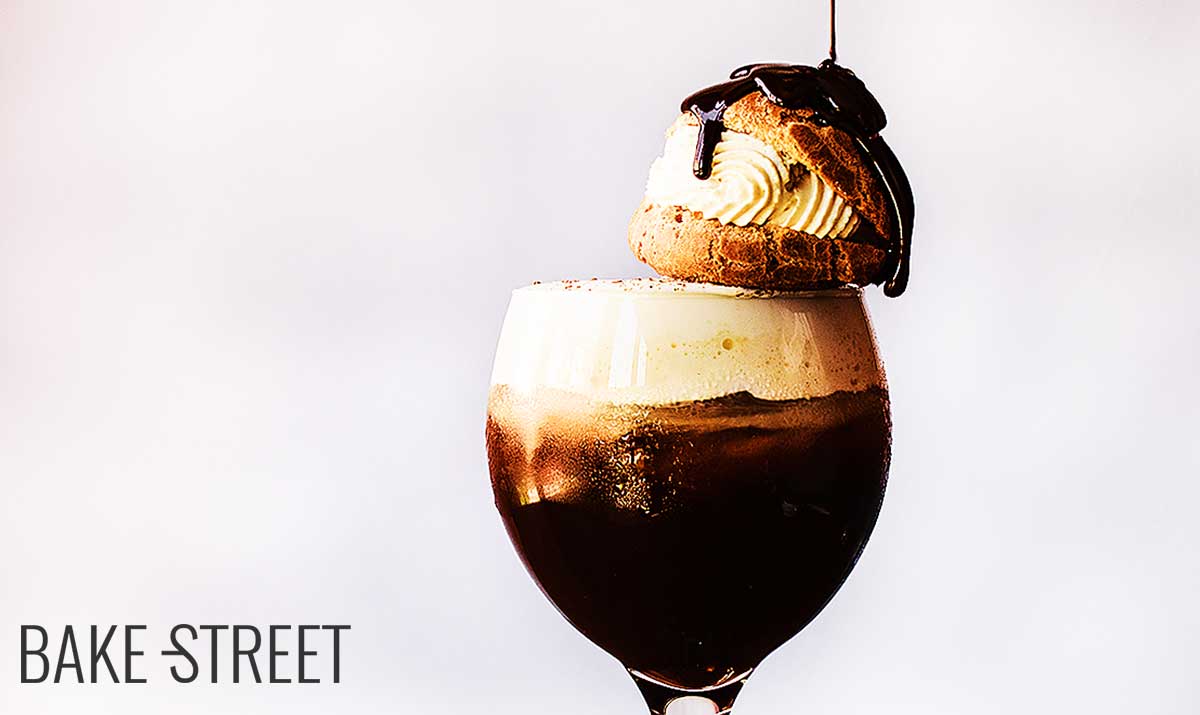 Chilled Irish coffee with cream puff
Este post también está disponible en Spanish
I had been wanting to expand the drinks section of the blog for a long time. I don't think about juices, milkshakes…. I also like them very much, but I wanted to introduce cocktails or drinks accompanied by some liquor. In addition, it is always good to know this type of  fresh drinks for the summer season, whether it is on the weekends or on holiday. Today I'll leave you with a classic among the classics, Irish coffee with cream puff.
You know it usually takes me a while to bring a traditional recipe without giving it a different point. In some cases I do because I don't think there is anything else I can do to improve it. But, in this case, I wanted to prepare something that would completely cover the needs after a meal. A good coffee, cold this time, accompanied by a small bite to finish off the evening.
Traditional recipe.
Before going into details, I would like to clarify that I have not carried out the processing of Irish coffee as it should be done. I'll explain myself.
To make a traditional Irish coffee we must mix the sugar in a frying pan/pot, if it is muscovado or demerara better, along with a pinch of nutmeg. Place at medium heat and leave until it starts to caramelize.
At that point, add a couple of tablespoons of coffee and tilt the pan to help the two ingredients blend together. At this point comes the part where we must be most careful. Add the whiskey, turn it on and let the alcohol burn until the flame goes out. Add the rest of the coffee and mix.
Pour this mixture into a glass that must have been previously heated by pouring hot water into it. Arrange the semi-whipped cream, sprinkle with nutmeg and serve.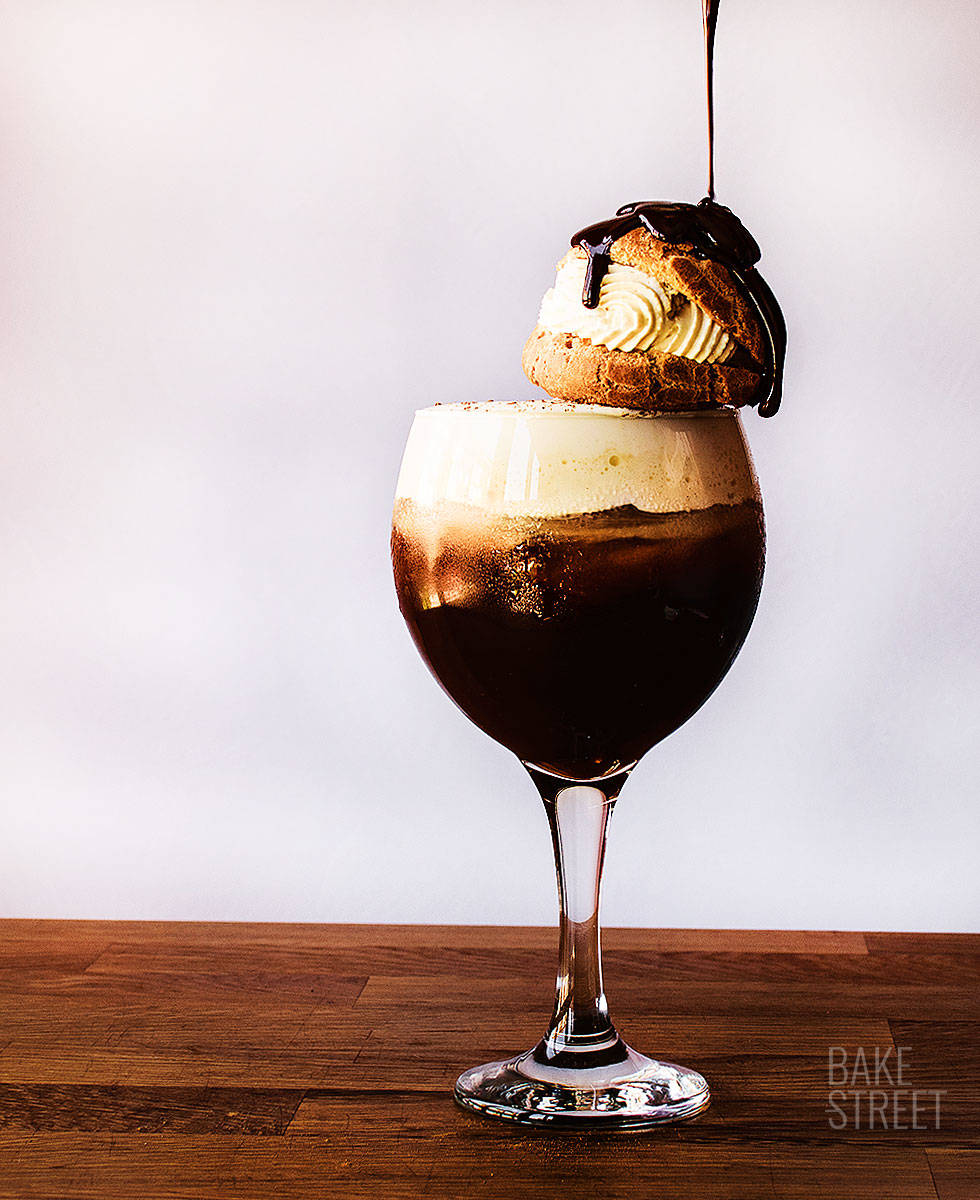 My versioned recipe.
At home, especially in winter, we sometimes prepare Irish coffee as specified above. But, to make a more summery version, I have modified some steps that simplify it. Of course, if you wish, you can combine both. Burn the alcohol with the sugar and coffee, pour it over ice (lots of ice) and decorate.
To be honest, the first option is much better in terms of taste, but the second is also very good. The only thing we lose is some nuances and aromas that we only get by following those steps.
How did Irish coffee come about?
In spite of being one of the most popular coffees that we can know and this leads us to think that its origin is many centuries ago, it is not so. This coffee was born out of a storm in the 1940´s.
A Pan Am flight bound for New York had to return to the Foynes airport because of a major storm. All passengers were welcomed with hot food and drink. The local chef, Joe Sheridan, was given this task.
When it came time to serve the coffee, he decided to add a little Irish whiskey. The passengers asked him if it was Brazillion coffee, to which he replied "No, this is Irish coffee". And from there came this drink that today is known worldwide.
Reaching all over the world.
The Irish coffee arrived in the United States thanks to a journalist from the "San Francisco Chronicle", Stanton Delaplane. He tried this coffee in Foynes in 1951 and liked it so much that he decided to take the recipe with him.
Delaplane worked with the owners of Buena Vista Café and tried to recreate the recipe, but they always failed with the cream. Chef Sheridan was contacted to emigrate to the United States and will work there preparing his wonderful coffee.
Today we can find it anywhere, but it is likely that not all of them will prepare it properly. I hope you like the chilled version that I leave you facing the heat that awaits us.
Ingredients
FOR CHOUX PASTRY (9 pieces):
62 g whole milk
62 g water
70 g plain flour
57 g unsalted butter
1/4 tsp salt
1/4 tsp sugar
2 large eggs at room temperature
FOR THE WHIPPED CREAM (9 pieces):
300 g heavy cream
3 Tbsp icing sugar
2 tsp vanilla extract
FOR THE IRISH COFFEE (1 serve):
1 cup of brewed coffee
1 shot Irish whiskey
2 Tbsp dark muscovado sugar
ice to taste
FOR THE CREAM COFFEE (1 serve):
100 g heavy cream
1 Tbsp icing sugar
nutmeg (optional)
Instructions
Make choux pastry.
Preheat the oven to 355ºF (180ºC).
Sift the flour, set aside.
In a saucepan, pour the water along with the milk, salt, sugar and butter. Place at medium heat and leave to boil.
Once the mixture has boiled, remove from the heat and stir in the flour. Remove with a spoon/spatula at a fast and continuous speed.
We'll get a ball of compact dough that we'll have to dry out. Replace at medium heat, stirring constantly.
We will notice that the dough clings to the base, in total we leave it 2 minutes without stopping stirring. The degree of drying of the dough will depend on the quantity of eggs that it admits, we see it next.
Transfer the dough to a large bowl and leave to cool lightly.
Add the first egg and stir until it is homogenized, so that the dough can also take air and then influence what the dough can raise during cooking.
Add the next egg and mix until completely combined. If the dough is too dry and does not have the right consistency, add a little more egg. In the notes I detail how to do it. The consistency should be as seen in the video and I'll explain in the notes.
Bake.
Prepare the pastry bag with a 2 cm diameter smooth tipe.
Put the dough in a tray previously lined with baking paper, forming small piles.

Place in the oven at medium height.
After the first 10-15 minutes, let's observe that they are swelling up and we open the door of the oven so that the steam can escape for 3-4 seconds and we close them again leaving them 30 more minutes. They will take a golden color on the surface.
Once the baking time is over, turn off the oven and let it stand inside with the door ajar for 5-10 minutes.
Remove and let cool completely on a rack.
Prepare the cream for the filling of the choux pastry.
Before we get ready to whip the cream we must make sure of two things:
Cream must be cold 24 hours before used it.
The bowl in which we are going to make whipped cream must be cold. I recommend to use one aluminium bowl and freeze 20 minutes before beat it.
Pour heavy cream into freeze bowl and beat with an electric mixer into low speed.
Once cream is becoming to form stiff peaks, add sugar little by little stirring the whole time. Increase speed gradually but without reaches high one. Ideally use medium speed.
Before finish to beat the cream, add vanilla extract along  and beat until get a perfect whipping cream. Be sure not to over-beat, otherwise cream will become lumpy and butter-like.
Cover with plastic wrap and chill until used it.
Prepare the cream for the Irish coffee.
Follow the same steps we took to whip the cream for the filling, but without whipping it up at all. The consistency should be how you see the video.
Cover the bowl with film and refrigerate it until the moment we are going to use it.
Fill the puffs.
Put the whipped cream in a pastry bag with a star tip.
Using a knife, cut the petit choux in half without reaching the end.
Fill generously.
Reserve in the fridge while we prepare the coffee.
Make Irish coffee.
Make the coffee that we like the most. In my case I do it in the coffeemaker, freshly ground. Add the muscovado sugar and stir until it dissolves completely.
Fill a glass with ice to our liking.
Pour the whiskey with the coffee. Stir to combine.
Rectify the amount of ice if desired.
Decorate the surface with the semi-whipped cream until you reach the edge of the glass.
Sprinkle with nutmeg and decorate with a petit choux. If we wish, we can have a little chocolate coating on the petit choux.
Serve immediately.
Notes
In case we need to add more egg: Beat it in a bowl and integrate it little by little observing the consistency of the dough. The texture must be: The ideal point of the dough is when we insert a finger/spoon in it, we go up carefully and when we turn our hand to place it in a vertical position, the peak of the dough makes a "hook" instead of remaining firm.
It is very important not to overdo the amount of egg because the dough would then become too liquid and lose its shape on the oven tray after it has been brushed. In this case, it wouldn't do us any good. But we could use it to make fried buns.
Keep in mind that it is a dough that grows during baking, so we must leave space between each piece.
The petit choux can be kept in perfect condition, filled and refrigerated, in an airtight container for 2 days.
The quantities of coffee can always be adjusted to our taste, whether sugar, whisky or coffee. The important thing is that you enjoy it.
This chilled Irish coffee with cream puff can make you enjoy the perfect after-dinner this weekend. Personally, I love coffee, very much. I take it every day and several times, but when the heat comes it's good to know different options to enjoy it.
Today's option is very simple, but absolutely delicious, especially if we accompany it with these small bites of cream.
I hope you have a wonderful weekend, see you on Monday.
Big hugs,
Eva
Sources: Ireland stole my heart, CNTraveler
Archivado en