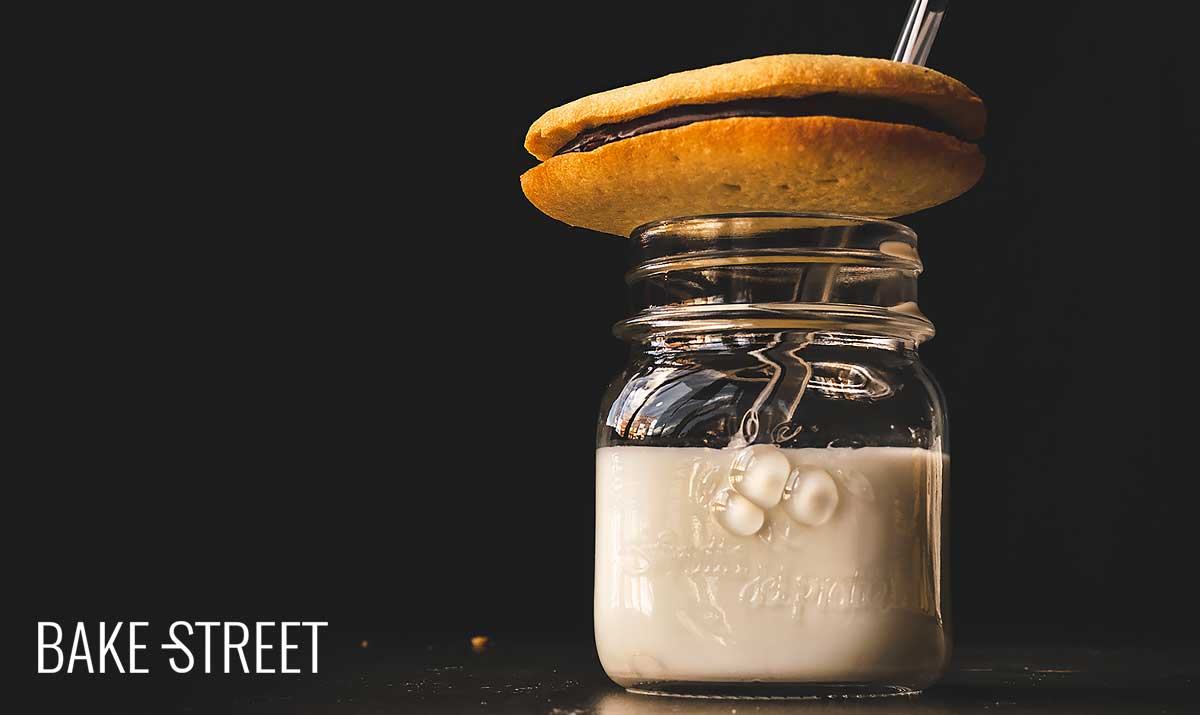 Milano Cookies
Este post también está disponible en Spanish
There are many things that give us great satisfaction when we do them, in my case cooking is one of them. Those of you who have known me for a long time know that my way of expression is to cook and to create. There are occasions when the more complicated and elaborate what I do, the more I enjoy it. It is in the difficulty of a process that I find the most happiness. Having to follow certain concrete steps to achieve what I am looking for. But, there is also a lot of satisfaction in simple things, like these Milano Cookies.
I always intercalate various types of recipes with different degrees of difficulty in case there is someone among you who is as crazy as I am, hahaha. The fact is that today I leave you a super simple preparation that you can do in a short time and enjoy for several days.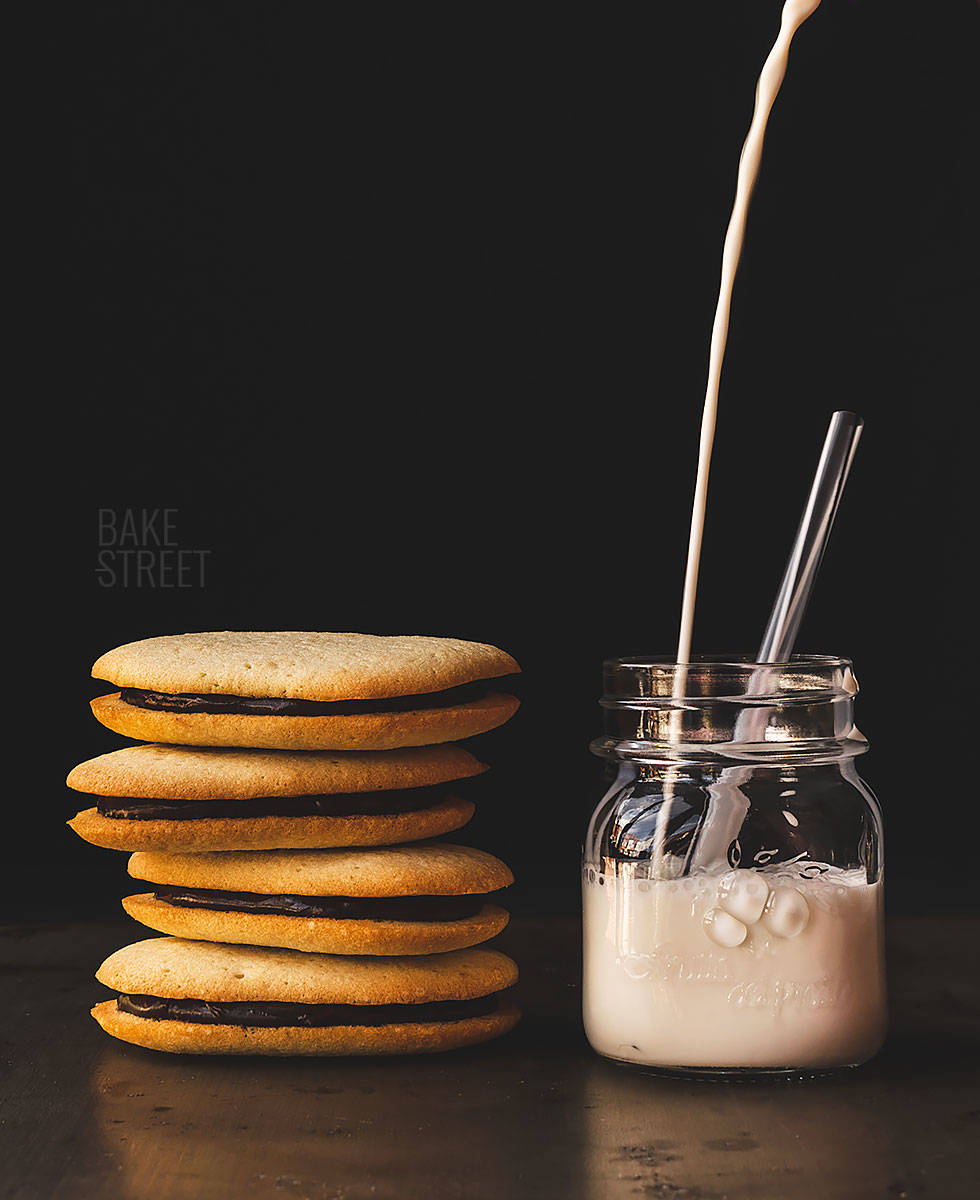 Milano Cookies.
I'm sure many of you already know these wonderful cookies, but for those of you who don't, I'm going to tell you a little about them. Milano cookies is a registered trademark made by Pepperidge Farm that is part of a series of "European" biscuits.
Each cookie consists of a thin layer of chocolate sandwiched between two vanilla cookies. The texture of these biscuits is tender and spongy in the central part, being subtly crunchy on the edges. A wonder of the world and the universe.
This type of cookie was created as a result of the original concept of Pepperidge Farm's "Naples" cookies. This variety was a single vanilla cookie with a top layer of dark chocolate. These cookies presented a problem and that was that when they were shipped and sold in warmer climates, they ended up stuck together. To solve this problem, they decided to intersperse the chocolate layer with two vanilla cookies giving rise to the new variety "Milano" cookies.
From here, many varieties emerged such as milk chocolate, mint flavored, orange …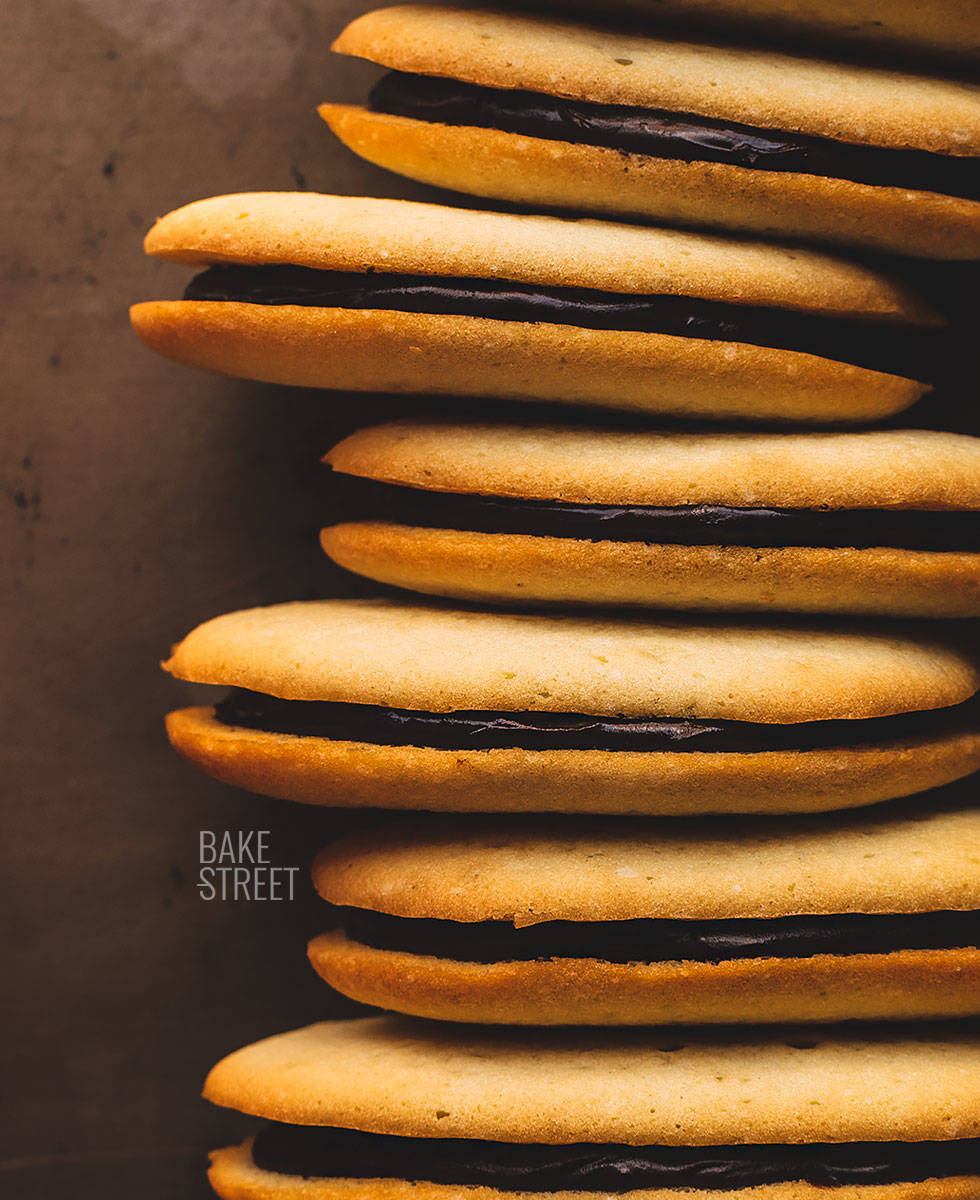 And how do you see yourself enjoying these cookies?
First of all, play the song to accompany the setting, hahaha
If I am sincere, and I was given a choice, I visualize myself in pyjama and barefoot in a huge kitchen (probably dancing from one side to the other, since space allows it). It is decorated with white wooden furniture and many vitrines. There are large windows through which the first rays of morning sun shine illuminating the whole room.
On one of the sides, there is a glass door that leads to a large terrace from where you can see a lush forest, with mountains, a clear sky and a cold breeze typical of an autumn morning.
I open the door with my cup of steaming coffee in one hand and holding one of these cookies. I go outside to enjoy my first fall breakfast and day of the week. That's how I'd like to start today. How about you?
Making them at home.
These cookies are super simple to make, basic level for apprentices. As easy as mixing ingredients, of course, following each step that I detail you in the elaboration, piping and baking. We don't need molds, nor do we need to cool the batter, let it rest… The process is very simple.
The filling is just as easy or more, because we only have to mix both ingredients and let it cool until it acquires the perfect consistency for spreading. Finally we will assemble the biscuits, in the same way that if we prepare a chocolate cream sandwich… Zero complications. And the best of all is how good they are.
If you want to aromatize chocolate ganache, you can do it. Maybe with some liquor like Cointreau and orange zest (in this recipe you can see how to do it), a touch of salt, coffee … Even sprinkle chopped almonds or hazelnuts. You already know that you can go as far as your imagination takes you 😉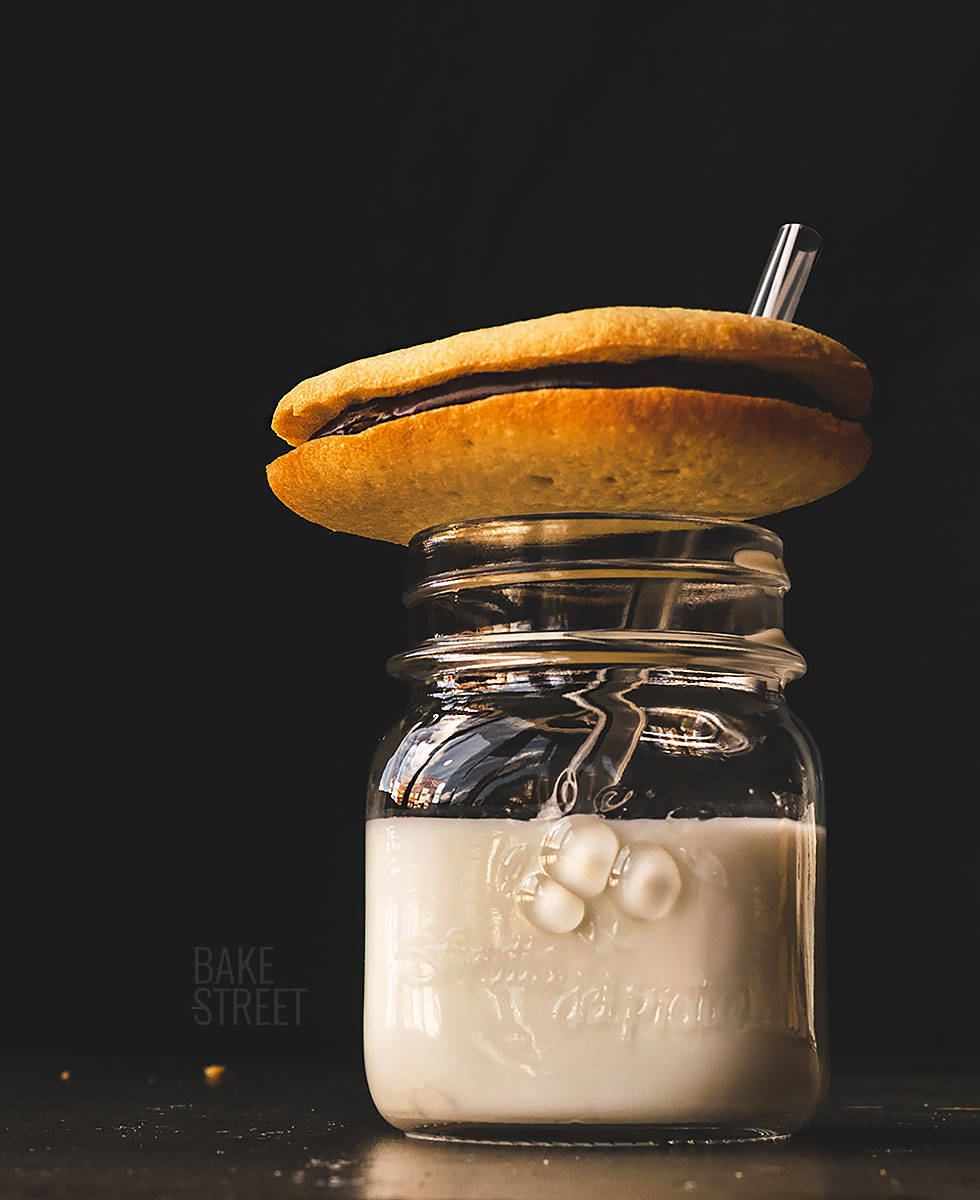 Ingredients for 24 pieces
FOR COOKIE DOUGH:
Recipe adapted from Baked Ambrosia
335 g unsalted butter at room temperature
355 g pastry/cake flour
230 g large egg whites
145 g sugar
160 g icing sugar
2 tsp vanilla extract
pinch of salt
FOR CHOCOLATE GANACHE:
225 g black chocolate 70%
220 g heavy cream
Instructions
Make chocolate ganache.
Chop the chocolate, set aside.
Pour the cream into a heat-resistant bowl and place in a water-bath. Leave until it acquires temperature but without reaching boiling point. Remove from the heat.
Add the chocolate and let stand for a few minutes.Mix until completely homogenized.
Pour the ganache into an airtight container and let it cool down to room temperature. It will take about 2 hours.
We need it to have a spreadable consistency, we can refrigerate it for 2-3 hours once it has cooled. If it's very cold outside, it's likely to get that consistency sooner.
Make cookie dough.
Preheat to 345ºF/175ºC.
In the bowl of the KitchenAid or in a large bowl to beat with an electric hand mixer, add the butter along with the 2 types of sugar and beat with the flat beater/paddle, at medium speed, until a very white and soft fluffy texture is achieved. It will take about 5 minutes.
NOTE: To avoid creating a cloud of icing sugar in your kitchen, place a cloth over the KA for the first few seconds that we beat the batter, until the icing sugar is completely integrated.
Add the egg whites to the butter mixture while mixing at the lowest speed. I recommend you add them little by little, so that they integrate easily.
Incorporate vanilla along with the salt and mix again.
Finally, add the flour. We will do it little by little, mixing with the flat beater at the slowest speed. We won't add more until the first batch has been integrated.
Remember not to over-beat the mixture, we will only mix until the flour has been completely integrated.
Pipe the cookies.
Line two perforated trays with baking paper, set aside.
Introduce the cookie dough in a piping bag with a smooth tip 0,8 inch/2 cm in diameter.
Pipe 3-3,5 inch/8-9 cm long strips. It is important that you leave space between the cookies, about 1,5-2 inch/4-5 cm, because they expand a lot during baking.

With the help of a spatula, we can model the final part of the cookie to give it a nice finish and similar to the beginning.

Place in the middle of the oven and bake for 10-12 minutes. They should have a light golden colour.
Remove from the oven and place it on a rack with the baking paper. After 5 minutes (as soon as they leave the oven they are very delicate), you will be able to remove them from the paper and place them on the rack directly.
Repeat the same process with the rest of the dough.
Let them cool completely before filling them.
Fill them.
Match the cookies, making sure they have the same shape. In total we will get 48 single units, from where we will get 24 double cookies.
Using a spreading knife, spread the ganache over the surface of one of the cookies. Place another cookie on top of the ganache and press gently.

Repeat the same process with the rest of cookies.
Notes
Ideally, it is good to have 2 or more trays to be able to pipee and bake the cookies. In this way it allows us to advance work.
If you do not have two trays, you can use a large board to place the baking paper and pipe the cookies. The wood board will serve you to place them on the tray of the oven.
It's not the first time I've recommended them to you, but I really like to bake on "perforated trays". They favor a uniform cooking without burning the base of what you bake. If you use Ikea trays, this has probably happened to you on more than one occasion.

The baking paper can be reused from one batch to another, with two sheets we can bake all batches of cookies.
If you want to make a smaller format, you can do it. You will get more units of cookies.
If you don't have a smooth tip of the size that I specify, you can make a cut in the piping bag.
If you're not very good at piping the same size of cookies, you can draw lines on the back of the baking paper to guide you.

Cookies can be kept refrigerated in an airtight container for 1 week.
They can be eaten directly from the fridge, they are delicious, but if you prefer you can temper them during 1 hour before consuming them.
These Milano Cookies are perfect to make at the beginning of the week and have a breakfast, snack or coffee break the rest of the days. We can keep them refrigerated and they will be kept in perfect condition.
At home they have not lasted a week... In fact, every time the refrigerator was opened, more than one disappeared. But, it is of that type of elaborations that it is not difficult to do and it reports a lot of happiness.
I wish you a wonderful beginning of the week!
Big hugs,
Eva
This post contains affiliate links.
Archivado en