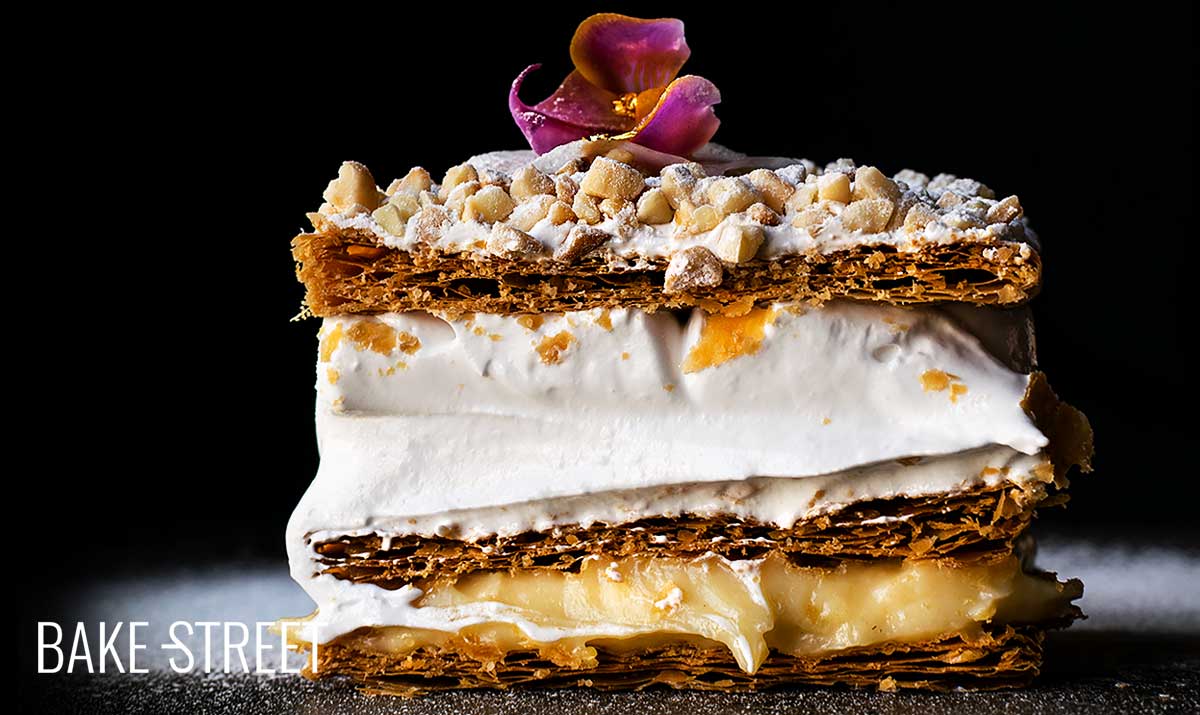 Costrada de Alcalá de Henares
Este post también está disponible en Spanish
All of you who have ever been to Alcalá de Henares, city from Spain, Madrid, or are from there will know the recipe that I am going to share with you today. But, first of all, tell you that it is a recipe for those who are "sweet-tooth". Today we will see how to make the famous Costrada de Alcalá de Henares, a classic and traditional pastry that we could classify as "old-fashioned desserts". I love them, you know.
This would not have to be any inconvenience because how many old-fashioned desserts there are around the world that we still enjoy as the first day they were invented? Thousands, hundreds of thousands. That is why we must never allow them to fall into oblivion. And I'm not referring to this one anymore, which I'm sure will never fall, but to others such as the banana-split (my God, I ate tons of it when I was a child), the traditional pyjamas dessert…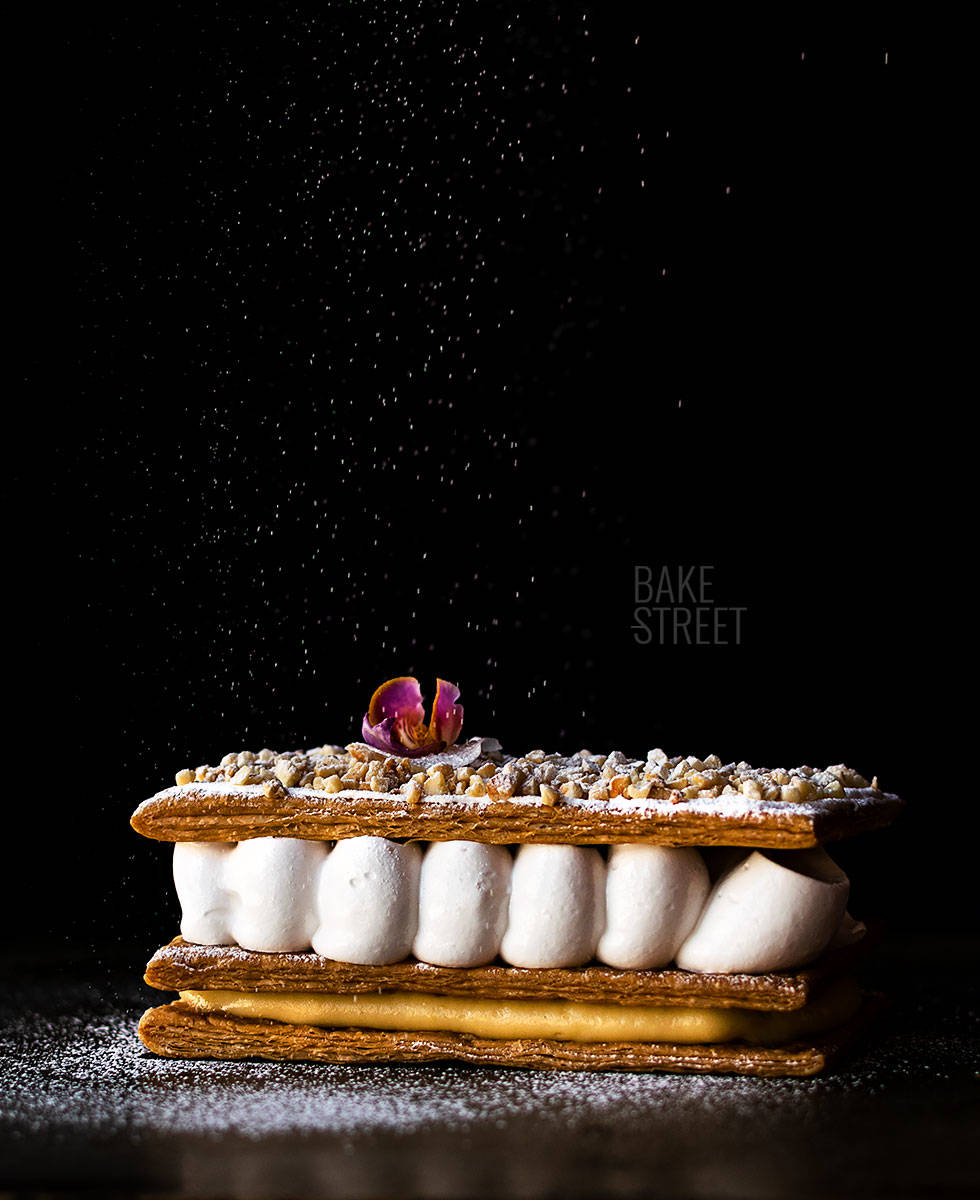 Costrada de Alcalá origin.
Costrada de Alcalá de Henares is one of the traditional and emblematic sweets of this city together with Rosquillas de Alcalá and Almendras garrapiñadas. As you can see, the people of Alcalá know how to get a great life.
In fact, the three elaborations are joined to the history of Alcalá through the famous confectionery Salinas that opened its doors in 1846, in the Plaza de Cervantes, and the confectionery El Postre opened in 1926. To this day both confectioneries are closed, although their memory endures in the childhood of many alcalaínos.
Costrada de Alcalá is a millefeuille made with puff pastry and filled with pastry cream and meringue. The dessert is topped with toasted chopped almonds and icing sugar. A very simple and traditional sweet, but it has been making its way over the years. Today it can be found in most of the city's restaurants.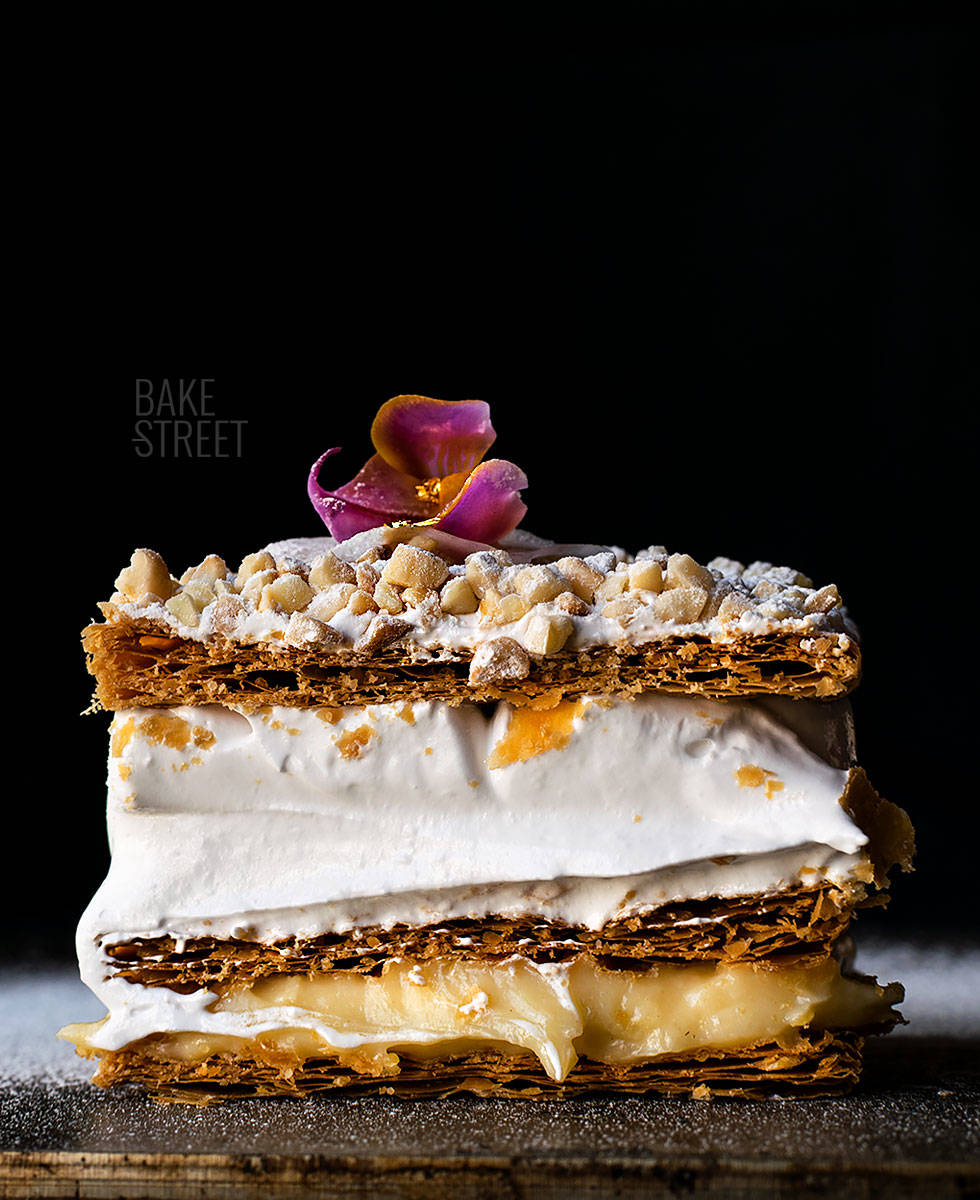 Origin disputed.
The origin of the costrada was considered, by alcalaínos, an equal creation of both pastry-shops, Salinas and El Postre. Although perhaps the first oney had more influence due to its antiquity. As a curious fact, the Salinas bakery was a supplier to the Spanish Royal Family.
It is said that the daughter of the founder of the pastry shop "El Postre", Marival Gómez, was the one who introduced the costrada in Alcalá from a recipe given to them by a family friend after having taken it at a wedding in Zaragoza.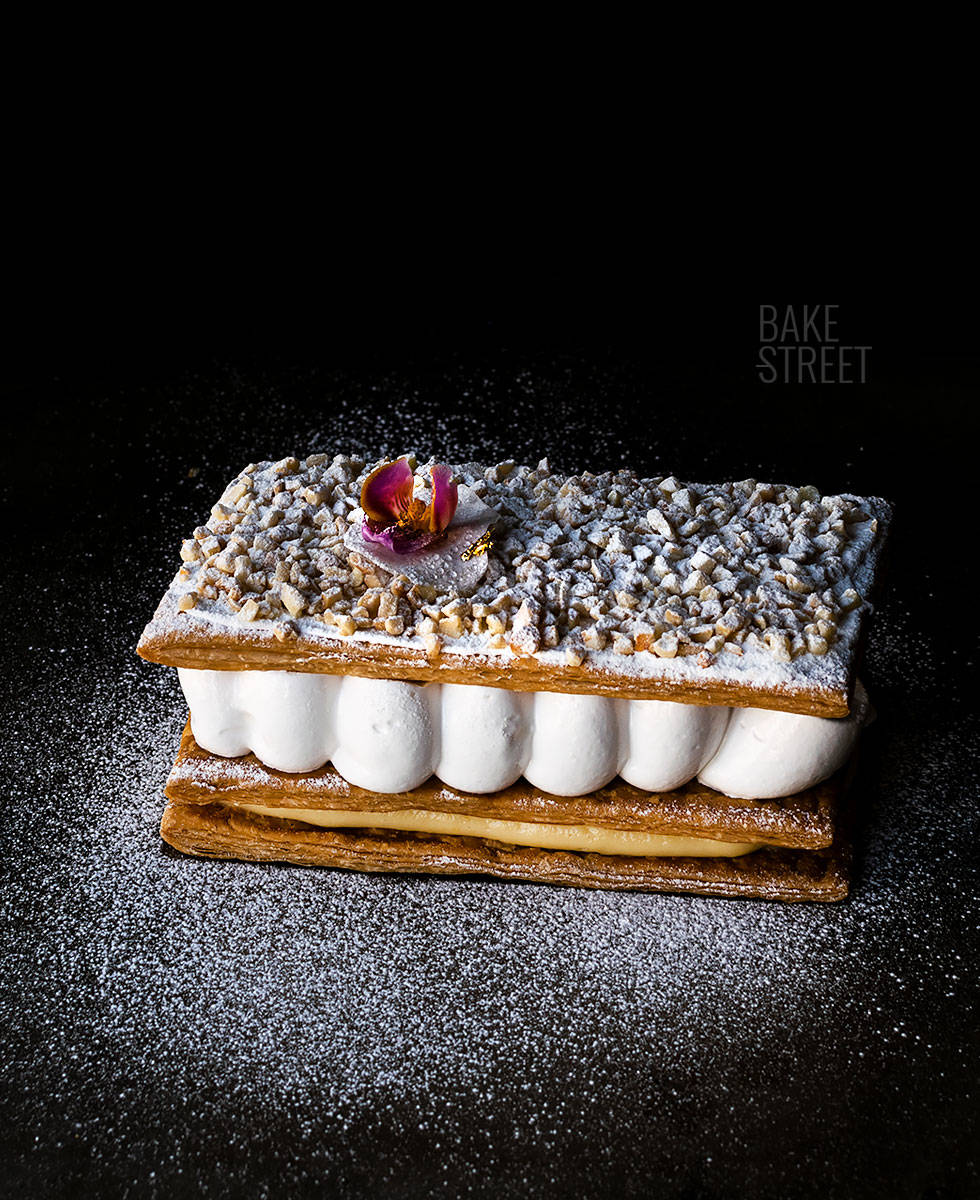 Traditionally, the costrada is made in a large format and not individually.
Puff pastry sheets are baked and then filled with pastry cream and meringue. At the time of place the fillings, the most common thing is cream in the base and meringue in the upper part. But maybe you will find it in a different order.
Then cover everythings with meringue, in the same way as if we covered a cake, sprinkle with almond, icing sugar and bake for a few minutes. In this way we roast the almonds and dry the outer meringue.
In my case I have decided to carry them out in an individual format and with a slightly different presentation, but following the classic and traditional line. In any case, whether large or in small portions, you have to encourage yourself to do it at home.
In the elaboration I leave you how to do the costrada from scratch, that is to say, puff pastry included. It is a dough that does not need to proof, but it is something laborious. By this I mean laminate, which if we stop to think, is not much either.
In that case, the recipe is simplified a lot and you'll have a sensational weekend dessert.
Ingredients for 8 pieces
FOR PUFF PASTRY:
With half a kilo of puff pastry dough, we can make 4 costradas (3 layers of puff pastry each)
500 g flour W=300 (I have used Primitiva 300 Molino Pasini). You can use AP flour instead
230 g cold water
50 g sugar
20 g honey
35 g unsalted butter at room temperature
10 g salt
360 g cold butter for laminating
FOR PASTRY CREAM:
500 g whole milk
4 large egg yolks
120 g sugar
1 vainilla pod or 2 tsp vanilla extract
3 Tbsp flour (about 44 g)
3 Tbsp cornflour (about 44 g)
FOR SWISS MERINGUE:
7 large egg whites
525 g sugar
119 g water
FOR DECORATE:
toasted chopped almonds
icing sugar
Instructions
FIRST DAY (NIGHT BEFORE)
Make the dough for puff pastry.
In the bowl of the stand mixer add the flour, previously sifted, together with the water, the sugar, the honey and the salt. Knead with the hook at speed 1 and leave until you get an almost developed dough. It will take about 5-7 minutes.
Add the butter and knead again until it completely integrates and we obtain a homogeneous and smooth dough.
Take the dough out of the bowl, shape a disc, wrap very well in film and put it in the fridge until the next day.
Make cream pastry.
Once it has cooled, refrigerate it (covered with film to prevent it from drying out) until the next day.
SECOND DAY
Stretch the dough.
Take the dough out of the cold and proceed to stretch it immediately.
Lightly sprinkle a work surface with flour and stretch the dough. The measure should not be exact, around 14 x 8 inches / 45 x 20 cm.
Set aside.
Prepare the butter.
Prepare two teflon sheets and place the butter on one of them. Cover with the other sheet and began to beat it with the aid of a roller to flatten it.
Flatten square, or as much as possible, about 8 inches side (or the width we have given to our dough).
Place the butter in the middle of the dough, so that the width of the butter and the width of the dough is the same.
Fold the ends of the dough on the butter, bringing each of them to the center. Seal well the union of both folds in the center as well as the sides. The dough should be completely sealed by each of its sides.
Laminate the dough.
To see how to puff the dough, making a double fold and three single, you can do it in this post. In this post I'll explain in detail the process, as well as accompany it with a video.
Make the last stretch to form the layers of puff pastry.
Take our dough out of the cold and stretch it.
Lightly sprinkle the work surface with flour and stretch the dough. We will give dimensions of  39 x 10 inch/100 x 25 cm approximately (maybe even a little more), its thickness will be 0.2 mm. If the dough does not fit on the work table, cut it in half and stretch them separately.
As you stretch the dough, remember to occasionally rise the dough from the work surface to make sure it does not stick to it and sprinkle a little flour if necessary.
To make the dough so thin, in the last stretch, you can use the pasta machine. Then cut the ends a little and proceed to cut the pieces.
Once we have the measurements in our dough, cut a strip of each side to equal the dough and leave the layers puff pastry "visible".
Divide the piece into rectangles of 6 x 3 inch/15 x 8 cm. In total we will cut 24 pieces to elaborate 8 costradas.
Place them on a perforated tray lined with baking paper and prick the surface to prevent them from rising during baking.
Place another baking paper on top of the puff pastry and, on top of this, a tray. This way we make sure that the little that grows, does it in a uniform way.
Bake.
Preheat oven to  390ºF/200ºC (at least 20 minutes before baking).
Place in the middle of the oven and bake for 18 minutes.
Remove, place on a rack and leave to cool completely.
Repeat the same process with the following puff pastry pieces.
Make Swiss meringue.
Incorporate water and sugar in a saucepan. Place at medium heat.
We will use a kitchen digital thermometer to know the temperature of the syrup. When it reaches 244ºF/118ºC, remove it and add it to the semi-whipped egg whites.
Add the egg whites in a heat-resistant bowl and begin to whip them.
Beat until they are quite firm, but not too much or dry.
The syrup will be ready as soon as we reach this point.
Incorporate the syrup in a fine continuous thread over the egg whites beating at the same time.
We will continue until a firm consistency is achieved and a very brilliant meringue.
Place the bowl on a saucepan with water over low heat, continue whipping for 3-4 minutes. We will obtain a meringue of very firm consistency.
Let it rest for 2 minutes before using.
Assemble costrada de Alcalá.
Put the pastry cream in a piping bag with a smooth tip 0,4 inch/1 cm in diameter. Set aside.
Introduce Swiss meringue in a piping bag with an 0,7 inch/18 mm Saint Honoré tip. Set aside.
Take one of the baked puff pastry rectangles. Pipe pastry cream on the surface.
Place another rectangle of puff pastry on top of the cream.
On this one, pipe the Swiss meringue for all the surface.
Take the last rectangle of puff pastry and spread some meringue with the help of a spatula covering all the surface with a very thin layer of meringue.
Sprinkle the surface with toasted almonds.
Place this rectangle of puff pastry over the meringue and sprinkle the surface with icing sugar.
Repeat the same process with the other pieces.
Notes
Work with the cold ingredients and respect the rest times.
When you manipulate the pieces, be careful not to press them, otherwise you can spoil the layers that will give rise to the future puff pastry.
Preheat the oven well to ensure that the cooking is carried out correctly.
In my case I have used Swiss meringue because it achieves a very firm and creamy texture and consistency. Of course, you can use Italian meringue if you prefer, even a simple French meringue.
The almond is toasted beforehand so that it acquires that marvellous aroma and characteristic flavour. But, in case you are going to bake it, use raw almonds.

You can use laminated almonds if you prefer.
If you don't have a Saint Honoré tip, you can use a smooth one with a diameter of 2 cm, for example.
If you do not prepare so many pieces of costrada, puff pastry can be kept refrigerated for 2-3 days or frozen for 1 month.
We can keep costrada refrigerated for 2-3 days.
If you want to enjoy an easy and spectacular dessert, do not miss this Costrada de Alcalá de Henares. It is impossible to miss a pastry like this when it comes to accompanying the coffee.
Millefeuilles with cream, meringue and almond... Who can say no to that? Who? It's unthinkable. But I recommend you to make a light meal. Otherwise it will be impossible to eat until snack or even dinner!
I wish you a wonderful weekend! See you on Monday :)
Big hugs,
Eva
Archivado en