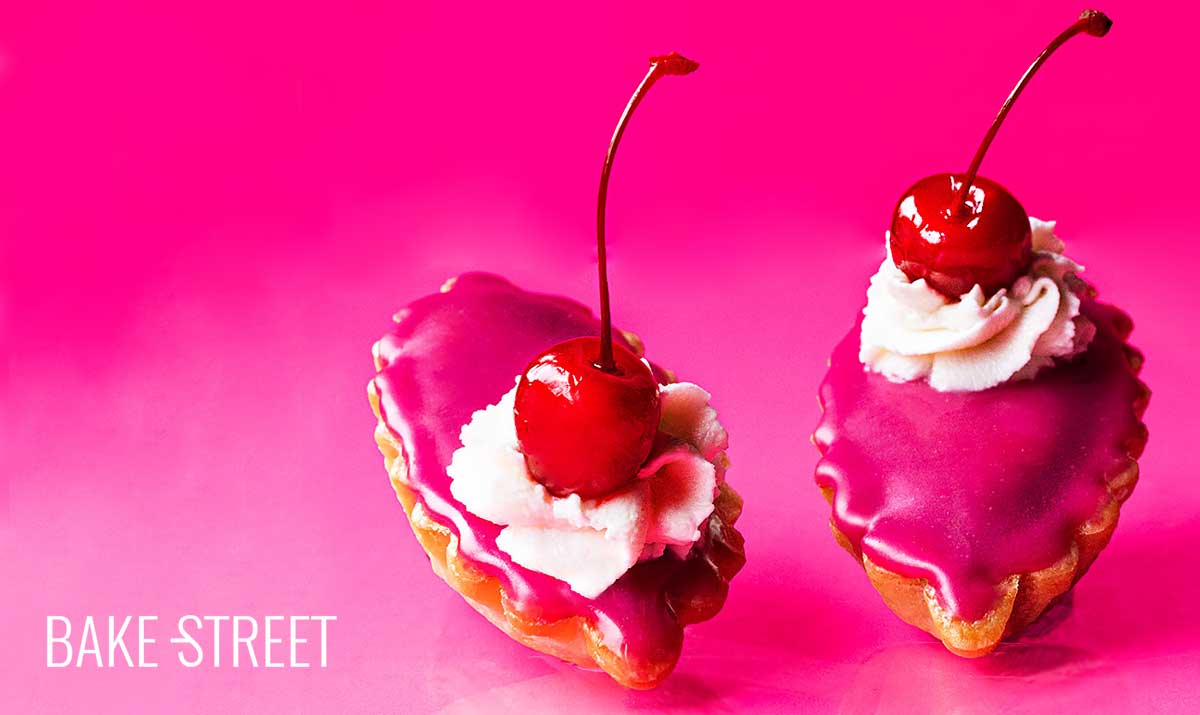 Cherry Bakewell Tarts
Este post también está disponible en Spanish
From time to time I get the pop mood and I feel an urgent need to version classic and traditional pastries with a retro/pop style. Several weeks ago I had the idea in my head to recreate a cake from the gastronomy of the United Kingdom. I just preferred to present it in an individual format, so today I leave you these Cherry Bakewell tarts in my own style. First of all, I apologize in case some of you are very classic and don't like that I modify recipes with origin. It is something that is difficult to control and I always like to add something different, but maintaining its original and traditional line.
I can assure you that the result is formidable, they are perfect to enjoy either as a dessert or in the middle of the afternoon with a coffee or tea. In my case I prefer coffee, but this pastry admits any hot drink without problems. What's more, I believe that a frizzy drink with many bubbles would also go great with it.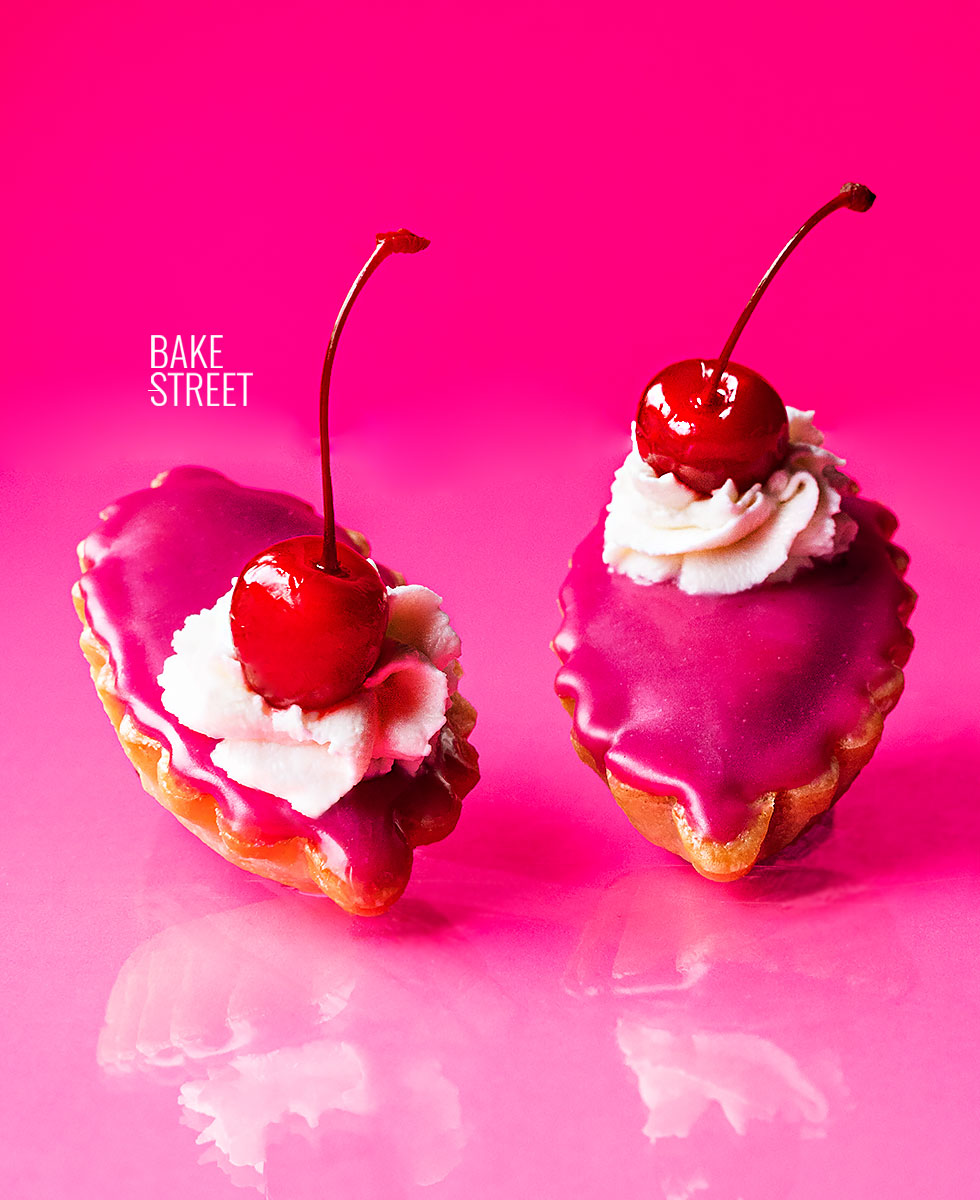 Bakewell Tart origin.
Bakewell tart originated in the Derbyshire Dales district in central Britain. This district was created on 1st April 1974 as West Derbyshire being the result of the consolidation of the urban districts of Ashbourne, Bakewell, Matlock and Wirksworth, and the rural districts of Ashbourne and Bakewell. The exact date of its creation is not known. Some mention that it was created in the year 1820, while others assure that it was created in the year 1860.
There are two main variants of this famous cake: the Cherry Bakewell (the version I leave you today) and the Gloucester tart.
Cherry Bakewell tart differs from the original Bakewell tart in its composition or presentation. It is usually prepared in the form of tartlets and its top decoration, instead of being laminated almond, is done with a glaze decorated with a candied cherry.
Gloucester tart is one of those vintage or old-fashioned elaborations that have gone out of fashion. The similarity with the Bakewell tart is surprising since it is made with a jam and almond cream filling. However, there is a small difference between the two and this is that it includes rice flour in its preparation.
Bakewell, is it a pudding or a tart
Bakewell tart is a variant of Bakewell pudding that dates back to the 20th century. Although the names are very similar and can lead to confusion, they are two completely different desserts. Despite sharing a common name, they differ not only in their appearance but also in their textures.
Bakewell pudding first appeared in 1836. However, its medieval precursors are a custard cake with candied fruit and the Lenten Marchpane made with marzipan or almond paste. It is a variant of the Bakewell tart and although it is closely associated with the town of Bakewell in Derbyshire, there is no evidence that it originated there. In fact there are similar recipes to Bakewell's tart such as Buxton's cake and Derbyshire's cake, not to mention the little known Gloucester tart, as mentioned above.
Bakewell pudding is made with a puff pastry base on which a layer of jam is spread and covered with an egg and almond filling, similar to custard. Its flavor is sweet, with a creamy texture and it is usually served warm.
Bakewell tart is made with a crunchy base (crust) on which a generous layer of jam is spread and covered with an almond cream, usually flavoured with almond essence, and decorated with sliced almonds.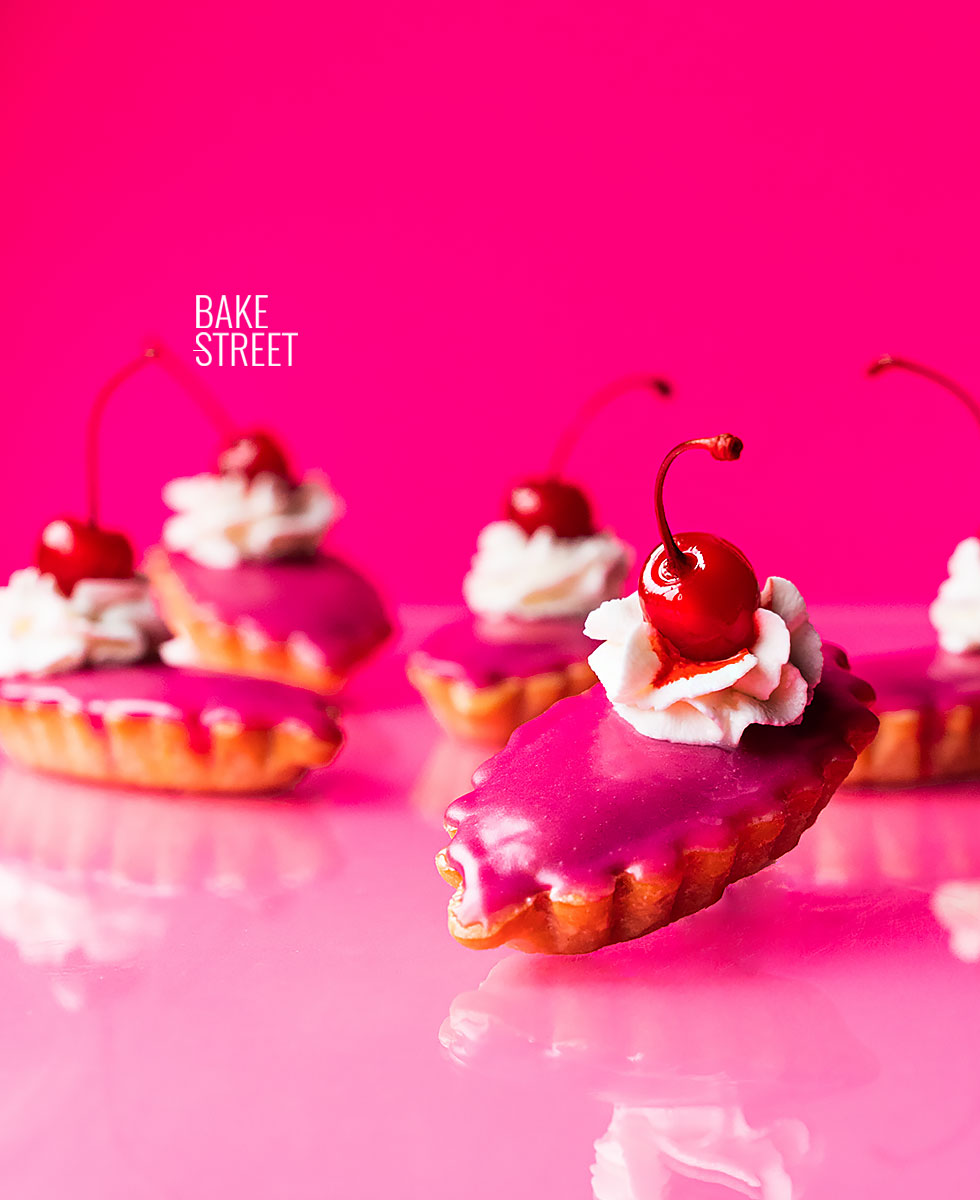 This recipe is the result of an accident that occurred around 1820.
The creator of this tart, Mrs. Greaves, was the owner of the White Horse Inn around 1820. It is said that she left instructions to her cook to prepare a cake with jam. However, the cook spread the jam on the base of the cake and, on top of it, the cream of the filling, instead of the other way around. The result was a success. So much so that the guests of the inn were delighted with this dessert and the cake became an iconic dish of the inn.
Records indicate that the White Horse Inn was demolished in 1803 to make way for Rutland Square and later for the Rutland Arms Hotel, which still stands, making its creation in 1820 doubtful.
Other sources suggest that Mrs Greaves' accidental invention of Bakewell's Pudding did not come about until 1860. This information is also unlikely since the recipe for "Bakewell's Pudding" was included in the 1845 edition of Modern Cookery for Private Families. In any case, whatever the origin of this pudding, it is very likely that we owe its creation to Mrs. Greaves.
Early Bakewell Tart recipes bear a surprising resemblance to the 15th century Strawberry cake recipe.
"A Proper Newe Booke of Cokerye", which detailed that chopped and drained strawberries were placed in a cake mould on which a mixture of breadcrumbs, egg yolks, sugar and butter were placed to cover the cake before baking. There are many earlier recipes for pudding and Bakewell tart that included breadcrumbs, as well as many historical recipes for cakes made from ground almonds.
Bakewell tart is a national treasure. In a 2015 poll conducted for Craft Baking Week, the traditional cake received more than a quarter of the votes, keeping Eccles Cakes, English Muffins and Chelsea Buns in the top spot.
My version is slightly modified and moves from the classic line to a more modern style. The main base of the cake is true to the origins of the Cherry Bakewell Tart. Instead of using a classic sugar glaze, I preferred to cover the cakes with a pink poured fondant (I love pink, I'm sure you've noticed by now, hahaha).
Since this cake can be served with cream or even clotted cream, I decided to decorate it with some whipped cream to be crowned with a Maraschino cherry. The result is a small juicy bite, full of fruity aromas and with a sweet, slightly crunchy and soft topping. Wonderful, just wonderful.
Cherry Bakewell Tarts recipe
Ingredients for 16 pieces
FOR THE CRUST:
175 g pastry/cake flour
120 g unsalted butter, cold
1 medium egg
22 g very cold water, from the fridge
15 g icing sugar
1/4 tsp salt
FOR ALMOND CREAM:
120 g ground almond
120 g unsalted butter at room temperature
70 g sugar
2 medium eggs
20 g pastry/cake flour
1 tsp almond extract
1/2 tsp salt
FOR THE BASE:
FOR POURED FONDANT:
Recipe Anna Olson
240 g icing sugar, sifted
40 g water
15 g corn syrup, light
2 g glycerin
pink food coloring paste, I have used Claret tone
few drops vanilla extract
GARNISH:
whipped cream (100 g de fat cream + 1 Tbsp icing sugar)
Maraschino cherries
Instructions
Prepare the crust for the tart.
In the KitchenAid bowl, add the flour along with the butter, egg, sugar and salt.
Mix with the help of the flat beater at speed 1 for a few seconds, just enough to obtain a sandy texture.
Add the cold water and mix again until you get a slightly compact dough. It will take about 30 seconds.
Transfer the dough to a work surface and knead using fraisage technique. With the heel of the hand slide on the dough, compact and return to make it. We will do it about 4-5 times.
Place the dough on a silpat and on it a teflon sheet. Stretch with the help of an adjustable roller to give a thickness of 2-3 mm.
Place on a tray and refrigerate for 1-2 hours or store in the freezer for 30-40 minutes.
Line the molds with the dough.
Put the mold on the dough and cut it with a size slightly larger than the mold.
Place the dough on the mold, mine are 10 cm long, and we carefully adjust it.
Use a roller on the surface, this step will help us to cut the dough and achieve a cleaner and perfect finish.
Remove the excess dough by sliding the dough down.
Repeat the same process with the rest of the molds.
Keep the dough pieces wrapped in film and inside a bag, they can be used to make a base for a cake, small tartlets...
Refrigerate the molds while we prepare the filling.
Make almond cream.
In a bowl, or the KitchenAid bowl, add the butter along with icing sugar and mix.
Add the egg and mix again until you have a homogeneous mixture.
Incorporate the ground almonds, sugar, flour and almond extract. Mix again until a homogeneous mixture is obtained.
Place in a piping bag and set aside.
Fill Cherry Bakewell tarts.
Pipe at the base a layer of cherry jam, ideally you can do it with the help of a piping bag to achieve a cleaner finish. But you can do it with a spoon if you wish.
Spread the jam a little so that it takes up the whole surface of the base.
Pipe the almond cream over the jam, spread it and store it in the freezer for 30 minutes.
Bake.
Preheat oven to 330ºF/165ºC.
Place the molds on a perforated tray lined with Teflon, to prevent any molds from overflowing to the floor of the oven, and place them at half height.
Bake for 28-30 minutes. We will observe that they acquire a nice golden color on the surface.
Remove from the oven and place the molds on a rack. Allow to cool completely before removing from the mold.
They can be easily removed from the mold by turning the mold over.
Make poured fondant.
Leave a medium pot of boiling water ready so that, in case the temperature of the fondant is reduced, we can raise it while working. In my case I didn't need to use it, but it never hurts to leave everything prepared in case it's necessary.
Sift icing sugar in a heat-resistant bowl. In case it is necessary to reheat the liquid fondant in a bain-marie later on. Set aside.
In a saucepan add the water together with the Corn Syrup and the glycerin. Place it at medium heat and let it reach 130ºF/55ºC, the mixture should not boil under any circumstances.
Remove from heat and add the coloring paste or liquid and dissolve.
Pour the mixture over the powdered sugar and mix until a homogeneous and uniform mixture is achieved.
Then we proceed to cover the Bakewell tarts.
Cover Bakewell tarts.
Dip the top of the tart into the poured fondant.
Lift it carefully and let the surplus drain off. Turn over and place on a rack.
Repeat the same process with the rest of the tarts.
We cannot give two layers of poured fondant, so we must try to cover the entire surface the first time we dip the cake.
Let the coating dry at room temperature, it will take about 30-60 minutes.
We finished decorating the Cherry Bakewell Tarts.
Whipped the cream, in this link you can see how to do it, and put it in a piping bag with a star-shaped tip (1M Wilton).
Pipe some whipped cream on the tart and decorate it with a Maraschino cherry.
Serve.
Notes
We should not knead/work the base dough too much to avoid developing gluten. This would cause the dough to swell a lot during baking. For that reason we use the fraisage technique to amalgamate it.
This dough must always be handled very cold to avoid it sticking to the work surface or our hands. In my case, I choose to keep it in the freezer for a few minutes, so that it will last longer, firm and easy to handle.
I used 10 cm long curly molds.
In my case I used homemade cherry jam (I made a lot when they were in season). But if you prefer, you can use another variety of jam like strawberry, raspberry or even orange. Some time ago I made a version of this cake with a date paste base. In this link you can see how to make it (only available in Spanish). And what to say, if you want, you can use store-bought jam. Since now there are no cherries...
When filling the molds with the almond cream, we must not reach the edge since the cream expands during baking and we run the risk of it overflowing.
We must not exceed the baking time to avoid the almond cream to be dry.
The cakes must be bathed in the poured fondant at once, so we must try to cover the whole surface well. If we give a double bath, the result will not be clean.
The decoration with whipped cream and Maraschino cherries should be done just before serving. Otherwise, the whipped cream will start to liquefy and water down the coating.
In case of varying the type of jam, we can adjust the exterior decoration according to the flavor we have chosen. Fresh raspberries, candied orange...
They can be kept, without the cream, inside an airtight container for 5-7 days.
What I'm going to tell you is that you can't imagine anymore... Well, of course, you have to make these Cherry Bakewell tarts! Not only are they super good, but they are also super easy to make. The "heaviest" part, to put it mildly (which it doesn't have) is the cold rest of the dough. This step is important to carry out because it will allow you to work and manipulate the dough without problems.
Otherwise it will be much more laborious and the results will not be as good. There are no complications when it comes to making them. And, as I say, I promise you will love them.
I wish you a wonderful weekend!
Big hugs,
Eva
Sources:Dawn Foods, BakeWell Tarts
Archivado en