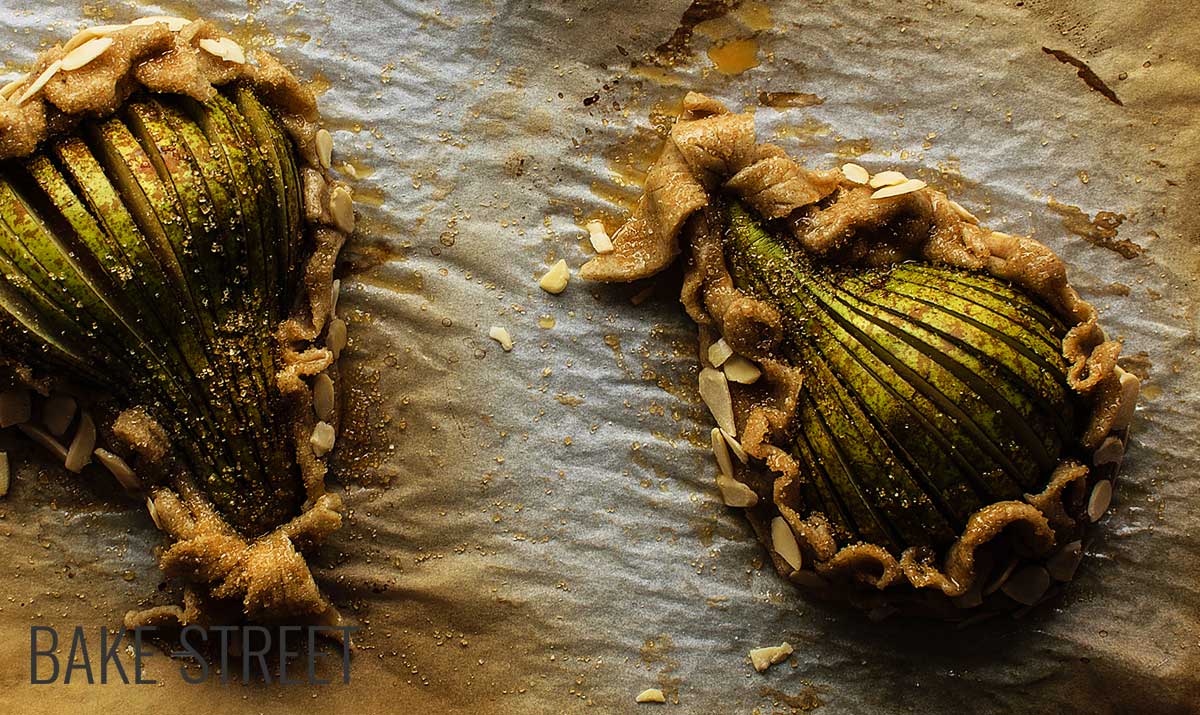 Rye, pastry cream and pear galettes
Este post también está disponible en Spanish
It's not the first time, nor the last time, that I'm going to bring you galette recipes. I love them in both sweet and salty formats. I think they are a very quick and easy option to prepare at home, besides always giving incredible results. Today's version will be sweet and perfect to enjoy at any time of day. Rye, pastry cream and pear galettes.
The base of these galettes is very similar to the one I left you for this rye galette with pesto and tomatoes. Basically the difference between the two lies in the amount of sugar we will use. The filling has no major complication, a pastry cream and conference pears.
Where I fell in love.
I saw the idea of these galettes/tarts to Rodica Godlewski some time ago and, as soon as I saw them, I knew I would have to do something similar. I thought the picture was beautiful and the dessert was wonderful. So simple and elegant that I had to do something with that image that stayed engraved on me.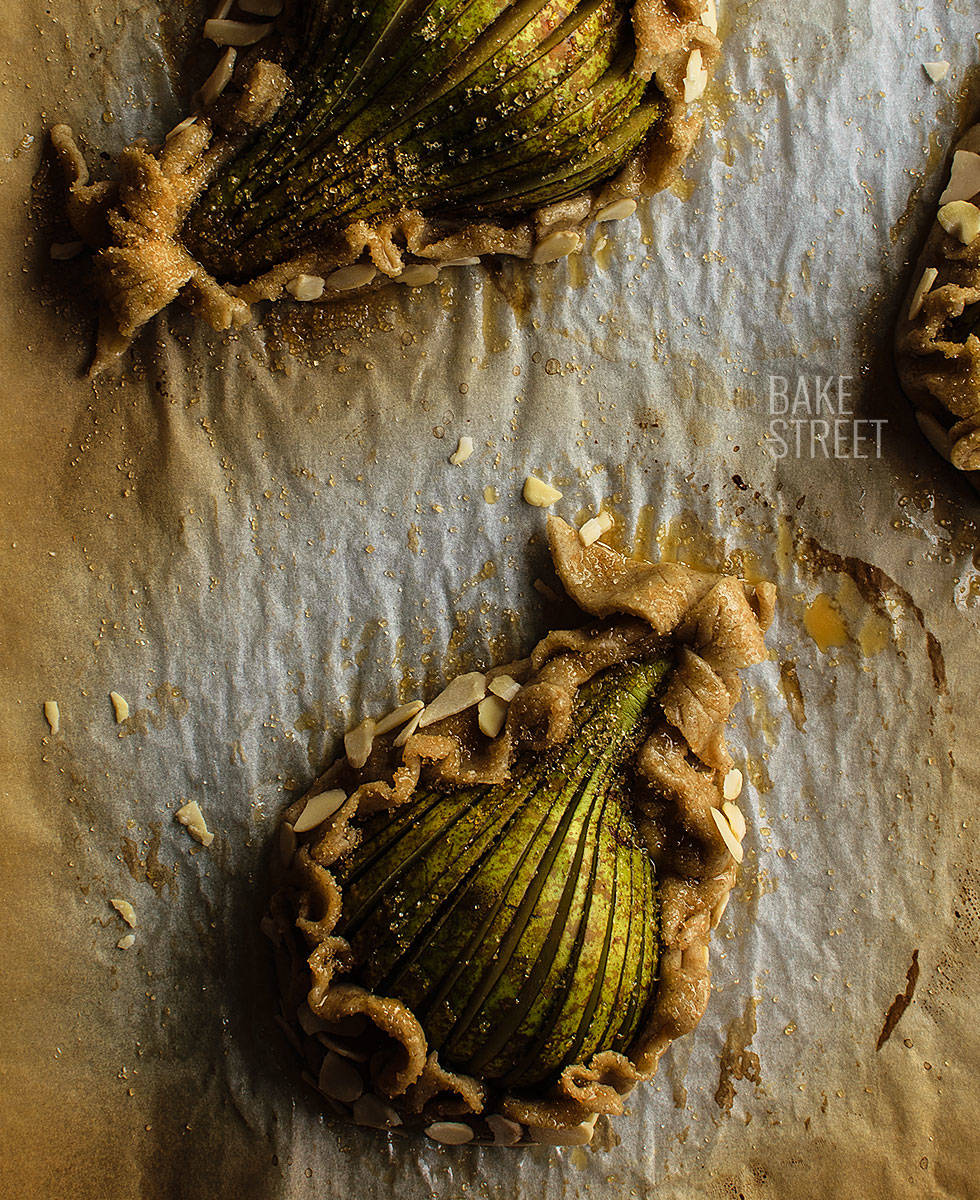 These last two months I have had a lot of time to work on new recipes and one of them had to be this one. I decided that the dough I used to make them had to be with rye. Not for anything in particular, it's just that I really like the taste it brings to this type of dough. Of course, you already know that you can always adapt any ingredient that you don't like or that is not easy to find. If the rye doesn't convince you, make them from wheat, spelt, wholemeal…
To fill them I didn't want to do it only with fruit and the idea of doing it with frangipane didn't convince me. Maybe you think, why?, with how good it is! I know, and it's certainly a delight, but if I did, I had the impression that I was going to create a version of the famous Tarte Bourdaloue (only available in Spanish), and that's why I thought about using another element. Like pastry cream.
It's been a long time since I've left a song.
And since it's Friday, I want to share with you one of my latest discoveries this summer. The group is called M83 and the song that has me in love "Midnight City" link to Youtube. It´s outstanding! 😉
Shaping the rye galettes, pastry cream and pear.
At this point I had all my ideas clear and I just had to assemble it. A base of rye and wheat, on this pastry cream and half laminated pear (and with peel!).
To close the galettes it will not be necessary that you make perfect edges or folds. Quite the contrary. Let them not be the same, that they form roughness, so the final result will be much more rustic.
All that's left is to give the final touch by brushing with egg, sprinkling with demerara sugar, laminated almonds and bake.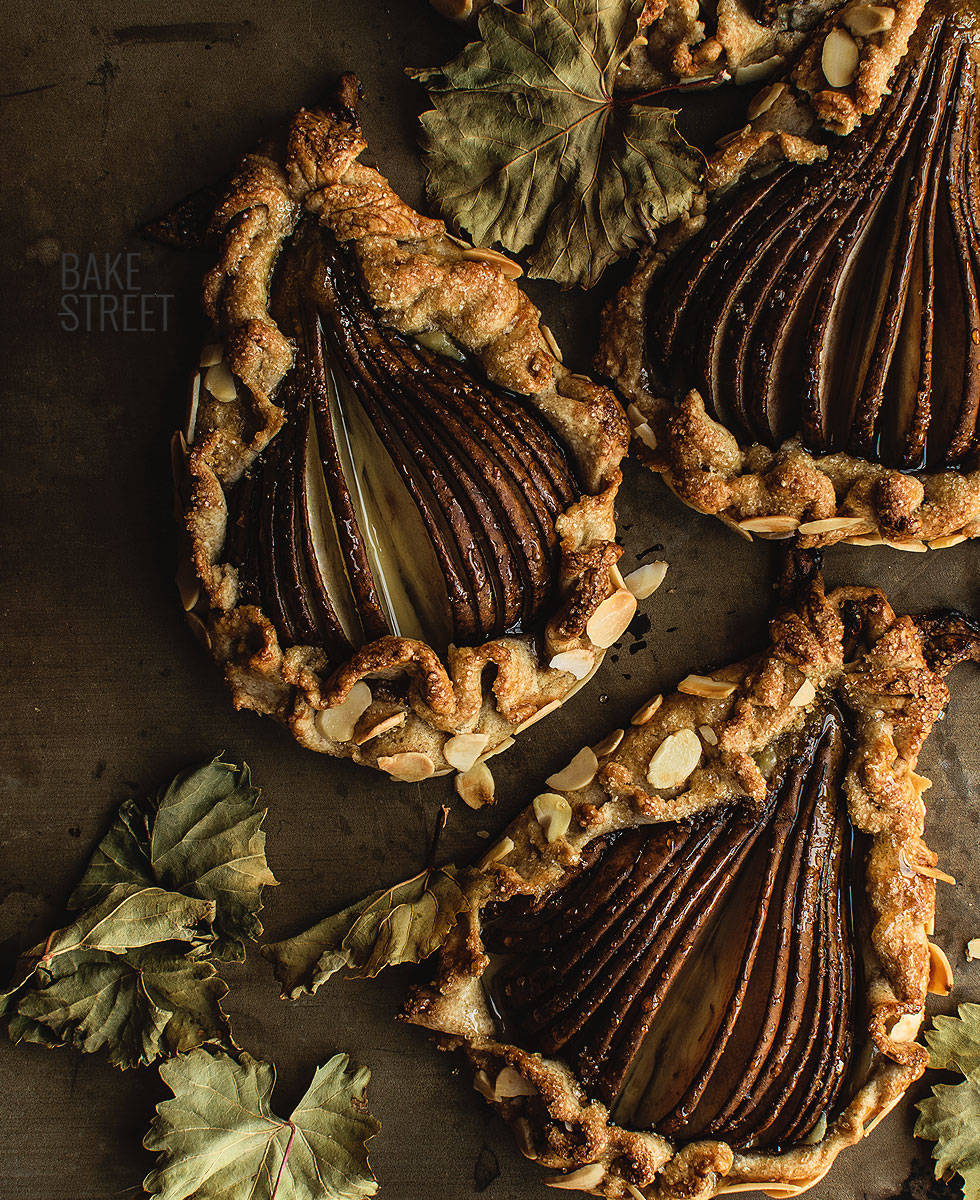 Ingredients for 8 pieces
FOR THE DOUGH:
140 g AP flour
140 g rye flour
180 g cold unsalted butter
80 g very cold water
30 g sugar
4 g salt
FOR THE PASTRY CREAM:
250 g whole milk
1 tsp vanilla extract or a pod opened lengthwise
2 large eggyolks
60 g sugar
1 y 1/2 Tbsp flour
1 y 1/2 Tbsp cornstarch
FOR  FLLING AND DECORATE:
4 mature Conference pears
1 beaten egg
demerara sugar
laminated almond
Instructions
Make pastry cream.
Here you can see how to prepare the pastry cream.
Once you have it ready, reserve it at room temperature until the moment of its use if you make the galettes the same day.
In case you make it one day in advance, once it has cooled completely, place in the fridge until the next day.
Make galettes dough.
In a large bowl, or in the KA bowl, add the 2 types of flour together with sugar and salt. Mix slightly.
Add the butter cut in small squares and, with the help of the flat beater, mix at speed 1 until a sandy texture is obtained. If done by hand, rub the mixture with both hands until the texture specified above is obtained.
Pour the cold water and mix with the flat beater until you get a homogeneous mixture. If done by hand, combine the ingredients until a homogeneous dough is obtained.
Transfers the dough to a clean surface and knead for a few seconds.
Shape a flattened disc, cover with film and place it in the refrigerator for 2-3 hours.
Shape the galettes.
Divide the dough into 8 equal pieces, weighing about 70 g each.
Make a ball softly, sprinkle lightly with flour and stretch with the help of a roller. We will try to give oval shape and approximate measures of 6,3x4,7 inches (16x12 cm). The dough should be very fine.
Place the stretched pieces on a perforated tray lined with baking paper and refrigerate while cutting the pears.
Slice the pears.
Wash the pears and and dry with kitchen paper.
Cut in half lengthwise and, with the help of a Parisian spoon, remove the central part with the seeds.

Turn the pear, with peel included, placing the cut side on the board and laminate without reaching the end to form a fan with it.
Repeat the same process with the remaining pears.
Fill the galettes.
Place a base of pastry cream on the stretched pieces, leaving a few centimetres around the edge without covering.

Put one half of laminated pear on top of one of the galettes.
Fold the edges towards the inside, reaching the pear piece, and making folds.

With the excess dough we will create leaves to decorate the top of each galette.
Refrigerate for 45 minutes to firm the dough.
Bake.
Preheat the oven to 355ºF (180ºC).
Remove the galettes from the fridge.
Brush the edges with beaten egg and sprinkle with demerara sugar and laminated almond. If you wish, you can also sprinkle sugar on the laminated pear.

Bake for 35-40 minutes.
Remove from the oven and let cool over a rack.
Serve.
Notes
Can the dough be made without rye flour? Yes, it can be done. Just skip it and use more bread flour or wholemeal instead. But I recommend using it because the taste is fantastic.
Rye flour makes the dough sticky to the touch. So this texture is completely normal when you knead it.
We must respect the cold times of the dough to ensure that, at every step, it has the right consistency and firmness.
I recommend you to use the Conference pear variety. Personally, they are the ones I like the most in terms of taste. But feel free to use the one you like best.
Since we are not going to use pears with previous cooking, it is important that they have a good point of maturity so that both the flavour and texture are pleasant after baking.
The pastry cream can be flavored with cinnamon if desired.
Is it essential to use demerara sugar? No, not at all. You can use the variety of sugar you want. The reason I use this type of sugar is because it tolerates high cooking temperatures and, after baking, still retains its appearance. This makes it an ideal sugar for decorating baked desserts.
If you want them to have shiny finish, we can brush the pears (once the galette has been baked) with syrup. We will do it with 80 g of water + 80 g of sugar, cook until it acquires the wished consistency. Remove from the heat and reserve until the time of use. In case you do, do not use too much so that the galette does not get too wet.
We can keep them in an airtight container and refrigerated for 3-4 days.
You'll love these rye galettes, pastry cream and pear. Imagine at mid-afternoon, now that the first rains and cloudy days begin to arrive, sitting on your sofa and enjoying a tea/coffee/infusion and one of these delicacies...
I have to admit that I love summer than another season, but when I think of moments like the one I was telling you about a few lines above, I don't mind enjoying them at all.
I wish you a wonderful weekend, see you on Monday.
Big hugs,
Eva
This post contains affiliate links
Archivado en