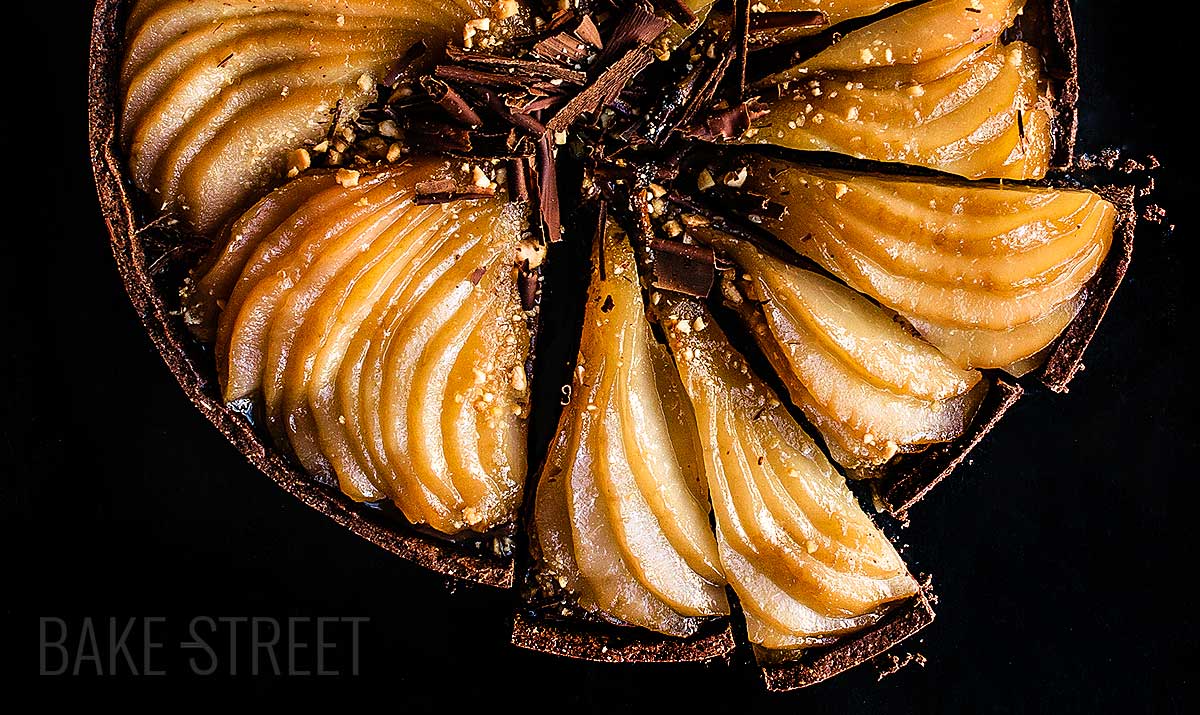 Pear and chocolate tart
Este post también está disponible en Spanish
I've been having a very sweet season. I don't have an average term, either I make tons of cakes, biscuits, pastries and sweets in general or I spend a little while making them. Now I'm going through one of those good times, hahaha. This pear and chocolate tart was not premeditated, but arose from a surplus of preparations that I prepared for other recipes and had to give it some purpose.
I made the cocoa dough the day I filmed the Japanese Garden Tart recipe. I left a chilled dough the night before, to bake the next day during the recording. But to make the whole process in the video, I had to make a new base. The milk chocolate ganache was frozen from another cake I baked and I had leftovers. And the pears… these were in the fruit bowl and I thought that no other purpose could be better than this for them.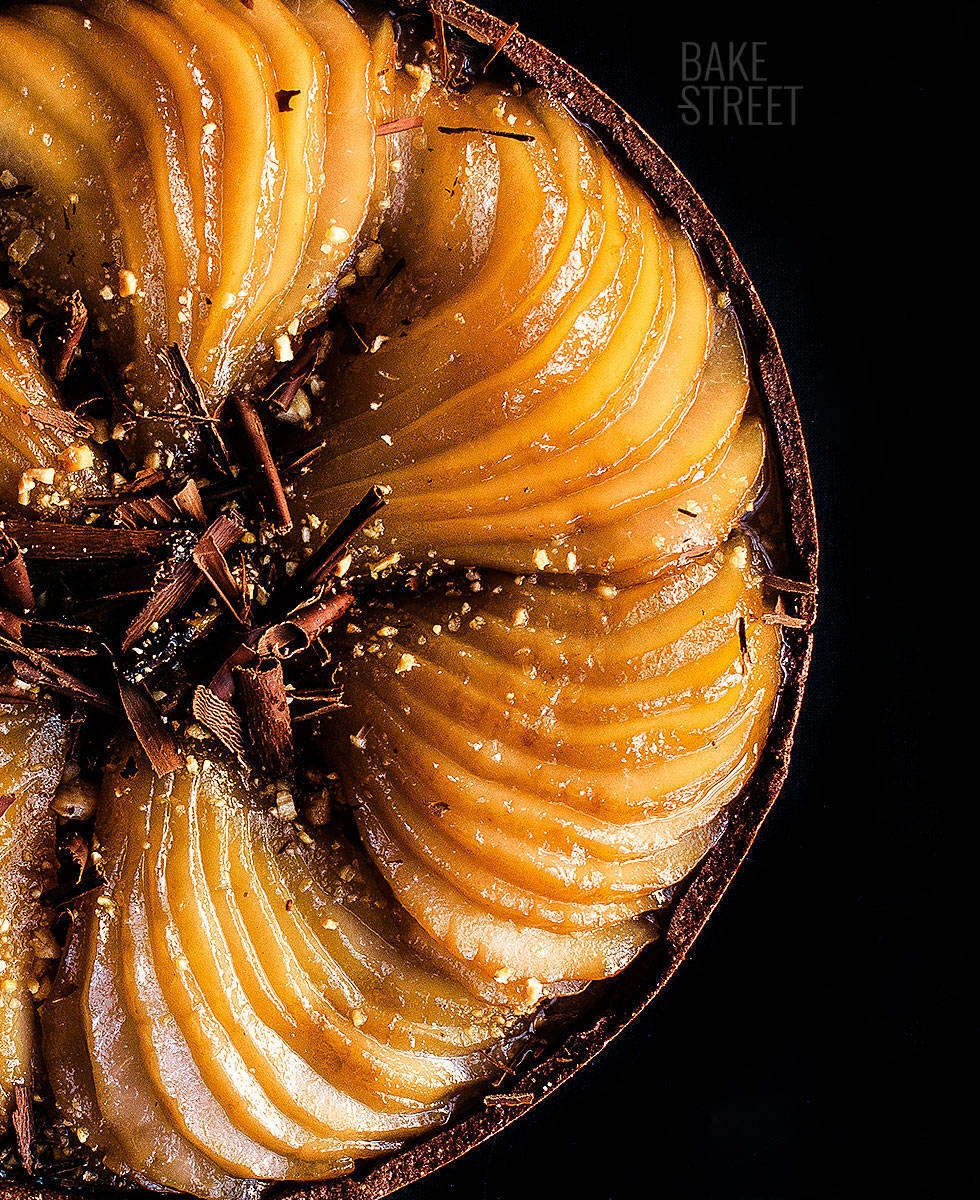 Pear and chocolate.
I would venture to say that this combination far exceeds orange and chocolate. It's absolutely delicious, soft, sweet, delicate… And, for some strange reason, it's that kind of flavor I usually forget. I don't know why, since whenever I eat something that carries these ingredients, I jump for happiness. But I tend to combine other things with chocolate rather than pears…. Don't ever do that.
The cake is very simple to carry out, it has no major complication. Whether in process or assembly. It only takes a couple of days to devote a little time. The first day you have to leave the pears ready, the dough cooked and filled with the ganache. This way it will harden all night long.
And the next day we'll just have to decorate and enjoy it. No doubt the preferred part for all of us.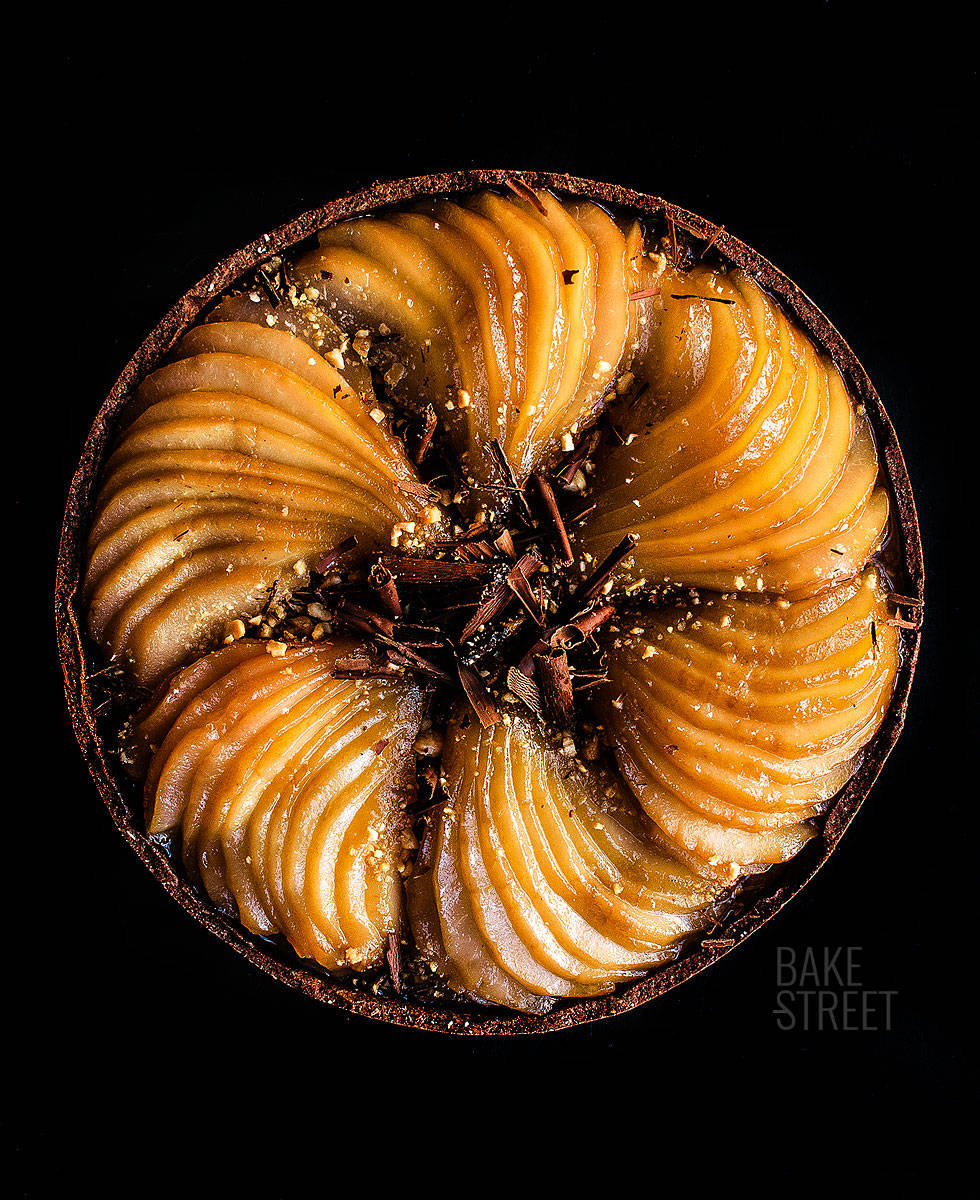 A little music for this Friday, today I leave you this song of Mocean Worker "Tres Tres Chic", link a Youtube, I think it's going very well for today's tart 😉
Simple steps for eye-catching results.
Not all elaborations have to be carried out with very elaborate or complicated processes in order to obtain a striking result. Most of the time it is enough to combine ingredients that we know will work and give you a more attractive decoration. This is where we can get all the attention.
In this case, the filling is a basic ingredient of pastry, ganache, which you will have made countless times. The decoration cannot be a more classic and traditional element, pears in syrup, but this time flavoured with coffee and vanilla.
The rest will require a little love and time, but it will certainly be worth it. The cake decoration and the addition of coffee for pears in syrup is based on Van Houtte cake.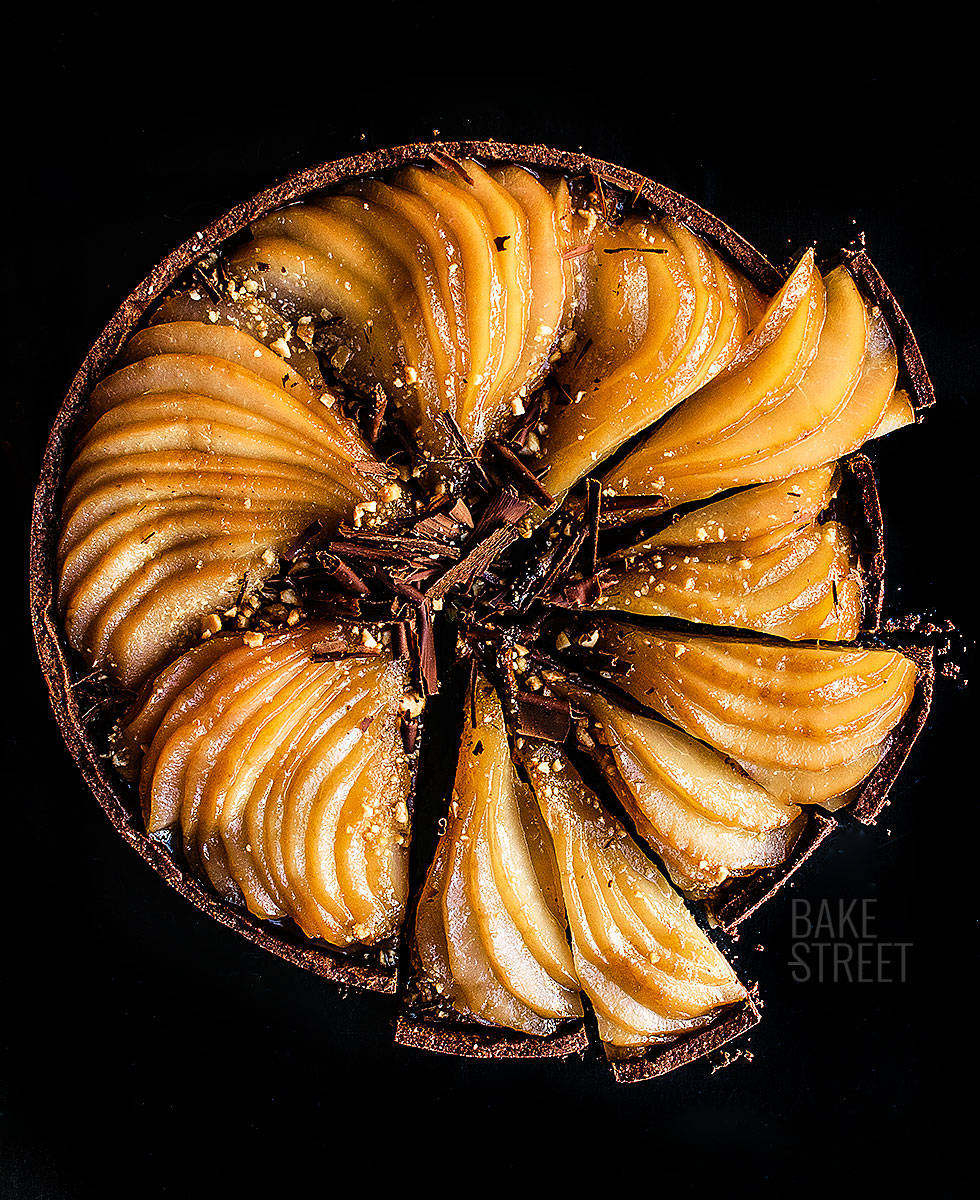 Ingredients
FOR THE CACAO PASTRY:
6.35 oz (180 g) pastry flour
0.88 oz (25 g) cocoa powder
0.88 oz (25 g) ground almond
4.6 oz (130 g) cold butter
1 large egg
1.4 oz (40 g) moscabado sugar
0.07 oz (2 g) salt
MILK CHOCOLATE GANACHE:
6,2 oz (175 g) milk chocolate
4 oz (112 g) heavy cream
FOR THE PEARS IN SYRUP:
4 large conference pears not very ripe
1 l. water
400 g sugar
100 g dark muscovado sugar
fresh squeeze juice from one lemon
1/2 scraped seeds from one vanilla pod or 3-4 drops of vanilla extract
2 Tbsp instant coffee
GARNISH:
roast almond
chocolate chips, to make them we will need 1,75 oz (50 g) of pure chocolate
Instructions
A DAY BEFORE THE TART IS MADE
Prepare the pears in syrup.
Fill a medium pot with the water, lemon juice, sugar, soluble coffee and vanilla. Place it over medium high heat and let it boil.
While, peel the pears removing only the skin, set aside.
Once the water is boling, carefully, introduce the whole pears and leave over medium heat for 30-40 minutes. The cooking time depends on the degree of ripeness. It should be tender when pricked, the fork goes in and out easily, but not undone.
Remove from the heat and let the pears rest overnight* in the syrup at room temperature.*Ideally, they should be prepared in the afternoon/night before the tart is made, so that they can rest and cool in the syrup.
Make cacao pastry.
Grate butter, set aside.
In a big bowl add pastry flour with cocoa powder ground almonds, grated butter and salt. Mix between your hands until combined. Texture must be grainy.
Add moscobado sugar, egg and mix lightly.
Transfer the dough to a counter and knead making fraisage technique. It will be useful to get an homogenous dough but without gluten developed.
Put the heel of the hand over the dough and push to the front little by little to get a merged dough but without being elastic.
Once the dough is homogenous, roll it between two teflon sheets into 0,11 inches (3 mm). Diameter dough must be bigger than iron skillet.
Let sit between two sheets over a baking tray in the fridge for 2 hours or overnight.
Bake cocoa pastry.
Remove teflon sheets and place the pastry over a parchment.
Helping with the ring pastry, cut the base and let sit without remove the ring.
Cut strips, bit higher than the ring height, and place around the base. You must to cut several strips to cover the tart sides. Press which each other to join the ends the strips.
Remove the excess of pastry with a knife to have a perfect edge.
Tap the base with a fork. Refrigerate for 30-40 minutes.
Preheat oven 345ºF.
Remove from the fridge, line pastry with baking paper and fill with ceramic pie weights or uncooked beans.
Bake for 15-20 minutes.
Remove ceramic pie weights, brush with beaten egg-white and bake for 5 minutes more.
Remove from the oven, with care, and let cool.
Make milk chocolate ganache.
Chopped finely milk chocolate, set aside.
Pour the cream into a heat-resistant bowl and place in the water bath. Leave until it takes temperature but without boiling.
Remove from the heat and add chopped chocolate, mix until smooth.
Pour in a medium bowl and let cool completely at room temperature for 30 minutes.
Pour the ganache into the base of the tart and let it cool to room temperature. It will take us about 2 hours.
Place in the fridge overnight.
SECOND DAY
Make the chocolate chips.
Melt the chocolate in a water-bath.
Temper until it reaches a temperature of 90ºF (32ºC).
Pour on a tray or plate, in my case I use one of methacrylate, and spread until it acquires a thin thickness and a smooth surface.
Allow to cool completely at room temperature.
With the help of a scraper, slide from the beginning of the chocolate and we will go creatingg chocolate chips.
Once we have all done, set aside.
Cut the pears in syrup.
About 1 hour before decorating the tart with the pears, remove from the syrup and let them drain very well.
Cut in half lengthwise and, using a Parisian spoon, remove the central part with the seeds.
Turn the pear, placing the cut side on the board, and laminate without reaching the end to form a fan with it.
Repeat the process with the other 2 pears.
Garnish.
Place the pears on the surface of the tart. We will open each half carefully so that the laminate can be appreciated.
Sprinkle a little smashed almonds and some chocolate chips.
Serve.
Notes
It is important that the pears are not too hard (they will hardly taste), nor are they too ripe (they can be undone during cooking). It is necessary to find an intermediate point between a ripe but smooth fruit. I recommend conference pears, they have a lot of flavor, but in its absence you can use pears of water.
In order to make the tart we will only need 3 pears, but I will specify one extra pear for you in case you have a problem and need another one. If left over, nothing happens because you can eat dessert as it is or with a mascarpone flan. For example ;)
Can I use freshly brewed coffee instead of instant coffee? Yes, of course. In this case, replace the water with the amount of coffee you add. Ideally, a cup of coffee maker.

The tart is made in a (24.5 cm diameter) 9,6 inches ring pastry.
To see how to make, stretch and bake the cocoa base you can do it in the video of this post.
Be very careful when handling chocolate chips. Being very fine, they are very sensitive to the heat of the hands. You can keep the excess chips in an airtight container at room temperature or, if it is very hot, refrigerated.
Preservation: We can keep it refrigerated in an airtight container for 5-7 days.
This pear and chocolate tart would be your ideal dessert this weekend. I'm clear on that. A creamy milk chocolate ganache accompanied by pears in syrup flavored with coffee and a crunchy cocoa... I can't think of a better dessert!
Besides, I give you my word that you won't regret trying it. I hope you have a great weekend, get plenty of rest and enjoy yourselves! I'll see you Monday.
Big hugs,
Eva
Archivado en