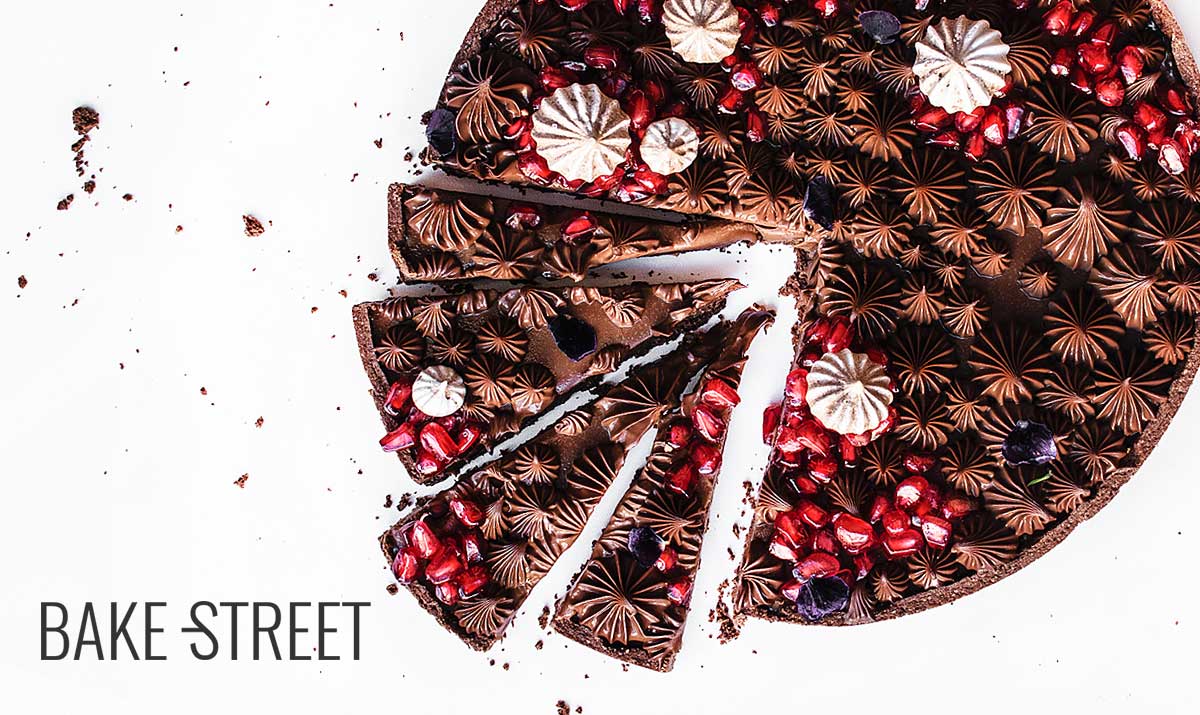 Milk chocolate and pomegranate tart
Este post también está disponible en Spanish
How did your week begin? Fantastically phenomenal, I hope. Mine couldn't have started any better, but I'm back exhausted. This little getaway we have made to Malaga has been great. If I were to summarize it briefly, I would say that I have laughed a lot, and this would be inversely proportional to what I have slept, that is, very little. That's why we'll have to charge our batteries with a nice piece of this milk chocolate and pomegranate tart.
I had been waiting a long time for the pomegranate season to come back so I could bake a cake with them.  It has always seemed to me that the combination of both is great, not to mention how beautiful its grains are. Red, smooth, shiny… almost like little rubies.
So as soon as my parents gave me pomegranates from their garden, the taste and color of these has nothing to do with what I can buy in fruit shops, I made the cake.
The recipe is very simple to prepare.
To make this cake we will not need ingredients or complex processes. In fact, we will do some elaborations that I have left you before, so you will be familiar with them.
The base is a pâte sucrée of cocoa with almonds, very easy to carry out and I have already left you for other cakes such as banoffee, orange, apricot and chocolate tart…. Sometimes even varying the almonds for ground hazelnuts. This same base can be prepared without cocoa powder as in this brownie tart with caramel popcorn. But I thought that for this particular recipe, you'd be better off with a cocoa base.
The filling is a milk chocolate ganache and a pinch of cinnamon. Easy, creamy, delicious and with a touch of spice perfect to enhance the sweetness of chocolate. And end up falling madly in love, everything will be said.
The decoration will be done with a dark chocolate ganache, pomegranate, petals of edible flowers (this is totally optional) and dried meringues.
We could say that this tart is the perfect tart for those days when we crave chocolate.
It combines several two types of chocolate, even a cocoa base with a slightly bitter point, which together give a wonderful result if you are chocolate lovers. Pomegranate brings a fresh, lively, fruity flavor, with a totally different sweetness to that which we achieve with chocolate. I don't think I'd find a better way to start the day than this.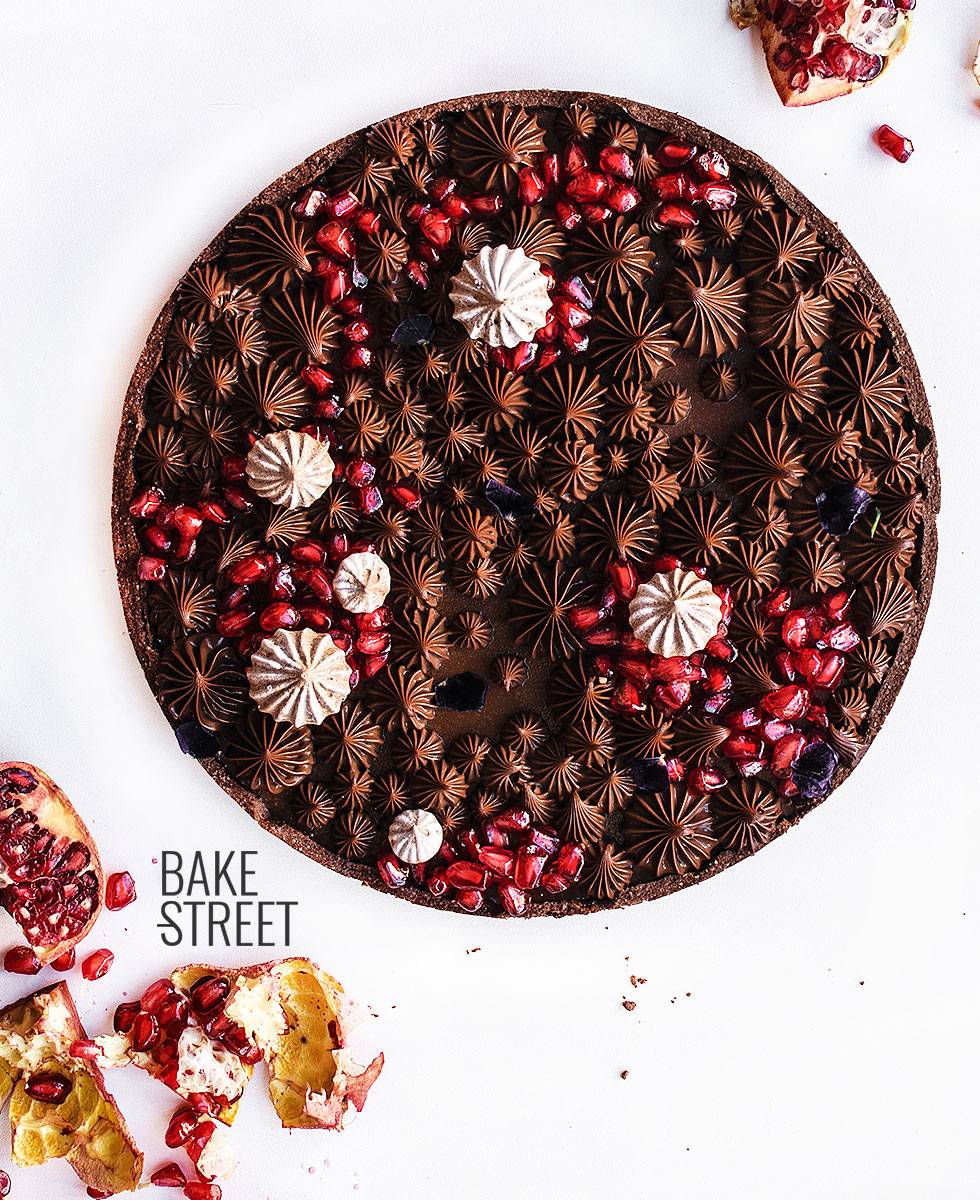 Today I leave you again a song and it is one that I remember from my childhood. I've always loved music since I was very young. One of the things I liked to do best was to record VHS tapes (t's rained a lot since then!) with video clips. I had a lot of them that lasted four hours.
I remember watching the 40's (Spanish channel), MTV and similar channels, sitting with my sister and watching videos to record the ones we liked. What lovely memories.
I'll never forget the first time I heard Annie Lennox's song "No more I Love you´s", I thought it was great! And the video clip so different from others I'd seen… It was amazing. Anyway, I heard it again the other day after a lot of years and I wanted to share it with you 🙂
Ingredients
FOR THE CACAO PASTRY:
6.35 oz (180 g) pastry flour
0.88 oz (25 g) cocoa powder
0.88 oz (25 g) ground toasted hazelnut
4.6 oz (130 g) cold butter
1 large egg
1.4 oz (40 g) moscabado sugar
0.07 oz (2 g) salt
MILK CHOCOLATE GANACHE:
12,3 oz (350 g) milk chocolate
 7,95 oz (225 g) heavy cream
1/2 tsp cinnamon powder
FOR THE CHOCOLATE GANACHE:
8,8 oz (250 g) heavy cream
6,35 oz (180 g) 70% black chocolate
GARNISH:
pomegranate
dried meringues
edible purple petals
Instructions
Make cacao pastry.
Grate butter, set aside.
In a big bowl add pastry flour with cocoa powder ground toasted hazelnuts, grated butter and salt. Mix between your hands until combined. Texture must be grainy.
Add moscobado sugar, egg and mix lightly.
Transfer the dough to a counter and knead making fraisage technique. It will be useful to get an homogenous dough but without gluten developed.
Put the heel of the hand over the dough and push to the front little by little to get a merged dough but without being elastic. We can see how to make it in this video.
Once the dough is homogenous, roll it between two teflon sheets into 0,11 inches (3 mm). Diameter dough must be bigger than iron skillet.
Let sit between two sheets over a baking tray in the fridge for 2 hours or overnight.
Bake cocoa pastry.
Remove teflon sheets and place the pastry over a parchment.
Helping with the ring pastry, cut the base and let sit without remove the ring.
Cut strips, bit higher than the ring height, and place around the base. You must to cut several strips to cover the tart sides. Press which each other to join the ends the strips.
Remove the excess of pastry with a knife to have a perfect edge.
Tap the base with a fork. Refrigerate for 30-40 minutes.
Preheat oven 345ºF.
Remove from the fridge, line pastry with baking paper and fill with ceramic pie weights or uncooked beans.
Bake for 15-20 minutes.
Remove ceramic pie weights, brush with beaten egg-white and bake for 5 minutes more.
Remove from the oven, with care, and let cool.
Make milk chocolate ganache.
Chopped finely milk chocolate and black chocolate, set aside.
Pour the cream into a heat-resistant bowl and place in the water bath. Leave until it takes temperature but without boiling.
Remove from the heat and add chopped chocolate, mix until smooth.
Pour in a medium bowl and let cool completely at room temperature for 30 minutes.
Pour the ganache into the base of the tart and let it cool to room temperature. It will take us about 2 hours.
Place in the fridge overnight.
Make chocolate ganache.
Chopped finely black chocolate, set aside.
Pour the cream into a heat-resistant bowl and place in the water bath. Leave until it takes temperature but without boiling.
Remove from the heat and add chopped chocolate, mix until smooth.
Pour in an airtight container and let cool completely at room temperature for 2 hours.
Refrigerate for 6 hours or overnight.
Decorate the tart.
Introduce the ganache in a pipping bag and use a star piping tube.
Decorate the surface with the ganache trying to create different sizes. We'll leave holes so we can fill it with pomegranate.
Fill in the holes that we left previously with pomegranate, decorate with edible purple petals of purple and dried meringues.
Serve.
Notes
The tart is made in a (24.5 cm diameter) 9,6 inches ring pastry.
If you use another variety of chocolate that is not 70%, remember that the proportions with respect to the cream vary depending on this one. Otherwise the final consistency will not be the same.
I don't like cinnamon, can I omit it, replace it?... Of course, spices can always be omitted or replaced to adapt them our tastes. If you prefer you can use some type of pepper or even a pinch of flaky salt.

The fresh pomegranate, remain in good condition with the passage of time? Yeah, you'll be surprised. Not only does it not harm chocolate by losing juices, but it also preserves fresh and shiny even 4 days later.
To decorate the tart I used two pipping tubes; Wilton 4B (smaller) and Wilton 6B (larger).
Preservation: We can keep it refrigerated in an airtight container for 5-7 days.
This milk chocolate and pomegranate tart is certainly a good push to start the day or week. In my case, it couldn't have come better.
The truth is that there are times that it doesn't matter if exhaustion is with us for a few days. I don't recover like I did when I was 20, I get older! hahaha. This weekend I've had great moments, great people, great playing-rol games and a lot of desire to repeat soon.
Now, I'm going to enjoy one more piece of this tart to start this day ;)
Big hugs,
Eva
Archivado en