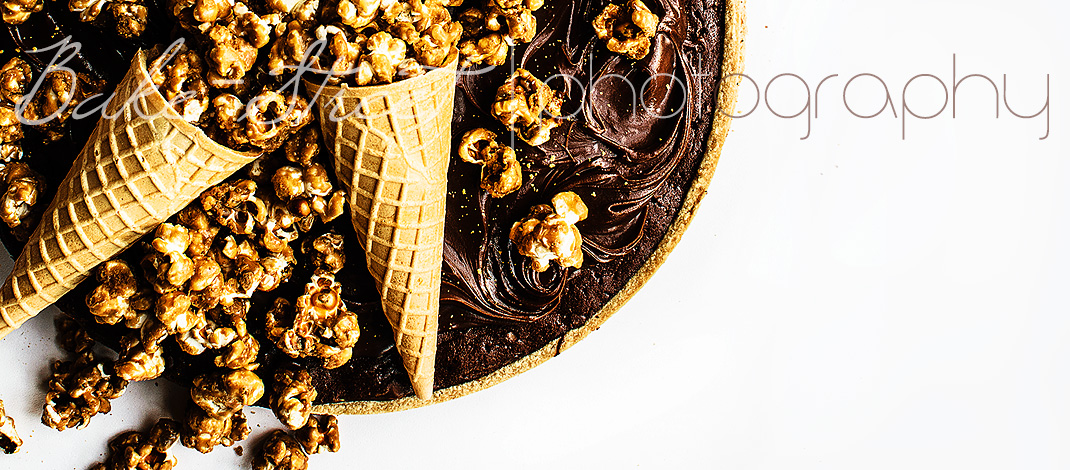 Brownie tart with caramel popcorn
Este post también está disponible en Spanish
Today I bring the most provocative temptation you can imagine, a brownie tart with caramel popcorn. I would add that the brownie surface is covered with a caramel and chocolate ganache that is one of the most wonderful things that I have tried … Imagine a soft cream with a caramel and chocolate flavor, with a quite similar texture to toffee. Magical.
It is not the first time I use this ganache, I made good use of it in this chocolate, raspberries and beet tart and in these chocolate cookies. I fall in love with it always I made it. It is very dangerous because when I transfer the ganache to a container, one spoonful for me, I decorate the tart and … ups, I have a little on this side, another spoon for me. Well you can imagine, it is a not to stop suffering.
I had been thinking this tart for several weeks. It was clear how would be the base tart and the decoration, it would be with caramel popcorn. But it took me a bit longer to make it because it did not know what the filling to use. Of course one of caramel would have been amazing, but I have already left two tarts with caramel filling in the blog and wanted to make some different.
For that reason it has been postponed until one day I said, – I got it !, with brownie! -. I got down to work right away. I am impatient, when I have something clear I must make it as soon as possible. Now I was wondering another question … should I bake the base "in white" or can I do it with the brownie filling?
Here I was not very clear on how to proceed, I was afraid that the pâte sucrée would become too dry but I also thought about the possibility that the base would be unbaked with the filling on top. Then I remembered a cake from one of my online workshops that consists in a base similar to this along with a creamy filling in which both are baked at a time. So I decided to follow these same steps.
What should we keep in mind for a successful baking process ?
When you assemble the pastry dough in the ring pastry, make sure to join the base with the sides so that there are no batter escapes during baking until the filling is baked.
Pâte sucrée must be very cold when we pour the brownie filling inside.
Do not fill up to the rim of the pastry ring with the brownie filling, it grows a bit during baking and can overflow the edge.
Do not exceed the baking time or otherwise the brownie will be dry.
With these simple steps, everything will go perfect. At the time of decorating the tart I saw very poor to place only the popcorn on the surface, I had to add something that would dress the tart and bring creaminess.
A song for this Friday, "American Boy" by Cocoon. Link a Youtube 🙂
Then I remembered the ganache which I spoke to you above … there was nothing more to say, it was all clear. At the time to make the decoration, feel free. You do not have to use ice cream cones, for me it seemed a funny idea but you can place only the popcorn.
Only one more thing, please awesome tart, just do not be too cruel and do not damage our waist 😉
BROWNIE TART WITH CARAMEL POPCORN
For one ring pastry of 9,6 inches
FOR THE ALMOND PASTRY:
6.9 oz (195 g) pastry flour
1.2 oz (35 g) ground almond
4.6 oz (130 g) cold butter
1 large egg
0.7 oz (20 g) muscovado sugar
0.07 oz (2 g) salt
FOR THE BROWNIE:
10.5 oz (300 g) black chocolate 70%
8.8 oz (250 g) unsalted butter at room temperature
5.3 oz (150 g) dark muscovado sugar
4 large eggs
2.1 oz (60 g) pastry flour
4.2 oz (120 g) pecan nuts
pinch of salt
FOR THE CHOCOLATE CARAMEL GANACHE:
7 oz (200 g) milk chocolate
7 oz (200 g) heavy cream
4.2 oz (120 g) sugar
2 Tbsp Corn Syrup
1/2 tsp salt
FOR THE CARAMEL POPCORN:
3.9 oz (110 g) corn grains + 1Tbsp vegetable oil
4 oz (112 g) unsalted butter
6 oz (170 g) light muscovado sugar
2.8 oz (80 g) Corn syrup or Golden syrup
1 tsp vanilla extract
1/2 tsp salt
1/4 tsp baking soda
FOR DECORATE:
2 ice cream cones
edible gold powder
INSTRUCTIONS:
Make chocolate and caramel ganache.
Chop chocolate, set aside.
Pour heavy cream into a small pan and simmer until it is warmed, without boiling. Set aside.
Add sugar in a medium saucepan and let until get a brown caramel. Stir occasionally to avoid burn and get a perfect melt from sugar.
Pour heavy cream little by little and mixing at a time until get an homogenous mixture. Remove from the heat and add corn syrup. Mix again until combined.
Add chopped chocolate and mix until get a well combined cream.
Transfer into an airtight container and let cool completely at room temperature. Place in the fridge overnight.
Make almond pastry.
Grate butter, set aside.
In a big bowl add pastry flour with ground almond, grated butter and salt. Mix between your hands until combined. Texture must be grainy.
Add muscovado sugar, egg and mix lightly.
Transfer the dough to a counter and knead making fraisage technique. It will be useful to get an homogenous dough but without gluten developed.
Put the heel of the hand over the dough and push to the front little by little to get a merged dough but without being elastic. We can see how to make it in this video.
Once the dough is homogenous, roll it between two teflon sheets into 0,11 inches (3 mm). Diameter dough must be bigger than iron skillet.
Let sit between two sheets over a baking tray in the fridge for 2 hours or overnight.
Place almond pastry into the ring pastry.
Remove teflon sheets and place the pastry over a parchment.
Helping with the ring pastry, cut the base and let sit without remove the ring.
Cut strips, bit higher than the ring height, and place around the base. You must to cut several strips to cover the tart sides. Press which each other to join the ends the strips.
Remove the excess of pastry with a knife to have a perfect edge.
Refrigerate for 1-2 hours.
Make brownie.
Preheat oven at 340ºF.
Chop black chocolate, set aside.
Fill a medium saucepan with water, enough to generate heat but making sure it does not touch the base of the bowl we put on it.
In a bowl resistant to heat add the chopped chocolate and place in the water bath at medium-low heat. Let until it is melted completely.
Once the chocolate has melted, remove from the heat, add the butter at room temperature and mix with a spatula until completely homogenized. Set aside.
In a large bowl add muscovado sugar along with the eggs and beat with rods for a couple of minutes.
Pour the chocolate mixture over the egg mixture stirring constantly, mixture will get thick.
Incorporate pastry flour, previously sifted, and a pinch of salt. Mix with soft movements and wrapping with a spatula of silicone. Finally add pecan nuts, slightly chopped, and mix again.
Remove the pastry * from the fridge, pour the mixture inside and bake for 20 minutes.
Remove from oven and allow to cool completely on a rack.
NOTE: There will be about 3.5 oz (100 g) of brownie batter, you can bake it in a brioche pan next to the tray while baking the tart.
* The ring with the pastry will be placed on a tray lined with baking paper.
At this point we can reserve the cake for the following day, just cover it with film and leave it at room temperature.
Make caramel popcorn.
You can see how to make these caramel popcorn in this post (available in Spanish). Once they are ready and cooled completely,  store them in an airtight container or a bowl covered with film.
There will be more than caramel popcorn we need to decorate the tart, but we can enjoy them watching a movie 😉
Assemble the tart.
Spread chocolate caramel ganache over tart surface. You will have some left over, it will depend on how much you use.
Place two ice cream cones and caramel popcorns.
Dust with some edible gold powder, if you wish.
PRESERVATION: This brownie tart can be stored in the fridge for 6-7 days without problems. Before consuming it, the ideal is to let at room temperature.
NOTES:
With the remaining chocolate caramel ganache you can use it for decorate tarts, fill macarons or decorate cookies like these cookies "Le Goûter".
Caramel popcorn can be stored in a airtight container or zip bag for several days.
I do not have pecans for the brownie … It does not matter, use normal nuts or even hazelnuts, honey peanuts … it will look great too.
Almond does not like … You can omit this ingredient and substitute it for flour or process toasted hazelnuts and use it instead.
I do not have muscovado sugar, can I use panela? Yes, you can use panela. I like, whenever possible in an elaboration, to use unrefined sugar like the muscovado sugar. If you do not have this or another similar, you can use brown sugar (although it is tinted sugar …) or white sugar.
This brownie tart with caramel popcorn is a real bomb, I know … but we also worked really hard all week. We need to take a whim from time to time and doing things that brighten our day. This weekend I encourage you to try it at home and tell me the return that has seemed to you: D
Big hugs and see you on Monday!
Eva