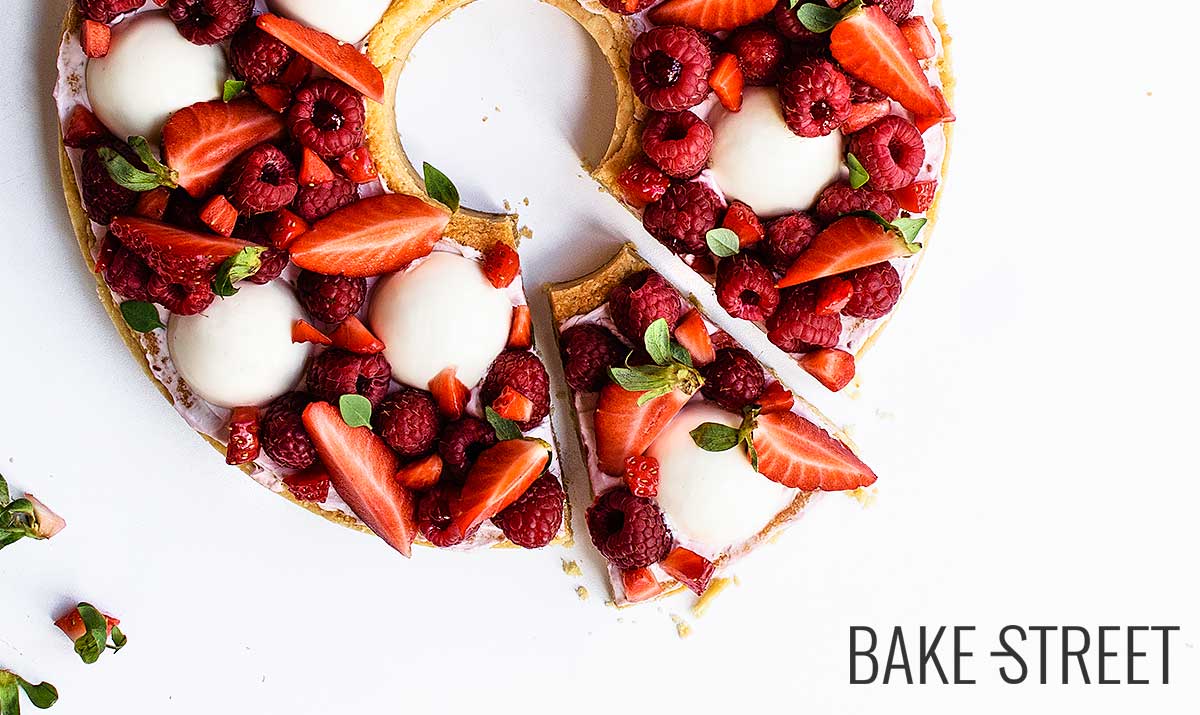 Raspberry, strawberry and almond cream tart
Este post también está disponible en Spanish
As you can see, I'm in pie mode again. I believe that as soon as the first rays of sunshine come out, there is an urgent need in me to prepare recipes made with fruits and vegetables. Although I must admit that I had been looking forward to preparing this raspberry, strawberry and almond cream tart for several months.
Surely you know the famous raspberry cake, tarte aux framboises, by Cyril Lignac, which is the tart on which I have based myself to give rise to the one I am leaving you today. It is made in a crown format instead of the traditional round cake. And I was really looking forward to trying this kind of format. It's different and it looks really attractive. For the filling we will elaborate a cream of almonds with rum, a cream of raspberries and mascarpone and decorate with fruits and a cream panna cotta.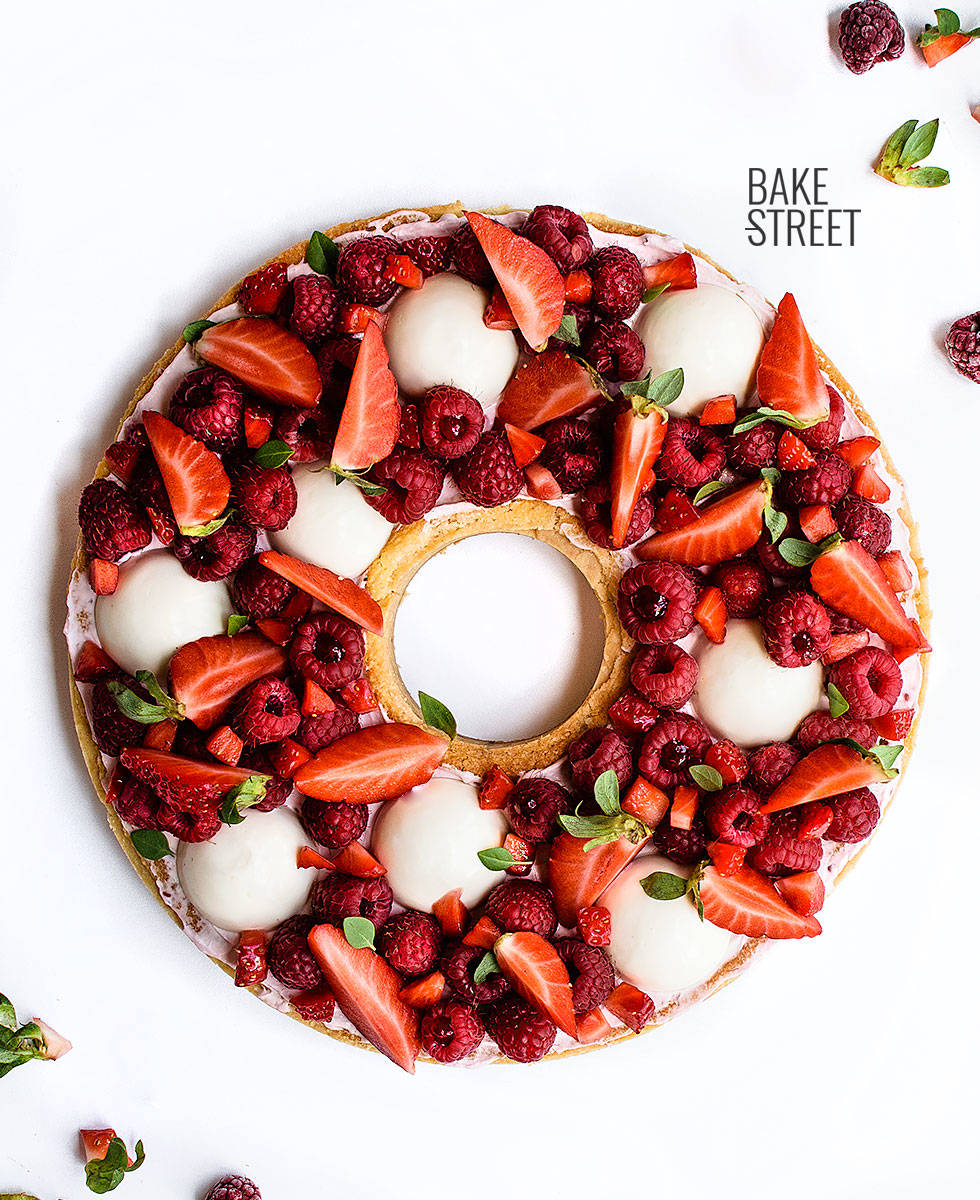 Creating the cake.
To make this cake we will not need a special pan, which is something very common to think about when we see it. All we need is a 24.5 cm diameter ring pastry (or similar) and a 6 cm diameter inner ring. Both metallic. The latter may vary in diameter and be slightly larger. In my case, I had this one and another one with a larger diameter that would leave me a very small cake…
The process for carrying it out is quite simple. We will prepare our pâte sucrée (the recipe I always use in my tarts), stretch and let it cool very well. We cut with the big ring, leaving it in place, and we make another central cut with the smaller ring. Remove the inner circle and place the ring in the hole.
We will cut strips to create the edge of the tart, both large and small, and refrigerate it again to harden. Finally we cut the excess dough with a knife to leave a smooth finish.
Now we'll just have to bake it,  just like we always do. When it comes to placing the paper and weights it will be a little more laborious than on a round tart, but nothing you can't do with a little patience 😉
Fillings.
The tart consists of two types of filling: an almond cream and a raspberry cream. I have to say that the combination is really fantastic. Much more than I could ever have imagined.
First bake the almond cream on top of the pâte sucrée, leave to cool and decorate with the raspberry cream. Both processes are as simple as mixing, so you don't have to do long processes to get the result. One of the things I have modified, for simplicity, is the use of raspberry jam instead of raspberry puree. Both for mascarpone cream and to fill the inside of some raspberries.
Decoration.
Surely many of you know Maja Chocolat, she is a woman with an exquisite elegance. She makes authentic works of art with an incredible taste when it comes to preparing and making sweets. Since I met her virtually a long time ago, I have never stopped following her work. She usually uses a lot of semi-spheres to decorate the surface of her cakes and that was something I had to do. And the time has come.
In my case I prepared a cream panna cotta to decorate the surface. I presented it in this silicone mold. We make the panna cotta, pour it into the mold and refrigerate it until it curdles. The texture I have given it is creamy, so to demould it without breaking it we will have to freeze it and then we will be able to demould it cleanly.
We put it on the cake and that's it. It will take very little time to unfreeze. Then we finish decorating the cake with raspberries, strawberries and some small basil leaves.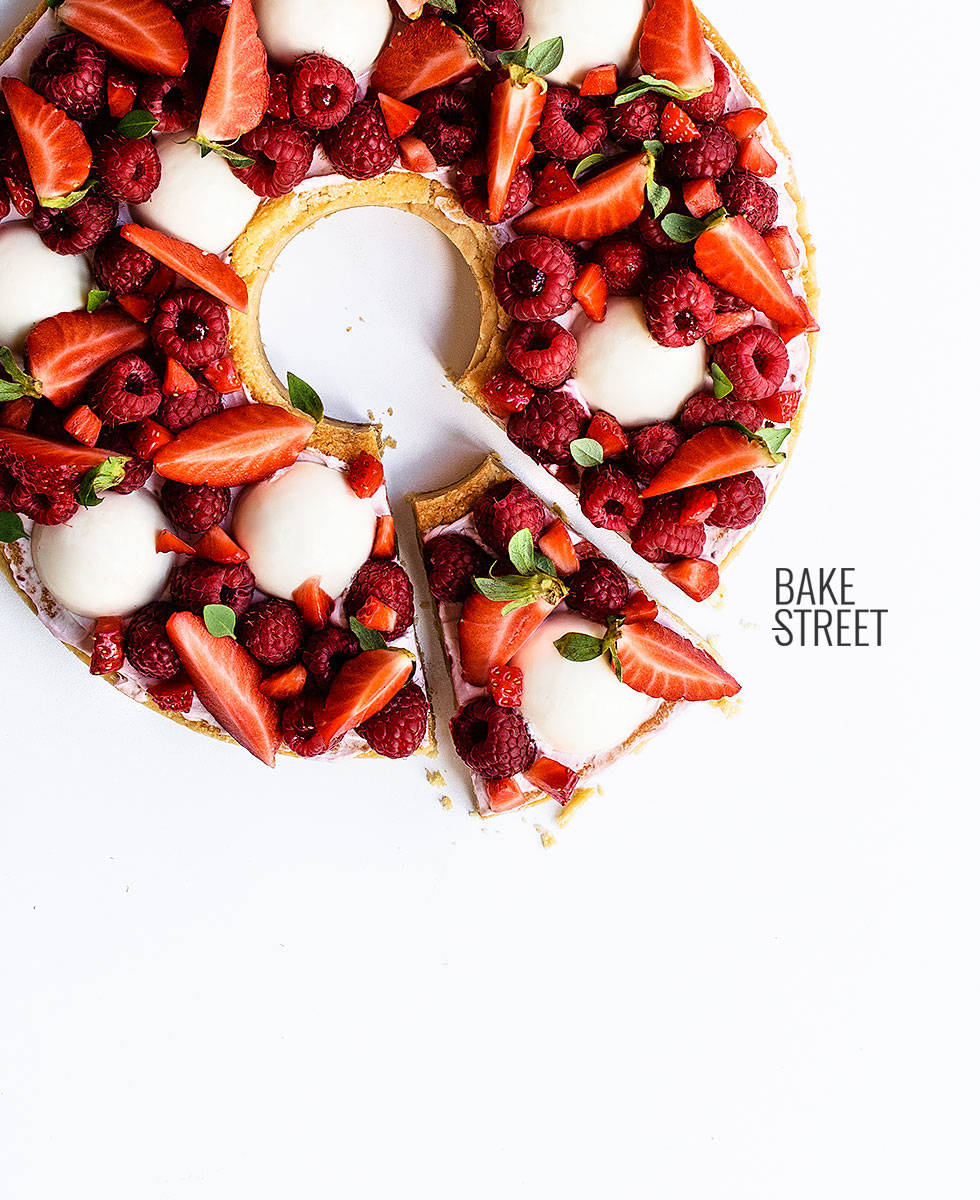 Ingredients for a tart (24.5 cm diameter) 9,6 inches ring pastry
FOR PÂTE SUCRÉE:
8,1 oz (230 g) pastry flour
4.6 oz (130 g) cold butter
1 large egg
0.7 oz (20 g) muscovado sugar
0.07 oz (2 g) salt
FOR THE ALMOND CREAM:
3,5 oz (100 g 9ground almond
2,8 oz (80 g) unsalted butter at room temperature
0,35 oz (10 g) cornstarch
2,65 oz (75 g) sugar
0,35 oz (10 g) rum
1,4 oz (40 g) egg
FOR THE RASPBERRY CREAM:
3,2 oz (90 g) mascarpone or cream cheese
3 oz (85 g) heavy liquid cream, very cool
1,4 oz (40 g) raspberry jam
FOR CREAM PANNA COTTA:
6,7 oz (190 g) heavy liquid cream
1 oz (30 g) whole milk
1 oz (30 g) crème fraîche
0,5 oz (15 g 9honey
1/2 tsp powered plain gelatin
PARA DECORATE:
8,8 oz (250 g) raspberry
strawberries
raspberry jam
basil leaves
Instructions
FIRST DAY
Make pâte sucrée.
Grate butter, set aside.
In a big bowl add pastry flour with grated butter and salt. Mix between your hands until combined. Texture must be grainy.
Add muscovado sugar, egg and mix lightly.
Transfer the dough to a counter and knead making fraisage technique. It will be useful to get an homogenous dough but without gluten developed.
Put the heel of the hand over the dough and push to the front little by little to get a merged dough but without being elastic. We can see how to make it in this video.
Once the dough is homogenous, roll it between two teflon sheets into 0,11 inches (3 mm). Diameter dough must be bigger than iron skillet.
Let sit between two sheets over a baking tray in the fridge for 2 hours or overnight.
Bake the pastry.
Remove teflon sheets and place the pastry over a parchment.
Helping with the ring pastry, cut the base and let sit without remove the ring.
Using the small ring, cut in the middle of the cake and remove the inner disc. Put the small ring back in the middle.
Cut strips, bit higher than the ring height, and place around the base. You must to cut several strips to cover the tart sides. Press which each other to join the ends the strips.
Remove the excess of pastry with a knife to have a perfect edge.
Tap the base with a fork. Refrigerate for 30-40 minutes.

Preheat oven 345ºF.
Remove from the fridge, line pastry with baking paper and fill with ceramic pie weights or uncooked beans.
Bake for 15-20 minutes.
Remove ceramic pie weights and bake for 5 minutes more.
Remove from the oven, with care, and let cool.
Make almond cream.
In the bowl of the Kitchen Aid, or a kneader/ bowl with electric whisk that you have at home, add the butter along with the sugar, ground almonds and cornstarch.
Mix with the help of the flat beater at speed 1 until you obtain a homogeneous cream with a smooth texture.
Add the egg and the rum and mix again until all the ingredients are completely integrated.
Bake almond cream.
Preheat the oven to 345ºF (175ºC).
Fill the base of the tart with the almond cream, leaving a few millimetres without reaching the edge of the dough. We can do it with a pastry bag or pouring and spreading with a spatula.
Bake at medium height for 20 minutes, it will take a light golden color.
Remove and let cool completely.
Make panna cotta.
 In a small bowl, pour the milk and sprinkle the gelatin powder. Leave it to hydrate for 5 minutes.
In a pan pour the cream and add the honey, stir, place over medium low heat and leave until simmer.
Pour this mixture over the milk with gelatin, stir until completely homogenized.
Add the crème fraîche and mix again until obtaining a smooth and homogeneous mixture.
Ladle the mixture in the silicon mold and place in the fridge overnight.
The next morning, place it in the freezer for 3 hours. This step will make it easier to demould without breaking it.
SECOND DAY
Make the raspberry cream.
In a metal bowl, previously cooled in the freezer, add the mascarpone together with the raspberry jam.
Beat with electric whisk until a smooth and homogeneous mixture is obtained.
Pour the cream, very cold, and whisk again. You will notice that the cream will begin to acquire consistency and volume. This is because the cream will be whipped, so be careful not to exceed the whipping time so that it is not cut and lowered.
Refrigerate for 30 minutes before placing it on the tart.
Decorate.
Using a spatula, spread the raspberry cream over the entire surface of the tart. We will try to give it a uniform finish over the entire surface.

Unmold the panna cotta and place it on top of the cake.
Decorate with raspberries, strawberries cut into quarters and somesmall basil leaves.
Finally, put a little raspberry jam in a pastry bag with a filling tip and fill the inside of some of the raspberries.
Serve.
Notes
The tart is made in a (24.5 cm diameter) 9,6 inches ring pastry.
I do not have muscovado sugar, can I use panela? Yes, you can use panela. I like, whenever possible in an elaboration, to use unrefined sugar like the muscovado sugar. If you do not have this or another similar, you can use brown sugar (although it is tinted sugar …) or white sugar.

You can omit the rum in the almond cream if you wish or replace it with another liqueur that you like.
To obtain the exact amount of egg required by the recipe, beat one egg in a bowl and pour until you have the amount you need.
Mascarpone can be substituted by cream cheese or even to elaborate it only with cream and jam of raspberry if you wish it.

The panna cotta can be presented in the molds of your choice. In my case, I've left you that suggestion of presentation. Remember to freeze it for easy demolding.
Preservation: We can keep it refrigerated in an airtight container for 3-4 days.
I recommend you to try this raspberry, strawberry and almond cream tart. The combination of both fillings together with all the superior fruit, gives rise to a very fresh and soft cake. In addition to being visually very attractive with so much color.
No doubt it is perfect to prepare when you have a special occasion, a birthday.... or simply if you want to surprise your family during the weekend.
Have a wonderful Wednesday!
Big hugs,
Eva
Archivado en