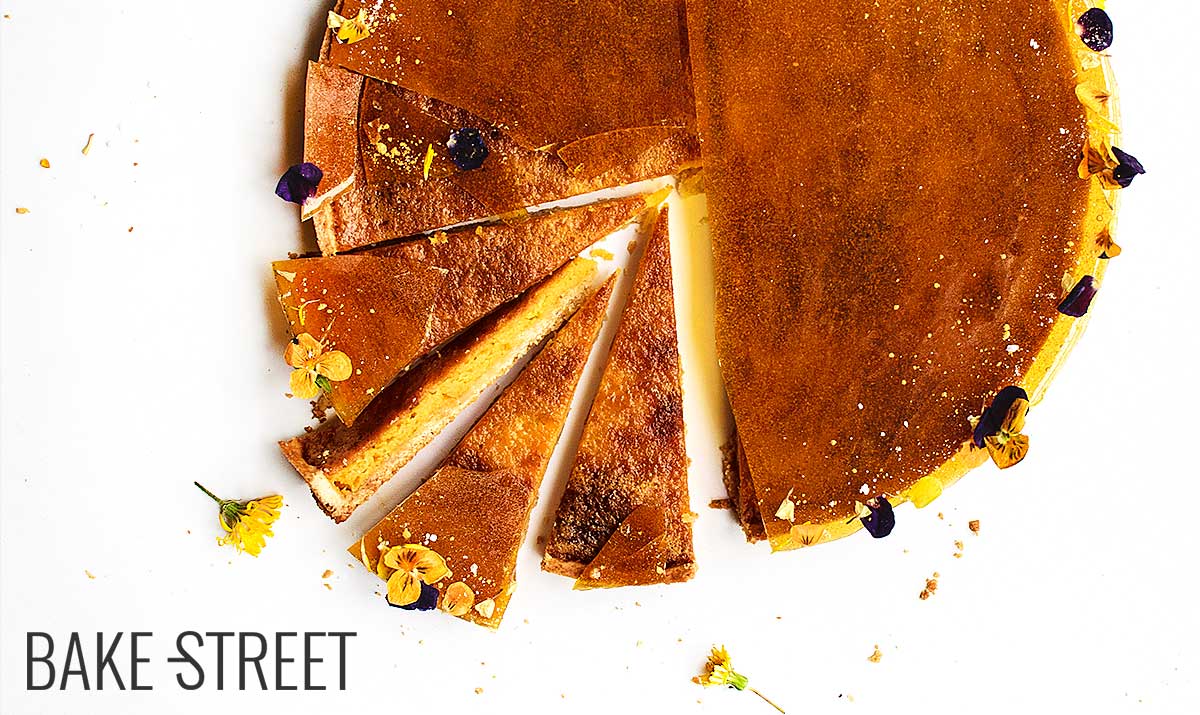 Yolk, orange and caramel tart
Este post también está disponible en Spanish
If there is a flavour in confectionery that takes us back to traditional sweets, it is those made with yolk. Tocino de cielo, sweet egg yolk, Saint Teresa's egg yolks, flan, quindim….. What we would nowadays call "old food". Its taste, at least in my case, gives me the feeling of being a handmade and well-cared for product. Today, I'll leave you a yolk, orange and caramel tart.
To tell you the truth, I didn't really know what the result would be after baking it. Maybe you think how can I do something I didn't know what it was going to be like. I'll tell you about it.
Making the tart.
A few weeks ago I was browsing through several of my books for recipes and inspiration. When I arrived at "Baking and Pastry" (one of my bedside books) I saw that I had a lot of post-it bookmarks marking several recipes.
This is something I always do, but I mark so many things that as the days go by, I forget many of them. I started to look at what was pointed at, stopped at it and looked at it closely.
It is a book that does not give recipes of a complete elaboration. If not rather, a large number of different parts are specified. Doughs, cake fillings, types of creams, sauces, cake bases, biscuits, ice creams… So you can combine different preparations to create your own.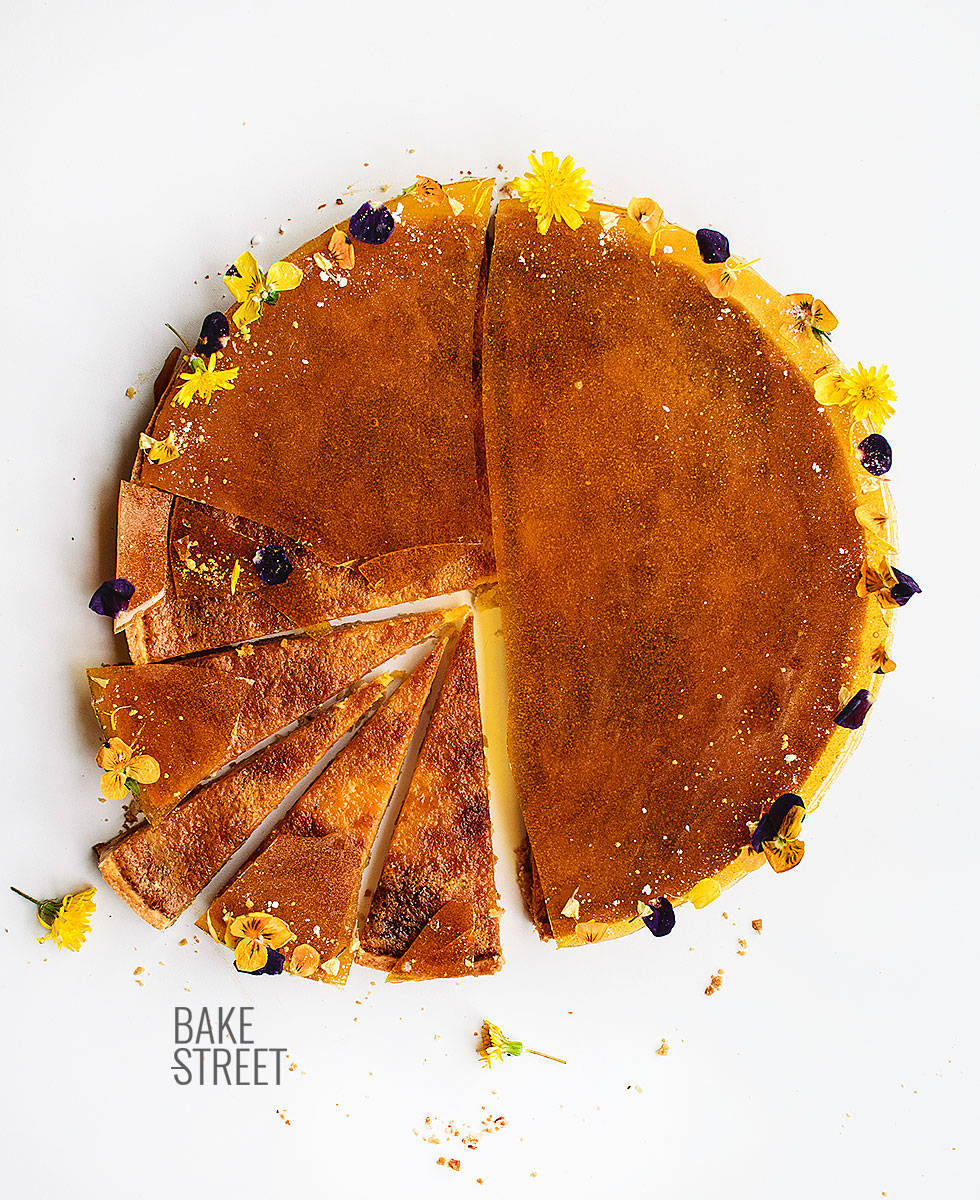 Orange caramel filling.
Just looking at that line, I stopped. I couldn't see a picture of the finished process. As I mentioned above, it is a book with a lot of text. It also has photos, especially to explain more laborious processes. But these types of recipes are only described in words, without pictures.
I read the ingredients and the process, it was simple and very attractive. The flavors promised a lot and I was sure that, despite being classic, it was going to look good.
So I made my dough for the base of the cake, to which I added some ground almonds. I prepared the filling and baked it.
I have to admit that when the tart came out of the oven I thought, "Oh, my God, how am I going to decorate this cake?"-.
Looking for an idea to decorate it.
The problem I had is that a cake like this can't be decorated with any element. Its taste reminds me a lot of yolk nougat or a dense cream of yolk and caramel (with a touch of orange). So, as you can guess, it's sweet. And very classic.
I thought about a lot of options until I decided I had to do something with caramel. It was one of the ingredients of the cake and it would not break either the aesthetics or the flavor. Now I had to think about how I would use it.
I was looking for a simple, clean and elegant decoration. I wanted to keep it looking like a classic pastry, but pulling towards a more current line. Then it occurred to me to make a caramel disc that would occupy the whole surface and that I would place on the tart. Then I would just decorate the edges with some flowers and a edible golden dust.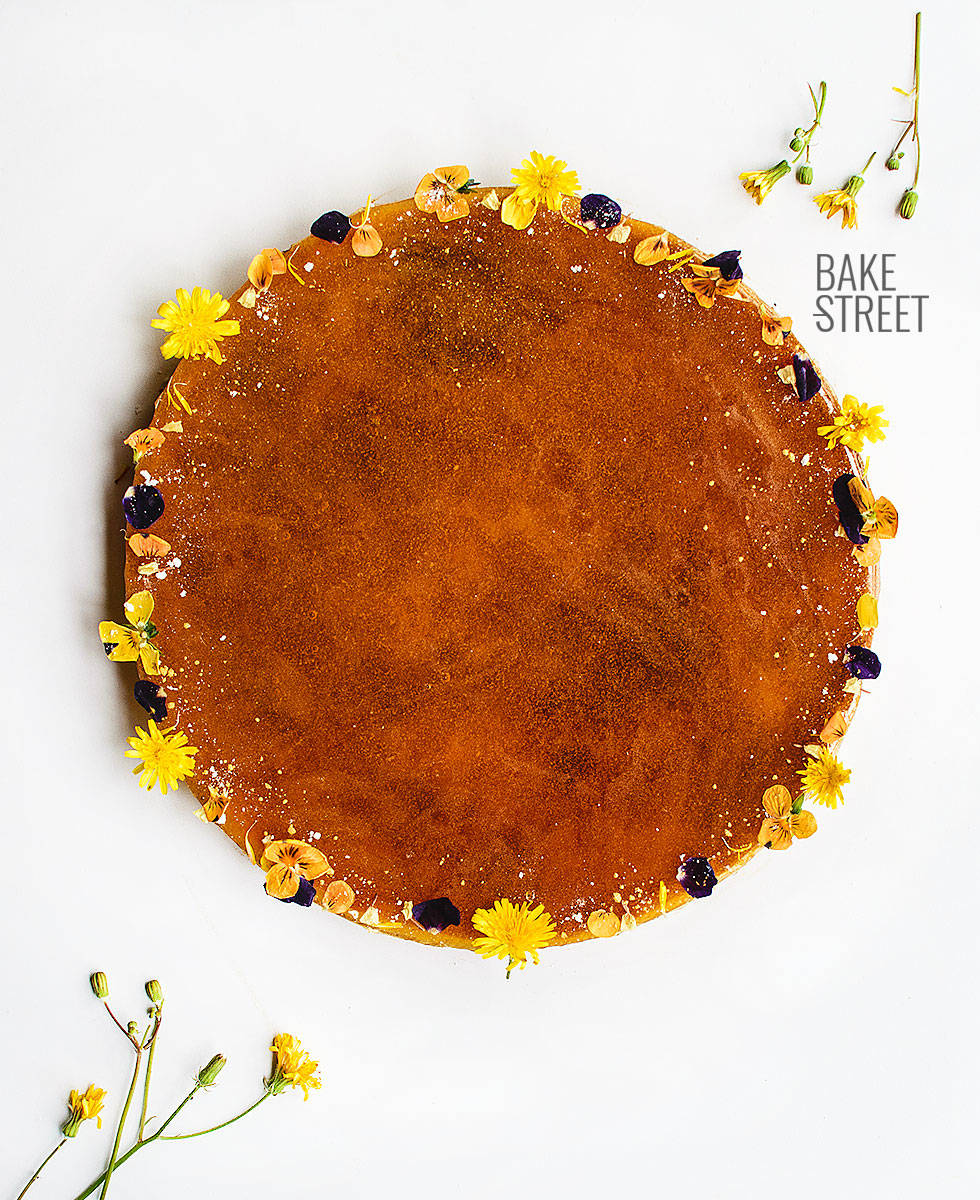 Ingredients for a tart (24.5 cm diameter) 9,6 inches ring pastry
FOR THE ALMOND PASTRY:
6.9 oz (195 g) pastry flour
1.2 oz (35 g) ground almond
4.6 oz (130 g) cold butter
1 large egg
0.7 oz (20 g) muscovado sugar
0.07 oz (2 g) salt
FOR THE EGG, ORANGE AND CARAMEL FILLING:
9,85 oz (280 g) heavy cream
8,1 oz (230 g) orange or tangerine juice, if you prefer
3,5 oz (100 g) sugar
3,9 oz (110 g) egg yolks, about 6 units of large eggs
1 tsp vanilla extract
FOR THE CARAMEL DISC:
8,1 oz (230 g) sugar
edible flowers
edible golden dust
Instructions
Make almond pastry.
Grate butter, set aside.
In a big bowl add pastry flour with ground almond, grated butter and salt. Mix between your hands until combined. Texture must be grainy.
Add muscovado sugar, egg and mix lightly.
Transfer the dough to a counter and knead making fraisage technique. It will be useful to get an homogenous dough but without gluten developed.
Put the heel of the hand over the dough and push to the front little by little to get a merged dough but without being elastic. We can see how to make it in this video.
Once the dough is homogenous, roll it between two teflon sheets into 0,11 inches (3 mm). Diameter dough must be bigger than iron skillet.
Let sit between two sheets over a baking tray in the fridge for 2 hours or overnight.
Bake the pastry.
Remove teflon sheets and place the pastry over a parchment.
Helping with the ring pastry, cut the base and let sit without remove the ring.
Cut strips, bit higher than the ring height, and place around the base. You must to cut several strips to cover the tart sides. Press which each other to join the ends the strips.
Remove the excess of pastry with a knife to have a perfect edge.
Tap the base with a fork. Refrigerate for 30-40 minutes.
Preheat oven 345ºF.
Remove from the fridge, line pastry with baking paper and fill with ceramic pie weights or uncooked beans.
Bake for 15-20 minutes.
Remove ceramic pie weights and bake for 5 minutes more.
Remove from the oven, with care, and let cool.
Make the filling.
Pour the cream into a saucepan with the vanilla and bring to a gentle boil. Remove from heat and set aside.
Put the sugar together with the orange juice into a saucepan and place on medium heat.
Stir occasionally to ensure that the sugar has dissolved completely.
Let the caramel begin to reduce to a lightly caramelised golden color. It will have the same consistency as a traditional caramel.
Pour the cream, carefully and little by little, over the caramel while stirring with a whisk.
Stir at low medium heat until a homogeneous mixture is obtained.
Remove from heat and leave to cool to 104º F (40°C).
Finish the filling and bake.
Preheat the oven to 330ºF (165ºC).
Once the cream caramel mixture has cooled down, pour it over the yolks little by little and beat with the help of a whisk.
Do this until the mixture is completely homogenized.
Pour on the base of the cake and bake for 35-40 minutes. The surface of the cake will be lightly toasted and you will notice that the filling has curdled.
Remove and let cool completely on the tray, the cake will be very tender, and is on a rack.
Make the caramel disc.
In a medium pot or a large saucepan, add the sugar and place on medium heat.
Let it begin to melt without stirring. Once it starts to caramelized, we will stir often to prevent some areas from burning. Reduce the heat a little if necessary.
Once we have a golden caramel, pour it on a silpat (that is not perforated!) placed on a perforated tray and we stretch quickly with the help of a metal spatula.
Place the ring on the caramel, so that it marks the shape in which it should harden, and let it cool completely with the ring on it.
Decorate.
Remove the ring from the caramel.
You will notice that it has acted by making a die-cut, so that it will be very easy for us to remove the caramel that surrounds the disc. Handle it very carefully so as not to break it.
Place the caramel disc over the tart.
Garnish with flowers, edible golden dust and serve.
Notes
The tart is made in a (24.5 cm diameter) 9,6 inches ring pastry.
This dessert serves to take advantage of the yolks that we had left over from the Molotof or any other recipe that leaves us a surplus of them.
Almond does not like … You can omit this ingredient and substitute it for flour or process toasted hazelnuts and use it instead.
I do not have muscovado sugar, can I use panela? Yes, you can use panela. I like, whenever possible in an elaboration, to use unrefined sugar like the muscovado sugar. If you do not have this or another similar, you can use brown sugar (although it is tinted sugar …) or white sugar.

Wait for the cream and caramel mixture to cool down before pouring it over the yolks. Beat, stirring constantly, while combining both ingredients.
I recommend pouring the caramel on a silpat instead of baking paper. The reason is that this will allow us to manipulate the candy while maintaining its shape. While the paper may wrinkle and form folds in the disc.
Preservation: We can keep it refrigerated in an airtight container for 5-7 days.
This yolk, caramel and orange tart is, without a doubt, a Sunday dessert. Yes, it can be eaten any day of the week and at any time. But this flavor.... is one of those that are perfect to finish the weekend meal and accompany the coffee.
At home, they liked its taste very much, but it is also true that they love everything that is made with yolks and caramel. If you like these ingredients too, don't hesitate to take heart from them.
I wish you a great weekend, see you on Monday!
Big hugs,
Eva
Archivado en