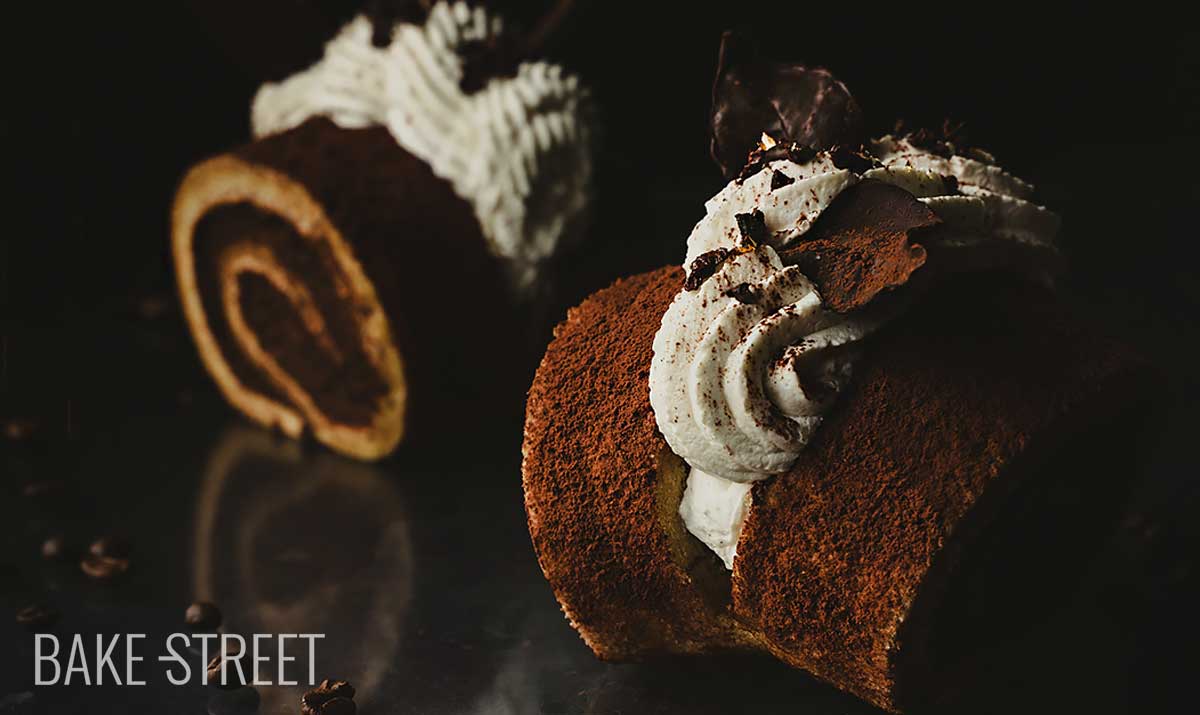 Tiramisu Swiss Roll
Este post también está disponible en Spanish
I have a confession to make. At home we have always liked coffee and we have consumed (and consume) it daily. But, a few weeks ago we have gone a step further in this fascinating world that has so much to offer. It is pure fantasy. And art. I can already tell you that I never thought that transforming a coffee bean into a beverage had so much science, skill, ability and knowledge behind it. How much I have yet to learn… And enjoy.
As you can already guess, going a step further implies investing in some things. In our beginnings, we started to acquire better quality coffee to use it in our automatic coffee maker, then a grinder, and from there we moved on to a better coffee maker…. And so it goes on and on. The fact is that once you get involved, you discover many people who feel a great passion for what they do and share it with the world. They enjoy and let you enjoy. Today I bring you a Tiramisu Swiss Roll made with coffee from one of the roasters, San Agustín, that you should keep in mind if you like to enjoy good coffee at home.
When you don't have much knowledge about the world of coffee, and that's where we all start, we don't notice too much difference. Except that you have a coffee in one place and you like it, to another one you don't like it at all. Until you start to investigate, try, read, search… And everything makes sense. You become more demanding and you are no longer satisfied with just anything.
Although we may think that a coffee bean is a coffee bean, it is not. To achieve flavors, aromas and nuances, not only the type of bean influences, but also how it is worked. In Spain, for the moment, there is not much of a coffee culture. Starting from the premise that here there is a tradition of consuming roasted coffee (the addition of sugar during the roasting of the coffee), something that greatly impairs the final result of this beverage.
Looking for quality coffee.
Whenever we look for quality in a product, we must first find a person who has a true love for his/her work. This is the only way to achieve our goal.
Café San Agustín was started by Luis Ángel Garrido, barista and roaster, located in León, Spain. They work with fresh coffees and current harvests selected from all over the world, since it is a seasonal product, thus guaranteeing its quality.
Their "Omni Roast" roasting method allows them to obtain coffees suitable for both espresso and filter coffees. They work with each type of coffee in a different way, adjusting the type of roasting to highlight its characteristics and enhance the qualities of each variety. Another point to highlight is that they roast the coffee upon request, thus guaranteeing its freshness.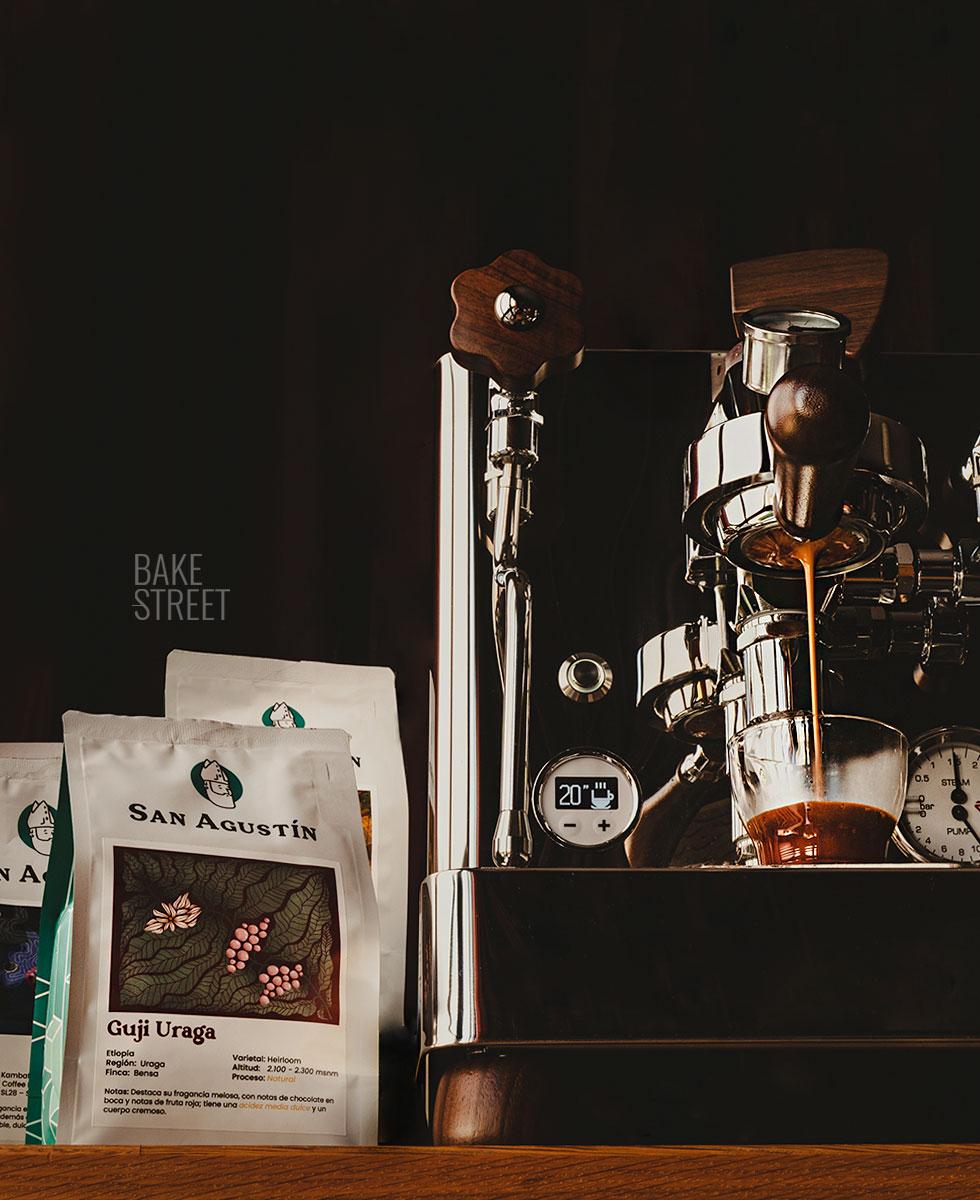 Among their coffees, single origins or blends can be found.
In their store you can find a wide assortment of coffee, although not all of them are always available. At home we have tried 4 of their wonderful varieties (and the ones we have yet to try):
Making Tiramisu Swiss Roll.
The good thing about coffee is that we can not only drink it, but also eat it! Few ingredients can boast this. Sweets made with coffee have always been one of my favorites, in fact I have a few recipes on my website.
For this occasion I wanted to prepare a preparation that was easy to carry out, colorful and that made us enjoy a lot. I know that what you most like are simple recipes with which you can surprise your family and friends. Of all the elaborations with coffee that I have shared with you, the one that you have liked the most and that you have made the most is the Tiramisu Cake, along with the Brownie Coffee Mousse Cake. So I have decided to version, once again, this famous dessert and make it a little easier if possible.
This is an individual dessert consisting of a super tender and moist sponge cake, which I left you some time ago to prepare this Autumn Swiss Roll Brioche, with a filling of coffee chocolate cream, based on chocolate and yolks cream  that I prepared for Baron Torta, accompanied by a mascarpone cream flavored with natural vanilla.
The difference in the presentation of a sponge cake roll is that we will cut it into individual portions. In addition, we will simulate in its presentation as if it were a sandwich. To do this, once we have cut the sponge cake portion, we will cut it in half without separating it and fill it with the mascarpone cream. It is a different and original way to present a simple and classic dessert.
Finally, we will only have to decorate it with whatever we like; cocoa powder, cocoa nibs…. You can even use fresh fruit or edible flower petals.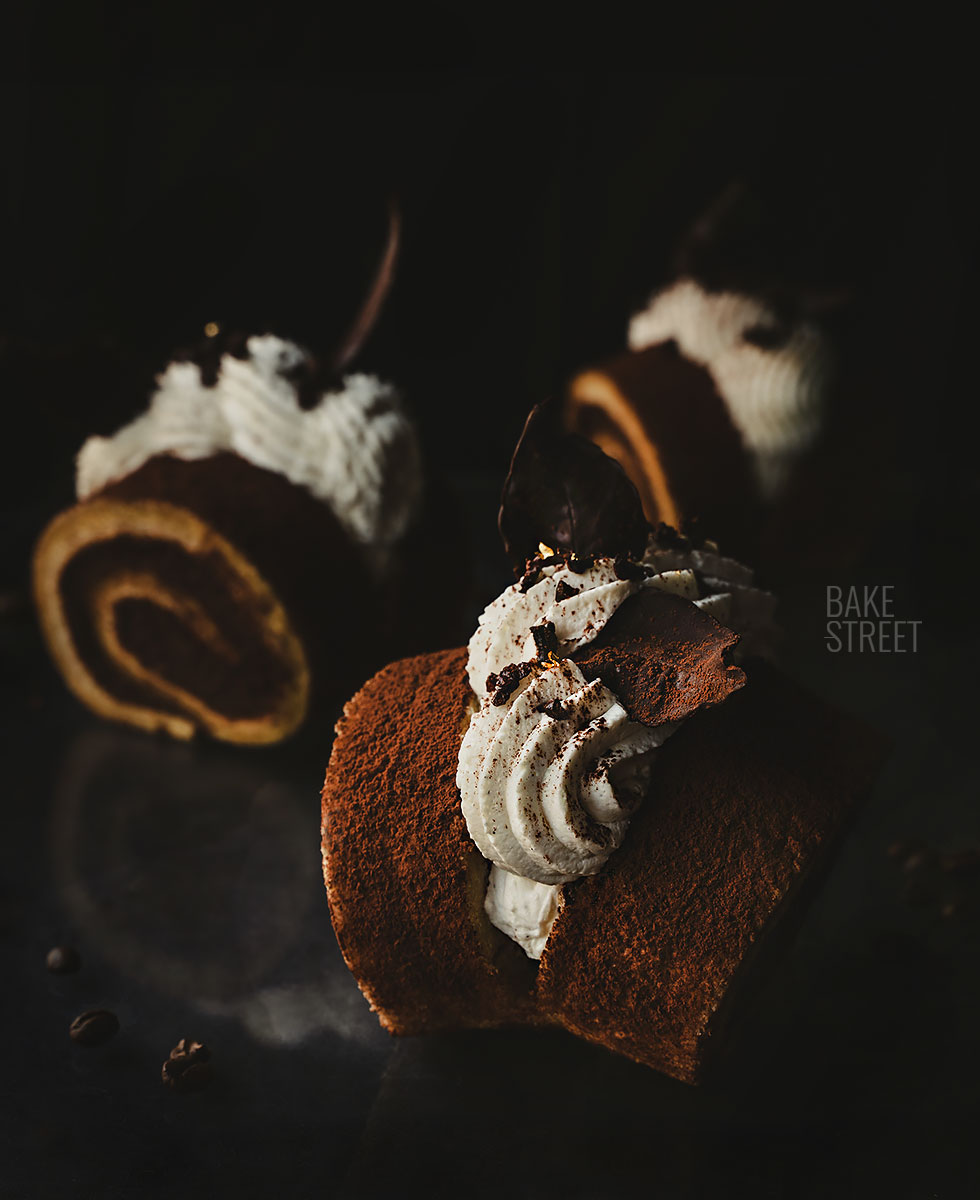 Recipe Tiramisu Swiss Roll
This post is sponsored by San Agustín.
SWISS ROLL:
You can watch the process in this video
Egg yolk mixture:
4 large egg yolks
60 g whole milk, room temperature
45 g sunflower oil
85 g cake flour
3 g baking powder
pinch of salt
Egg white mixture:
4 large egg whites
85 g sugar
COFFEE CHOCOLATE CREAM:
You can watch the process in this video
3 large yolks
 65 g sugar
 14 g unsweetened cocoa powder
 65 g dark chocolate 70%
 100 g heavy cream
20 g freshly brewed coffee, I have used Guji Uraga by San Agustín
50 g unsalted butter at room temperature
MASCARPONE CREAM:
265 g heavy cream, very cold
150 g mascarpone, very cold
55 g powdered sugar
1 tsp natural vanilla extract
FOR DECORATING:
unsweetened cocoa powder
chocolate leaves
gold leaf
caramelized cocoa nibs
Instructions
Prepare coffee and chocolate cream.
Place a saucepan with water and heat until it begins to steam, but never boil.
Put a heat resistant bowl over the saucepan and pour in the egg yolks and sugar.
Cook in a bain-marie, stirring constantly with the help of a whisk until the mixture reaches 149ºF/65ºC. You will notice that the yolks become whitish and thicken slightly.
Add the cocoa powder and mix with the whisk until it is completely integrated. Turn off the heat of the bain-marie, but keep the bowl on the saucepan.
In a saucepan, heat the cream together with the freshly brewed coffee, but do not bring to the boil.
Add chopped chocolate and the hot cream to the egg yolk mixture and mix with a whisk until smooth and homogeneous.
Pour the mixture into a glass bowl and let it cool to room temperature. Once it has cooled, refrigerate for 3 hours.
Finish preparing coffee and chocolate cream.
In the bowl of the KA add the butter and mix with the flat beater to soften it.
Switch to the whisk and beat for 3-4 minutes at medium speed.
Stop, remove the butter from the whisk and the sides, add a little of the chocolate mixture and beat. Start on the lowest speed and increase until you reach medium speed. You will notice that the mixture is brown and very creamy.
Continue adding, little by little, the chocolate mixture to the butter and beating very well after each addition.
Once all the chocolate is integrated, beat for 1-2 minutes at medium-high speed. You will notice that the texture of the cream is very smooth, creamy and airy.
Pour into a bowl, cover with plastic wrap and refrigerate for 15 minutes.
Prepare Swiss Roll.
Prepare yolk mixture for the sponge cake.
Pour sunflower oil to a frying pan and place over medium heat. Let it heat up, but do not let it smoke.
Once it has reached this point, add the flour and mix with a wooden spoon. Stir until both ingredients are fully integrated, resulting in a dense, crumbly, blond-coloured dough.
Pour into a glass bowl and leave to cool completely.
Once it has cooled, add the flour mixture into a large bowl. Pour in the milk and mix with a whisk.
Incorporate the egg yolks and mix again, to achieve a smoother texture.
Add the pinch of salt together with the baking powder and the vanilla, mix again until homogenised.
Set aside.
Prepare meringue for the sponge cake.
Line a 25 x 38 x 2.5 cm rectangular baking tray with baking paper and set aside.
In the bowl of the KitchenAid, add the egg whites and begin to whip.
Once they start to foam, add 1/3 of the total sugar. Start increasing the speed progressively until you reach medium-high speed.
Add the rest of the sugar in two more batches.
Whip the egg whites until soft peaks are achieved, we are not looking for stiff peaks.
Mix the egg yolk mixture with the meringue.
Start adding the meringue, in batches and with gentle, enveloping movements. In my case I have used a whisk, it is very easy for both mixtures to integrate well if we work the dough gently and without stirring hard.
Pour into the mould and bake.
Preheat the oven to 355ºF/180ºC with heat up and down. Remember to preheat it before starting to make the sponge cake.
Pour the mixture into the baking tray and smooth the surface with a spatula or scraper.
Place in the oven at medium heat and bake for 15 minutes.
Remove from the oven, unmould and leave to cool on a wire rack.
Prepare sponge cake for rolling.
Carefully remove the baking paper.
Cut the sides to obtain a clean cut.
This time, roll the sponge cake on the narrower side, so as to obtain a thicker roll. Cover the surface with the coffee and chocolate cream, making sure to place more of it at one end. Remember that it should be on one of the sides with less width.
Carefully roll it up on itself. Once it is rolled, stretch the paper and adjust.
Cover with plastic wrap and refrigerate for 2-3 hours or until the next day.
Assemble Tiramisu rolls.
Using a serrated knife, cut the ends of the roll to achieve a clean finish.
Divide the roll into three equal portions. If desired, we can cut narrower portions. To achieve a clean cut, we saw to one side, remove the knife, clean it and cut again sliding only to one side. In this way we avoid moving the filling and staining the cake.
Brush the outside of the cake with cocoa powder. If we use a pastry brush, we will avoid using an excess of cocoa powder. In addition, it will help it to adhere smoothly.
Refrigerate while preparing mascarpone cream.
Prepare mascarpone cream.
Cream must be cold 24 hours before used it.
The bowl in which we are going to make whipped cream must be cold (recommended).
Pour heavy cream along with mascarpone cheese and icing sugar into a bowl and whisk with an electric mixer into low speed.
Increase speed gradually but without reaches high one. Ideally use medium speed.
Before finish to beat the cream, add vanilla extract and whisk until get a perfect whipping cream. Be sure not to over-beat, otherwise cream will become lumpy and butter-like.
Transfer to a piping bag with 6B Wilton nozzle and BS 118.
Place in the fridge until used it.
Decorate.
Make a cut in the upper part of the sponge cake reaching only half of the piece. Our purpose is to create a kind of sandwich that does not separate.
Pipe a line of mascarpone cream on the inside and then a curled one.
Sprinkle with cocoa powder, decorate with caramelized cocoa nibs, chocolate leaves and gold leaf.
Serve.
Notes
If we don't have a baking tray with the dimensions that I detail, we can pipe the batter on a tray to give it shape and bake it. In this post you can see how to do it.
The sponge cake is very elastic, so it is not necessary to roll it while hot to prevent it from cracking.
Do not omit the step of cooking the flour with the oil, thanks to this process we obtain a sponge cake with these characteristics.
If we exceed the baking time in the oven, we run the risk of drying out the sponge cake. This will not only affect the texture, but will also result in a dry product that will crack easily when rolled.
The size of the tray or the thickness of the sponge cake, if we pipe it, will directly influence the final baking time.
Coffee and chocolate cream needs a long process of preparation, plus hours of rest to cool and acquire the desired consistency. If you wish, you can make the cream before the sponge cakes and thus speed up the process.
It is important to use a good coffee for the result to be adequate. A quality coffee will provide a lot of aroma and flavor, even incorporating only 20 g as in this preparation. On the contrary, if we use a soluble coffee for example, it is very possible that we will need to enhance the flavor with artificial aromas to achieve a creamy coffee flavor and aroma.
Coffee and chocolate cream loses its firmness as soon as it reaches 70º-71ºF/21º-22ºC, so we will have to refrigerate the cake in several moments to be able to work without problems.
Decoration is entirely optional, we can omit some of the elements if we wish.
Tiramisu rolls can be kept refrigerated for 2 days if they contain mascarpone cream or we can wrap them individually in film and keep them refrigerated (and wrapped in film) for 4-5 days.
I can already tell you that this Tiramisu Swiss Roll is going to fascinate you. Not only because it is a simple dessert that will allow us to look like kings, but also because its result is spectacular... Coffee and chocolate cream I can eat it in spoonfuls. As if it were a mousse.
The whole is wonderful, for me it is undoubtedly the finishing touch to any menu. Do not forget to accompany it with a good cup of coffee. Because coffee is always welcome, whether it is in cortado, with milk, espresso, on the rocks, with liqueurs.... It is the ideal companion for all desserts!
Needless to say, I can't wait to see yours... This part is always one of my favorites!
Lots of love,
Eva
Post sponsored by San Agustín.
Archivado en