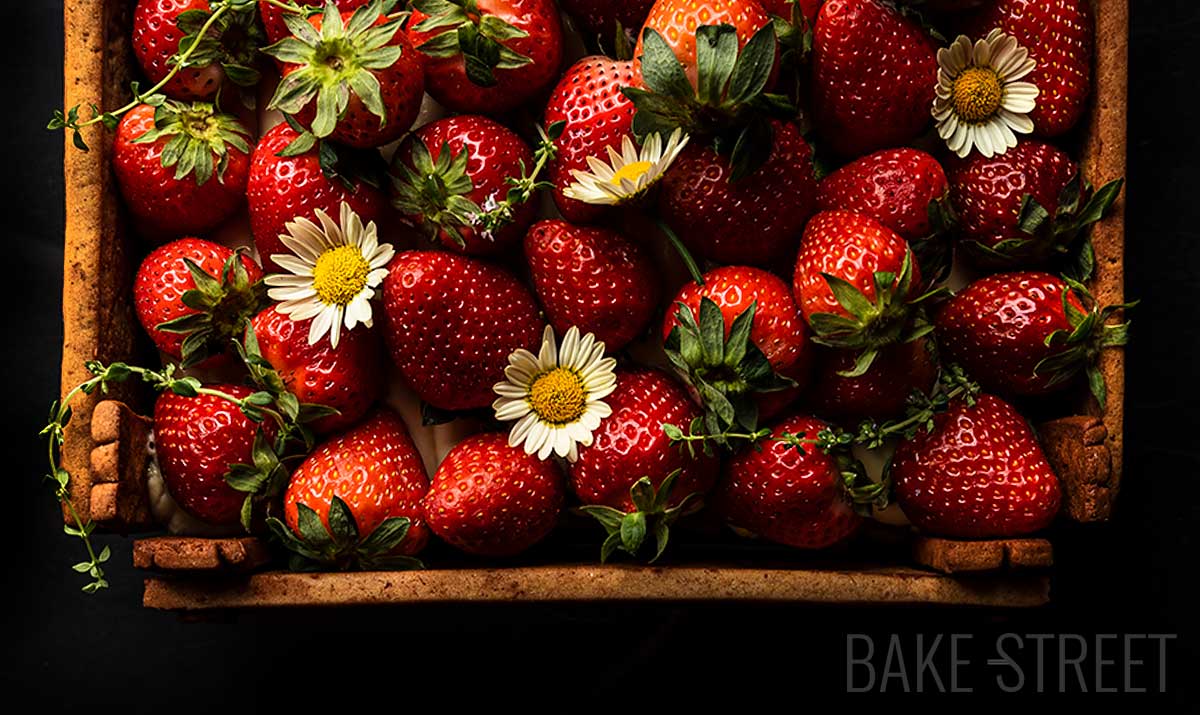 Strawberry Box Cake with yuzu namelaka
Este post también está disponible en Spanish
I'm finally getting back to baking cakes. Don't think that I don't want to make them anymore, far from it. It is one of the elaborations that I most like to carry out because they allow me to extend my creativity much more than other elaborations. In fact I have many pending that, I hope, I can share very soon. Today I bring you this Strawberry Box Cake with yuzu namelaka that, I consider, is an ideal preparation to celebrate Mother's Day.
Although in reality we can make it for any day, event, celebration …. Or simply to enjoy just for the sake of it. But as this day is just around the corner, it can be a good excuse to get into the kitchen.
I've been wanting to make this cake for a long time because its appearance is so simple and attractive, that I had to make one and leave it here. I'm not going to deny that despite being a simple cake to make, it requires several elaborations and processes to get it ready. But if we organize ourselves well, it will only take a couple of days.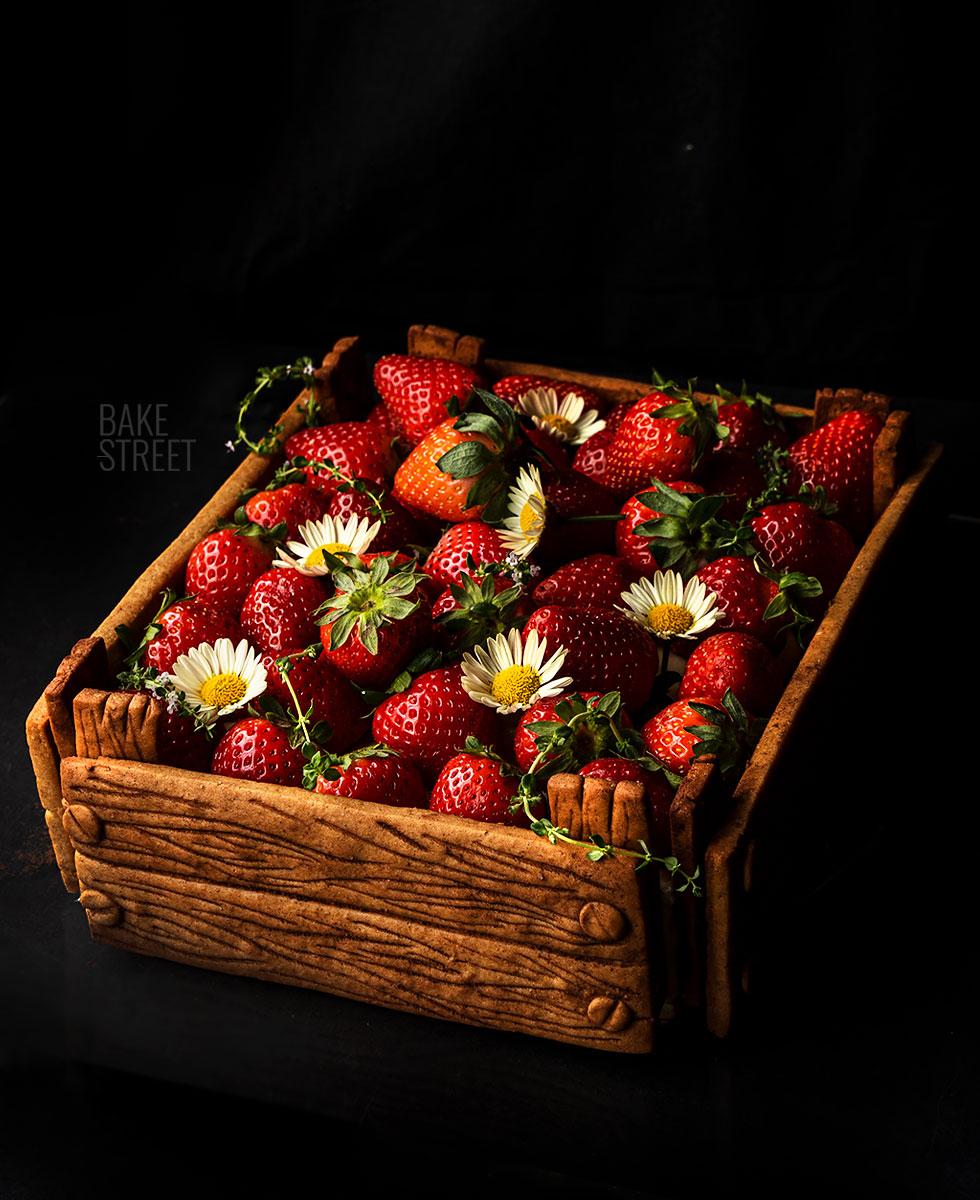 Making the Strawberry Box Cake with yuzu namelaka.
To make this cake we will elaborate a sponge cake that, personally, I consider to be an absolute marvel. The result is an incredibly tender, fluffy and elastic cake. Not to mention how well it supports all kinds of fillings and, in addition, it is not necessary to syrup it. I have already made this cake on other occasions, as in these Autumn Swiss Roll Brioche.
Its elaboration process is quite particular, but trust me. The result is extraordinary.
On the other hand, we will have to elaborate the wooden planks which, of course, are made with cookie dough. I looked a lot to choose a suitable recipe because I wanted it to be able to withstand well the humidity of the filling, of the refrigerator and to remain stable. In the end I opted to use the cookie recipe I left you for Dorothy's House, The Wizard of Oz. It is a perfect dough for this type of purpose. The only difference is that instead of using spices, I omitted these and instead used natural vanilla extract.
It is a dough that allows sculpting or modeling very well, it does not lose its shape in the oven and they are also very good.
For the filling we will use strawberry jam and yuzu namelaka.
Namelaka means "very creamy" in Japanese. This cream is a creation of the Valrhona School (École du Grand Chocolat), which did not take long to gain popularity.
Its ingredients are very simple considering the results; milk, cream, glucose, gelatin and chocolate. It can also be flavored with fruits, nuts or aromatic herbs.
Namelaka cream is not the same as a creamy cream, since it does not contain eggs and the proportion of fat content is lower. The technique used to make the preparation very creamy is the addition of gelatin. Namelaka could be said to be somewhere between a ganache and a panna cotta, creamy, but much lighter than a ganache and with less consistency than a panna cotta.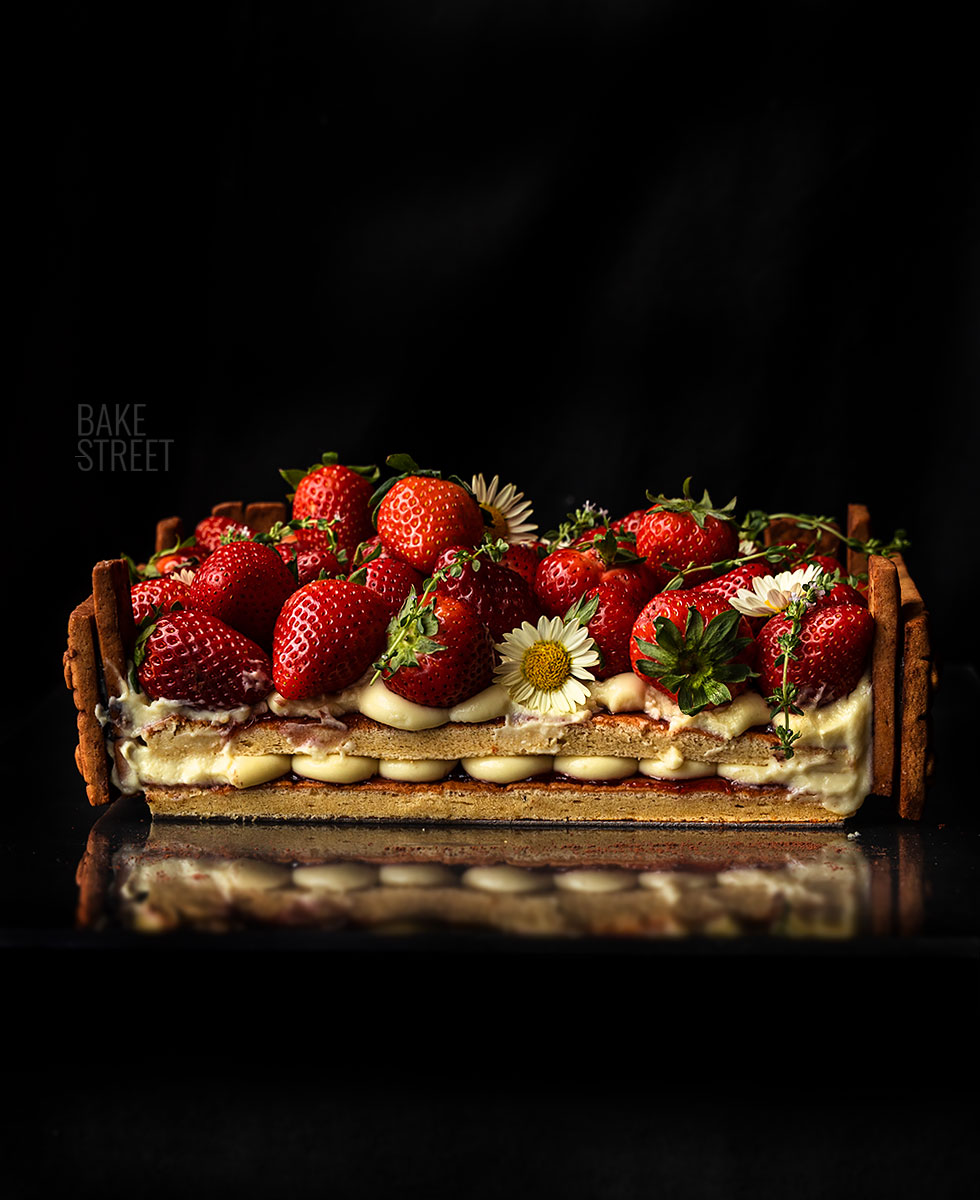 Once we have all our elaborations ready, we will only have to assemble it.
The assembly of this cake is quite simple, and it allows us to leave it prepared in advance, keeping it in perfect condition. It is as simple as spreading it out, piping it without the need to be a master pastry chef and placing the "wood" on the sides. I would advise you to place the strawberries as late as possible, in case the cake is going to be assembled several hours before.
You could cover the surface of the strawberries with cake gloss to preserve them better. But in this case I have the feeling that the final result would be very artificial and would not look good. But if you consider it appropriate, use it.
To finish, we can place some daisies, sprigs of thyme, fresh oregano… And achieve that country look.
Recipe Strawberry Box Cake with yuzu namelaka
HONEY & VANILLA COOKIES:
280 g AP flour
220 g pastry/cake flour
115 g white sugar
115 g dark muscovado sugar (you can use panela if you wish)
85 g honey
2 large eggs
115 g unsalted butter at room temperature
2 tsp natural vanilla extract
pinch of salt
20 g dark chocolate (to join the wood boards once they have been baked)
SWISS ROLL:
Recipe by Guai Shu Shu
Egg yolk mixture:
4 large egg yolks
60 g whole milk, room temperature
45 g sunflower oil
85 g cake flour
3 g baking powder
pinch of salt
Egg white mixture:
4 large egg whites
85 g sugar
YUZU NAMELAKA:
150 g whole milk
15 g liquid glucose
4 g gelatine sheets
270 g white chocolate
300 g heavy cream, cold
30 g yuzu paste (mine is Sosa brand)
DECORATION AND FILLING:
600-700 g strawberries
strawberry jam, about 100-150 g
sprigs of thyme
daisies
unsweetened cocoa powder, for painting the cookies
MATERIAL WE WILL NEED AND VISIBLE IN THE VIDEO:
bowls
silicone spatula and pastry spatula
teflon sheet and silpat
saucepan, mine is from DeBuyer*
whisk
digital kitchen thermometer
hand blender
ceramic container Emile Henry* (where I keep the yuzu namelaka)
rectangular tray 25 x 38 x 2'5 cm (for baking the cake)
cooling rack
rotating cake stand (optional)
pastry bag + smooth nozzle 1 cm diameter
*You have a 5% discount on the website Claudia&Julia using this code BAKESTREET. Delivers throughout Europe.
Instructions
Prepare honey and vanilla cookie dough.
In a saucepan add the honey together with the two types of sugar.
Place over medium low heat and, stirring from time to time, let the ingredients melt and integrate completely.
Remove from heat and set aside.
In the bowl of the KitchenAid add the butter, with the help of the flat beater, start beating on speed 1. Add the molasses that we have prepared in a continuous thread. Mix on speed 1 until a homogeneous mixture is obtained.
Add the eggs, one at a time and wait to add the second one when the first one has been integrated.
Add the vanilla together with the salt and mix again.
Begin to integrate the flour little by little. Mix until it is completely integrated and add more flour. We will make this step until we add the totality of the flour.
Dump the dough on a clean work surface and knead a little with your hands.
Flatten slightly and wrap with plastic wrap or place in a freezer bag.
Let it rest at room temperature for 2-3 hours.
Roll out the cookie dough.
Stretch the dough between two Teflon sheets. We will give it a thickness of 6 mm with the help of an adjustable rolling pin. It is possible that not all the dough will fit in the tray, so we cut a piece and stretch it separately.
Refrigerate for 3-4 hours or until the next day.
Cut the cookies.
To form the strawberry box, we need to create planks to cover the sides. In my case I cut two rectangles of 19'5 x 5 cm and two other rectangles of 15 x 5 cm. These are the measurements of my cake, remember that if yours is different, you must adjust the measurements to the size of the cake.
On the other hand, we will cut 8 small rectangular boards with the measures of 6'5 cm x 2 cm.
Whenever you have to move the cookies, once cut, I advise you to keep them cold to prevent them from losing their shape.
To texturize the boards and create a "more real" effect, we will create lines on each plank with the help of a knife. In the video I show you how to do it.
If you wish, you can also create small screws in the large planks that hold the small planks.
Refrigerate for 2 hours.
Bake.
Preheat the oven to 330ºF/165ºC with heat up and down.
Bake directly from the refrigerator. Place at medium height and bake for 15-18 minutes, making sure they do not brown too much.
Remove and let them cool completely on a wire rack.
Once all the cookies are baked, let them rest at room temperature for 14-16 hours in a cool, dry place, if possible.
Finish decorating the cookies.
Once they have cooled completely, brush the surface of all the cookies with cocoa powder. This will give the appearance of depth.
To attach the small wooden boards to the larger ones, we will use chocolate. In my case I used 20 g of dark chocolate. You can use another variety if you wish.
Melt the chocolate and place small amounts on the small planks, remember to adjust beforehand so that they fit perfectly.
Place the larger plank on top of them and press gently.
Repeat the same process with the rest of the pieces.
Let it harden completely.
Prepare yolk mixture for the sponge cake.
Pour sunflower oil to a frying pan and place over medium heat. Let it heat up, but do not let it smoke.
Once it has reached this point, add the flour and mix with a wooden spoon. Stir until both ingredients are fully integrated, resulting in a dense, crumbly, blond-coloured dough.
Pour into a glass bowl and leave to cool completely.
Once it has cooled, add the flour mixture into a large bowl. Pour in the milk and mix with a whisk.
Incorporate the egg yolks and mix again, to achieve a smoother texture.
Add the pinch of salt together with the baking powder and the vanilla, mix again until homogenised.
Set aside.
Prepare meringue for the sponge cake.
Line a 25 x 38 x 2.5 cm rectangular baking tray with baking paper and set aside.
In the bowl of the KitchenAid, add the egg whites and begin to whip.
Once they start to foam, add 1/3 of the total sugar. Start increasing the speed progressively until you reach medium-high speed.
Add the rest of the sugar in two more batches.
Whip the egg whites until soft peaks are achieved, we are not looking for stiff peaks. You can see the consistency in the video.
Mix the egg yolk mixture with the meringue.
Start adding the meringue, in batches and with gentle, enveloping movements. In my case I have used a whisk, it is very easy for both mixtures to integrate well if we work the dough gently and without stirring hard.
Pour into the mould and bake.
Preheat the oven to 355ºF/180ºC with heat up and down. Remember to preheat it before starting to make the sponge cake.
Pour the mixture into the baking tray and smooth the surface with a spatula or scraper.
Place in the oven at medium heat and bake for 15 minutes.
Remove from the oven, unmould and leave to cool on a wire rack.
Once it has cooled, cut the ends with a knife.
Divide the piece into two equal parts. In my case, the result was 2 rectangles of 19 x 15 cm, approximately.
Wrap with film, individually, and set aside.
Prepare yuzu namelaka.
Hydrate the gelatin in very cold water 20 minutes before working with it.
In a saucepan, add the milk and glucose. Place over medium-high heat and bring to a boil.
Once it comes to a boil, turn off the heat and add the drained and previously hydrated gelatin. Mix with a whisk until completely homogenized.
Pour 1/3 of the mixture over the melted chocolate, stir well with the whisk to homogenize. The mixture may thicken, this is normal, do not worry.
Add another small amount and mix again. Repeat this step until all the milk has been blended.
Once the whole quantity of milk is incorporated, mix with the whisk until its temperature is reduced to 104ºF/40ºC.
Incorporate yuzu paste and mix again until homogenized.
Beat with a hand mixer to help it blend perfectly.
Finally, add the cold whipping cream and beat with the hand blender to emulsify.
Cover with cling film and refrigerate for 12-24 hours to stabilize.
This cream can be used directly from the cold, it is not necessary to whip or whip it.
Assemble the cake.
Place on a rotating cake stand an anti-slip and, on it, a cake base slightly larger than the cake. Keep in mind that we will place the cookies on it later.... I did not take this into account, do not make this mistake. In my case I cut by hand a round cake base to adjust it to this size.
Place one of the sponge cakes on the cake base.
Spread a thin layer of strawberry jam and on top of it, pipe a layer of yuzu namelaka.
Carefully put the other sponge cake on top of the filling and delicately adjust it.
Spread another layer of strawberry jam on it and pipe the yuzu namelaka on top.
Decorate the outside of the cake.
To place the wooden planks (cookie) that will form the box, we need to attach them to the cake. To do this, pipe a few small mounds of namelaka on the cookie (as I show you in the video) and place them on the sides of the cake. Adjust carefully.
Once they are all in place, if it is hot, I advise you to refrigerate the cake for a couple of hours before placing the strawberries.
Wash the strawberries very well and dry them with kitchen paper.
Place the strawberries on the surface of the namelaka, simulating a strawberry box.
Finally, decorate with daisies and sprigs of fresh thyme if desired.

Serve or keep refrigerated until ready to eat.
Notes
Honey and icing sugar can be replaced by molasses if you wish.
This dough is firmer/hard after baking, the reason is that we need it to be this way so that the box remains stable and withstands the humidity of the stuffing and the refrigerator.
If we don't have a baking tray with the dimensions that I detail, we can pipe the batter on a tray to give it shape and bake it. In this post you can see how to do it.
The sponge cake is very elastic, so it is not necessary to roll it while hot to prevent it from cracking.
Do not omit the step of cooking the flour with the oil, thanks to this process we obtain a sponge cake with these characteristics.
The creator of the recipe advises to make some superficial and longitudinal cuts on the top and at the beginning of the side that we are going to roll to prevent it from cracking. In my case I didn't do this and the result was very good, but you can do it if you wish.
If we exceed the baking time in the oven, we run the risk of drying out the sponge cake. This will not only affect the texture, but will also result in a dry product that will crack easily when rolled.
The size of the tray or the thickness of the sponge cake, if we pipe it, will directly influence the final baking time.
If we make the sponge cake one or two days before, we will keep it refrigerated and wrapped in plastic wrap. You can store it once it is cut, so that it takes up less space in the refrigerator.
Yuzu paste can be replaced by any other variety of concentrated paste; orange, lemon.... Try to use flavors that go well with strawberries. You can also omit the concentrated fruit paste and make the white chocolate namelaka directly.
If you wish, you can create a box with a variety of fruits; strawberries, cherries, raspberries, blueberries, blackberries, blackcurrants... Instead of a box of strawberries only.
Daisies and sprigs of thyme are totally optional, but they do add a very country decorative touch :)
The cake can be kept in the refrigerator, once assembled, for 3-4 days.
Before the strawberry season is gone, you can't miss this beautiful Strawberry Box Cake with yuzu namelaka. I promise that you will love it....
The sponge cake is incredibly tender and accompanied by the filling, strawberry jam and namelaka, is delicious. A silky, citric, sweet result... Wonderful. If we add all the top cover of strawberries, so sweet and delicate, I can say that we almost touched the sky.
To top it off, the cookies, incredible flavor and texture. I can only encourage you, once and a thousand times, to make it and surprise whoever you want.
Today's post has arrived on a different day than usual due to the long long weekend we have had in Madrid. But, a little before Sunday in case you want to make your moms smile for Mother's day.
I send you lots of love and, of course, have a nice weekend even if there are still some days left,
Eva
This post contains affiliated links.
Archivado en