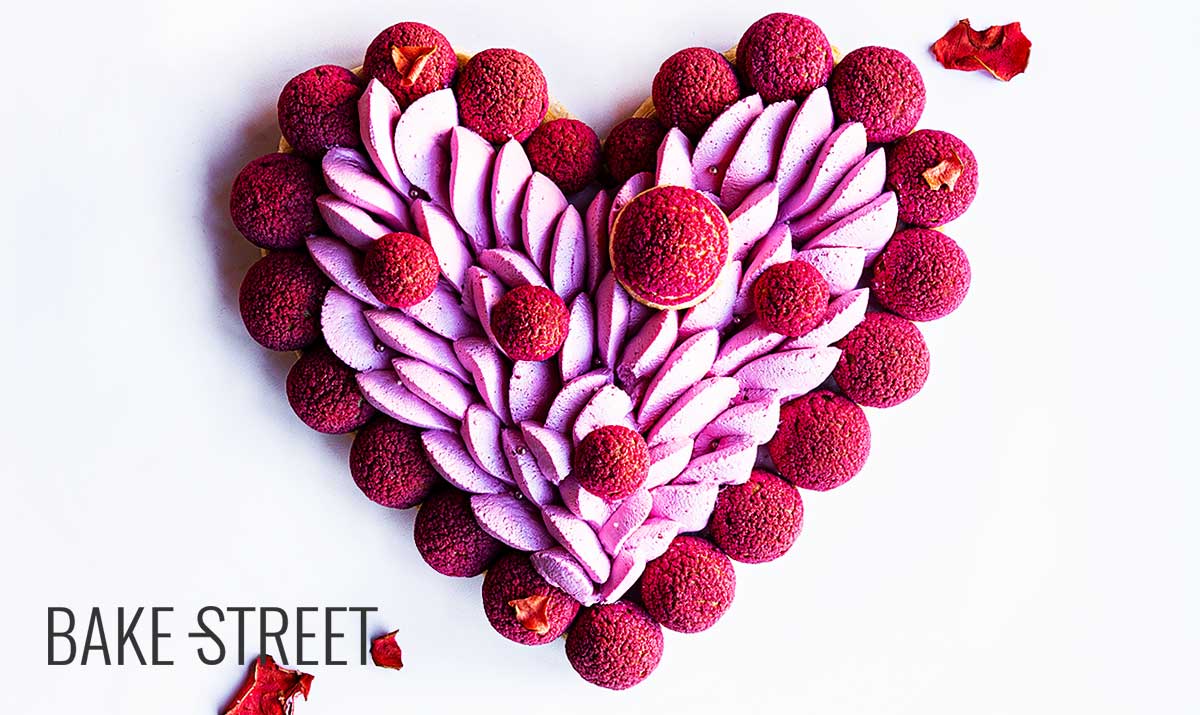 Raspberry Heart Saint Honoré
Este post también está disponible en Spanish
Today I'm going to repeat a recipe I left you a few months ago, but this time with a more romantic style. The truth is that I didn't have in mind to make any recipe related to Valentine's Day, but there are things that come, they make you fall in love. And there's nothing you can do about it. So today I leave you with this Raspberry Heart Saint Honoré.
That's what Pinterest has, you are so calm looking at things (you know it's one of the social networks I like the most) and, all of a sudden, that image arrives that captures you completely. You stop and think – "Wow, I didn't want to do anything for Valentine's Day…" – but at the same time you think about it, you know 100% that you're gonna do it. So resisting doesn't make much sense.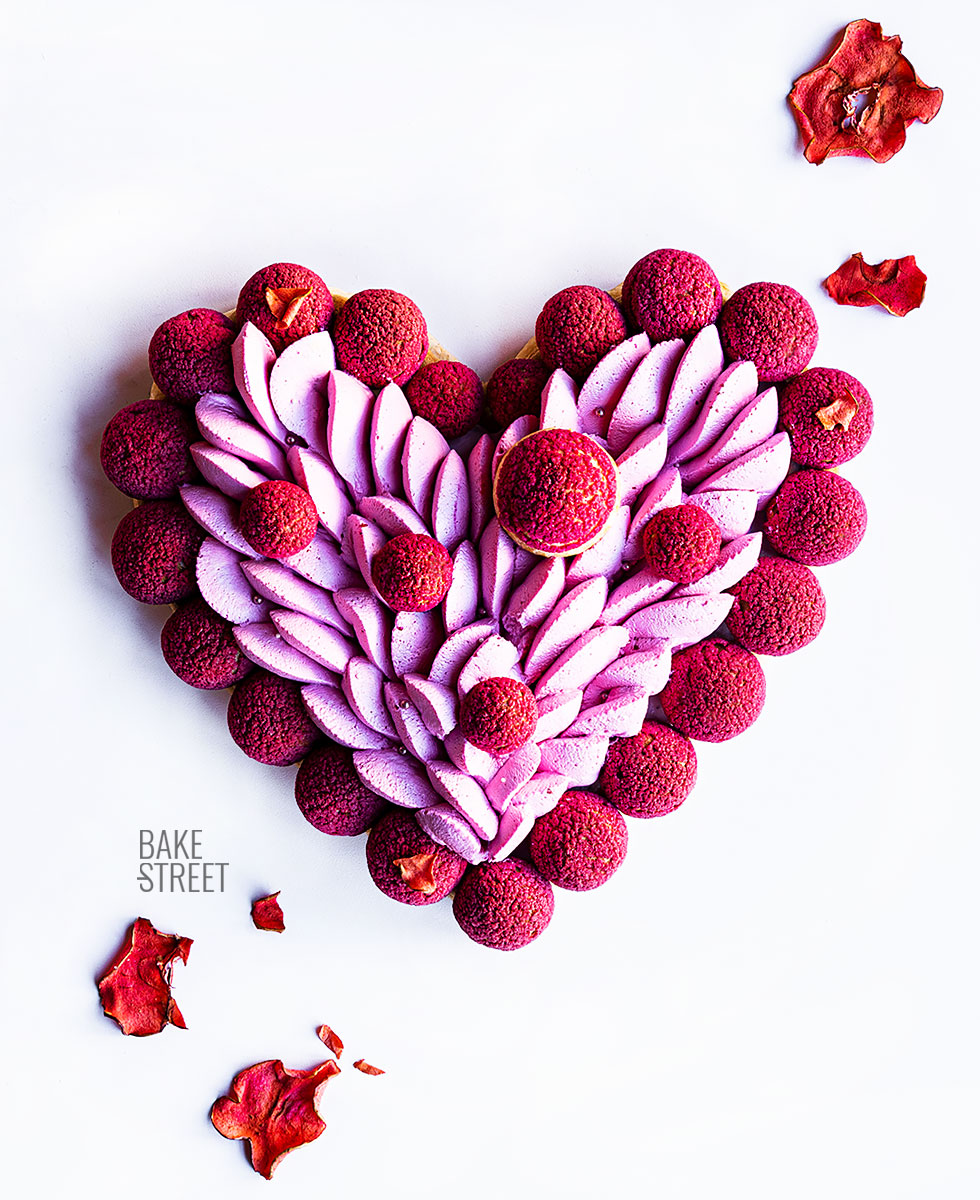 Then you start looking for more cakes of that style to get inspiration, see other options and assess how to make them.
I'm not going to lie to you, I would have loved to make a mousse to replace the traditional Chiboust. But the shape of the cake, since it's cut by hand, conditions me a lot. It's fine that you can cut the puff pastry in the shape of a heart, but to cut the mousse with the same shape in a smaller size… Wow! I found this difficult. And if it looks bad, the result can be awful. So, much to my regret, I decided to make a simpler filling and that it would not give me any complications at this point.
Before we go any further…
I always share with you the history and origin of the recipes that I leave with you. At least all those times I find information about it.
Since today's recipe is based on another one I left you some time ago, they have the origin of their history in common. If you want to know more about its origin, who invented it, what is the Chiboust, who was Saint Honorato… You can do it in the recipe of the Tarte Saint Honoré.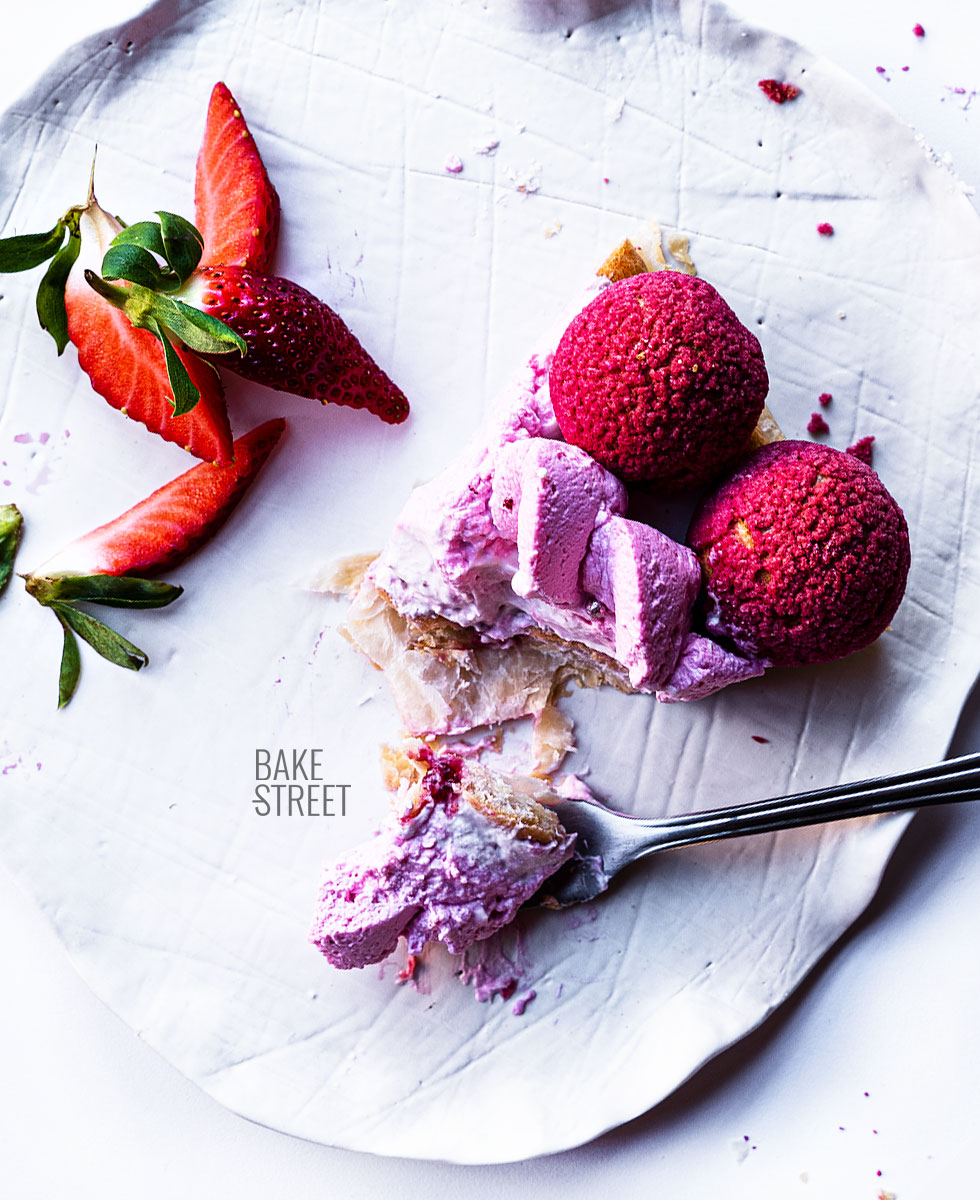 Carrying out the Raspberry Heart Saint Honoré.
My crush came when I saw Cedric Grolet's Saint Honoré Coeur. It is impossible to let such a beautiful elaboration go by, without a doubt his work inspires many people and we can only be grateful for that. From there, I started to look for more cakes of this style to get ideas and to be able to carry out mine.
To make this cake we will keep the traditional base, but we will change some things according to the cake format. We will prepare a heart-shaped puff pastry base, on which we will pipe choux pastry. Once it is baked, we will fill the holes in the base with raspberry jam and cover the surface with a mascarpone and raspberry cream (you may remind it, I used for this tart).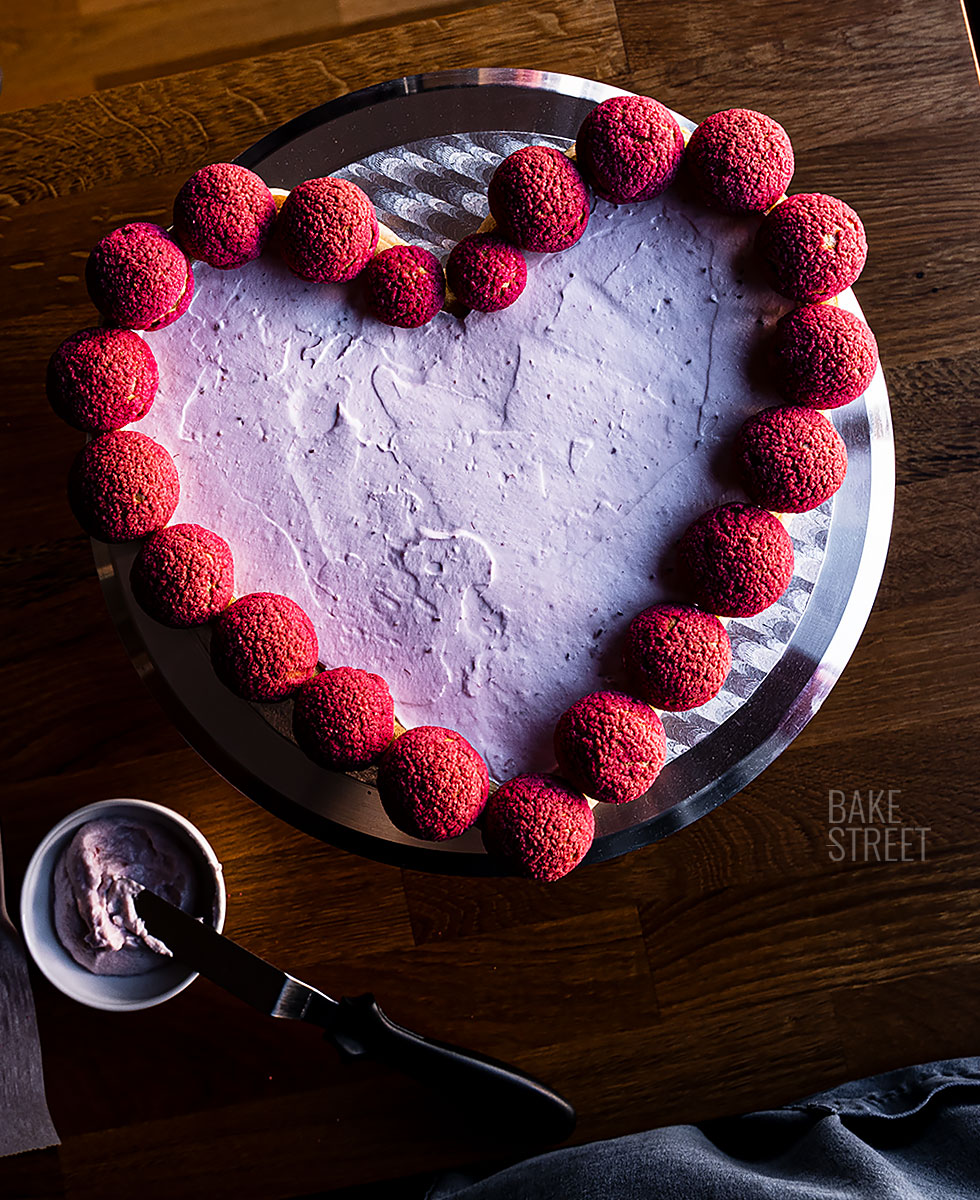 To decorate the cake, prepare a mascarpone cream, flavoured with raspberry extract and a touch of pink colour. Puffs that accompany the preparation, we will cover them with a pink craquelin so that there is harmony in the colour.
If you wish, you can also cover them with caramel, just as I left them in the more classic preparation. Although, to maintain the pink color, it may be more appropriate to use isomalt.
To finish it off, all that remains is to decorate it to your taste. Puffs, fruits, petals, sprinkles… Whatever you like!
The result is a cake with a soft, aromatic and delicate taste. But what I like most is the contrast with the puff pastry and the choux pastry. That taste of butter… makes me fall in love!
Ingredients for 10,2 inches/26 cm wide
FOR PUFF PASTRY:
FOR CHOUX PASTRY:
125 g whole milk
125 g watera
140 g cake flour
115 g unsalted butter
5 g salt
1/2 tsp sugar
4 large eggs at room temperature
FOR CRAQUELIN:
50 g plain flour
40 g unsalted butter
50 g sugar
Claret colouring paste, to taste
FOR THE CHEESE AND RASPBERRY FILLING:
100 g mascarpone cheese or cream cheese
90 g fat cream
50 g raspberry jam
FOR THE MASCARPONE AND RASPBERRY CREAM (TOP DECORATION):
300 g mascarpone cheese
300 g fat cream
80 g icing sugar
few drops raspberry extract
Claret colouring paste, to taste
FOR THE CHOUX PASTRY FILLING:
310 g fat cream
75 g raspberry jam
FOR DECORATING:
metallic sprinkles
edible ruby powder
raspberry jam for the base of the cake
Instructions
FIRST DAY
Make puff pastry.
To make this cake we will need about 200-250 g of puff pastry dough.
We proceed to prepare the homemade puff pastry, for it we follow the process of elaboration that I left you in this post. It is explained step by step and accompanied by a video.
If you don't want to make too much trouble, you can make a quick/blitz puff pastry. In this post I tell you the whole process step by step, besides accompanying it with a video.
If we prefer, we can use store-bought puff pastry (we will need 250 g dough) and, in this way, we will simplify the elaboration process a little.
Make craquelin.
In a bowl add the flour together with butter, sugar and food colorant paste. Add a small amount to check the color and, if you want a more intense tone, we can always add more.
Mix with the help of a spatula until a homogeneous dough is obtained. If you mix with your hands, I advise you to wear gloves to avoid staining your hands.
Place between two sheets of Teflon and stretch with an adjustable roller, give a thickness of 2 mm.
Store in the freezer for at least 1 hour.
Take out the craquelin from the freezer, cut with a cutter of 1,2 inch/3 cm of diameter and put again in the freezer until the moment of its use.
Make choux pastry.
Preheat the oven to 355ºF (180ºC).
Sift the flour, set aside.
In a saucepan, pour the water along with the milk, salt, sugar and butter. Place at medium heat and leave to boil.
Once the mixture has boiled, remove from the heat and stir in the flour. Remove with a spoon/spatula at a fast and continuous speed.
We'll get a ball of compact dough that we'll have to dry out. Replace at medium heat, stirring constantly.
We will notice that the dough clings to the base, in total we leave it 2 minutes without stopping stirring. The degree of drying of the dough will depend on the quantity of eggs that it admits, we see it next.
Transfer the dough to a large bowl and leave to cool lightly.
Add the first egg and stir until it is homogenized, so that the dough can also take air and then influence what the dough can raise during cooking.
Add the next egg and mix until completely combined. If the dough is too dry and does not have the right consistency, add a little more egg. In the notes I detail how to do it. The consistency should be as seen in the video and I'll explain in the notes.
Bake puff pastry with paste choux.
Stretch the puff pastry and cut out a heart approximately 10,2 inches/26 cm wide. We can make a template or do it as I show you in the video.
Ddraw half of the heart on the puff pastry marking the contour with a toothpick. Cut the excess dough with a knife.
Fold the puff pastry, the half we have cut, and cut the other end. In this way we will obtain a symmetrical heart.
Prick the surface with a fork.
Pipe a string of choux paste around the puff pastry leaving 0,2 inch/0.5 mm separated from the edge.
Create a spiral of choux pastry inside the puff pastry leaving a little space between the cords of dough.
Slightly moisten the choux dough and place in the oven at medium height.
Bake for 30 minutes.
Remove and let cool completely on a rack.
Pipe and bake puffs.
Prepare the pastry bag with a 0,4 inch/1 cm diameter smooth tipe.
Put the dough in a tray previously lined with baking paper, forming small piles of 1,2 inch.
Moist your fingertips and lower the dough peaks.
Place the craquelin discs on the choux paste and press gently.
Place in the oven at medium height.
After the first 15 minutes, let's observe that they are swelling up and we open the door of the oven so that the steam can escape for 3-4 seconds and we close them again leaving them 10-15 more minutes. Watch the color in the last minutes so that they don't lose their bright pink. I recommend covering them with aluminium foil when there are 3-4 minutes left to finish cooking.
Once the baking time is over, turn off the oven and let it stand inside with the door ajar for 5-10 minutes.
PS: I made several sizes. These I specify, other smaller ones (that need less time of final baking) for the top decoration of the cake and other bigger ones (they need 5 minutes more than specified in the recipe) to accompany the top decoration too.
Remove and let cool completely on a rack.
SECOND DAY
Make mascarpone cream (top decoration).
Cream must be cold 24 hours before used it.
The bowl in which we are going to make whipped cream must be cold.
Pour heavy cream along with mascarpone cheese and food colorant paste into freeze bowl and beat with an electric mixer into low speed.
Once cream is becoming to form stiff peaks, add sugar little by little stirring the whole time. Increase speed gradually but without reaches high one. Ideally use medium speed.
Before finish to beat the cream, add raspberry extract and beat until get a perfect whipping cream. Be sure not to over-beat, otherwise cream will become lumpy and butter-like.
Cover with plastic wrap and chill until used it.
Make the raspberry mascarpone cream filling.
In a metal bowl, previously cooled in the freezer, add the mascarpone together with the raspberry jam.
Beat with electric whisk until a smooth and homogeneous mixture is obtained.
Pour the cream, very cold, and whisk again. You will notice that the cream will begin to acquire consistency and volume. This is because the cream will be whipped, so be careful not to exceed the whipping time so that it is not cut and lowered.
Refrigerate for 30 minutes before placing it on the tart.
Make the filling for pastry choux.
Pour the cream into the cold bowl together with the jam, whisk at speed 1.
We will increase the speed gradually but never reach the maximum. The ideal is an medium speed.
Whisk until we get a thick cream. Be careful not to over whip it or we'll make butter.
Cover the bowl with film and refrigerate it until we are going to use it.
Assemble the cake.
Put the filling for puff pastry in a piping with a filling tip.
Fill the puffs with the cream. Set aside.
NOTE: The smaller puffs for top decoration, I filled them with raspberry jam.
Pipe a string of raspberry jam into the base of the puff pastry. We fill the holes between the baked choux pastry.
Cover the cake, except for the edges, with the layer of cheese and raspberry filling. We will try to leave the surface smooth with the help of a spatula.
Refrigerate for 30 minutes.
Decorate the cake.
Decorate the edges of the cake with puffs. To keep them together, I have used some of the filling from the puffs.
Spread a thin layer at the base of each profiterol and place it on the edge of the cake.
Put the mascarpone and raspberry cream in a piping bag with a 0,7 inch/18 mm Saint Honoré tip.
Pipe the cream on the surface of the cake.
Place small puffs and, in my case, a bigger one, on the surface of the cake.
Decorate with some pink and pearly metallic sprinkles. Dust with ruby powder.
Serve.
Notes
I know making puff pastry at home can be a long process. If you dare to do it, phenomenal. Otherwise, you can always use a store-bought sheet of puff pastry.
To decorate the cake we will need 21 puffs for the edge + top decoration. With the quantity that I leave you in the elaboration you will be able to squish the base, the 14 units and a few more. In my case came 30 pieces more of a slightly larger size than the cake. You can fill them with chiboust, cream... And keep them refrigerated for 2-4 days, depending on the filling you have chosen.

Puffs get bigger with craquelin on the surface. Keep in mind when you pipped them.
Remember to watch the baking of the puffs, both for the size of each one you make, as well as to keep the color bright and intense of the craquelin. If you exceed it, it will take on a brownish colour.
In my case I filled all the puffs with a filling made with cream and jam except for the smaller ones which I filled with raspberry jam.

The top cream is made with mascarpone and cream. The final texture is very creamy and denser than if we do it only with cream. It also has a mild and wonderful taste. In case you don't like the cheese, you can omit it and decorate the surface only with whipped cream.
To decorate the cake I used pink and pearly metallic sprinkles, plus ruby powder and some dehydrated apple petals that I made for this cake. There you can see how to make them. You can change the decoration to your liking and use raspberries instead, strawberries, flower petals...
It can be kept refrigerated for 2-3 days.
Whether you celebrate Valentine's Day or not, there are things we must not fail to enjoy. And one of them is this Raspberry Heart Saint Honoré. We must love each and every day of our lives, but if there is a world day for everything, what less than for what makes this world go round and stay alive.
Whether it's February 14th or September 27th. Loving is the most important thing in our lives because it is what makes us want to live, to enjoy, to do things... Without forgetting that they are the best batteries to keep us active. Even more than sleep, I would say.
Because you are not going to deny me that when you love someone or something, there is no tiredness, no sleep, even almost no appetite. This feeling has the capacity to keep the body active, awake and full of life, more than anything else. For that very reason, we are going to love ourselves very much and take care of ourselves in the way that we like and make happy.
I wish you a wonderful weekend!
Big hugs,
Eva
Archivado en