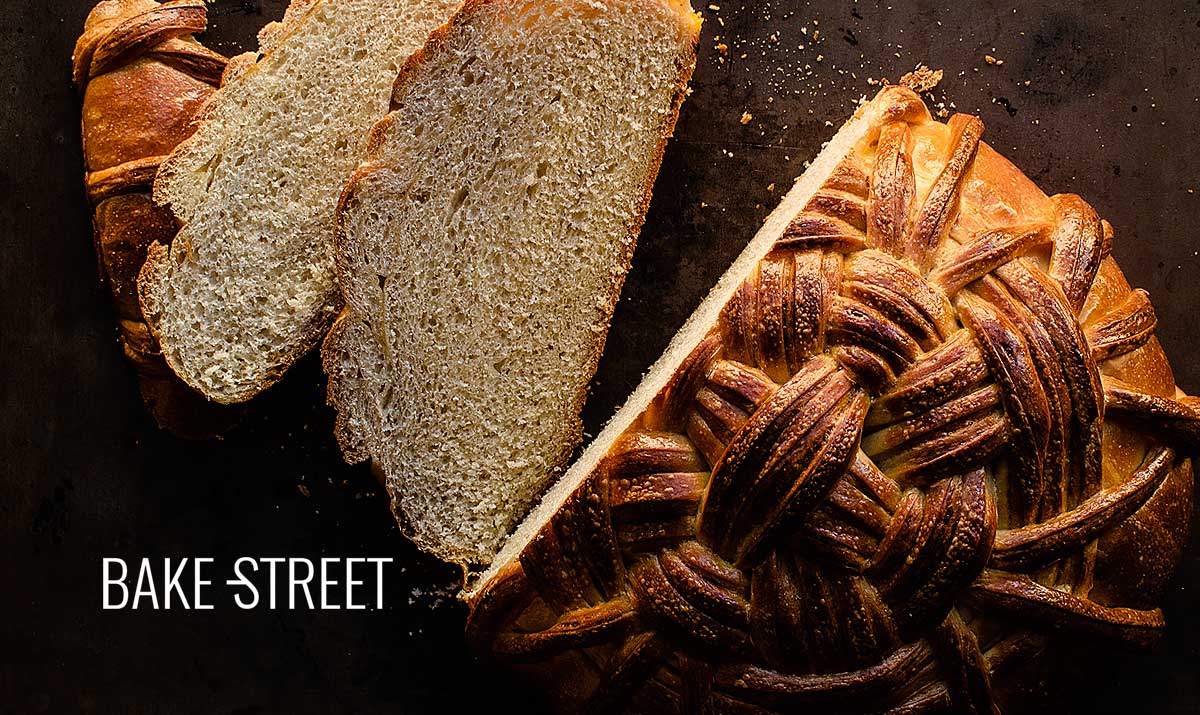 Flechtkorbbrot – Basket Bread
Este post también está disponible en Spanish
Recently I've developed a new hobby (because I seem to have plenty of time, but no, haha) and I've joined it with my passion for bakery. A fusion between the world of craftsmanship/basketwork and bread, giving rise to breads that follow the same pattern of form as wicker baskets. Hence this new Flechtkorbbrot – Basket Bread.
My first contact, and where I began to see the possibilities, was with this cocoa braided bread. Yes, I know this bread is quite commonplace and reminds us a lot of a challah bread. But it was at that moment when I saw a new world open to the shaped of bread.
I started searching for information via internet to see if I could watch other breads of this type and that's when I found an elaboration that gave rise to my chain-mail bread. This was much closer to what I had in mind. I kept looking, but I didn't see what I wanted. I did, however, find true wonders made by Russian bakers. They're geniuses.
You may wonder why this name is used.
If I'm honest, German has always been a language that has attracted my attention and I'm angry at not having enough time to learn it. When I made this bread I had no idea what I was going to name it, but I thought I would come up with something.
When I saw it was finished, I saw that its name had to be in German, rustic, artisan… I saw a nice connection. Then I started looking for a way to name it using the translator. I know that it is a language with which we have to be very careful because it is not as simple as others can be, so I decided to ask a good friend of mine (who is German) to help me "baptize" this bread. I did well, because the name I would have given it (for those who understand the language) would have been a disaster.
So I owe this name to her, thank you very much Margit 😉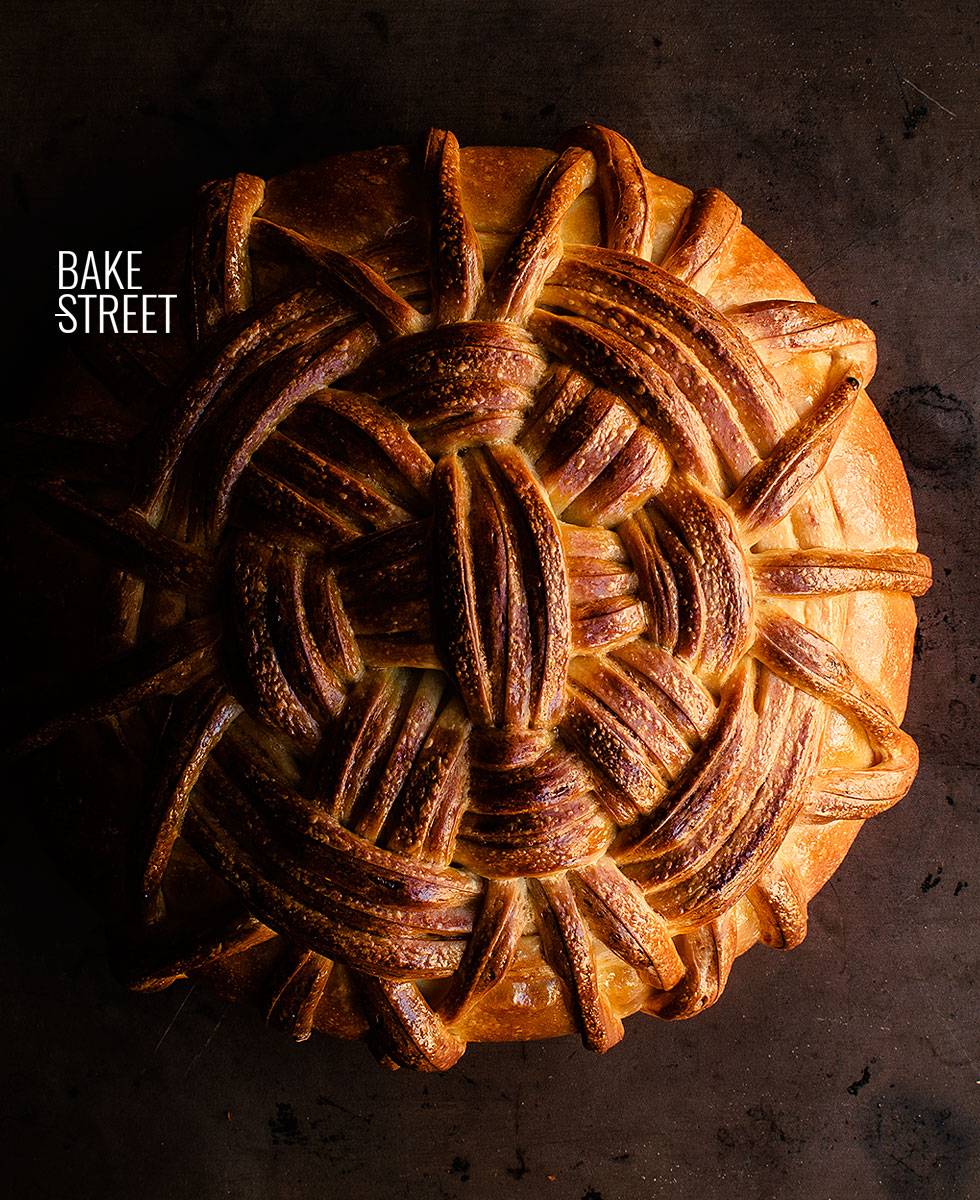 Looking for more inspiration.
Since what I wanted was to make braided bread in the same way that we would make a basket, that's what I looked for on Youtube. Videos of artisans weaving with wicker or other material that I don't know how to say what it is, looked like a kind of rolled cardboard.
I watched all the videos you can imagine and, when I found a form/process that I liked and was able to make, I saw it 300 or 400 times more… For a person who is used to doing it, it should be as simple as doing it while talking and having a coffee. But for me it was a challenge in which there could not be a mistake, I had to have all my senses set on bread and its process. It is not the same to braid a material as it is with dough since we cannot touch it, make it, undo it, many times because we would spoil it.
Carrying out my idea.
Once I had the process already learned, or almost, I prepared my dough. I was clear about what kind of dough I had to use in order to work with it the way I needed. So I repeated my dough of the chain-mail bread only that by varying some proportions and aromas.
This time I prepared the dough with a touch more sweetness, because it doesn't have filling, and flavored with orange blossom water that I like very much. The increase in sugar (in this case honey) and liquid ingredients in the dough meant that I had to reduce the amount of butter added, but in a small proportion.
I prepared the dough the evening before and let it stand in the cold overnight, unlike the other dough I made it without this step. The next morning I just had to temper, divide and shape.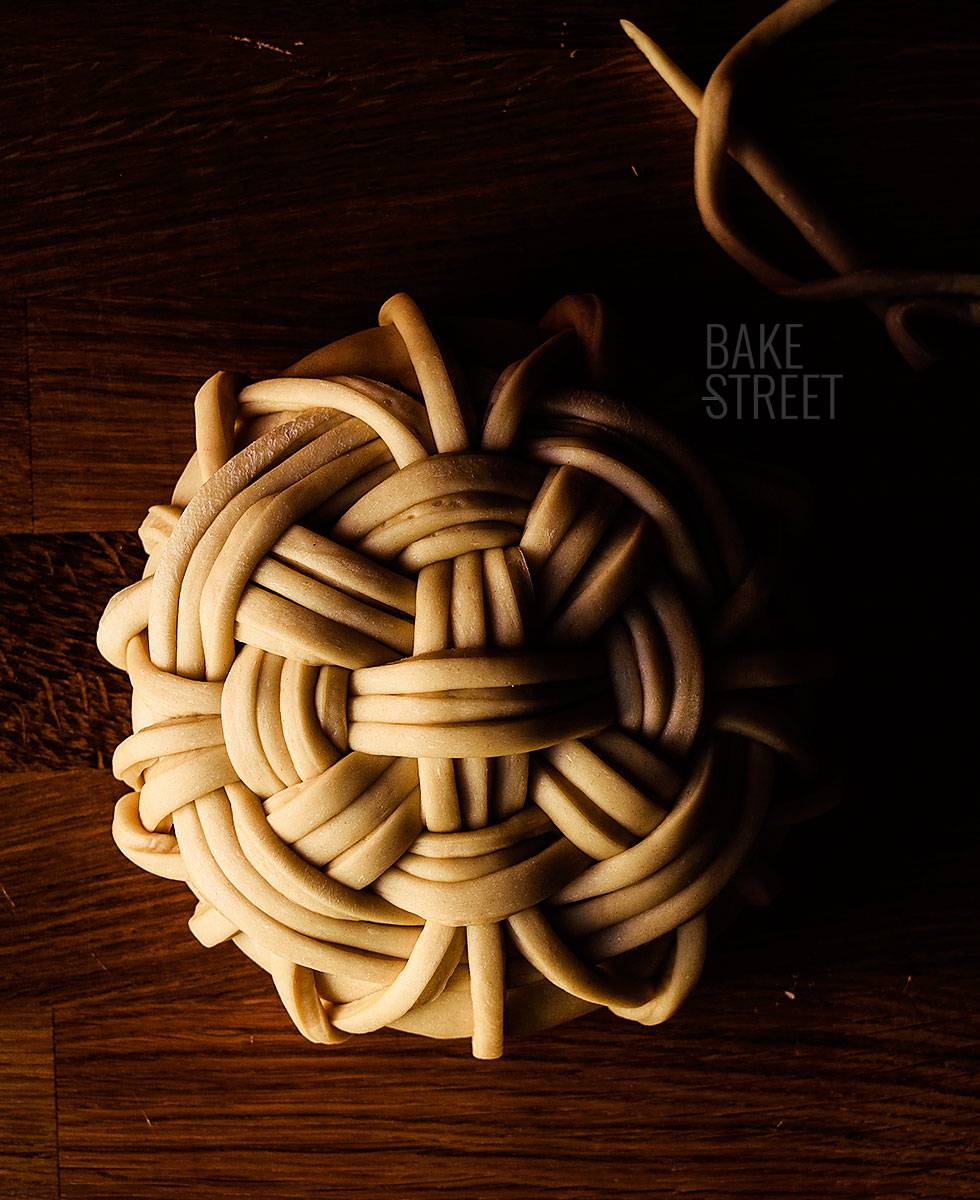 The final result.
Despite using a very similar recipe, the result was much more tender, spongy and aromatic. For my taste, much better. The first fermentation during the whole night allowed the aromas and flavours to intensify. Besides, the final proof, I prolonged it a lot, in fact I came to think that I had exceeded a little bit and the result could be unpleasant… But no, on the contrary, a crumb with a very soft and tender texture.
This bread will make us enjoy some wonderful slices at breakfast, besides dressing the table a lot.
I will leave you the recipe as a percentage of baker, for those who want to make it with sourdough and using 30% of it. Or, the list of ingredients to make bread with dry baker's yeast.
| INGREDIENTS | BAKER´S % | SOURDOUGH | REST | TOTAL |
| --- | --- | --- | --- | --- |
| Bread flour | 10,8% |  65 g | |  65 g |
| Rye flour | 4,2% |  25 g | |  25 g |
| T45 flour | 85% | |  510 g | 510 g |
| Water | 15% | 90 g | | 90 g |
| Milk | 35% | | 210 g | 210 g |
| egg | 9,1% | | 55 g | 55 g |
| Butter | 12,5% | | 75 g | 75 g |
| Honey | 6,67% | | 40 g | 40 g |
| Orange blossom water | 5% | | 30 g | 30 g |
|  Salt | 1,6% | | 10 g | 10 g |
Ingredients
21,1 oz (600 g) T45 flour
10,5 oz (300 g) whole milk at room temperature
0,1 oz (3 g) dry baker´s yeast
1 large egg (55 g)
2,65 oz (75 g) unsalted butter at room temperature
1,4 oz (40 g) honey
2 Tbsp orange blossom
1 tsp vanilla extract
0,35 oz (10 g) salt
Instructions
Make the dough.
In a bowl add the flour together with milk, orange blossom, vanilla, egg and dry yeast.
Mix the ingredients in the bowl until a homogeneous dough is obtained.
Add the honey and knead until it is fully integrated. Add salt and mix again.
Transfer to a work surface and start kneading. We will have to obtain a smooth, silky and developed dough.
Once we have a medium-developed gluten, add the butter. The ideal is to do it little by little, waiting for the dough to absorb it and facilitate the kneading process.
Knead for about 15-20 minutes to develop the gluten well and obtain an elastic, soft and very well developed dough. The dough, always after a rest, must pass the membrane test. Here's how to do it.
If we do rest we must always cover the dough to prevent it from drying.
Make bulk fermentation.
Make a ball with the dough, grease a bowl/tupper lightly with oil and introduce the dough inside.
Cover with film and let rise 1 hour at room temperature, in my case at 80ºF.
Place in the fridge overnight.
Temper the dough before work with.
Remove the dough from the fridge and let it cool for 2 or 2 1/2 hours. It's likely to even triple its size.
Divide and preshape the dough.
Degass the dough gently and divide it into two pieces; one of 670 g and one of 400 g. Remember that if there are any dough scraps left, we will always place them in the centre of the dough before pre-shaping.
Preshape, make a ball and cover with a cloth. Let rest for 25 minutes.
Shape the bread.
Shape the largest piece in the same way as we preshape it, creating a boule.
Set aside and cover with film.
Take the other piece of dough and stretch it with a roller. We will form a rectangle of approximately 11,8 x 9,8 inches (30 x 25 cm).
Using a sharp cutter or knife, cut parallel strips with a thickness of 0,4 inch (1 cm), the length of which is the longest side of the rectangle. We'll need about 18-20 strips, but we'll need a few more. Better, in case something happens.
Braid the bread, this process is better seen in detail in the video.
Once we have the bread shaped, with great care, transfer to the baking tray lined with baking paper.
Lightly grease the surface of the bread with olive oil, cover it with film and let it rise until it doubles in size. In my case it was 2 hours and 20 minutes at 78,8ºF.
Bake.
Preheat oven to 355ºF.
Brush the bread with whipped yolk with milk and salt, place it in the oven for 40 minutes. Watch the final minutes of baking, if the bread gets very colorful, cover it with a sheet of aluminum foil.
Remove and allow to cool completely in a rack.
Notes
For those of you who make the bread with sourdough, the bulk fermentation must be until the dough grows 1/3 of its volume and there, place in the fridge until the next day. Follow the process in the same way that I detail you in the recipe. The final proof will last much longer, it can be around 5-6 hours.
T45 flour is equivalent to a special wheat flour for puff pastry, with a W=280 and good elasticity.
Can honey be replaced by sugar? Yeah, no big deal. Just bear in mind that invert sugars speed up the proofing process compared to normal sugar.
Can I elaborate the whole process often without placing in cold? Yes, you can. Following the same steps we saw to make the chain-mail bread. As a small note, comment that the result of this second dough, although very similar, is much tastier and tender. If you can, I recommend you to do the process in 2 days.

The braiding is a bit laborious, do not hesitate to watch the video as many times as necessary before preparing to shape it. Even practice with shoelaces, all help will be welcome.
To know if our bread has finished the cooking time, remember that with a digital thermometer and checking its temperature we will know. It must be around185-195ºF.
Preservation: This bread can be kept in an airtight bag for 4 days. If you prefer, you can freeze it in film wrapped portions.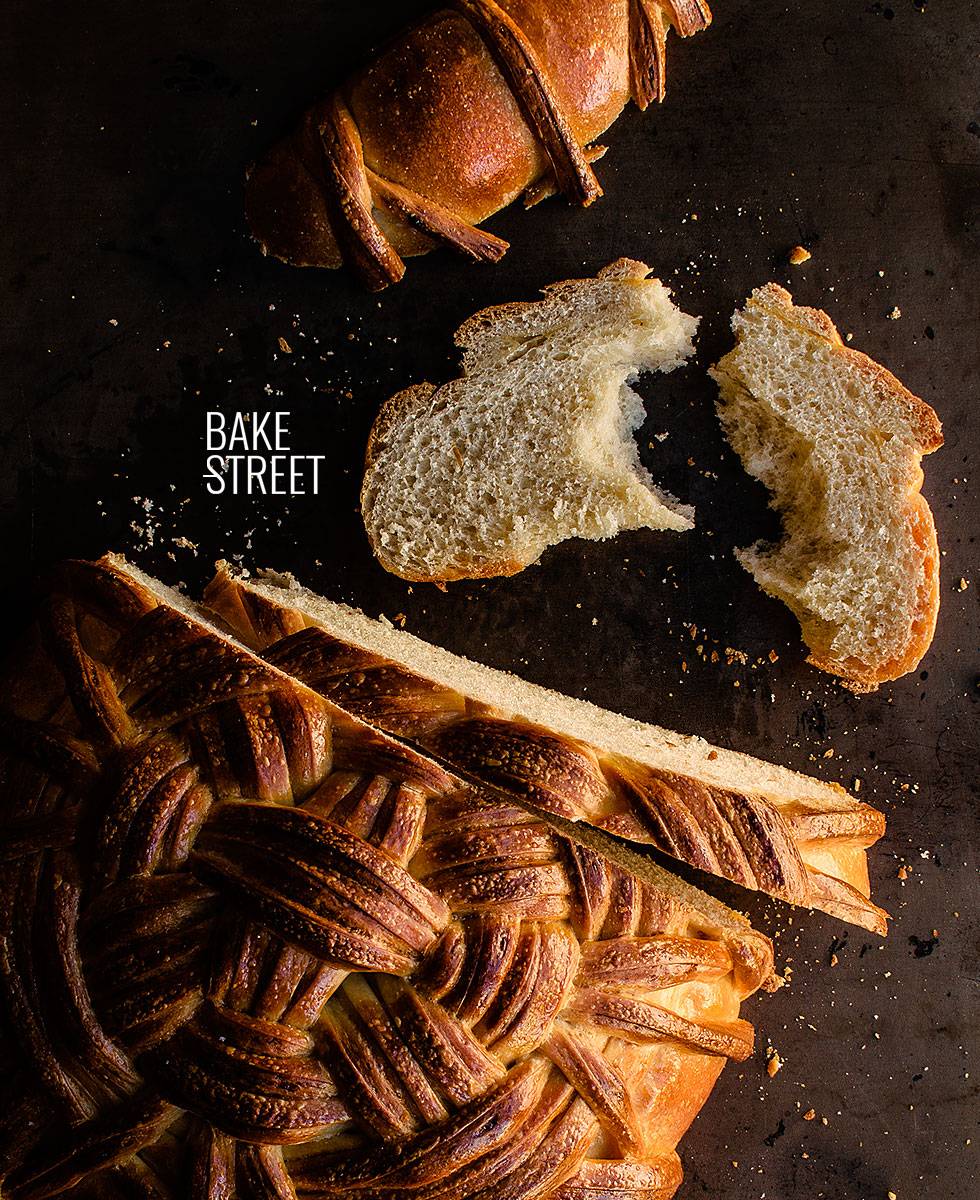 This Flechtkorbbrot - Basket Bread has been a challenge for me and I am very satisfied with it. It's really super fun to go through a process like this on bread and see the result once we've baked it.
So it won't be the last, I'm already "learning" new types of braids to put them into practice with doughs. I hope you dare to do it and show me! If you upload the photos to Instagram and tag me, I won't lose your publication among the notifications, unlike if you just name me. Many times I miss your mention and the timeline doesn't let me see it...
Big hugs,
Eva
Archivado en