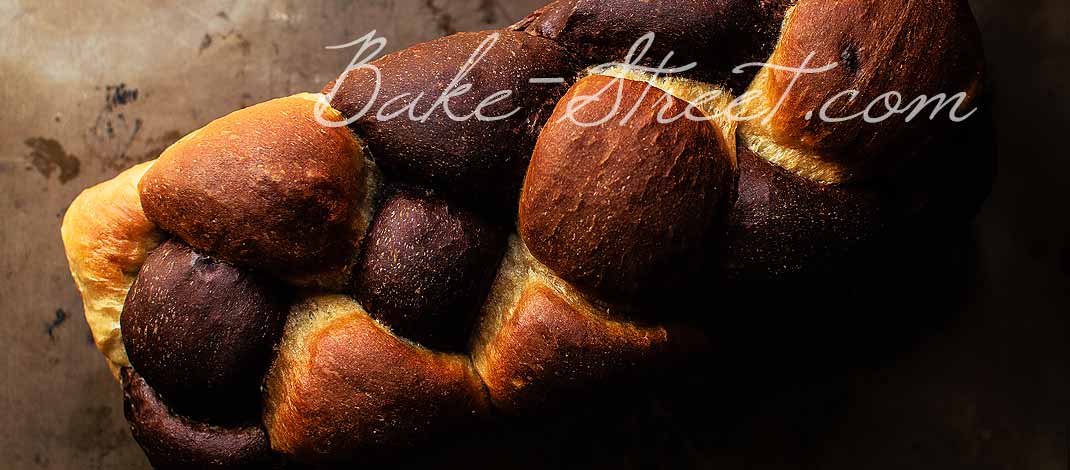 Braided bread, cocoa and cherry {Video recipe}
Este post también está disponible en Spanish
I've been making different kinds of homemade breads, every week at least I bake one and I always try to make it in different shapes. When I make many elaborations alike, I end up getting tired of the shape and I need to change it … Hence I decided to make this braided bread with cacao and cherries.
When I thought about the combination of flavors, lately I can not take cherries out of my head, I was not clear on which shape I would give it. In fact I started with an idea, but as I prepared the dough, I changed it to this, a braided bread.
The bread shape is the same that if we would make a Challah bread of 4 ropes. Divide the dough into 4 equal pieces and braid them. I found it a bit complicated to explain the process with words, so I decided to make a small video so that it becomes much easier to understand and make. Because, in my case, I had to watch several times how to execute it until I managed to make it in a fluid way.
I have the idea of a chocolate bread in my head for a long time, in fact in origin this bread would be 100% cocoa, but this was evolving. Do not worry, it will come in the near future.
I was thinking about how to get a sponge bread but I was not sure if I was going to get what I wanted. For this reason the bread format combines both types of dough in the same proportion.
How to achieve a super sponge cacao dough?
One of my problems when baking doughs with cocoa powder was that I was not able to get the same sponginess as with other types of dough. They were always somewhat dense and compact. On this occasion I decided to follow another process, which has been extraordinarily wonderful.
We must knead our white dough, without the addition of cocoa powder, until obtaining a perfect gluten development. It will take us a while to knead but its end result, without a doubt, is worth it. Once we have our dough perfectly kneaded, we will add the cocoa powder along with a little more water.
Why should we add more water?
Cocoa is a dry ingredient that will subtract moisture and contribute "hardness" to the dough. We must maintain the initial hydration to get a tender and soft texture. Depending on your flour, you will have to add more or less water. In my case I added the amount that I share in the ingredients along with the cocoa, but in your case it can vary. Add it little by little and integrate it completely into the dough before adding more.
The addition of cherries is not too much, but I feared that I would modify the final hydration in excess and after proofing they will tear the surface. When you shape it, make sure that cherries are always inside of the rope so that they do not damage the outside appearance.
You will see before baking I do not brush the bread with egg or milk, but rather I introduce it in the oven without anything. The reason is that at the end of the baking we will brush the bread with some melted butter, in this way we will bring softness to the bread in addition to a very particular finish. Do not forget to try it. This step I made it a while ago in this Asian marble bread (only available in Spanish).
BRAIDED BREAD, COCOA AND CHERRY
A pan 12 x 4 x 3 inches  (30 x 11 x 7 cm)
For a 35 oz (1 Kg) tin loaf
21 oz (600 g) plain/AP flour
8,2 oz (233 g) unsweetened Greek yogurt
6,5 oz (185 g) water
0,1 oz (3 g) dry yeast
1,4 oz (40 g) sugar
0,28 oz (8 g) salt
2-3 cherries finely chopped and stone removed
0,8 oz (22 g) cocoa powder + 0,6 oz (17 g) water
0,5 oz (15 g) unsalted melted butter for brush
INSTRUCTIONS:
Make the dough for braided bread.
In a bowl add the flour along with the water and Greek yogurt, mix in a stand mixer or mixing bowl with a scraper if you are going to knead by hand.
Add dry yeast, salt and mix again.
Knead the dough, we must work it well to get an homogenous dough. It is important not to be hard with the dough if you knead by hand, because it will become a dense dough and texture won´t be fluffy.. Transfer the dough to a work surface and start kneading the French kneading. It is better to let stand dough 5-7 minutes  after 4-5 minutes kneading. When you do that, cover the dough to keep it from drying.
Or fit your mixer with a dough hook attachment and knead the dough at low speed for 8-10 minutes. We must develop the gluten mesh very well.
Add sugar and knead until get a completely homogeneous dough.
When our dough is fully developed, divide the piece into two equal parts. It will weigh around 18,7 oz (530 g) each one.
In one of them add the chopped cherries, we will do it with gentle movements or folds until distribute them all over the surface evenly.
Make a boule and place it in a previously greased bowl. Cover with film.
In the other piece add the cocoa powder along with the water and knead. We will do it until completely integrate both ingredients and obtain a smooth and homogeneous dough.
Make a boule and place it in a previously greased bowl. Cover with film.
Make bulk fermentation.
Let rise until become nearly to double size, about 2 or 3 hours. It will depend from room temperature.
In my case the dough took 2 hours and 20 minutes at 78ºF.
Divide and preshape.
We will work on a clean surface, it will not be necessary to be floured.
Transfer one of the doughs and degas gently.
divide into 2 equal pieces and shape. We will make it as if we shape baguettes or ropes.
Repeat the same process with the other piece. In total we will obtain 2 ropes of cacao dough and 2 ropes of cherry dough with a length of about 17,7 inches (45 cm).
NOTE: In this case it will not be necessary to preshape the ropes into boules, we are interested in touching the dough as little as possible to avoid tighten and make it difficult to stretch.
Shape into a braided bread and make final fermentation.
To shape the bread we will make a braid of 4 ropes. It's difficult to explain it with words so I've make a little video in which I show you how to braid it. You will find it much easier to watch it 🙂
Once the bread is braided, fold the ends of the dough under it. When doing so, place the pan next to the bread to maintain the length of this.
Cover with film and let rest until doubles its size. In my case it took 1  1/2 hours at 79,3ºF.
Bake the braided bread.
Preheat oven 355ºF.
In this case we will not previously brush the dough, we will do it when removing the bread from the oven. Place at medium height for 40 minutes or until its temperature reaches 186-194ºF.
Remove from the oven and brush the surface with the melted butter. Remove from the pan and let cool completely over a rack.
NOTES:
If you prefer you can brush the bread with beaten egg and a pinch of salt to achieve a more golden and shiny finish. In that case you will have to cover the bread at half baking, more or less, to avoid over-browning.
This bread does not need to be covered with baking paper at mid-cooking if you follow the baking process that I specify.
PRESERVATION: Once it is completely cool, store in a zip lock bag/freezer bag/airtight container around 6-7 days.
You'll love it, I am sure about it! This braided bread is not only beautiful, because it is necessary to recognize that this type of braids are very striking, but also the result is a super spongy, tender, aromatic and very tasty bread.
You will tell me the day you are encouraged with it 😉
Big hugs,
Eva
Archivado en