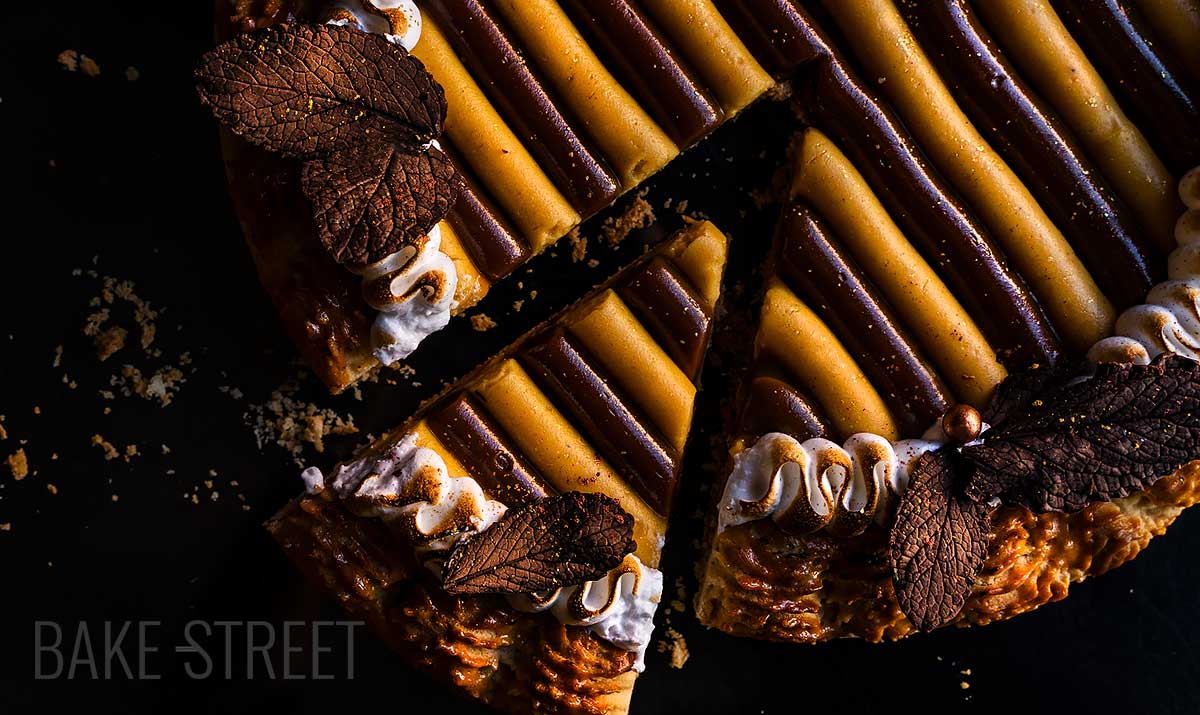 Fhoghair Tart
Este post también está disponible en Spanish
This year I'm in the autumn mood and I only want to prepare recipes with seasonal products. What's more, this year I'm making more recipes with pumpkin than ever before. But I can't help it… I really like it and I enjoy working with it. Today I'm sharing with you a cake that is a fusion of ideas and creations I've seen, which I've decided to call Fhoghair Tart.
What a lovely name, isn't it? The magic of Google Translate. You want to call your creation an autumn cake, but you don't want to use that word (because you've used it on a cake before). So you search for the same word in other languages and suddenly you click on Scottish Gaelic, and you fall in love. So that's how this cake got its name.
Many times naming a product involves a more captivating and magical process, but on this occasion it was quite fluid and natural.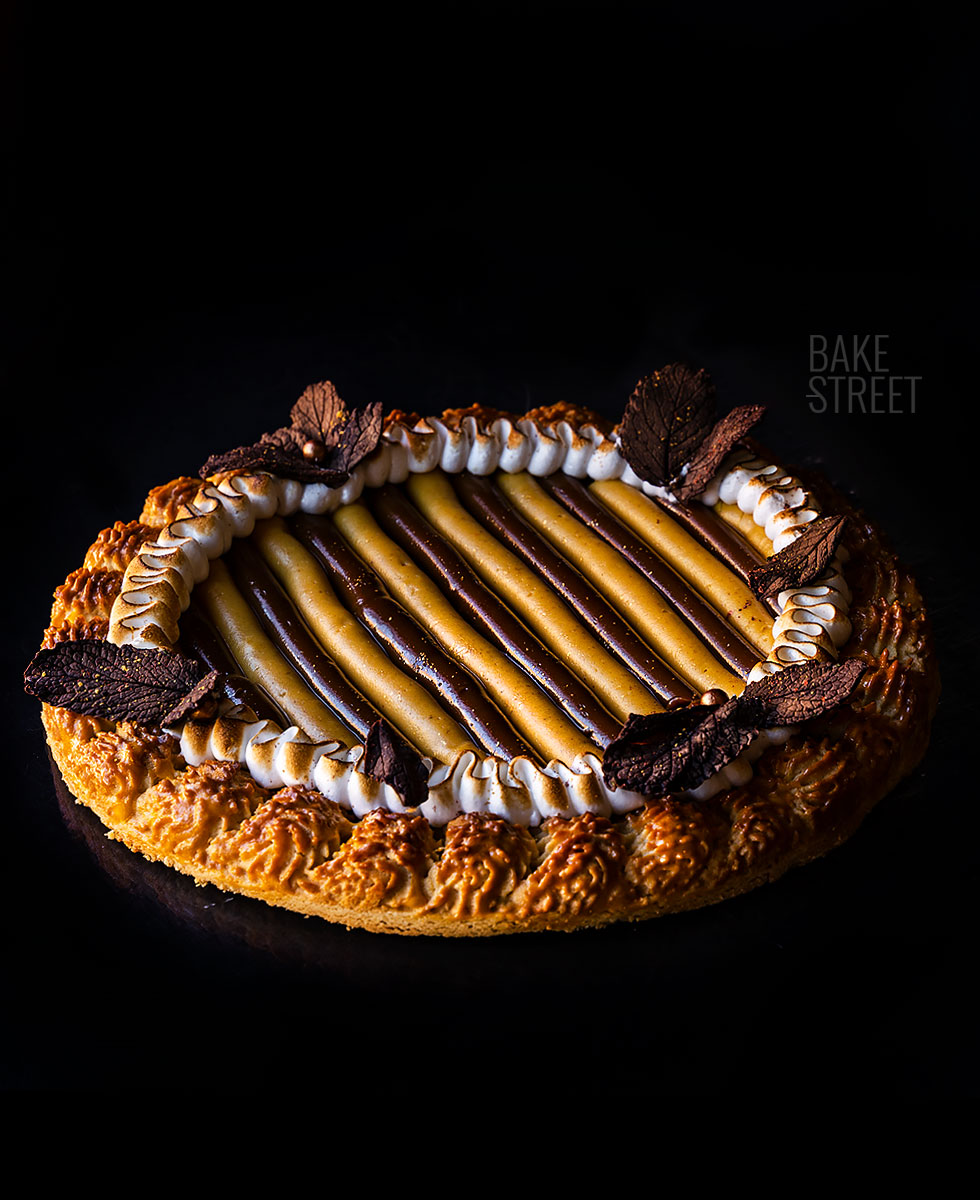 Making Fhoghair tart.
A few weeks ago I saw a cake that I really liked. I'm making a brief digression because I don't know if it's correct to call it a tart, it's possible that this preparation is more of a cake. In English it would be "pie" or "tart" instead of "cake", but in Spanish I have some doubts…
Going back to the tart, it was a real crush. I really liked the idea of creating a crunchy base, like a sucrée or sablée dough, with the sides of the cake being a piped almond cookie batter. I thought it was brilliant, elegant and different. So, with his permission, I borrowed the idea from Nicolas Boussin's Riviera tart.
I modified his recipe for almond paste and for the base of the tart, in my case, I used the same recipe I gave you for the Mazurek. I remembered that it was a very easy dough to work with, with a great taste and texture. Besides, I liked the idea of using ground almonds as well.
Filling.
For the filling I knew I had to use pumpkin, but I didn't want to make the classic pumpkin pie (not that I don't like it, but I was looking for something different). So I came up with the idea of making a spiced pumpkin pie pastry cream. I was sure that both the flavour and the texture would be amazing.
The ideal way to make it is to cook the pumpkin well and reduce its hydration a little. In addition, if we cook it beforehand with a little sugar and spices, we can enhance the aromas and flavours in the final product. It is an extraordinary cream that can work just as well with baked sweet potato.
One of the fillings was clear, but I needed another to add a different flavour and colour contrast (if possible, within the brown range). You might be thinking, why is that? Well, the idea I had in my head was this one, whose original recipe is from DBetular and his Snickers cake.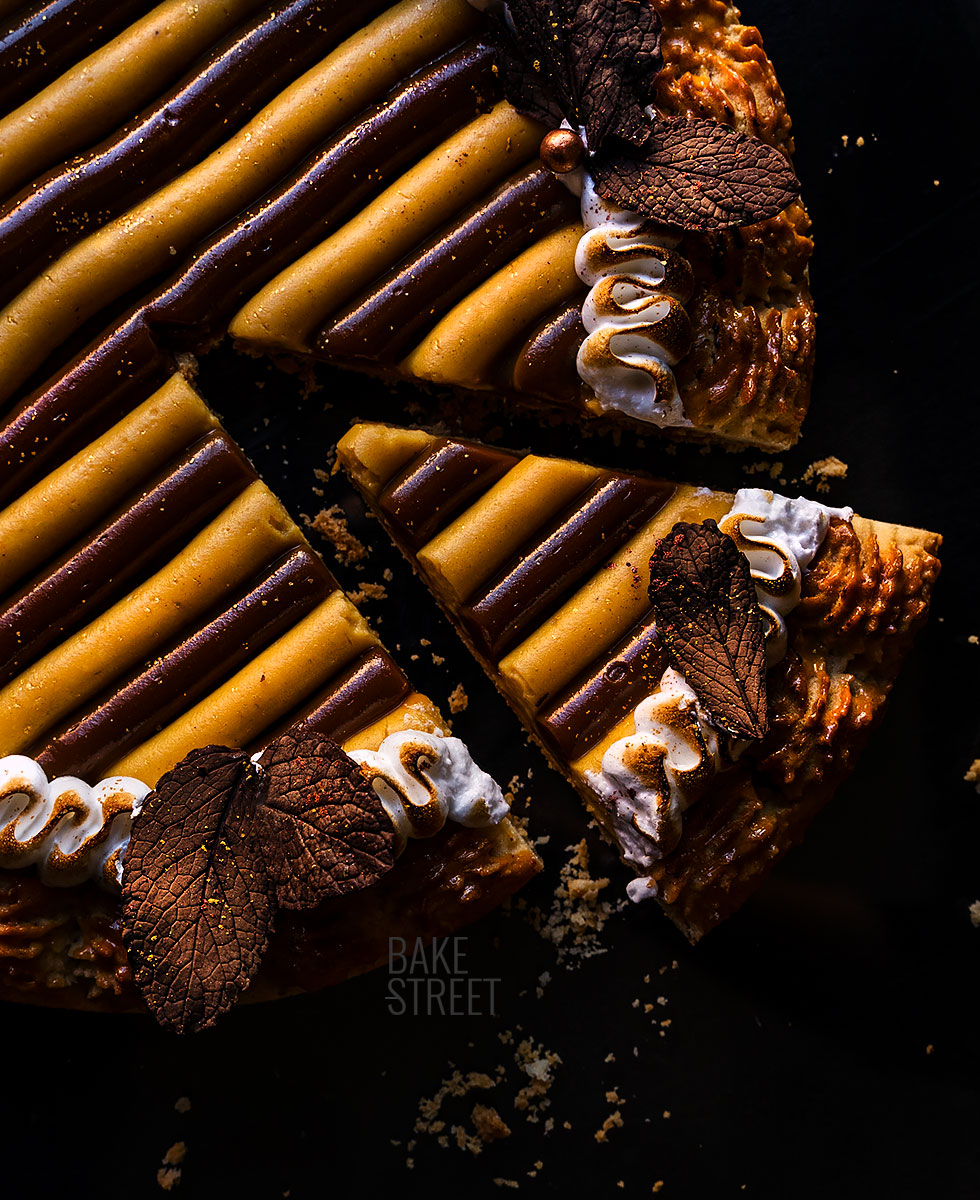 I loved the combination of two different fillings alternating, very simple and elegant, so I wanted to capture it in this recipe. In my case I used the pumpkin pastry cream and dulce de leche…. I love dulce de leche and, in this recipe, it is the one in charge of adding sweetness to the rest of the elements. Not forgetting that beautiful colour and consistency, perfect for this purpose.
Final decoration for Fhoghair tart.
The border separating the almond cookie batter and the ends of the filling needed something. Based on the traditional Pumpkin Pie, I decided to make an Italian meringue to add a subtle, but necessary (in my opinion) decoration.
I then toasted it with a blowtorch. Finally, I added some details such as chocolate leaves, gold glitter and metallic powder to enhance the final decoration.
The result is an exquisite bite. A very crunchy base and edge, with the texture and flavour of almonds, covered by two creams that combine perfectly with a very soft texture. The amount of meringue, so small, goes very well with the filling and the chocolate leaves.
Anyway, welcome autumn because this year I'm enjoying it more than ever 😀
Fhoghair Tart recipe
Ingredients for 24 cm diameter pastry ring
DOUGH (CRUST):
125 g pastry/cake flour
50 g ground almonds
38 g icing sugar
1/2 large egg
100 g unsalted butter, cold
pinch of salt
1 yolk for brushing
ALMOND COOKIE BATTER (OUTER EDGE):
90 g ground almonds
65 g icing sugar
8 g honey
55 g egg whites + 1 large egg yolk
120 g pastry/cake flour
70 g unsalted butter at room temperature
pinch of salt
FILLING:
Spiced pumpkin pastry cream (recipe below)
Dulce de leche
SPICED PUMPKIN PASTRY CREAM:
For pumpkin puree:
250 g cooked pumpkin
35 g sugar
1 tsp cinnamon powder
1 tsp ginger powder
For pastry cream:
240 g whole milk
20 g heavy/fat cream
90 g spiced pumpkin puree
3 large egg yolks
55 g sugar
30 g corn starch
1 tsp vanilla extract
12 g unsalted butter at room temperature
FOR DECORATING:
Italian meringue (recipe below)
chocolate leaves (we will need 80 g dark chocolate 70% to make them)
edible gold and bronze metallic powder colouring, edible
edible gold glitter and copper-coloured sprinkles
ITALIAN MERINGUE:
35 g egg whites
75 g sugar
17 g water
MATERIAL NEEDED:
24 cm diameter pastry ring

silpat + teflon

perforated tray

KitchenAid (optional)

piping bag (disposable use) + 6B Wilton nozzle + 104 Wilton nozzle

digital thermometer

whisk
Instructions
FIRST DAY
Prepare the crust.
In the bowl of the KitchenAid, add the flour together with ground almonds, icing sugar and salt. Mix with the flat beater for a few seconds to homogenise the mixture.
Add the butter and mix for a few seconds until you obtain a sandy mixture.
Incorporate half of the egg* and mix again until the dough is more or less homogeneous.
Transfer the dough to a work surface and finish working it using the fraisage technique. This will help us to obtain a homogeneous dough but without developing gluten.
Place the "heel" of your hand on the dough and slide the dough forward little by little so that it amalgamates but without obtaining an elastic result.
Once it is homogeneous, stretch the dough between two Teflon sheets or a silpat. Use an adjustable rolling pin and roll to a thickness of 0.5 cm.
Place on a tray and place in the refrigerator for 2 hours.
*To add 1/2 egg, beat in a bowl and weigh the total to be able to add half.
Place pastry ring on the dough.
Remove the top teflon sheet and place the dough, which is on a silpat or other teflon sheet, on a perforated baking tray.
Place the ring over the dough and press down, thus cutting out the base.
Remove the excess around the pastry ring and refrigerate.
Prepare almond cookie batter.
Mix  ground almonds with the icing sugar in a bowl.
Add the egg white and mix with the help of the flat beater.
Incorporate the egg yolk together with the pinch of salt and the butter and mix again until homogeneous.
Finally, add the flour and mix, just until no flour remains.
Put into a piping bag with a curly nozzle, I used Wilton's 6B.
Pipe almond cookie batter on the edge of the cake.
Pipe cookie batter around the inside edge of the ring.
You can create the design I show you in the video or make another design of your choice.
Refrigerate for 2 hours.
Bake.
Preheat the oven to 320ºF/160ºC with heat up and down.
Prick the base and place in the oven at medium height, bake for 25 minutes. During this period of time, if you notice that the base is slightly growing, open the oven for a few seconds and prick (very carefully) the areas that have taken on volume. Then close the door and continue baking.
After 25 minutes, remove from the oven and leave to rest for 3 minutes.
Brush the entire surface of the base and the cookie edge with beaten egg yolk.
Put back in the oven at the same temperature for 10 minutes.
Remove and leave to cool completely on a wire rack.
SECOND DAY
Prepare chocolate leaves.
In this post you can read how to make chocolate leaves. This time I have used mint leaves, with them we will achieve leaves with much more texture. The only downside is that when it comes to separating them from the chocolate, as the leaves are thinner, it is a bit more laborious.
Once they are done, put them in the fridge.
Prepare spiced pumpkin puree.
In a small pot or saucepan, place the cooked pumpkin, chopped, together with sugar and spices.
Place over medium heat and cook for 10 minutes, stirring from time to time. Our aim is to allow the pumpkin to evaporate a little of the water and to integrate well with the spices.
Transfer the mixture to a food processor or blender and process to a smooth, fine paste.
Pour into a bowl and leave to cool completely.
Prepare pumpkin pastry cream.
Pour the milk, cream and vanilla into a medium saucepan. Place over medium heat and leave until it comes to a gentle boil.
Meanwhile, in a large bowl, beat the egg yolks with the sugar and the previously sieved cornflour until completely homogenised.
Add the pumpkin puree/paste and mix again until homogenised.
Once the milk has come to boil, pour a little of it over the egg yolk mixture.
Whisk quickly to temper the yolks and prevent the yolks from curdling into lumps.
Add the rest of the milk little by little, mixing very well each time.
Pour the mixture back into the pan and place over medium-low heat, stirring constantly. You will notice that the texture will gradually become thicker, but it will take a while. Patience.
Once the cream has a creamy texture, as shown in the video, remove from the heat.
Add the butter and mix with the whisk until it is completely integrated.
Transfer into a recipient/tupper (the larger the better because it will cool faster).
Cover with cling film to prevent it from crusting and leave to cool completely.
Filling the tart.
Put the pumpkin pastry cream into a piping bag with a 1 cm plain nozzle.
Introduce  dulce de leche into a piping bag with a 1 cm plain nozzle too.
To fill the cake, pipe alternating strips of custard and dulce de leche as shown in the video.
Refrigerate while preparing Italian meringue.
Prepare Italian meringue.
Add the water and sugar to a saucepan. Place over medium heat.
Use a kitchen thermometer to check the temperature of the syrup. When it reaches 244ºF/118ºC (the syrup's "thread stage"), remove the syrup and add it to the semi-whipped egg whites.
Add the egg whites to a bowl or the bowl of the KitchenAid and begin to whip them.
Whip the egg whites until they are fairly stiff, but not too stiff or they will be dry and porous.
The syrup will be ready in the time it takes to reach this point.
Incorporate the syrup in a thin, continuous thread over the whipped egg whites and whisk at the same time.
Continue until a firm consistency is achieved. You will have a very shiny meringue.
If we check the temperature, we should beat on high speed until the temperature reduces to 104ºF/40ºC.
Leave to stand for 2 minutes before using.
Finishing the decoration.
Place the Italian meringue in a piping bag with a nozzle, I used 104 Wilton.
Decorate the outer edge, between the almond cookie border and the ends of the filling, with the meringue.
Lightly toast the meringue with a blowtorch.
Decorate with chocolate leaves and copper-coloured sprinkles.
Finally, sprinkle a little edible gold glitter and metallic colouring powder on the leaves, if desired.
Serve.
Notes for Fhoghair Tart
The dough can be made by hand or, as I show you in the video, in a KA/kneading machine.
The crust should not be kneaded/worked too much to avoid developing gluten. This would cause the dough to puff up too much during baking.
If it is necessary to sprinkle some flour on the dough to make it easier to handle, you can do so. But remember to sprinkle, not add much more.
We must work with the dough cold to obtain a good finish.
If you want the shapes to hold their shape after baking, follow the cold resting steps that I have detailed.
Brushing the base with egg yolk helps to form a layer that separates the base from the filling, thus preventing it from softening by absorbing the moisture from the filling and preserving its crunchy texture.
The amount of egg whites to be added to the almond paste depends on the quality of the ground almonds. The drier they are, the more egg whites they will need.
It is important to respect the cold resting time in both cases, in order to ensure that the paste keeps its shape after baking. This is especially true for almond pastes.
You will have a little bit of almond paste left over, you can pipe them on the sides of the tray and enjoy them as tea biscuits (as I left you in this post).
It is very important to achieve a good texture of the pumpkin puree to ensure that the final result is silky and smooth. We must cook them well and process them afterwards.
If you wish, you can omit the spices or any of them if you don't like them.
Do not forget to temper the egg yolks to prevent them from curdling and forming lumps.
Be patient when you are making pastry cream, it takes a little while to set and gain consistency. Don't be tempted to increase the heat as you run the risk of burning some of the base and passing the flavour into the custard.
I have used an Italian meringue to decorate it, but you can use a French meringue if you prefer and don't want to get too complicated.
If we over whip the meringue or whip it at too high a speed, we run the risk of integrating too much air and breaking the structure of the egg whites. The end result would be a porous meringue that loses its shape.
The decoration is entirely optional and can be adapted to your taste.
It can be kept refrigerated, in an airtight container, for 4 days (due to pastry cream).
I am in love with this Fhoghair Tart, not only because of its different process, but also because of how amazingly good it looks. I really liked the combination of pumpkin pastry cream and dulce de leche.
Well, it's true that by using dulce de leche I had already won a part of the tour, we're not going to fool ourselves... hahaha.
I hope you make it soon and let me know how it went! We have to get some ideas for Halloween or even Thanksgiving. I know many of you don't celebrate it, so it can be made to enjoy at any time of the year. But for me, I love celebrating things, that's why I'm in for everything!
I wish you a wonderful weekend!
Lots of love,
Eva
Archivado en