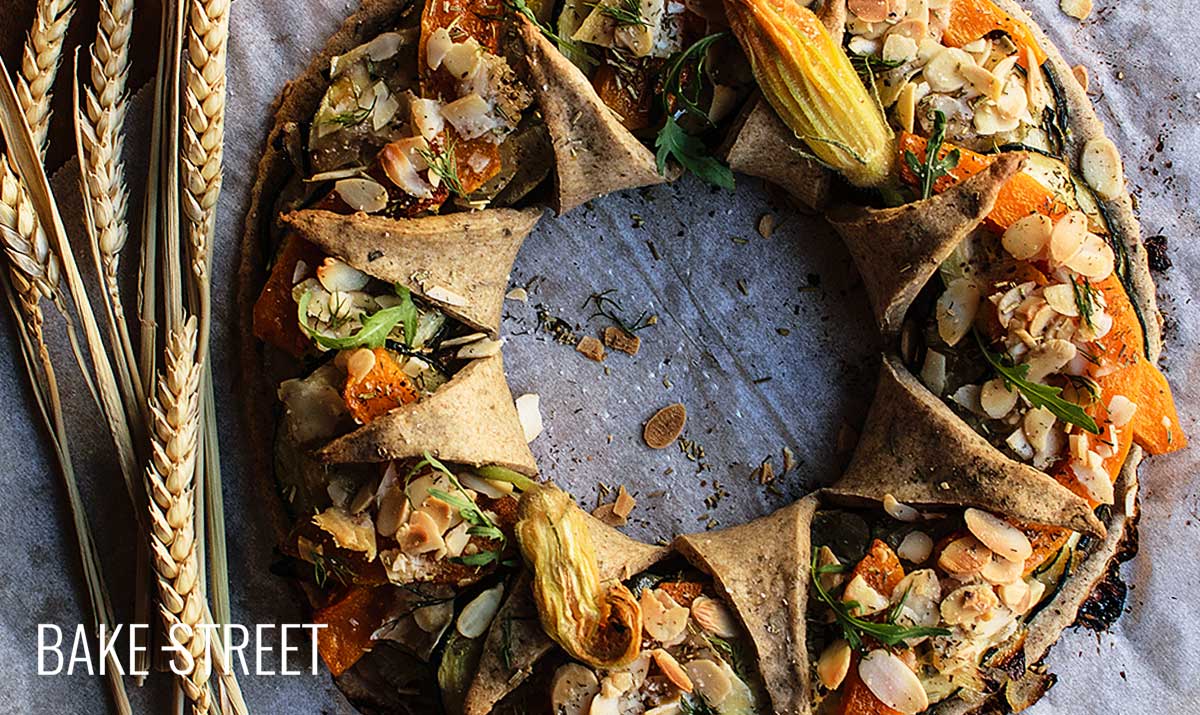 Autumn sun tart
Este post también está disponible en Spanish
I love savoury pies, they have always been very versatile and perfect for serving as a dinner, starter or even as an aperitif. It is also a preparation that allows us to leave it prepared in advance if we do not serve it when we need it. I was looking for some new ideas to prepare salty pies when I came across a sun-shaped cake from the Saines Gourmandises blog. I thought it was absolutely beautiful, so I had to adapt it to bring you this Autumn Sun Tart.
We are at a time of year when we can enjoy a lot of fantastic ingredients and I have tried to use some of them for today's recipe. In addition to some others such as rye, oregano, watercress … and give it a rustic and very aromatic touch.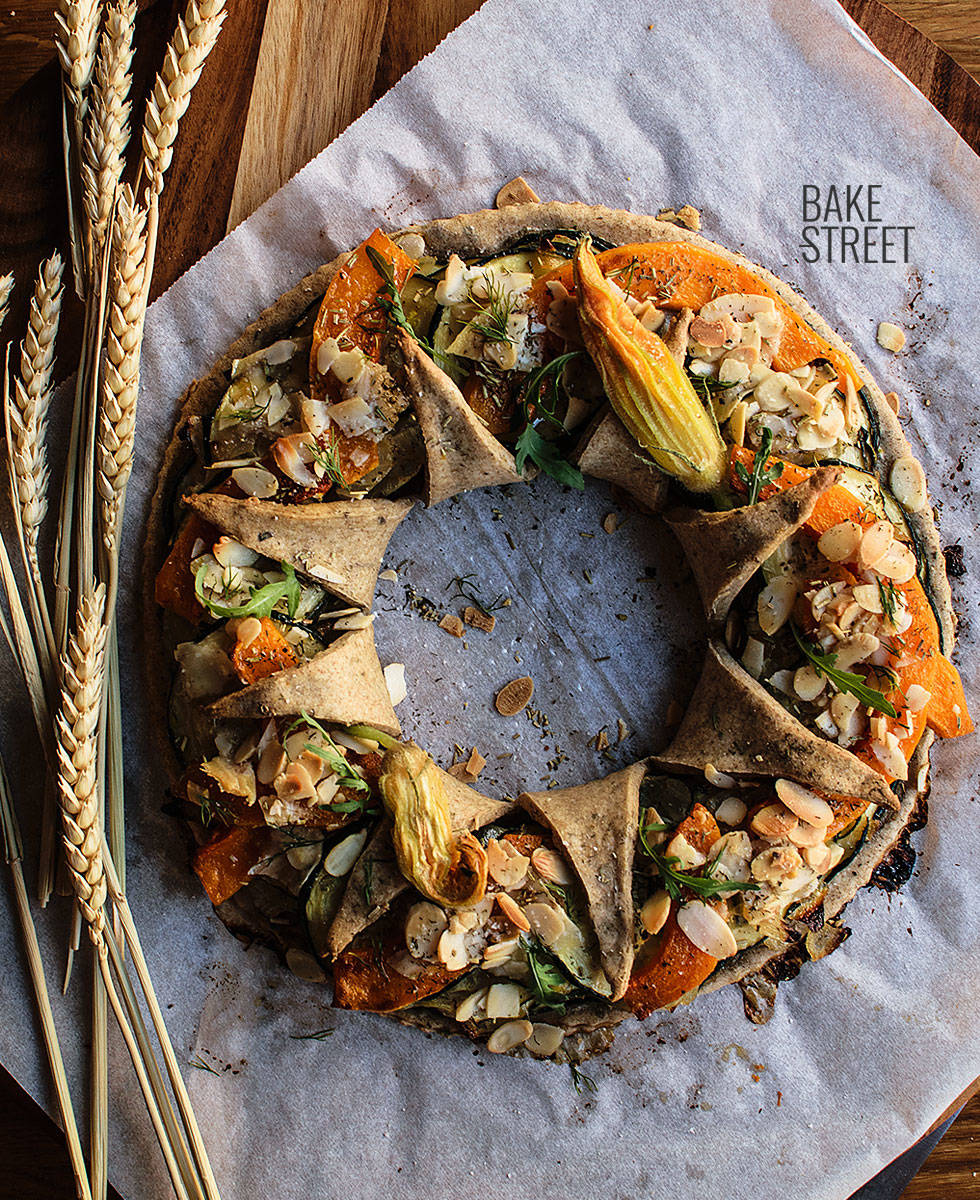 New edition of my Online Workshop Homemade Bread for beginners.
Before continuing with today's recipe, I would like to make a brief aside to tell you that (finally after all your requests) I have decided to release a new edition for my Online Workshop Homemade Bread for beginners. For those of you who have done workshops with me before, you already know the methodology I usually do in them. But for those of you who don't know, I'll give you a brief summary.
During the 4 weeks that the workshop takes, we will learn how to make homemade bread from the beginning. There is no need to have previous knowledge in the world of bread, kneading or preferments/sourdough. We will learn the basics of making bread, starting with simple yeast breads, then various types of preferments that we will apply to our breads, and finally, we will make sourdough breads. Also during these weeks, we will begin together to prepare our sourdough to be able to use it later.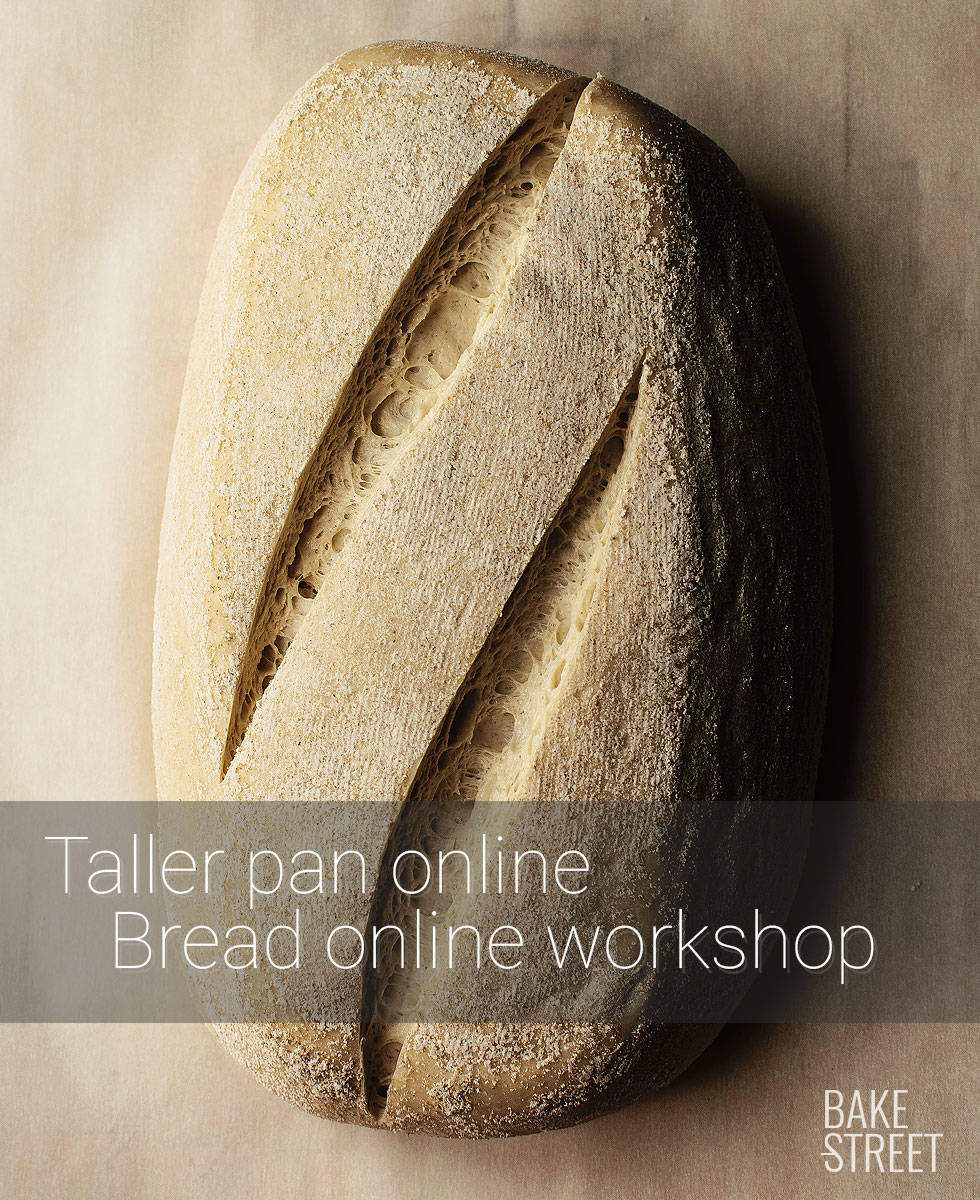 It is structured in parts and I will provide you with new topics, exercises and recipes every day. Exercises will be accompanied by videos that will help you carry it out and learn perfectly the whole process. The workshop has a private forum where you can share your doubts, exercises or queries as well as interact with other colleagues and me.
The workshop is available in Spanish and English, but students of different languages will be able to interact with each other if they wish through the change of language in the workshop itself. It is a daily and individual tutorial workshop.
If you want more information, you can do it through this link or in the top bar clicking on SHOP. Now we continue with the recipe 😉
The base of our tart will be very simple.
To carry it out we will only need to mix the ingredients and stretch the dough. No rising or resting times, a really easy base to prepare and with a surprising result. Among the ingredients you will find rye flour, I know that some of you are not very fond of this cereal. For those who do not like it or do not find it easily, you can replace it with whole wheat flour, spelt … What you prefer.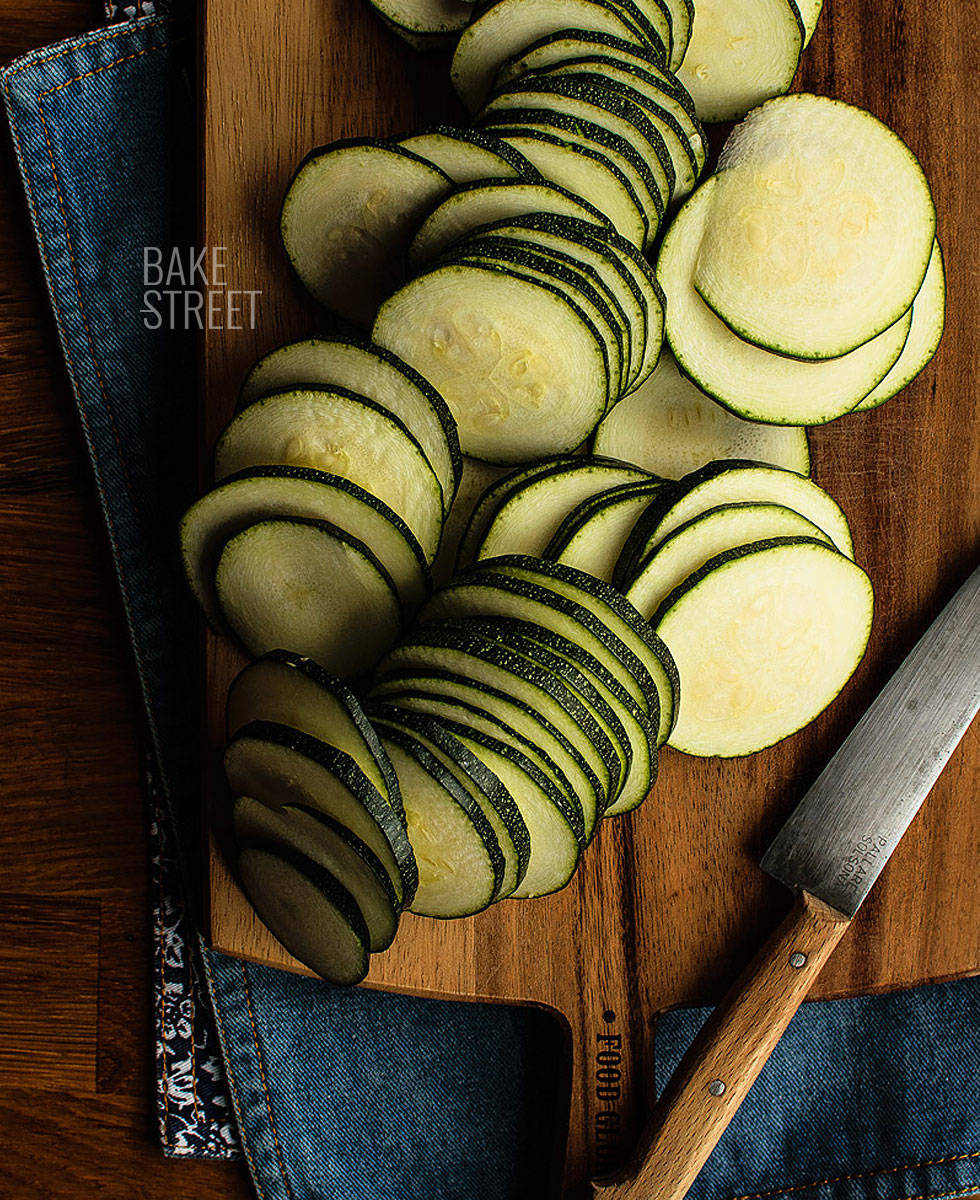 Then we will add flavor with a pesto of watercress, dill and peanuts, a recipe I left you a few days ago. I assure you that it is absolutely addictive, you could almost eat it with spoonfuls! I use it for pizzas, salty pie bases, sandwiches, hamburgers, vegetable toasts… It goes great with a lot of ingredients. Like the base, preparing a pesto is very easy.
All you have to do is put all the ingredients into our KitchenAid blender, process and you're done. To keep it in perfect condition I recommend you keep it in an airtight glass container, covering the surface with olive oil and refrigerated. This will prevent the top from drying out or spoiling.
The ingredients of the Autumn Sun Tart.
Of course, all the ingredients can be substituted by others that you like better in case one of them is not to your liking. In my case I have used zucchini, pumpkin and onion. We will sauté them with a little olive oil before placing them on the cake to prevent them from releasing a surplus of water during baking.
Then decorate with almonds, fresh dill, rosemary, Parmesan slices, almond oil and white truffle salt. The combination is very aromatic, very autumnal and very addictive!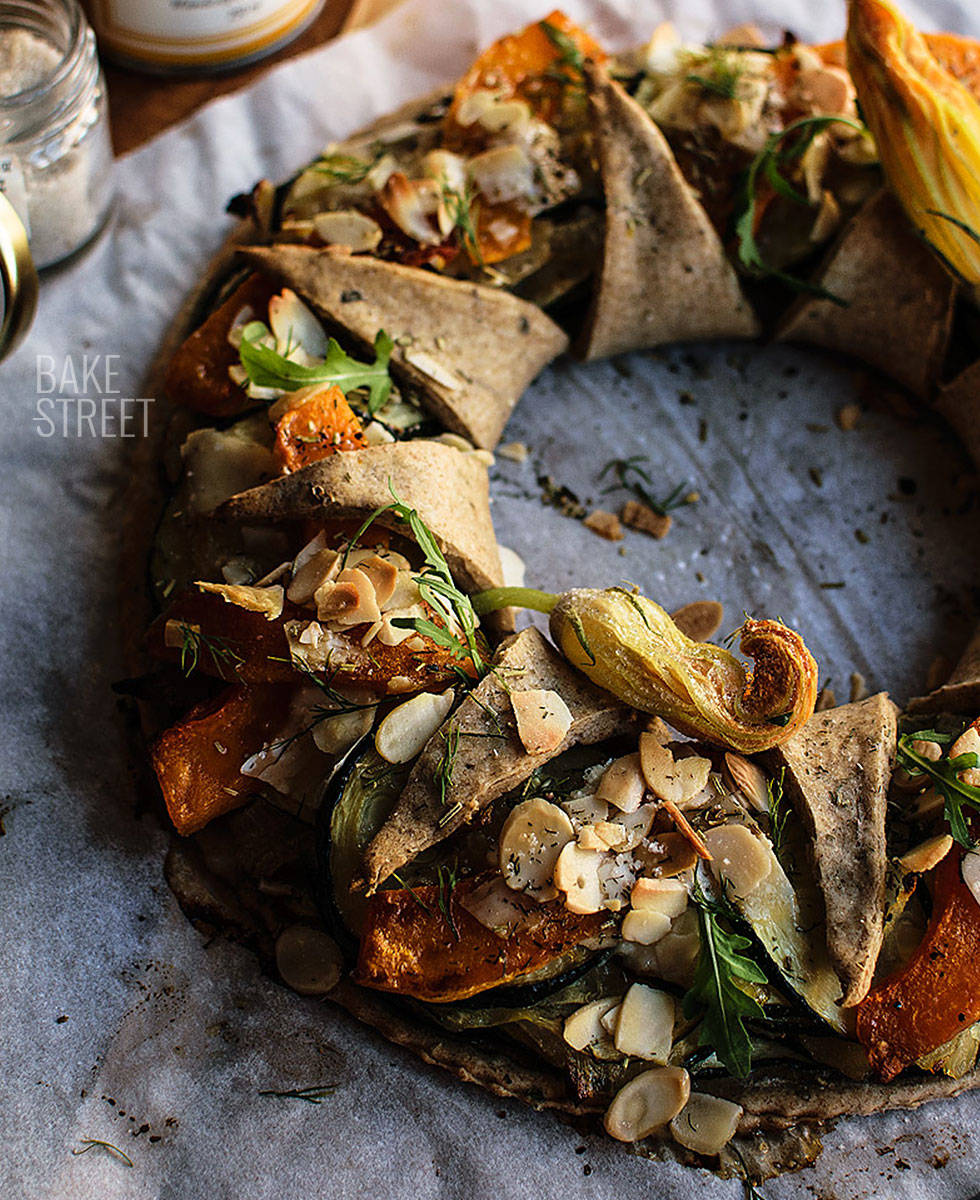 Ingredients
FOR THE DOUGH:
90 g whole rye flour
110 g AP/plain flour
100 g water
12 g white wine
15 g olive oil
2 tsp dry oregano
1/4 tsp salt
FOR WATERCRESS, DILL AND PEANUTS PESTO:
60 g watercress
25 g fresh dill
125 g olive oil
100 g Parmesan cheese
75 g roasted peanuts
1 large garlic clove
salt to taste
FOR THE FILLING:
1 zucchini, about 500 g
1 large onion
150 g pumpkin, thinly sliced
5 Tbsp olive oil + 2 Tbsp
salt and black pepper to taste
FOR GARNISH:
sliced almond
3-4 tsp almond oil
Parmesano flakes
fresh and dry dill
dry rosemary
white truffle salt
Instructions
Make watercress and dill pesto.
To see how to make watercress pesto, you can do it in this recipe.
Sauté the vegetables.
Wash the zucchini very well, dry and cut into very fine slices. Set aside.
Cut the onion into squares, set aside.
Heat a large frying pan over medium heat with olive oil. Once it has a temperature, add the onion.
Cook for 10-15 minutes at medium heat. You will notice that it becomes tender and transparent.
Add the zucchini together with the onion and cook, stirring from time to time, until it acquires a slightly tender texture. It will take about 10-12 minutes.
Season to taste and stir.
Remove from heat, pour into a bowl and leave to cool.
In the same frying pan add another 2 spoonfuls of olive oil and add the sliced pumpkin. Sauté until it acquires a light golden color and the texture is slightly tender. It will take about 8-10 minutes.
Remove from heat and let it warm up.
Make the dough.
In the bowl of the KitchenAid or in our kneader, add the flours together with the water, white wine, oil, oregano and salt.
Mix with the help of the hook at speed 1 until a homogeneous dough is obtained.
Turn over on a clean work surface and work a little with your hands.
Shape a disc and stretch with the help of a roller between two teflon sheets or baking paper. We will try to give a diameter of approximately 9,85 inches/25 cm.
Cut the dough.
Place a large plate or bowl on the dough and, with the help of a curling cutter for dough, make a circle. Remove the excess dough.

 

Transfer the dough disc with the baking paper on a perforated baking tray.
Now, we will make the central cuts that will give place to the aspect of sun or flower.
With the help of a ruler and a sharp knife or pizza cutter, we make 4 cuts of 3,9 inches/10 cm in length that will give rise to a star.

 
Fill and bake.
Preheat the oven to 355ºF/180ºC.
Place a thin layer of dill pesto on the base.
Put the zucchini, onions and pumpkin sautéed all over the surface.
Decorate with Parmesan, dill and dried rosemary slices, and sliced almonds.
Fold the dough peaks over the filling and bake for 40 minutes. You will notice that the dough takes on a light golden color.
Remove and leave to warm for a few minutes on a rack.
Serve.
Place on a plate, dish or table where we are going to serve it.
Drizzle the vegetables with almond oil, sprinkle with truffle salt and decorate with some fresh dill leaves.
If we have pumpkin flowers, we can decorate it with them.
Serve.
Notes
Can the dough be made without rye flour? Yes, you can. You should just omit it and use more strong or wholemeal flour instead. But I recommend you to use it because the taste is fantastic.
Rye flour makes the dough sticky to the touch. So this texture is completely normal when you knead it.
The pesto can be this variety that I leave you or any other, even the traditional one elaborated only with basil and pine nuts. I leave it completely to your choice, although the touch of watercress and dill goes perfectly with the rest of the ingredients.

When you cut the cake (unbaked), if the dough is difficult to handle or soft, refrigerate it for 30 minutes to make it easier for you to handle.
The pesto base should be very fine, just to bring a little flavor.
Nuts and aromatic herbs can be adjusted to your tastes.
We can keep it for 1-2 days stored in an airtight container in the refrigerator. Although I recommend you to consume it the same day that we elaborate it, it is when better flavor and texture will have.

 
This Autumn Sun Tart has been a big hit at our dinner last week with friends. I prepared two units and served them with a cheese and sausage board, several types of hummus with naan bread, pickles and a few other things. They loved it and I was able to leave everything prepared in advance.
I invite you to try it and tell me how it has gone ;)
Happy beginning of the week, big hugs!
Eva
This post contains affiliated links
Archivado en