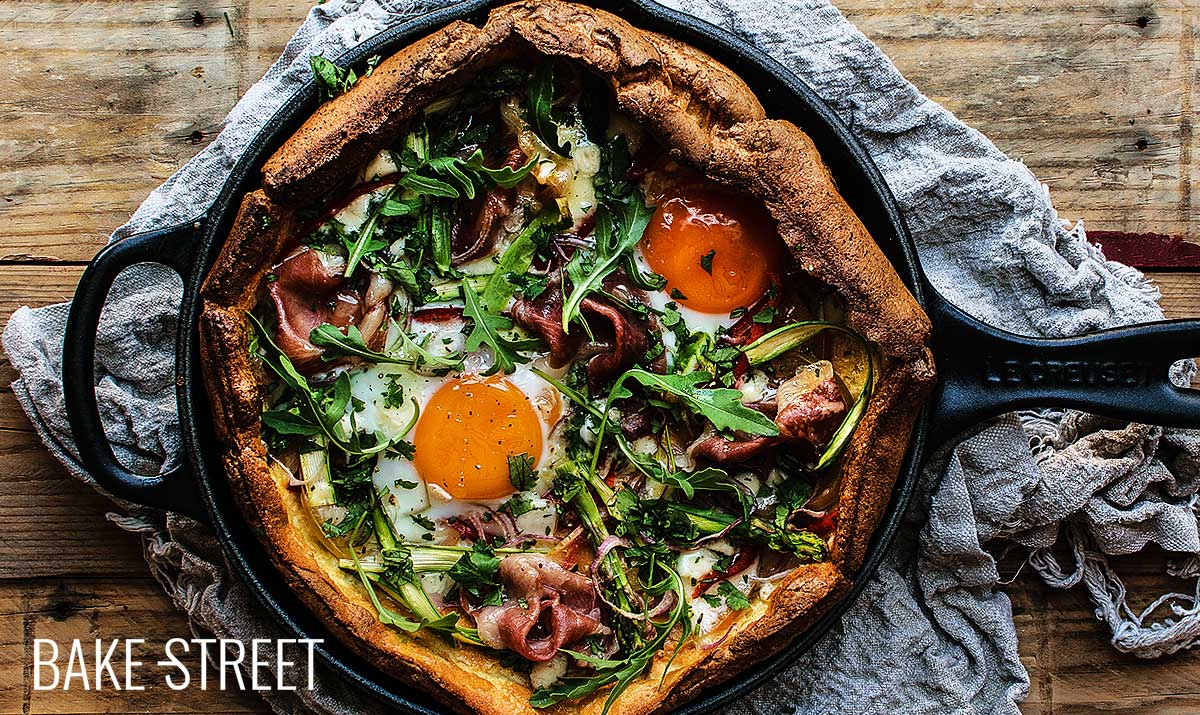 Dutch Baby with ham, asparagus and eggs
Este post también está disponible en Spanish
You can't imagine how long I've been around this recipe. The problem that has slowed down so much was that I didn't have an iron skillet to prepare it. All the ones I have at home have wooden handles or other material that can't be put in the oven, but the day has finally come! Here's a salty version of the famous Dutch Baby with ham, asparagus and eggs.
For those of you who don't know what it's all about, it's a a recipe that combines popovers and pancakes. Simply mix its ingredients, pour them into a iron skillet and bake for 15-20 minutes. Then we can accompany it with those ingredients that we like the most. In my case I have chosen a salty version that can be ideal both for breakfast and dinner.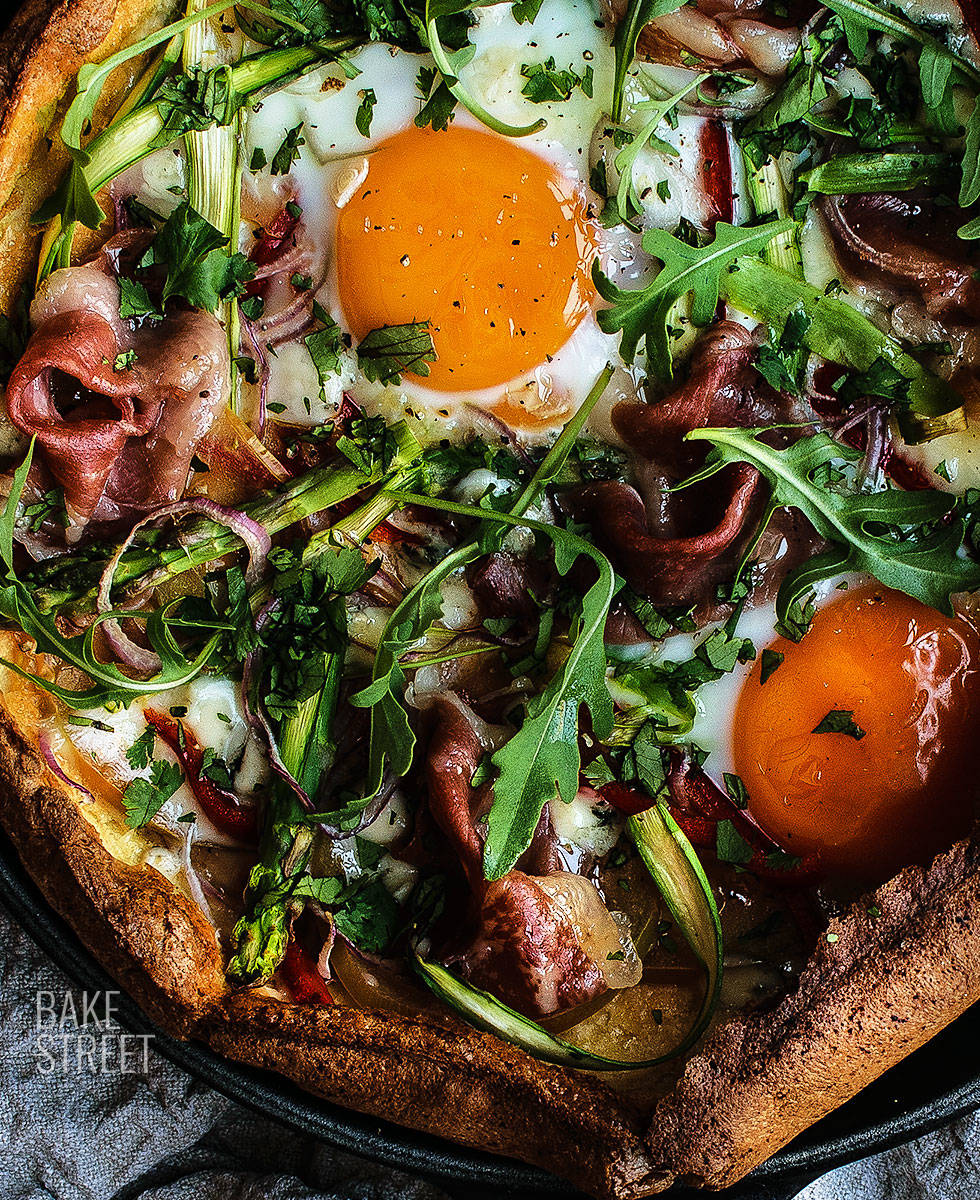 Dutch Baby.
We can also find it under the name of German pancake, Bismarck or Dutch Puff (I love this one). It can be made in both sweet and salty versions, the most common and usual being the first.
This pancake is made with eggs, milk, flour, sugar and vanilla (if we choose the sweet version) baked in an iron skillet and served mostly for breakfast, brunch or dessert. It is usually served with a little freshly squeezed lemon juice, butter and icing sugar, but it is also usually served with fruit or syrup.
Dutch Baby origin.
Apparently Dutch Baby was born in Europe, but soon expanded to Occident. At the beginning of the 20th century, Victor Manca, owner of the restaurant Manca´s Cafe  in Seattle, introduced the German pfannkuchen (literally translated as "pancake") to his menu. He chose to make small versions of these pancakes. Hence, they were called "dutch" ("deutsch" in German) joined to 'baby'.
This is how the name of this elaboration, Dutch Baby, came about and Victor registered its name.
After the closure of the restaurant Manca´s in 1950, the Dutch Baby lived in the pages of Sunset magazine. There are recipes perfumed with lemon and cardamom, with sauces… But the most popular of them all was one published in 1977 that recalls its German origins. It was made in a much larger format and with a good amount of butter.
By the way, how long without sharing music with you! Today I want to leave you with a song by NTEIBINT feat. Stella "The Owner" (link to Youtube) I really like the rhythm it has, it moves me to 90´s.
Home-cooked.
When it is time to make it at home, I recommend that you do it in an iron skillet. In my case I have used a 9 inch (23 cm) in diameter, but you can make it the size you prefer. Just take into account the quantities to make it according to your pan.
It is recommended that the pan has a depth, but not more than 3 inch (7 cm), to help the batter to rise up the sides and acquire volume. After you take it out of the oven, it will start to go down at high speed. Don't worry, this is completely normal.
What you should do is have everything ready and prepared to eat as it comes out of the oven. That's when it will have the best taste and texture.
As you can imagine, there are lots of ideas for this recipe. In my case I really liked the Morgan's stuffing from Host the Toast, and I decided to use some of its stuffing ingredients. Don't miss her version which is extraordinary 😉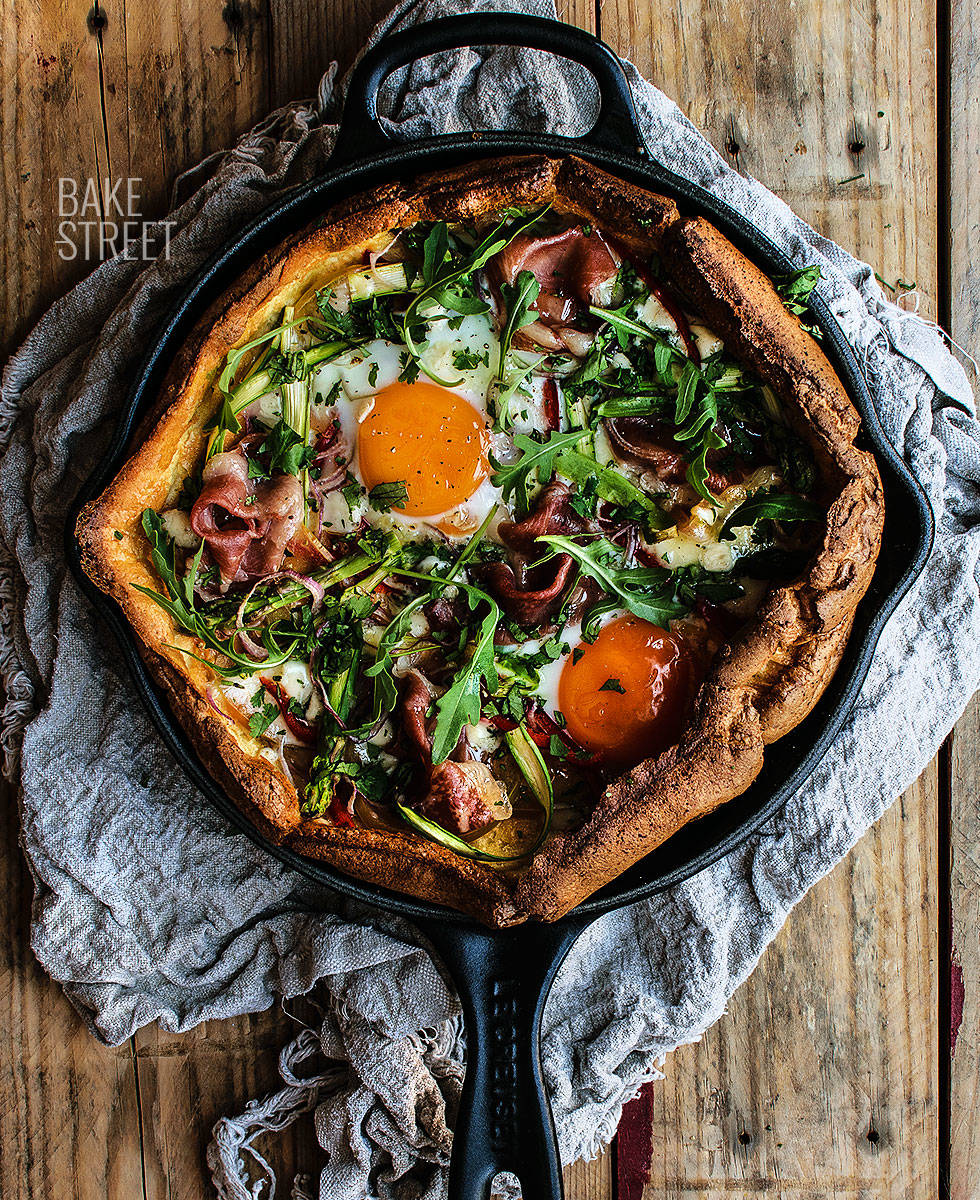 Ingredients
FOR THE DUTCH BABY:
4 large eggs
100 g whole milk
60 g baking flour
1/4 teaspoon salt
2 tablespoons unsalted butter
FILLING:
mozzarella
blue cheese
Serrano ham
finely sliced green asparagus
1/2 Italian red bell pepper, cut into strips
1 large tomato, finely sliced
1/4 red onion, finely sliced
2 large eggs
fresh cilantro
arugula
ground black pepper to taste
Instructions
Make Dutch Baby.
Preheat oven, with the iron skillet (9 inch/23 cm diameter) inside, to 410ºF (210ºC).
Meanwhile, in a bowl, mix the eggs with the sifted flour, salt and milk. We'll do it until the mixture foams. If you prefer, you can use electric whisk.
Once the oven and pan are hot, carefully remove and add the butter. Tilt the skillet so that the butter covers the entire surface of the pan while it melts.
Pour the batter on the skillet and back into the oven.
Bake for 15 minutes. We will observe that it grows a lot and acquires a beautiful golden color. In this video that I uploaded to the IG stories, you can see how it will be when the baking is finished. Keep in mind that after removing it, it will lose volume.
Remove from the oven and stuff it.
Remove from the oven and stuff.
Stuff with mozzarella, crumbled blue cheese, laminated tomato, asparagus and onion finely sliced , strips of raw red pepper, slices of cured ham and a couple of fresh eggs.

Put it back in the oven at the same temperature and leave it for 10 minutes or until the eggs set.
Remove from the oven, sprinkle with ground black pepper to taste, finely chopped cilantro and arugula. If we wish, we can pour a dash of olive oil on top.
Serve immediately.
Notes
The iron skillet should be preheated in advance to facilitate the expansion and volume of the pancake.
The amount I leave you is for an iron skillet with a 9 inch (23 cm) diameter.
To the batter we can add spices or even chopped herbs to our taste.
If you are not going to stuff it, I recommend you to extend the baking time for another 3-5 minutes.
The filling is totally optional, in my case I leave you these ingredients, but you can modify them at your choice.
If you want to give more creaminess and smoothness, you can spread some pesto (basil, rocket and almonds) (sage pesto) (kale pesto, this is only available in Spanish), tomato jam or tomato and tamarind chutney on the base of the Dutch Baby after cooking and before filling.
This type of recipe should be consumed immediately or shortly after cooking. That's when it'll be better off.
If you want to enjoy a wonderful breakfast during your holidays, you should try this Dutch Baby with ham, asparagus and eggs. You'll have it ready in just under 30 minutes and enjoy it like a child.
Who says breakfast, says a quick, simple and absolutely delicious summer dinner. I hope you like the idea and try it.
Big hugs,
Eva
Sources: SunSet
This post contains affiliate links.
Archivado en