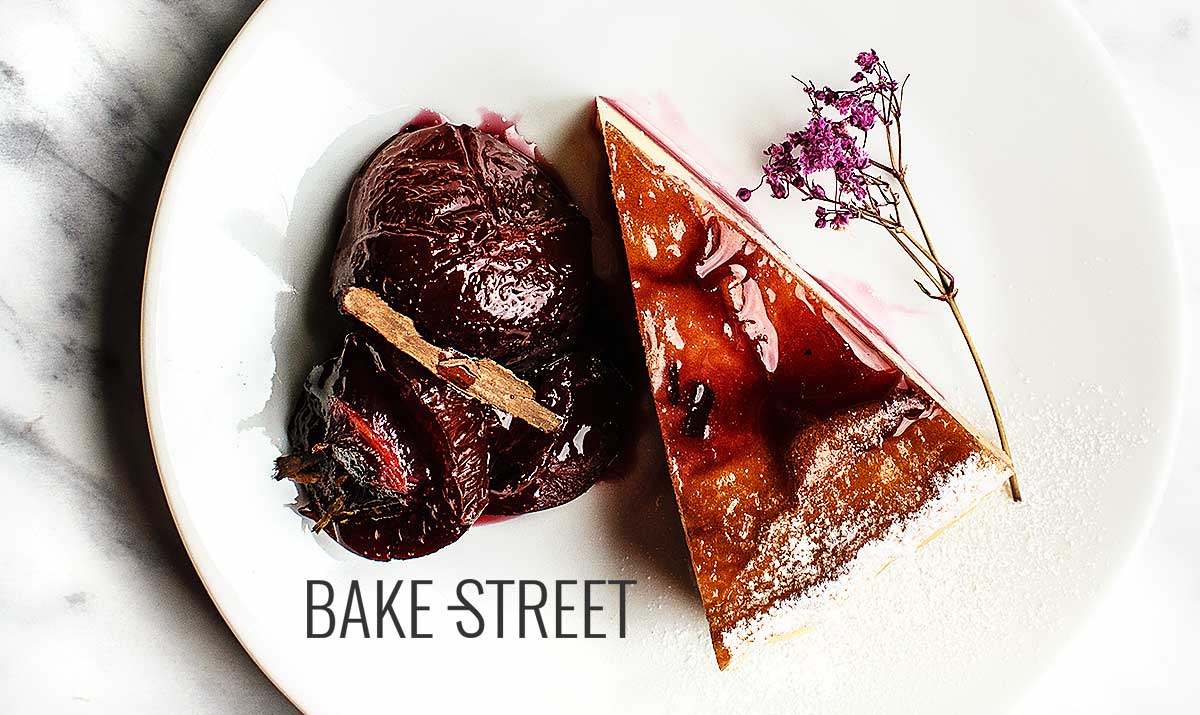 Far Breton with roasted plums
Este post también está disponible en Spanish
Far Breton or Farz Fourn is one of those recipes that unexpectedly arrive without looking for or waiting for them. One day you're looking at Pinterest and you come across a cake, which looks like cheesecake, but slightly different. You read its name and, bang!, you fall in love immediately. Finally you end up looking for information about it, recipes … and the next day you are cooking it. I am very impatient.
This traditional sweet from the French Brittany has a texture very similar to a firm and consistent flan, could even remind us (distantly) to a quesada pasiega (a traditional sweet from Cantabria) or the well-known clafoutis. You can find several Far Breton versions, the most popular is made with prunes soaked in rum but we can also find it with raisins or even apple.
The original and traditional recipe was made without added fruit
It was only a simple cake that in its beginnings was not sweet. It used to serve as a substitute for bread to accompany some dishes such as roasts. Its name comes from far that in Latin means flour and fourn from Breton which means oven, and the first references date from s. XVIII.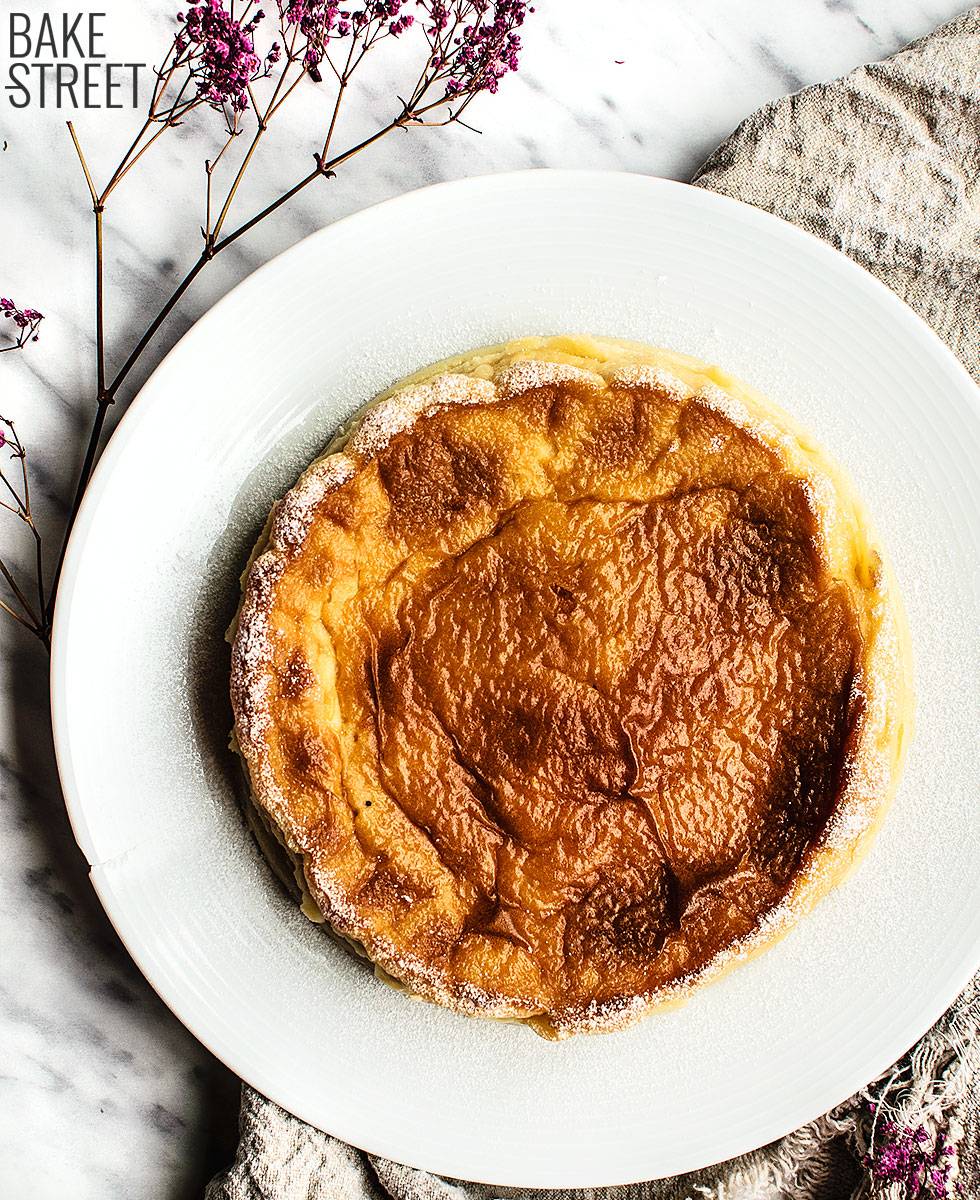 It is a very cheap and humble recipe, available to everyone. It consists of very basic ingredients like milk, flour, butter, sugar and eggs. Later fruit was introduced inside, which is the most common format today. In my case I opted to make a small change but maintaining its essence.
I have prepared the cake in its most traditional way, without adding fruit inside, but I decided to decorate the outside with fresh roasted fruit. I love how caramelized fruit sugars in the oven, acquire an exceptional roasted flavor,  just as I made with the peaches to make the grilled salad. Of course if we season it with honey and spices … the final result improves in an insurmountable way.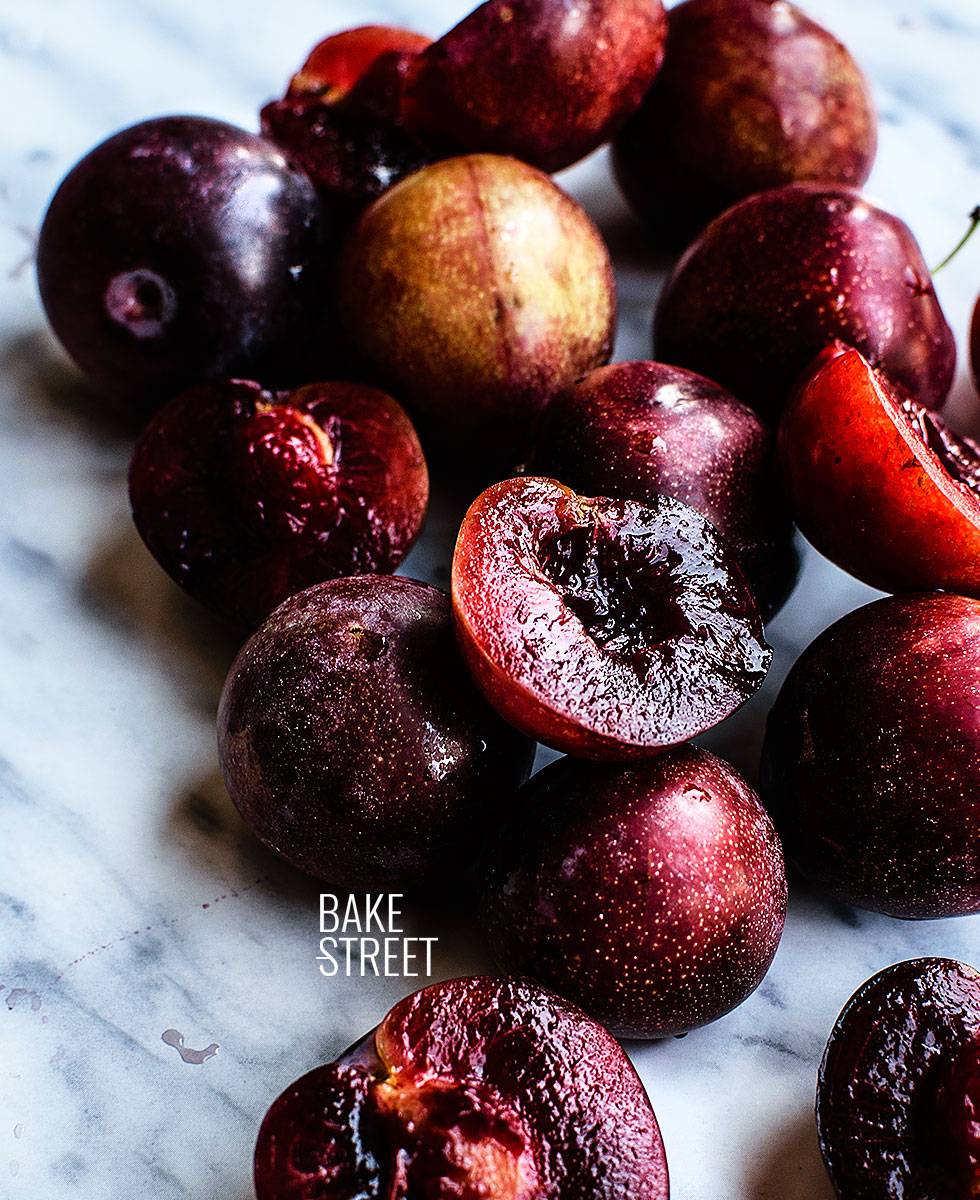 Making this cake will take very little time, do not worry about reading that you have to use the oven, we do not have to be in front of it while baking. Prepare a cool drink and go to the living room, garden … and enjoy while your delicious dessert is baking. The result will charm you and it will be worth the insurance 😉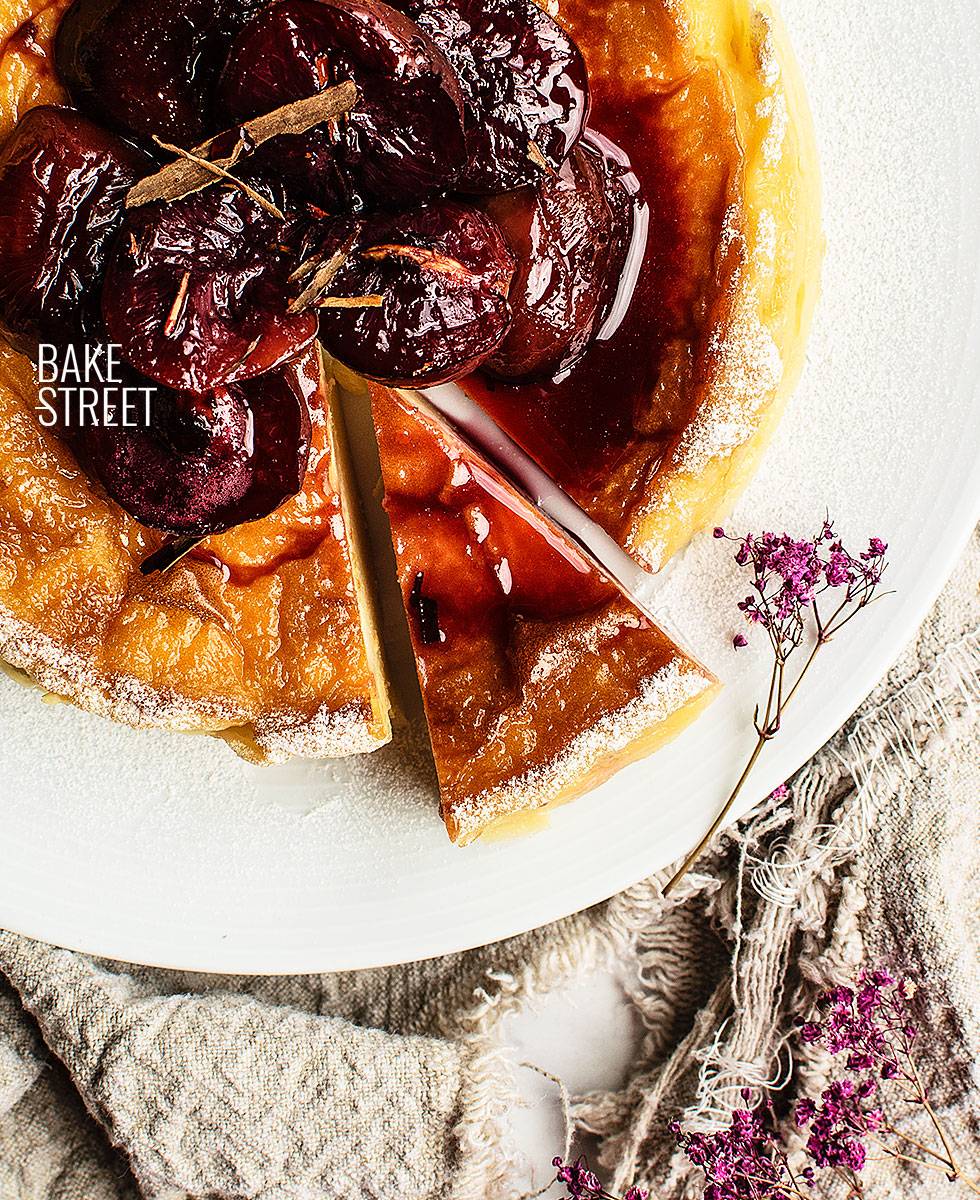 Far Breton with roasted plums
FOR THE FAR BRETON:
14,1 oz (400 g) whole milk
3 large eggs
4,2 oz (120 g) baking flour
3,5 oz (100 g) sugar
2,65 oz (75 g) de melted and cooled butter
1 tsp vanilla extract
1/4 tsp salt
FOR THE ROASTED PLUMS:
6-8 red plums
1 cinnamon stick
2 Tbsp honey
Instructions
Make Far Breton batter.
Line a 8 inch round pan with baking parchment, set aside.
Preheat oven at 375ºF.
In the KA or stand mixer bowl add the sifted flour along with the eggs. Whisk until obtaining a homogeneous mixture without lumps.
Add the sugar along with the vanilla extract and salt, mix again until fully integrated.
Pour the milk, little by little, mixing at the same time.
Once it is integrated, pour the melted and cooled butter little by little while mixing.
Pour the batter into the round pan and bake for 60-65 minutes or until a toothpick inserted in the center comes out clean.
Remove from the oven and let cool completely in the pan and over a rack.
Remove from the pan, cover with film and place in the fridge until the next day.
Bake red plums.
Preheat oven at 350ºF.
Wash and dry plums. Halve them and place on a baking tray line with parchment.
Drizzle with honey, crush the cinnamon stick and place over the plums.
Bake for 30 minutes.
Remove from the oven and let cool slightly.
Serve the tart.
Place the Far Breton on a serving plate.
Dust with icing sugar on the edges (this step is optional but beautiful ;) ) and place the baked plums on top.
Serve.
PRESERVATION: We can keep Far Breton in an airtight container in the refrigerator for 4-5 days.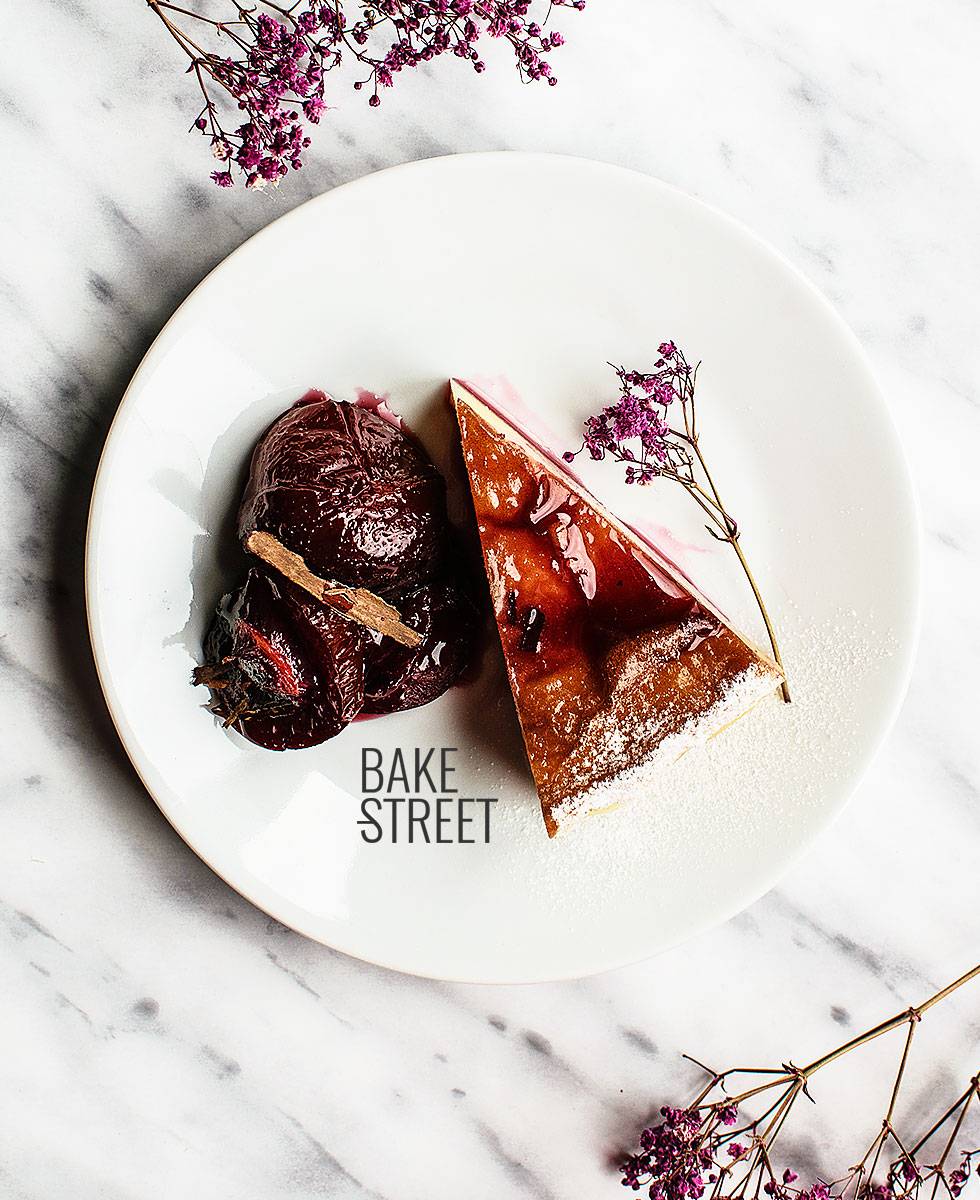 Notes
We can consume the Far Breton on the same day that we have bake it once it has cooled completely. Although I think after staying in the cold, flavors and textures mature and are much better. But this is only my humble opinion ;)
I decided to roast the plums in the oven but if you prefer, you can grill them on an iron skillet.
If you do not want to use honey because you do not like it or do not consume it normally, you can sprinkle the plums with muscabado sugar instead.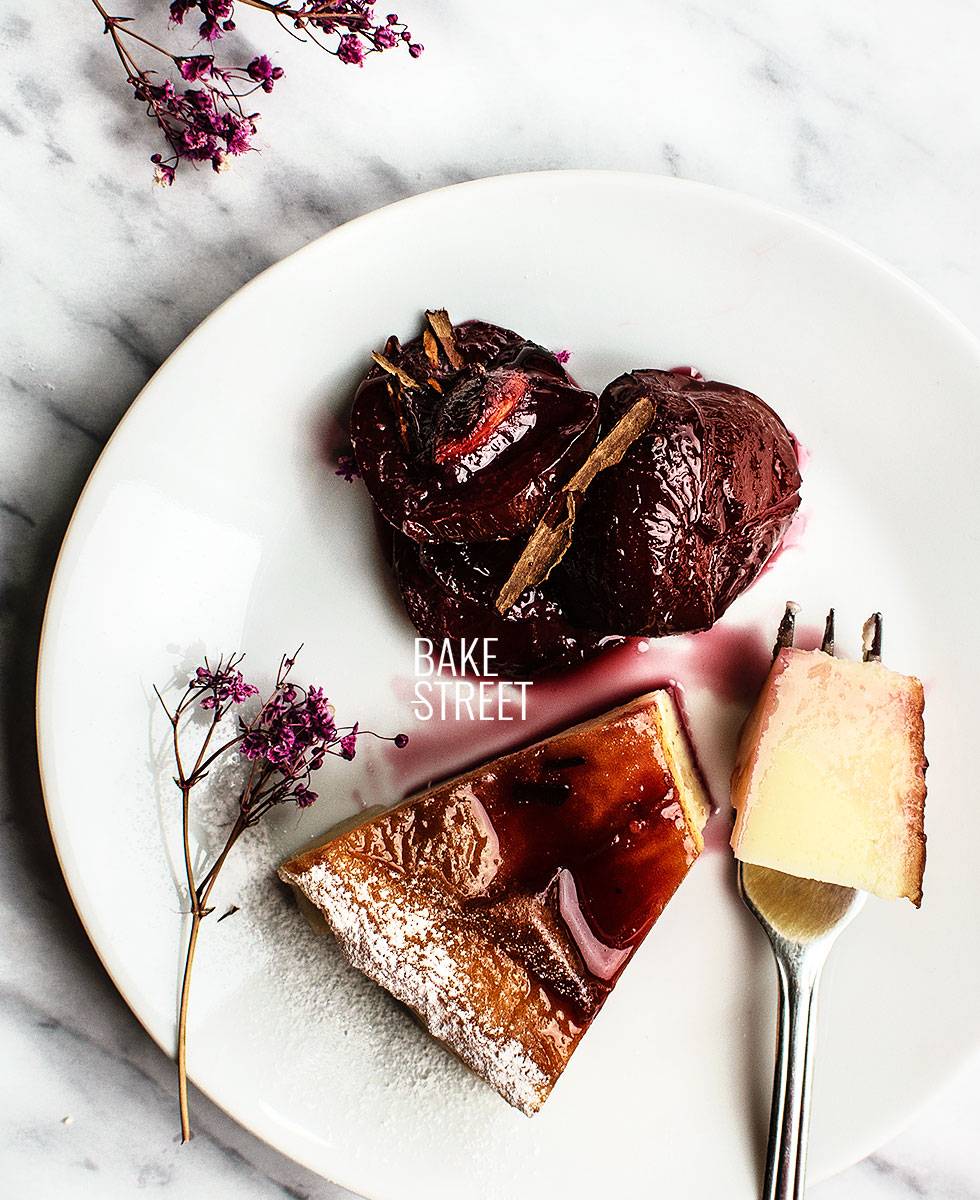 With this Far Breton with roasted plums I say goodbye to you for a few days, not many but enough to return plenty of energy. Let's do a little break to disconnect and enjoy after two years without holidays, I need it!
Of course I will continue with you through my social networks and I will be delighted to hear from you!
Big hugs,
Eva
Archivado en