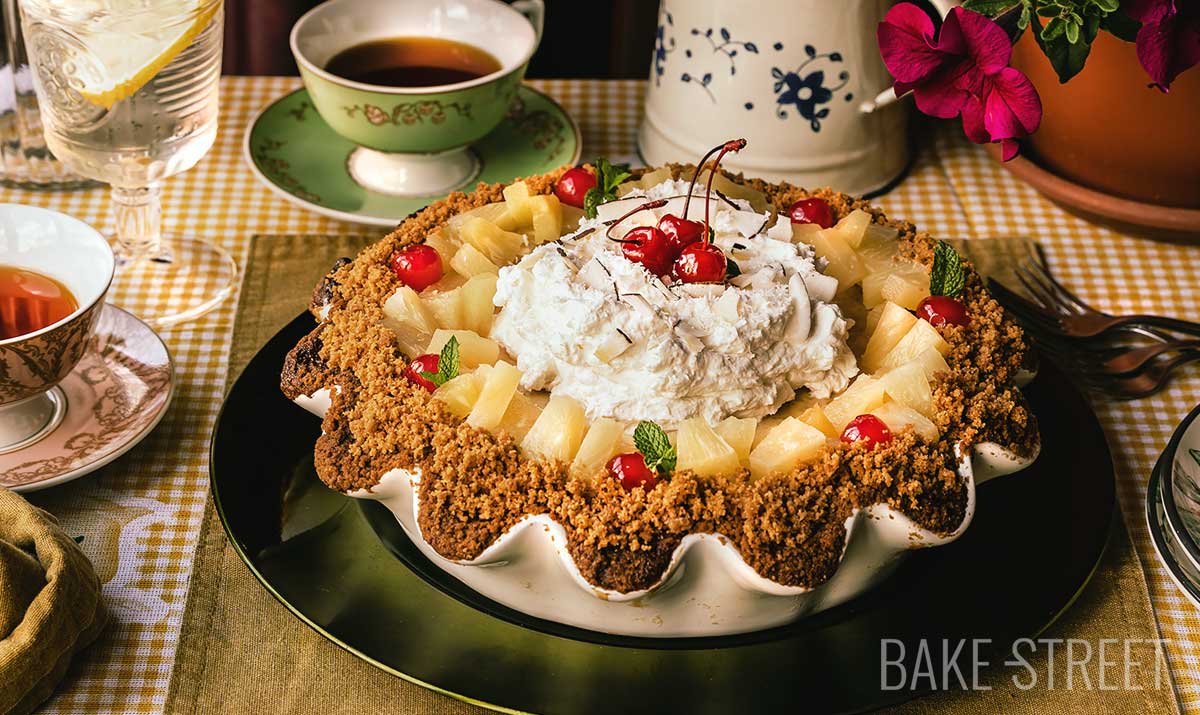 Flandango, pineapple flan pie
Este post también está disponible en Spanish
Continue with the " retro recipe saga" and this time we give way to this wonderful elaboration, Flandango, pineapple flan pie. I know the name does not do it justice…. But it's not my doing! I have to say that just as I found it a bit tacky, I also fell in love with it, like everything I share with you, really. Because it wouldn't make much sense for me to leave you elaborations that I don't like or that I think could be better.
Today's recipe is not faithful to the original recipe, in this link you can see it in a vintage poster that I love. The reason why I did not carry out the original recipe is because I was not convinced by the way it was carried out. I consider that flan, flan, is not. But I have tried to be faithful to its presence and to many of the ingredients with which it was made. I hope you like this version as much as the original, in case any of you have tried it.
The cake is very simple to make and is very reminiscent of our childhood elaborations. Homemade cakes that our mothers or grandmothers used to make and that were always received with an incredible enthusiasm. It is a cake made with a base/crust of crushed cookie with melted butter on which a creamy filling is placed, in this case a pineapple flan. The decoration could not be carried out in any other way, it had to be like this. Flashy, ornate and kitschy. I love it, I can't help it.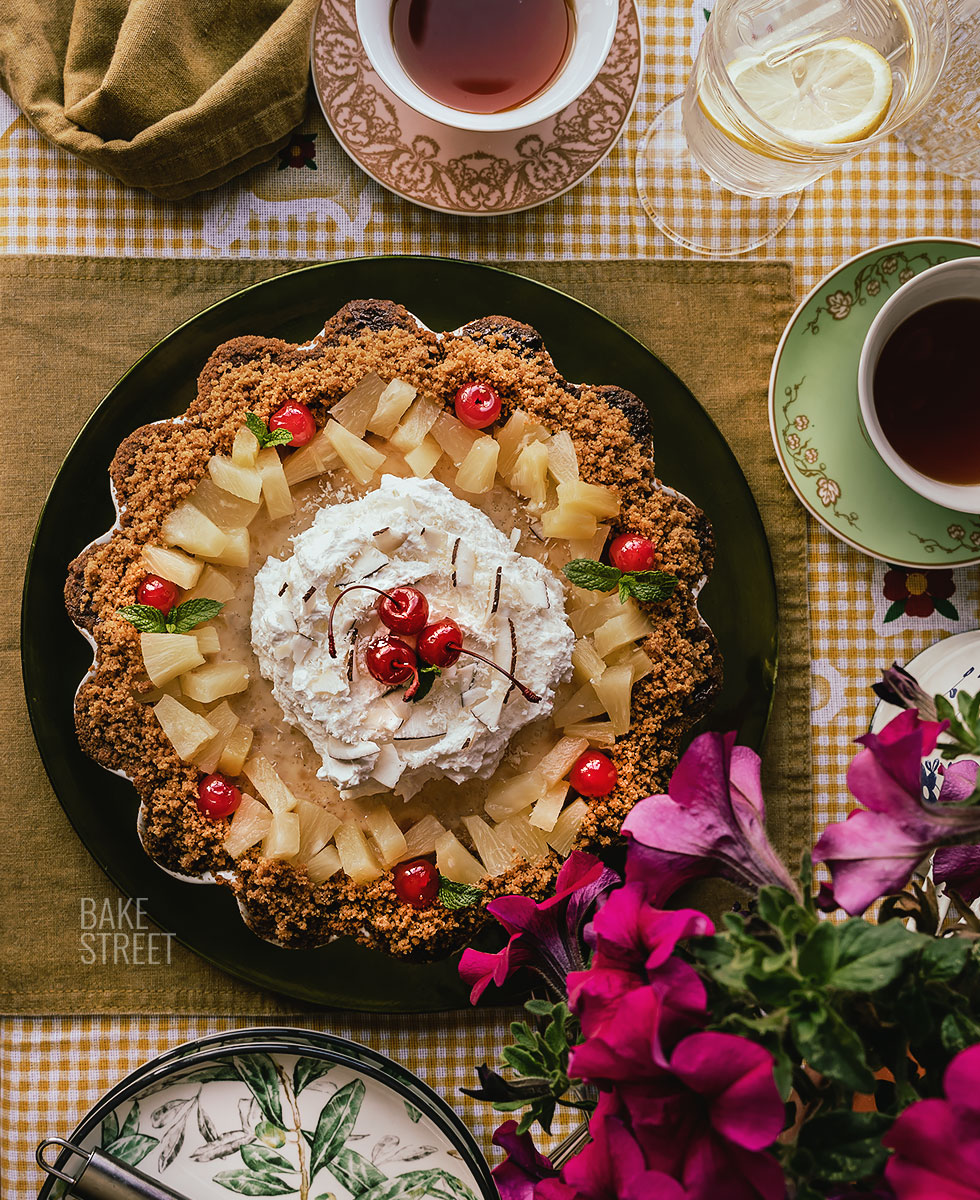 Flandango, pineapple flan pie.
On this occasion and much to my regret, I don't have an origin to share with you. This recipe is part of a poster for a vintage Australian advertisement from 1978. It was probably one of the many recipes that the brand used to promote its condensed milk. And, thus, create interest in the public to want to buy it.
The peculiarity of this flan lies in one of its ingredients that provides sweetness and texture, condensed milk.
I don't know if the same thing happened to you when you were little, but I remember that this ingredient was the most popular. The famous "coffee bonbon" made with condensed milk was one of the 7 wonders of the world. You would see the crystal glass with the white base of condensed milk (it had to be 2-3 fingers high at least) and on it rested a good amount of freshly brewed coffee. Not only was it visually very attractive, but it was also delicious.
And what about the condensed milk sandwiches. This was a very 90s snack. You got hungry and took two slices of sliced bread, poured a good amount of condensed milk on one of the slices (if it overflowed the edges, all the better) and put the other slice on top. I don't remember a more gooey snack than this, except for the 3-story Nutella sandwiches. Now I wouldn't be able to eat something like that XD
I guess that with the boom of this ingredient, countless recipes were created among which we can find this retro-vintage-old fashioned wonder, "Flandango". The name sounds very flamenco to me, to be honest.
Since I can't tell you about its origin, I will tell you about the origin of flan. Because, despite having left several flans on my website, I have not yet told you the origin of this one. Except for the origin of the Flan Pâtissier, which has nothing to do with a flan, beyond its name.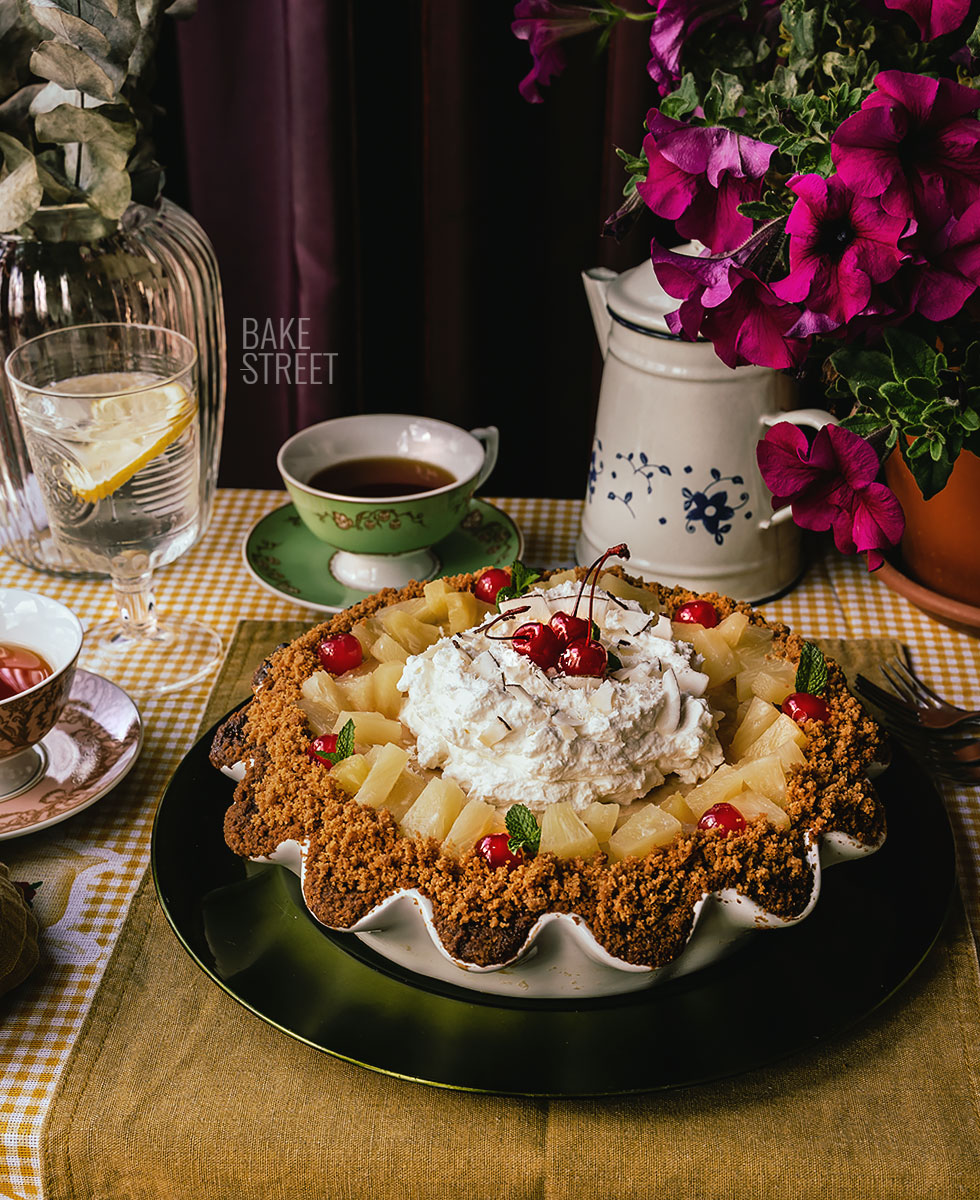 Flan origin.
Flan, that classic and exquisite dessert, originated in ancient Rome where it was called "tyropatina".
Marcus Gavius Apicius was a Roman sybarite of the first century of the Christian era who spent a great fortune to obtain and enjoy the most refined delicacies. In addition to carrying out complicated recipes for the time. He is credited with the invention of foie gras, obtained from the liver of geese fed with figs. He is also considered the author of "De re coquinaria", although it seems that this book comes from a 5th century manuscript.
It seems that Apicius is credited with the first description of "tyropatina", but not its creation, which may come from a time before the Christian era.
The translation of the recipe would read something like this:"Take milk, the amount you calculate for this dish. Mix it with honey to sweeten it. Put in five eggs for half a liter, or if it's a quart, three eggs. Dissolve them in the milk until they become one. Strain it into a baked earthenware bowl and cook it over low heat. When it sets, sprinkle with pepper and serve."
Ancient Rome.
They believed that eggs, besides being nutritious, were good for liver and kidney problems, that they increased fertility and improved the urinary tract. The Romans copied the process of mixing milk with eggs, to obtain different elaborations, from the Greek culture.
The "tyropatina" is also mentioned in the work of the Latin poet Venantius Fortunatus, who lived in the 6th century and was the author of liturgical hymns, bishop of Poitiers, France, and a saint of the Catholic Church. Unlike us, they made flan in both sweet and savory versions, as there is certainty that they added pepper.
The dessert had many savory variations, including eel flavored with pepper and honey, which was the only sweetener of the time. Rome conquered Europe completely, taking its customs, beliefs and recipes with it. When the Roman Empire fell in 476 A.D., flan survived and became the sweet delicacy that took over the newly conquered lands.
In the Middle Ages, the "tyropatina" became popular.
Within the possibility of access to eggs, since it was not a very accessible or abundant ingredient. This preparation was consumed, above all, during Lent, a period when it was forbidden to eat meat. It was from that time on that a preparation of eggs curdled in savory and sweet versions, with fish, vegetables, fruit, cheese and honey, was called "flado" (flat cake in medieval Latin).
In France and Spain, the sweet variant of "flado" began to be served as a dessert, inverted, with a caramel sauce on its base, which came to be called "flan" in the Iberian Peninsula and "crème renversée au caramel" among the Gauls. It was the Spaniards who took it to America, where it became a delicacy. The Spanish were the ones who loved this dessert the most and added caramel sauce to it. As the Romans had done, when the Spanish conquistador Hernán Cortés landed in the Mexican peninsula of Yucatán in 1518, he brought flan with him. Flan was adopted as an international dessert of the "La Raza" movement by Latinos, Central Americans and North Americans alike. Mexicans, in particular, made flan part of their daily meal.
Argentines proceeded to add dulce de leche and, at some point, someone decided to accompany it with whipped cream. Thus was born the "flan mixto".
From here everything evolved to other desserts such as the famous "Pijama Dessert" or flan with whipped cream and nuts.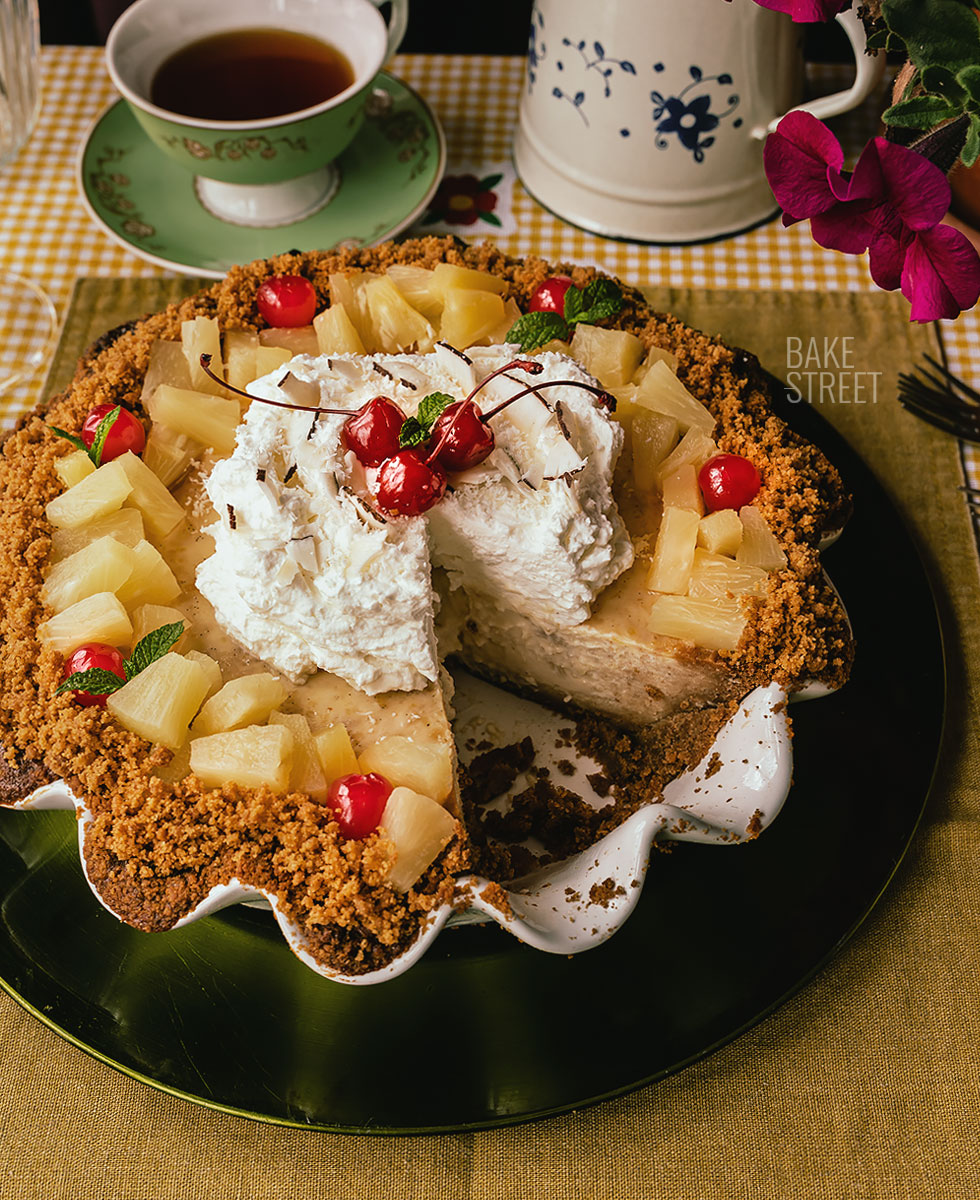 Making pineapple flan pie, Flandango.
As I mentioned above, the recipe I leave you is not the one shared in the poster or advertisement. It did not convince me. For that reason, trying to use the same ingredients, I made another recipe that in my humble opinion, would be very good under my personal tastes.
The base of the cake is like the original, a crushed cookie base with melted butter. It is always easy and delicious, especially for the famous cheesecakes. The filling is made by preparing a pineapple flan. To make this flan, I based it on the recipe I left you some time ago for a serrano chile and tamarind flan. This flan is a recipe from Ottolenghi that I versioned at the time (he makes it with tangerine and ancho chili). Since Flandango's original recipe is made with condensed milk, I thought this Ottolenghi recipe would be an ideal substitute. You would get a creamy and flavorful result.
To flavor the flan we will use a pineapple puree that we can carry out with natural pineapple or pineapple in its juice. Not in syrup because it would be too much sugar… We already have enough with condensed milk.
The process is easy.
Place the cookie crust, refrigerate to harden, mix all the flan ingredients and pour into the mold. Very carefully. Finally, bake in a bain-marie and let it rest overnight in the refrigerator. The next day we only have to give the final touch to the decoration; pineapple chunks, cherries in syrup and whipped cream or cream and mascarpone cream.
This Flandango pie or pineapple flan cake is a very easy dessert to make, which we can leave ready to decorate a few minutes before serving. We will look like kings with this dessert, which is also very fresh for these hot days.
Recipe Flandango, pineapple flan pie
Ingredients for a mold of 26 cm top diameter, 6 cm height and 21.5 cm bottom diameter
COOKIE CRUST:
350 g cookies, I used Digestive ones
175 g unsalted butter, melted and cooled
PINEAPPLE FLAN:
4 large eggs
300 g condensed milk
120 g heavy cream, room temperature
420 g whole milk, room temperature
120 g pineapple in its juice, pureed
1 Tbsp, generous, natural vanilla extract
pinch of salt
FOR DECORATING:
cream and mascarpone cream (150 g heavy cream, very cold + 75 g mascarpone cheese, very cold + 2 spoonfuls of powdered sugar)
pineapple in its juice, cut into small pieces
cherries in syrup or candied cherries
dehydrated flaked coconut + dehydrated shredded coconut
fresh mint or peppermint leaves
MATERIAL WE WILL NEED AND SHOWN IN THE VIDEO:
bowls
digital kitchen scale
small rolling pin (optional)
silicone spatula
whisk
cooling rack
rotating cake stand (optional)
*You have a 5% discount on the website Claudia&Julia using this code BAKESTREET. Delivers throughout Europe.
Instructions
FIRST DAY
Prepare the crust.
Place the cookies in a food processor and process until completely pulverized. If desired, we can put the cookies in a zip bag and crush them with a rolling pin.
Transfer crushed cookies into a bowl and pour the melted butter. Mix until completely homogenized.
Prepare the mold.
Place the cookie mixture in the base of the ceramic mold.
Cover the sides with the cookie mixture and adjust with your hands. It is important to make a cookie base/crust that is not extremely thick, but not too thin either. We must pay special attention to the corner of the mold that joins the base and the side of the mold.
Smooth the surface with the help of a spoon or a small rolling pin, both on the base and on the sides.
Refrigerate while preparing the pineapple flan.
Prepare pineapple flan.
In a food processor introduce the pineapple and blend until a puree is obtained.
Transfer into a bowl, together with the juice it has released, and set aside.
In a large bowl, add the eggs together with the condensed milk, cream, milk, pineapple puree, salt and vanilla.
Mix with the help of a hand whisk until a homogeneous and uniform mixture is obtained.
Pour in the mold and bake.
Preheat the oven to 355ºF/180ºC with heat up and down. Put, at half height, a wide dish with boiling water. Bake the flan in a bain-marie.
With the help of a ladle, pour the flan mixture into the mold. We will do it very carefully to prevent the cookie base from coming off. I advise you to finish filling the mold inside the oven. The reason is that moving this full mold, almost to the edge, is very complicated. It will certainly fall part of it to the floor.
To cover the top, instead of covering the mold with aluminum foil (when touching the mold and the filling is not baked, the cookie base will come off), place a rack on top and cover with aluminum foil.
Bake in a bain-marie for 3 hours. When the custard is done, the central consistency will be "dancey", but at the same time you will notice that it will have a little firmness. In the video you can see how I touch the central part and it moves.
Turn off the oven and let it rest for 1 hour in the oven. Closed door.
After this time, remove and place on a wire rack. Let it cool completely.
Once cooled, refrigerate overnight or until the next day.
SECOND DAY
Prepare mascarpone cream.
Cream must be at least 24 hours in the fridge.
The bowl in which we whip the cream must be cold. I recommend using an aluminum bowl and placing it in the freezer for 20 minutes before whipping the cream.
Pour the cream together with mascarpone cheese in the cold bowl and begin to whip with an electric whisk on speed 1.
Once it begins to be firm, add the sugar little by little and without stopping whipping. Increase the speed gradually, but never reach the maximum speed. The ideal is a medium speed.
We will whip until we obtaining a thick cream. But be careful not to overbeat it or we will make butter...
Refrigerate until it is time to decorate the cake.
Decorate  Flandango cake.
Decorate the edges of the cake with pieces of pineapple in its juice and cherries in syrup.
Place mascarpone cream in the center of the pineapple flan. This time I have not used a piping bag, we only need a spoon to spread it.
Decorate the cream with slices of desiccated coconut and grated desiccated coconut.
Finish decorating with Maraschino cherries and some fresh mint leaves.
Serve.
NOTE: If you are worried about how it will unmold, let me tell you that it will be VERY GOOD. The cookie base is moistened with the flan and, after baking, resting and cooling, it unmolds very easily.
Notes
For the crust of the flan we can use the variety of cookies we want. In my case I use cookies similar to Digestive cookies because I really like their flavor, but we can choose the ones we like or prefer.
It is important to use good quality pineapple, either in its juice or natural, since the flavor of the flan will be conditioned by this ingredient.
My ceramic mold is this one, from Emile Henry, but we can use any mold we have at home with similar characteristics.
It is very important to bake the flan in a bain-marie to make it moist and prevent the surface from cracking or splitting.
We will know that the flan is ready when we can touch the surface of the flan and it keeps a little firmness, but it is still "dancing".
We must not omit the final rest of the flan in the oven with the door closed to help it gradually lose temperature.
The flan should be left to rest in the refrigerator overnight so that it acquires the right consistency.
To decorate the central part, in my case, I have used mascarpone cream, but varying a little the quantities of how I have left it in other occasions. If you wish, you can use only whipped cream or Chantilly (whipped cream with vanilla).
I leave you a suggestion of presentation, but you can totally adapt it to your tastes or needs.
It can be kept refrigerated for 3-4 days.
If you are liking the recipes I leave you in the vintage compilation, you can't miss it... Flandango, pineapple flan pie. With all its style. Because it can't be any other way. These decorations lose me....
I feel like I'm there, at that time. With my beautiful dress, my kitchen with its window dressed with transparent curtains, and slightly gathered, that let the sun shine through, shelves full of vintage utensils, copper molds, glass vases full of flowers ... And a countertop overflowing with freshly baked sweet treats. How beautiful it all is.
I hope you live it with the same intensity, that you are encouraged to prepare it and share with me all the emotions that arise thanks to it.
I wish you a wonderful Sunday!
Lots of love,
Eva
Sources: Socarrat NYC, La Nación
This post contains affiliated links.
Archivado en