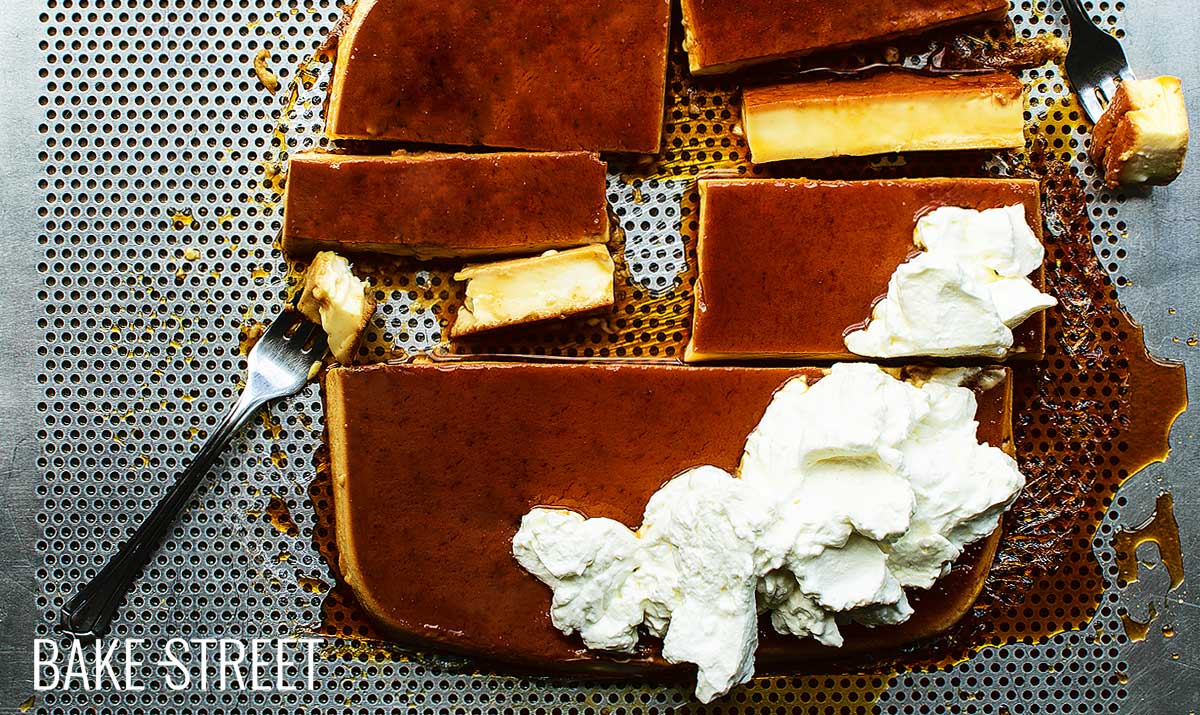 Tamarind and Serrano chilli flan
Este post también está disponible en Spanish
In the summer, what you want most is to have something to cool you down with. And if it takes little time to prepare, much better. That's why we have to get a good list of fresh desserts, especially to finish the weekend meals. Today we're going to see a very simple, bold and daring option. A tamarind and serrano chilli flan.
For those of you who know Ottolenghi (it's really hard not to), this recipe will sound a little familiar. He has a recipe for tangerine and ancho chile flan that, from the first moment I saw it, I knew the day would come when I would try it. I found it super original, different and daring. My God! I liked the spiciness too much so I had to try it.
Reshaping some of the details.
The truth is that I was very tempted by the idea of making flan with tangerine, and now we are in season and what better time to do so. But I thought it would also be good to change it a bit so as not to do exactly the same thing and open up new horizons. But, without doubts, his version has to be amazing.
The truth is, I've kept all its proportions, in terms of ingredients. I have only varied the type of chili, the amount of chili (it's very hot) and the substitution of tamarind for tangerine. When it came time to prepare the caramel, I also decided to make a little more because I had the feeling that it would not cover the whole bottom well.
I have adapted the cooking temperature as well as the time. Whenever I make flan in a water-bath I use a temperature of 180ºC and I do very well. My cooking time doubled, if I'd taken it out in 50 minutes, it wouldn't have finished curdling. Otherwise, I've been pretty faithful to his recipe.
A flan that will surprise you.
Its taste is… indescribably wonderful. It has a very creamy and smooth texture. The taste is amazing.
On the one hand, you find the sweet, citrus and fresh nuances of tamarind, but on the other hand, the palate does not stop perceiving the sensational spiciness of chili peppers. Without a doubt it is a dessert to surprise, break the routine and enjoy new sensations.
When it comes to serving it, feel completely free. I have decided to accompany it with some whipped cream because it takes me back to my childhood. My father is a super fan of "flan with cream and walnuts" and he gave it to me from a very young age. So today I wanted to present it in this classic and traditional, but infallible way.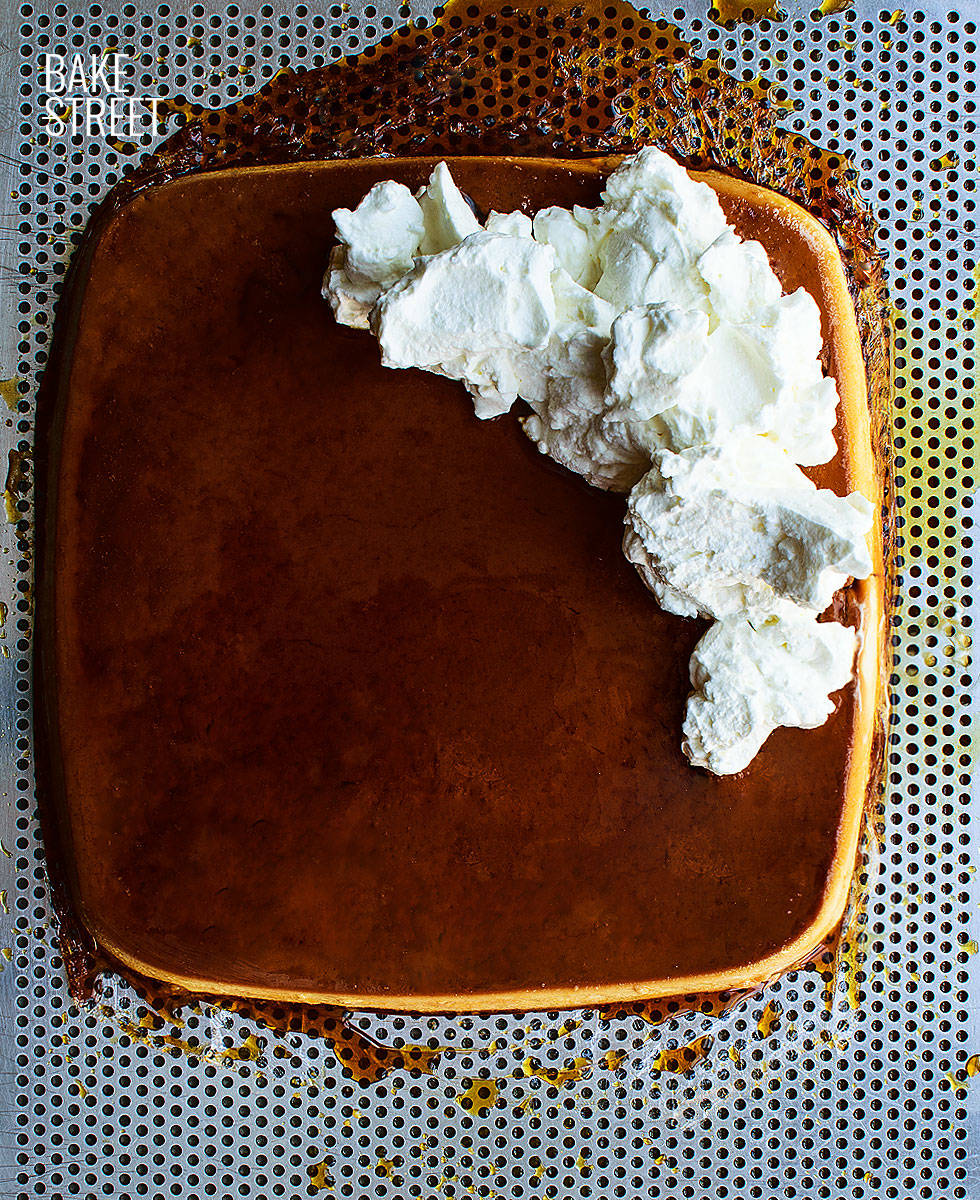 Ingredients
FOR THE ORANGE CARAMEL:
130 g sugar
1 y 1/2 Tbsp orange juice
FOR THE TAMARIND AND SERRANO CHILLI FLAN:
3large eggs
100 g heavy cream
270 g condensed milk
400 g whole milk
8 g de preserved Serrano chilli
10 g fresh tamarind, only the flesh
1 tsp vanilla extract
pinch of salt
Instructions
Make orange caramel.
In a medium saucepan or a large saucepan, add the sugar along with the orange juice and place on medium heat.
Let it begin to melt without stirring. Once you start caramelizing, we will stir often to prevent some areas from burning. Reduce the heat a little if necessary.
Once we have a golden caramel, pour it into the container we are going to use (in my case I have used this Emile Henry ceramic pan of 27 x 23 x 7 cm on each side and set aside while we prepare the flan.
Make the flan.
Preheat the oven to 355ºF (180ºC).
Placee a baking dish at medium height and fill with water. Keep in mind that the water should cover half of the pan.
In the glass of an electric mixer pour the milk together with the condensed milk, the eggs, the chopped chili peppers (seeds included), tamarind, vanilla and the salt. Mix until completely homogenized.
Pour the mixture into the pan, through a sieve to collect possible pieces of seed, cover with aluminium foil (to prevent water from entering the mould) and place it in the tray in the oven with water.

bake in a water-bath for 2 hours.
Remove and let cool completely to room temperature.
Refrigerate until the next day or a minimum of 3 hours.
Serve.
Unmould the flan, we can cut it right at the moment of serving.
Run a knife around the edge of the flan to release it and place a lipped plate larger than the tin on top of the flan pan.
Serve with whipped cream or Chantilly.
Notes
To make the flan I used this ceramic mould by Emile Henry, 27 x 23 x 7 cm on each side.
Must I use whole milk? If possible, yes. We want a smooth, creamy texture.
Can I use another type of sweetener? You can, no problem. Normal sugar or unrefined sugar (muscovado, panela....) only in this case the result will be dark.
If you don't like chilli, you can omit it. It gives it a very funny taste, though.
If you can't find fresh tamarind, you can use tamarind paste. It may be a good option to replace this one.
The caramel can be made without orange juice if we prefer. Or change it for tangerine juice, yuzu....
You can make individual versions in smaller moulds. Like in this post I left you guys with mascarpone flan. Please also note that the cooking time will be shorter than if the mould is larger.
A different dessert for those who love spiciness, without a doubt, will be this tamarind and serrano chilli flan. It's really very different from other things I've tried. Personally, I loved it.
And I must add one more thing.... My husband doesn't like spicy too much, but this flan has completely conquered him. So even if you're not very fond of this kind of taste, maybe you should give it a try.
I hope you have a wonderful weekend, see you on Monday.
Big hugs,
Eva
Archivado en