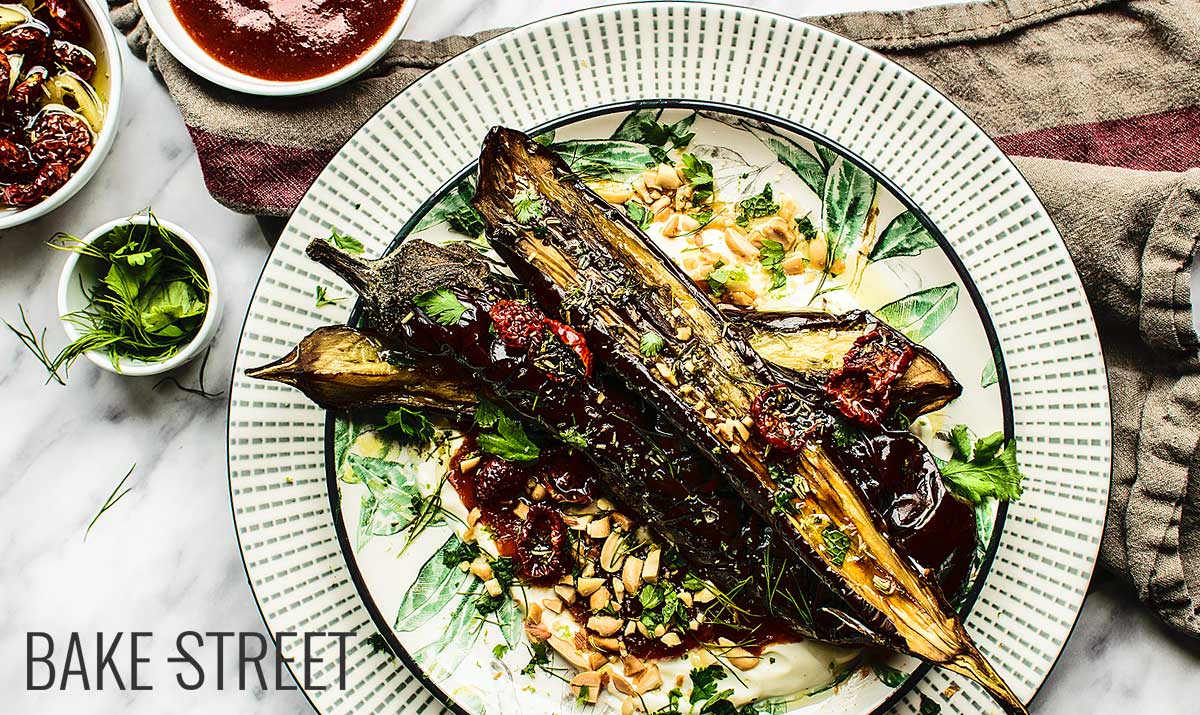 Roasted eggplants with tomato jam and peanuts
Este post también está disponible en Spanish
I love eggplants and haven't left you a recipe for them in a long time. When the good weather comes, I usually have roasted eggplants and red peppers in the fridge. Well, the rest of the year too, but on fewer occasions. They are perfect for improvising a salad or even a supper. Today's recipe can be enjoyed both freshly made and a few hours later, in both cases it will be sensational. Roasted eggplants with tomato jam and peanuts.
It is likely that when you see the list of ingredients you will be a little scared by the amount of them… However, despite the use of a wide range of products, the process will not be difficult at all. We'll practically have to add the ingredients and let them cook over a low heat.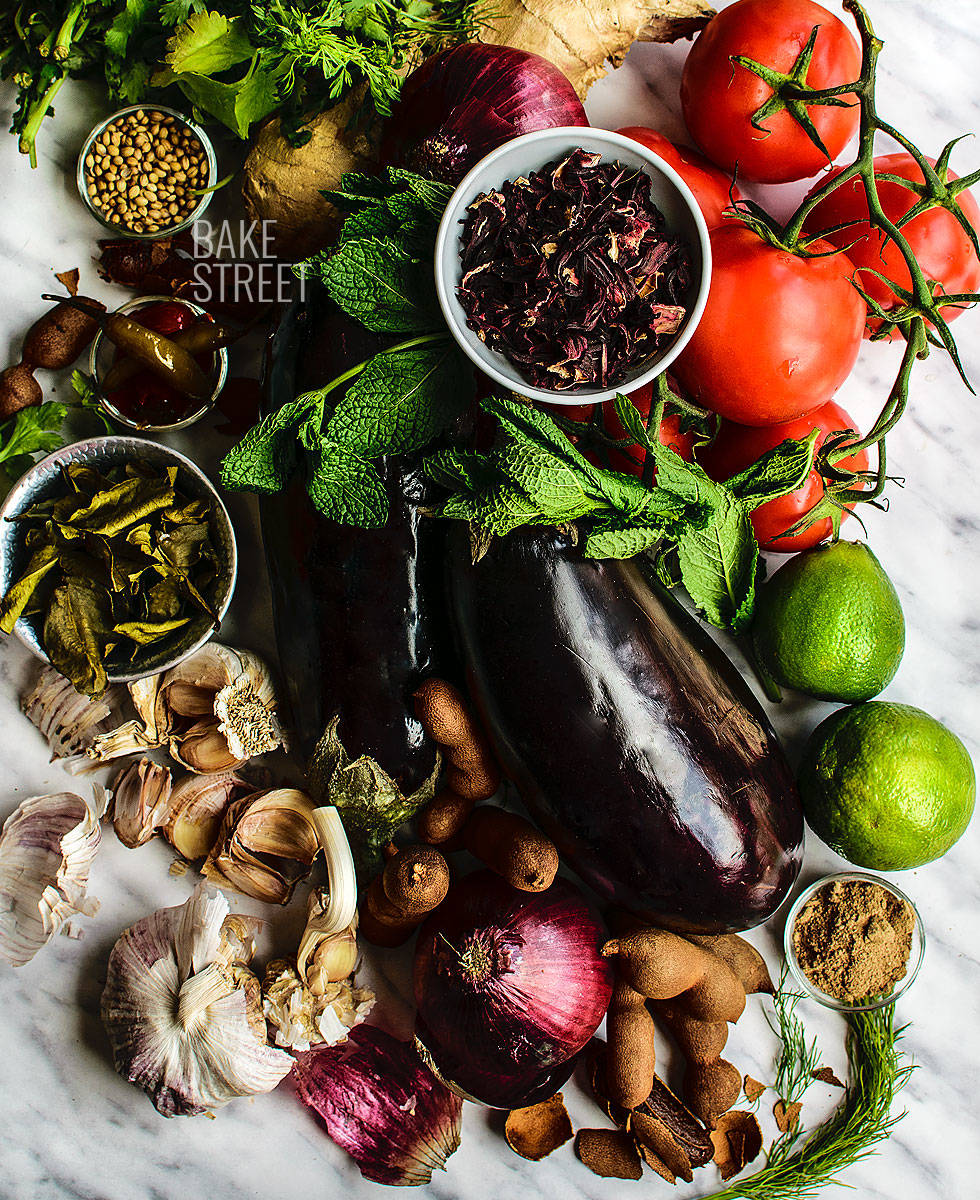 An amazing tomato jam.
I have to admit that I have never been a big fan of tomato jam, at least of the ones I have tasted so far. And I love tomatoes in all their formats, but this way I was not convinced….
When I saw the recipe from the book "Bar Tartine", it caught my attention. It was a jam, but in a salty format. I thought the result might be an interesting mix of chutney and jam. So I decided to try it this way.
To do this I changed some ingredients, some of which I didn't have and others that I wanted to use, as well as the production process. They dehydrate the tomatoes for 18 hours and then proceed to cook it. In my case I chose to look for a simpler alternative so that I wouldn't have to back down.
I'm sure the flavor must be really extraordinary that way because the flavors will be very concentrated. I'll prove it sometime and tell you how the result went.
Assembling.
The two main ingredients on the plate are roasted eggplants and tomato jam. But to make the dish more attractive and tasty, we will accompany it with a few more ingredients.
I used crème fraîche in the base, but you can use sugar-free Greek yoghurt instead as they use in the book Tartine. It will give it a soft, creamy touch. We will give a crunchy texture using nuts, in my case I chose toasted peanuts. To finish flavoring the dish, garnish with some aromatic herbs and some dried tomatoes in oil. And we'll have everything ready to enjoy a sensational recipe.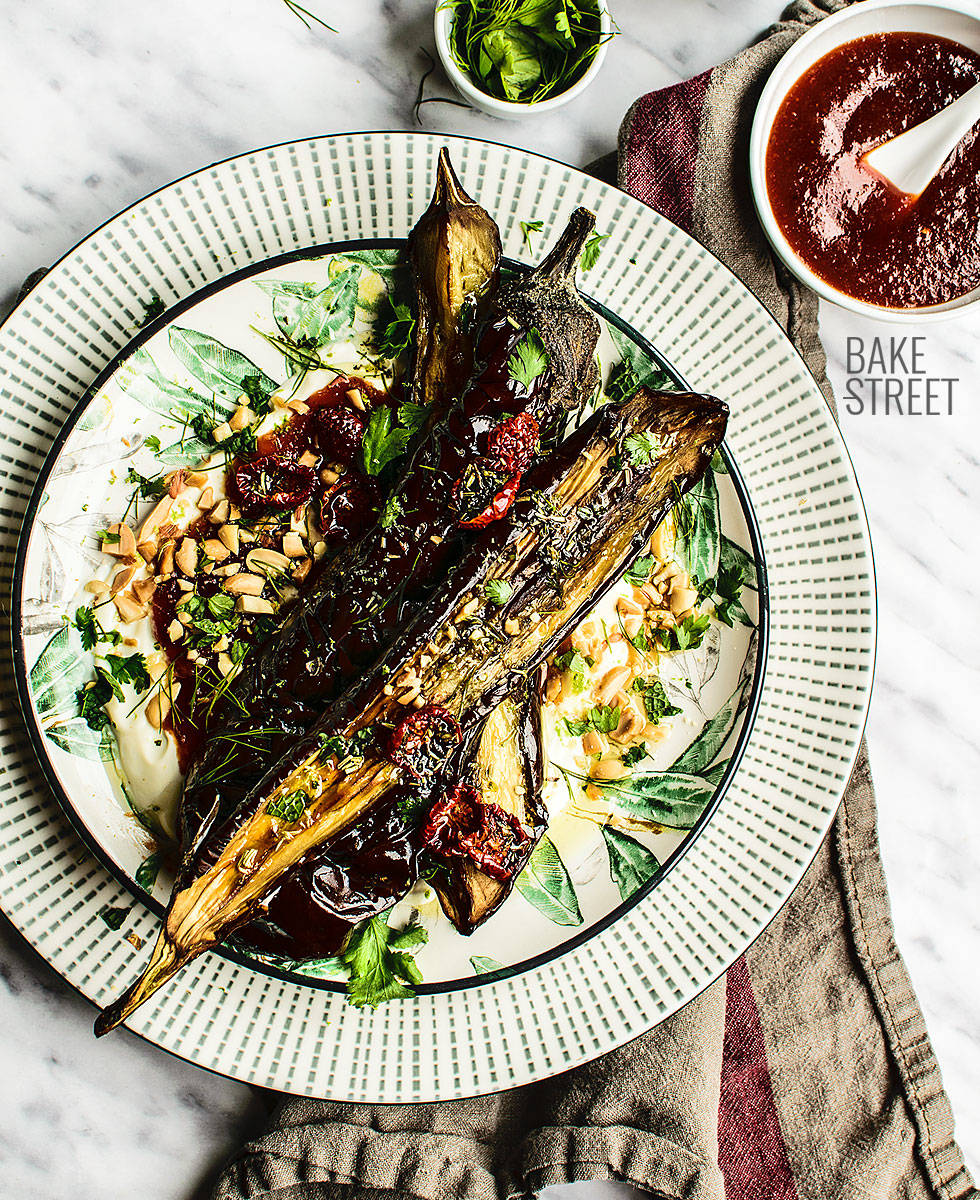 Ingredients for 2 serves
FOR THE EGGPLANTS:
2 large eggplants
3 Tbsp olive oil
2 Tbsp honey
1 large garlic clove, finely chopped
salt and ground black pepper to taste
FOR THE TOMATO JAM:
25 oz (700 g) red tomatoes
4 y 1/2 Tbsp sugar
1 tsp coriander seeds, roasted and ground
1 garlic clove
0,35 oz (10 g) fresh ginger, peeled
2 large tamarinds, only the flesh
1/2 serrano chili
1/2 red chili
3/4 tsp amchoor
1 y 1/2 lima kaffir leaves
1/2 tsp dried hibiscus blossom
salt and ground black pepper to taste
GARNISH:
crème fraîche
roasted peanuts
fresh cilantro
fresh peppermint
dill
dried tomatoes in oil
lime zest
Instructions
Blanch the tomatoes.
Wash the tomatoes, set aside.
Fill a medium pot with water and place in medium high heat until it reaches boiling.
Once it boils, add the tomatoes and blanch for 2 minutes.
Remove from the water with a slotted spoon, drain and set aside.
Peel them and chop.
Make the tomato jam.
In a medium pot add chopped tomatoes and place over medium heat.
Add sugar along with chopped chilies, roasted and ground cilantro, sliced garlic, chopped ginger, tamarind, lima kaffir leaves and hibiscus. Mix.
Cook for 40-45 minutes stirring occasionally. We must reduce the amount of water considerably.
Remove from the heat and pass through a sieve.
Pour the jam back into the pot and cook on low heat for 10 minutes. We must reduce it to a marmalade consistency.
Remove from heat and let cool completely.
Bake the eggplants.
Preheat the oven to 390ºF (200ºC).
Wash the eggplants and cut them in half lengthwise without removing the upper stem. Cut in half again, so that each eggplant is divided into quarters.
Prepare an oven tray, line with paper and place the eggplants.
In a bowl, mix the oil with the chopped garlic.
Brush generously with olive oil and season with salt and pepper.
Bake for 30-35 minutes. They should be tender when pricked.
Open the oven, brush with honey, previously heated in the microwave, and bake for 5 more minutes.
Remove from the oven and let stand for a few minutes.
Assemble.
Put a base of crème fraîche and, on top, tomato jam to taste.
Place the roasted eggplants and garnish with aromatic herbs, ground peanuts, lime zest and dried tomatoes in oil.
Serve immediately.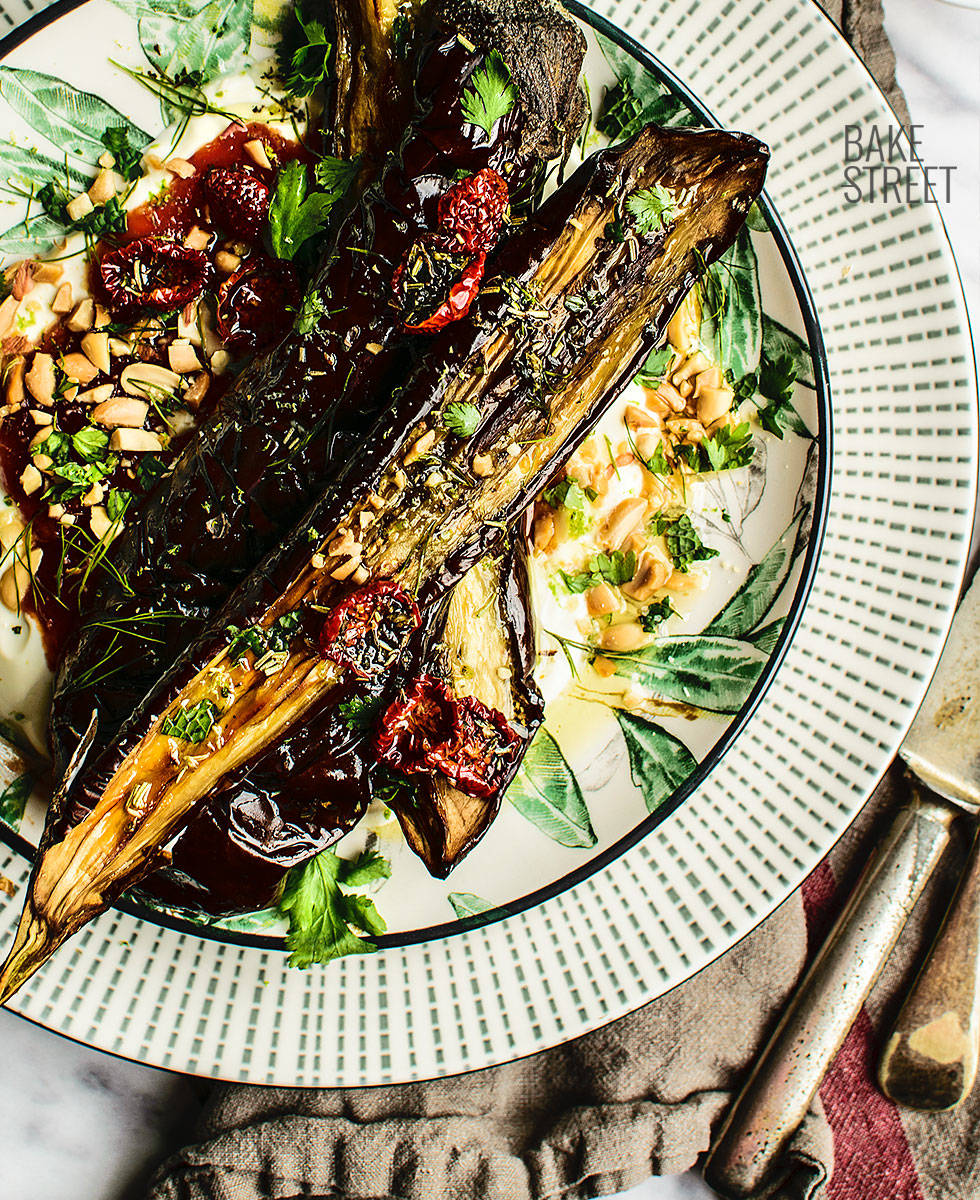 Notes
We can cut the eggplants in the format you like best. I suggested this one, but if you prefer sliced or square, it's perfect too.
If you do not want to brush the eggplants with honey, this step can be omitted.
Keep in mind that the more jam we prepare, the longer it will take to cook. But it is certainly worthwhile to prepare more and vacuum pack it for future use.
If you are vegan, you can use a coconut or soy yogurt for the base.
The dried cherry tomatoes in oil were homemade. You can make them in a food dehydrator or in the oven. They are then stored in a glass container and covered with oil. Add spices and laminated garlic to your taste. You must always keep them refrigerated.
These roasted eggplants with tomato jam and peanuts are an ideal recipe to leave prepared in advance. If we want the eggplant not to be cold, we will only have to heat it gentle before assembling the plate. Or eat it freshly made.
And the tomato jam.... I made a small amount! Just enough to make two plates and I had a little more left over. But I know what kind of jam is going to be in my pantry. Its taste is incredible and can be combined with many other things. When you try it, you can tell me about it ;)
Happy Wednesday!
Big hugs,
Eva
Archivado en