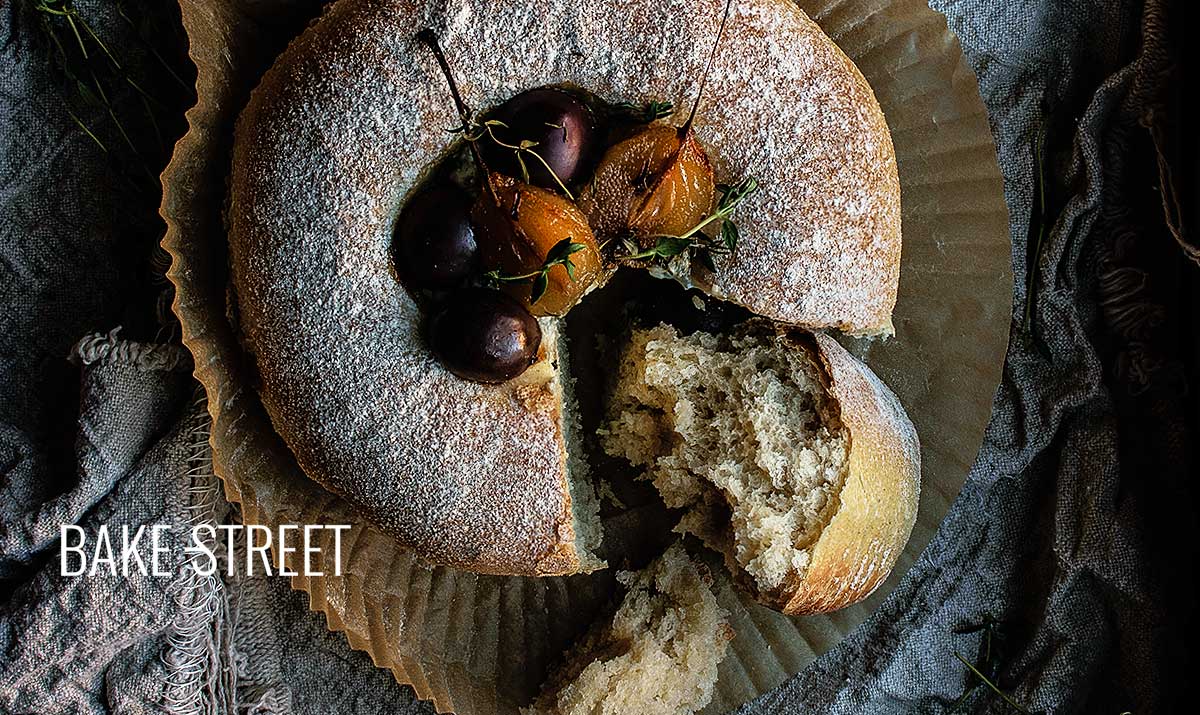 Country bread with grapes and blue cheese
Este post también está disponible en Spanish
What a long time without bringing a tin loaf, don't think that I've forgotten about them… at all. Only that the ones I usually make, to eat at home, are recipes that I've already left on the blog and I haven't made new varieties. The days don't give for so many things! But today I bring you a new recipe, this Country bread with grapes and blue cheese.
Originally, this bread was to be destined for a tin loaf format only presented in a wooden pan. Because of the idea of changing the presentation a little… But after decorating it as I had in mind and leaving the oven, it seems to have been totally transformed and turned into a piece of bread worth enjoying in a good table and with a good meal. Leaving it far away to look like a tin loaf.
And why country bread?
Honestly, both its ingredients and presentation inspire me a rural atmosphere. When you look at it, it looks like you're going to pick up your big wicker basket, checkered tablecloth (I imagine it red and white), fresh fruit, a bottle of lemonade (it seems that without it, a picnic is not the same) and homemade products to enjoy having a picnic in the country. And that's where the idea of calling it that came from. Although we can actually enjoy it anywhere and in every corner of the planet, it will taste glorious.
Carrying out the bread.
When I was preparing it, I had no idea what ingredients I was going to use to make it. Except for the decorating ones, I was very clear about them. So I wrote down in a notebook the amounts I should use to make bread and went to the kitchen.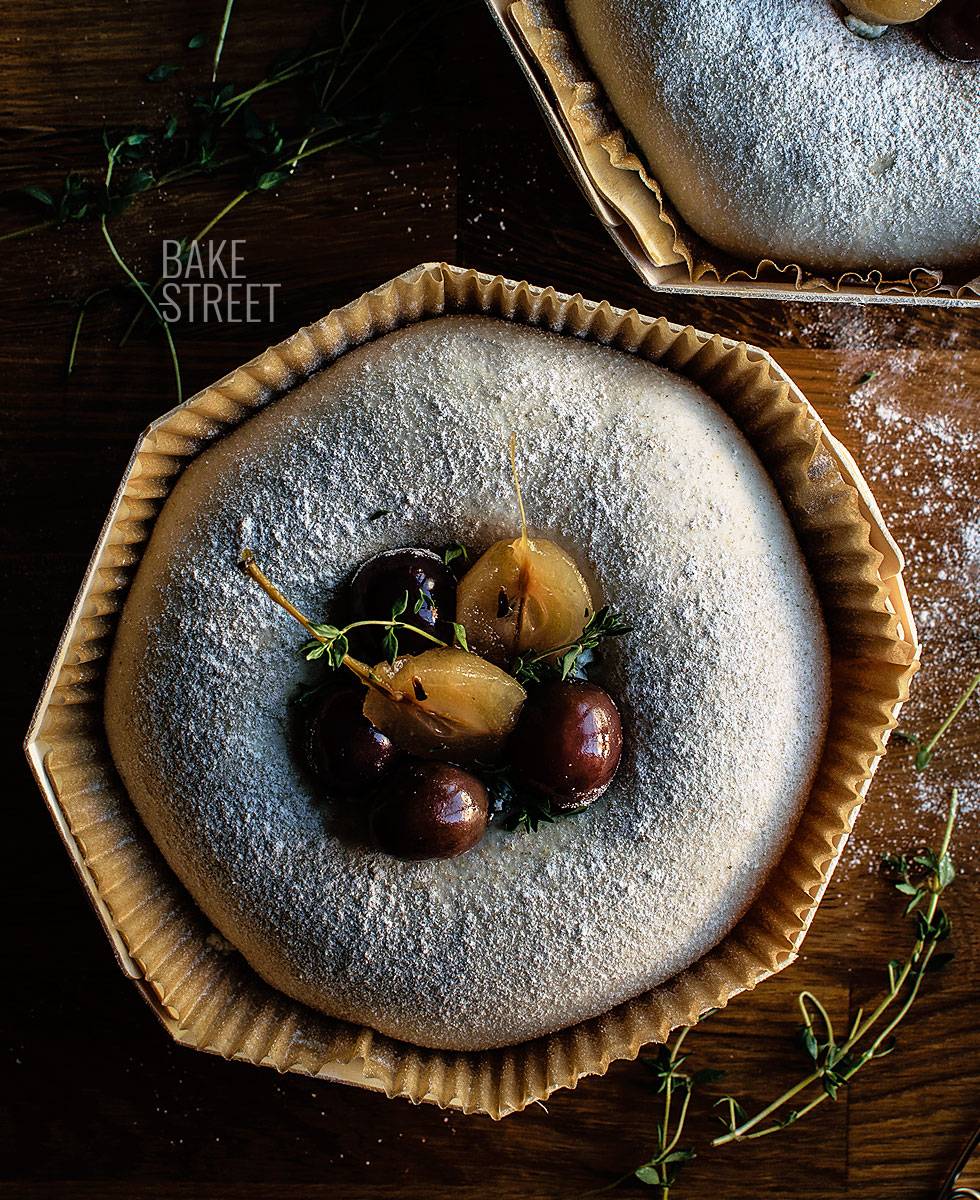 I opened the kitchen cupboard and a plastic box (I have a huge Ikea drawer to store the sacks of flour) and looked at what flours could go well with these ingredients. I liked the semolina because it is sweet and baking brings an incredible flavor and texture. When I saw the rice flour, I remembered the maritozzi, the ultra juicy Italian pastries and stuffed with whipped cream that I left you some time ago, and I knew that I had to add a part to get that softness in the crumb. Finally, and not to make you crazy, I finished filling the bread with wheat flour that I specify below.
The hydration wanted to give it with different ingredients, apart from water, and make a good combination with the exterior decoration. That's why I chose a little cottage cheese (soft and creamy textured) and honey. The rest of it was already clear to me, so I started preparing it.
The final result.
After baking the bread, it didn't come out like it was supposed to. In fact, it may even look like hard, crisp crust bread, but this is not the case. It is a soft and very tender bread with a very particular texture thanks to the presence of semolina. Its flavor is quite neutral, by this I mean that you don't perceive an extremely sweet flavor in spite of carrying honey.
The top combination is wonderful… Since I made the pickled spicy grapes, I have repeated them several times at home because we loved them. In fact, many of you have encouraged yourselves to try them and have written to me to tell me that you liked them very much.
As I told you in that post, these grapes go very well with strong cheeses, hence the idea of combining them with blue cheese. When I saw the preserves I had made at home, I found a little pot with some pears from San Juan in syrup and I said to myself:"Why not?". And the result was a very attractive combination of flavors.
Of course, don't worry about not being able to make them now (San Juan´s pears), I know it's not the season. But if by any chance you make pears in syrup at home, you can always put a couple of slices in place 😉
These breads are inspired…
I saw the idea of presenting these breads on Rooi Rose's blog, I liked it very much. The recipe has nothing to do with hers, but the way of presenting them is totally inspired by her breads 🙂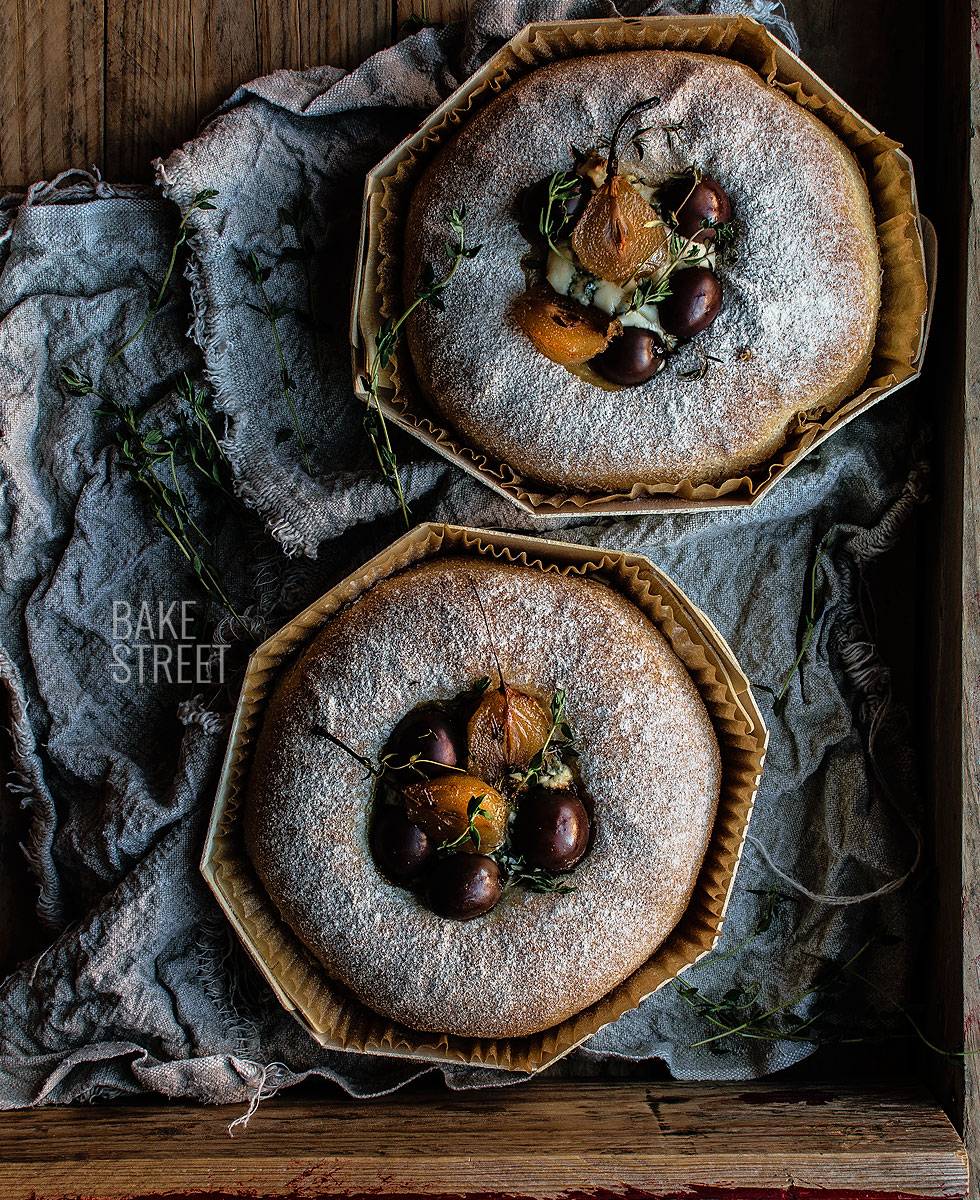 Ingredientes
FOR THE DOUGH:
12,3 oz (350 g) wheat flour W= 280, you can use T45 flour
6,35 oz (180 g) semolina
2,45 oz (70 g) rice flour
11,65 oz (330 g) water
4,6 oz (130 g) cottage cheese
1,75 oz (50 g) honey
0,14 oz (4 g) dry yeast
0,35 oz (10 g) salt
FOR THE FILLING:
Instructions
Make the bread dough.
In a large bowl add the three types of flour together with water, cottage cheese and dry yeast. Mix with the help of your hands to obtain a homogeneous dough.
Add the salt and mix again.
Start kneading, you must work the dough well to help the ingredients amalgamate. It is important not to be hard when working because we will compact the dough and the final result will not be so spongy. Transfer the dough to a clean work surface and start kneading by making the French kneading or in a kneading machine with the help of the hook and always at speed 1.
Work the dough little by little, we will see how it will take form and develop. Knead for 4 minutes and let stand 5-7 minutes, always covering the dough to prevent it from drying out.
Knead until the gluten develops well.
Add the honey and knead again until a completely homogeneous dough is obtained.
Make bulk fermentation.
Grease a bowl and introduce the dough inside, cover with film and let it rise until it doubles its volume. Depending on the temperature you make it can take from 2 to 4 hours without problems. In my case it was 3 hours and 30 minutes at 70ºF.
Preshape the breads.
Dump the dough on a clean surface and degass it gently.

Divide the dough into two equal pieces.
Preshape the pieces, cover with a cloth and let stand for 20 minutes.
Shape the breads and make the final proof.
In my case I have used some wooden pans 7 x 2 inches (18 x 5 cm), but if you don't have them, you can make the breads in round moulds with a diameter of 7 inches (8 cm) or adjust it to a size that you have at home. The whole dough fits in a pan 12 x 4 x 3 inches (30 x 11 x 7 cm) pan.
Shape each piece following the same process we use to make a boule.
Place the breads in the pans, seam-side down.
Lightly grease the surface with olive oil, cover it with film and let it rise until it doubles in volume. In my case it was 2 hours and 15 minutes at 73,4ºF.
Bake the breads.
Preheat oven to 355ºF.
Sprinkle the surface of the breads with rye flour.

Press gently in the center of each bread to create a hollow.

Stuff with crumbled blue cheese, pickled spicy grapes and pears in syrup. Garnish with fresh thyme leaves.

Bake at medium heigh for 40 minutes.
Remove from the oven and let cool completely over a rack.
Notes
The flours that I have used are all facultative, by this I mean that if you do not have any, you can replace it with another similar one to be able to carry out the recipe.
Do I need to take anything into account if I modify any flour varieties? Yes, especially if you omit the semolina. It has a high absorption capacity, so final hydration can vary. Gradually add the water and observe how the dough behaves.
Is rice flour essential? There is nothing "mandatory" in a recipe, you can always change it. But, since I made the maritozzi, I could see that this variety of flour brings a lot of tenderness and sponginess to the crumb.
Cottage cheese can be replaced by another variety of creamy white cheese, unsweetened Greek yogurt or crème fraîche.
I don't like honey, can I use sugar instead? Yes, you can. But remember that honey, being a type of invert sugar, speeds up the process of rising unlike normal sugar.
If you prefer, you can brush the bread with beaten egg and a pinch of salt to achieve a more golden and shiny finish instead of sprinkling with flour. Although I consider that, the latter, gives a very rustic appearance.
The topping is completely optional. Blue cheese, as it is strong, combines great with pickled grapes and pears in syrup. But you can adjust it to your personal tastes.
Pickled spicy grapes can be substituted by normal grapes, if you wish.
This bread does not need to be covered with baking parchment paper. At the end of the baking process, it will have a precious golden brown attached to the flour on the surface.
Wooden pans, some online shops have them or have had them and in Amazon I found this same format, but somewhat smaller.
Due to its ingredients, especially the topping, I recommend you to consume it within 2 days after its preparation.
This country bread with grapes and blue cheese can be the ideal accompaniment for a dinner or lunch this weekend. It doesn't take too long to prepare it and its process is really easy to carry out, without complex shaping or similar.
Besides it'll dress the table a lot! It almost looks like a centerpiece, hahaha
I hope you have a great weekend, get plenty of rest and see you again on Monday.
Big hugs,
Eva
Archivado en