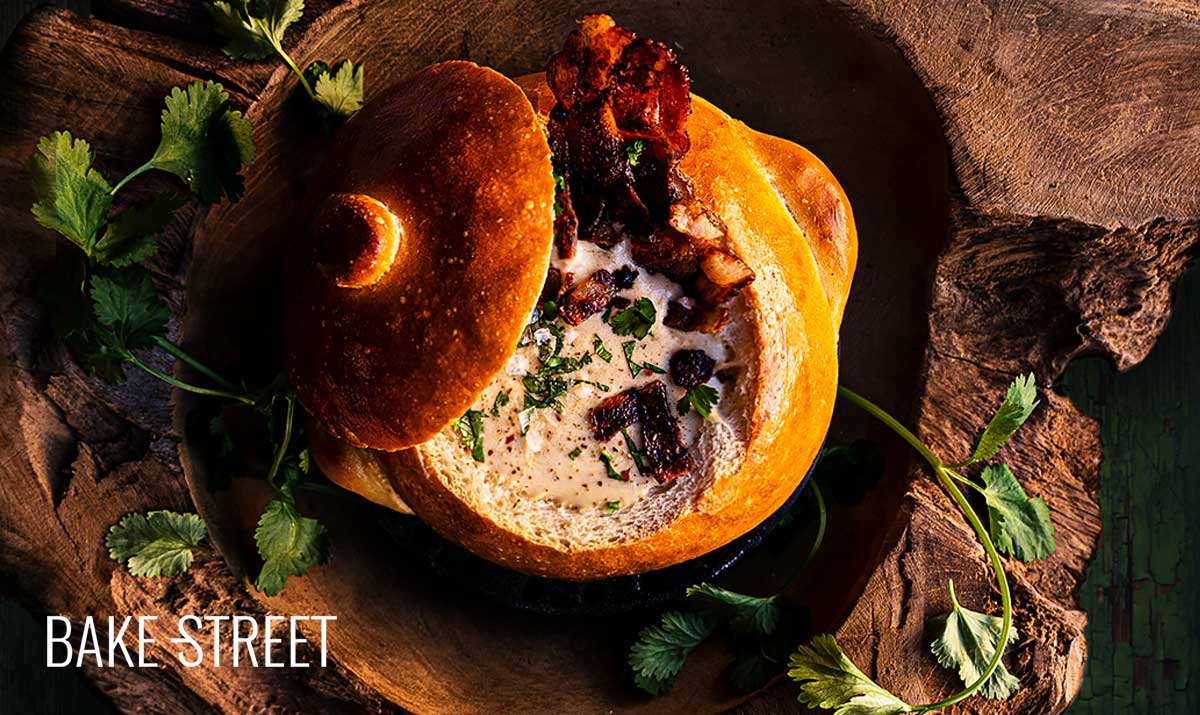 Beer Cheese Soup in Bread Casserole
Este post también está disponible en Spanish
I'm back after a short break, how much I missed you! First of all, happy New Year to you all! I hope you all had a good rest and enjoyed Christmas, family and friends. Since it seems that winter has come hard, we will do our best to get through it as best we can. Today I leave you this Beer Cheese Soup in Bread Casserole.
Cheese, beer and bread? Your eyes must be popping out of your sockets, right? For me there are few things in this world like a good beer, a good cheese and bread. How little I settle for. This is absolute happiness.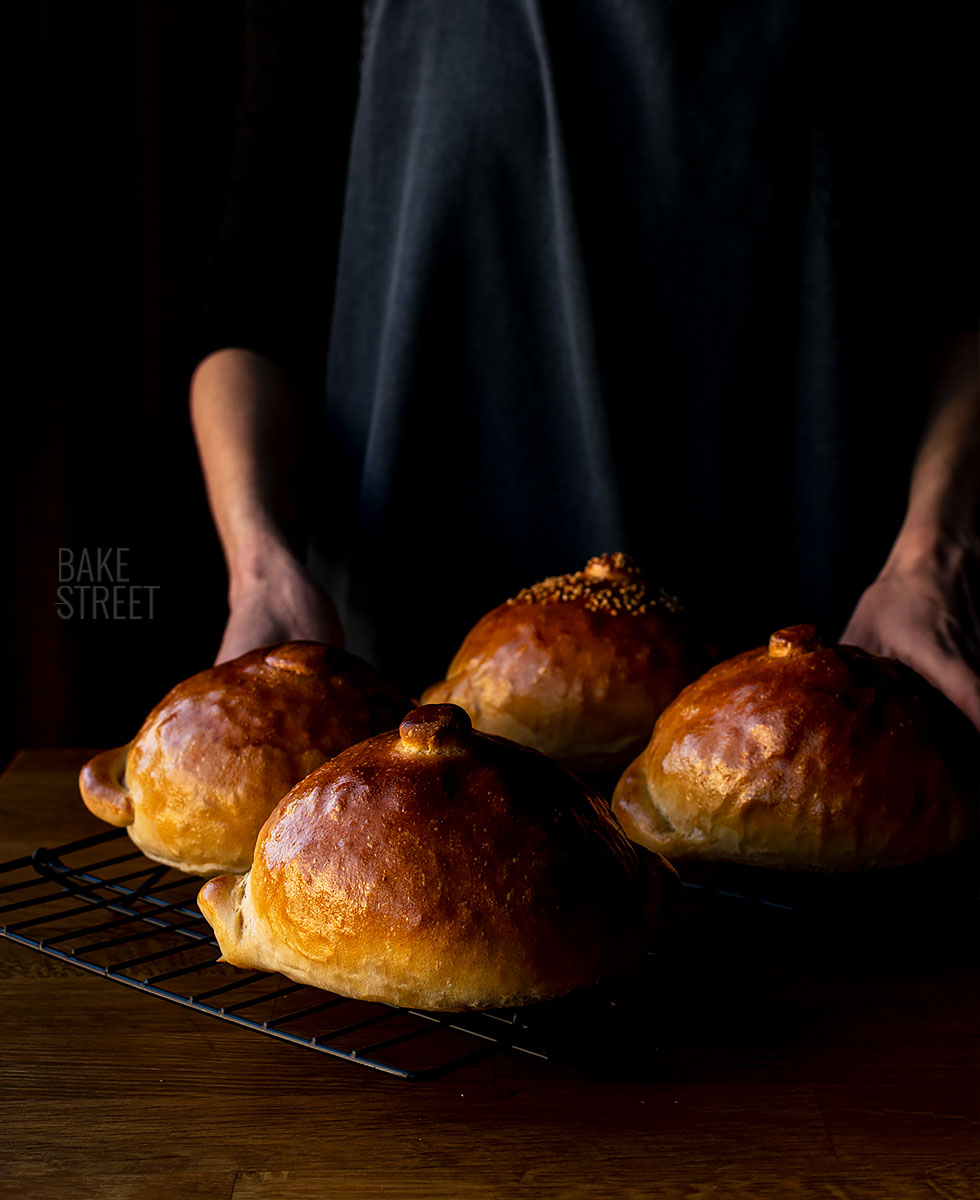 Beer Cheese Soup.
In medieval times it was very common to serve a soup made with a beer roux on a slice of bread for breakfast. Some variations arose to obtain thicker textures in which potatoes or potato starch were added. The Serbian version was made with cream and raisins.
Time brought new versions in which onions, spices and cheese were added… resulting in richer and more enjoyable dishes.
It is said that for a good beer cheese soup it is important to use a good quality butter together with flour to make the roux, chicken broth, lager beer and spicy cheddar cheese. In my case I haven't followed these steps to the letter, in fact I've done a quite different version. But, given the success it has had at home, I promise to bring in its more traditional version.
Roux was used to thicken the soup
Short break.
It's Friday, we're back after a short break and nothing better than starting it off with some music. Today I recommend the group "Scissors Sisters" with the theme "Laura" (link to YouTube). I love it! One of the songs I'm listening to the most lately, along with a few others, hahaha.
Apparently, beer cheese soup is one of the most popular in Wisconsin.
You can find it in pubs and restaurants all over the state. But of course, it's made with their two favorite ingredients; beer and cheddar cheese.
Wisconsin was mostly colonized by German immigrants and it was they who brought this tradition with them. The wonderful beer-cheese soup.
The tradition to serve this soup is to cover it completely with popcorn. It is not clear at what point it became a tradition to serve this soup with popcorn. Maybe it was because it's another ingredient that goes well with almost everything. In fact, some time ago I left you this Tomato Soup with Plums, Bourbon and Spicy Popcorn that is outstanding.
Or maybe it's because most pubs and bars offered free popcorn bowls to their customers. So they started adding them to the soup to get a crunchy texture. Who knows? Another theory is that the Native Americans, in the 17th century, covered their soup with corn and that's how it came to this incredible soup.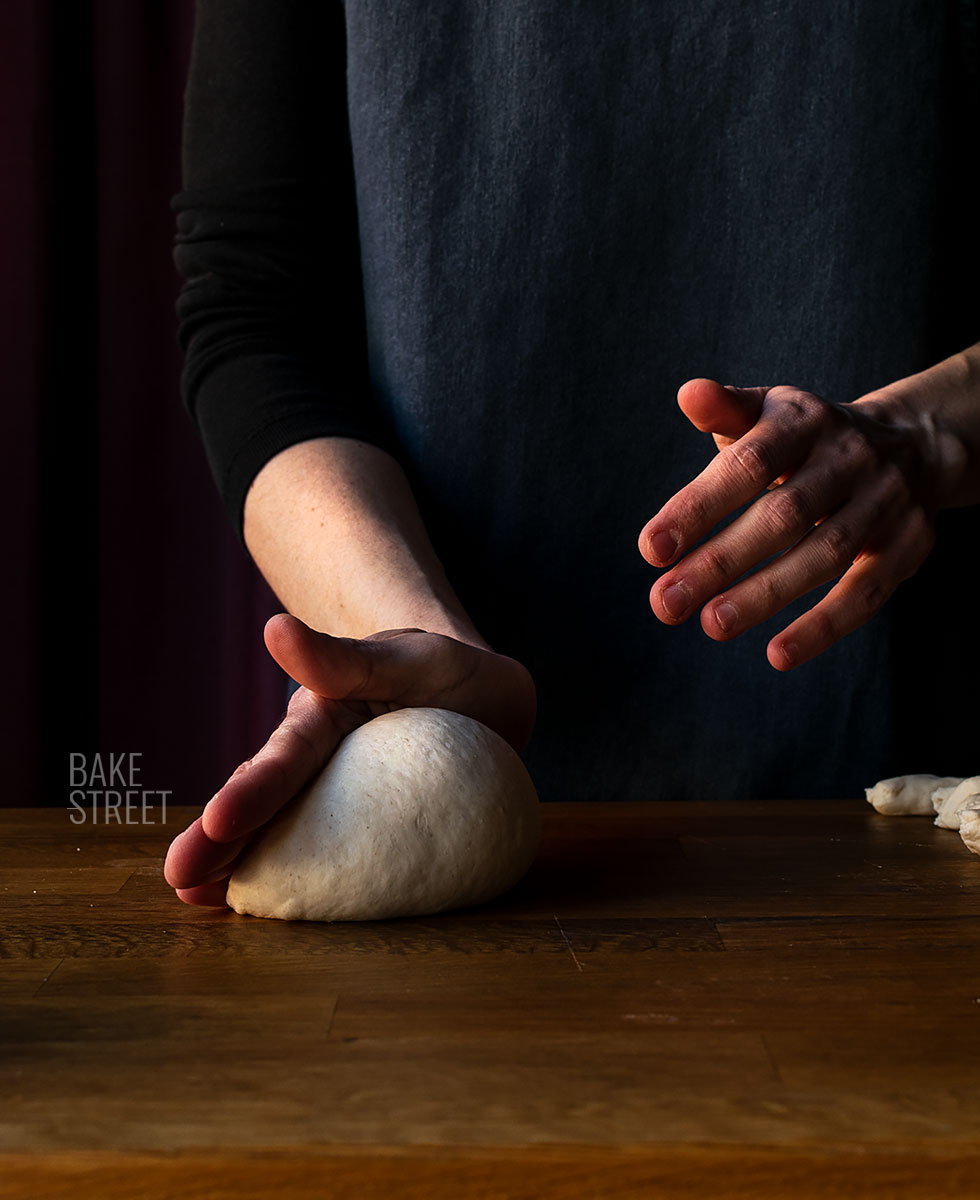 Serving the beer-cheese soup.
If you don't want to make too much of it, you don't have to make the bread casseroles. But, if you don't want to wash dishes when guest come to eat at your house, then yes, make them. Hahaha.
Not now, seriously, if you want to surprise your friends or family, don't hesitate to make these little rolls that will serve as a bowl for any kind of soup that has a creamy consistency. This is important, because a very runny or liquid soup is not going to work…
I saw the idea this past summer when we were in Prague. We went to eat several times at a restaurant, which we liked quite a lot both for the food and the treatment, and one of the soups was served in a bread casserole (Goulashtoo). Oh, how cute! Come on, I couldn't wait to make some soup that would look good on bread like that.
They served a typical soup from there, but I want to bring you that dish in its most traditional format and for that reason I was waiting to find a soup that would work with. Actually, any creamy soup, or even cream, is perfect. For example this Jerusalem artichoke soup with pesto, or this cream of asparagus, lemon and green tomato, this Thai coconut butternut squash cream… On the blog I have many creams and thick soups that would work.
But today we have this beer-cheese soup that invites you to the weekend.
For finish it, we can add crispy bacon, fresh coriander, chopped chives, fresh thyme, red onion rings, sweet potato chips, crispy kale, daikon chips… What you love!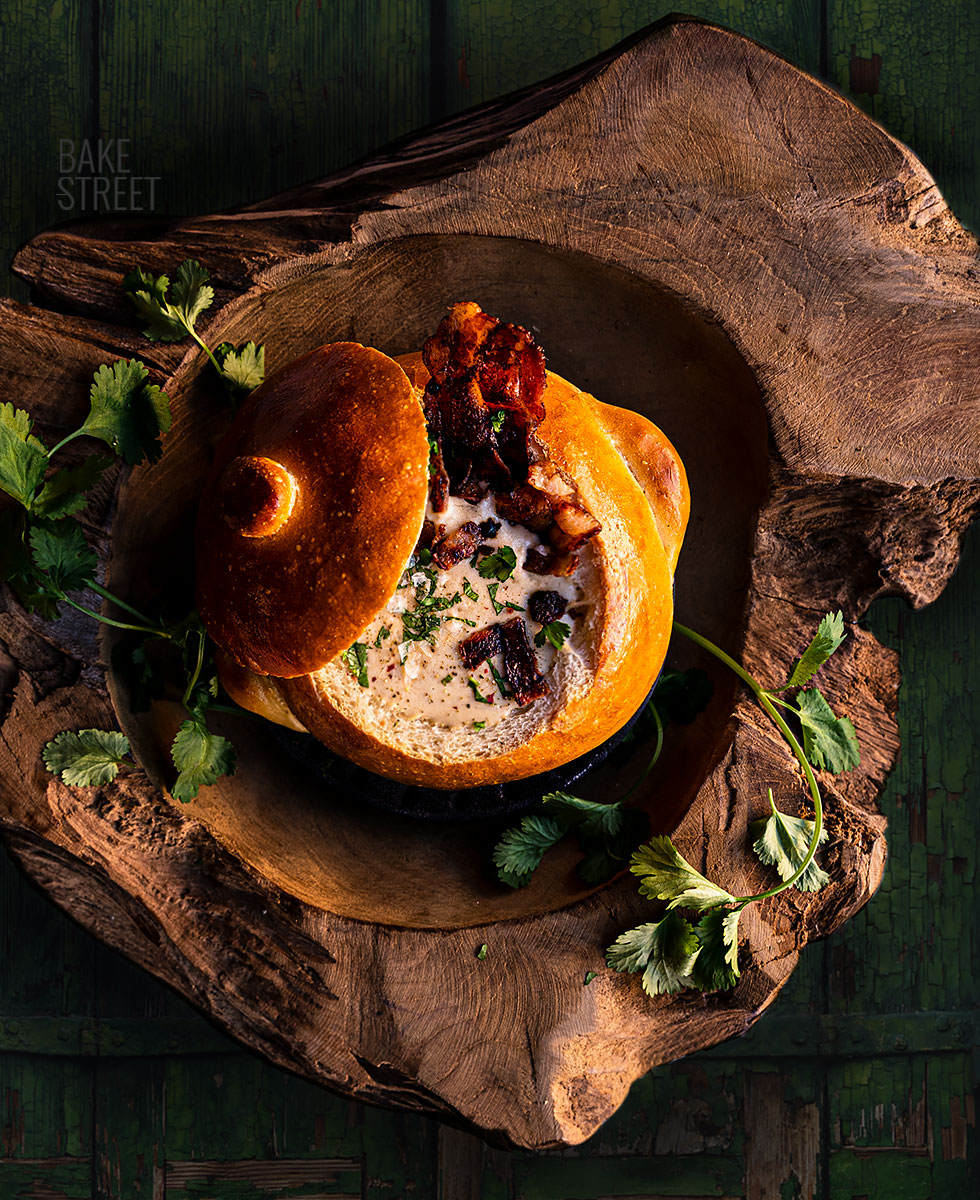 Ingredients for 4 serves
FOR BREAD CASSEROLES:
600 g bread flour
350 g water
3 g dried yeast or 9 g fresh yeast
28 g honey
50 g unsalted butter at room temperature
9 g salt
1 beaten egg + pinch of salt, for brushing
FOR BEER CHEESE SOUP:
1 large sweet onion, chopped
2 large garlic cloves, minced
50 g unsalted butter at room temperature
900 g homemade chicken broth
340 g black beer, I have used Guinness
380 g cream cheese, at room temperature
380 g semi-aged Gouda cheese, grated or very finely cut at room temperature
60 g potato flakes
1-2 Tbsp Dijon mustard (to our taste)
FOR SERVING:
4 bacon slices
chopped coriander or chives if preferred
ground pepper (optional)
Instructions
FIRST DAY
Prepare the dough for the bread casseroles.
In a large bowl mix the flour together with the water and the yeast with the help of a spatula or our hands.
Add the salt and mix again.
We will begin to knead, we must work the dough well to help the ingredients to amalgamate. It is important not to be hard when working because we will compact the dough and the final result will not be so spongy.
Add the honey and mix again until it is completely integrated.
Transfer the dough to a work surface and start kneading.
Knead for 4 minutes and leave to rest for 5-7 minutes, always covering the dough to prevent it from drying out.
Once we see that the gluten is half developed, add the butter. We can do this in two batches, we won't add more until it has been fully integrated.
We should get a soft touch dough with a smooth finish.
Round the dough.
Make bulk fermentation.
Grease a bowl/recipient and place the dough inside, cover with film/lid and let it rise until it doubles in volume or a little more.
In my case I left it at room temperature 69,8ºF/21ºC for 1 hour and 45 minutes. It grew 1/3 of its volume. At that time, I refrigerated until the next day.
SECOND DAY
Shape bread casseroles.
The next morning, remove the dough from the fridge and tempered it for 2 hours. This time will depend on the outside temperature and can be reduced.
Turn the dough over on a clean work surface and gently degas it.
Divide the dough into 245 g pieces (4 units), these will be the casseroles.
For the handles we will divide 4 pieces of 10 g (5 g each handle) and for the knobs of the lids, 4 pieces of 2 g each.
Shape the casseroles, you have to round the piece as I show you in this video.
Place on a perforated tray lined with baking paper.
Make little balls that will make the knobs on the lids. Moisten slightly with water and place on the piece in the center.

Flatten slightly with the palm of your hand. Repeat the same process with the rest of the pieces.
To shape the handles we will fold the dough to form cords. We will give a little length and divide each of them into two parts. In total we will obtain 8 handles.
Moisten the ends of the cords with water and join them to the round piece. To prevent the handles from hanging down, we will place some rolls made of aluminum foil lined with baking paper under each handle.
Cover with film and leave to rise until they double in volume.
In my case it was 3 hours at 75ºF/24°C.
Bake bread casseroles.
Preheat the oven to 385ºF/195ºC.
Brush the breads with beaten egg and a pinch of salt. Sprinkle with sesame seeds, if desired.
Place in the oven at medium height and bake for 25 minutes*. If you notice that at the end of cooking they have a nice golden colour, cover them with aluminium foil to prevent them from getting too brown.
Remove and let cool completely on a rack.
Reminder: To know if our bread have the right cooking point, we only have to prick them with a digital thermometer and check their temperature. It should be around 190º-194ºF/88º-90ºC.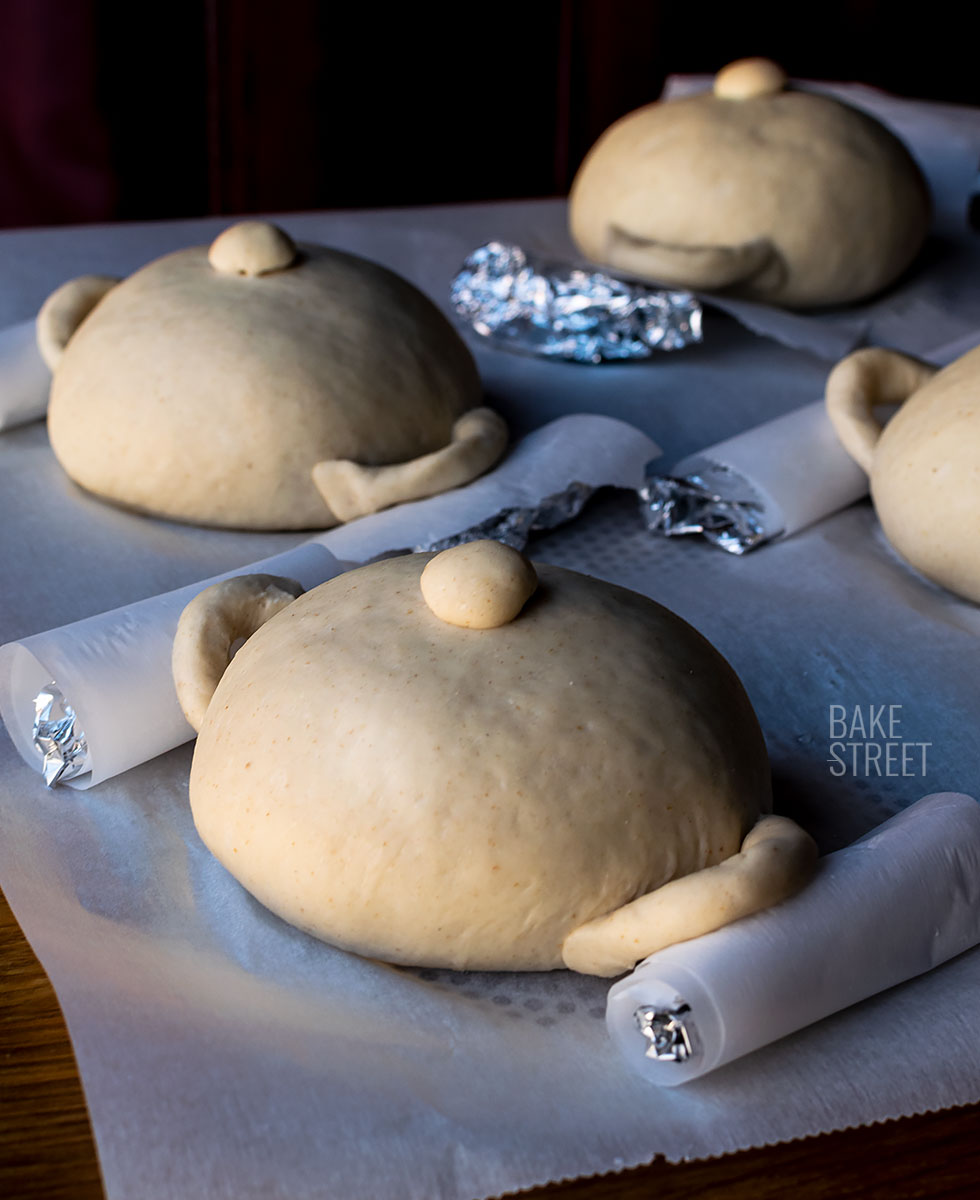 Make cheese beer soup.
Put the butter in a pot. Place at medium-low heat and let it melt completely.
Add the chopped onion together with the minced garlic. Cook for 10-12 minutes on a low heat.
Place the onion and garlic in a food processor with a some chicken broth and blend. We should obtain a light and smooth cream.
Pour back into the pot and add the rest of the broth. Leave at medium heat for 5 minutes.
Add the black beer, stir and leave for 5 more minutes at medium heat.
Reduce the temperature to low heat, in my case my ceramic hob with a range of 1-9 I put it on 3.
Start adding the cream cheese. We will do it little by little and constantly mixing it with a whisk. We will wait until it has been integrated into the soup before adding more.
Once we have incorporated all the cream cheese, start adding the Gouda cheese.
We will do it little by little and mixing constantly at the same time.
Once all the cheese has been incorporated, you will get a silky, smooth soup.
Add the mustard, mix, taste and rectify if necessary.
Turn off the heat and add the potato flakes. Mix quickly with the whisk to dissolve them completely.
Leave to stand for 5 minutes before serving.
While the soup rests, cook the bacon.
Set a frying pan to medium heat.
Once it's warm, place the bacon slices. One per casserole will be enough.
Brown them on both sides to make them crispy.
Take them out and let them warm on a plate.
Serve the soup.
Cut off the top of each bread pan to create the lid.
Remove the crumb from the inside of each bread. We will try to leave an inner edge of crumb to avoid that the casserole is very thin. (Eat the crumb, is delicious! :D)

Put the bread casseroles where we're going to serve them.
Let's pour the beer-cheese soup into each bread bowl.
Decorate with toasted bacon (we can chop it or put it on the casserole), sprinkle with chopped coriander, freshly ground black pepper and put the lid on one side.
Serve immediately.
Notes
To make the bread casseroles I used a bread flour W=200. You can find this type of flour in any supermarket without any problem. If you wish, you can add a small amount of whole wheat flour, always removing that added amount of wheat flour.
If you add wholemeal flour, it is very likely that you will have to modify the final hydration by increasing it.
I used dry yeast, but if you use fresh yeast you must multiply that amount by 3. Remember that for every 1 g of dry yeast, 3 g of fresh yeast are added.
Be careful, if you use dry yeast, look at the package if it is instantaneous (it does not need to be activated previously) or on the contrary, it needs to be hydrated before being integrated into the dough. There are yeasts that need to be hydrated before being added to a dough. If not, what will happen is that it will take longer to begin to hydrate the dough because it will take longer to hydrate and activate.
You can make the casseroles in one day, if you wish. In my case, I like to divide the process to go more relaxed.
If you have extra bread casseroles, because there are only two of you at home for example, they can be frozen once baked in film for 15 days.

Chicken broth can be replaced by vegetable broth if you wish.
I have used Guinness black beer (which I love), but any variety of Irish beer can be used. Or even another variety if you prefer.
I used Gouda cheese to make this soup, but we can substitute Cheddar, Dubliner, Gruyere... Of course, it's very important to add grated or finely cut cheese. In this way, it will melt and integrate easily into the soup.
VERY IMPORTANT NOTE for preparing the soup. When we are about to add the cheese to the soup, it must not be boiling and we must not have a high heat while doing this. If we do, the cheese will curdle forming small lumps/grains and the final texture will not be the desired one.
If we prefer a lighter soup, instead of creamy, we can simply omit potato flakes. But instead, we should add 30 g of cornstarch to make the final texture less liquid.
We can serve the soup with whatever we like. Bacon is great, I certainly recommend it. Although I'm sure that even some sautéed vegetables would be great.
No doubt a weekend, like this one for example, is the ideal moment to dare to try this Cheese Beer soup in Bread Casserole.
A perfect dish to enjoy during the days of rest and to fight this crazy cold weather we are having. I don't like the cold weather too much... If it weren't for these things, I don't know how I'd cope.
Although, then I think about it and it's a bit contradictory.
I always say (and still think) that I want to live in a place near the mountain or in the mountain itself. If possible, it will snow in the winter and be full of green fields and forests in the summer. I guess in my imagination I just enjoy the landscapes, the beautiful sunrises and sunsets, the walks in nature, the fireplace, my orchard (yes, in my imagination I have a big orchard and even animals)... Ok, I can fight the cold with a good pair of boots and a coat, hahaha.
We are going to take this year with desire, energy and a lot of illusion because for sure it promises and a lot!
I wish you a wonderful weekend!
Big hugs,
Eva
Sources: What´s cooking America, Wikipedia
Archivado en