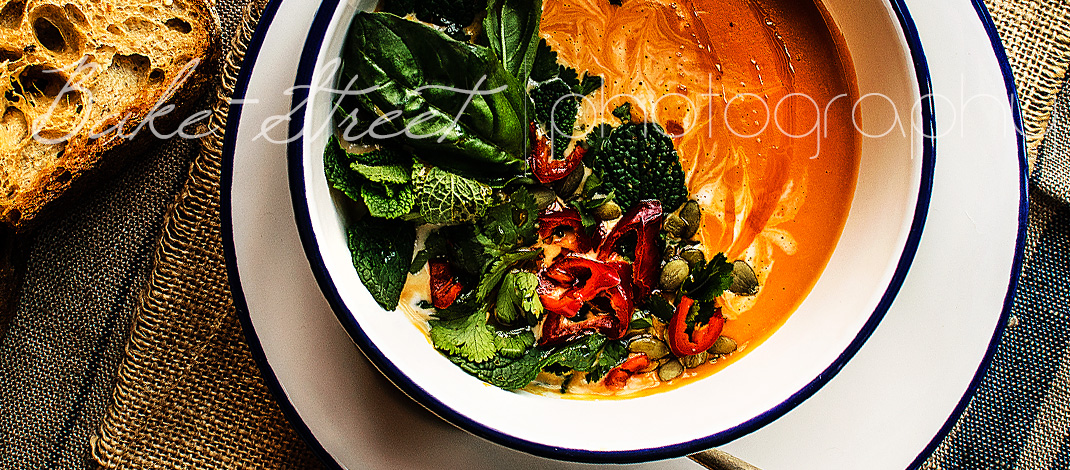 Thai coconut butternut squash cream
Este post también está disponible en Spanish
I keep bringing suggestions of soups, in this case, creams to enjoy both at lunch and dinner. This time is a Thai coconut butternut squash cream with aromatic herbs. Wonderful, really. Of course, spicy, I warn you in advance because I loved it but at home they told me it was too spicy …
It's difficult for me to define when a dish is very spicy because I like this way, which in my opinion is perfect, it seems to be a significant spice … So if you do not like this flavor so powerful, add less amount of curry paste and Sriracha sauce.
You can always try it and, if you want it to be more spicy, add it without problems.
I like very much to make these types of creams because they can be kept in airtight containers and organize both the food and the dinner the following day. It will suffice to warm it, serve with fresh herbs and it will be ready to enjoy.
The recipe is based on Morgan's one Host the toast. I started out of her butternut squash soup but I was preparing it, I decided to vary things and quantities to fit to my personal taste.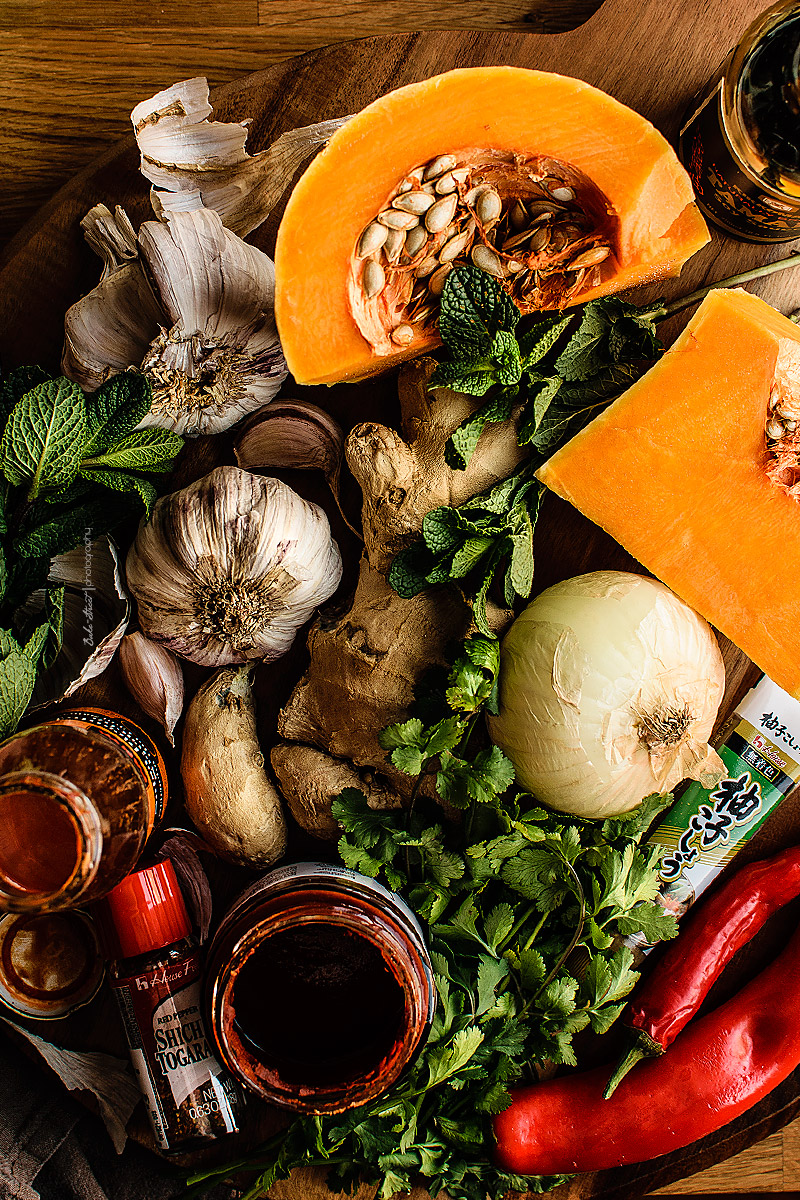 This cream is very easy to make, simply sautée the garlic along with the onion, add the pumpkin with the broth, let it cook until softened and blend. Add the remaining ingredients, mix to homogenize and ready. In fact it is perfectly compatible to make while we do other things at home.
In the recipe I commented that we must remove part of the broth before processing the cream and then add this until obtaining the desired consistency. This point will go to your taste and will depend on whether you like to enjoy a cream more or less light.
Also keep in mind that we will add the cream or coconut milk and the lime juice that will bring lightness. Perhaps the most convenient is to reserve the broth for the end and add more or less amount depending on the texture we get.
I like to serve it with a good slice of freshly roasted homemade bread, but the lavash or laccha paratha (flat breads) are perfect to serve with this type of spicy creams.
THAI COCONUT BUTTERNUT SQUASH CREAM
4 large serves
23 oz (650 g) butternut squash
12.3 oz (350 g) vegetable broth, homemade better
5.3 oz (150 g) coconut milk
1 tbsp olive oil
2 large garlic cloves, minced
1 small onion, diced
0.7 oz (20 g) fresh ginger, peeled and chopped
1 y 1/2 tbsp Thai red curry paste
juice of 1/2 lime
1/2 tsp Sriracha
1 y 1/2 tsp tamari
1 tsp Shichimi
1/4 tsp yuzu green peppers paste, yuzu kosho (optional)
FOR SERVE:
fresh basil
fresh cilantro
mint
red chile slices
red chile oil (recipe in the link)
pumpkin seeds
INSTRUCTIONS:
Make Thai coconut butternut squash cream.
Peel the pumpkin, remove the seeds and cut into pieces. Set aside.
Heat the olive oil into a large pot and place over medium heat.
Add garlic and onion, and sautée until soft about 3 minutes.
Add curry paste along with the ginger and stir to combine with the onion and garlic. Cook for 3 more minutes.
Add the raw butternut squash along with the vegetable broth and mix to combine.
Bring to boil and then reduce over medium low heat to a simmer. Cover and cook for 20-25 minutes or until butternut squash is tender.
Remove from heat.
Blend butternut squash cream.
Pour some of the broth into a glass and set aside. Maybe we needed to lighten the cream.
Put the ingredients into a blender along with some broth and blend until smooth.
Add more broth if you want to make it lightly. Blend again.
Add coconut milk* along with spices, tamari, lime juice and sauces. Blend again to combine.
* Set aside some coconut milk to pour over the cream.
Serve.
Ladle the cream into bowls.
Drizzle coconut milk on top and swirl and sprinkle with fresh aromatics herbs, red chile slices and a dash of chile oil.
Serve immediately with a toast of homemade bread.
NOTES:
Coconut milk I specifically use the solid part, maybe you ask yourself, is not the coconut milk brick? No, the coconut milk I refer to is the one that comes in cans and is usually separated from the solid part of the liquid. We must shake it well to unite both, do not do it. We want the creamy side.
And what do I do with coconut water? Recently I posted a coconut bread in which part of the hydration came from this water to reuse it. But you can incorporate it into any dough you make at home.
Can I use ginger powder instead of fresh? Of course. Use 1/2 tablespoon instead.
The tamari is a pure fermented soy sauce, in this post I tell you more about it and when to add it. If you do not have it you can use normal soy sauce.
The yuzu green chillies paste is very spicy and salty. If you do not have it, you can just omit it. It is a paste made from yuzu peel, green chiles and salt that is then allowed to ferment. It could be compared to a type of Tabasco but with Japanese style.
In the cream we do not need to add salt since we season it with tamari and yuzu paste.
If you do not like the very spicy flavors, the chili oil will omit it directly. Since I made it for the yoghurt soup, I use it too much…
Enjoy…
This Thai coconut butternut squash cream can be kept in the refrigerator for 2-3 days. If we make a big amount, freeze it in individual airtight containers and it will be  part of a meal or a dinner.
It is a cream of very soft texture and very intense flavors, perfect to enjoy these days before the good weather finally arrives (I need it!) 😉
Big hugs,
Eva