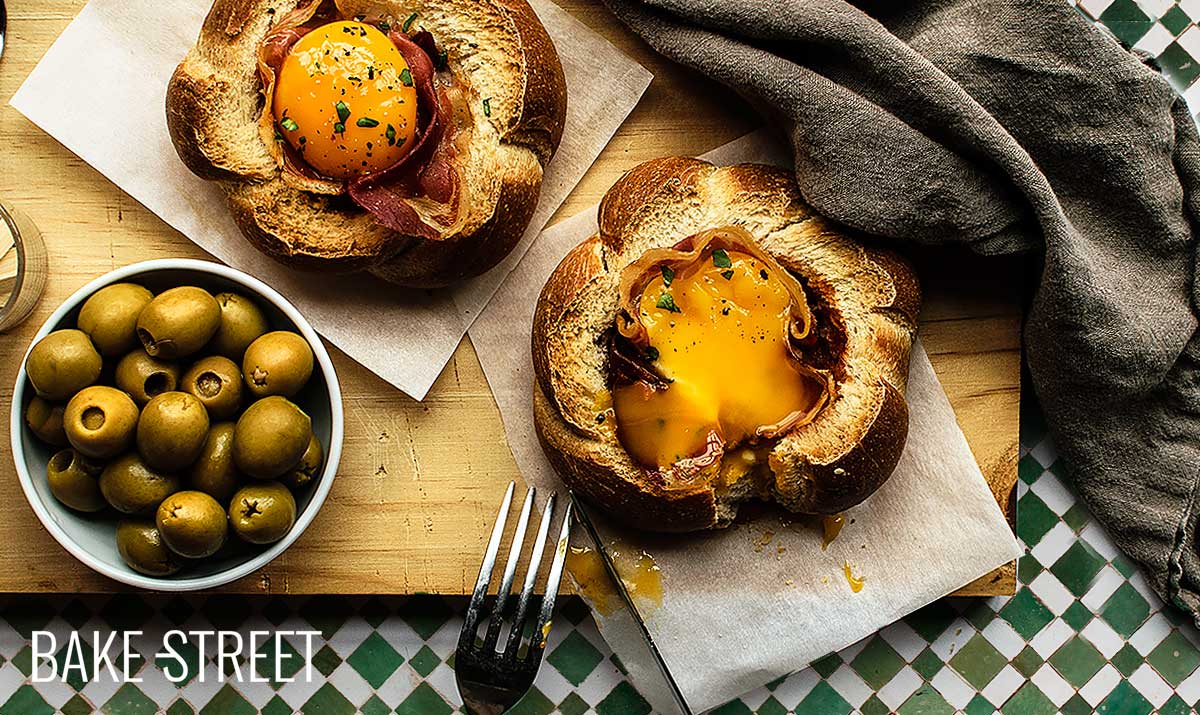 Eggs in a bread nest
Este post también está disponible en Spanish
I have a time in which I have to organize much more than before for lack of hours in the day. With 24 hours I don't have enough to do everything I want/need. For that same reason, I try to organize myself much more than before (especially in dinners). It seems silly, but as the day progresses I need more hours and if I have all my meals organized, I have much more. Today I'm not going to discover anything new, the recipe I leave you is very easy, basic and simple. But if we give it a home-made touch, it can improve a lot. Eggs in a bread nest made with Kaiser rolls.
It's a very simple recipe, which requires little time to make if we leave the breads baked beforehand. And the result is a sensational dinner, snack or starter.
Eggs in a bread nest.
What's hidden in this recipe? Actually, nothing that will surprise us, as simple as combining bread, Serrano ham and eggs in the same elaboration. An absolute delight that, depending on the way we present it, can even improve the final result a little more. Although they are elements that assure us a sure success always.
These nests can be prepared with any type or variety of bread that have a small or individual format. In a way that allows us to empty and fill them. In my case I'll show you how to make them with Kaiser rolls. It is a perfect type of bun for this recipe thanks to its format. At home I usually make them a lot, whether to fill, make sandwiches, hamburgers … They are perfect with what you want to combine.
In case you don't want to make homemade bread, you can always do it with store-bought bread. But I assure you that you will not regret making them. With the recipe I leave you 7 units. hold in perfect condition for 3-4 days, or you can freeze them and take them out when you need.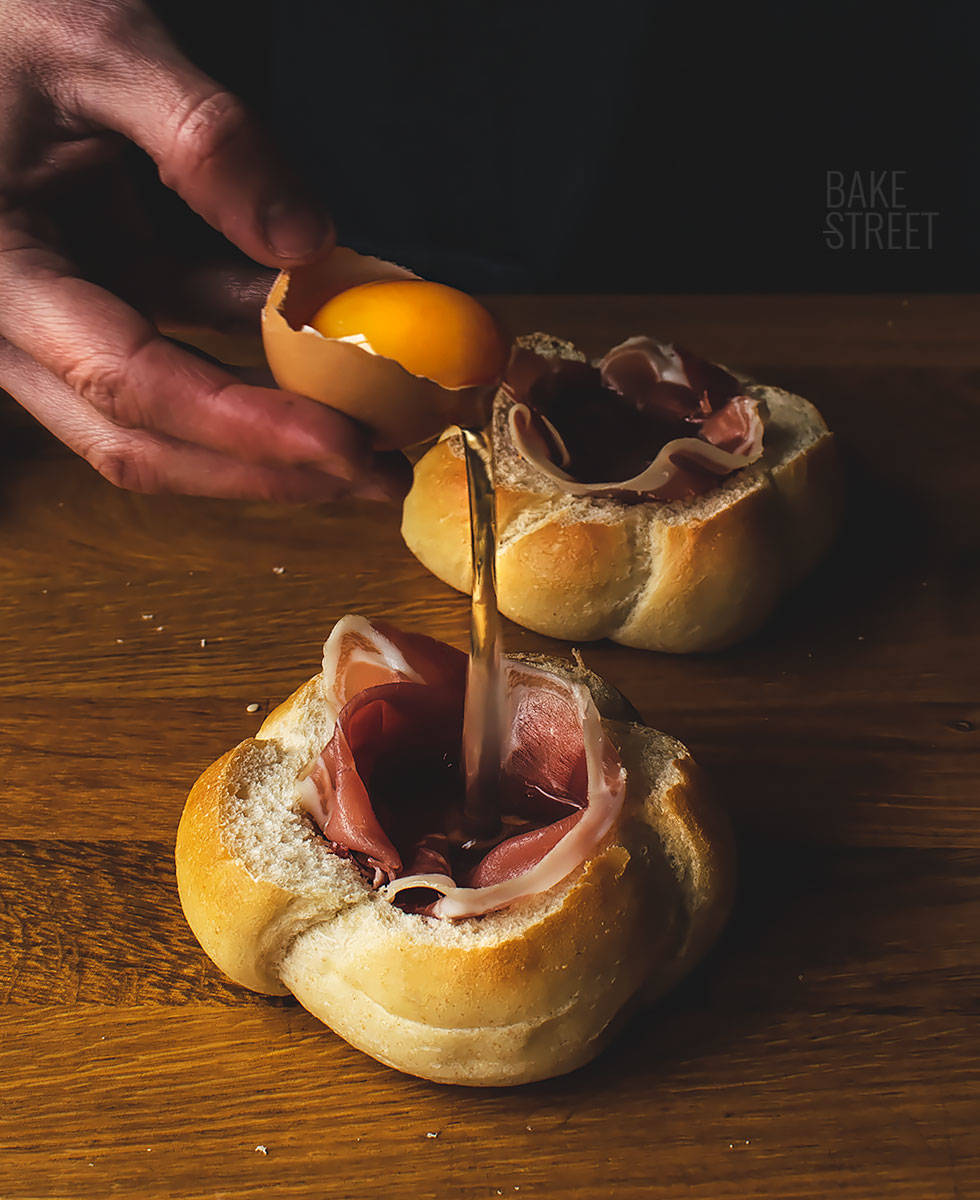 Filling the eggs in a bread nest.
Traditionally, bread nests are filled with ham or chopped chorizo accompanied by egg. Since to curdle the eggs we will have to place the bread, already baked, in the oven we will brush the interior with homemade tomato sauce to avoid that they dry out excessively and the interior remains juicy.
In some recipes, they brush the inside of the rolls with milk. I'll tell you so that you have both options in mind and carry out the one you like the most.
We can pour the whole egg at the beginning of cooking (white and yolk together) or separate the yolks and put them once the egg white is curdled. In my case I am crazy about runny yolks and little curd, so I tell you how I do in my case.
Separate the egg yolks from the egg whites beforehand, pour the egg whites on the bread and bake until it sets. Once we are at this point, place the egg yolks on the bread and bake for 30-60 seconds or place them as we take the stuffed rolls out of the oven. Finish with a little salt, chopped parsley, freshly ground pepper and enjoy.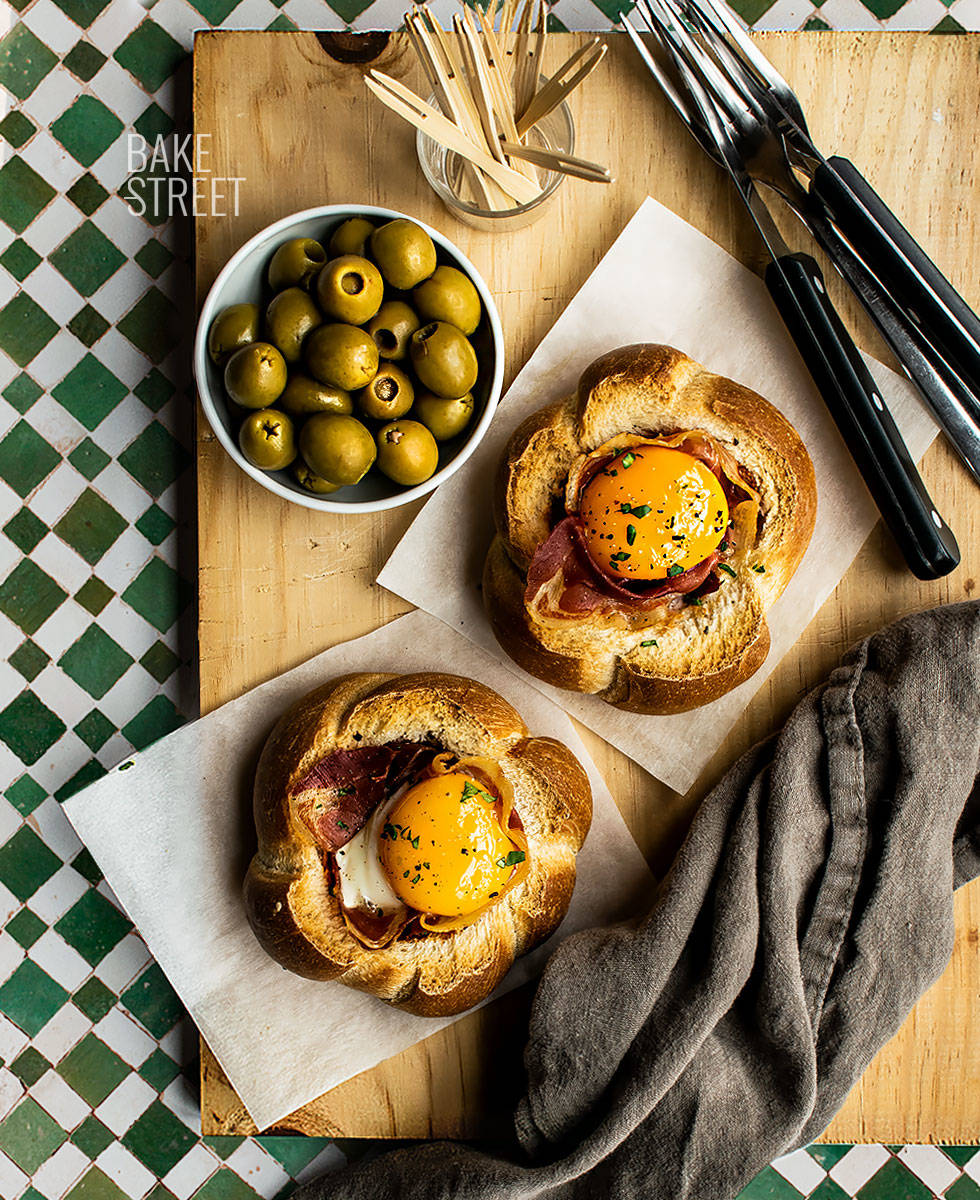 Ingredientes para 4 raciones
4 Tbsp homemade tomato sauce
8 large slices of Serrano ham
4 large eggs
Salt and pepper to taste
Chopped parsley (optional)
Instructions
Make Kaiser rolls.
You can see how make Kaiser rolls following this recipe.
Once they are baked, allow to cool over a rack.
Assembling the nests.
Preheat oven to 356ºF (180ºC).
Cut off the top lid of each roll. Hollow out part of the crumb to create a hole.

Brush the inside with homemade tomato sauce.
Place a few slices of serrano ham covering the sides.
Pour the egg white into the hollow and set aside the yolk.
Bake until egg white is set, about 10-12 minutes.
Remove from the oven. Tip the yolk on the set egg white, salt to taste and serve immediately.
You can garnish with some chopped parsley if desired.
Serve immediately.
Notes
It is not mandatory use homemade tomato sauce, but result will be better. Canned tomatoes can be used if you prefer, but the flavor will have nothing to do with the real thing.
I have used my homemade tomato sauce, the same I used to make empanada gallega. But, of course, you can use your own tomato sauce recipe. If you have tomato sauce leftovers it freezes beautifully in an airtight container.
Serrano ham can be replaced by bacon, chorizo or minced chorizo as mentioned above. Maybe you're wondering, what the minced chorizo is? It's the meat used in making the chorizos. If it is of good quality, it will be made with natural products, without preservatives or colorants. Only lean pork, bacon, salt, sweet paprika, ground garlic, ground black pepper and white wine.
These nests should be eaten freshly made. Reheating the bread doesn't give good results, as it will dry and change its texture.
Although I must admit that I love to cook and prepare very elaborate recipes, it is also true that there are times (like the one I am currently going through) in which I do not have much time and I must put into practice simpler recipes such as these eggs in a bread nest.
These are options that work very well and we don't stop eating healthily at home. This is when I miss the summer season and all the fresh, quick and simple recipes we can prepare!
I wish you a wonderful start to the week!
Big hugs,
Eva
Archivado en