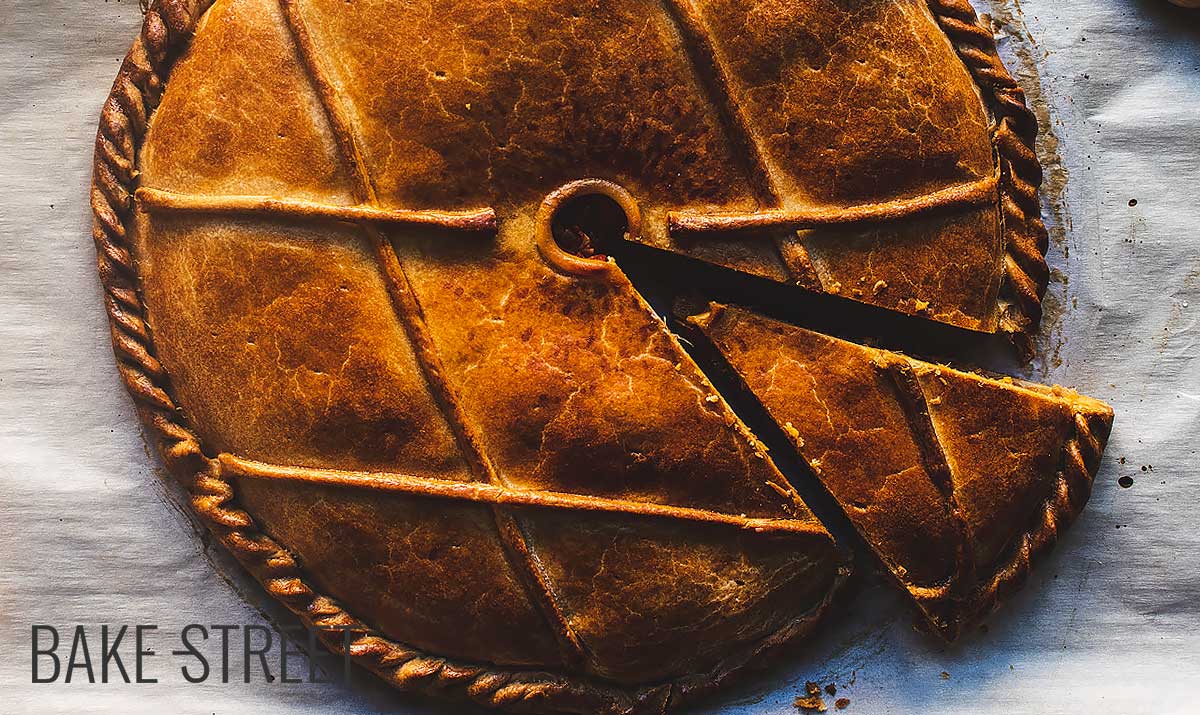 Empanada gallega, Galician pie
Este post también está disponible en Spanish
One of the things I like most in the world is empanadas… Well, I like a lot of things because it's true that I love to eat, but I think there's nothing more satisfying in this world than enjoying a good homemade Empanada gallega or Galician pie with a glass of Albariño wine. Is there greater happiness than that?
They fascinate me for as long as I can remember. My mother used to make it every Sunday (now she only does it once in a while, since I don't live there and I don't ask for it every other day!), it was without a doubt my favorite dinner. I could eat half with my eyes closed! And to this day I still like it the same or even more.
My favorite empanada has always been tuna with tomato and peppers. I know it's one of the most classic and traditional, but for me it's the best. Let's see, I'm not going to deny a piece of empanada of octopus, meat… In fact everything seems perfect to me, but if you give me a choice, I will always choose the tuna.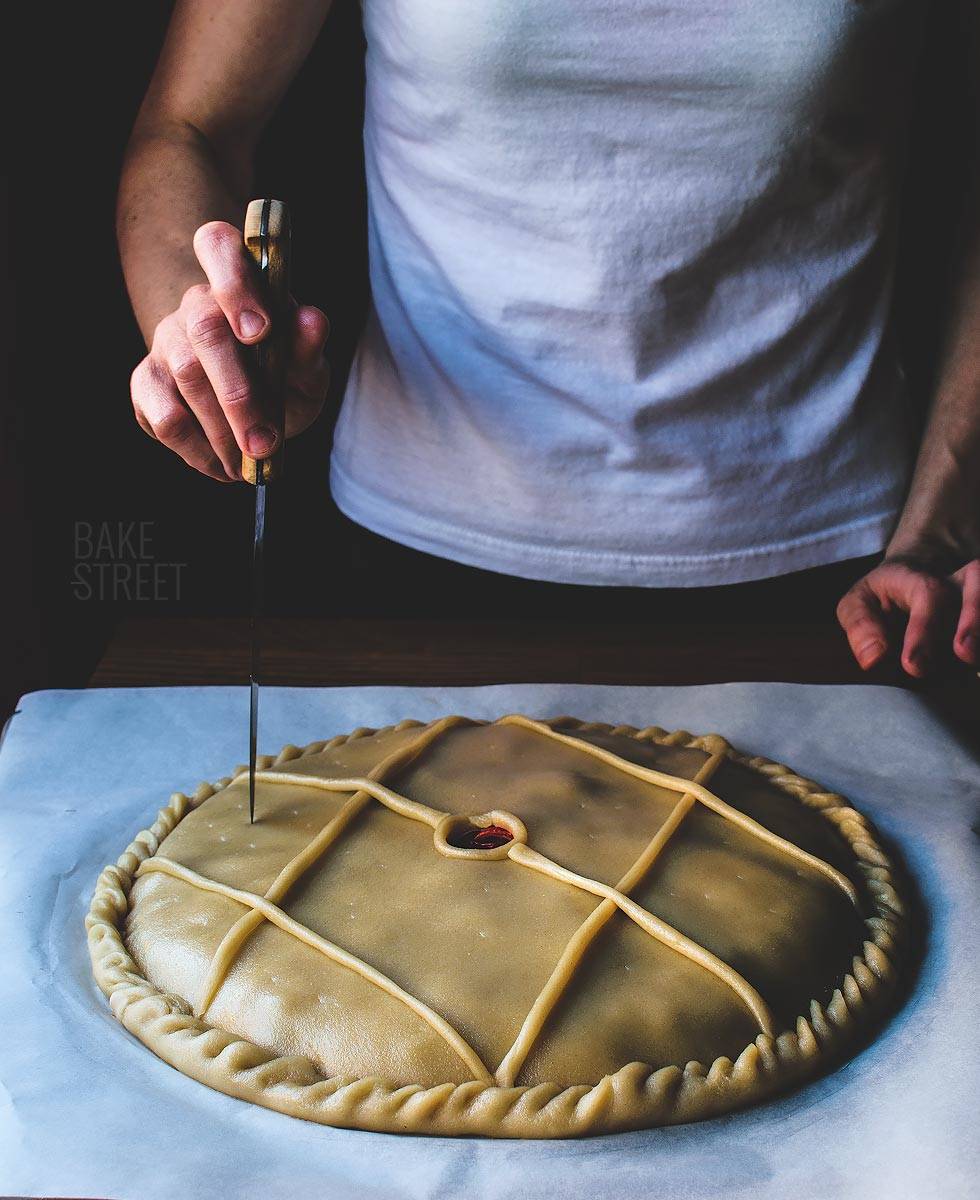 Empanada gallega.
The Galician empanada could be defined as a savory, wonderful and fascinating pie. It is elaborated with a dough that does not contain yeast, it is stretched giving it a very fine thickness and it is filled with previously cooked salty ingredients. Then it is covered with another piece of dough, decorated and baked. It is usually served cold or at room temperature.
The empanada is a typical Galician dish that is eaten at any time of the year. It is always prepared with products from its coasts and lands.
The empanadas in Galicia are known from the time of the Goths in s. VII where they specified rules for their preparation. It was a perfect meal for travelers due to the ease with which it could be transported.
There is a wide variety of recipes for making empanadas. Its fillings can be very varied, from octopus, mussels, cod, sardines, meat, vegetables… In my case I will leave you one of the most classic and delicious, the tuna empanada.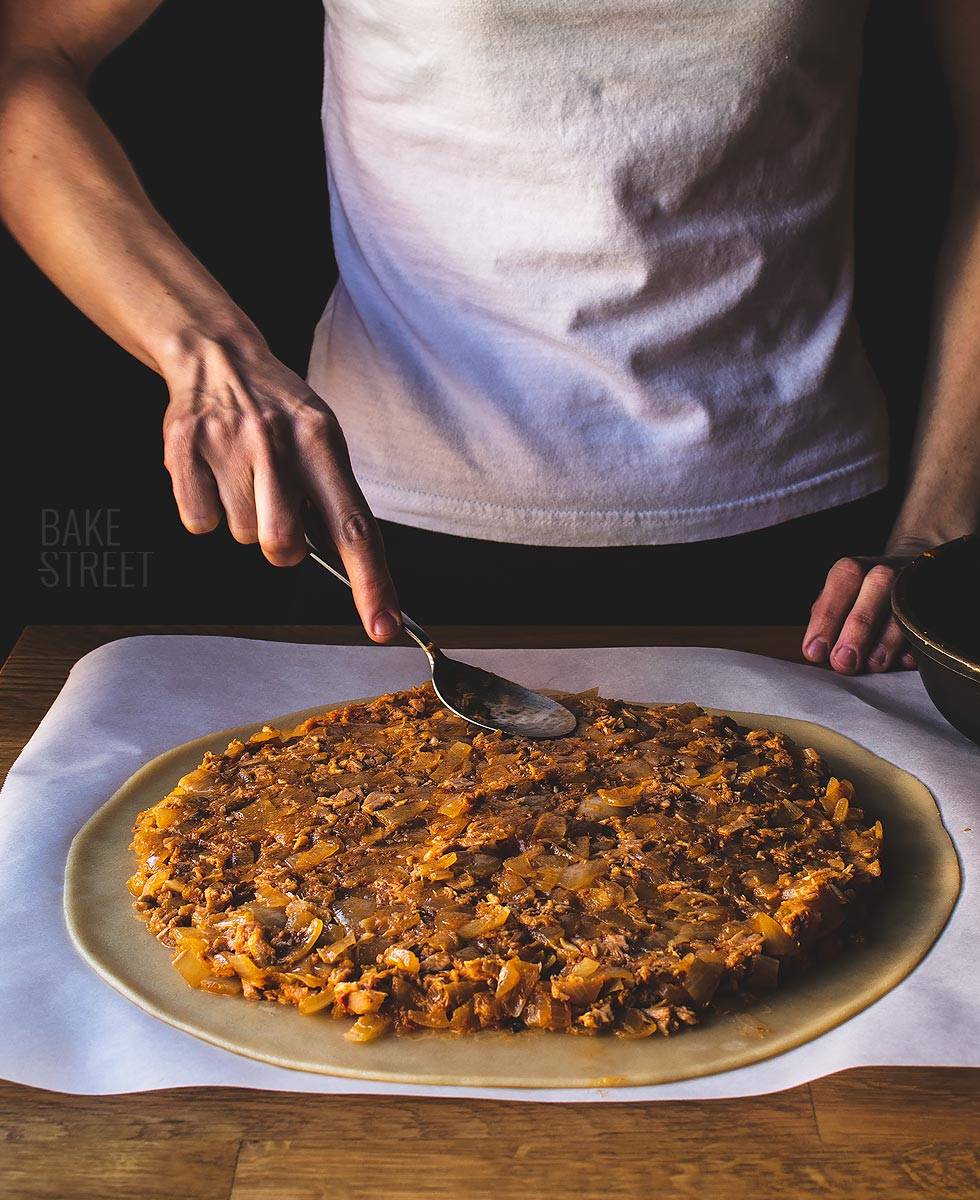 If there's one key element to getting a good empanada, that's the dough.
Traditional empanada dough has no yeast. It is a very fine dough with a crunchy finish and a slightly flaky texture that we will achieve thanks to the presence of oil. It is very important to bake the empanada well so that the dough is crispy and well cooked.
The recipe I have followed to make the dough is by Isabel "La Cocina de Frabisa". I've been making it for a long time and it's, without a doubt, the one I like the most of all the ones I've tried. The result is simply spectacular.
To seal or close the empanada there is a tradition that makes it characteristic and particular. This process or method is called repulgue (I don´t know how is called this method in English). It consists of closing the edges of the dough superimposing one fold on another. The best way for you to know how to do this is by watching this video.
In case you don't know how to do it, nothing happens. Just try to close the edges of the empanada well to prevent part of the filling from coming out. The outside appearance may not be as eye-catching, but the result will be just as good.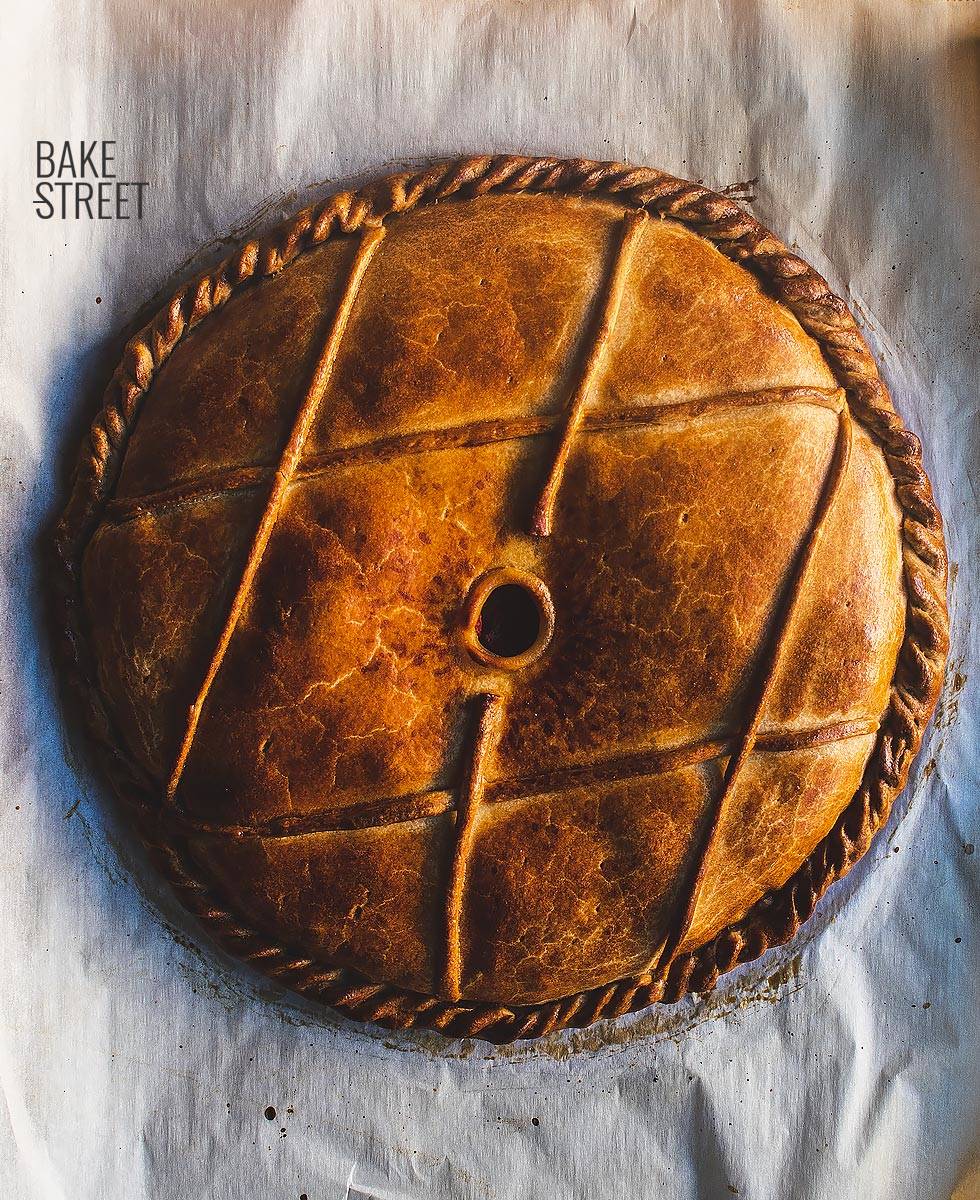 Ingredients
FOR THE DOUGH:
500 g plain flour
150 g whole milk
150 g sunflower oil
1 large egg 
1 tsp salt
1 beaten egg + pinch of salt to brush
FOR THE FILLING:
3 large onions
8-12 tablespoons homemade tomato sauce, recipe below
500 g tuna preserve
Piquillo peppers
40 g olive oil
1 tsp pimentón dulce or sweet paprika
salt to taste
FOR THE TOMATO SAUCE:
5 ripe red tomatoes
1 small red bell pepper
1/2 medium onion
a dash of olive oil
1 tablespoon sugar
salt to taste
Instructions
Prepare the tomato sauce.
Wash the tomatoes and slit them across the base.
Fill a medium pot with water and place it over medium-high heat.
Once it has reach a full boil, drop the tomatoes and blanch for 3-4 minutes.
Remove from the heat, drain and set aside to cool.
Peel tomatoes, cut into pieces and place in a medium pot.
Add the chopped onion together with the chopped red pepper, a dash of olive oil and the sugar.
Cook at medium low heat for 45 minutes stirring occasionally.
Blend the tomato sauce with a hand blender, add the salt, mix and taste. Correct the seasoning if necessary. Set aside.
Prepare the filling for the empanada.
Cut the onions into small pieces.
Pour the olive oil into a large frying pan and place on medium low heat.
When warm, add the chopped onion and cook for 45-50 minutes, till wilted.
Add the tomato sauce together with a pinch of salt and sweet paprika. Mix. Cook for 10-15 more minutes.
Remove from the heat, add the previously drained tuna and mix again to distribute evenly.
Let stand until the filling is completely cool.
Make the dough.
In the bowl of the stand mixer or KitchenAid, add the flour together with the milk, egg and salt.
Mix till you get a crumbly texture.
Add the oil in a continuous thread while kneading.
Knead until the dough is completely smooth and homogeneous with a fully developed gluten. It'll take about 15 minutes.
Shape it into a ball, put it in a bowl and let it rest for 2-3 hours.
Preshape the dough.
Divide the dough into two equal pieces.
Shape two balls and cover with a cloth. Let stand for 20 minutes.
Shape the empanada and bake.
Preheat convection oven to 380ºF /195ºC.
Stretch one of the pieces with a rolling pin to obtain a thin sheet of dough. Shape it into a circle approximately 15 inches (38cm) diameter.
Place the dough on a baking sheet lined with baking paper.

Tip the filling on the center, leaving some margin around the edge to close the empanada.
Place some Piquillo peppers cut into strips on top of the stuffing.

Stretch the second piece of dough by creating a circle of the same dimensions as the first.
Using a round cutter, cut a circle in the middle of the dough to act as a chimney during baking.
Place the dough lid on top of the pie and seal the edges.

Close the edge making a repulgue. You can watch how to make it in this video.
Decorate the surface with strips of leftover dough.
Prick the surface of the dough with a knife, brush with beaten egg and bake for 50 minutes.

Remove from the oven and allow to cool completely on a rack.
Serve.
Notes
It is not mandatory to use a homemade tomato sauce to make the empanada. Canned tomatoes can be used if you prefer, but the flavor will have nothing to do with the real thing.
I have shared my tomato sauce, but of course you can use your own recipe if you wish. If you have tomato sauce leftovers it freezes beautifully in an airtight container.

Use a pair of swimming glasses to cut so much onion if you don't want to cry like there's no tomorrow, hahaha. A tip to keep our eyes from weeping, apart from this one, is to keep the onions in the fridge. When they are cold, they do not release the substances that make us cry.
The onion must be cooked in a medium low heat because we want it to become tender and transparent. Under no circumstances should the onion brown or char.
I have used preserved tuna without added oil. I like it better, but of course feel free to use tuna in oil if you prefer. Drain well before adding it to the onion.
You can substitute the Piquillo peppers with roasted red peppers if you prefer.
The empanada dough does not contain yeast. It is a type of dough that does not need to rise, just to rest so that the stretching process is much easier.

The dough can be made with sunflower oil, instead of olive oil that has a stronger flavor, or with the surplus of cooking oil. In this recipe there is not any surplus, but some other recipes use more oil and then you can reuse it to integrate it into the dough. The dough will be more flavorful then.
The filling should always be placed cold on the dough.
Once baked and cooled, the empanada will keep refrigerated for 5 days.
I recommend you to always eat the empanada at room temperature, so that flavors really shine.
I'm going to tell you not to know what I'm going to do... Encourage yourself to make this homemade Empanada gallega or Galician pie and your life will change from better to impressively fabulous. Really, nothing can make me happier than to end the day enjoying a good piece of empanada, a little cheese and a glass of wine.
Easy and simple things that report great satisfaction. In case you don't like this filling, you can always change it for another one. Here the important thing is that we like it.
I wish you a wonderful beginning of the week!
Big hugs,
Eva
Archivado en