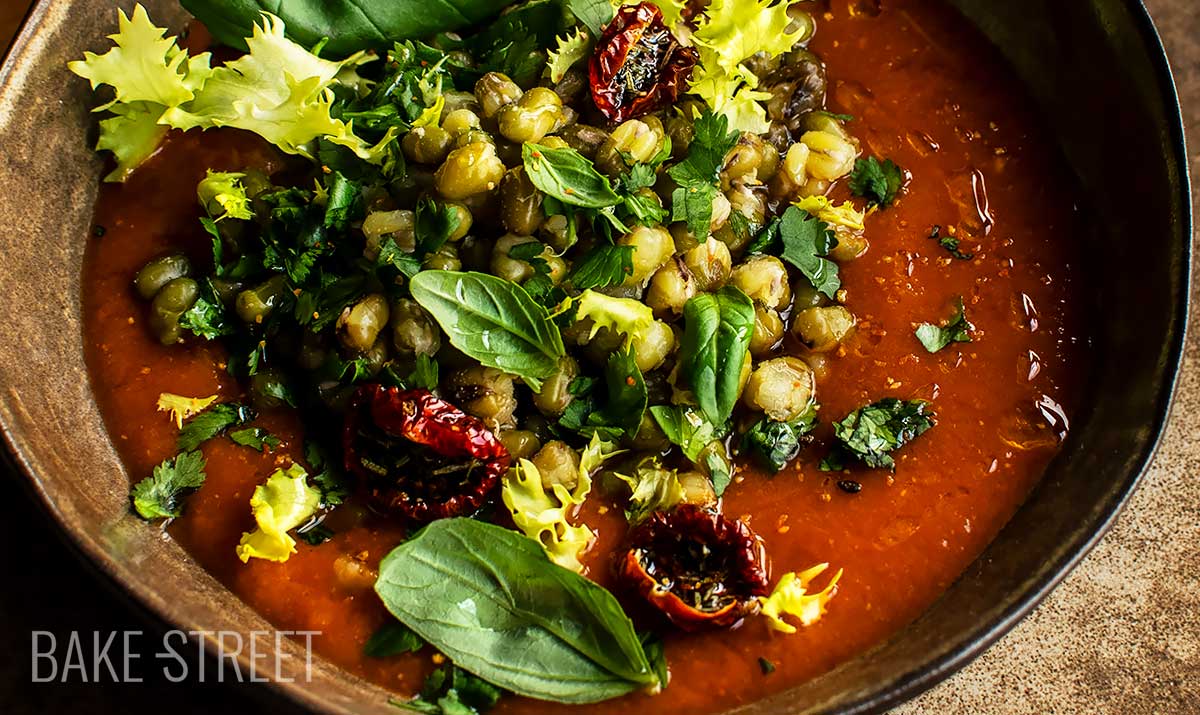 Mango, red pepper and miso soup with mung beans
Este post también está disponible en Spanish
Today I am going to give you a break with sweets treats and I leave you a lighter and healthier recipe. Ok, I love sweets, both to make them and eat them! But it is also true that at home I do many more elaborations and today's is one of the last "innovations" I have tried. Mango, red pepper and miso soup with mungo beans.
I'm very happy because I've managed to hook my son to these kinds of flavors. In fact, to this day, his favorite food is ramen. He has even told me that I can make it every day if I want, hahaha. The truth is that I'm glad that he likes this type of dishes with more powerful and different flavors. Also, this allows me to expand and try many recipes at home that become part of the daily menu.
Mung beans.
Mung beans are a type of legume first cultivated in India more than 5000 years ago. You may also find it called green soya, although it has nothing to do with it. The only thing they both have in common is their high percentage of protein. In fact, this legume stands out for being the one with the highest protein intake after soybeans.
They are rich in complex carbohydrates, fiber and low fat. It is a source of iron, magnesium, phosphorus, folic acid and B vitamins. It helps us in the functioning of our metabolism, in the production of energy and maintenance of the immune system.
This legume is widely used in oriental cuisine. In India it is often used to make dahl, dosas or to make a variety of vermicelli. In my blog I have left you some recipes with mungo bean vermicelli like these Vietnamese rolls, vermicelli with marinated feta and wasabi yogurt (only available in Spanish) or these lettuce wraps with vermicelli, mango and hoisin-sriracha sauce.
When I cooked the beans, I didn't leave them to soak the night before. I have not done it because the cooking time they need is very low, in fact in the package itself detail that it is not necessary. But if you decide to do it, you should reduce the cooking time to 20 minutes, more or less. Observe them so that the result is a tender bean and not a paste.
Creating mango, red pepper and miso soup with mung beans.
I wouldn't know how I carry out these kinds of recipes. It's true that I always have a base in mind and, from there, I start to incorporate ingredients.
This time I knew I was going to make a soup with roasted red pepper, miso paste and mungo beans with a dashi-based broth. The rest came by the way.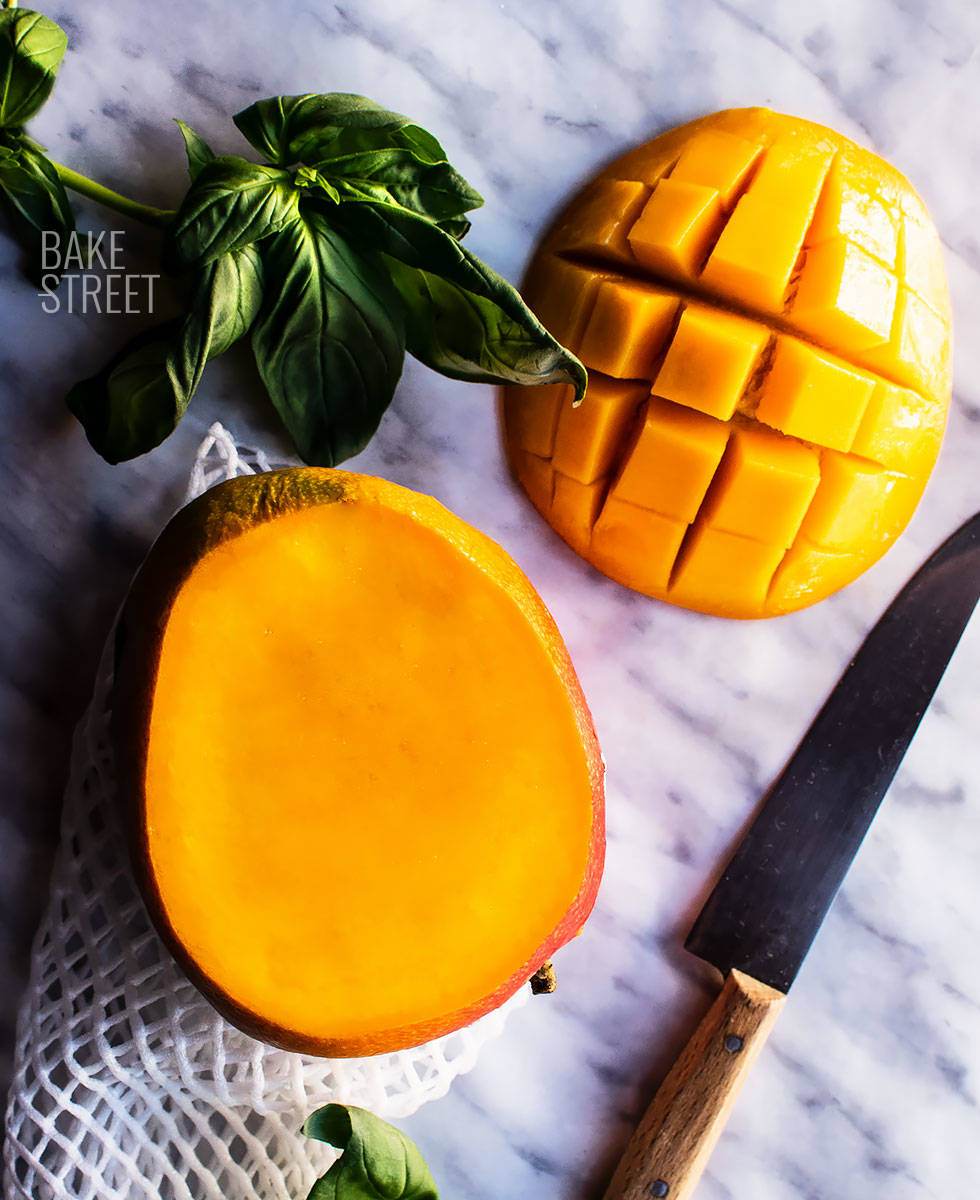 Whenever I make creams or soups, I first prepare poached onion, garlic and some spice. On this occasion, while checking the spice cabinet (I have a pretty big one), I decided to use coriander seeds, dried citronella and amchoor (green mango powder). When adding amchoor, I thought that the very precious mango that the fruit bowl had, would give the soup a sweet and very peculiar point that would also enhance its flavor.
As my base was a dashi broth and miso paste, I looked at my sauces, and opted for Oyster sauce, sriracha sauce, tamari and tamarind paste and dates. The latter gives a wonderful citrus flavor thanks to the tamarind together with the sweetness of the date.
A tip about sriracha sauce. In my case I use the one I make fermented. Its taste is super spicy, with a teaspoon I have more than enough. But if you use the store-bought sauce, you will probably have to add more until you achieve the desired spicy flavor.
The truth is that the combination of all the ingredients, although very peculiar, is absolutely marvellous. Of those things that you can not stop eating because it has an addictive flavor! 😉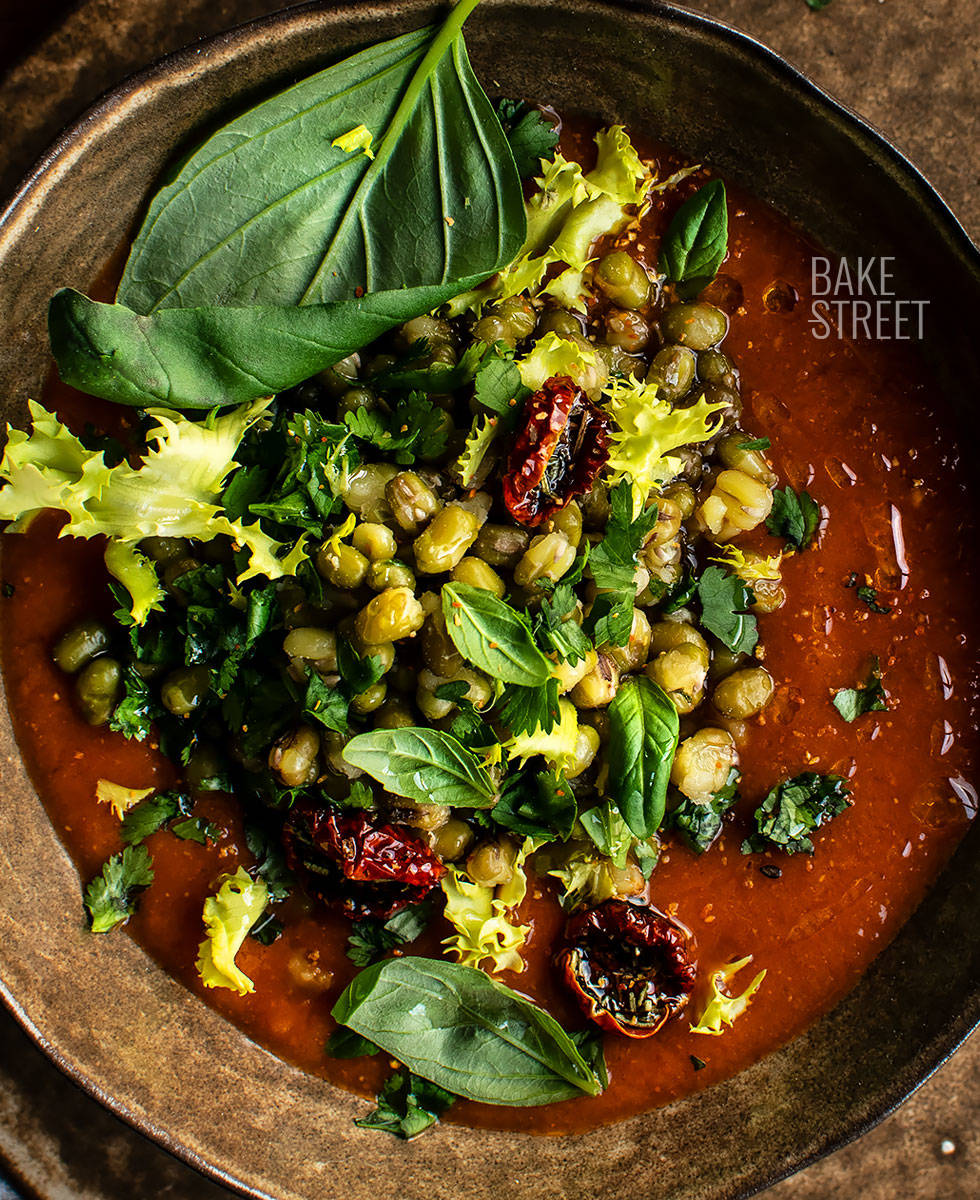 Ingredients for 6-8 serves
FOR TEH SOUP:
780 g dashi broth (link recipe)
1 medium onion
2 large garlic cloves
3 Tbsp olive oil
2 tsp coriander seeds
1 tsp dried citronella
1 tsp amchoor
3 skinless, roasted red peppers, 325 g
1 large ripe mango
4 tsp tamari or soy sauce
2 tsp tamarind dates sauce (I use Natco)
2 tsp Oyster sauce
80 g white miso paste
1 tsp fermented Sriracha sauce (link recipe)
2 kefir lime leaves
salt to taste
FOR MUNG BEANS (4 serves):
100 g dried mung beans
water, enough to boil them
GARNISH:
curled-leaved endive / escarole
chopped fresh cilantro
fresh basil
dehydrated cherry tomatoes in oil with rosemary (I make them at home)
a dash of olive oil
Elaboración
Cook mung beans.
Fill a medium pot with enough water for cook the beans well.
Place in a medium-high heat and let it boil.
Then reduce to medium heat and add the beans.
Cook for 30-35 minutes. We must be careful with the cooking of this legume, if the water has a very strong boiling or we exceed the time, we will obtain a paste.
Once the beans are ready, place them in a strainer and set aside.
Make the soup.
Pour the oil into a large pot and place it in a medium-low heat.
Add the chopped onion together with the coriander seeds. Cook during 15 minutes, it will acquire a semitransparent tonality.
Add the citronella together with the chopped garlic and poach for 5 more minutes.
Incorporate the sauces together with the spices, stir and cook for 1 minute.
Pour the broth together with the roasted pepper cut into pieces and the mango cut into pieces too. Raise the temperature until it boils and then reduce to simmer. Cook for 5 more minutes.
Remove from heat and blend.
Place again in the heat. Add the miso paste together with the kefir lime leaves and cook for 30-35 minutes at medium low heat stirring occasionally. Keep the soup with the lid slightly on.
Remove from heat and let stand for 10 minutes.
Serve.
If you wish, you can strain the soup. In my case I like to serve it directly. If the processor or blender you have is powerful, it won't be necessary.
Ladle the soup into individual bowls or plates.
Put over the soup the quantity of beans that you dessire.
Decorate with escarole, chopped coriander, fresh basil and dehydrated cherry tomatoes in oil with rosemary.
Garnish with a dash of olive oil and serve.
Notes
Mung beans does not require soaking before cooking. But if you decide to do so, reduce the final cooking time.
I recommend you to roast the peppers at home, I consider that the taste of store-bought ones has nothing to do. But do what is simpler and fits your needs.
Mango should be ripe, but not overripe. It is important that it tastes good.
If you don't like dashi broth, you can replace it with a homemade vegetable broth.
All sauces are according to my personal tastes. In case you don't like any of them, omit it or replace it with another one you like more.
If you don't find tamarind and dates sauce, use 2-3 fresh tamarinds and 2 medjool dates instead. Add them at the same time as pouring the broth and after cooking, blend them.
All topping dressings are optional. Use the ones you like the most.
We can keep the soup for 2 days in the fridge or in the freezer for 1 month.
This mango, red pepper and miso soup with mung beans is absolutely addictive. The combo of flavors is sensational, you can't help but enjoy one spoonful after another. In fact, it's a type of soup that can be eaten both hot and cold, I've tried it both ways and it's very good served one way or another.
In addition to serving them with mungo beans, you can serve them with any other legume you like, including bulgur or quinoa. Combining both textures you get a very pleasant result and very nutritious.
The aromatic herbs together with dehydrated cherry tomatoes in oil give a crunchy, aromatic and refreshing touch. Without a doubt it is a soup with a powerful flavour that will hook you.
I wish you a wonderful start to the week!
Big hugs,
Eva
Archivado en