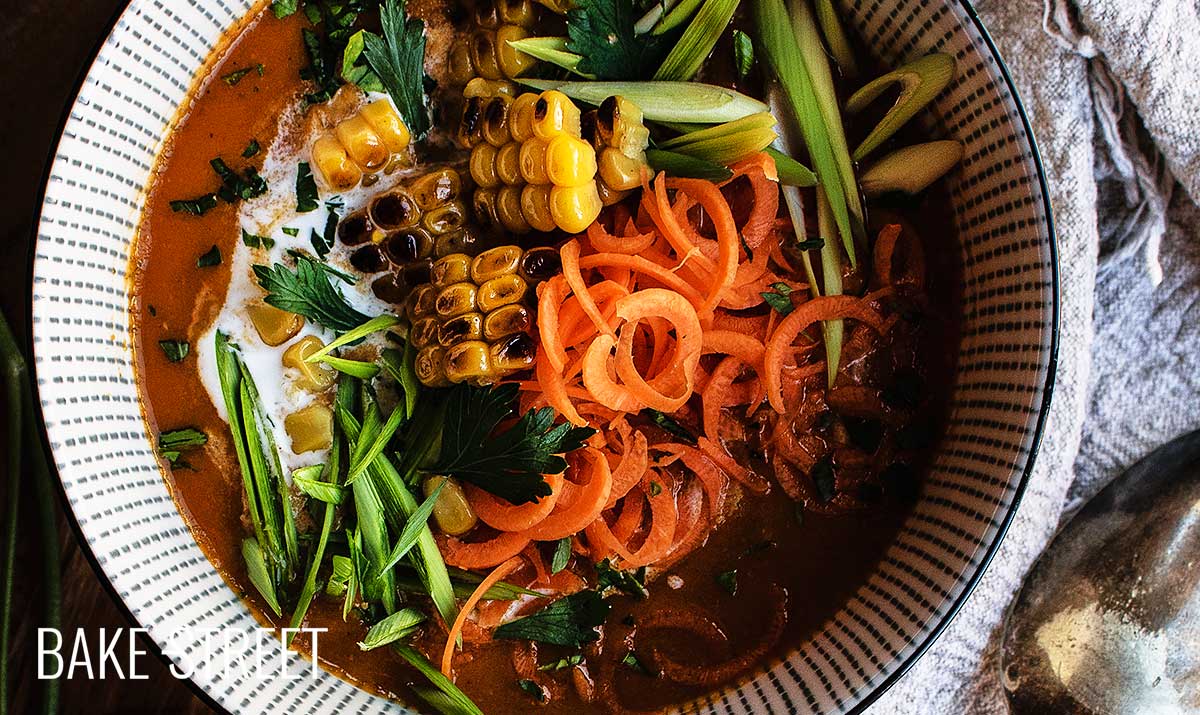 Zanzibar carrot and tomato soup
Este post también está disponible en Spanish
With the arrival of the cold weather I bring back the soups and creams recipes, although in summer I have also left you some cold versions. You know that I love them and every week I usually prepare some new ones at home, I love experimenting with different flavors and aromas. This time I bring you a Zanzibar carrot and tomato soup inspired by a recipe I saw Lindsay from Cotter Crunch. As soon as I saw it I knew I would try it because the look was absolutely spectacular, thank you very much!
One of the things I like most about this soup, in addition to its incredible taste, is the use of carrots in the form of strips or noodles. It's great! Not only does it bring an incredible flavor, but we also get a crunchy touch to every spoonful. You have to try it.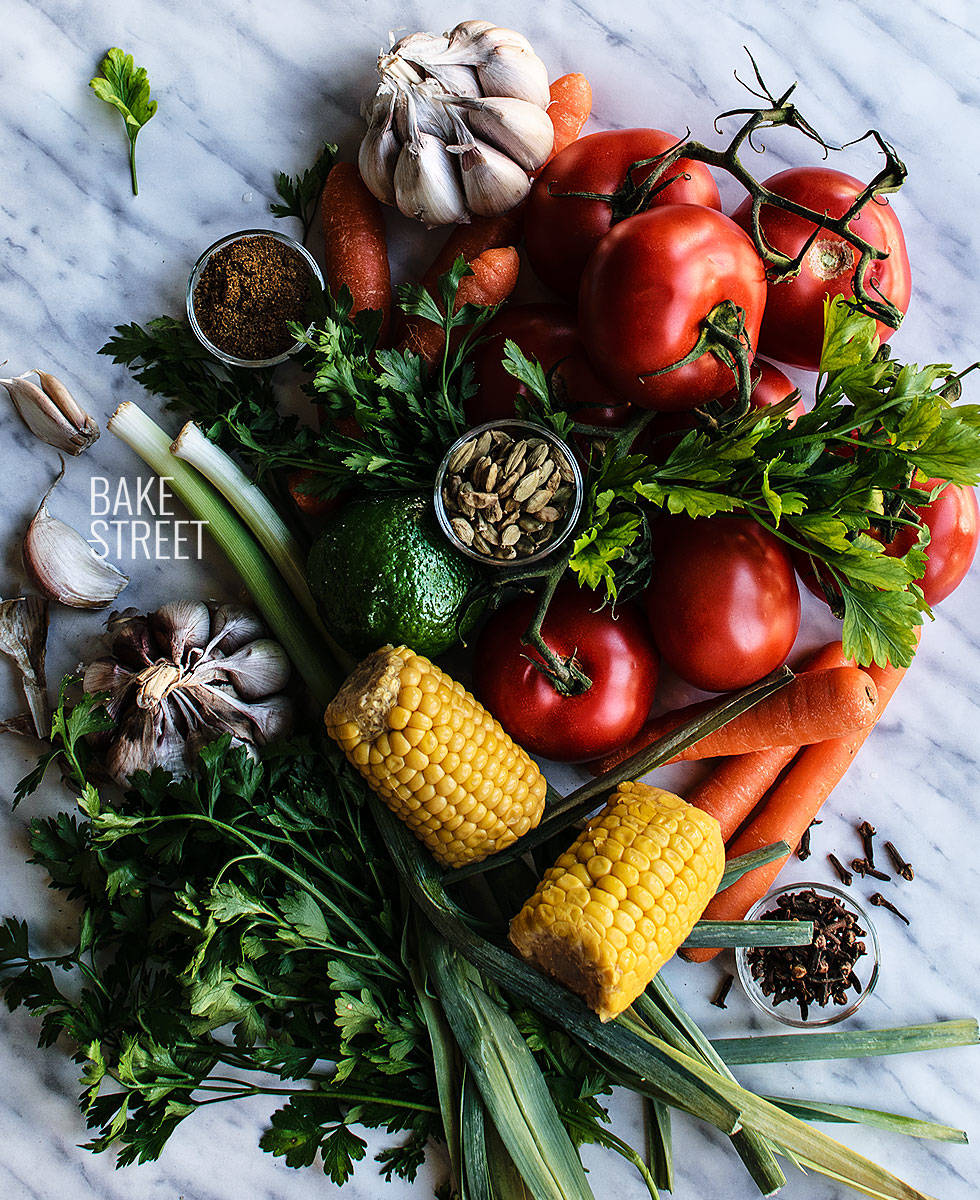 Zanzibar soup.
You may wonder why this name for the soup and the reason is the mixture of spices that are part of the ingredients. Urojo also called Zanzibar mix is one of the most popular soup dishes in the Tanzania/Zanzibar region of East Africa. It is an elaboration in which we not only find a great flavor but also many textures.
This is a soup that combines mild and sour flavors made with lemon, mango, mashed potatoes, onions, peanuts and bhajias or pakoras. It is covered with a spoonful of coconut chutney, a little red/spicy chutney and a handful of very fine French fries. One of the most popular dishes to be found in the local street.
In our case I have used some of the ingredients that form part of this traditional soup, but we have given it a different touch. To maintain its essence I will use the spices that usually take part of this soup as well as coconut milk and Toban Djan paste (I decided to use it instead of curry), which we can replace with a spicy red curry. Our main elements will be the tomato and carrot, the same ones Lindsay shares in her recipe.
Using my spirilizer for the first time.
I was really looking forward to my new vegetable spirilizer. I've had it a little over a year ago and I haven't used it yet… Yes, I know. Of those things that you are wishing to have, they come to your house and for one reason or another, you don't use it. The fact is that I have finally given it use to carry out this soup.
It's a very simple element to use, just place the vegetables in the area of the crank and turn. As if we were using a vegetable sharpener. Yes I would make a small appreciation and is that if our vegetable is too thin, we can not create a curly cord with our vegetable. With courgettes, for example, the result is perfect. But with finer vegetables we will only be able to get rings. That's not bad either.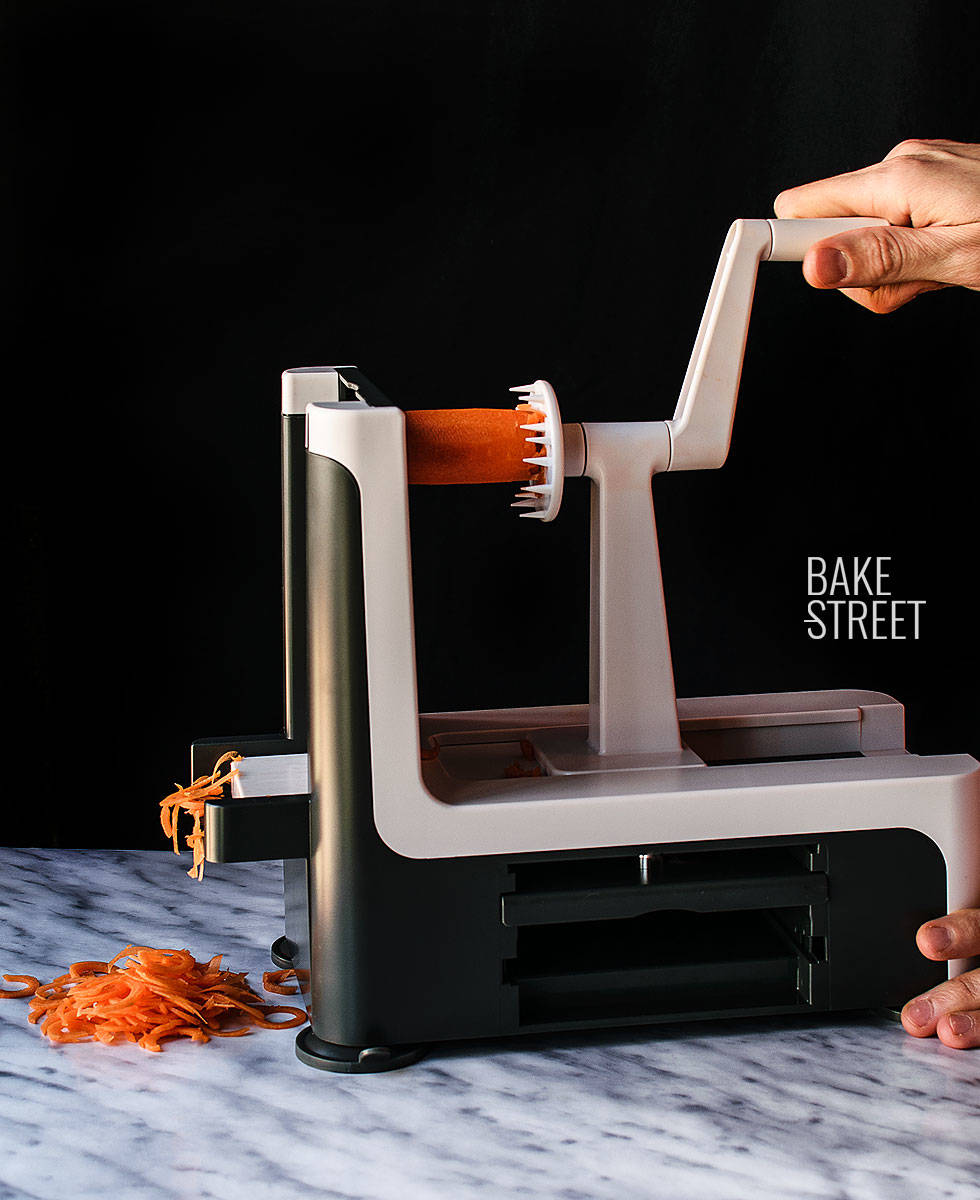 Mondays with music.
I've been listening to a song for a few days now that I can't get out of my head… It's like that kind of super catchy songs and with a "tacky" touch (Hey! This I say from love, I hear a lot of songs of this kind, but I must admit that they are not very common …). It was a recommendation from Spotify and, a few days later, it appeared in "La Resistencia" (a Spanish programme). I'm sure you know it because she's a few years old, but I have to share it with you.
"Mi fábrica de baile" by Joe Crepúsculo (link to Youtube), I don't know if it will accompany you all day in your head… if so, I'm sorry! hahaha!
Personalizing the soup.
Whatever recipe we carry out at home, we can adjust it to our tastes or needs. It is not obligatory to use all the ingredients exactly. If we do not have any of them, we can omit it or replace it with another. Many times you write to me to ask if you can make a recipe if you do not have a specific spice or ingredient and, yes, it can be done. Why not? It will be different, but equally delicious.
In spite of following or guiding me by some recipe that I have seen and I have liked, removing that it is an elaboration that must go very measured and with some concrete ingredients as it can be a Pandoro for example, always I like to vary, to change and to give our own idea to the recipes that I carry out. In this way we can adjust it to our tastes and give it our personal touch, but without ever detracting from the source that led us to develop the recipe.
On this occasion I decided to add cardamom, amchoor, garlic, green garlic and corn sautéed with butter. If, for example, some of these ingredients you don't have or don't like, they can simply be omitted or substituted. Just like the quantities. Ideally, as you are making the recipe, try it so you can adjust it to your personal taste.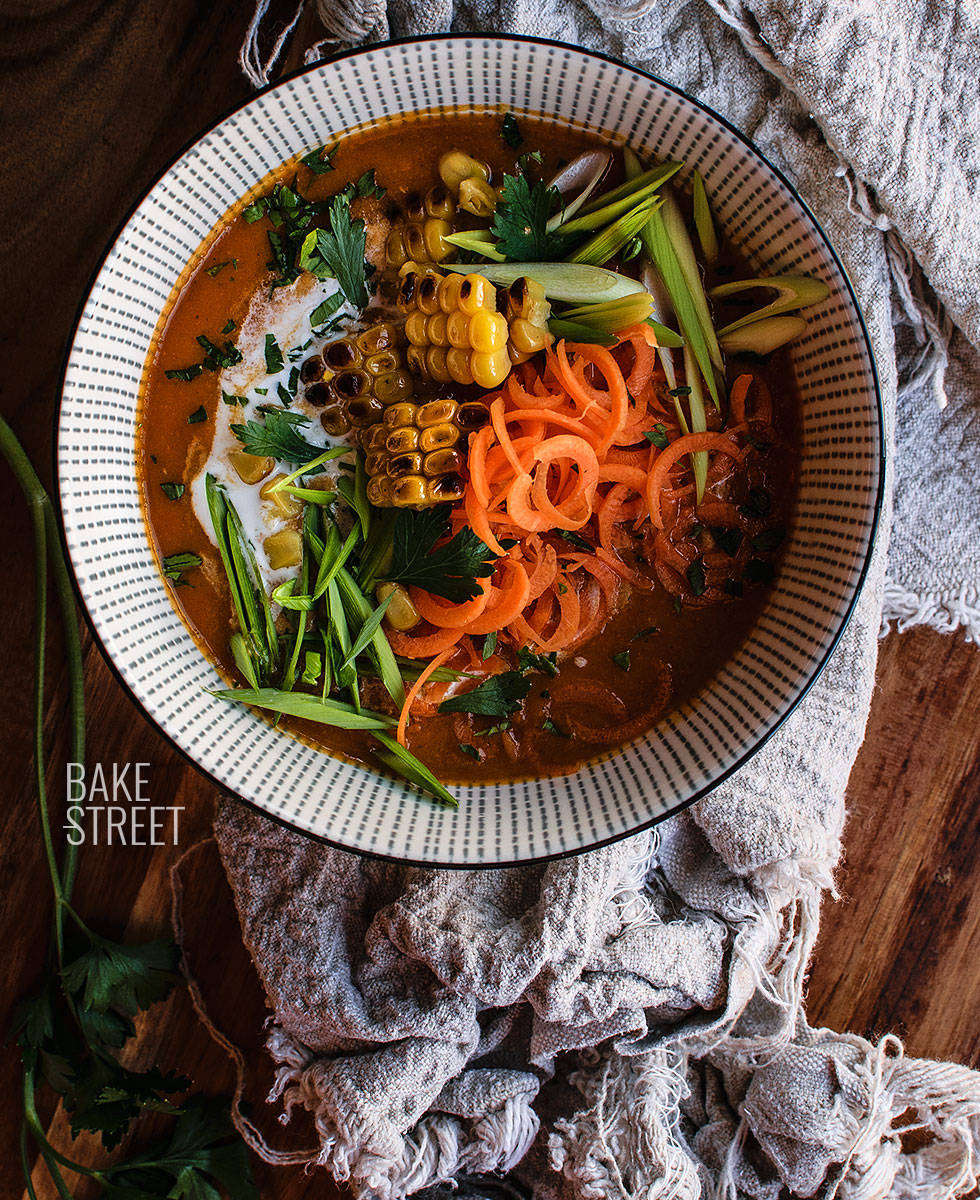 Ingredients for 2-4 serves
FOR THE SOUP:
115 g peeled carrot
800 g red tomatoes
300 g vegetable broth or meat and vegetable broth
115 g light coconut milk
2 Tbsp olive oil
1-2 Tbsp Toban Djan paste
4 large green garlics
1/2 large onion, chopped
10 g garlic, chopped
5 cardamom pods, crushed and pods removed
1/2 tsp cinnamon powder
1/2 tsp cumin powder
1/4 tsp Amchoor
4 cloves, crushed
1/2 tsp ginger powder
2 Tbsp lime juice
salt and black pepper to taste
FOR GARNISH:
coconut milk
chopped parsley
green garlics, sliced
spirilized carrot, I recommend 1 per person
1 corn cob, fresh or cooked + 1 tablespoon butter
Instructions
Blanch tomatoes.
Fill a large pot with water, place on medium heat and leave to boil.
Meanwhile, make a cross cut at the base of each tomato.
Once the water comes to the boil, place the tomatoes very carefully on boiling water and blanch for 1 minute.
Remove them from the water and let it warm until we can handle them easily.
Peel them, cut and reserve.
Cook the vegetables.
In a large saucepan add the oil and place at medium heat. Let it take a little temperature.
Add the garlic together with the chopped onion, the chopped garlic and the carrots. Sautée to medium low heat until the onion acquires a semitransparent tonality and begins to take a very soft golden color. It will take about 15-20 minutes.
Add the tomato, peeled and chopped, and cook over medium heat for 3-4 minutes more, stirring occasionally.
Make the soup.
Pour the vegetable broth together with the spices, the coconut milk and the Toban Djan pasta. Stir very well and cook at medium low heat for 25-30 minutes.
Remove a moment of heat and blend until a smooth and homogeneous texture is obtained.
Return to medium-low heat, add lime juice, stir and cook for 8-10 minutes.
Cook the corn cob.
Prepare a frying pan with about 1 Tbsp of butter. Place over medium heat.
Using a sharp knife, cut the cob lengthwise and from top to bottom. This way we will be able to remove the grains "united in a row" instead of separate.
Place them in the frying pan and sauté for 1-2 minutes. They must take on a golden color.
Remove from the heat and salt to taste.
Serve.
Ladle the soup into individual plates or bowls.
Decorate with coconut milk, chopped parsley, green garlic sliced, toasted corn with butter and spirilized carrot.
Serve immediately.
Notes
Can I use canned tomatoes instead of cooking them at home? Yes, you can, of course. But the taste has nothing to do with what you get at home.
The tomato can be blanched or roasted, we will obtain slightly different and incredible flavors. In this recipe I tell you how to roast tomatoes to make a soup or cream.
I recommend you to use homemade broth always. We know what it is made with and the quantities of each ingredient. You can use the variety that you prefer either vegetables, chicken with vegetables, meat ...
If you don't have or don't want to use broth, it can always be replaced with water. But keep in mind that the final result will have less taste.
Can I use canned corn instead of fresh corn? Yes, you can, but the texture is not will be the same. Besides, the touch of roasting it lightly, in the same way that we make the cobs, gives it a very good taste.
The servings that come out are two generous, at home we are very soups and creams. If you dare to make more, you can easily freeze it in individual containers.
It can be kept refrigerated in an airtight container for 4 days. It can also be frozen for up to 15 days.
This Zanzibar carrot and tomato soup is absolutely ideal to enjoy any of these nights. Visualize yourself, sitting on the sofa, covered with a blanket, watching your favorite series/film (or Netflix) and enjoying this bowl of warm soup full of flavor. Is it wonderful or not?
Of course you can also take it at midday or when you like! But in my case I really like to take it at night, when I've finished doing everything at home and I'm relaxed.
I wish you a fantastic Monday ;)
Big hugs,
Eva
This post contains affiliate links.
Archivado en