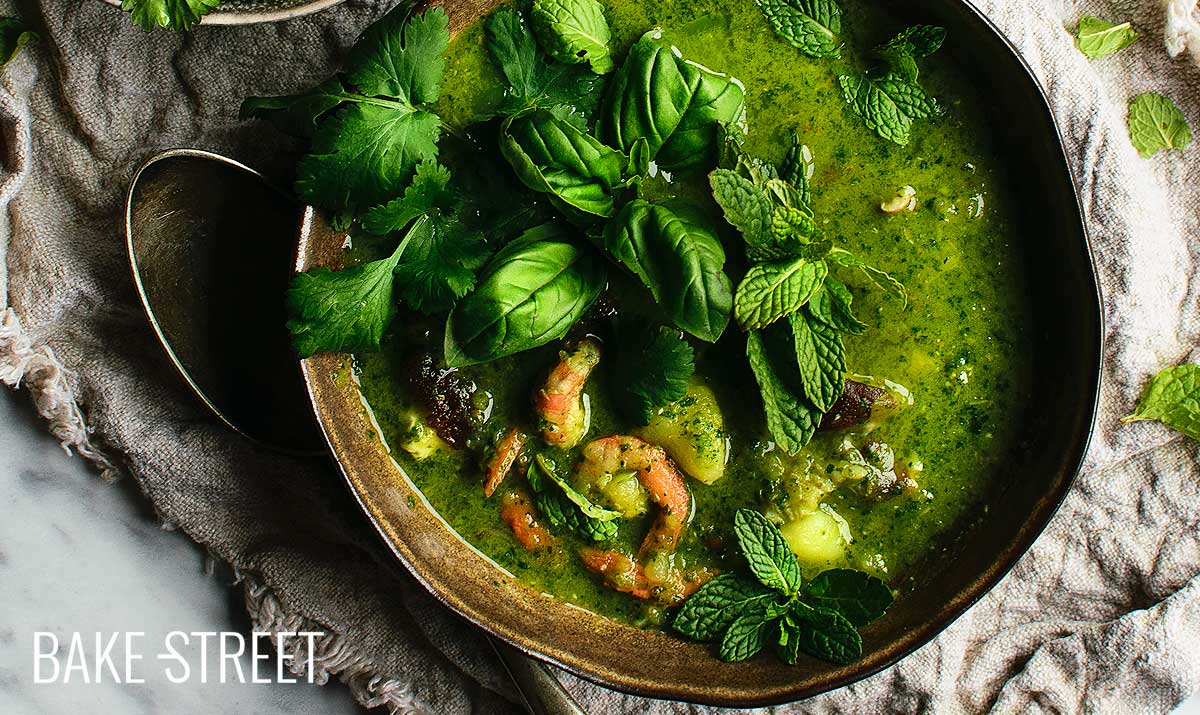 Cilantro soup with shiitake and prawns
Este post también está disponible en Spanish
I haven't left you a soup in a while, and every week I prepare a new one. With this cold weather they are very appetising and, in general, they are really simple to make… Not always, though. It's great to have this kind of recipes because we can enjoy a different and delicious supper in just under 35 minutes. Today I leave you a cilantro soup with shiitake and prawns.
As you can imagine, this soup will not be very suitable for those who do not like cilantro because it has a large quantity in its preparation. For me it's one of my favorite aromatic herbs along with basil. I always have at home, if I run out of them, I'm terrified!
Transforming the recipe.
My crush came when I saw the Peruvian coriander and seafood soup from Feasting at Home. That color, the ingredients, the combination of flavors… fascinated me. So as soon as I had time, I started working on it.
On this occasion it happened to me as it happens many times. I see a recipe that I like very much, but I feel the need to add or change things to adjust it a little more to my palate. This I don't mean that I don't like the idea that Silvia leaves us, I'm sure that if you follow her recipe you'll love it. But I wanted to change some things I thought would look good.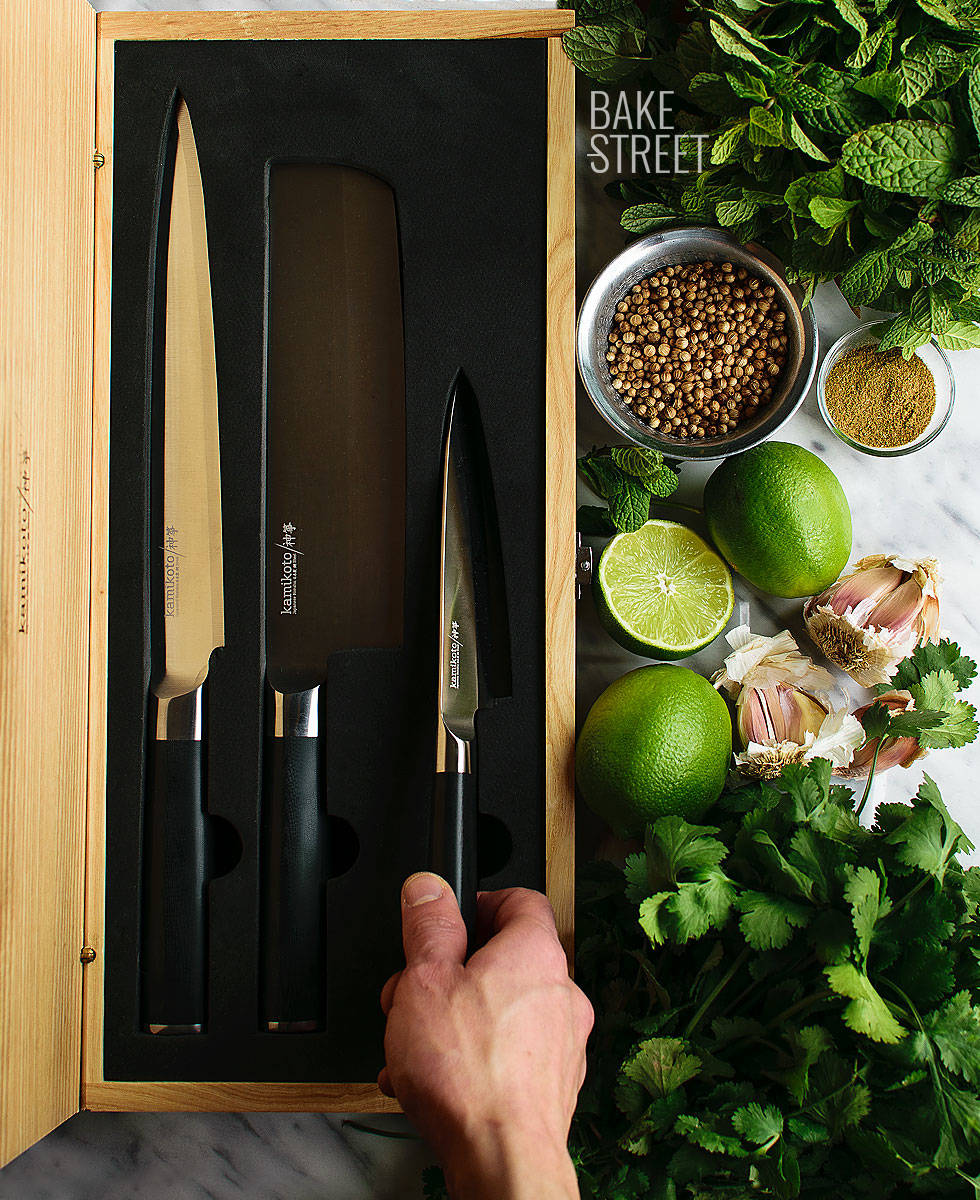 The ingredients.
To make the soup we will need a large quantity of aromatics. Mainly fresh cilantro, accompanied by basil and mint. I like the latter very much to use it in small quantities because it brings an incomparable freshness.
I used a homemade broth made with vegetables and meat, but in this case it was made mostly with vegetables and among them, a lot of pumpkin. The result was a slightly sweet broth, but with salty flavor. Really good.
Along with basil and mint, I decided to add shiitake mushrooms to accompany potatoes and prawns. The mushroom marries very well with both ingredients separately, so that by joining them together the result should be equally good.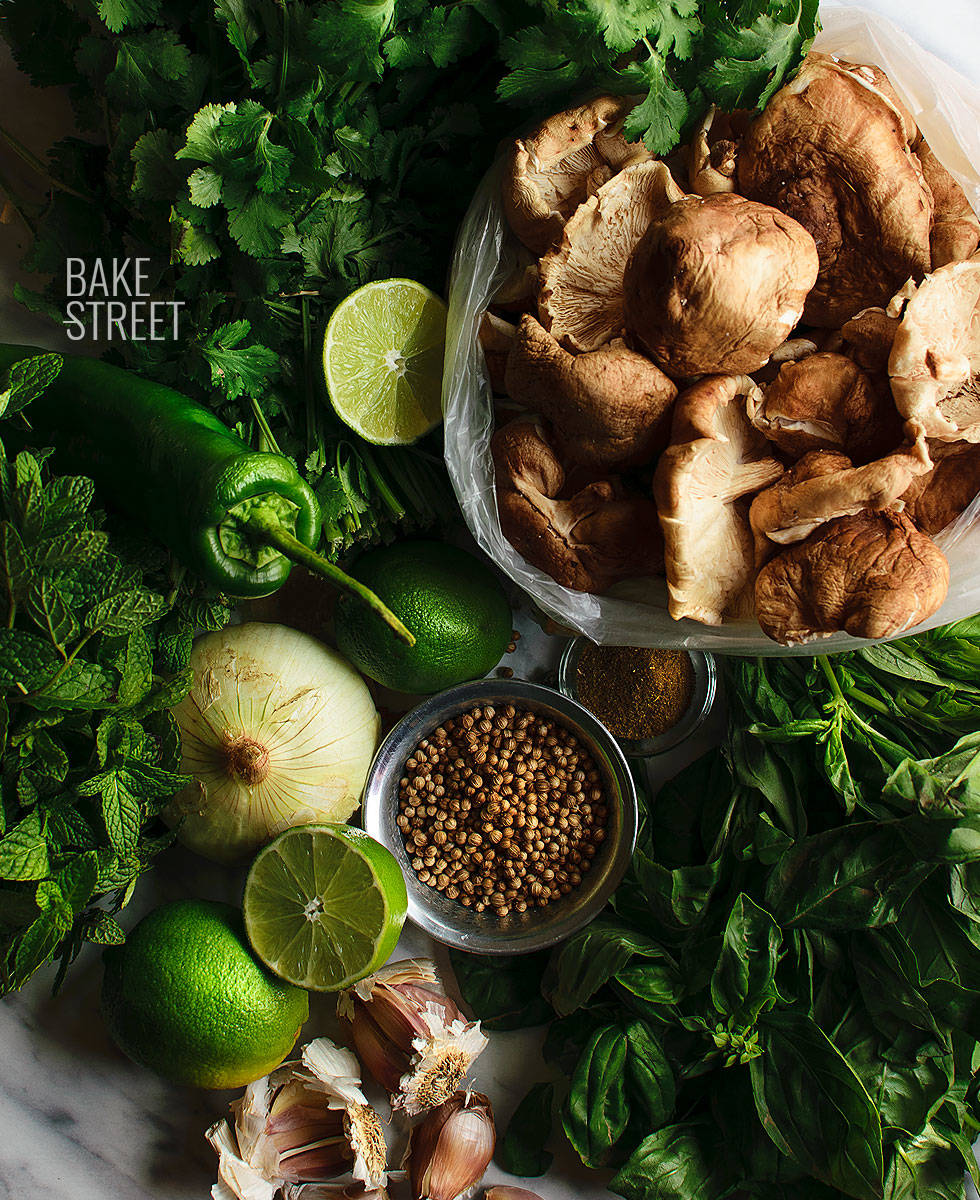 It's a spicy soup, I added a whole pickled Serrano chili (very big) and my taste buds were, each and every one of them, with a fan. I love the spicy one, but I have to admit that it was powerful. So if you don't like the spicy flavor very much or in an intermediate grade, reduce the amount.
Enjoying the coriander soup.
It seems incredible that in just under 35 minutes we can prepare soup as exquisite as this one. Lots of flavor, freshness and wonderful texture thanks to the combination of all the ingredients.
I liked it so much that I had two servings! And it is also true that if I did not eat more, it was because I had to share it at home, hahaha.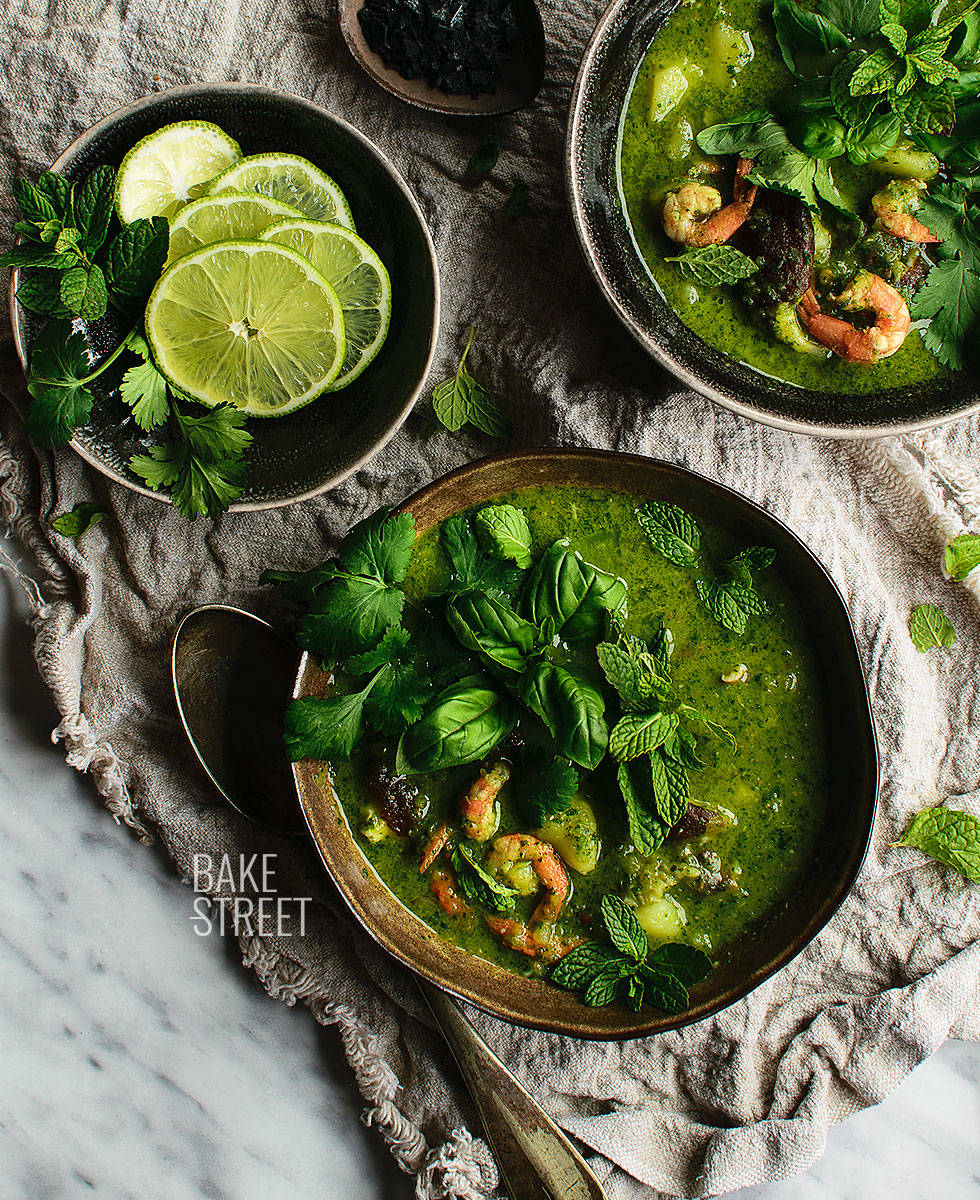 Ingredients for 3 serves
16,2 oz (460 g) homemade vegetable and meat broth
4 oz (115 g) water + 7 oz (200 g) water
1 tablespoon olive oil
1/2 large large sweet onion, finely chopped
3 large garlic cloves, laminated
1 pickled serrano chili pepper
1 chopped green bell pepper
2 teaspoons freshly ground coriander
1 teaspoon cumin powder
9,3 oz (265 g) peeled potato, cut in small squares
5,3 oz (150 g) prawns of small size, peeled
9 fresh shiitake mushrooms, cut into pieces
0,88 oz (25 g) fresh cilantro, only the leaves
0,35 oz (10 g) fresh basil, only the leaves
peppermint leaves to taste
juice of one lime
salt to taste
GARNISH:
fresh leaves of cilantro, basil and peppermint
Instructions
Sauté the vegetables.
In a medium pot pour the olive oil and place it over medium heat.
Add the onion and cook for 3-4 minutes, it will take a light semi-transparent color.
Incorporate the chopped chili together with the green pepper and cook for 10 minutes stirring occasionally.
Add the garlic together with the spices.
Mix with a wooden spoon to distribute evenly and remove from heat.
Transfer the mixture to a food processor/blender.
Add all the aromatic herbs together with the 200 g of water and blend until a homogeneous mixture is obtained.
Pour half the lime juice, salt and blend again.
Set aside.
Make the broth.
In the same pot that we have sautéed the vegetables, pour the broth together with the water (115 g).
Place over medium heat and let it boil.
Once it is boiling, add the potato and cook for about 10 minutes. The potato must be tender, but not extremely. Otherwise it will crumble.
Add the shiitake mushrooms and cook for 2 minutes.
Incorporate the prawns and cook for 2 more minutes.
Pour the coriander mixture into the pot together with the remaining lime juice. Cook over low heat, without boiling, for 1-2 minutes.
Remove from the heat.
Serve in individual bowls and decorate with aromatic herbs.
Notes
I recommend you always use homemade broth. We know what it's made of and the amounts of each ingredient. You can use the variety you prefer: vegetables, chicken with vegetables, meat...
If you don't like the spicy flavors very much, add only half or 1/3 of the Serrano chili.
The main base of the soup is the cilantro, in my case I decided to add basil and peppermint. You can skip some of them if you don't like it.

If you want to add some more seafood to accompany the prawns, do it without any problems.
Do not cook potatoes for too long or they will crumble.
Do not heat the soup, once the coriander mixture is incorporated, for too long. Otherwise it will lose its bright green color.
This cilantro soup with shiitake and prawns can arrange a weekend dinner or lunch. It's a real marvel in terms of flavor, at home we liked it very much in spite of the spicy touch! :D
Have a great weekend, see you on Monday!
Big hugs!
Eva
Archivado en