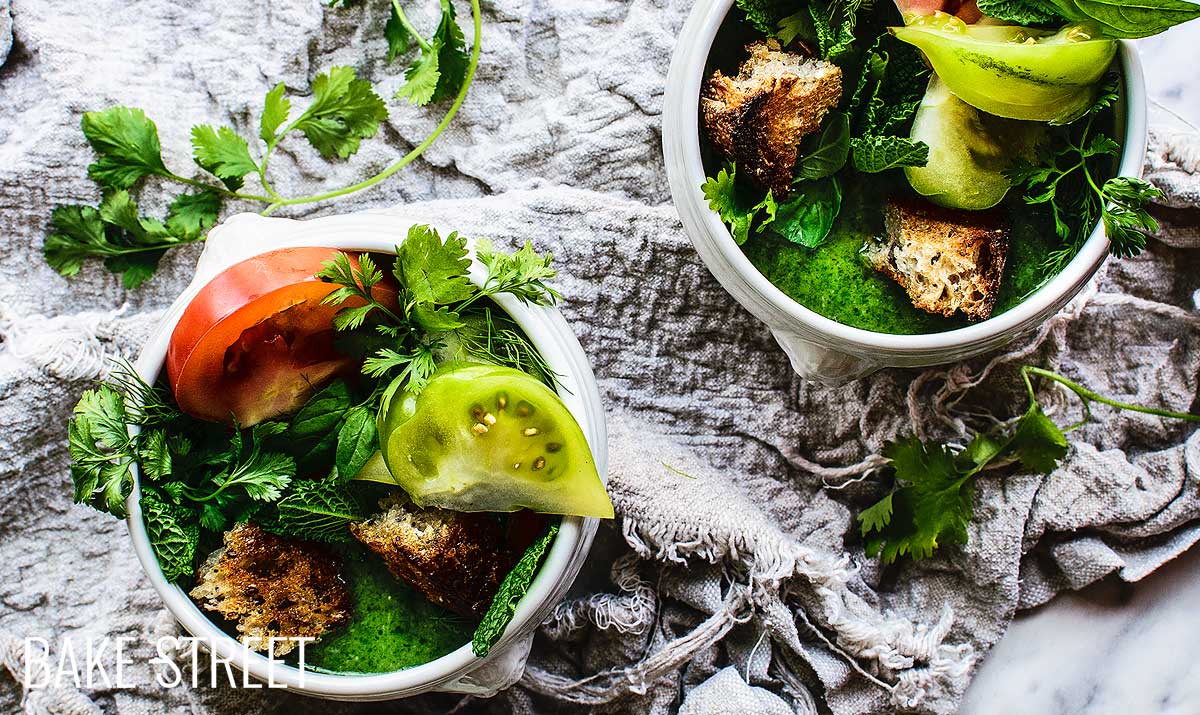 Chilled aromatic soup with tomato and toasted bread
Este post también está disponible en Spanish
When the hot weather starts to come, we only want to eat light and fresh dishes which help us to fight the high temperatures. But without stopping eating well. That's why I'm always looking for new ideas. And the day I saw this chilled aromatic soup with tomato and toasted bread, I fell in love…
It's a bit of a peculiar soup, but that's exactly what makes dishes like this one totally grab my attention. The recipe is from the book "Bar Tartine" that has me totally in love and I recommend you without a doubt. I have made some changes to the ingredients to adjust the recipe to my possibilities.
The base of our soup.
Those of you who know me, will not find the ingredient that is the basis of this chilled soup strange. It is not the first time I have used it and it is thanks to this book. To carry it out we will make a konbu dashi broth. This broth consists of only three ingredients and the result is absolutely spectacular; water, konbu seaweed and katsuobushi (salted and dehydrated bonito flakes).
You can also make this broth with shiitake (if it is dehydrated it has more flavor), konbu, katsuobushi or a combination of all of them. In all cases the results will be magnificent. What I do recommend, within your possibilities, is that you do it at home. Dehydrated preparations are sold…. but no doubt it's better to make something ourselves than we know what's in it.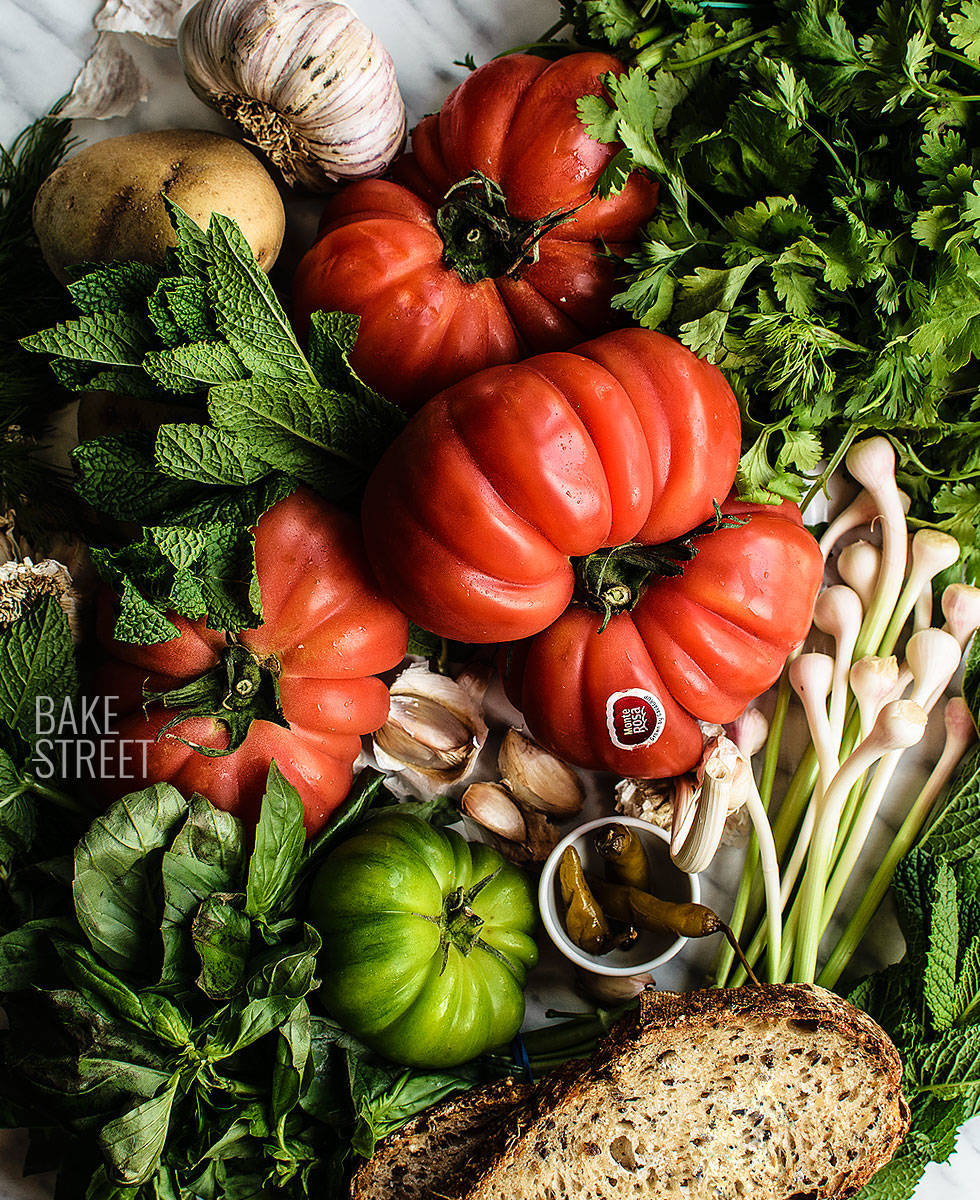 Katsuobushi, what is it?
Or also known as hanakatsuo (smaller) or kezurikatsuo (larger and thicker) is a food prepared from tuna or bonito of dry height, fermented and smoked. It can be found in a chip format and packed in small bags. Katsuobushi is the base along with the konbu of dashi broth, the base of many soups and sauces, such as miso soup or soba sauce.
It has umami due to its high content of inosinic acid which is given thanks to hydrolysis and chemical reactions from yeasts or fish or meat extracts. This process can also occur naturally when food is allowed to cure.
Inciso musical for this Monday, today I share with you a song by Zoot Woman "It´s automatic" to start the week off with some electronic music from this British band 😉
Getting flavor and color.
This cold soup has a really powerful and fascinating taste thanks to the amount of aromatic herbs that we will use. In my case I have used basil, coriander, dill and mint. But, you can use all the ones you want. For example tarragon, sage, parsley, marjoram…. Some of them are the ones used in the original recipe, but I couldn't find them the day I went to get them.
To enhance these aromas, we will accompany the soup with a touch of garlic and Serrano pepper. In addition, we will add potato to give a little density to the soup along with a point of softness. Finally we will decorate with tomato, herbs and some toasted bread with Thai oil. A real delight.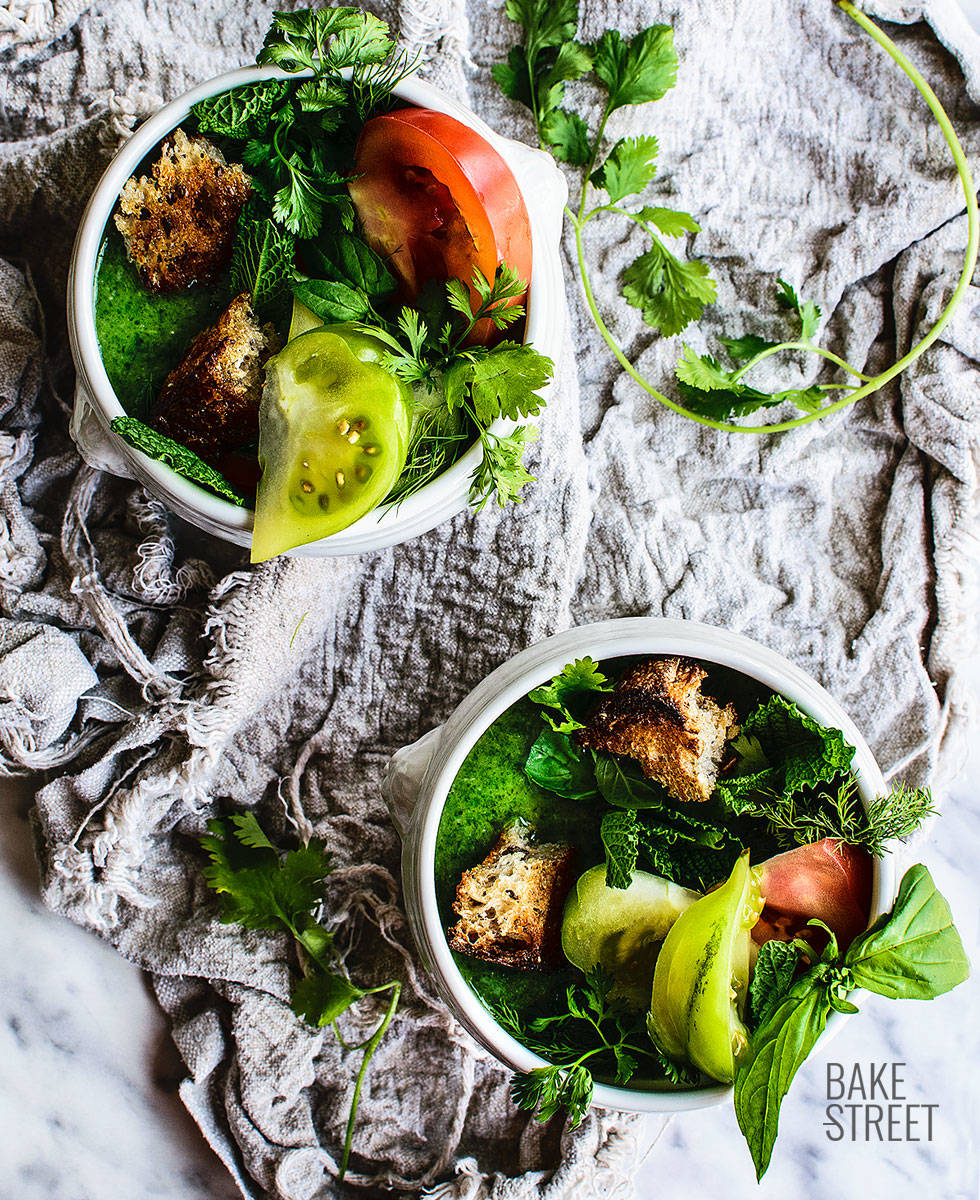 Ingredients for 2 serves
FOR THE SOUP:
21,1 oz (600 g) konbu dashi broth (recipe on the link)
4,4 oz (125 g) potato, peeled
0,53 oz (15 g) fresh basil, only the leaves
0,42 oz (12 g) fresh dill, steam removed
0,42 oz (12 g) fresh cilantro, only the leaves
0,21 oz (6 g) peppermint, only the leaves
1 oz (30 g) green garlics
1/2 serrano chili, about 2 g
1 large garlic clove
salt and black pepper to taste
GARNISH:
aromatic herbs (cilantro, basil, dill and peppermint)
1 red tomato
1 green tomato
1-2 sourdough bread slices
1-2 Tbsp apple cider vinegar
Instructions
Bake the potatoes.
Preheat oven to 355ºF (180ºC).
Peel the potatoes and slice them. Place on a tray lined with baking paper.
Drizzle with olive oil, season to taste and bake for 20 minutes or until tender.
Remove from the oven and let cool while preparing the soup.
Make the soup.
Fill a medium saucepan with water and salt, place at medium high heat and let it boil.
Prepare a bowl with very cold water, from the fridge, and a couple of ice cubes. Set aside.
Once the water comes to the boil, put the aromatic herbs and blanch for 45 seconds. We will notice how they acquire a bright green color.
Remove with a slotted spoon and place them into the bowl with ice water. Leave for 1 minute, remove and set aside on a plate.
Blend the ingredients.
In a food processor or blender, pour the konbu broth along with the aromatic herbs, the laminated garlic, chopped green garlics and the chili.
Blend until obtain a soft broth. I recommend you do it in batches of about 10 seconds so as not to overheat the blades and spoil the taste of the aromatic herbs.
Add the roasted potatoes and blend again, in batches, until a smooth texture is obtained.
Pour the soup into an airtight container and refrigerate it until it is ready for use.
Toast the bread.
Drizzle 1-2 slices of sourdough bread with Thai oil and leave to stand for a couple of minutes to absorb it.
Place on the toaster or on a griddle and toast until it acquires a golden color, but not burnt.
Remove from the toaster or grill and leave to stand for a couple of minutes before chopping.
Serve the soup.
Ladle the soup into individual bowls like these from Revol.
Garnish with aromatic herbs, green and red tomato slices and some toasted bread chunks.
Pour a tablespoon of apple vinegar on the surface, ground black pepper and serve immediately.
Notes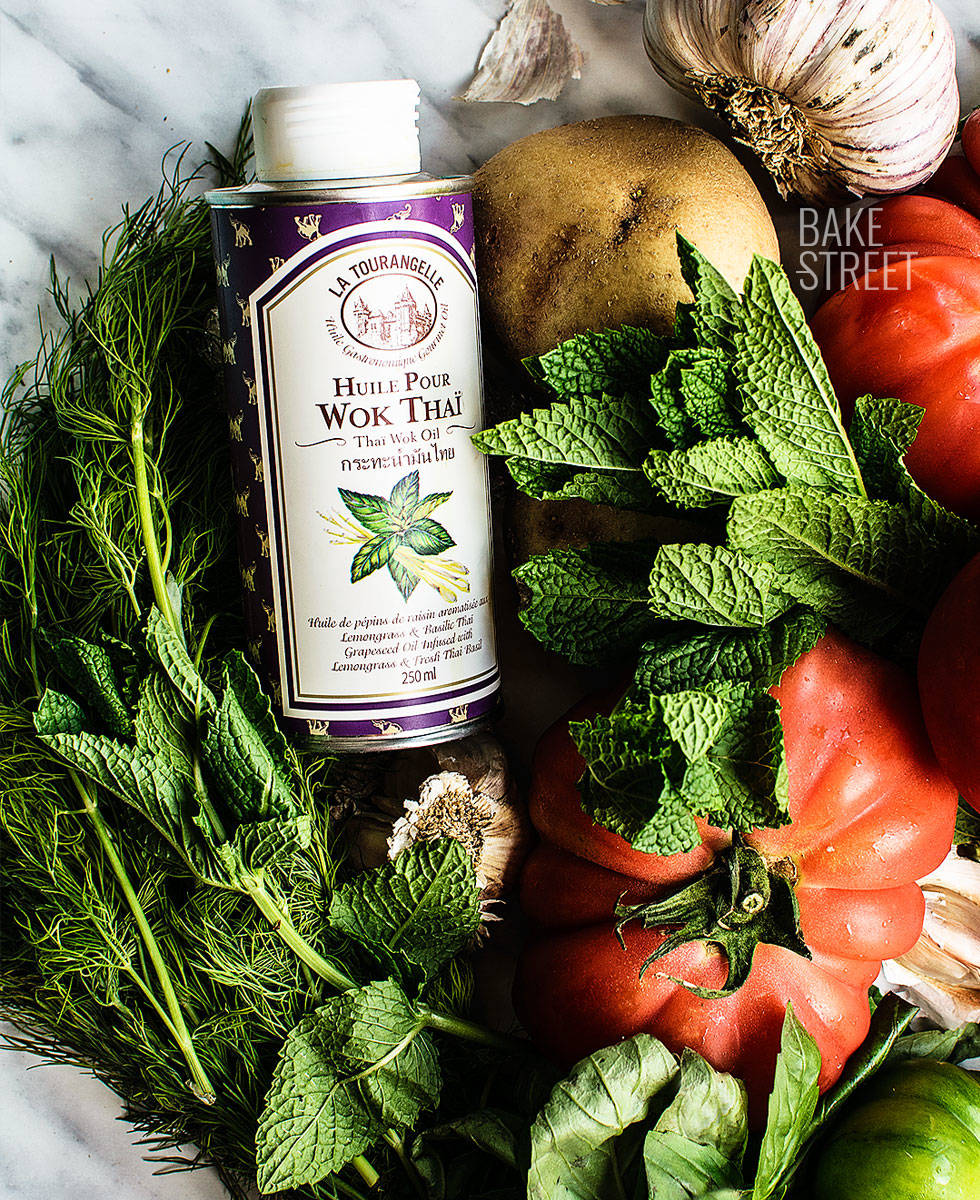 Konbu Dashi broth can be made at home, as I show you in the elaboration, or you can use a dehydrated preparation. I leave it to your choice.
If you have leftover broth, it can be frozen in an airtight container.
If you do not want to use this type of broth, you can always replace it with a homemade meat or vegetable broth.
When using a small amount of potato, if you don't plan to bake anything else, I'll leave you another way to cook them. Place a frying pan over medium heat, add a generous amount of olive oil (3-4 Tbsp) and place the potatoes. Let them brown on both sides. Pour half a glass of water, season to taste and cover. Cook for 3-4 minutes or until tender.

Aromatic herbs can be totally at your choice. I have used these, but feel free to change them for the ones you have on hand and like the most.
I have used a slice of sourdough seeded bread, generously cut. I recommend you to use a good quality bread, as the taste will be much better.
Thai oil goes great with this soup, but you can also use hazelnut or walnut oil.
If you make the soup in a very hot season, I recommend you refrigerate the bowls for 30 minutes before serving the soup.
We can refrigerate this soup in an airtight container for 2 days.
This chilled aromatic soup with tomato and toasted bread will be a perfect choice for hot days. We all love gazpacho, but it never hurts to know more options.
We can leave it ready in advance if you don't serve it and set it up for lunch or dinner. We can even serve it in small glasses as an aperitif to accompany other things. We hope you like it and cheer up with it!
Big hugs,
Eva
Archivado en