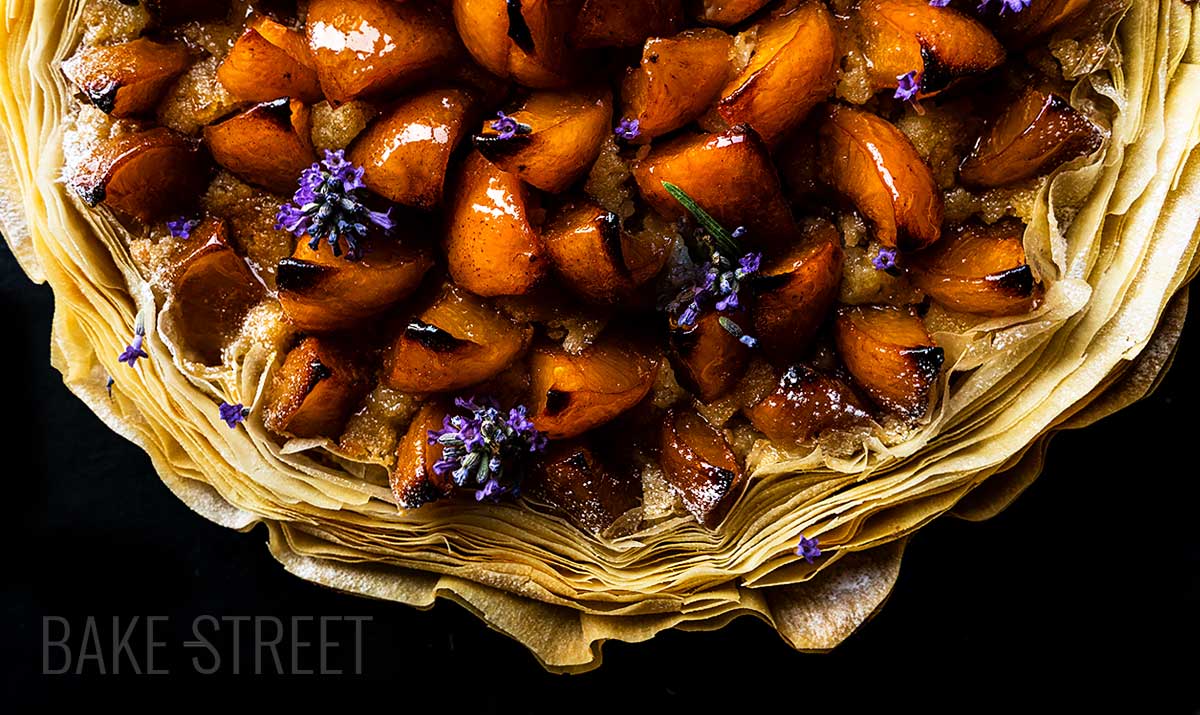 Almond cream and apricot tart
Este post también está disponible en Spanish
I think this is the first year I've been publishing at this time. But as I told you, I didn't want to take a break until September without leaving you this recipe since it is made with seasonal fruits and flowers. Because when else will we be able to make this almond cream and apricot tart if not in the summer? I can't leave it waiting until next year… It would be awful for me to deprive you of it! It's true that if we have the apricots in syrup made, we can make it whenever we want. But I didn't want to risk you not being able to make it.
On the other hand, I'm very sorry for the little disruption I've had in the last few weeks… There are situations in life that break our routine and we have no choice but to conform to them. In September the normal rhythm will return with the weekly publications as I have been doing before.
Today's tart arrives on a special day at the blog, because today is my birthday! I think it's going to be true the saying that time flies when you're having fun. Because the years go by so fast for me.
This birthday comes, moreover, with a change in the tens, hahaha. Oh my God, and I thought I'd never go through an age crisis… Anyway, we'll enjoy every moment to the fullest, which is the good thing about having a birthday!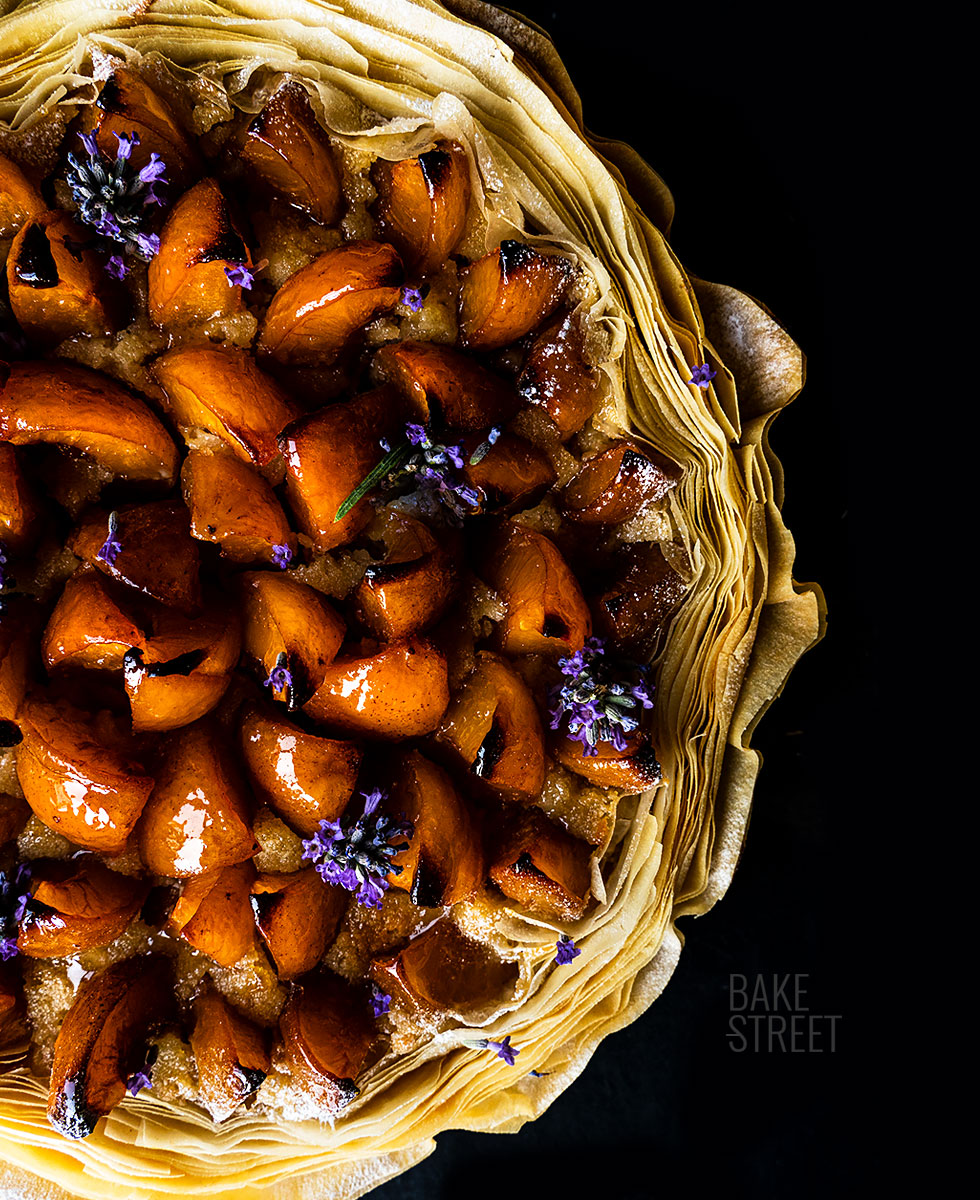 Carrying out the almond and apricot cream tart.
I've been wanting to make a cake with apricots for a long time with a superior decoration like the one I made today. But, I've had to wait for the season of this fruit. That, I tell you one thing, after making my first apricots in syrup I can guarantee that I will make many more elaborations throughout the year with this preserve.
In fact, I'm thinking about getting a good pantry of different preserved fruits and vegetables. Not only is it a wonderful way to preserve ingredients, but also to advance (depending on which ingredient) parts of some preparations.
When I started "designing" this tart, I wanted it to have a very light base. It's true that a sablée or sucrée pâte would work great, but I was looking for something lighter and crispier. So I immediately remembered this phyllo dough and cherry mousse cake and it was the winning choice. Phyllo dough is a base that helps us hold all the filling, but without using an element that fills us up too much.
To choose the filling I had several options, but to match both the base and the apricots, I think there couldn't be a better choice than almond cream. There might be, I'm not saying there isn't! But for me it was perfect.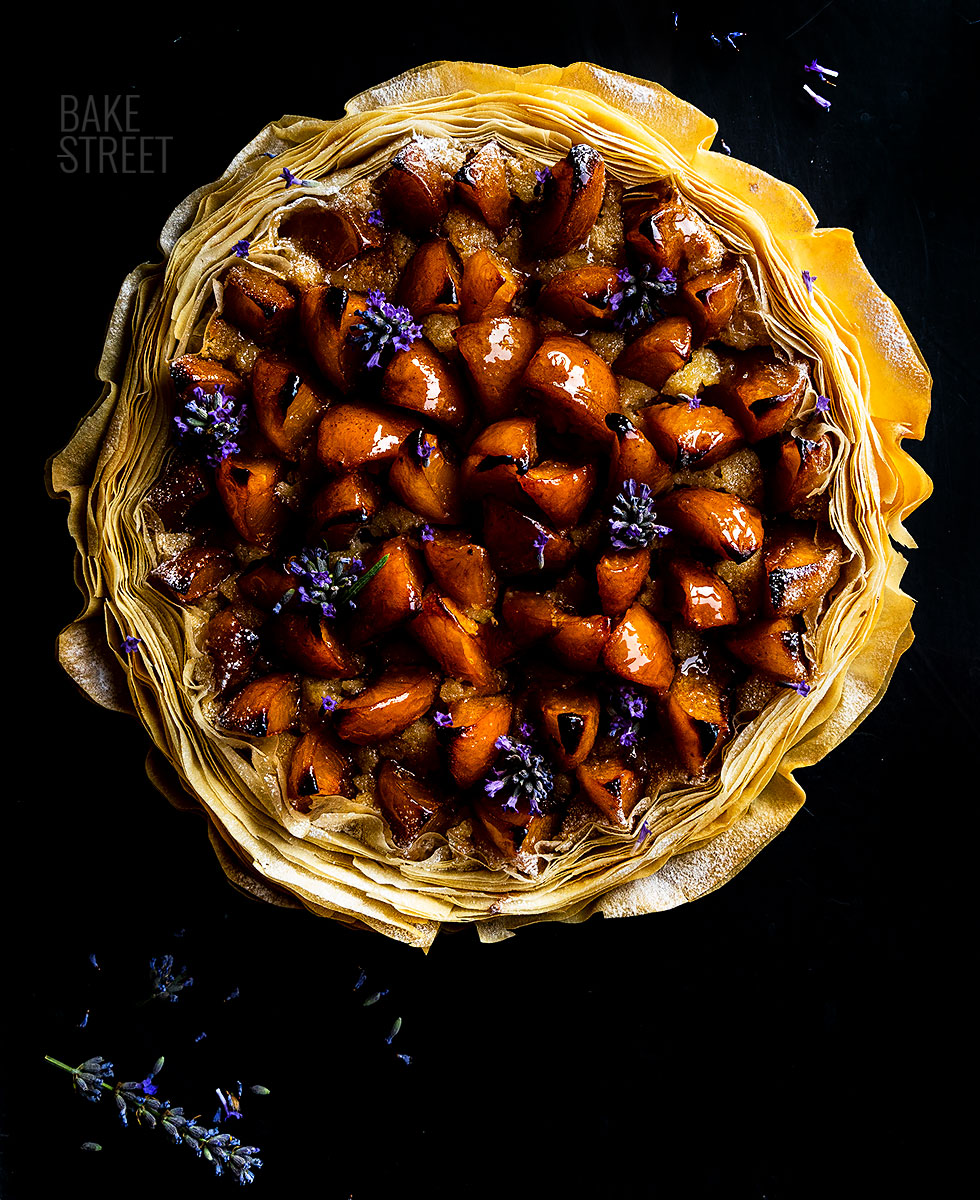 Finally, the decoration could not be anything else but apricots. It's true that before making it, I thought of putting them fresh. But I think that the taste, the texture and the finish were not going to be the same. That's why I decided to make them in syrup! In order to use them for this cake 😀
Final decoration.
This tart doesn't need much else to be ready and pretty. But you can always do something to make it a little better. Like shining up apricots, can't you? 😉
Once I took the cake out of the oven, while it was still hot, I brushed all the apricots with a mix made of Bourbon syrup and apricot jam. In my case I wanted to flavour it with Bourbon, but of course this liqueur can be omitted or any other liqueur can be used. I saw a winning combination with the elements; apricot, almond and Bourbon.
In addition, I sprinkled the edges of the phyllo dough with icing sugar, to give it visual depth, and finished with some flowers and small bouquets of fresh lavender on the surface.
You know that when it comes to decoration, there are no limits. Let your imagination run wild.
Recipe almond cream and apricots tart
For a tart with a diameter of 24.5 cm
FOR THE BASE:
8 phyllo sheets
75 g unsalted butter, melted and cooled or ghee
FOR ALMOND CREAM:
50 g unsalted butter at room temperature
60 g ground almond
50 g icing sugar
1 medium egg
1 tsp vanilla extract
DECORATE:
15-16 apricots in syrup (link recipe)
fresh lavender
icing sugar
FOR BRUSHING:
3 Tbsp apricot jam
5-6 Tbsp Bourbon syrup (recipe below)
BOURBON SYRUP:
100 g water
125 g sugar
Bourbon to taste
Instructions
Make almond cream.
In a bowl add the butter along with the icing sugar and mix. We will do this until both ingredients are completely integrated.
Add the egg and mix again until it is completely homogeneous.
Stir in the ground almond until a homogeneous mixture is achieved.
Transfer into a piping bag and refrigerate until ready to use.
Make the syrup.
Add all the ingredients in a saucepan except the liquor. Place on medium heat and allow to boil. The sugar should have dissolved completely.
Once it comes to the boil, turn off the heat and let it cool down completely.
Put the syrup in a bottle with the help of a funnel, add the liquor, close and shake to mix well.
Reserve at room temperature.
Make phyllo dough base.
Place a silpat on a perforated tray. On top of these, place a 24.5 cm diameter pastry ring. Set aside.
In case we are going to brush with melted butter instead of clarified butter or ghee, you will have to melt it and let it cool down before using it.
We proceed to assemble the layers of phyllo dough, we will do it on a clean work surface.
Brush a sheet of phyllo dough and place another on it, brush again.
Place on the pastry ring and adjust well. With the help of scissors, cut off the excess, trying to give it a rounded shape.
Brush the phyllo dough again. This time we will paint two separate sheets and, on each one of them, we will place another sheet of filo dough. Brush again.
Using scissors, cut strips a little wider than the height of the ring.
Placed these strips on the inside of the ring, circling it several times. With this step we will manage to create a "laminated" effect.
Finally, brush another two sheets of filo pastry, in the same way as we did the previous time, and place them over all the layers we have created. This step will serve to prevent the almond cream from leaking between the layers we have placed on the sides during baking.
Cut off the excess phyllo dough with the help of a pair of scissors.
Set aside.
Fill and bake the almond cream and apricot tart.
Preheat oven to 320ºF/160ºC.
Pipe the almond cream over the phyllo dough base.
Smooth the surface.

Cut the apricots in syrup into quarters and place them on top of the almond cream. To decorate it I alternated the position of the apricots every time I created a new row.
Bake at medium height for 50-55 minutes. The almond cream should be baked and the apricots will have a toasted look on the tips.
Take it out and place it, with its the perforated tray and silpat, on a rack.
Brush with the syrup and let it cool down.
In a saucepan add the apricot jam along with the syrup and mix.
Heat for a few seconds so that it acquires a very liquid consistency.
As we take the cake out of the oven, with the help of a pastry brush, brush the surface of all the apricots.
Leave to cool completely.
Decorate the tart.
Remove the ring very carefully.
Sprinkle the edges with icing sugar.
Decorate the surface with fresh lavender.
Serve with a scoop of vanilla or caramel ice cream.
Notes
The phyllo dough base suits the filling very well because it helps make it light, as well as providing a crunchy point. If you prefer, you can make a sablée or sucrée dough base (like this one).
Ghee, unlike melted butter, has a much more aromatic taste (reminiscent of nuts), thus providing a fantastic flavor.
Ideally, the almond cream should be refrigerated for 30-45 minutes to allow for better handling, especially in hot weather. That way we can pipe it without any problem.
I have used apricots in syrup, but we can also use peaches if you prefer.

The syrup can be flavoured with liqueurs or even infused with lavender flowers.
The decoration is completely optional and you can cut the apricots the way you like. I have left you this suggestion, but carry out the one you like best.
I decided to use fresh lavender to make use of a seasonal flower. But if we do it at another time of the year, we can use any other variety of flower and even edible flower petals.
It can be kept refrigerated for 4-5 days.
With this almond cream and apricot tart I blow out the candles with you and I thank you for being one more birthday by my side! For my part, I'd like to tell you that I'll be taking a little break from the blog in order to work on and organize the future publications that will be back in September.
Although the summer has already started, I wish you a wonderful summer season and enjoy it as much as possible. Take care of yourselves and see you when you get back!
I send you a big kiss!
Eva
Archivado en